Grilled Ribeye with Simple Spice Rub is so easy to make for a summer meal! An easy blend of cumin and garlic seals in the big flavors of the ribeye steak for a delicious main course. Looking for an easy recipe to make for Dad on Father's Day? Save this one! Read on for details, or or jump directly ahead to the recipe.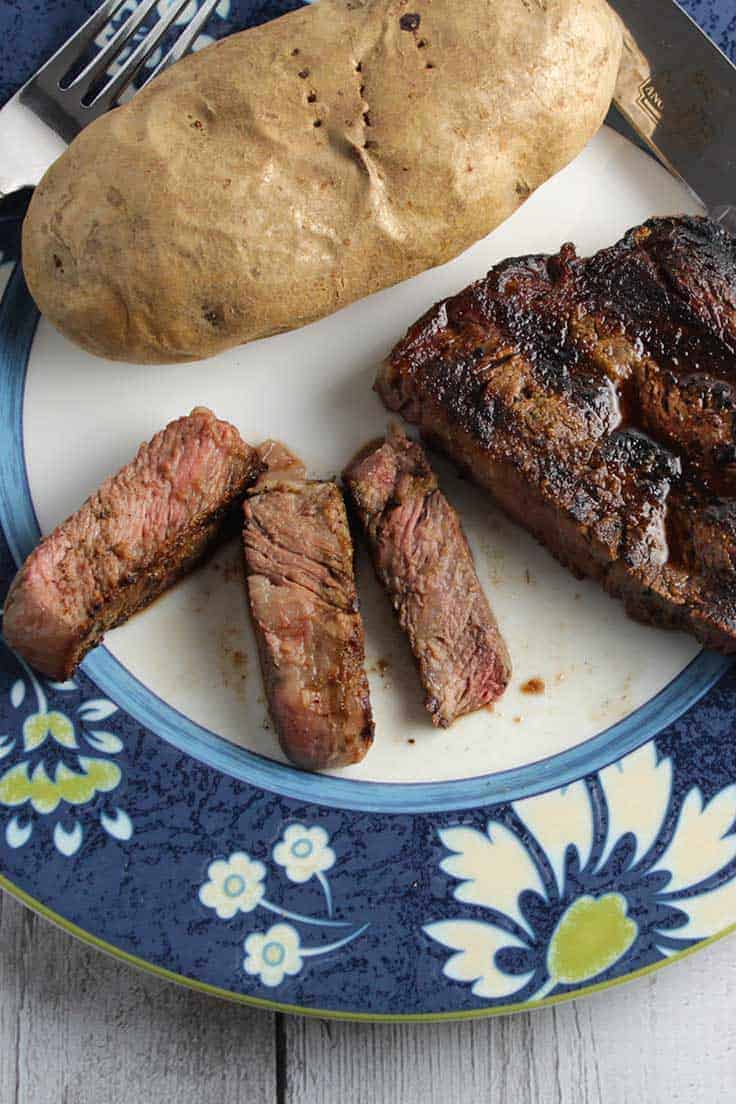 The theme of this week's Sunday Supper, hosted by Sue from Palatable Pastime, is "Throw something on the barbie". That title suggests to me carefree summer cooking, and it doesn't get much easier than our Grilled Ribeye with Simple Spice Rub.
The cooking maxim "let quality ingredients shine" certainly comes into play with grilled ribeye. Ribeye is marbled with just enough fat to deliver great flavor without doing much to it. Just a little rub to seal in and enhance the natural flavors is all you need; then cook it just right. In other words, don't overcook it and lose all the great flavor!
Spice Rub for Grilled Ribeye Steak
I like to use a spice rub for grilled steak, more than a marinade. I find a spice rub seems to seal in the flavors nicely. Occasionally I will marinate a steak, but tend to reserve marinating for tougher cuts of beef that benefit from a tenderizing marinade. For instance, I will marinate beef overnight when making something like this Tuscan Beef Stew.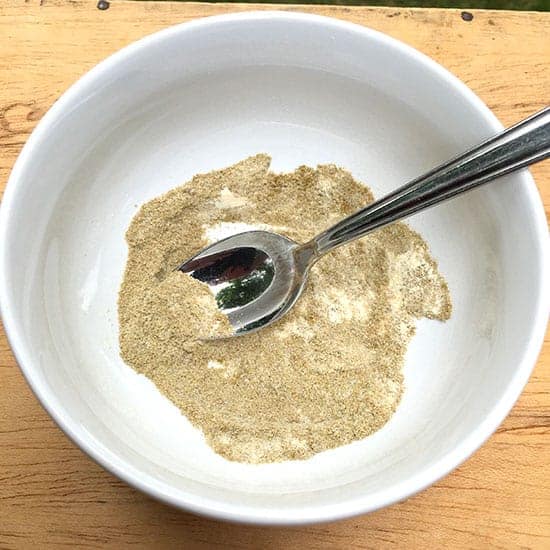 How to make a spice rub? It's so easy, there's no need to buy those pre-made rub mixes at the store. When you make your own spice rub, you know exactly what is in it. Find a basic combination you like and you can experiment with variations on it.
My basic go to rub is the cumin garlic blend we use in this recipe. All you do is combine equal parts garlic powder, cumin and salt in a small bowl, then rub it into the meat. I let the steak absorb the rub for about ten minutes, then you are ready for some big flavored grilling!
Our ten year old would tell you he doesn't like spicy food, but he loves any meat I grill with this garlic cumin rub. So it's the perfect combo for a family with discerning young palates–enough flavor for the grownups, without overwhelming the kids!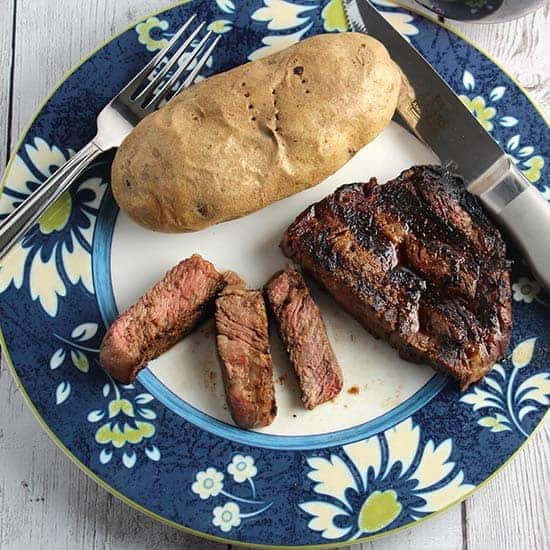 I like to make various sauces to serve with steak, with mushrooms and onions featuring frequently. Check out this Ribeye with Portobello Mushrooms, for instance. But today's recipe shows you don't need to add a sauce with a good quality ribeye steak made with our simple spice rub.
If you are looking for side dish ideas, many of the sides in our What to Serve with Pork Ribs roundup would work nicely with the grilled ribeye. And another favorite grilled steak recipe of ours is this Easy Grilled Steak Tips recipe – be sure to check it out some time!
How to grill ribeye steak?
If you are an experienced hand at the grill, the question "how to grill ribeye steak" really doesn't need addressing! But we have Father's Day coming up, and perhaps you might be a novice griller that has come upon this recipe looking for an easy recipe to grill up for Dad. You have found it!
A first step for grilling your ribeye steak is to take the meat out of the fridge a good 15 minutes before you grill it, so that it starts to come up closer to room temperature. Preheat your grill to about 40o degrees as you make the spice rub.
Spray your grill with some oil spray before adding the steak. Then the ribeye gets added to direct heat. Grill for six or seven minutes, turn the steak over with a spatula, and grill for another 6 minutes.
Check for doneness, and keep in mind it will cook a bit more when you let the steaks rest. A lot of instructions say don't cut into the meat to check it, but I do like to make a little slice to see how it's coming along. I haven't found this to hurt the juiciness and flavor. I know everyone likes their steak different ways, but I highly recommend you don't grill ribeye past medium or you are really going to lose flavor.
Wine pairing
Cabernet Sauvignon is a classic choice for grilled steak, as the tannins work well with the fat content in the meat. But when you start introducing a spice element such as our cumin garlic spice rub, that gets me thinking more in the direction of a Zinfandel or a Syrah, to pick up the spice notes in the rub, while still having plenty of substance to stand up to the meat. Either the Zin or Syrah option should work nicely, and if you find something else you like with this recipe, please let me know!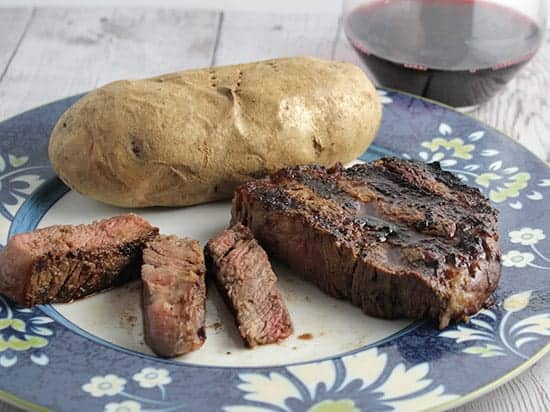 Print
Recipe card
Grilled Ribeye with Simple Spice Rub
Grilled Ribeye with Simple Spice Rub is so simple to make on the grill. Tender, flavorful meat with just the right touch of garlic and cumin spice.
Author: Cooking Chat
Prep Time:

15 mins

Cook Time:

13 mins

Total Time:

28 mins

Yield:

4

servings

1

x
Category:

Main

Method:

grilling

Cuisine:

American
3

ribeye steaks, about

1.5

inches thick

1 tbsp

cumin

1 tbsp

garlic powder

1 tbsp

salt
oil spray for grill
Instructions
Preheat a grill to 400. Coat with oil spray.
Make the spice rub by combining the cumin, garlic powder and salt in a small bowl.
Lay the steaks out on a work surface. Sprinkle enough of the rub to lightly coat one side of the steaks, then rub the spices into the meat. Turn the steaks over and repeat the process.
Let the steaks sit at room temperature for 10 to 15 minutes.
Place the steak on the grill, and grill covered on direct heat for 7 minutes. Turn the steaks over, and grill for another 6 minutes. Check for doneness–at this point, our ribeye steaks were a perfect medium rare. Adjust your cooking times based on your grill and desired doneness, keeping in mind the steak will cook a bit more while resting.
When the steaks are done grill, remove to a large platter and let rest for a few minutes. Slice the steak against the grain, and plate four or five strips of the steak on each plate. They can always ask for seconds! Enjoy!
Recipe Card powered by