A flavorful marinade makes these Easy Grilled Steak Tips a tasty recipe from the grill! Takes under 10 minutes on the grill, but allow for at least one hour of marinating time.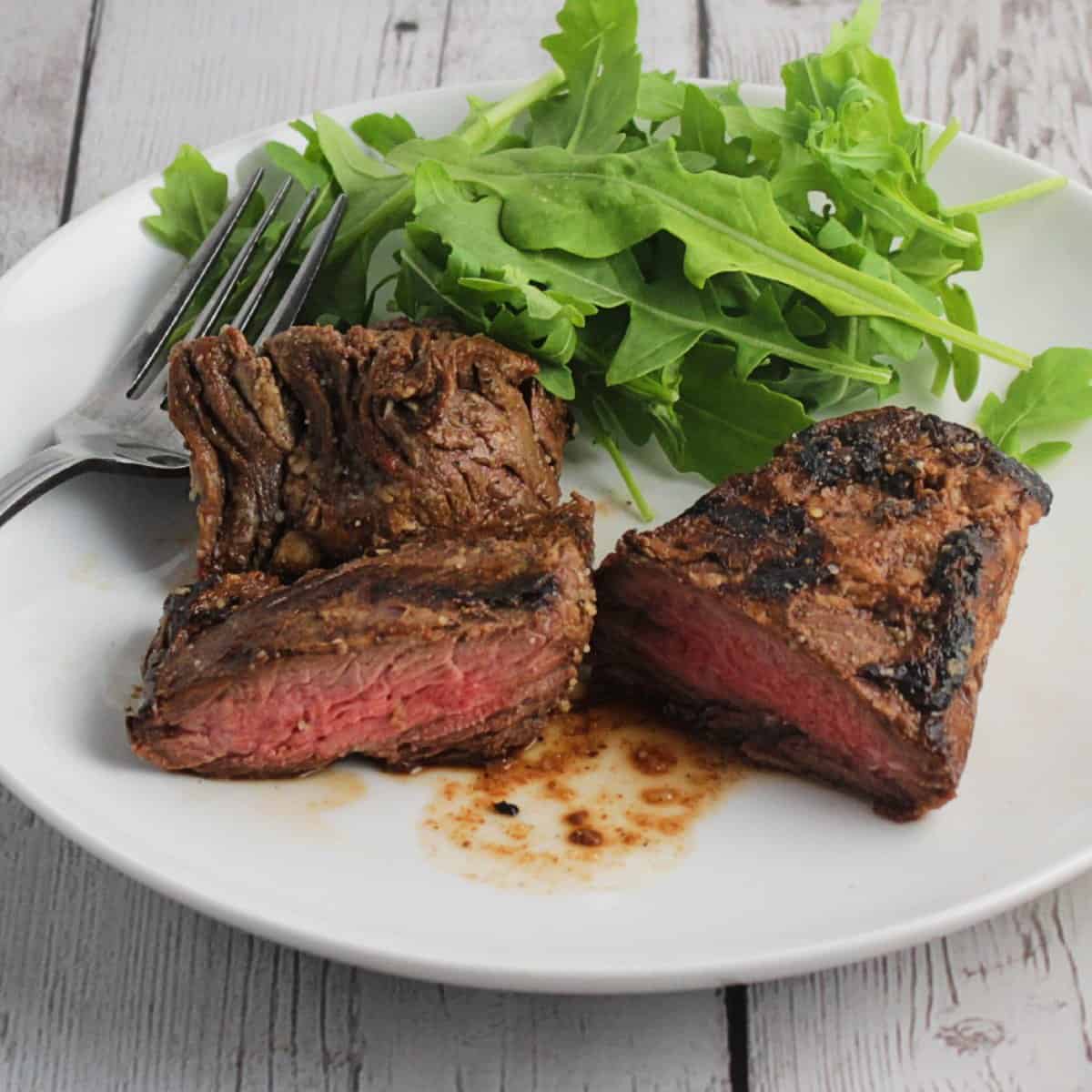 Steak tips are a flavorful and tender meat to enjoy from the grill.
Although I have often enjoyed steak tips at backyard cookouts and at steakhouse restaurants, it took me awhile to get around to making steak tips at home.
But when our son really dug into some steak tips at a restaurant, I knew it was time to make some here at home!
Jump to:
What makes this recipe work
I made a quick marinade for the steak tips using soy sauce as the base and mixing in some other BBQ flavors such as brown sugar and a bit of ketchup.
We were very pleased with the tasty results! The marinade has just enough going on to enhance the natural meaty flavors of the steak tips.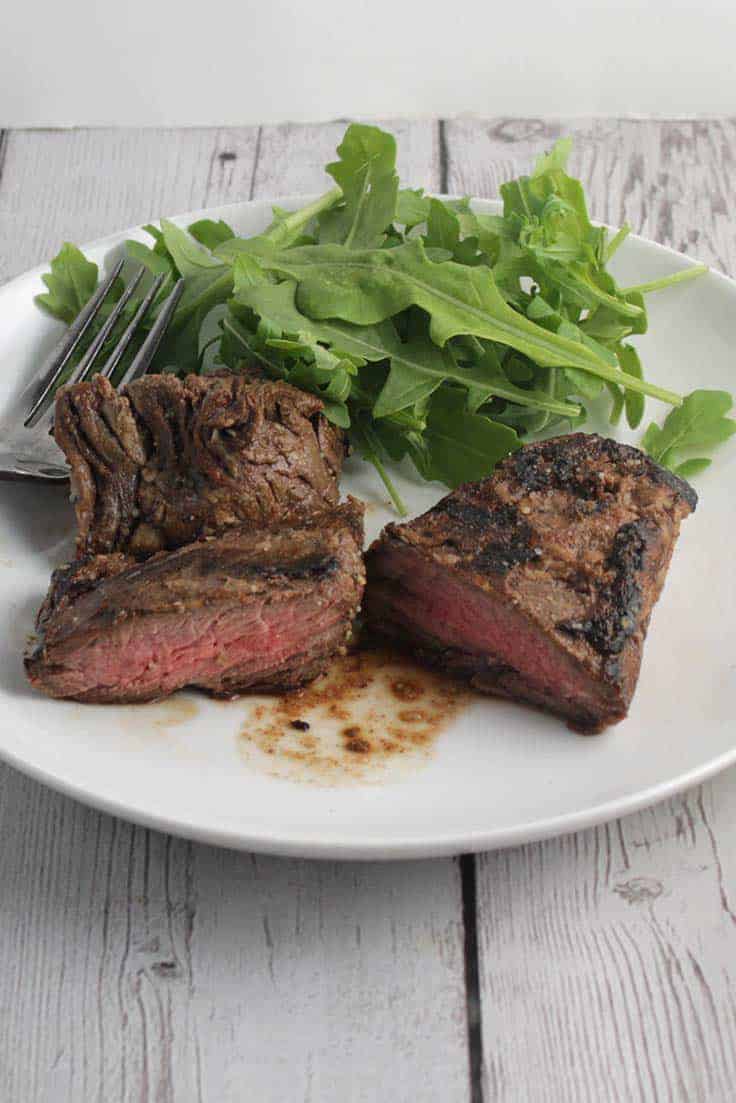 And you can see from the photos, we grilled it to a perfect medium rare, in about eight minutes of total grilling time.
Ingredients
Of course, this recipe starts with picking out the meat!
Steak tips might also be labelled "sirloin steak tips" or "sirloin tips" at the store. This is a flavorful cut of meat that can be less expensive than some other cuts that you might feature at a cookout.
You might also see tenderloin steak tips available. They come from the leftover pieces cut from a tenderloin roast. I am sure they are tasty, but they are not what we are talking about in our steak tips recipes.
Marinade ingredients
We put together an easy marinade that provides a BBQ type flavor. Using simple ingredients that you probably already have at home!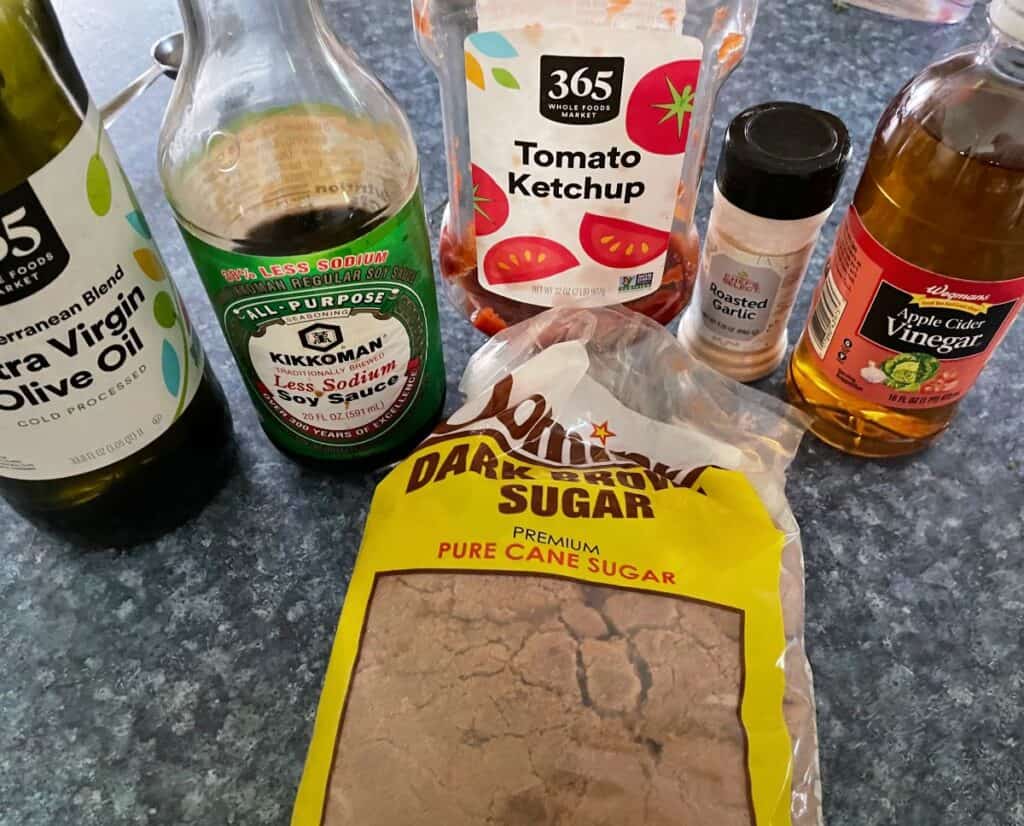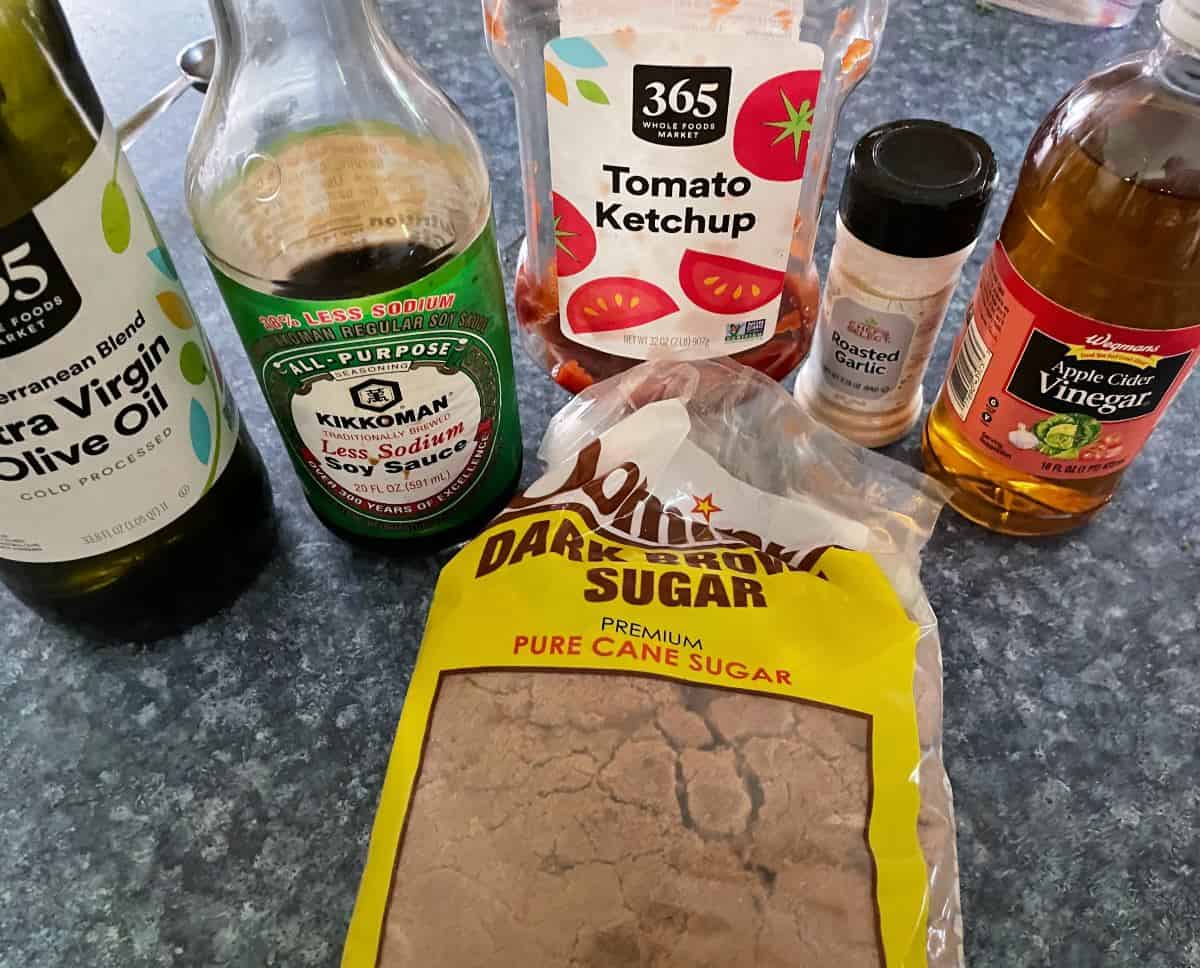 low sodium soy sauce
brown sugar
extra virgin olive oil
ketchup
garlic powder
apple cider vinegar
Recipe tips
The step by step instructions follow in the recipe card below. Here are a few quick tips:
The grilling time will vary based on the heat of your grill and the thickness of the steak tips. We generally have had our steak tips at medium rare with about 8 minutes of total grilling time. It was a bit quicker when we used grass fed beef.
For a lower sodium version, drop the soy sauce in the marinade to ⅓ cup and increase the olive oil by 1 tablespoon.
Allow at least one hour of marinating time. Three or four hours works nicely if you have time.
Marinate the steak tips in the refrigerator, but take them out to marinate at room temperature 30 minutes before you start grilling. It's better to cook meat when it is closer to room temperature rather than straight from the fridge.
We use a gas grill. I'm sure this recipe would be delicious made with a charcoal grill, too. Just note you may need to adjust the cooking time slightly.
Frequently asked questions (FAQ)
How long to grill steak tips?
Steak tips cook quickly. The exact cooking time will depend on thickness and heat of your grill, but in our experience they cook to medium rare in 8 minutes or less.
What are steak tips?
Steak tips are a cut of beef that come from various muscles around the sirloin and round. They are sometimes referred to as sirloin tips.
How to prepare steak tips?
Steak tips benefit from a marinade followed by a short cooking time on high heat, as we do in this easy grilled steak tips recipe.
What do steak tips look like?
Steak tips can come in various shapes. I have most often seen a cube shape served at restaurants, but we have bought them in a strip shape. They also come in a steak form.
Other recipes
If you like these easy grilled steak tips, here are a few more recipes to try:
And be sure to check out grilled steak recipes collection for more ideas! And for another steak preparation, try our steak picado – an adaptation of a Mexican steak classic, paired with a Spanish red wine.
What to serve with steak tips
We served the grilled steak tips with an arugula salad when we took these photos. Rice pilaf or mashed potatoes often find themselves alongside steak tips in our home.
For more ideas of what to serve with the steak tips, a lot of the recipes in this collection of best sides for ribs would also work well with steak tips.
Wine pairing
Latest pairing: As described below, the original wine pairing for these grilled steak tips was a blend of Shiraz and Saperavi.
As you may know, Shiraz is the name the Syrah grape goes by in Australia and some other places. Seeing as the Shiraz blend worked out previously, I thought this would be a great time to open a very good Syrah I had waiting in the cellar.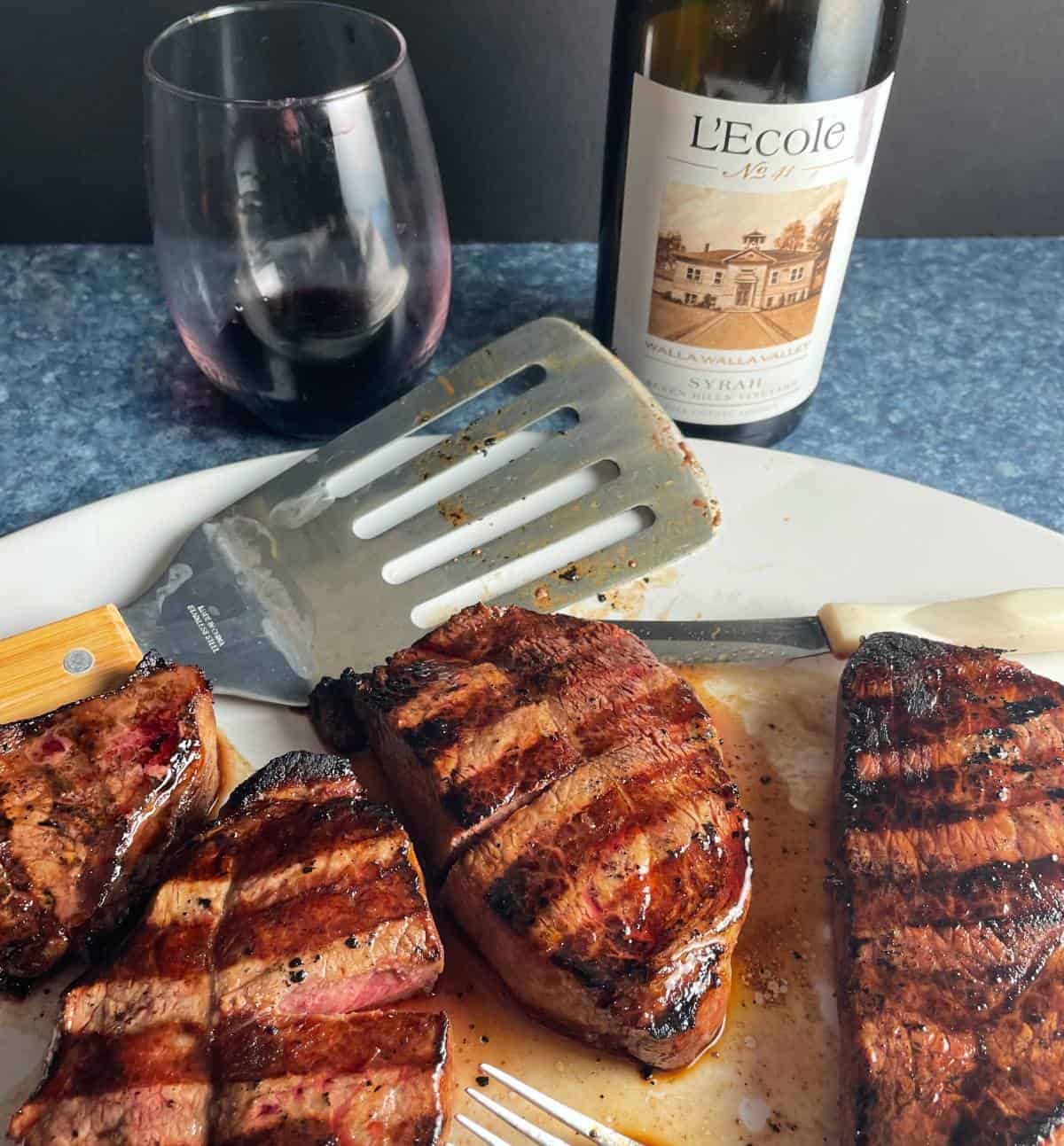 So I opened a bottle of the 2018 L'Ecole No. 41 Walla Walla Valley Syrah ($36, 15 % ABV) , which I previously paired with our Slow Cooker Irish Lamb Stew. This is a bold red wine from Seven Hills Vineyard in Washington's Walla Walla Valley. On the nose, pine brush and sage. The palate features bright cherry fruit and notes of white pepper.
The 2018 L'Ecole Syrah is a new release, which I received as a complimentary sample. The wine is made from 100% Syrah grapes. L'Ecole's Walla Walla vineyards, are certified sustainable and salmon safe. You can learn more about their sustainability programs here.
A Cabernet Sauvignon would be a natural choice for grilled steak tips given the fat content of the beef dish. I was also thinking a Zinfandel might work well with the marinade.
Original pairing
But for the second weekend in a row, I was influenced in my wine choice by having sampled wine and chatting with the winemaker shortly before cooking dinner.
Reviewing my original post, I see I've had a chance to chat with both winemakers that I'm featuring as pairing options! I'm in a group of wine bloggers that has been doing monthly Zooms with the L'Ecole team, including winemaker Marcus Rafanelli.
The first time I made these grilled steak tips, the pairing was influenced by chatting with Hugh Hamilton, who was pouring his eponymous Australian wines while visiting Pairings Wine and Food. I figured my favorite wine from his lineup, the "Black Ops" blend of Shiraz and Saperavi, would be a good choice for our Easy Grilled Steak tips.
The 2014 Hugh Hamilton Wines Black Ops ($22, 15 % ABV) is a blend of 85% Shiraz and 15% Saperavi from the McLaren Vale region of Southern Australia. I forgot to take any tasting notes, but the Pairings description of "intense red fruit explosion with notes of dried blueberries" jives with my recollection.
The Black Ops is definitely a well made wine. I was surprised to see the 15% alcohol, as wines in that territory can tend to be "fruit bombs" without much nuance, but that doesn't apply here (nor does it with the L'Ecole Syrah, which has the same alcohol content). This Black Ops is still food friendly, particularly if that food is a good piece of beef!
Other pairing options
So we have had good luck pairing Syrah with our steak tips. I would certainly think a Cabernet Sauvignon or a Zinfandel could work well here. When we made our BBQ Baked Steak Tips, we opened a Tannat from Uruguay. That worked well, so you could try something like the with grilled sirloin steak tips, too.
Print
Recipe card
Easy Grilled Steak Tips
A flavorful marinade makes for tasty steak tips that are ready in under 10 minutes on the grill.
Author: Cooking Chat
Prep Time:

60 mins

Cook Time:

8 mins

Total Time:

1 hour 8 mins

Yield:

8

servings

1

x
Category:

Main

Method:

grilling

Cuisine:

American
2 ½

lbs sirloin steak tips

⅔ cup

soy sauce, low sodium
tbsp brown sugar

2 tbsp

extra virgin olive oil

1 tbsp

app cider vinegar
tbsp ketchup
tsp garlic powder
Instructions
Make the marinade: combine the soy sauce, brown sugar, olive oil, cider vinegar, ketchup and garlic powder in a bowl.
Marinate steak tips: Pat dry the steak tips, and place in a large sealable plastic bag. Pour the marinade into the bag, and seal. Gently toss the steak in the marinade, then refrigerate.Marinate the steak tips for at least an hour prior to cooking.
Get ready to grill: Remove the steak from the fridge 30 minutes prior to grilling time to complete the marinating time and bring the steak closer to room temperature.
Start grilling: Preheat a grill to medium high. Take the steak tips out of the marinade bag, letting the excess marinade drop back into the bag. Place the steak on the grill, and cover.
Grilling time: Grill the steak tips for 4 minutes on one side, then turn and grill 4 minutes on the other side. This should get them to about medium rare, but check for doneness and cook for a couple more minutes if needed.
Remove steak tips to a platter, and cover loosely with foil. Let rest for 5 minutes before serving.
Plate the steak tips and enjoy!
Notes
Lower sodium version: When remaking the steak tips recently, we reduced the soy sauce to ⅓ cup, and increased to 3 tablespoon olive oil for the marinade. It was still very tasty!
Marinating time: Consider one hour as a minimum. We have marinated this for 3 to 4 hours, too, and that works nicely.
Cooking time will vary a bit based on the heat of your grill and the thickness of the steak tips. Last time we made it, we used grassfed steak, which cooks a bit faster. If you have grassfed beef or thinner steak tips, you might check for doneness after 6 or 7 minutes cooking time.
Keywords: grilled steak tips, easy steak tips, steak tips with marinade
Recipe Card powered by