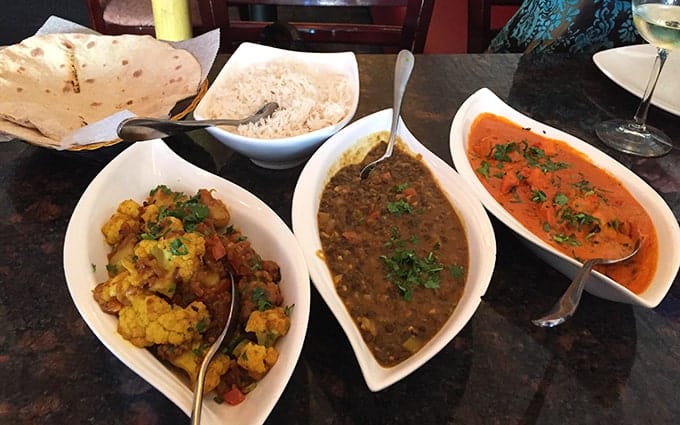 This Father's Day generated not one but two blog posts, a sign that I enjoyed a tasty day! For lunch, I did some experimenting with a grilled cheese and a beer pairing. The rainy weather forecast got us thinking about eating out for dinner. I chose go to Zaika Indian Bistro, located in downtown Woburn, the community where we live.
I love Indian food, but I don't cook it too often. It's one cuisine where I tend to be content to let someone else do the cooking, though I've dabbled with making it myself occasionally. Another plus about Indian food is there tend to be more allergy-friendly options than some other restaurants.
I've enjoyed the lunch buffet at Zaika several times, and enjoyed their food when they came to the WorldFest event, but this was my first time going for dinner. I'd been there for lunch with work colleagues, so it was also the first time to see what we could find that would work with Brendan's allergies (egg, nut, dairy and sesame seed).
We were greeted warmly as we entered the restaurant. Not long after settling into our seats, we were brought a well-presented and tasty amuse-bouche of fried paneer and tomato-based sauce.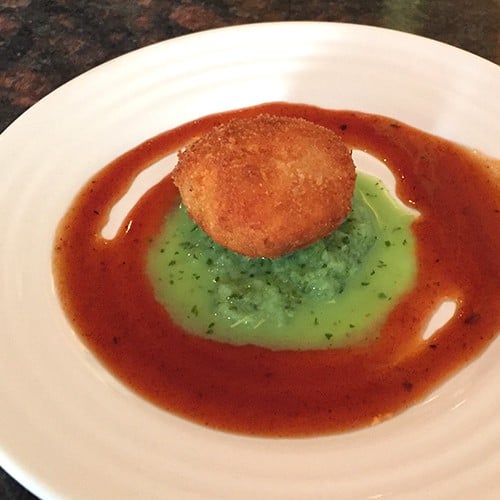 Our server and the owner were helpful as we sought to find some allergy-friendly choices. In addition to the allergy concerns with Brendan, we also have the 9 year old palate issue. But he was quickly made happy with a nice big glass of mango juice, and a vegetable samosa to go along with it. Jodi and I split the other one that came with the order. (if you happen to have similar allergies to Brendan, we have generally found vegetable samosas to be a good option at Indian restaurants, but of course always check with your server as it could be prepared differently where you are dining).
Sticking with the allergy concern for a moment, we ordered dal makhani (a vegetarian lentil dish) and aloo gobhi (potatoes and cauliflower) for all three of us to share. I liked them both; I was particularly impressed with how flavorful the cauliflower was, having absorbed the medley of curry spices very well. Brendan didn't care much for the lentils, but did warm up to the aloo gobhi. Pretty good for a child just getting used to curry.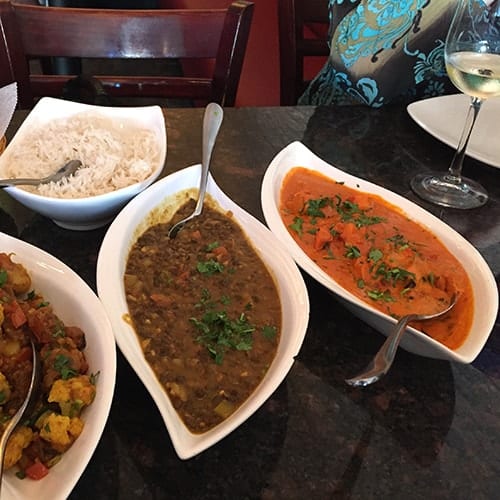 I also ordered chicken tikka masala, one of my favorite Indian dishes. Zaika served up a tasty version of the classic. This one is prepared with dairy, so was just for Jodi and me. Brendan made up for not having that one by getting an extra portion of the chapati bread that he loves!
Everything at Zaika was fresh and flavorful. As you might be able to gather from the pictures, they also give bigger serving sizes than one often finds at Indian restaurants. Despite my eating a pretty respectable amount while at Zaika, there was still enough leftover for another meal.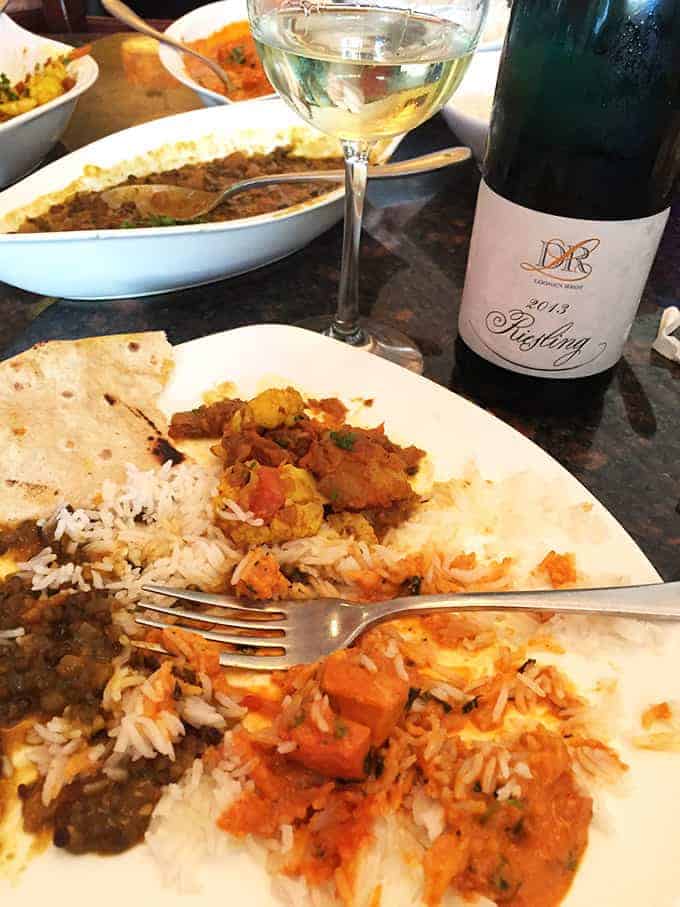 Wine Pairing: Pairing wine with Indian food has historically been one of the most popular topics here on Cooking Chat. If you scroll through my past posts on the topic, you can see I've gotten creative. I've paired a Bulgarian white with Indian, matched an Italian white with a curry I cooked up, and even found a Carmenere I enjoyed with an Indian meal.
Surprisingly enough, none of those recent posts on wine for Indian food feature a Riesling, which tends to be a classic choice with spicy foods. I spotted a 2013 Dr. L Riesling from Loosen Bros. on the menu at Zaika, and quickly chose that. This wine comes from Germany's Mosel region, a great area for producing Riesling. This wine has good fruit and minerality, and just enough sweetness to contracts with the spice of the curry, and refresh the palate for the next bite. The low alcohol content also makes it a good choice for spicy food. Definitely a good choice for Indian food, and at $28/bottle was very well priced for a restaurant.
Synopsis: Zaika Indian Bistro is definitely a good dining option in the Woburn area! Well-priced, flavorful food in a good location.
One week to giveaway deadline! Before I sign off, I should remind you that we are part of a $280 gift certificate giveaway. Click the Rafflecopter giveaway link and enter by July 1, 2015 for your chance to win a William Sonoma gift card!