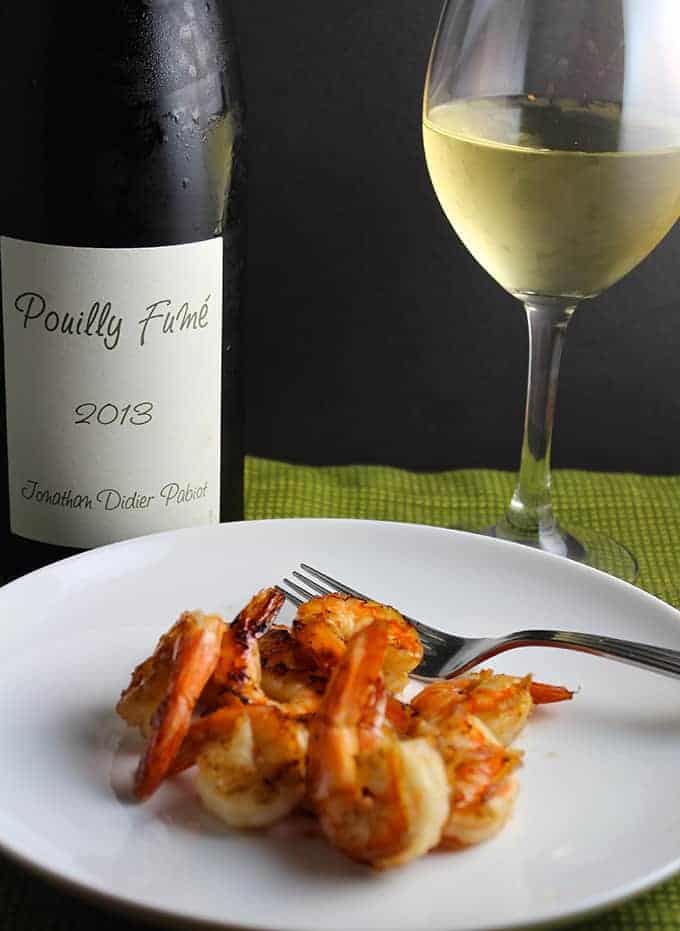 Today is the inaugural edition of the French Winophiles group started by Christy from Confessions of a Culinary Diva. We start this exploration of French wine regions by focusing on the Loire.
I almost had some great stories to tell you about biking along the Loire and visiting chateau to sample the wine region. My friend and I spent a week in France when backpacking around Europe after college. We planned to visit the Loire after Bordeaux. Alas, we were relaxing on a beach too long and my friend wound up spraining an ankle while sprinting to catch our train. The biking around the Loire plan was scrapped. C'est dommage. For now, I have to settle for a virtual visit.
The Loire offers a lot of wine variety to choose from. Though I tend to think more of whites from the Loire, I've really enjoyed a number of Cab Franc based reds I've had from the region. But for today, I wanted to revisit Pouilly-Fumé. Last year, I did a post comparing a Pouilly-Fumé and a Pouilly-Fuissé. Though the white wines may sound similar, Pouilly-Fuissé is in Burgundy and made from Chardonnay. Pouilly-Fumé is one of the highly regarded Sauvignon Blanc based wines from the Loire.
My previous pairing for a Pouilly-Fumé fell kind of flat. I served it with a pasta that had Andouille sausage. I was hoping the smokiness of the wine would match the sausage flavor, but it just didn't work. But Pouilly-Fumé can be a great wine, so I wanted to find a better pairing for it. Seafood, shellfish in particular, seemed to come up a lot as a suggested pairing. So I decided to make Simple Grilled Shrimp with Pouilly-Fumé.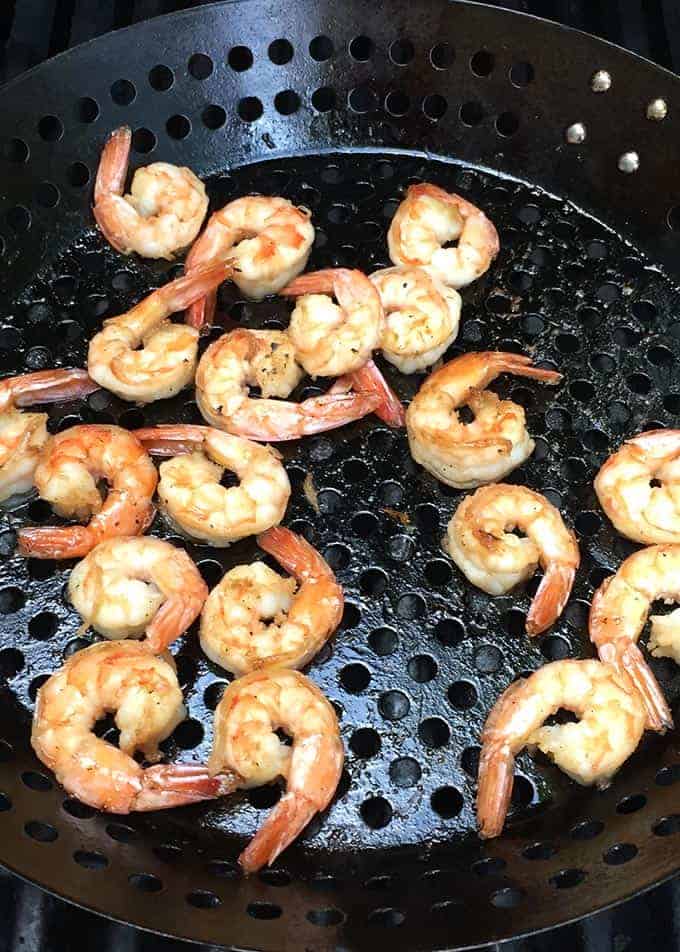 This grilled shrimp is so easy, but so good. The simple marinade with soy sauce and honey adds some great flavor. On the grill, the marinade browns and you get a crispy, salty sweet shrimp. My nine year old says he likes this almost as much as steak, high praise from the lad!
I tend to buy the pre-cooked shrimp, which makes this dish especially easy. Just a short time marinading the shrimp, and its ready to throw on the grill. I like to use a grill pan for this (and many other things!).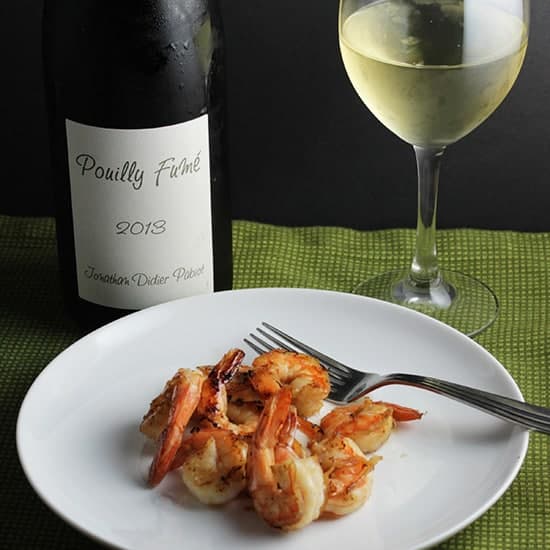 Wine pairing: So I picked out the 2013 Jonathan Didier Pabiot Pouilly Fumé ($24). Last year's post on this topic featured the 2012 from the same producer.
On the nose, I got honeysuckle, pineapple and kiwi. I tasted mango, honey and hazelnut, which paired very nicely with the smoky sweetness of the shrimp. This Pouilly-Fumé has nice minerality, as a good Loire Sauvignon Blanc should. It also has a great finish. My bottom line assessment of the wine: delicious! It's one of the tastiest wines I've enjoyed in awhile. I don't usually get so enthused about a white wine! I will definitely be getting this bottle again. I recall liking the earlier vintage of this wine, but something about this vintage really captured my taste buds. And I was pleased in this second Pouilly-Fumé pairing adventure to find a good food partner to let the wine shine. Cheers!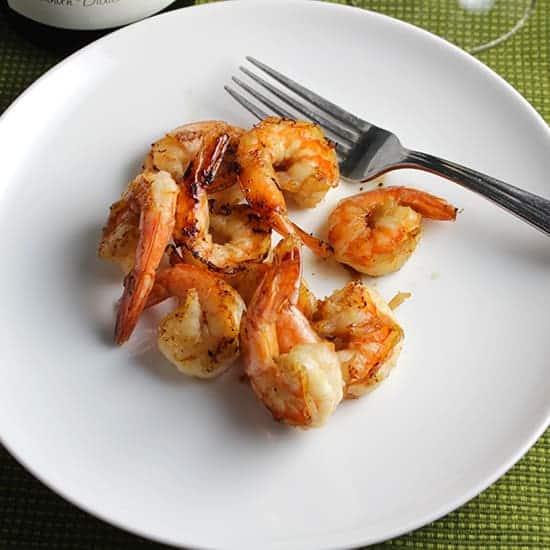 A naked Chardonnay or one with moderate oak can also work as a wine pairing for this simple shrimp recipe. I recently had this shrimp with the 2016 Hugh Hamilton Wines Scallywag Chardonnay ($19, 13.5% ABV) from the Adelaide Hills region of Australia's McLaren Vale. Winemaker Hugh Hamilton says he uses a "feather like touch" with the oak on this Chardonnay, letting the fruit shine. I can definitely taste that. Definitely try the Scallywag with the shrimp if you get a chance, or a similar Chard if you are in the mood.
Print
Recipe card
Simple Grilled Shrimp
Shrimp with a simple soy and honey marinade are an easy treat from the grill.
Author: Cooking Chat
Prep Time:

10 mins

Cook Time:

10 mins

Total Time:

20 mins

Yield:

2

servings

1

x
Category:

Main

Cuisine:

American
½

lb pre-cooked shrimp

3 tbsp

soy sauce, preferably low sodium

1 tbsp

olive oil

2 tsp

honey

½ tsp

brown rice vinegar
Instructions
Make the marinade: coming the soy sauce, olive oil, honey and brown rice vinegar in a mixing bowl.
Add the shrimp to the marinade, stir to thoroughly coat the shrimp. Set aside, and let the shrimp marinade for about 10 minutes.
After making the marinade, preheat a grill to medium high.
Use a slotted spoon to transfer the shrimp to a grill pan. The slotted spoon will keep the excess marinade in the bowl.
Place the grill pan on the grill, and grill for 8 to 10 minutes, stirring occasionally. The shrimp is done when it starts to get nicely browned and a little bit crispy.
Recipe Card powered by
Be sure to sample what my French Winophile friends have shared for this trip to the Loire!
Martin from Enofylz Wine Blog shares "Tale Of A Crémant de Loire Brut Rose At The Table"
Jeff from foodwineclick indulges in "Saint-Jacques Poêlées & Sancerre"
Sarah from Curious Cuisiniere brings us "Grilled Salmon with Beurre Blanc and Loire Valley Muscadet"
Wendy from A Day in the Life on a Farm tempts us with "Vouvray Poached Pineapple with Rosemary Whipped Cream featuring Bardon and Guestier aka CIC meets French Winophiles"
David from  Cooking Chat  shares "Grilled Shrimp with Pouilly-Fumé
Camilla from Culinary Adventures with Camilla  brings us "Gravlax, Goat Cheese, & French Sorrel Stuffed Squash Blossoms + Patient Cottat Sancerre 2013"
Anna from Anna Dishes is still whipping up her culinary creation
Tammy from Telling Stories from Chez Nous is sharing "Lemon Garlic Chicken with Pan Sauce paired with Oisly & Thesse Sauvignon"
Christy at Confessions of a Culinary Diva is sharing  "Chard Roasted Salmon with 2013 Pouilly Fume and 2014 Sancerre Rosé"
Join us for a live Twitter Chat Saturday, June 20th at 11 am EST/8 am PCT using #Winophiles.