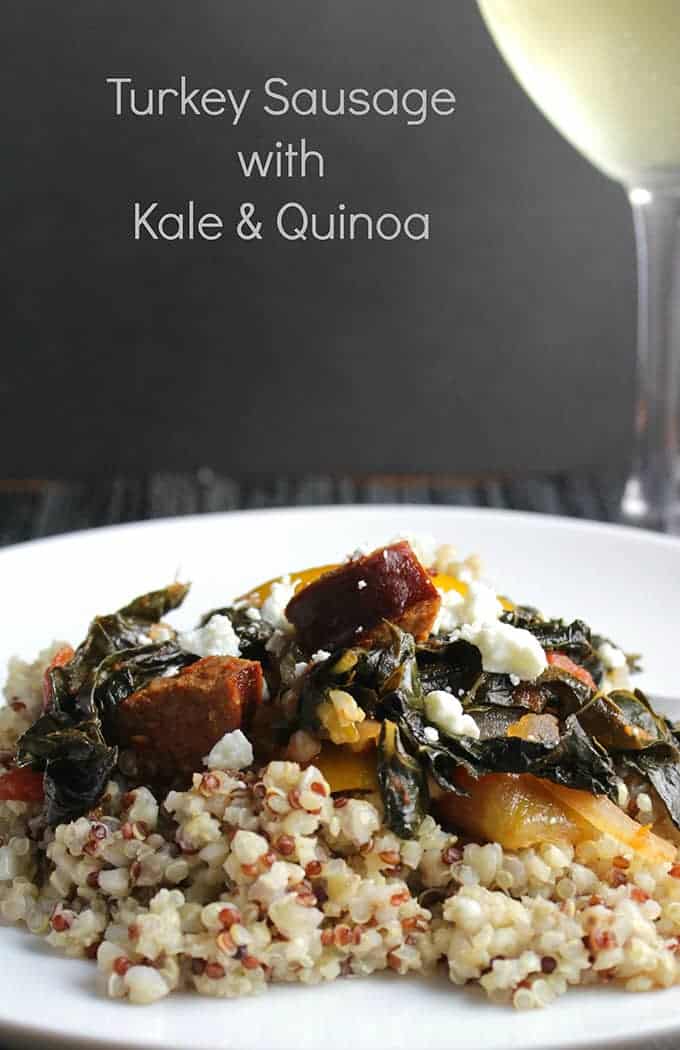 I wasn't always a fan, but now I'm keen about quinoa! This hearty, healthy grain has a nuanced consistency, and absorbs flavors of your dish well. It's a bit plain on its own, so the key is to cook something flavorful along with it that has some liquid for the quinoa to absorb. This time, I cooked up some Andouille turkey sausage with kale to serve over quinoa, and it definitely qualifies as a good combination!
I love pasta, but I do have a tendency to lean a bit heavily on it, particularly during a busy patch. With the combination of Little League baseball and work events, spring and early summer is the busiest time for us here! Thus, pasta has been featured a lot. This Turkey Sausage with Kale and Quinoa dish demonstrates that something you might typically toss with pasta also can work great over quinoa for a healthy change of pace.
The quinoa I used for this dish is a "Super Grains" blend from Whole Foods. The package is a blend of white and red quinoa along with millet and buckwheat. The blend makes for a nice presentation as well as flavor.
I'm talking quinoa a lot here, but let me say a word about the kale. We were eating kale several times a week as I was working on the Collards & Kale Cookbook, but I've backed off a bit since finishing the cookbook. Realized we hadn't had kale in a few weeks, so I grabbed a bunch of lacinato kale, which also goes by the name "dinosaur kale", "dino kale" and "Tuscan kale". In addition to being bumpy, the leaves of this kale are a bit thinner than the standard green kale, so it cooks up a bit faster. A nice option for a quick meal.
I went with an Andouille turkey sausage, but you could substitute other flavorful sausages. Garlic and herb would do well, for instance. Using turkey sausage along with the kale and quinoa gives you a tasty meal packed with plenty of nutrition!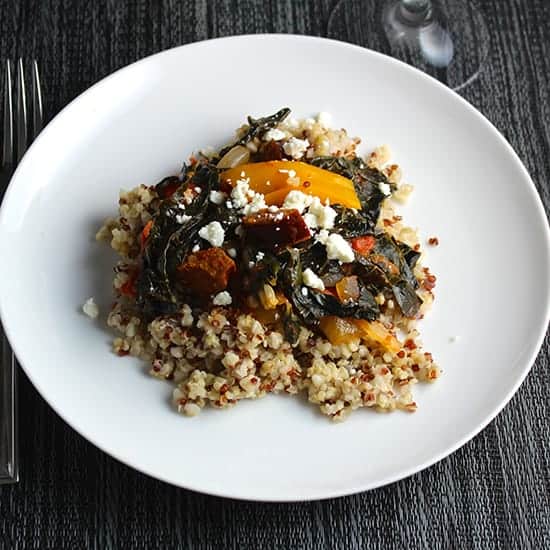 Wine pairing: I went with a 2013 Winzer Krems Sandgruge 13 Gruner Veltliner from Austria(12.5% alcohol, $13/bottle). I didn't buy this to pair the turkey sausage and kale dish; rather, I hadn't had Gruner in awhile. It's definitely a white wine I'm drawn to in the warmer weather, and it tends to be food friendly. This bottle has nice lemon fruit and pronounced minerality.
The Andouille sausage I used had a lot of heat, which I didn't know when I opened the wine. Of course, Andoiulle sausage always has a good amount of flavor, but some I've had the garlic is more pronounced the the hot chili. The heat was a bit much for the Gruner, which was very dry. I'd think a Riesling with a bit of sweetness would be a better match for the dish. My recent dabblings in beer pairings also made me think this dish might be best served with a good beer. Next time I make it I might have to consult my new friends at Mystic Brewery for a beer pairing idea!
Print
Recipe card
Turkey Sausage with Kale and Quinoa
Spicy turkey sausage cooked with kale, onions and peppers in a skillet, and served over quinoa.
Author: Cooking Chat
Prep Time:

10 mins

Cook Time:

35 mins

Total Time:

45 mins

Yield:

4

servings

1

x
Category:

Main

Cuisine:

Healthy
2

andouille turkey sausages (or other turkey sausage with some spice)

2 tbsp

olive oil

1

onion, chopped

1

yellow or red bell pepper, chopped

1

bunch lacinato kale, (also known as "dino kale"), coarsely chopped after stems removed

¼ cup

white wine

½ tsp

honey

½ tsp

fennel powder

1 cup

quinoa

14.5 oz

can chopped tomatoes

¼ cup

feta cheese
salt and pepper to taste
Instructions
Add 1 tablespoon olive to skillet and heat a skillet on medium high. Add the sausage to brown, stirring occasionally. Remove sausage when the outside is browned, 5 to 8 minutes. Set sausage aside on a plate to cool. After the sausage has cooled, slice it thinly to have ready for the dish.
Return the skillet to the heat, lower to medium. Add the other tablespoon olive oil, followed by the onion. Sauté for about 5 minutes until onions begin to soften.
Add the pepper to the skillet, cook for 3 to 4 minutes more.
Add the kale to the skillet in batches, stirring to incorporate with the onions and peppers. Stir in the cooking wine.
Let the wine cook into the vegetables for a couple minutes, then stir in the tomatoes along with the honey and fennel powder. Lower to medium low heat, then cover the skillet to braise the kale.
After 10 minutes of braising, remove cover and stir in the sausage. Cover again, and braise for another 10 minutes.
Cook the quinoa according to package instructions while the kale braises. Be sure to rinse the quinoa thoroughly in cold water before cooking. It is rinsed enough when the water running through is clear. The quinoa we had was simmered covered with two cups of water for about 20 minutes, at which time the water was absorbed into the grain.
To serve, scoop some quinoa onto a plate. Stir the sausage and kale mixture up well, then add a scoop or two over the quinoa. Sprinkle a bit of the feta cheese over the top. Repeat for your other servings. Enjoy!
Recipe Card powered by
Want more health recipes with greens? Check out the Collards & Kale Cookbook!