A quick and easy Greek spaghetti recipe with a no cook sauce. Spaghetti gets tossed with Greek staple ingredients, including feta cheese, extra virgin olive oil, tomatoes, lemon juice and herbs. This vegetarian dish can be on the table in 20 minutes. We enjoyed it with a white wine from Greece!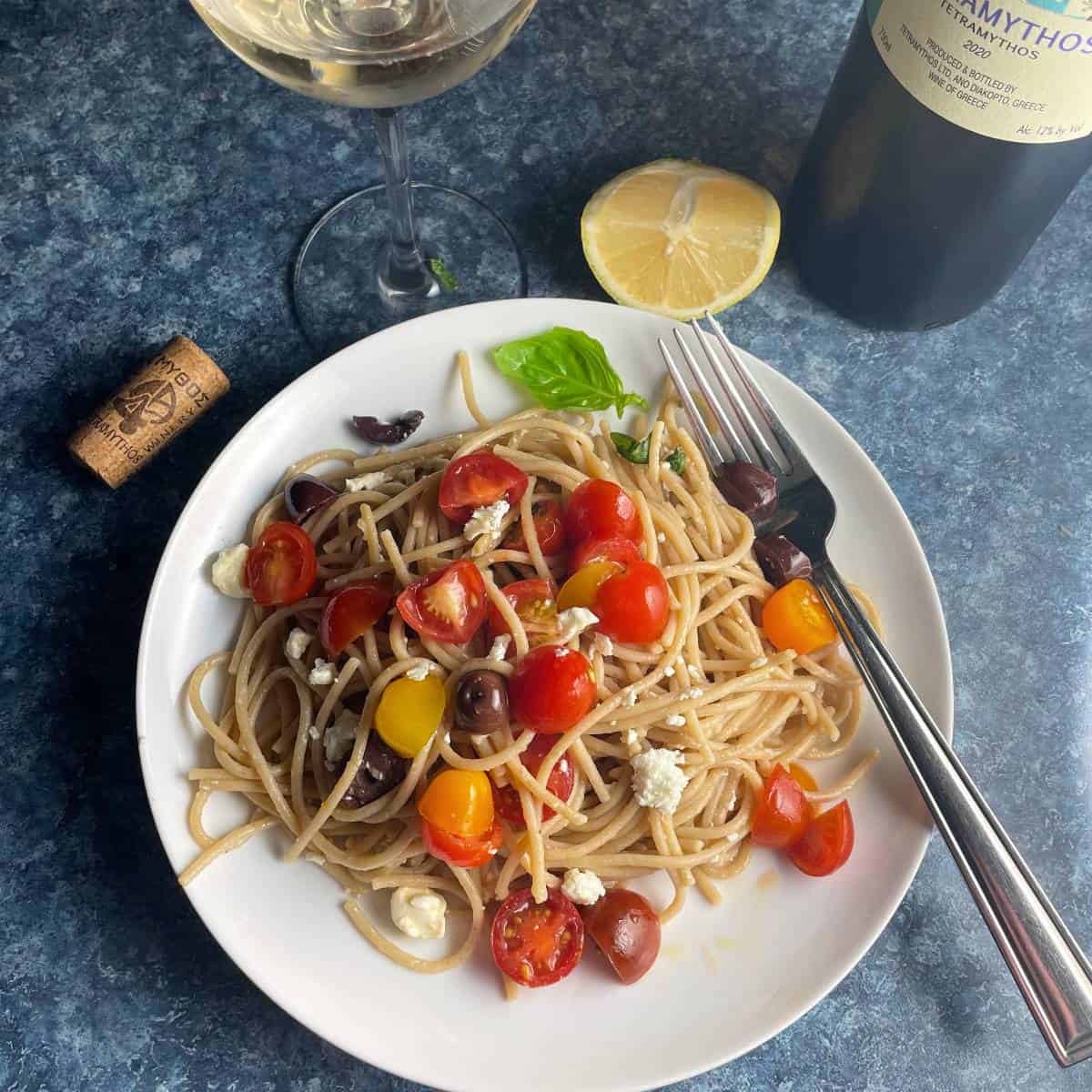 Today the Wine Pairing Weekend blogging group is exploring wines from Greece, and pairings to go with them. Thanks to Deanna from Wineivore for hosting!
I cook a fair amount of food that draws on Greek recipes and flavors. So I definitely wanted to go in that direction for today's event.
We had a bottle of Greek white and a red to potentially feature with a recipe. I decided to go with the white, and cook a simple Greek spaghetti recipe to with what was described as a crisp white wine at the shop.
Our easy vegetarian pasta recipe is quick, easy and flavorful! Great option for a meatless weeknight meal. Let's take a quick look at characteristics of Greek food before getting more into our recipe and pairing.
Jump to:
Quick intro to Greek Cuisine
When I think about Greek cooking, several ingredients first come to mind. Olives, feta cheese and tomatoes for sure. Perhaps lamb and of course olive oil.
Like much of Mediterranean cooking, recipes based on some simple, quality ingredients are definitely the hallmark of Greek cuisine. It doesn't tend to include complicated sauces or preparations, as "food should be served as close to its natural state as possible," explains Diane Kochilis in this article.
Some classic Greek dishes include spanokopita (spinach and cheese in phyllo pastry), moussaka (an eggplant lasagna) and of course, baklava for dessert.
Greek inspired recipes
I haven't done much cooking of those classic Greek recipes as much as lean into the use of Greek ingredients and simple techniques here on Cooking Chat. Here are some addition Greek flavored recipes we have made, in addition to today's Greek spaghetti recipe.
If it's another vegetarian pasta recipe you are looking for, try our Roasted Asparagus and Mushroom Pasta!
Ingredients & tips for today's recipe
Browsing recipes for Greek spaghetti, you will find some that feature the pasta tossed with hearty meat sauce. This one for makaronia me kima from My Greek Dish looks like a tasty example.
But our Greek spaghetti recipe falls into that idea of serving food in as close to its natural state as possible. Let's take a look at the simple ingredients that make this easy recipe work.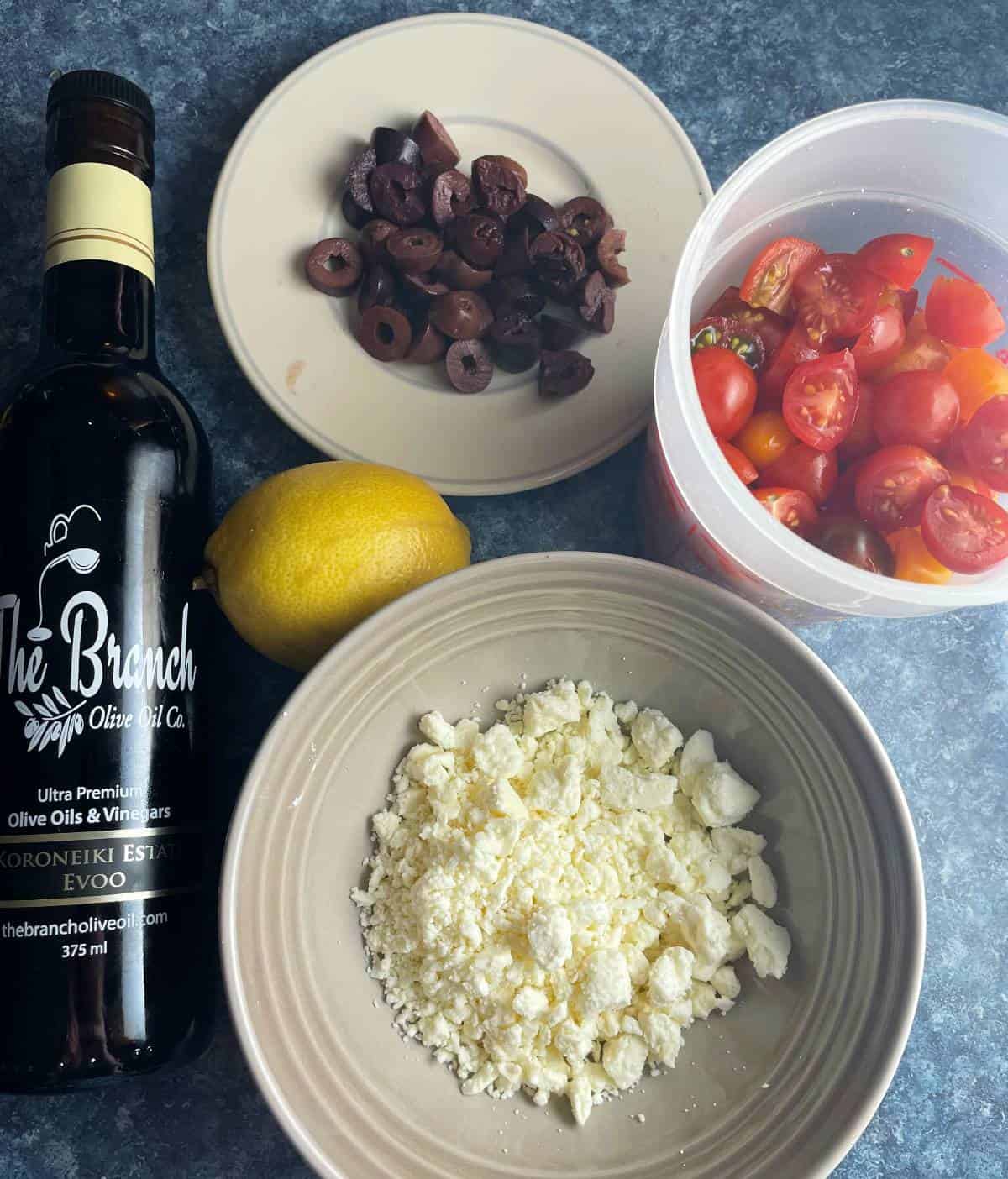 Feta cheese features prominently in bringing flavor to this dish! Feta cheese is typically made from sheep's milk, or sometimes a combination of sheep and goat's milk. We found some recipes for Greek spaghetti calling for more feta, but we found ½ cup of the feta cheese to bring good flavor to the dish.
Extra virgin olive oil: High quality olive oil is a must for this pasta dish! If you can use Greek olive oil, it's a great option. Greece has the highest per capita consumption of olive oil, so they know what they are doing!
We used Koroneiki Estate Evoo from The Branch Olive Oil Co., which has several shops in the Boston area. Koroneiki olive trees are the oldest in Greece. There are some options for Koroneiki evoo here on Amazon (affiliate link provided).
Olives are also essential to the flavors of this spaghetti dish! We used kalamata olives, but you could use black olives or green if you like.
Tomatoes: This time of year, I find grape and cherry tomatoes are the best bet when featuring uncooked tomatoes in a recipe. But if you happen upon this recipe in tomato season, go ahead and use those fresh, ripe summer tomatoes!
Fresh herbs are important to bring vibrant flavors to this simple recipe. Dill and oregano are the first herbs that come to mind for me with Greek food. But basil is fairly common, too, and seemed like a natural choice to go with the tomatoes in this recipe. If you have fresh oregano available try using some along with the basil.
Wine pairing
I opened a bottle of 2020 Tetramythos Roditis ($14, 12% ABV) to pair with our Greek Spaghetti.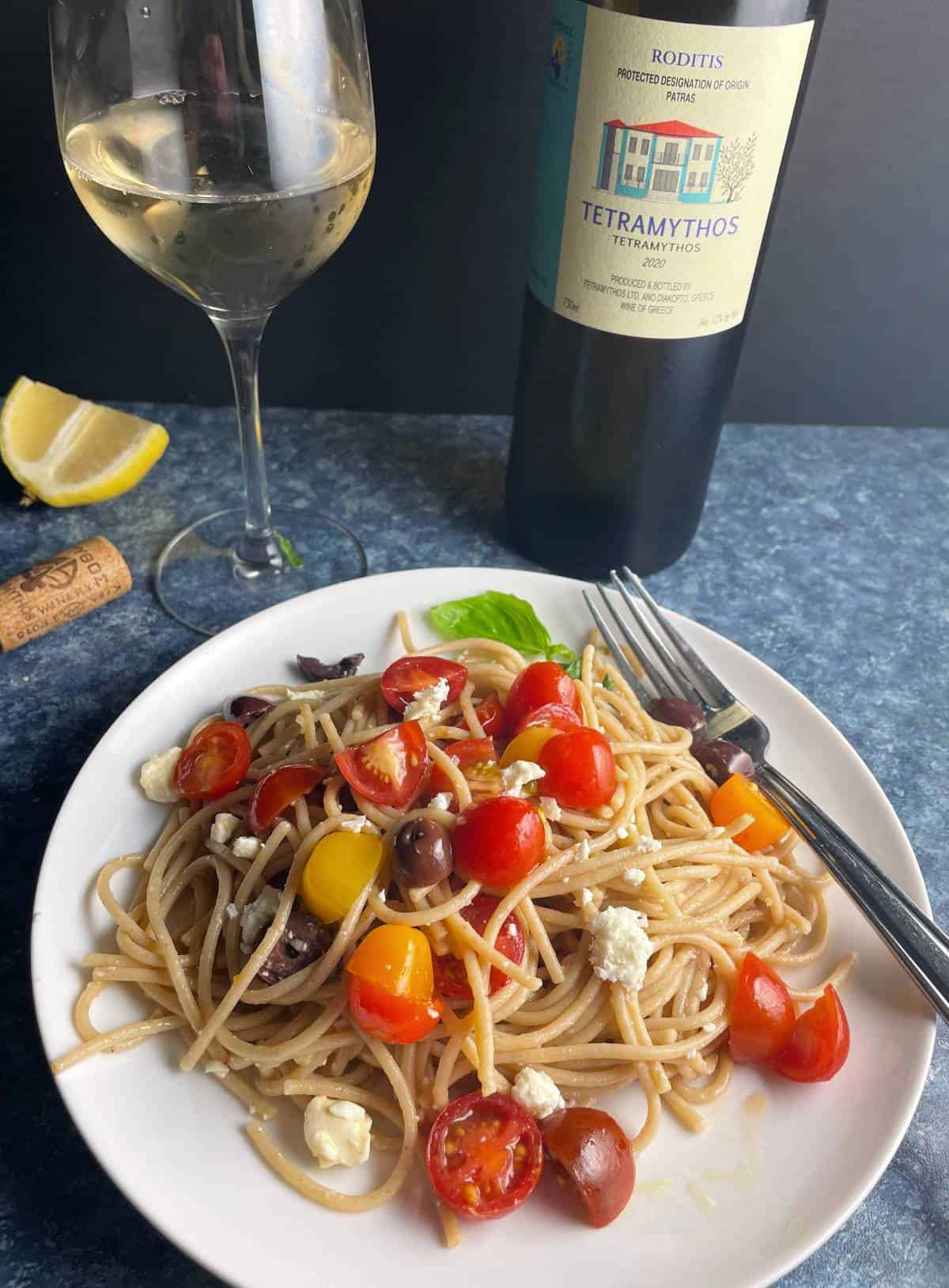 The wine is pale yellow in the glass, with a light floral nose. On the palate, tart lemon fruit, with some minerality. Body is on the light side of medium.
The crisp acidity of the wine and the lemon notes work fairly well with the flavors of the dish, particularly the tomatoes and citrus. I would give this pairing a "B" — I think this wine would be ideally suited for seafood.
Next time I make the dish I think I will try either a fuller bodied white or maybe a rosé.
About the winery
The Tetramythos winery is located in the Patras region, which is in the northern part of the Peloponnese Peninsula. Although I associate Greece with warm weather, the winery website does show the vineyard after a snow fall!
This area does have some higher altitude vineyards with cooler conditions. The winery references being on the slopes of Mount Aroania.
Bonus pairing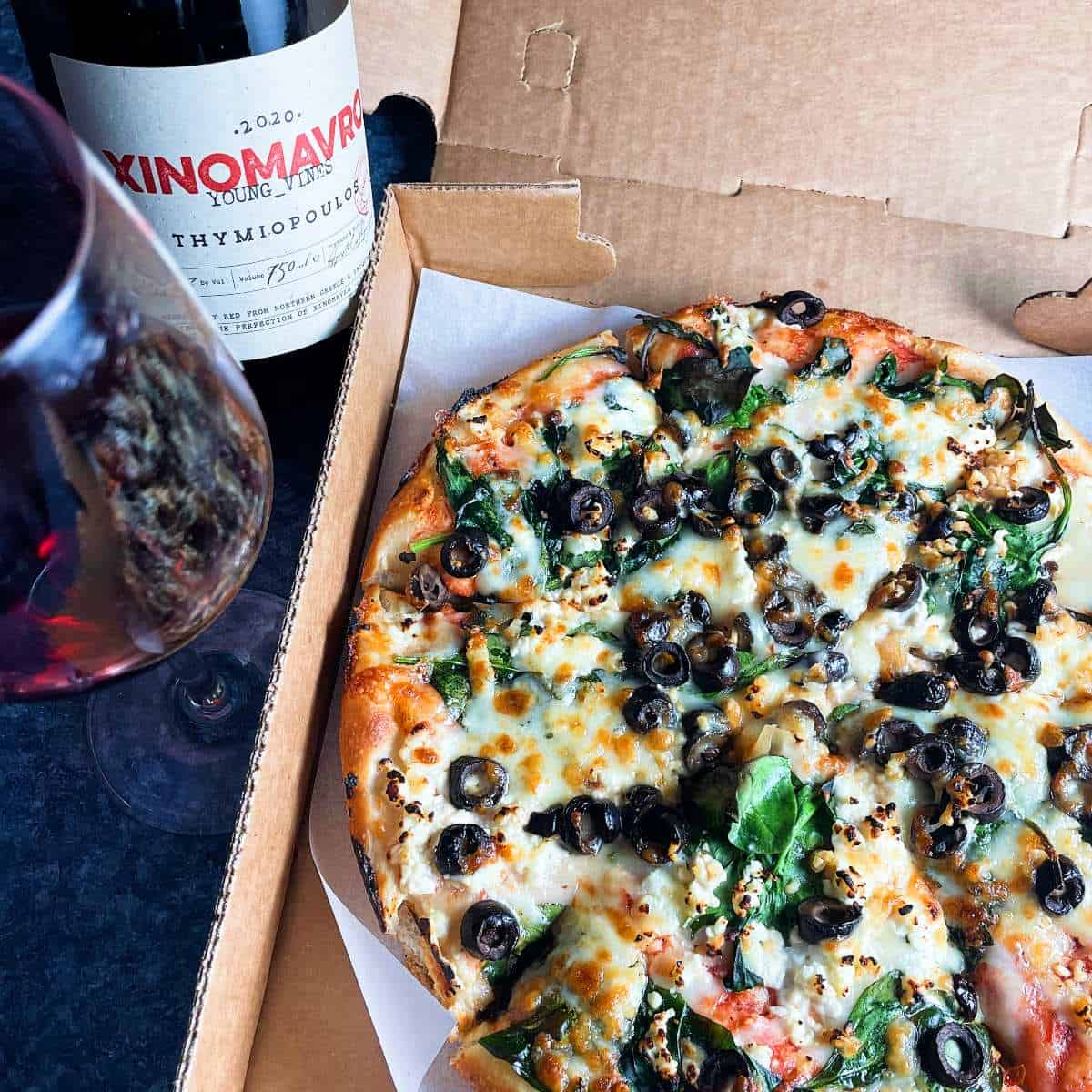 Last night, we opened another bottle of Greek wine we had on hand, the 2020 Thymiopoulos Young Vines Xinomavro ($20, 13.5% ABV) red wine. According to this post, Xinomavro is red wine grape that typically produces fairly tannic wines.
However, this version, from Macedonia, is fresh and light. Fresh berries and bell pepper on the nose, bright cherry and black pepper on the palate. Nice acidity. Excellent paired with take out pizza with some Greek toppings! Feta, garlic, olives and spinach. I will be back for another bottle of this wine!
If you're in the Boston area, both of these Greek wines were purchased at Berman's Fine Wines in Lexington.
Print
Recipe card
Greek Spaghetti Recipe
A quick and easy Greek spaghetti recipe with a no cook sauce. Spaghetti get tossed with Greek staples, including feta cheese, extra virgin olive oil, tomatoes, lemon juice and herbs. This vegetarian dish can be on the table in 20 minutes!
Author: Cooking Chat
Prep Time:

5 mins

Cook Time:

15 mins

Total Time:

20 mins

Yield:

5

servings

1

x
Category:

main

Method:

stove top

Cuisine:

Greek

Diet:

Vegetarian
12 ounces

spaghetti — I like to use whole wheat

2 cups

tomatoes, chopped — cherry or grape tomatoes work well

½ cup

feta cheese — plus additional to pass at table

3 tbsp

sliced olives — kalamata or black olives

¼ cup

extra virgin olive oil plus 2 additional tablespoons

¼ cup

basil, sliced

1 tablespoon

fresh lemon juice.

½ teaspoon

dried oregano (optional)
salt and pepper to taste
Instructions
Start boiling water for the spaghetti.
Prepare other ingredients as the spaghetti cooks. Chop the tomatoes into bit size pieces. Place in a bowl, and stir in two tablespoon extra virgin olive oil. Measure out the feta, slice the olives and basil. Set aside as the pasta finishes cooking. Quarter a lemon to have that ready.
Finish cooking the pasta according to package instructions. I like it cooked just a bit past al dente. When the spaghetti is ready, drain it well, and return it to the pan. 
Combine the ingredients to finish the Greek spaghetti. Start by stirring in the remaining ¼ cup olive oil, followed by the feta cheese. Add half of the tomatoes, leaving the remaining ones to top the plated spaghetti. Stir in the basil, optional oregano and lemon juice. Add salt and pepper to taste.
Plate the spaghetti. Top each dish with a scoop or two of the remaining tomatoes, and pass the feta cheese at the table. Enjoy!
Notes
We go for grape or cherry tomatoes when we aren't in peak tomato season, as we are able to find some locally that are pretty flavorful year round. That is what we used for this recipe. But if you are making this in the summer, go ahead and use fresh, full sized tomatoes in the same quantity (2 cups).
Select a high quality extra virgin olive oil for this recipe. Greek if you have it available!
We call for dried oregano, but you could certainly use fresh oregano if you have it. Use about a teaspoon of fresh oregano, or a bit more if you like.
Keywords: Greek spaghetti recipes, pasta with no cook sauce, spaghetti with raw tomatoes, easy pasta recipes, vegetarian Greek recipes
Recipe Card powered by
More Greek wine with food pairings
Be sure to check out all of the Greek wines sampled along with with delicious food pairings from the Wine Pairing Weekend bloggers!
Wendy is tasting "Assyrtiko from Santorini paired with Greek Mac and Cheese" at A Day in the Life on the Farm
Camilla is "Waiting for the Temperature Drop: Still Eating al Fresco and Pouring Moschofilero" at Culinary Adventures with Camilla
Andrea asks "Do You Know Fokiano?" at The Quirky Cork
David is having a "Greek Spaghetti Recipe and Wine Pairing" at Cooking Chat
Cindy is exploring how "Xinomavro Thrives in Naoussa Where Key Elements Define Its Character" at Grape Experiences
Deanna is testing an "Almost Paleo Greek Menu + an Aged Sparkling Zitsa" at Wineivore
Gwendolyn is pairing "2 Organic Greek Wines with Grilled Fresh Fish" at Wine Predator
Nicole is showcasing "Three Off-the-Beaten-Path Pairings for Holiday Cheese & Charcuterie Platters" at Somm's Table