Is local food more sustainable? In Cook Local, Eat Local podcast Episode 002, we talk with Marley Goldin from Marley's Menu about how eating local food contributes to sustainability. Check out the episode for simple sustainability tips and resources.
You can also listen on:
Apple podcasts | Spotify | Amazon Music
Our show notes have some helpful links to resources and recipes Marley mentioned.
Jump to:
Today's Guest – Marley Goldin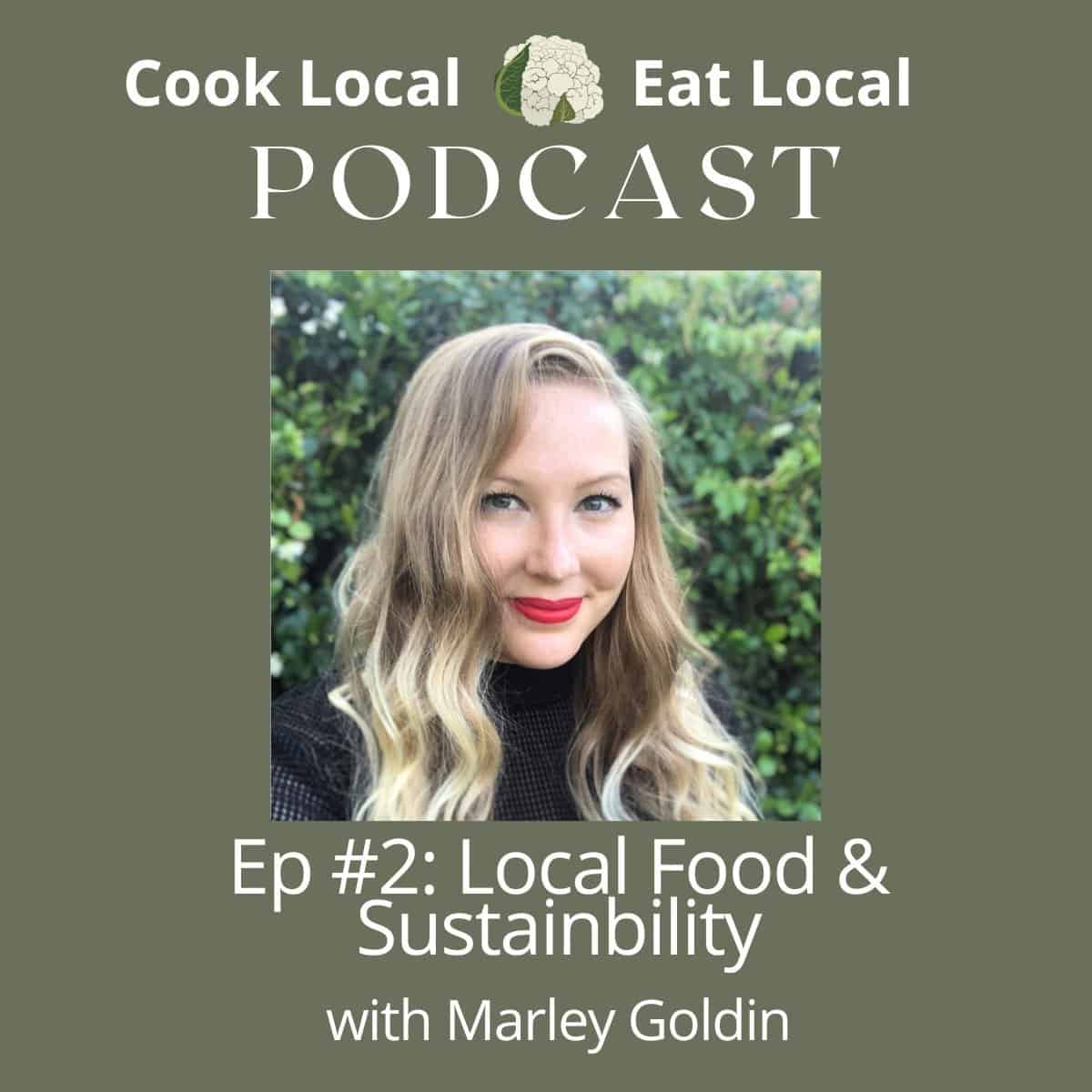 In Episode 2, we talk about local food and sustainability with Marley Goldin. Combining her degree in Environment Health Science with her love for food, Marley is the creator of MarleysMenu.com, a food blog containing pescatarian, vegetarian and vegan recipes that promote sustainable living in an easily digestible way.
Marley shared with us some great resources and tips! In addition to providing us a great overview of how local food contributes to sustainability, she gave us some resources to check out, such as the Seasonal Food Guide, where you can find out specific produce items that are fresh and seasonal in your area.
Recipes from Marley
Here are links to some of the delicious recipes Marley mentioned during our interview:
I've enjoyed some Caprese style kale, so am going to have to try Marley's asparagus version!
Sustainability resources
Marley is definitely a great resource for practical ways to incorporate sustainability into our cooking! Here are some of the resources she referenced during her Cook Local interview:
As Marley mentions in her article, if you aren't ready to compost yourself, many areas have local companies that will do curbside pickup of your compost items. We use Black Earth Compost. They pick up our compost items weekly, and they offer a choice of giving you back compost you can use for your own gardening, or they donate at it somewhere that can make use of it. If you are in the Boston area and want to give them a try, use this link to get $5 off your first monthly bill.