Today we bring you a Mediterranean Chicken Salad recipe along with a roundup of wines we tasted from the Lugana DOC in Northern Italy. We sampled these wines as part of the June Wine Studio program, taking a deep dive into this region known for its excellent white wines and amazing scenery. Disclosure: The wines discussed in this article were provided as complimentary media samples.
We are going to start by talking about the wine aspects of this article, but you will want to stick around for the food! Today's recipe is a hearty and healthy main dish salad with chicken, farro grain, olives, feta cheese and a delicious vinaigrette dressing.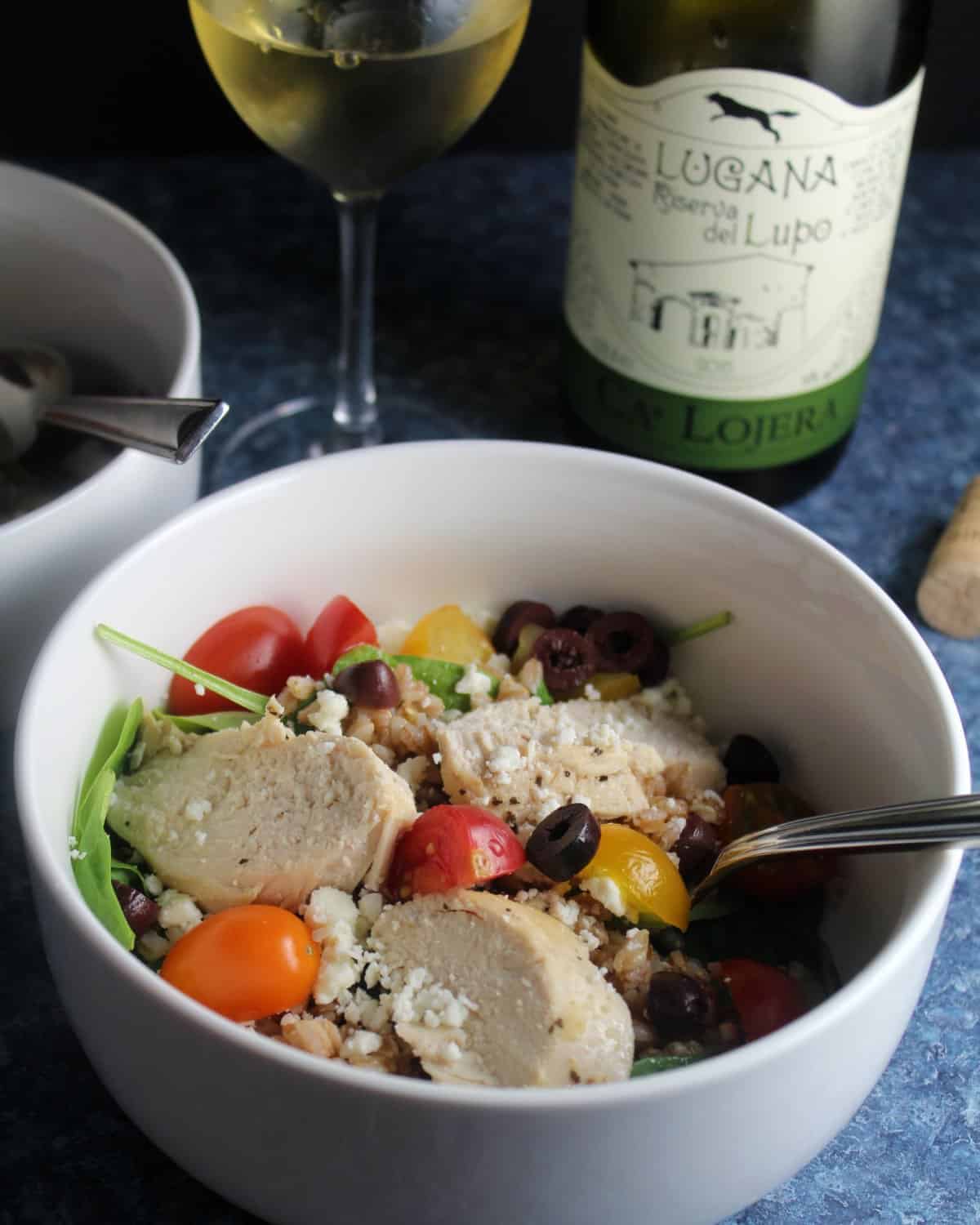 In June, we had a chance to join the Wine Studio program with host Tina Morey along Susannah Gold of Vigneto Communications to explore wines from Lugana, Italy.
Not familiar with Lugana? It is worth getting to know!
The Lugana DOC is a region in Northern Italy, encompassing a morainic plain south of the crystal clear waters of Lake Garda. Lugana straddles two regions — Lombardy and Veneto.
A glimpse at a few photos has me wanting to visit! For now, we will visit through the wine glass.
All Lugana DOC wines are whites using the Turbiana grape varietal. The microclimate offered by Lake Garda and clay soils help to produce high quality, full-bodied whites wines.
For more information on Lugana DOC wines, visit the Consorzio Tutela Lugana DOC website.
Through the Wine Studio program, we had a chance to sample four Lugana wines that helped show the range of flavors and styles produced with the one grape varietal. But there was a common theme — all four wines are perfect for summer sipping and food pairing!
Before we get to the Lugana wine we paired with this Mediterranean chicken salad recipe, let me touch upon the other three wines we tried and the pairings we enjoyed with them.
Lugana Wine Pairings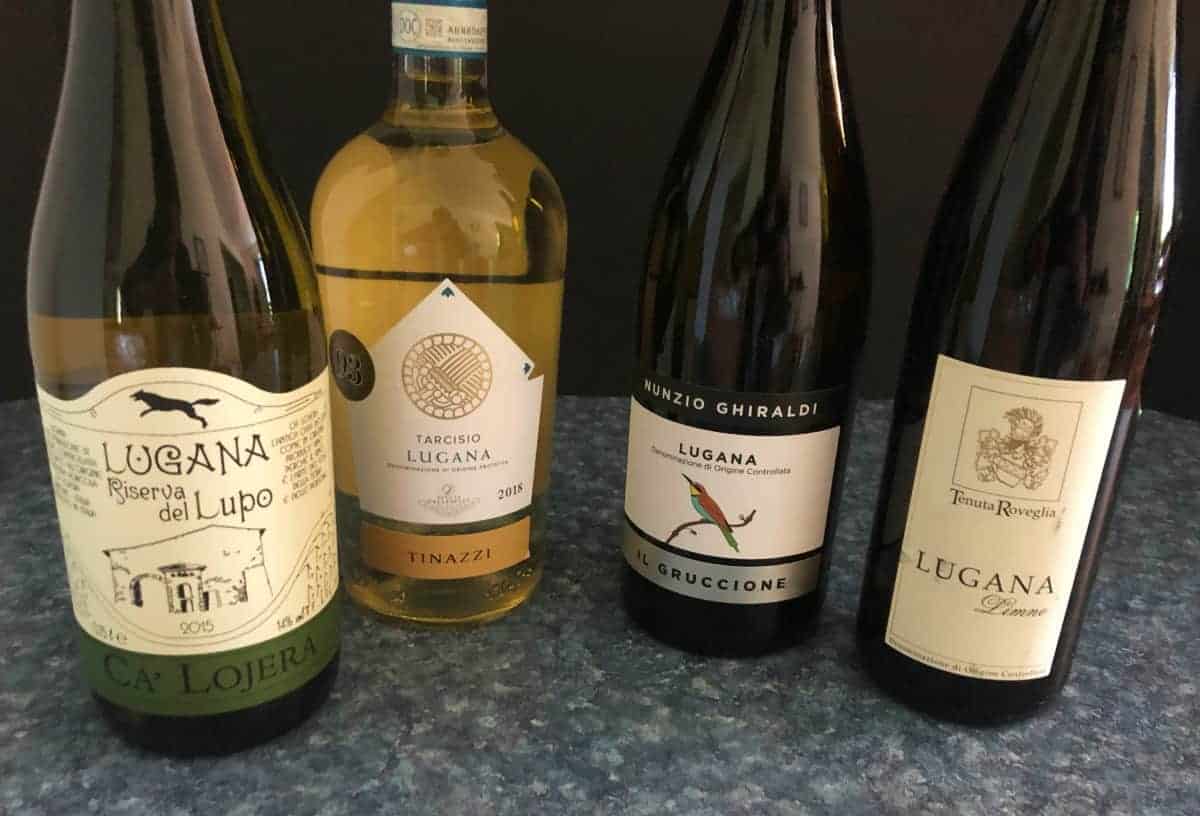 We started with the 2018 Ghiraldi Lugana DOC Il Gruccione (13%). Pale yellow in the glass, with nuttiness on the nose. On the palate, lemon fruit and a bit of almond, notable acidity and a long finish.
The Il Gruccione has an enchanting quality to it. I enjoyed slowly sipping this white wine while making dinner.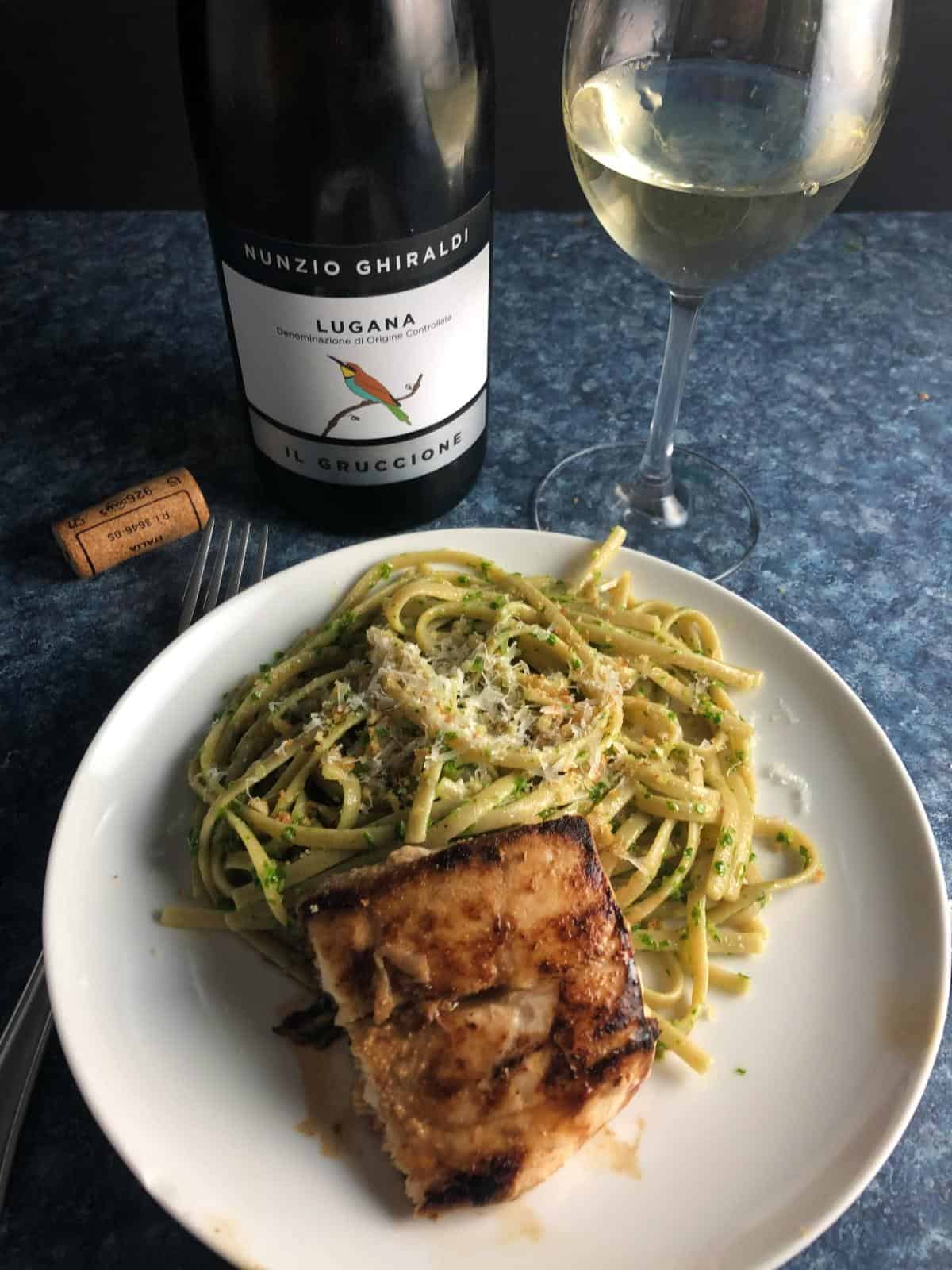 The wine also proved food friendly, as it paired well with both our pan seared mahi mahi and the pesto pasta we had on the side.
Next we tried the 2018 Tenuta Roveglia Lugana DOC Limne (13% ABV). Bright gold in the glass, citrus on the nose. On the palate, lemon curd and a rounder mouthfeel.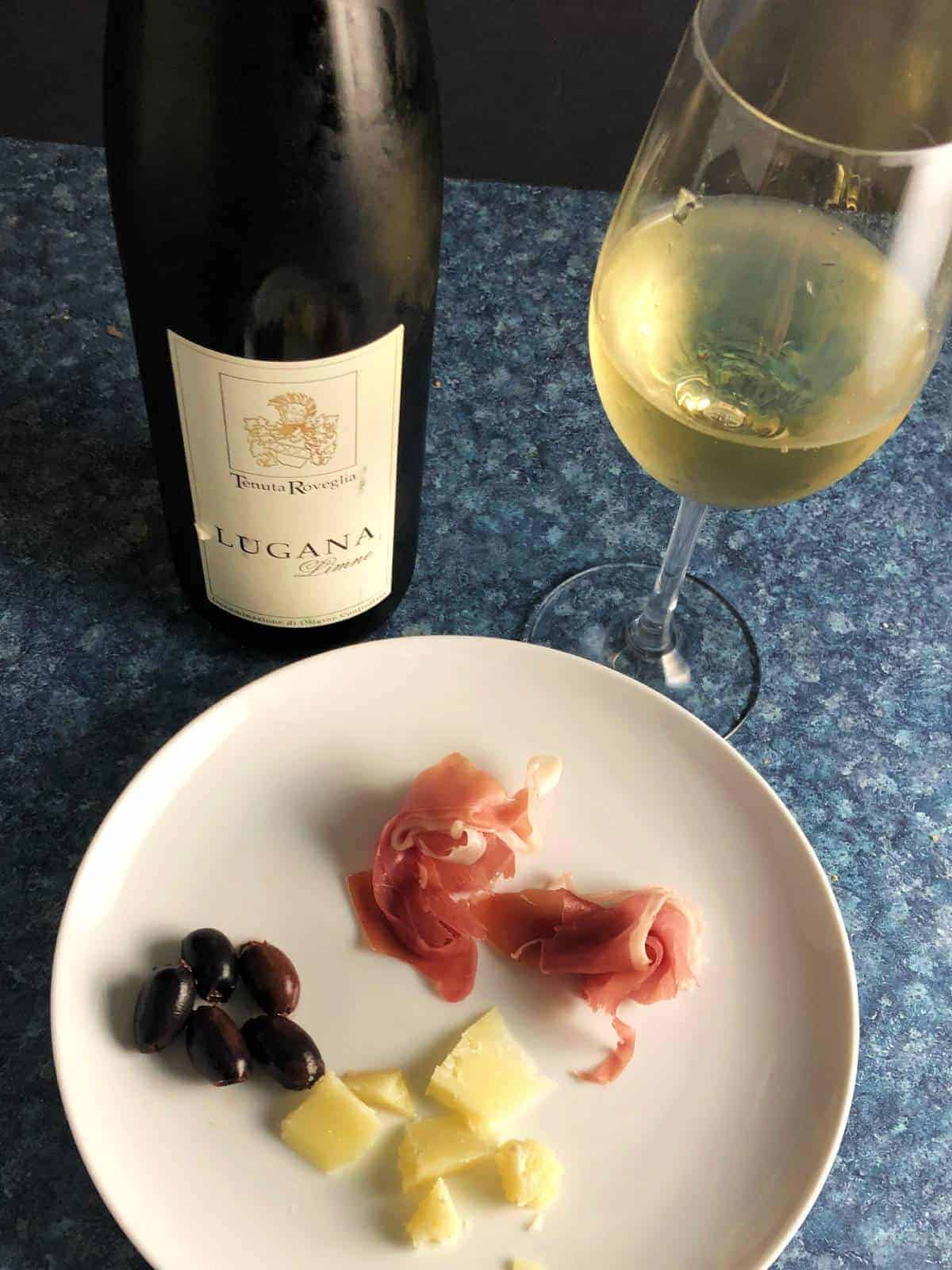 I went with my go to option when I want to have an Italian wine with some food, but I'm not in cooking mode– a simple cheese plate with a bit of prosciutto and olives. A winning combo!
For the 2018 Tinazzi Lugana doc Tarciso (12.5%) we paired it with some kale pesto pasta. I got almond and hibiscus on the nose of this one, peach and lemon on the palate with underlying minerality. There is a light ethereal quality to this wine. As you might suspect, a good partner for the pesto dish!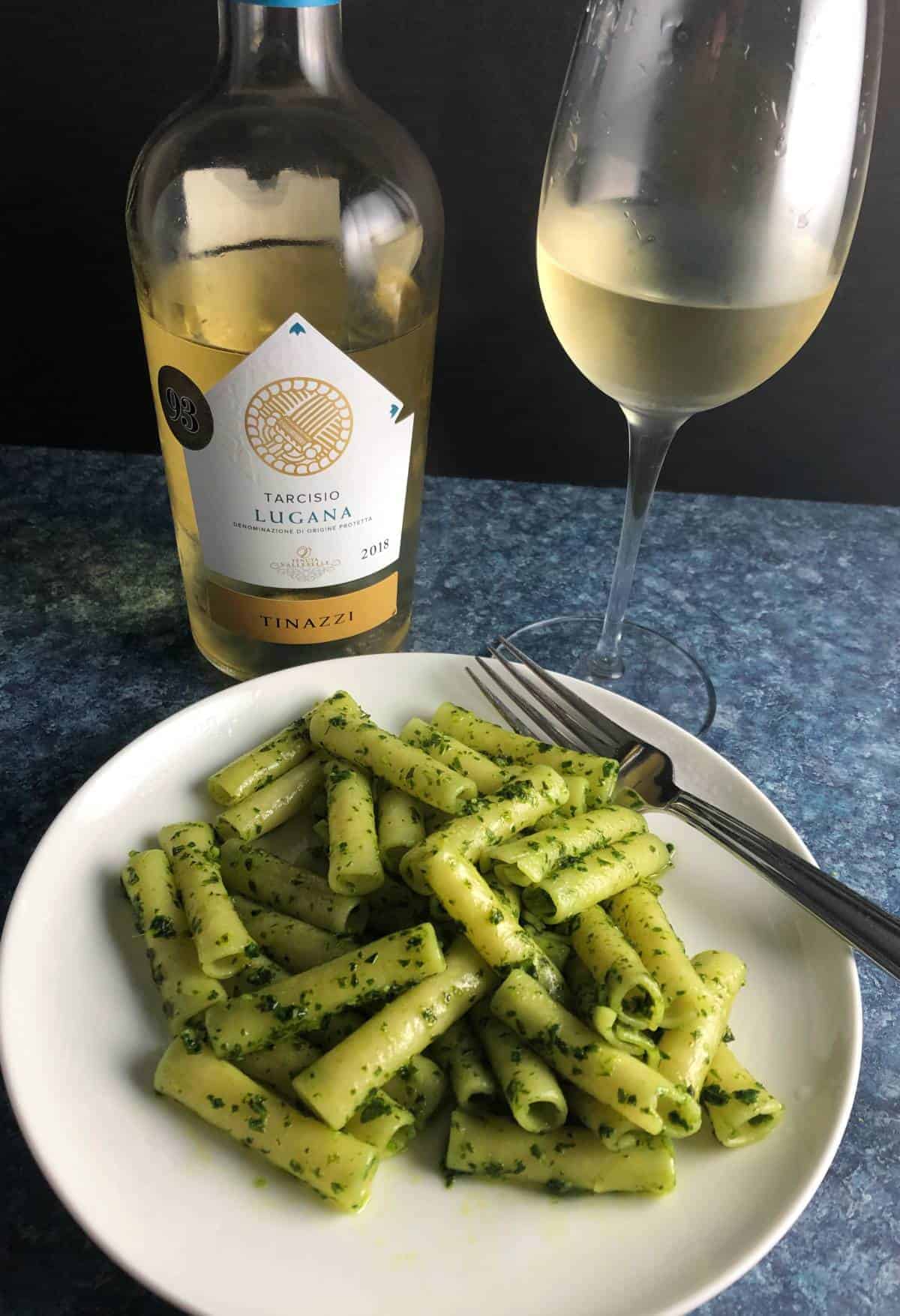 OK, so no surprise that an Italian white wine was good with pasta and seafood. But for our final wine in the Lugana Wine Studio sampling, we were ready for a new recipe! So we came with with this Mediterranean Chicken Salad recipe.
Making this recipe
Our recipe card below gives directions for cooking chicken specifically for this recipe, but this salad can be a great way to use leftover chicken, too.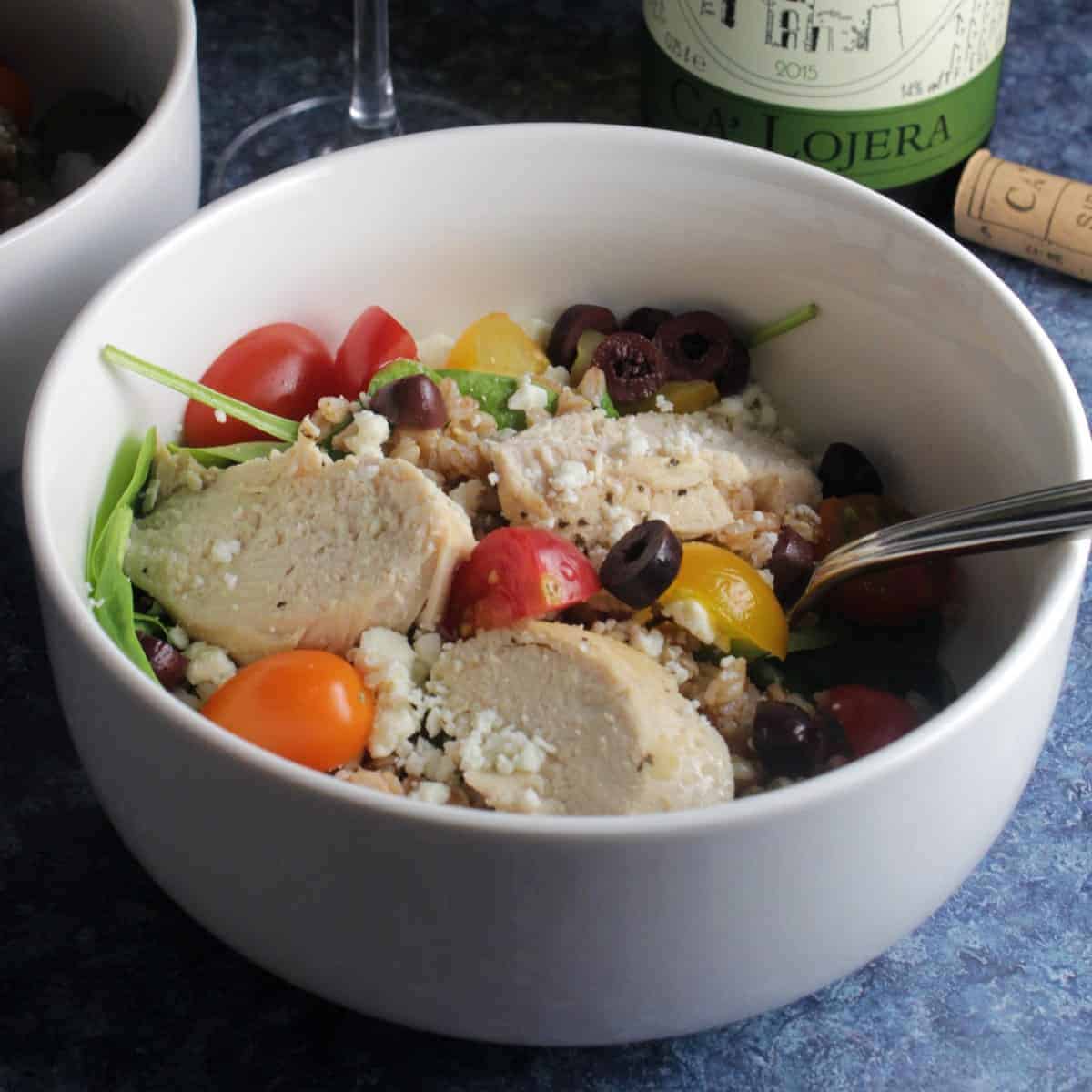 We use farro grain to provide additional substance to this dish. Farro is a hearty ancient strain of hard wheat popular in Italian cooking, so it's a natural for the pairing with wine from Lugana.
You could also use quinoa or brown rice in place of the farro, if you like.
Approach: If you are cooking the chicken and farro for the dish, start by getting the chicken marinating.
You can cook the farro while the chicken bakes.
Assembling the salad: Once the chicken and farro are done cooking, you are ready to assemble the salad.
Start by placing about one cup of baby spinach leaves in both salad bowls. Top the spinach with about 3 tablespoons of the cooked farro.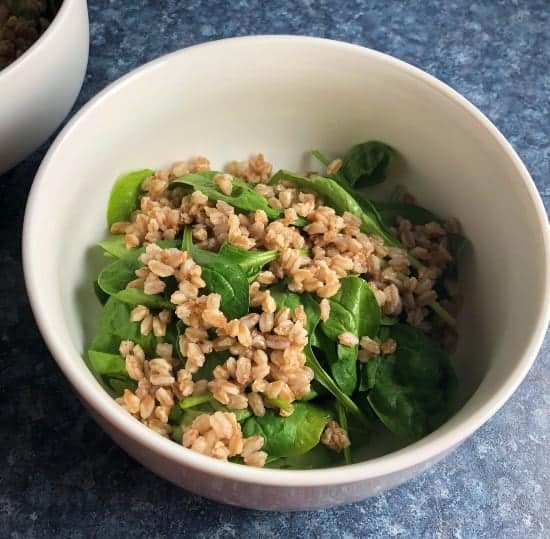 Next, place slices of chicken on top of the spinach and farro.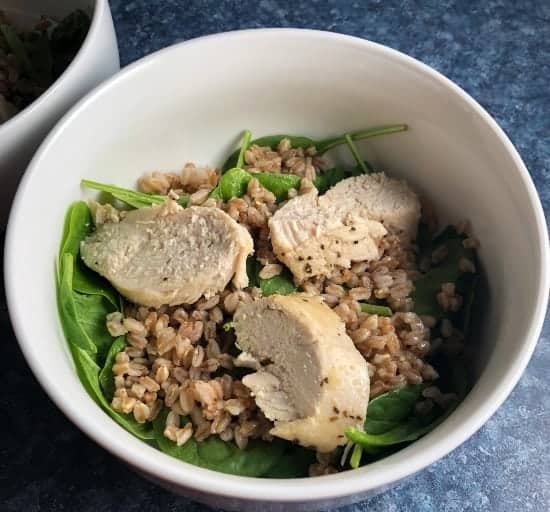 Top the salad with sliced cherry tomatoes, olives and feta cheese.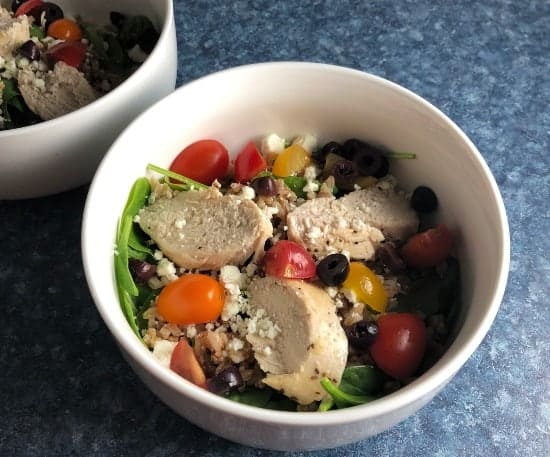 Top the salad with the delicious dressing, and gently toss. You are ready to enjoy it with a good glass of wine!
Mediterranean Chicken Salad Wine Pairing
I tried the first three wines from the Lugana Wine Studio program with tried and true recipes. I wanted to save one bottle for a new recipe!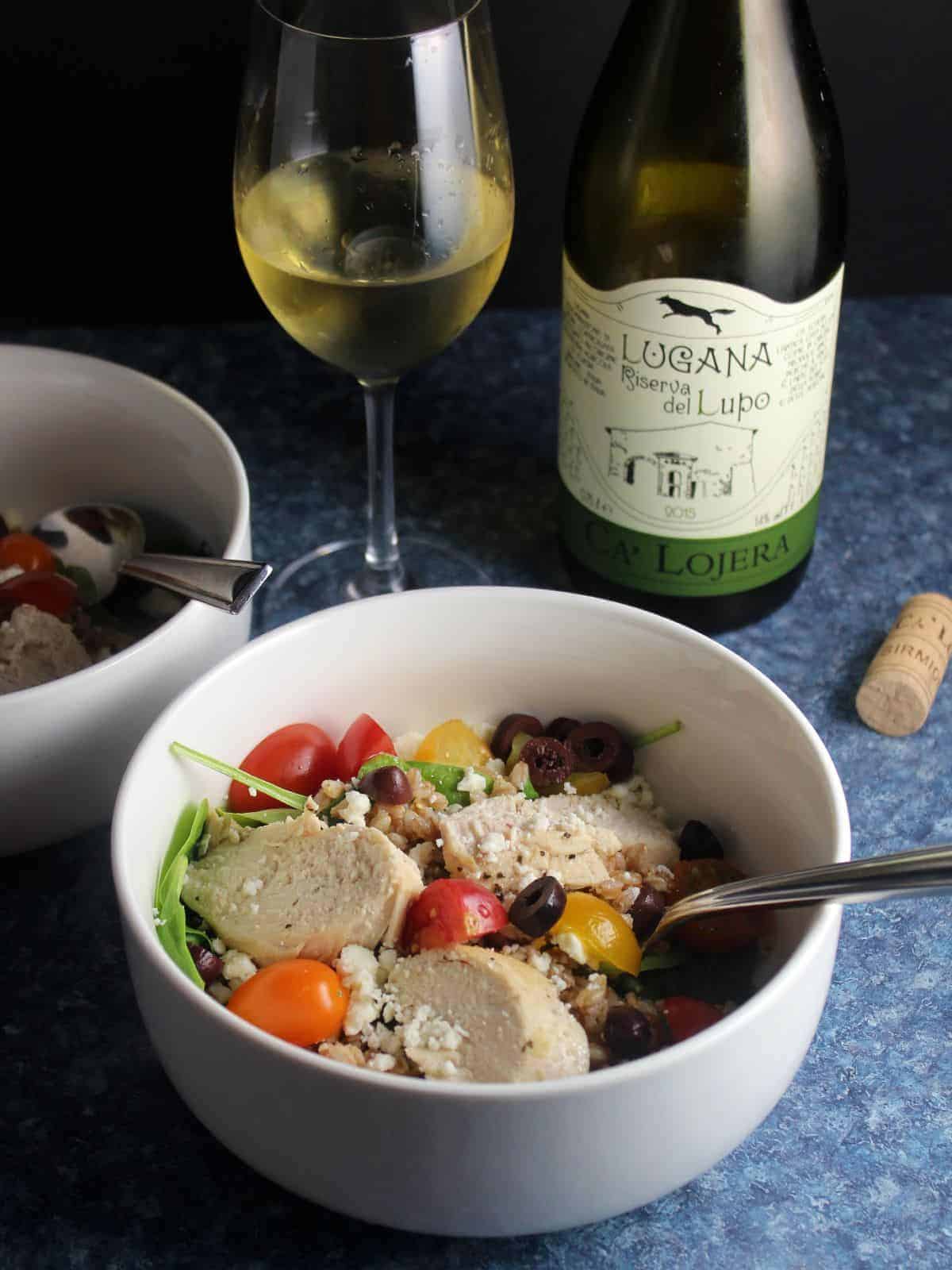 The 2015 Ca' Lojera Lugana DOC Riserva del Lupo (14% ABV) was the bottle I managed to put aside for a cooking project. This Lugana DOC Riserva is light straw color in the the glass, with lemon and jasmine on the nose.
On the palate, I get peach fruit with a touch of lemon. There are also hazelnut elements and notes of whiskey barrel. The complex flavor notes of this Riserva show the potential of the Lugana DOC to make nuanced white wines with aging potential from the Turbiana grape.
The layers of flavor in the wine make it a good flavor for all the tastes we having going on in our Mediterranean Chicken Salad recipe!
Print
Recipe card
Mediterranean Chicken Salad
A hearty main dish chicken salad recipe with Mediterranean flavors, including olives, tomatoes and feta cheese. Delicious with a white wine from the Lugana region of Italy.
Author: Cooking Chat
Prep Time:

15 mins

Cook Time:

25 mins

Total Time:

40 mins

Yield:

2

servings

1

x
Category:

Main

Method:

baking + stove top

Cuisine:

Italian
For the chicken (or use leftover chicken)
1 ½ tbsp

extra virgin olive oil

¾ tsp

champagne vinegar or similar

¼ tsp

dried basil

¼ tsp

garlic powder

¼ tsp

salt

2 tsp

lemon juice

1

chicken breast fillet (approximately

8

ozs) — rinsed and patted dry.
For the farro
½ cup

farro grain, rinsed in cold water

1 cup

water
Salad dressing
3 tbsp

extra virgin olive oil

1 tbsp

balsamic vinegar

¼ tsp

garlic powder

¼ tsp

mustard

¼

honey
Other salad ingredients
8

olives, sliced

¾ cup

cherry tomatoes, cut in half or quartered

2 cups

baby spinach

2 tbsp

feta cheese
Instructions
Marinate the chicken: combine the olive oil, vinegar, basil, garlic, salt and lemon juice in a bowl. Place the chicken in a sealable plastic bag, and add the marinade. Toss gently to combine, and marinate the chicken for 10 to 15 minutes (longer OK if you like, put in refrigerator to marinate).
Bake the chicken: Preheat oven to 400 degrees convection setting. Place the chicken in a baking dish, and bake 20 to 25 minutes until cooked through — check at 20 minutes, or sooner if using thin chicken breasts. When cooked, move the chicken to a platter, and slice into strips when it has cooled a bit.
Cook the farro while the chicken is baking. Bring the water to a boil, then stir in the farro. Reduce heat to simmer, covered, for 20 to 25 minutes. The farro is done when the water has been absorbed into the grain. Stir the cooked farro and set aside.
Make the dressing: whisk the dressing ingredients together in a bowl (olive oil, balsamic vinegar, garlic powder, mustard and honey). Set aside.
Assemble the salad: Divide the spinach into two shallow bowls. Top the spinach with 3 tablespoons farro per bowl. Next, place 3 slices of chicken on top of the spinach and farro. Layer the tomatoes, olive and feta over the chicken. Drizzle the dressing over the salad, and toss gently. Enjoy!
Notes
You can use leftover cooked chicken you already have on hand and skip cooking the chicken.
If cooking the chicken for this recipe, we like to make extra for sandwiches. We doubled the marinade ingredients quantity for 3 chicken breast fillets.
Quinoa or brown rice you have on hand could be substituted for the farro grain.
You will likely have a bit of extra farro, which can be saved for adding to a soup or salad later.
Keywords: main dish salads, salads with chicken, recipes with farro, hearty salads
Recipe Card powered by