Italy's northernmost wine region has an excellent range of wines to try, including many for sipping this time of year. We had a chance to sample three different Alto Adige – Südtirol wines that provide an example of the region's high quality, food friendly wines. Disclosure: wines were provided as a courtesy sample from the wineries and Teuwen Communications.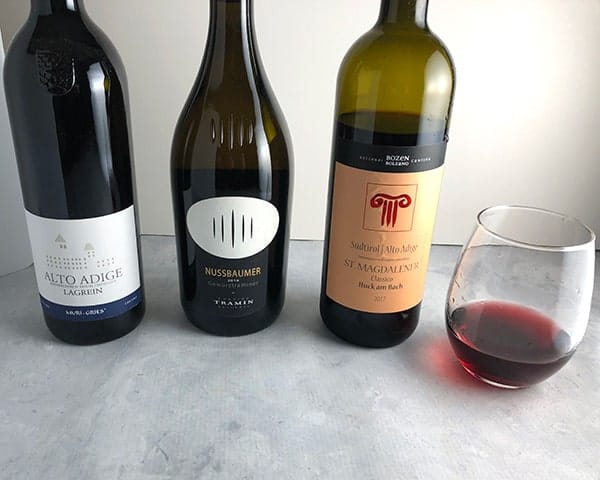 When I first got an email about trying some wine from Italy's Alto Adige – Südtirol region, it was midsummer. The initial concept was that the Gewürztraminer and the Schiava would be great for hot summer evenings, and the Lagrein would be perfect for a cooler night with a hint of fall.
Well, the busy summer flew by and we are in mid-September. But that's OK, because September straddles the seasons, so it is a great time for a virtual visit to Italy's Alto Adige – Südtirol wine region.
Let me provide a bit of background on this Northern Italian wine region before I share about the wines we tried.
Italy's Alto Adige – Südtirol Wine Region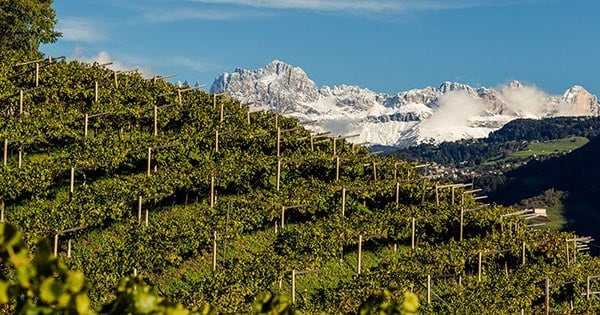 The Alto Adige – Südtirol is Italy's northern most wine region, located between Austria and Switzerland. This location gives cool breezes from the Alps combined with Mediterranean sun for some great wine grape growing conditions.
The use of the German Südtirol for province known in English as South Tyrol gives some indication of the bicultural nature of this Italian region. You will see the German influence in the wine grapes, too, with Riesling and Gewürztraminer common among the white wines produced in Gewürztraminer. Alto Adige – Südtirol also produces a number of international white wines including Pinot Grigio, Chardonnay and Pinot Blanc.
When it comes to red wine, the indigenous grapes Schiava and Lagrein dominate. We got to sample two of those for this article; details follow below. For more on the region, visit the Alto Adige Wines website.
Nussbaumer Gewürztraminer
I tend to associate Gewürztraminer with Austria and Germany, seeing it planted in Italy's Alto Adige – Südtirol region is a good indication of the areas Germanic influences. And we got to see how good Gewürztraminer can be from this part of Italy!
We got to try the 2016 Nussbaumer Gewürztraminer (14.9% ABV, 8.1 g/ l residual sugar) from Cantina Tramin Kellerei.
This Gewürztraminer has a nice floral bouquet. On the palate, peach fruit with a touch of honey and stone.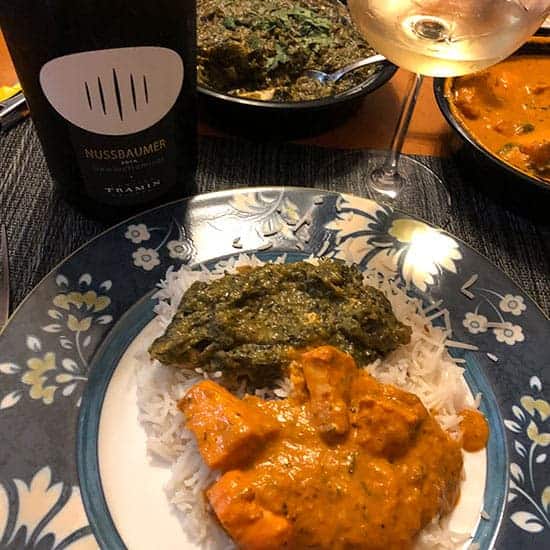 We opened the Nussbaumer Gewürztraminer to go with some Indian takeout. As you might suspect, the fruit forward Gewurzt was a great match for Indian food! Not the first time I've had good success pairing Italian wine with Indian food –check out our Italian wine for Indian curry article and recipe.
Another Tramin Gewürztraminer just recently got some very special recognition. Their Gewürztraminer Epokale became the first Italian white wine to receive a 100 point score from Robert Parker.
Schiava: A Red Wine for Chilling
The 2017 Cantina Bolzano Santa Maddalena Classico Huck am Bach is comprised of 90% Schiava and 10% Lagrein. Schiava is fruit forward and low in tannins, making it a good red wine to serve chilled. That is a particularly good option for warmer days — which we can still have in September!
Schiava, also known as Vernatsch, is a red wine grape indigenous to the Adige Alto Adige – Südtirol region. With roots dating back to the 16th century, Schiava has long played a central role in the region's wine production.
I get brambles on the nose of this Schiava from Cantina Bolzano. On the palate, there's blackberry fruit and notes of leather touch cinnamon and bacon. A tasty wine, but I wouldn't use cotton candy in the description, like this review on Wine Folly!
The Schiava was very good paired with Gruyere cheese I was nibbling on while cooking. I tried pairing this wine our fettuccine primavera, as shown in the photo. The pairing was pretty good, but next time I'd try this with a dish that has some bacon involved to pick up that flavor element I noted.
Lagrein with Leftover Steak Pasta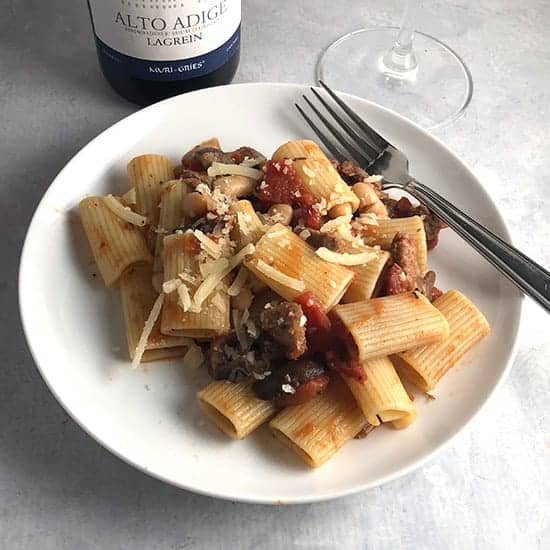 Lagrein is a red wine grape native to the Alto Adige – Südtirol. Lagrein produces wine with bold, strong flavors, suitable for a cooler evening and hearty fare.
I decided to open the 2017 Muri Gries Alto Adige Lagrein (13.5% ABV) to go with our Leftover Steak Pasta. Inky dark purple in the glass, I got violets, cloves and menthol on the nose. On the palate, blackberry fruit and a smokiness, making me think of bacon.
This big, bold Lagrein from the Alto Adige – Südtirol was definitely a good match for the Leftover Steak Pasta. It would also go well with other hearty meat dishes.
The Muri-Gries winery has an interesting history. In 1845, Benedictine monks moved from Muri in Switzerland to the town of Gries in South Tyrol, and picked up on the wine making traditions associated with the property to which they had come. Muri-Gries has a focus on Lagrein but make a number of other wines with The winery continues to be a part of the abbey today — more on the history and wine can be found on the Muri-Gries website.
For another delicious pairing with a Muri-Gries wine, check out the Tomato Apple Pasta recipe, which paired well with one of their red blends.