Cider Marinated Pork Tenderloin with Cabbage (plus a bit of bacon!) is a delicious fall recipe. We made this dish to serve with a German Riesling, and were quite pleased with the result. Disclosure: the wine mentioned in this article was provided as a complimentary sample.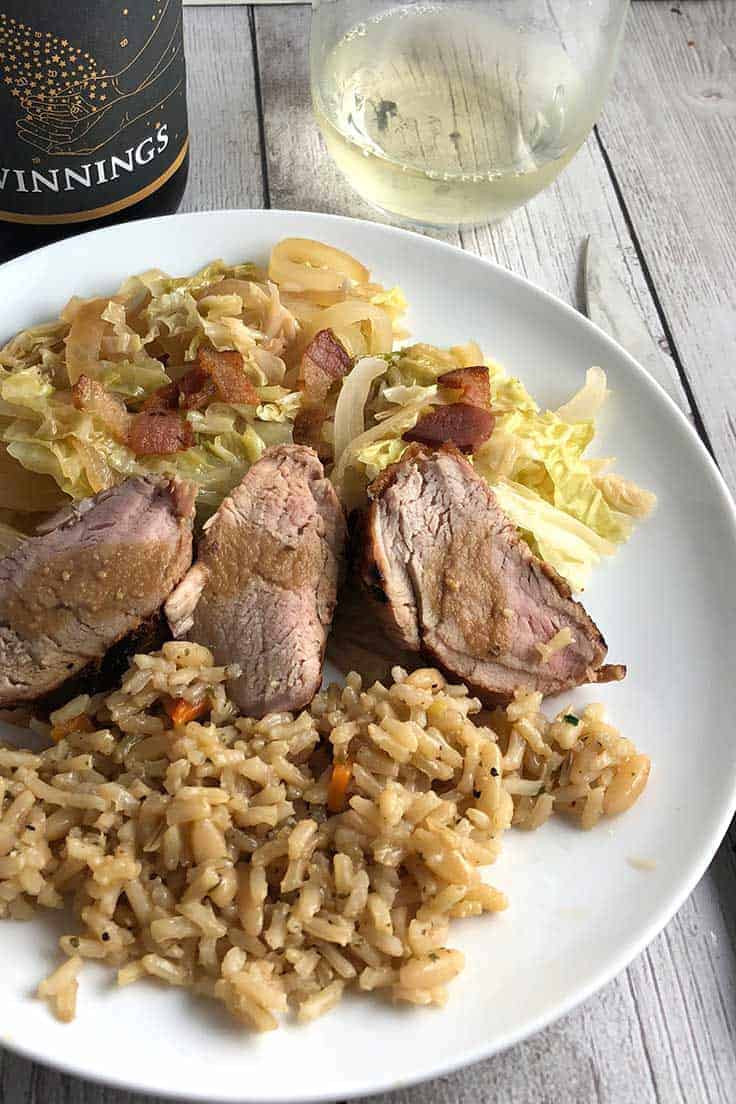 We had a box of four German white wines to sample for a Snooth live tasting a few weeks ago. Before I delved into contents of the box, I had thought they were all Rieslings. So I was thinking about meals to make to go with Riesling…
Pork and cabbage seemed like a good starting point for a Riesling pairing. We were just getting into some cooler days hinting that fall would soon arrive, so cooking the pork with some apple flavor seemed like a good idea.
So our Cider Marinated Pork Tenderloin with Cabbage recipe was created for cooler weather and a good glass of German Riesling. Why not add a bit of bacon to round out the flavor? the bacon adds a nice flavor to the cabbage, and it is a good match for Riesling.
Making this recipe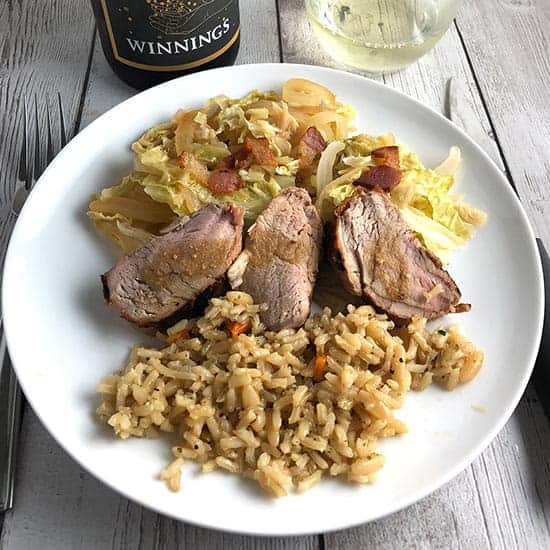 Although it was starting to get cooler when I cooked up this pork tenderloin with cabbage, it was still warm and light enough to grill the pork, so that's how I have presented the recipe instructions.
Given that fall has arrived, I should mention you could easily roast the pork tenderloin rather than grill it. Plan on 15 to 20 minutes at 425 conventional setting or 400 convection. The other steps remain the same.
If you really want to put apple flavor on the table, you can serve the pork and cabbage with a side of apple sauce in addition to topping it with the sauce. I had some apple sauce with a bit of the leftover pork tenderloin with cabbage for the following night's supper. It was a flavorful addition that reminded me of the pork chops with apple sauce we often had as a kid.
For another pork and cabbage combo, featuring the more humble pork chops, try our pork and cabbage skillet recipe. And another great tenderloin recipe to try is our Maple Pork Tenderloin, with a pretty similar flavor profile to this recipe. For a different pork dish, try our Pork Tenderloin Pasta recipe.
German wine pairing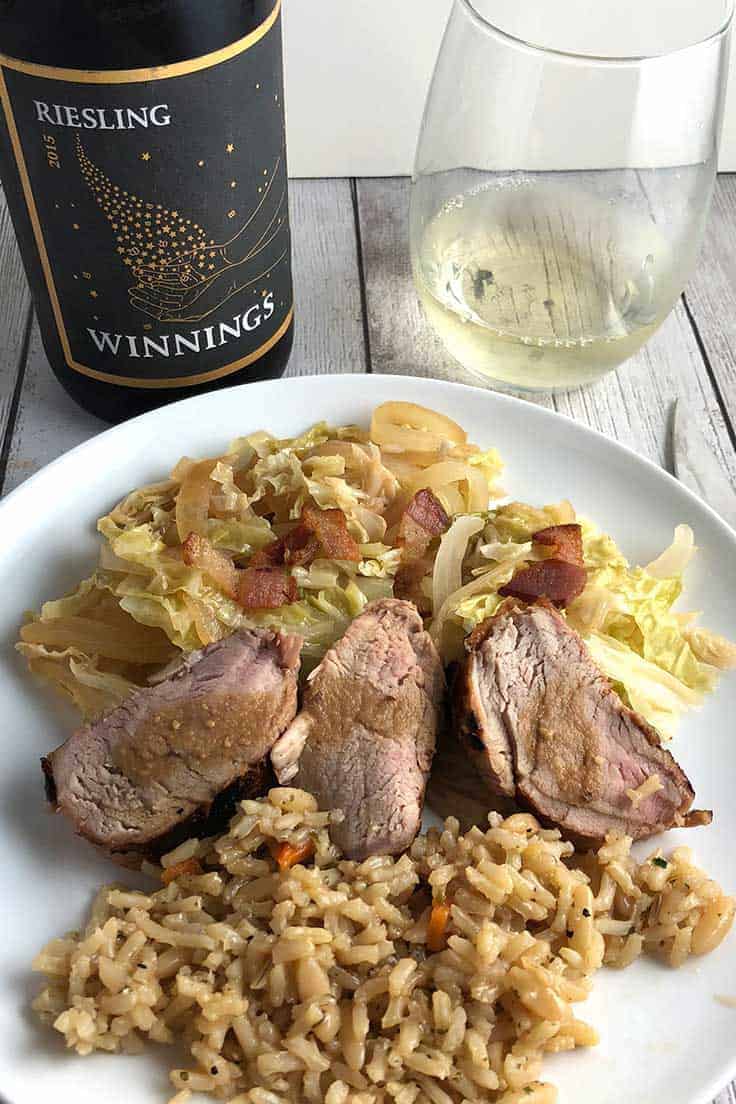 So as I mentioned, I was locked in on pairing this pork tenderloin dish with Riesling. But with three other German wines on hand, I did have a chance to experiment a bit, too.
We opened the 2015 Winnings Riesling, from von Winning in the Pfalz region of Germany. I get petrol on the nose and a whiff of wet stone. Classic green apple fruit, with a touch of lychee. Good minerality and acidity, a very food friendly wine!
As you might expect, the dry Riesling was a great pairing for our pork tenderloin with cabbage. Apple is definitely a good flavor to go with Riesling, as is the tarragon we used in the marinade.
We also tried a bit of the 2016 Koehler Ruprecht Pinot Blanc ($20)with the pork. The Pinot Blanc has a tasty of honey on the palate. The full bodied wine has a nice long finish. It was Jodi's favorite of the four German wines we sampled, and goes pretty well with the pork too.
To learn more about about German white wines, visit this Wine Folly article.
Print
Recipe card
Cider Marinated Pork Tenderloin with Cabbage
Apple cider marinated pork tenderloin served with sautéed cabbage and bacon is a delicious fall recipe.
Author: Cooking Chat
Prep Time:

10 mins active + 1 hour marinade

Cook Time:

20 mins

Total Time:

1 hour 30 mins

Yield:

3

servings

1

x
Category:

main

Method:

grilling and sauté

Cuisine:

German
Cider Marinade for Pork Tenderloin
½ cup

apple cider

1 tbsp

maple syrup

1 tsp

cider vinegar

¼

salt
pinch cinnamon

⅓ tsp

garlic powder

⅓ tsp

dried tarragon

1

pork tenderloin, approximately 1 lb
For the cabbage
1

strip bacon

1 tbsp

extra virgin olive oil

4 cups

cabbage, chopped into thin slices

1 tsp

soy sauce

½ tsp

dried ginger

⅓ cup

dry white wine
Sauce
reserved marinade

1 tsp

dijon mustard

1 tsp

soy sauce

1 tsp

maple syrup
Instructions
In a medium bowl, combine the cider marinade ingredients, from the cider through the dried tarragon.
Rinse and pat dry the pork tenderloin. Place the pork in a large sealable plastic bag. Pour the marinade over the pork and seal the bag. Gently toss the pork with the marinade so that it is well coated. Marinate in the refrigerator for 1 to 2 hours, taking the pork out to marinate at room temperature 15 minutes prior to cooking.
Start cooking the entree by working on the cabbage. Heat a large skillet over medium heat, and coat with oil spray. Add the bacon and cook until crisp, about 10 minutes, turning occasionally. When the bacon is cooked, remove it from the skillet and place on a plate covered with a paper towel to allow it to cool. Break the bacon into bit sized bits after it cools.
Preheat a grill to medium high. (see notes for roasting alternative)
Pour the excess grease from the skillet, then add 1 tablespoon olive oil and heat on medium. Add the onion, and reduce heat to medium low. Sauté about 5 minutes until the onion begins to soften.
Stir the cabbage into the skillet along with the soy sauce and dried ginger. Cook for a few minutes, then stir in the white wine. Bring to a simmer, and cook covered on medium low heat.
When the grill is hot, remove the pork from the marinade, gently shaking the excess marinade back into the bag.
Place the pork tenderloin on the grill, and grill covered for a total of 16 to 20 minutes, turning halfway through the grilling time.
Pour the excess marinade from the bag into a small sauce pan, and add the remaining sauce ingredients–dijon mustard, 1 teaspoon soy sauce, 1 teaspoon maple syrupw. Bring to a boil, then reduce to a simmer for 10 minutes, stirring occasionally. Keep warm as the pork finishes cooking.
Check the pork for doneness at 15 minutes of grilling time. Pork tenderloin should be 145 degrees internal temperature and still juicy and moist when done.
When the pork is done, let it rest on a platter for 5 minutes. Slice the pork after resting.
Plate a scoop of the cabbage mixture, top with a sprinkling of bacon bits. Plate a few slices of the pork tenderloin alongside the cabbage, and repeat for the remaining servings. Enjoy!
Notes
If you'd prefer to roast the pork tenderloin for this recipe, plan on 15 to 20 minutes at 425 conventional setting or 400 convection. The other steps remain the same.
Keywords: pork tenderloin, pork, pork with cabbage, Riesling pairings
Recipe Card powered by