This Ziti with Sausage, Peppers and Onions is a delicious and easy pasta recipe, perfect for midweek. We also have a great wine pairing for this dish! Disclosure: we used Premio Italian Sausages for this recipe, which were provided in conjunction with a sponsored post we did with them this summer.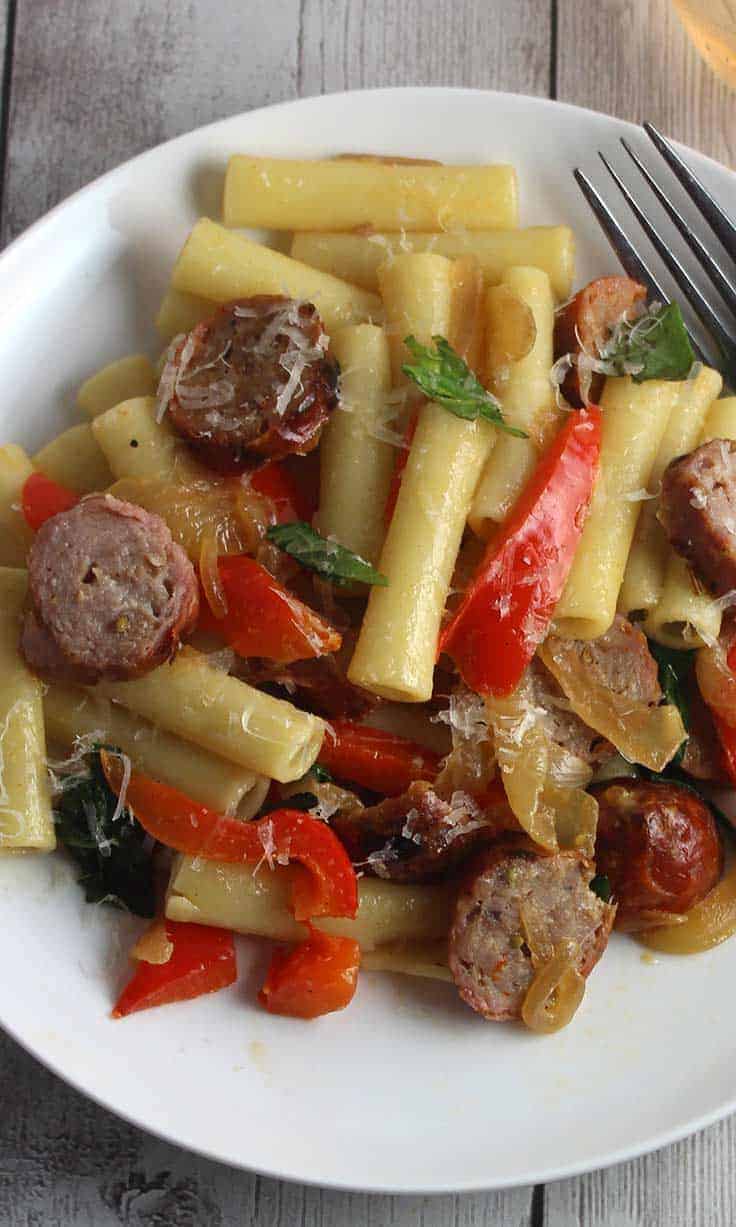 This summer I had a chance to create some new recipes with several sample packs of Premio Italian Sausage. I love the combo of sausage and pasta, so I quickly focused on some recipes involving that pair.
Today I'm sharing a delicious and easy recipe for Ziti with Sausage, Peppers and Onions. Yes, basically this pasta dish has that delicious smell you get when you walk by the sausage cart at a ballgame. Yum!
The first recipe I featured with Premio sausages was an equally delicious Spicy Chicken Sausage Pasta.
In that one, the sausages simmer in a tomato sauce, and get tossed with beans as well as pasta for some extra heartiness. Hop over to that post for for the recipe and more details about Premio sausage.
In our Ziti, with Sausage, Peppers and Onions, we use traditional pork based sausages. The onions and peppers cook in olive oil, and you don't need much else given the flavor the sausage brings to the table. Oh and of course there's some cheese, this is a pasta dish and all!
Making Ziti with Sausage, Peppers and Onions
As I note in the recipe, the Premio sausages come precooked, but I like to start the recipe by browning the sausage on the grill. This brings forth some great flavor and makes the sausages easier to slice up nicely for tossing with the pasta.
If you're not in grilling mode, you could also brown the sausages in the skillet to start things out. Use the same skillet to sauté the onions and peppers and you'll really get those flavors working together nicely.
This recipe calls for just a bit of garlic powder. Of course, you could add a clove or two of minced garlic if you like. I was going for a quick, weeknight meal here so opted to skip the garlic peeling and chopping.
I also add a bit of spinach, which adds some additional color and nutrition. You could skip the spinach, especially if serving the ziti with sausage dish along with a green salad.
Wine Pairing for Ziti with Sausage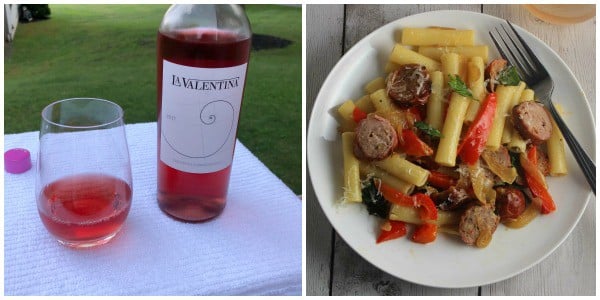 I made this Ziti with Sausage, Peppers and Onions twice to get the recipe down. This had the added bonus of testing out two wine pairings for you!
It was midsummer the first time we had this ziti with sausage, so I was definitely in rosé mode. I was sampling Chiaretto rosés from Northern Italy, so tried the 2017 Le Fraghe Rodòn Bardolino Chiaretto ($14, 12.5% ABV) with the dish. This Chiaretto is a nice, easy drinking rosé, but is a bit light for the sausages.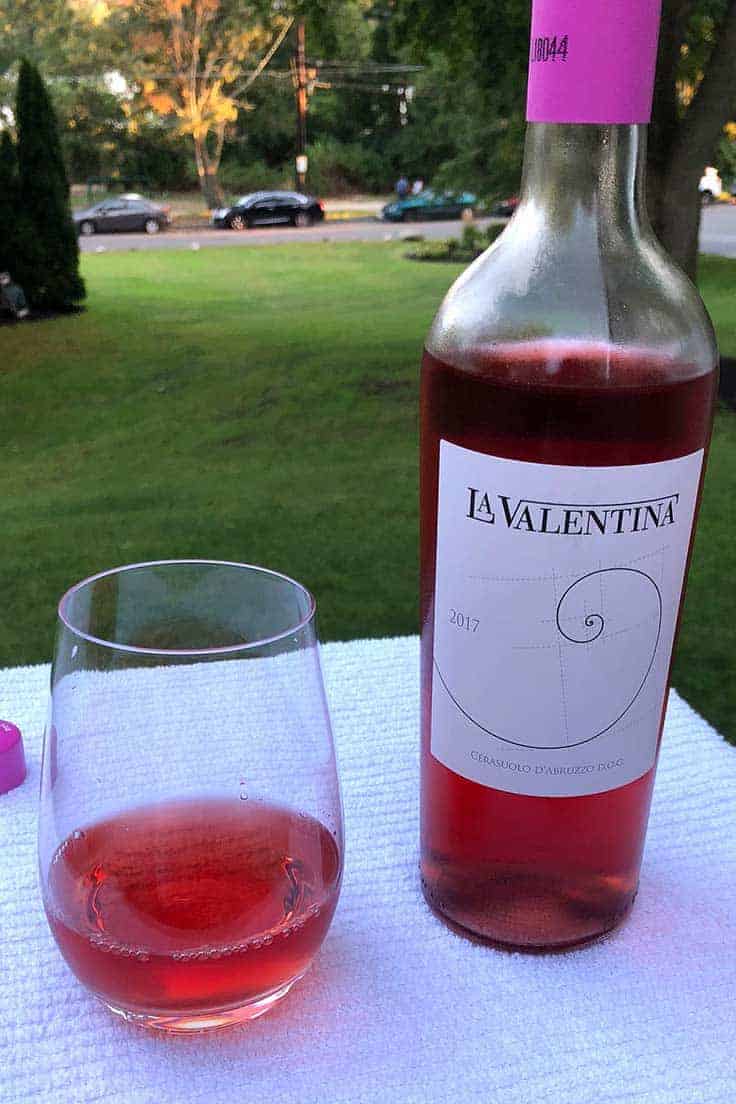 But I was still thinking a rosé could be the match for our ziti with sausage, if I went with something more full bodied. Thanks to my trip to learn about Abruzzo wine, I knew just the rosé that would work.
Cerasuolo d'Abruzzo is a rosé made from Montepulciano grapes. As you might guess from its darker colors in the glass, it is a more full bodied rosé wine.
For our Ziti with Sausage, Peppers and Onions remake, I had tracked down a bottle of the 2017 La Valentina Cerasuolo d'Abruzzo ($10, 13% ABV). I found it at Blanchards in Jamaica Plain, if you happen to be in the Boston area. At $10/bottle you will definitely want to stock up on this…we still have some warm sunny days ahead this fall!
The La Valentina Cerasuolo is flavorful and refreshing — ripe melons, great mouthfeel. This rosé definitely has the heft to stand up to the ziti with sausage dish, and is definitely a pairing I recommend for the recipe.
I first sampled the La Valentina Cerasuolo when visiting the Abruzzo winery back in May. The beautiful rolling green vineyards are well-positioned between the sea and the mountains – certainly wonderful place to enjoy a glass of wine! La Valentina also have a great range of Montepulcianos, and I'm a big fan of their Pecorino white wine, too.
The Cerasuolo comes from Montepulciano vines that are between 25 to 35 years old. For more information on the La Valentina and its wines, visit the winery website.
More Easy Pasta Recipes
Here are some more of our favorite everyday pasta recipes:
Print
Recipe card
Ziti with Sausage, Peppers and Onions
Ziti tossed with sausage, peppers and onions for a tasty and satisfying pasta meal.
Author: Cooking Chat
Prep Time:

5 mins

Cook Time:

30 mins

Total Time:

35 mins

Yield:

5

servings

1

x
Category:

main

Method:

Sauté

Cuisine:

Italian
4

Premio Italian Sausages, about

12 oz

s total

1 tbsp

extra virgin olive oil

1

onion, chopped

1

red or orange bell pepper, chopped
pinch of garlic powder

½ cup

low sodium chicken broth

1

to

2

cups baby spinach (optional)

12

ozs ziti or other short pasta shape

⅓ cup

Parmigiano cheese, plus additional for serving.
Instructions
Preheat a grill to medium high. Coat the grill with oil spray. Place the sausage on the grill, and grill for about 5 minutes per side, until the sausages are nicely browned. Remove sausage from grill, and set aside to cool. See notes for tips and options for preparing the sausage.
As the sausages are on the grill, heat the olive oil in a large skillet. Add the onion, and sauté until the onions softens and begins to brown, 5 to 10 minutes.
Begin boiling water for pasta as the onion browns.
Add the red bell pepper and the garlic powder, and sauté for another 5 minutes.
Start cooking the pasta according to package instructions as the pepper and onions cook.
Slice the grilled sausage, and add it to the pan along with the chicken broth and spinach, if using. Stir to combine. Cover and cook on medium low heat as the pasta finishes cooking.
Drain the pasta. Toss immediately with the sausage, peppers and onion mixture. Stir in the cheese.
Plate and serve, passing additional cheese at the table.
Notes
We used 2 Premio Hot Italian Sausage and 2 Sweet Italian Sausage. We liked the combination but you can adjust based on your tastes.
The Premio sausages are precooked, so the grilling simply adds flavor, and it also easier to slice the sausages after grilling. You could also brown the sausages in a skillet to create the same effect.
If you are using a different kind of sausage, be sure to check to see if it is precooked or not. If it is not precooked, be sure to cook the sausage all the way through.
Keywords: ziti, sausages, wine pairing, pasta with sausage
Recipe Card powered by