This Pork Tenderloin Pasta is a light but flavorful pasta recipe, with caramelized onions, mushrooms, basil and balsamic vinegar bringing complex flavors to the dish. We cooked this up to pair with a blend of interesting red wine grapes from Northern Italy's Vallee D'Aosta region.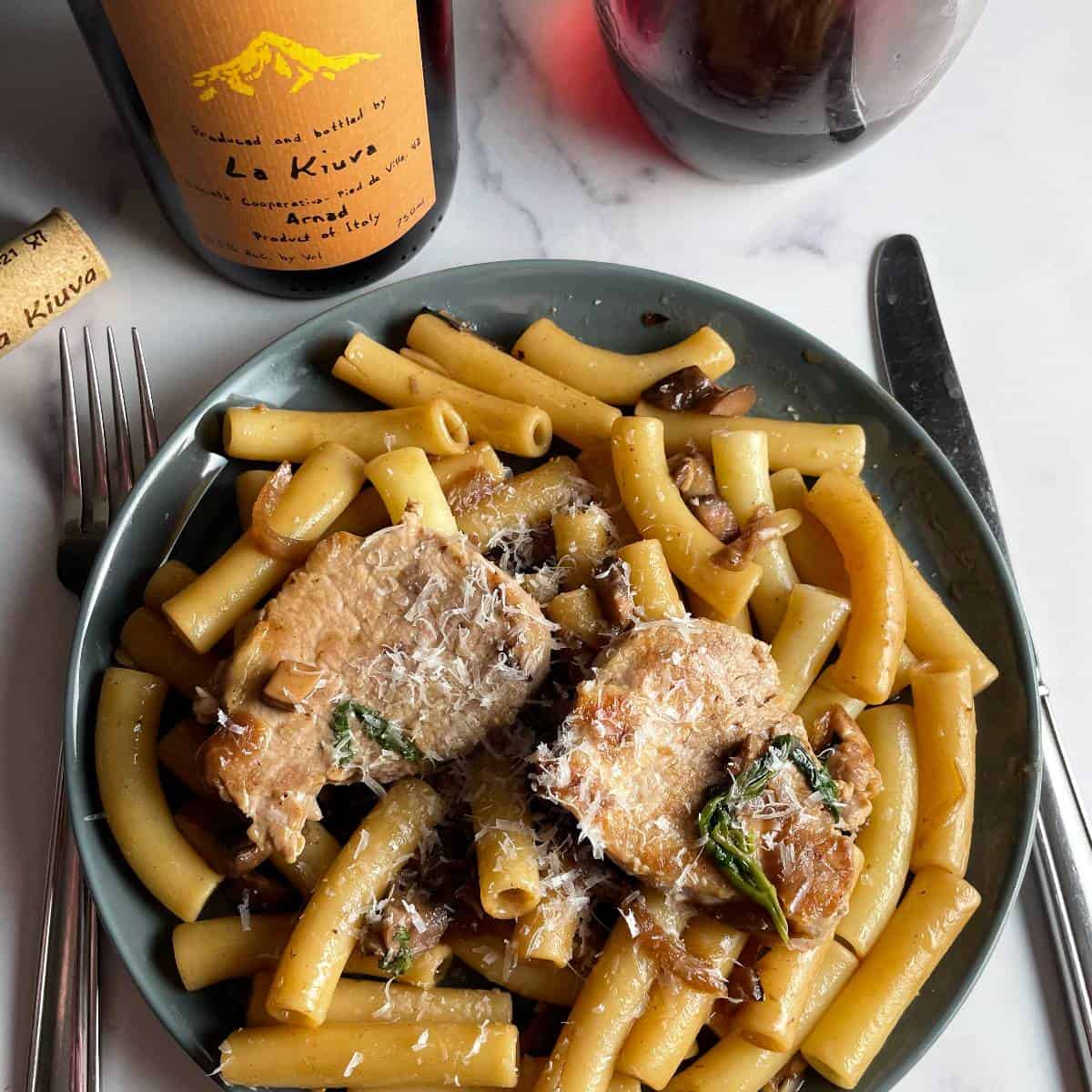 Today we bring you another dish inspired by the wine!
Wendy from A Day in the Life on the Farm picked a topic I love for today's #winePW event…she asked us to find a wine made from a grape varietal that we haven't tried before.
This is no small task for me. Earlier in my wine tasting journey, I started on the challenge of documenting the tasting of 100 different wine grapes. Our local wine shop had a fun program to encourage this. I hit 100 and kept going….and before you knew it, I had documented the sampling of 200 grapes. In this article, I cover some of the interesting varietals I've tried along the way.
That wine shop has since closed, and of course public tastings that previously gave me a chance to try interesting new wines have been mostly nonexistent the past two years.
Nonetheless, I slowly creeped toward 300 grapes samples. Guess how many I had on my chart when Wendy posted about this topic? If you guess 299, you are correct!
Jump to:
Today's wine: La Kiuva
With this "try a new grape" event on the horizon, I eagerly read the description of 2020 La Kiuva Rouge De Vallée in the email from Bin Ends. This red blend from Valle D'Aosta in Northern Italy is a blend of 70% Picotendro and 30% a combination of Gros Vien, Neyret, Cornalin, and Fumin. One of these grapes was sure to qualify as new to me! We will delve deeper into these grapes a bit later; for now, let's just say I had a good wine for this theme.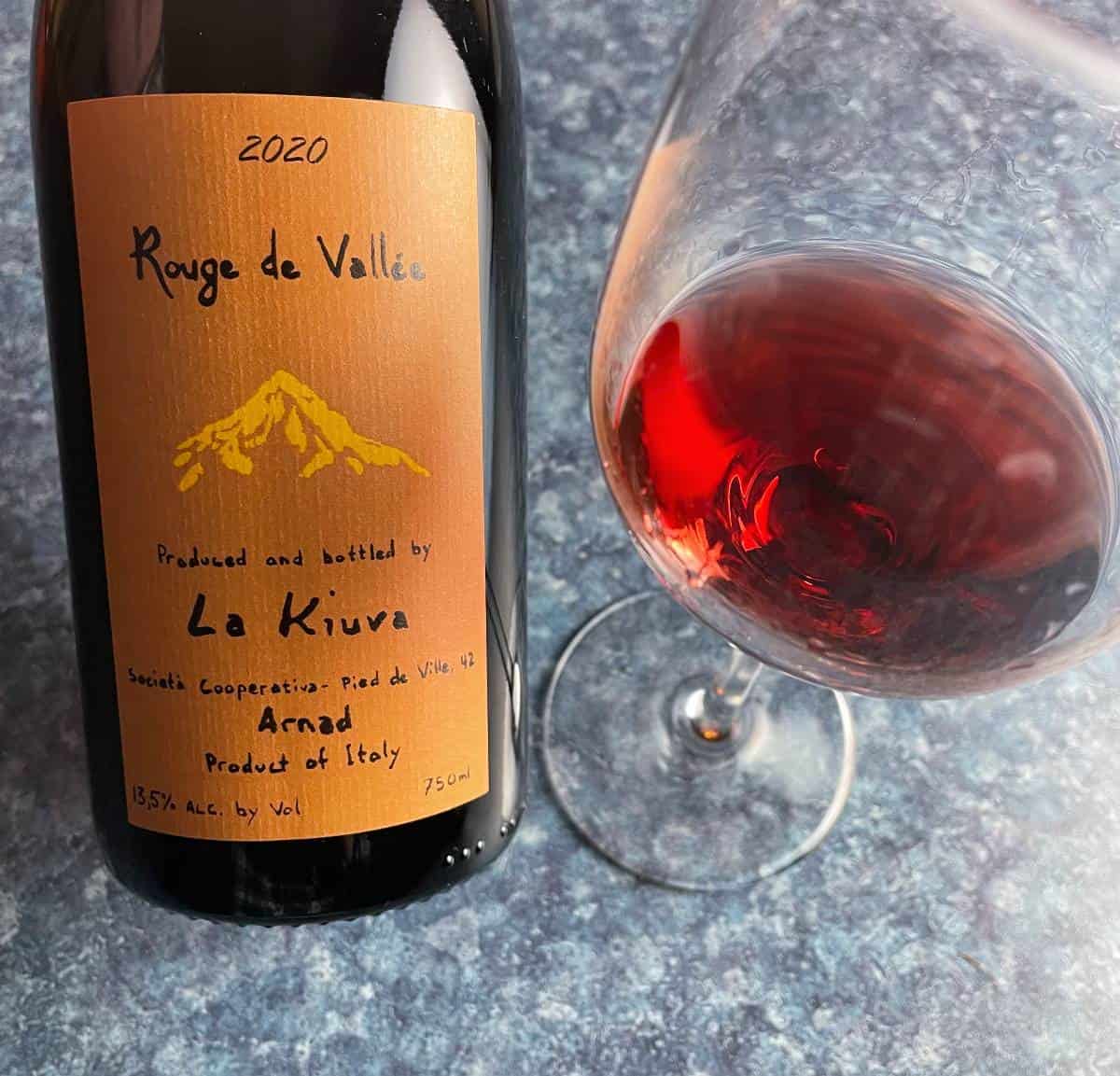 La Kiuva is a cooperative winery with some 50 growers. The steep vineyards, some of the highest in the world, make working the vines by hand a necessity. The region is known for fresh, complex wines thanks to its alpine terroir.
Not knowing what this wine was going to taste like, I bought two bottles so I could do some tasting to think about a good pairing.
The Rouge De Vallée ($20 avg price; 13.5% ABV) is light red in the glass, brambles on the nose. The wine is light bodied. On the palate, bright cherry fruit, with notes of raspberries, red licorice and a touch of lead pencil.
I was thinking basil or pomegranate molasses might be good flavor elements to enhance a pairing with this wine. Chicken or pork tenderloin as the protein. I let those thoughts marinate a bit as I considered what to make for today's pairing.
Recipe inspiration & overview
With some potential ingredients in mind, I perused my list of recipes to make for Cooking Chat. Pork tenderloin pasta popped out as being a good match for today's wine!
Some versions of pork tenderloin pasta lean on heavy cream. To go with the bright red fruit aspects of the wine, I figured I would skip the cream and match the wine taste profile with savory ingredients like caramelized onions and mushrooms, and finish with some basil and balsamic vinegar.
I typically roast the whole pork tenderloin. But for this pork tenderloin pasta recipe, I prepared it in similar fashion to this Pork Tenderloin with Onions recipe. First, we sauté the onions until they are well caramelized. Then, push the onions aside to briefly sear pork tenderloin medallions in two batches.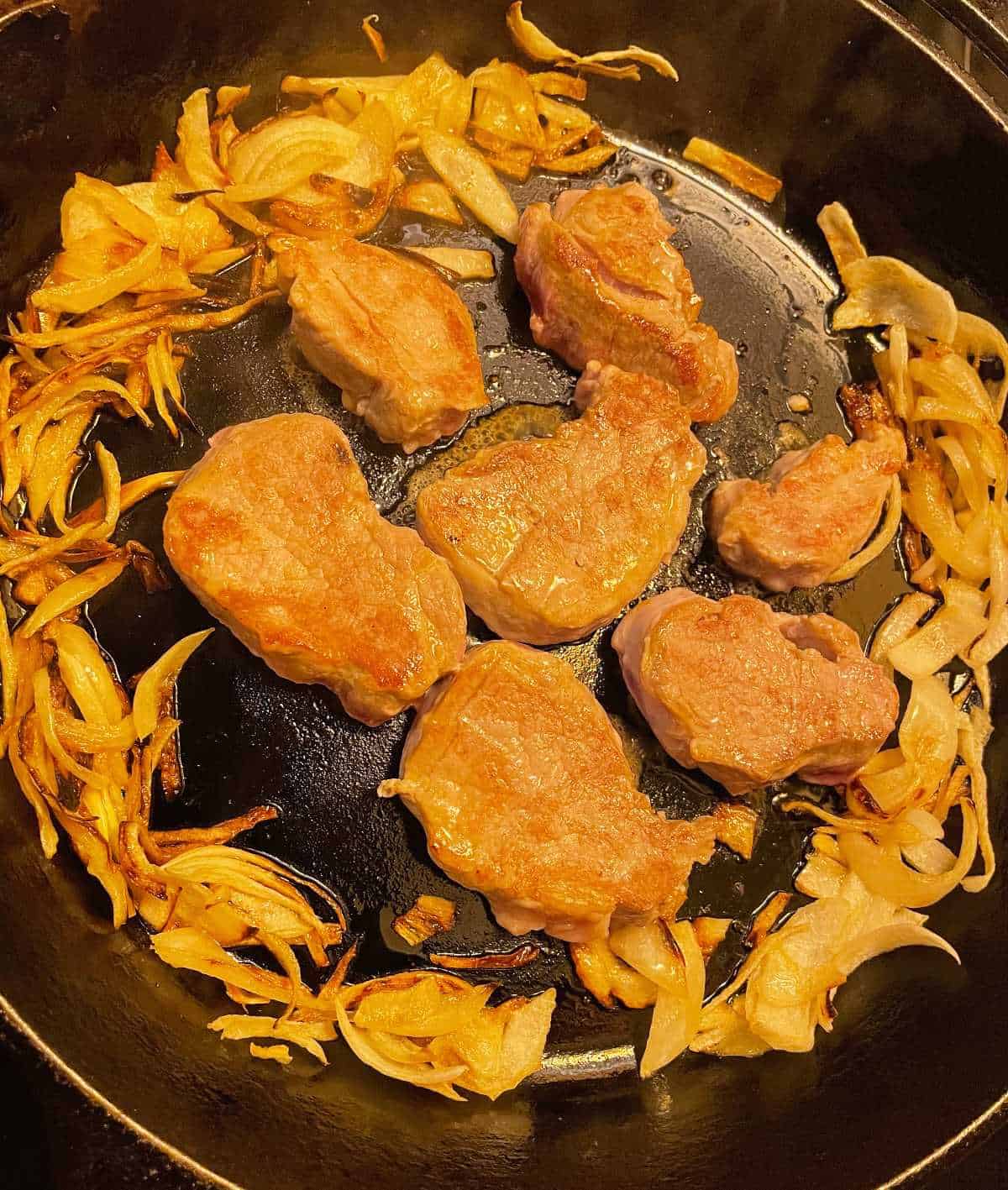 The pork gets moved to a baking dish to finish cooking at a low temp as we make a quick sauce in the skillet.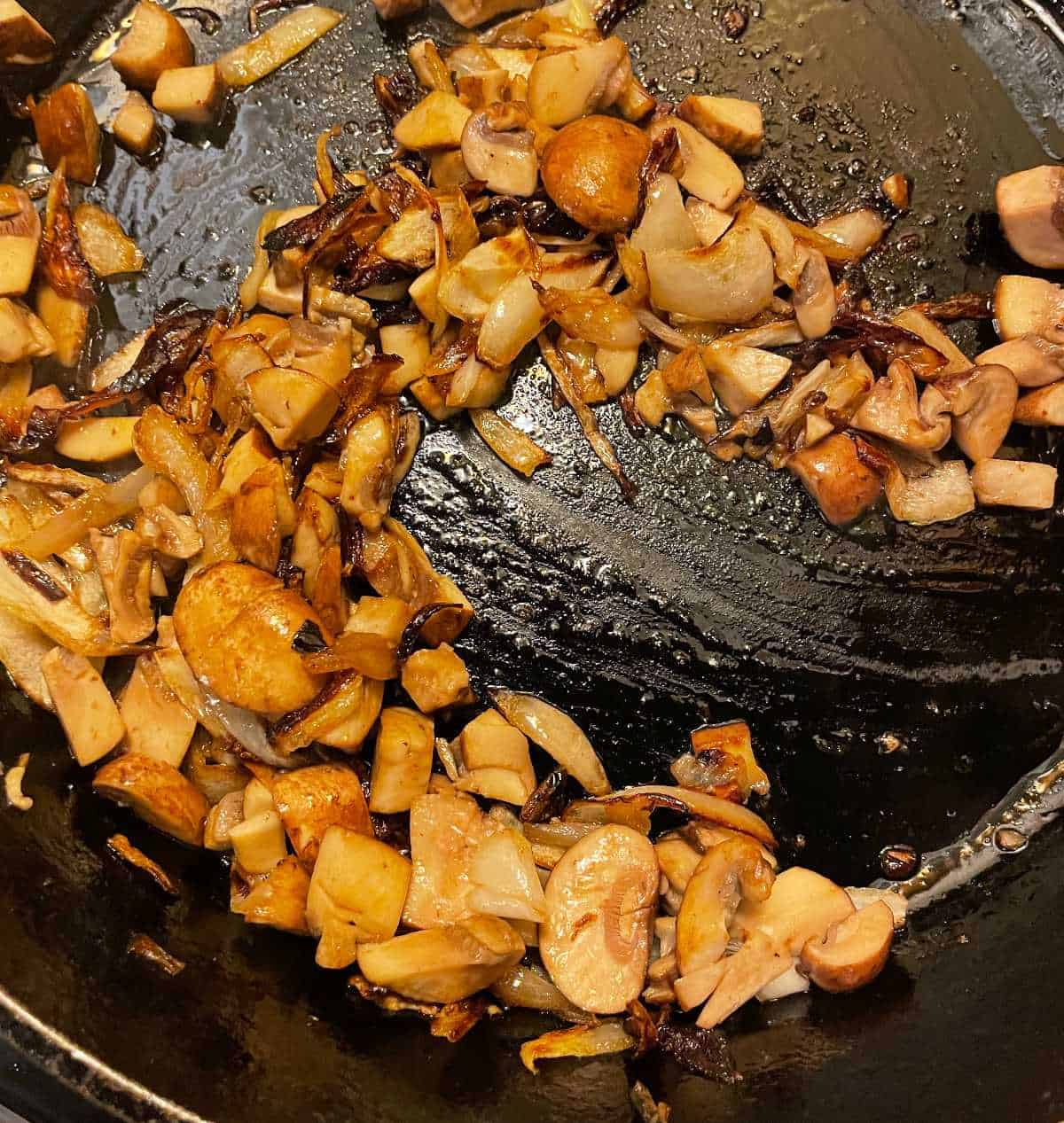 Chopped mushrooms get added to the skillet with the onions, followed by red wine and chicken broth, along with some garlic. The sauce simmers for about 10 minutes.
The pork tenderloin pasta gets finished by stirring pasta into the skillet. Then we add the pork, and stir in the basil and balsamic vinegar.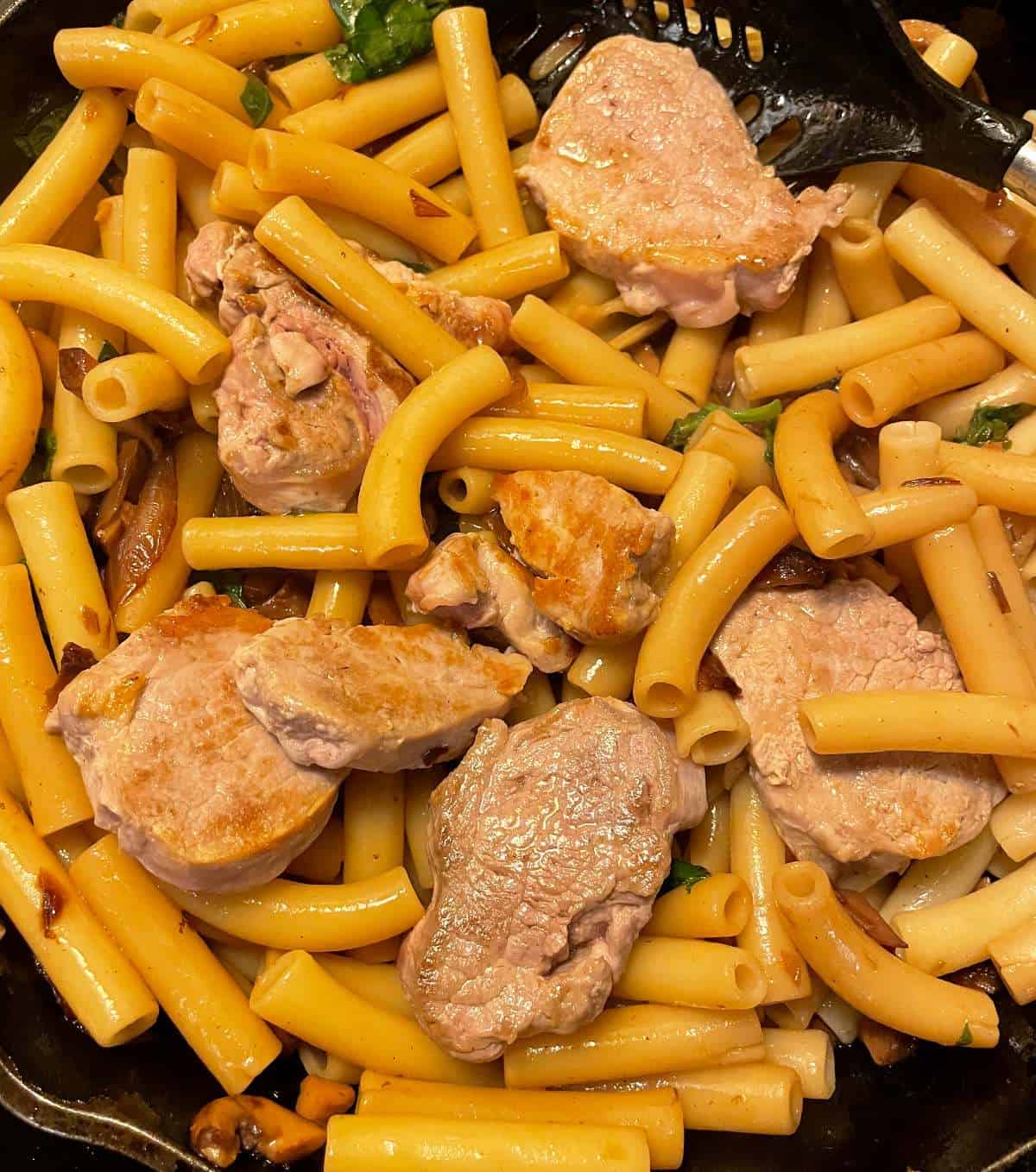 And of course, plenty of grated cheese after plating the pasta!
Head on down to the recipe card for the full recipe instructions.
The pairing
OK, so we cooked up this Pork Tenderloin Pasta recipe after tasting the wine. That almost feels like cheating, right?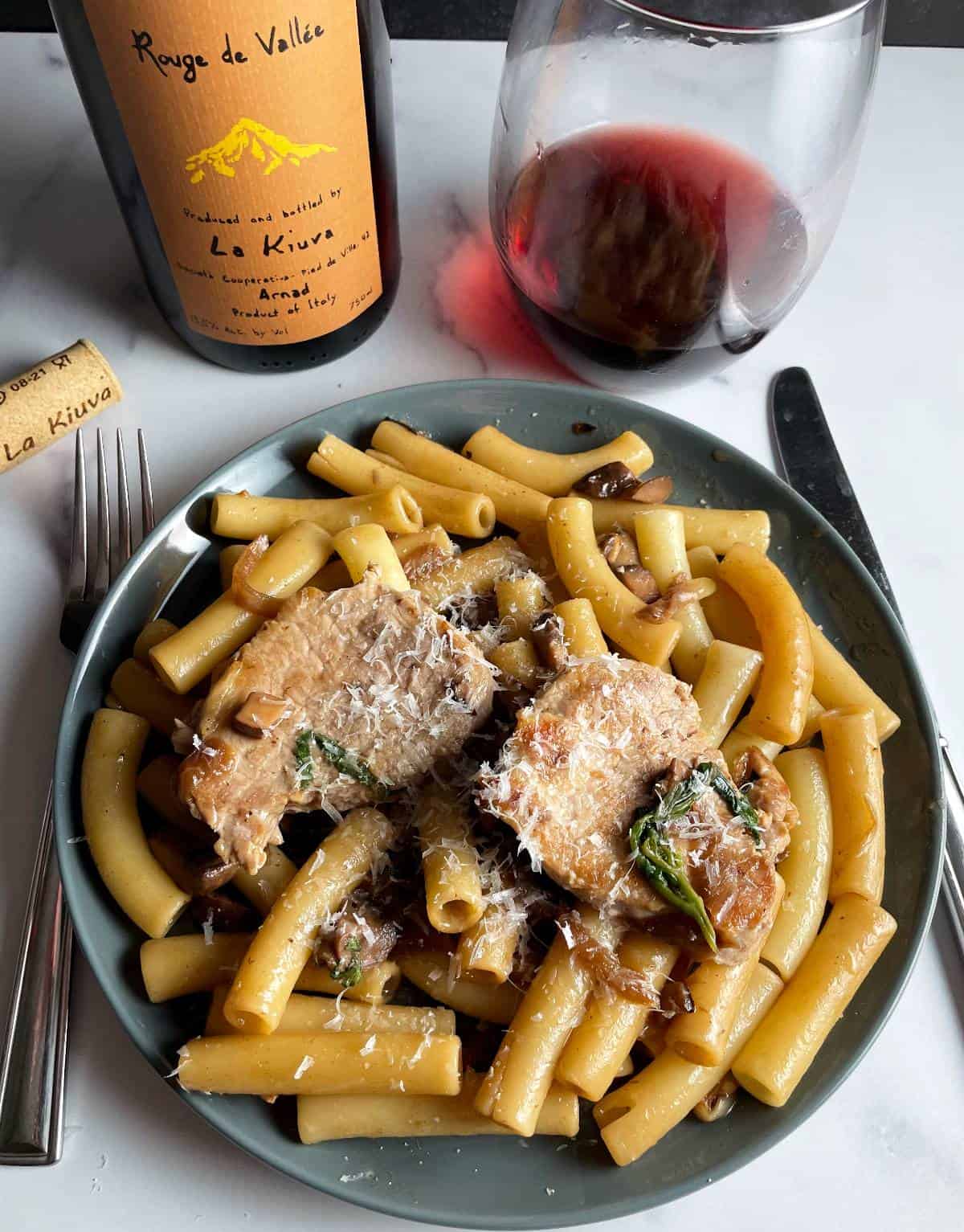 Well, we still need to assess how we did. La Kiuva Rouge De Vallée is light bodied, but has enough structure to be a very good match in terms of weight for the pork tenderloin pasta. It's a nuanced, flavorful wine, which also played along well with the dish. The mushrooms, basil and balsamic were all very good companions for the wine.
Bottom line, this is definitely a pairing I would recommend!
Getting into the grapes
OK, today's #winePW event is about new grapes, so it is time to cover more details about the grapes in La Kiuva Rouge De Vallée.
Picotendro is a local clone of Nebbiolo. While I don't believe I have previously had a wine using the Picotendro term, that doesn't qualify it as grape #300 that I've sampled.
Gros Vien, also known as Vien de Nus or Gros Rodzo, was also unfamiliar to me. With it being first among the grapes comprising 30% of the wine, I am calling it my 300th grape sampled. Congratulations, Gros Vien! The grape is light and soft bodied, and low in alcohol, according to this write up.
According to Wine Searcher, Neyret is an increasingly rare, dark skinned variety grown in Valle D'Aosta and the Piedmont. I don't have that recorded previously in my chart either!
Again referencing Wine Searcher, the Cornalin I had in the blend from La Kiuva should be properly labeled Cornalin D'Aosta, as there is a related grape called Cornalin du Valais in nearby Switzerland. Whatever you call it, Cornalin is also new to me!
Finally, on to Fumin. Another off the beaten path grape native to Valle D'Aosta! Italy Abroad notes that Fumin has traditionally been used to bring color and acidity to blends, but is now also made a single varietal wine. Will have to try that some time! For now, I will wrap today's quest for trying new wines at 303 grapes sampled, according to my updated tally!
Print
Recipe card
Pork Tenderloin Pasta
Pork tenderloin pasta recipe features medallions tossed with a flavorful sauce made with onions, garlic and mushrooms.
Author: Cooking Chat
Prep Time:

10 mins

Cook Time:

35 mins

Total Time:

45 mins

Yield:

6

servings

1

x
Category:

main

Method:

stove top

Cuisine:

Italian
4 tablespoons

olive oil, divided

1

medium onion, thinly sliced

5

mushrooms, chopped (I used baby bella)

2

cloves garlic, minced

1

medium pork tenderloin, about

1.25

pounds

½ cup

dry red wine

½ cup

chicken broth, low sodium

3 tablespoons

butter

⅓ cup

basil, minced

½ tsp

salt

1 tablespoon

balsamic vinegar

12 ounces

short pasta, such as ziti
grated Parmigiano or Pecorino Romano cheese for topping
Instructions
Preheat the oven to 200 degrees and start boiling water . Heat 1 tablespoon olive oil in a large skillet on medium heat, then add the onion. Sauté the onion, stirring occasionally, for at least 10 minutes so it starts to get caramelized. You can prepare the other ingredients as the onion cooks.
Prepare the pork by slicing it into 1 inch thick medallions. Set the medallions out in a plate in a single layer, and sprinkle with ½ teaspoon of salt.
Cook the pork: when the onions have caramelized, push the onions to the edges of the skillet. Add another tablespoon olive oil, on medium heat. Add half of the pork tenderloin medallions in a single layer. Cook for 3 minutes, then turn the pork over and cook for another 3 minutes. After 6 minutes cooking time, move the pork to a baking dish. Repeat the process with the 2nd half of the pork. After putting the 2nd batch of pork into the baking dish, move it to the oven. Leave the pork in the oven for 10 minutes to stay warm and finish cooking, while you make the sauce.
Add the pasta to the boiling water after the first batch of pork has been removed from the skillet. Cook according to package directions. Reserve ⅓ cup pasta cooking water.
After the moving the 2nd batch of pork from the skillet, add the final tablespoon olive oil to the skillet. Stir the onions to distribute evenly, and add the chopped mushrooms to the skillet. Let the mushrooms cook for a couple of minutes, then stir in the red wine and the garlic. Cook for a few more minutes, then stir in the broth. Simmer for about 5 minutes, stirring occasionally.
Remove the pork from the oven after 10 minutes. Drain the pasta when done to your liking. Gradually add the pasta to the skillet, stirring to coat with the sauce. Add the basil and balsamic vinegar, along with the reserved pasta cooking water, then stir in the pork.
Plate the pork tenderloin pasta, topped with grated Parmigiano cheese. Enjoy!
Notes
Prepare the other ingredients as the onion caramelizes in the skillet to save time.
Start cooking the pasta after the first batch of pork has been removed from the skillet.
Keywords: pork tenderloin and pasta, pork tenderloin pasta recipe, pasta with pork
Recipe Card powered by
More exploration of new grapes
Be sure to check out all the interesting grapes and pairings my Wine Pairing Weekend friends tried!