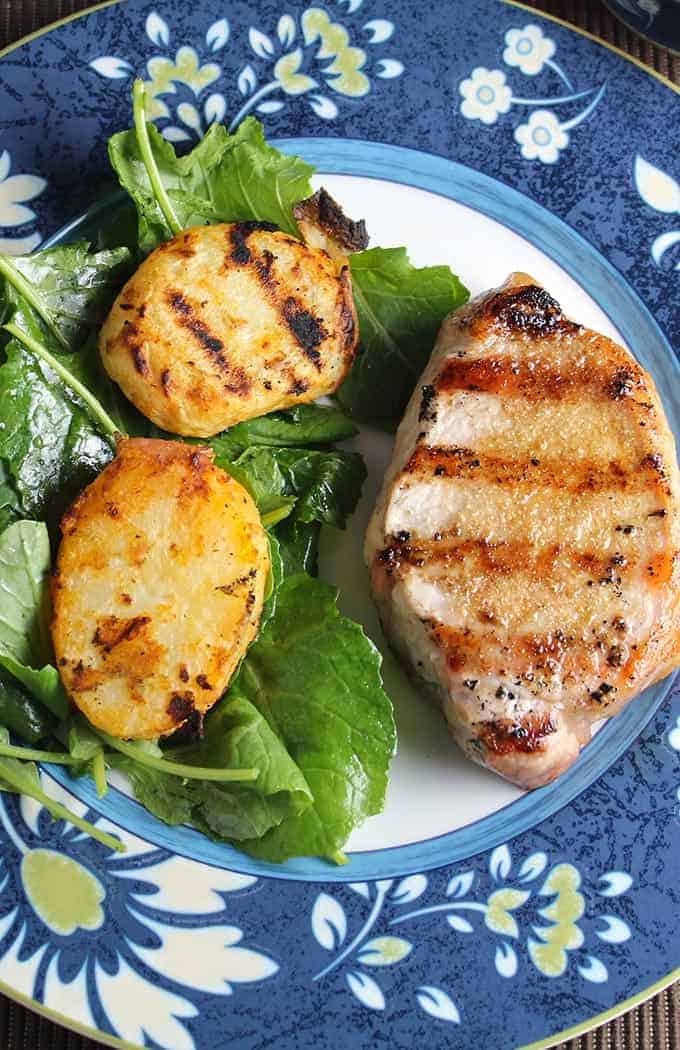 I'm a big fan of Portuguese wines, so I was excited when Christy from Confessions of a Culinary Diva suggested that we focus on Portugal for our Wine Pairing Weekend this month. Portugal offers good tasting wines at a great price, made from a variety of native grapes that you don't typically find elsewhere. Definitely a lot to like about wine from Portugal!
The meal I served up for the Portuguese #winePW took a lot of twists and turns in my head before making its way to our plates. I love Portuguese kale soup, and featured my version of the classic dish in my Collards & Kale Cookbook. I had the idea of cooking up some of the kale soup ingredients, but in a different format. My first thought was to cook some pork and kale up together in a skillet dish.
I got home from work the night I planned to make my Portuguese wine dish, and it was a beautiful summer evening that just had to include grilling. So I decided to make my Heaven Sent Grilled Pork Chops for our protein, with a few twists. I added coriander to my cumin garlic spice rub, as I read that the spice is very common in Portuguese cooking. I used boneless chops this time, which take right around 5 minutes per side to grill up nice and moist.
The new recipe I came up with for this #winePW is the Portuguese Potatoes with Kale. I perused a few sites with info on Portuguese food to get a sense of typical spice for Portuguese cooking, and put several of those together in a spice blend for the potatoes: saffron, paprika and coriander. I like to parboil the potatoes before grilling. Most recipes call for just 6 minutes of boiling potatoes before grilling, but I find closer to 10 gets the potatoes to the desired tenderness. Grilling the potatoes is then really just a matter of putting on the finishing touches.
The kale gets tossed in a maple vinaigrette. The grilled potatoes and kale are best eaten together, the smoky spice on the potatoes contrasts nicely with the touch of sweetness in the vinaigrette. A great side dish for pork! Speaking of the pork, my ten year old gets credit for naming the dish, he insists meat this good must come from heaven. And he also gives the potatoes a thumbs up; in fact, he's requested them to go with grilled ribeye for his birthday dinner tonight! (OK, his potatoes do get a bit less of the spice blend.)
Wine Pairing: I grabbed a bottle of the 2012 Tinta Boa ($11) red wine blend. The wine is made in Southern Portugal, and is a blend of native grapes Tinta Roriz and Touriga Nacional.
The nose had the aroma of a forest floor. The first taste was quite tannic; that edge softened a bit in the glass. I got blackberry and licorice taste. It is a medium bodied wine. This was a decent pairing for the pork and Portuguese potatoes, but I can't say I was that impressed with this bottle of wine. I believe I've had it before from an earlier vintage and liked it better. Not sure if it was the vintage difference or just this bottle. It was the only red Portuguese wine I could find in the shop for this meal; I've had some other red wines from the Dao and Duoro regions for a similar price point that I really enjoyed. So I will keep my eye out for a chance to blog about another Portuguese wine so I can really extol its virtues. Meanwhile, perhaps this review will help keep the Portuguese wine prices nice and affordable!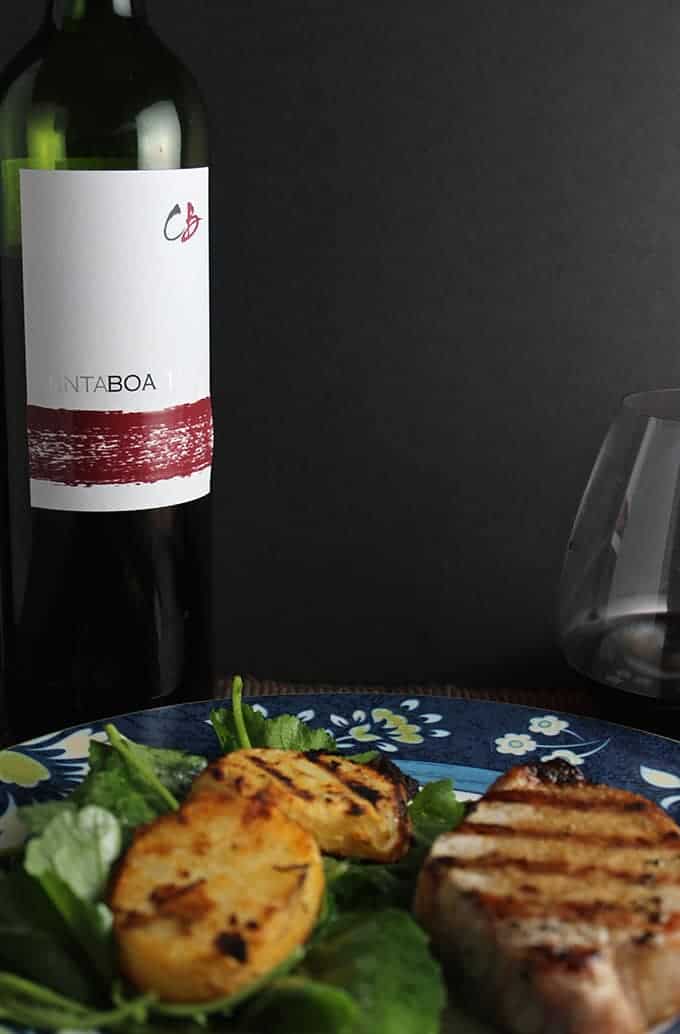 Print
Recipe card
Portuguese Potatoes and Kale
Potatoes coated with a Portuguese spice blend are grilled and served on a bed of baby kale with a Maple Vinaigrette. Great side for grilled pork.
Author: Cooking Chat
Prep Time:

15 mins

Cook Time:

20 mins

Total Time:

35 mins

Yield:

3

servings

1

x
Category:

Side

Cuisine:

Portuguese
3

ozs baby kale

5 tbsp

extra virgin olive oil, divided

1 tbsp

maple syrup

2 tsp

apple cider vinegar
salt & pepper to taste
generous pinch saffron

½ tsp

paprika

½ tsp

garlic

½

coriander

½

salt

1

lb red potatoes, scrubbed and cut into

1

inch thick slices
Instructions
Prep the kale: combine 2 tablespoons of the olive oil with the maple syrup and cider vinegar. Add salt and pepper to taste.
Toss the kale with the vinaigrette in a large bowl, and set aside.
Make the spice blend: combine 3 tablespoons olive oil with the paprika, garlic, coriander and salt.
Boil water for the potatoes. Add the potatoes, and boil until they are just beginning to get soft, 8 to 10 minutes. Drain the potatoes when ready, and rinse with cold water.
When the potatoes are well-drained, place them in a large bowl. Gradually pour in the spice mixture. and gently move the potatoes around in the bowl so all the potato pieces are coated with the mixture.
Preheat a grill to medium high. Carefully place the potato slices on the grill. Grill for about 5 minutes on one side, then carefully turn to grill for another 5 minutes. The potatoes should be cooked through and getting some nice grill marks. Remove the potatoes from the grill and place on a platter.
Plate the kale, filling about ½ of a plate. Place a couple potatoes on top of the kale, and serve your protein alongside the potatoes and kale. Enjoy the potatoes and kale together along with your meat.
Recipe Card powered by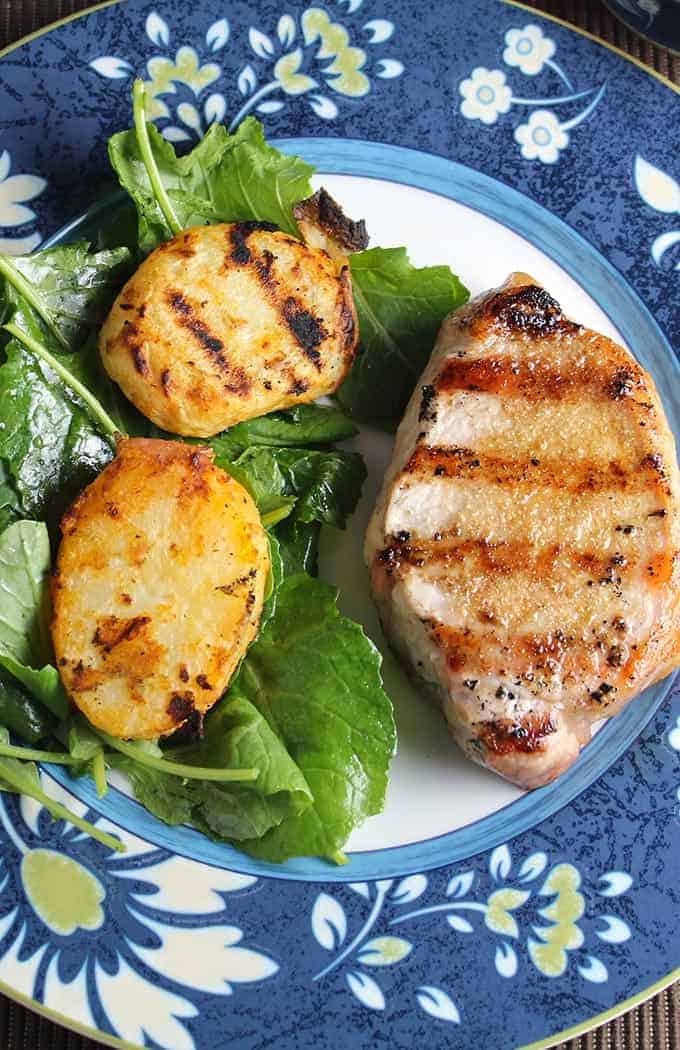 Be sure to check out all these tasty Portuguese pairings!
Camilla from Culinary Adventures with Camilla is sharing "Vinho Verde Caldeirada with Pluot Port Granita"
Christy from Confessions of a Culinary Diva shares "Is Portuguese Wine the Fountain of Youth?"
Constance from Vinhos do Alentego is featuring "Alentejano Black Pork with Clams"
David from Cooking Chat shares "Grilled Pork with Portuguese Potatoes and Kale"
Jade of Tasting Pour is pairing " Portugal's Green Wine with Stew Fresh from the Sea."
Jeff from food wine click shares "Perfect Pairing with Port"
Jennifer from Vino Travels shares "Agro Batoreu Terre Silvestre Portugese Blend with Asian Pork"
Lori from Draceana Wines features "Portugal: Not just for Port. Who Knew?"
Martin of Enofylz Wine Blog tempts us with "Taste of Portugal:Grilled Fish Setubal Style and 2008 Torre de Tavares Encruzado"
Michelle from Rockin Red Blog shares "Portuguese Wines: Just Say Yes"
Nancy from Pull That Cork pairs "Amêijoas na Cataplana with Soalheiro Alvarinho"
Sarah from Curious Cuisiniere pairs "Piri Piri Chicken with Verdelho"
Wendy creator of A Day in the Life on a Farm shares "A Tawny Port from Portugal served with Grilled Figs topped with Goat Cheese"
If you get to this post in time, join us for a live Twitter Chat at 11 a.m. on Saturday, August 8, using the hashtag #winePW. Join us next month for "Volcanic Wines", hosted by Camilla of Culinary Adventures with Camilla. Check out all of the upcoming and past Wine Pairing Weekend events here.