For this month's Italian Food, Wine & Travel blogging event, we take a deep dive into Prosecco Superiore. Read along to learn more about this special Italian sparkling wine and get some ideas for some food to pair with it. Disclosure: The wines discussed in this article were provided as complimentary samples, arranged by the Consorzio of Prosecco Superiore DOCG

I've always been a fan of Prosecco, but until recently I thought of it as an easy drinking Italian sparkling wine typically available for a good price.
Then I had a chance to join the Italian Food, Wine and Travel bloggers to learn more about Prosecco Superiore in conjunction with the 10th anniversary of the DOCG (Denominazione di Origine Controllata e Garantita). Through some background reading, and better yet, sampling, I was able to appreciate that Prosecco Superiore takes the Italian sparkling wine to a whole new level!
What is Prosecco Superiore?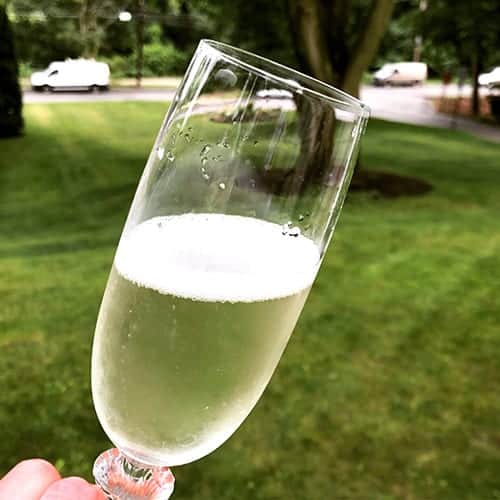 First, let's cover some Prosecco basics. Prosecco is a sparkling wine from north east Italy made via the Martinotti-Charmat method, whereby the secondary fermentation takes place in large tanks. Glera is the primary grape used in making Prosecco.
A basic Prosecco can be a solid, affordable choice for a sparkling wine. Now let's learn more about Prosecco Superiore and what makes it special.
Conegliano Valdobbiadene Prosecco Superiore D.O.C.G.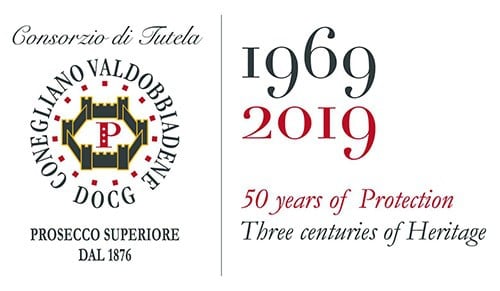 Conegliano Valdobbiadene Prosecco Superiore D.O.C.G. sparkling wines are produced in a hilly area comprised of 15 towns north of Venice between Conegliano and Valdobbiadene. The area was granted D.O.C.G. status in 2009–our Italian Food, Wine and Travel focus on Prosecco Superiore today celebrates the 10th anniversary of this coveted recognition of high quality production standards.
Steep hills in the Conegliano Valdobbiadene area require hand harvesting of grapes. As explained on the Prosecco Superiore consortium website, there are five tests that a wine must pass to be bear the Conegliano Valdobbiadene Prosecco Superiore D.O.C.G. mark on the bottle:
Control in the vineyard ensuring the D.O.C.G. planting requirements have been followed.
Control of quality and quantity of grapes at harvest time.
Wine making practices during vinification.
Chemical analysis and tasting of the finished product.
Authorization for sale with the D.O.C.G. quality label
Types of Prosecco Superiore D.O.C.G. Wines
Prosecco Superiore sparkling wine comes in three levels of sweetness. In rather counterintuitive fashion, Dry is the sweetest available, followed by Extra Dry in the middle and Brut being the driest. We sampled one Extra Dry and two with the Brut label.
So we have covered a lot of information on the Conegliano Valdobbiadene Prosecco Superiore D.O.C.G. and what makes the wines special. But what really makes it special is the high quality we taste in the glass! Let's move onto the three wines we sampled for the event along with some notes on our food pairings for the Prosecco Superiore.
Gaio Prosecco Superiore from Collalto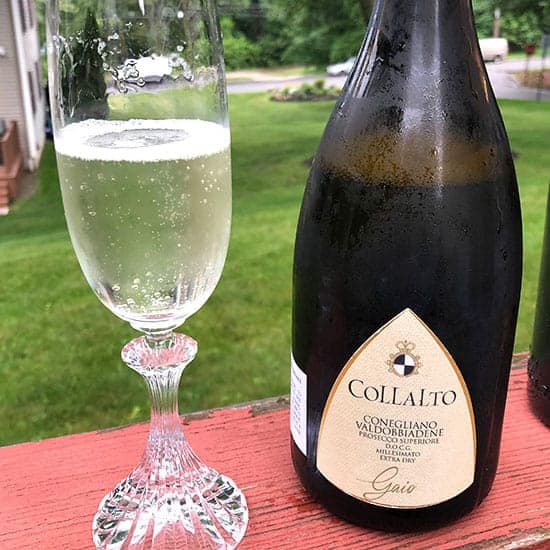 We started with the Gaio Conegliano Valdobbiadene Prosecco Superiore DOCG Extra Dry Millesimato ( 11.5% ABV) from Collalto. Light floral nose. Fresh pear fruit on the palate withe a touch of honey on the finish (15 grams per liter of residual sugar). Tight, refreshing bubbles.
Right from the outset, tasting the Gaio I could see that the Prosecco Superiore term brings with it a high level of quality. The Gaio Prosecco Superiore has a refinement comparable with any top sparkling wine you can find.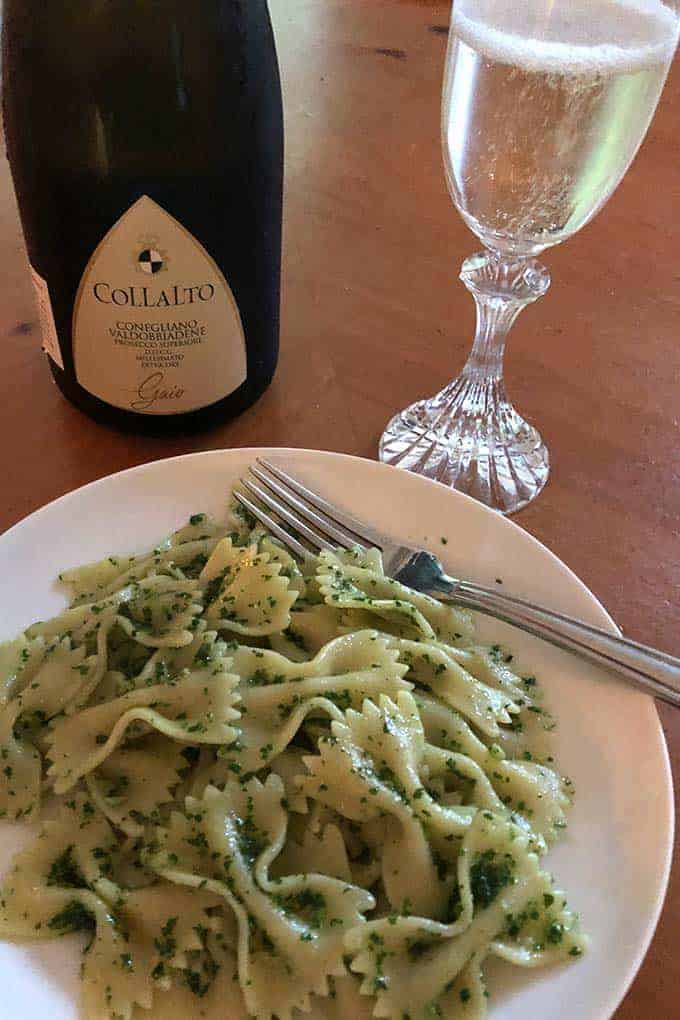 We enjoyed sipping a glass of the Collalto while making dinner. Then it served as a very good pairing for some farfalle tossed with kale pesto.
Gaio Technical Details
The Glera grapes for the Gaio are grown exclusively in estate vineyards, in the hills of Susegana (south facing).
The grape clusters are gently pressed, then fermented in temperature controlled steel tanks for 1 to 2 months, followed by 1 to 2 months of maturation in bottle.
The term "millesimato" indicates that the grapes are from a single vintage.
Azienda Agricola Conte Collalto, producer of the Gaio, is a winery with deep roots. The Collalto name has been connected to the Treviso region and winemaking for over 1,000 years. Collalto is a significant winemaker in the region, with 150 hectares of vineyards, producing some 550,000 bottles of Prosecco Superiore per year.
For more on the winery's heritage and approach, visit the Collalto website.
Dirupo Brut Valdobbiadene Prosecco Superior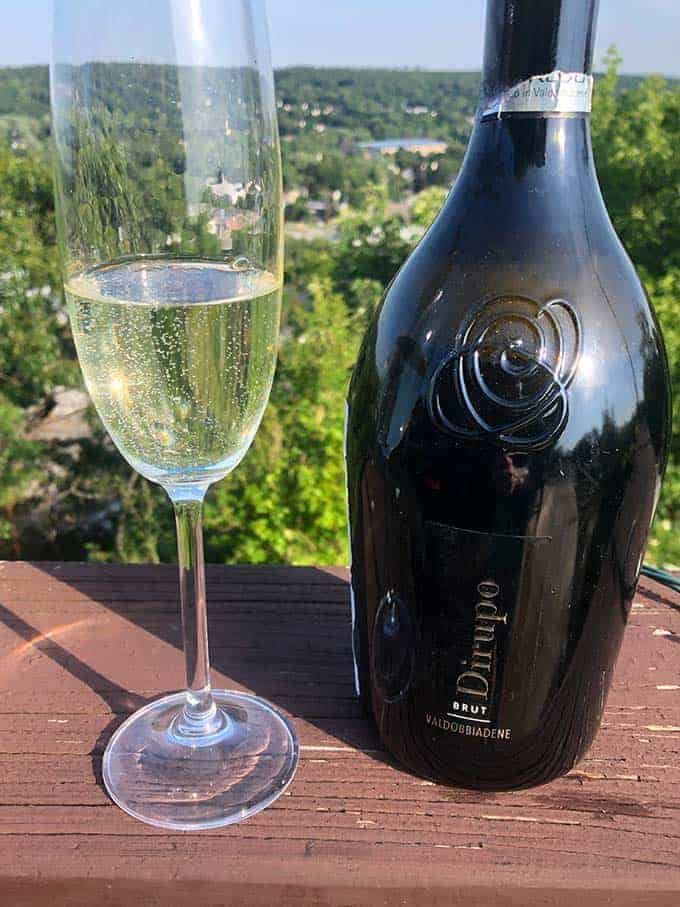 Phase two of our Prosecco Superiore sampling had us opening a pair of bottles at a family gathering, hosted by my sister and brother in-law. Sipping Prosecco Superiore on a beautiful summer evening with views of Boston in the background is definitely recommended!
Both bottles we opened at this gathering were Brut Prosecco Superiore, giving us a chance to compare similar style wines side by side.
The Dirupo Brut Valdobbiadene Prosecco Superiore (11.5% ABV) from Azienda Agricola Andreola has scents of rose on the nose and tart green apple fruit on the palate (10 g / l residual sugar). One person sampling with us noted the lighter bubbles, compared to some sparkling wine, made for enjoyable sipping.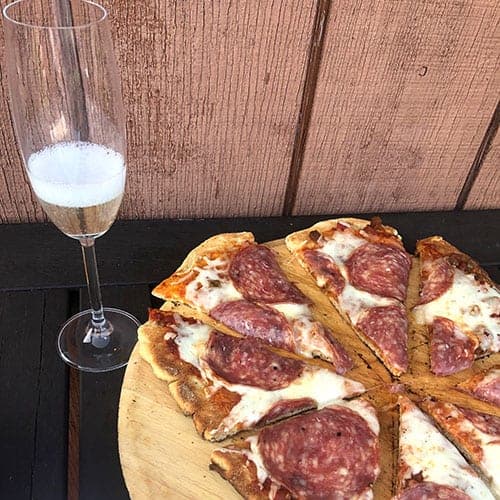 My brother in-law Doug made some grilled pizza with salame. The Dirupo was very good paired with this pizza, cleansing the palate after the strong flavor of the spicy salame.
The Dirupo is produced from the steepest slopes on the Valdobbiadene property, requiring "heroic farming" efforts to care for and harvest the grapes.
Col Vetoraz Prosecco Superiore di Valdobbiadene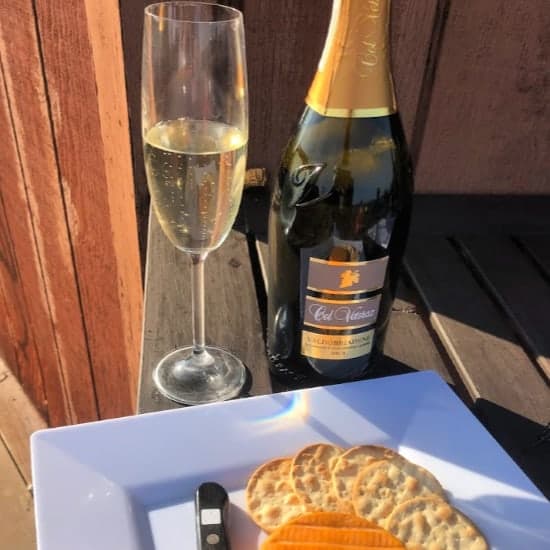 Last but certainly not least, we sampled the Col Vetoraz Prosecco Superiore di Valdobbiadene (11.5% ABV). The Col Vetoraz features peach fruit on the palate with a touch of residual sugar (8 g / l ) . That bit of sweetness made it a nice companion for a spicy dip we nibbled on waiting for our main course.
The Col Vetoraz is made from Glera grapes grown on high, west facing hills. The winery is located next to the "Mont" of Cartizze in S. Stefano di Valdobbiadene. The Miotto family settled in the area and began making wine back in 1838. The Col Vetoraz winery in its current version was established by direct descendants in 1993.
More Prosecco Superiore Pairing Notes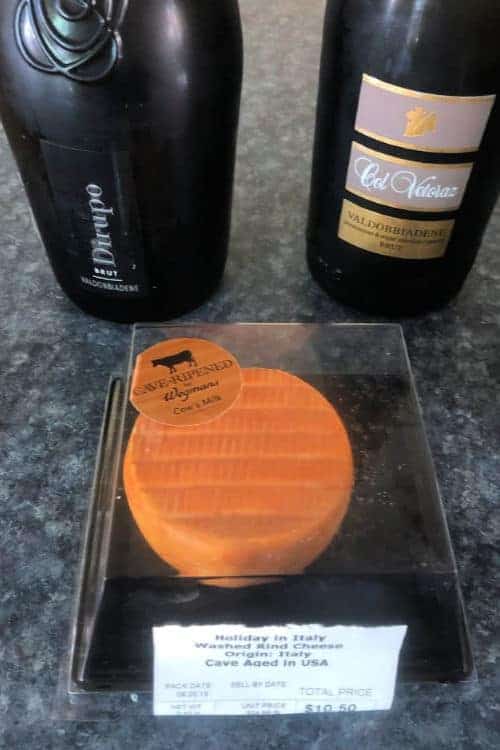 I picked up a round of "Holiday in Italy" washed rind cheese from Wegmans to try with our Prosecco Superiore. While the cheese was a big it, the strongly flavored cheese didn't pair as well with the sparkling wine as I thought it might.
We did have enough of the Dirupo and Col Vetoraz to try with the pasta course at the dinner party. Doug made a flavorful pasta with mustard green pesto along with several optional toppings, including harissa with roasted red peppers and some blanched mustard greens. The Prosecco Superiore showed versatility by pairing picking up the complex flavors in the pasta dish.
Celebrating Prosecco Superiore with Italian FWT Bloggers
Be sure to check out all these great articles about Prosecco Superiore from the Italian Food, Wine & Travel bloggers. If you get to this article in time, join our live Twitter chat on Saturday, July 6, 11 am ET, by following the #ItalianFWT tag.
Wendy, of A Day in the Life on the Farm, says Summertime and the Living is Easy with Prosecco DOCG in My Glass.
Jill, of L'Occasion, asks Looking for Freshness? Check out Prosecco DOCG.
Rupal, the Syrah Queen, writes Prosecco Elevated – Sipping Prosecco Superiore DOCG.
Jane, of Always Ravenous, pours Prosecco Superiore Paired with Italian Small Bites.
Deanna, of Asian Test Kitchen, is Pairing Cartizze Prosecco DOCG Beyond Oysters.
David, for Cooking Chat, says Prosecco Superiore: The Special Italian Sparkling Wine Lives Up To Its Name.
Liz, of What's in That Bottle, is Discovering the Delights of Prosecco Superiore.
Jeff, of FoodWineClick!, goes Beyond Apertif, Enjoy Prosecco Superiore at the Dinner Table.
Martin, of ENOFYLZ Wine Blog, encourages Getting to Know Prosecco Superiore.
Pinny, of Chinese Food and Wine Pairings, is Sipping the Day Away with Prosecco DOCG.
Gwendolyn, of Wine Predator, shares 3 Prosecco DOCG and Calamari with Lemon Caper Sauce.
Linda, of My Full Wine Glass, offers Take-aways from a week of glorious Prosecco DOCG.
Jennifer, of Vino Travels, declares Prosecco DOCG is more than just Prosecco.
Susannah, of Avvinare, is Taking A Closer Look At Prosecco Superiore DOCG.

Kevin, of

Snarky Wine

, declares Vintage Prosecco DOCG: Quality Matters.

Li, of The Wining Hour, asks you to Step Up Your Game with Prosecco Superiore.
Camilla, of Culinary Adventures with Camilla, is Climbing the Prosecco Hierarchy: To Prosecco Superiore di Cartizze with Steamed Clams, Smoked Scallops, and Capellini.