We make this Pulled Pork with Bacon in the slow cooker. Start this recipe the evening before you plan to serve it–marinate the pork overnight, and get it going in the slow cooker the next morning. You will be treated to a rich, flavorful main course that goes wonderfully with a good glass of Merlot. Full disclosure: the wine we paired with the recipe was provided as a complimentary sample by the winery.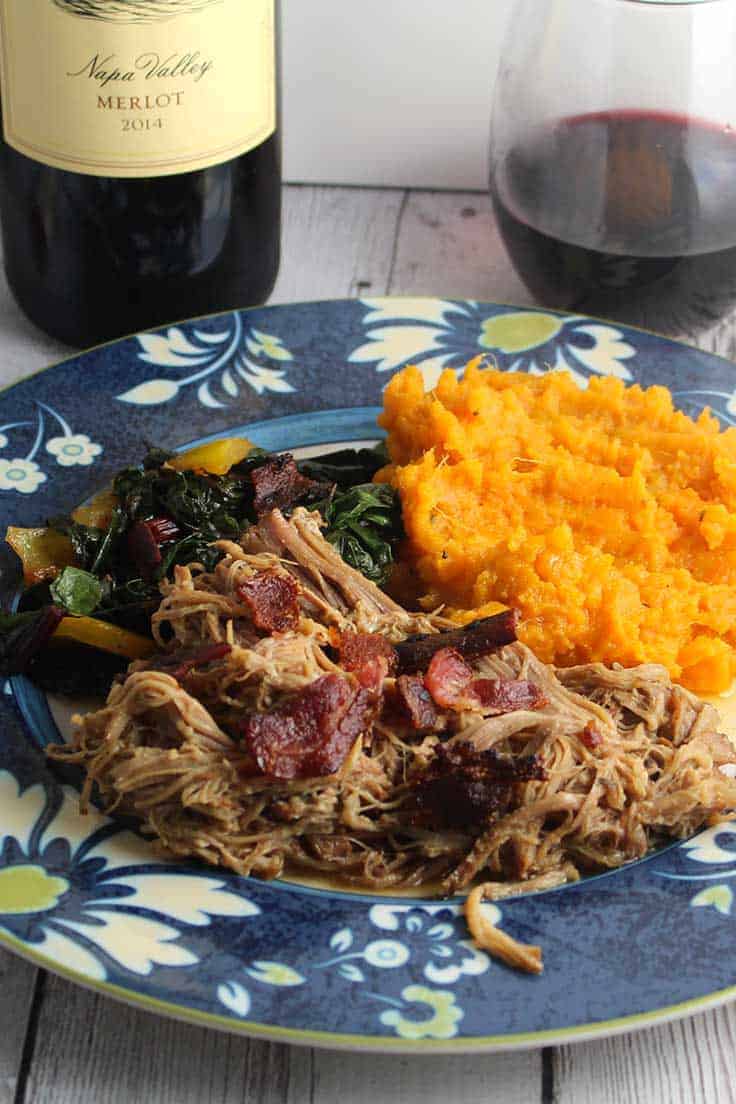 So, it is October 31. What does that mean? Sure, it is Halloween, but it is also the last day of #MerlotMe month.
Along with other members of the Wine Pairing Weekend blogging group, we have been enjoying a lot of great Merlot this month in observance of #MerlotMe. October is a time to reclaim the merits of the versatile Merlot grape! So rather than giving you a Halloween themed recipe today, I'm sharing Pulled Pork with Bacon — one more October recipe that goes great with a good Merlot!
My most recent #MerlotMe post, this Tomato and Eggplant Pasta recipe, definitely highlighted the versatility of Merlot for pairing with food. I wouldn't have guessed Merlot would be such a good match for a tomato based sauce, but it definitely worked!
Today we go back to a more basic pairing for Merlot. Pork and Merlot are naturally partners, so Pulled Pork with Bacon is a great way to wrap up #MerlotMe month. To further enhance the pairing, our pulled pork recipe includes Merlot friendly ingredients in the spice blend–rosemary, thyme and garlic.
Making Pulled Pork with Bacon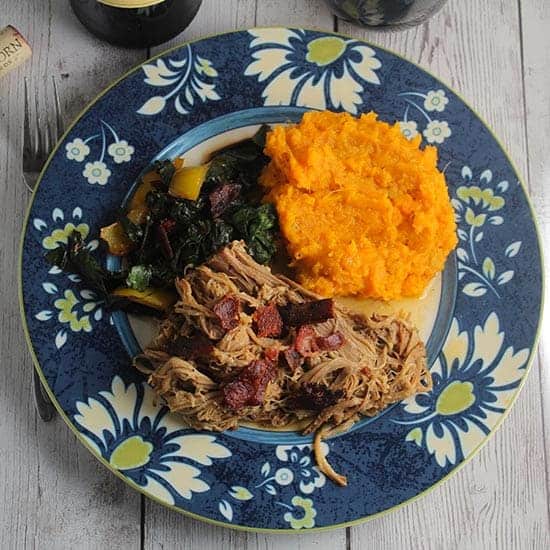 Start this pulled pork with bacon recipe the evening before you plan to serve it–marinate the pork overnight, and get it going in the slow cooker the next morning. The advance planning pays off with a tasty meal that doesn't require too much effort the evening you serve it.
Though it is too late to make this for Halloween if you are just reading this on October 31, you might want to keep it in mind for next year. Start this the night before Halloween, and you can have this savory goodness in the slow cooker for whenever you and your trick or treaters are hungry. Personally, a plate of this pulled pork with bacon along with a glass of Merlot is a better treat than anything in those trick or treat bags!
Our Sweet Potatoes with Cumin Sage Butter make a perfect side dish for this Pulled Pork with Bacon. We also had some braised greens with it.
If you happen to have leftover pulled pork, try this recipe for Pulled Pork Risotto!
Wine Pairing for Pulled Pork with Bacon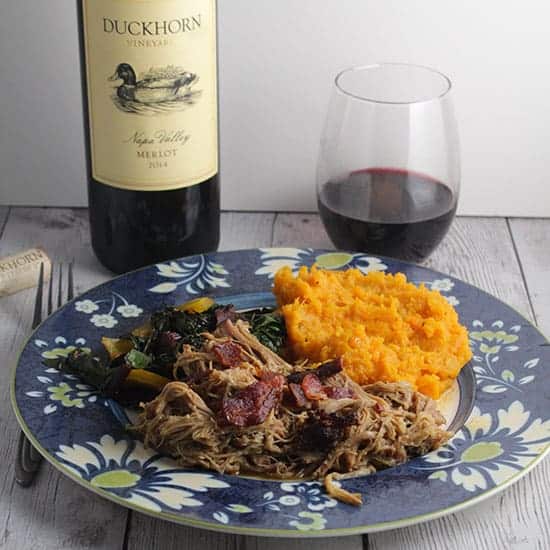 Well, you probably figured by now that we were pairing this recipe with a Merlot! We opened a bottle of the 2014 Duckhorn Napa Valley Merlot ($54, 14.5% ABV) to go with the pulled pork recipe. I tasted raspberry fruit and bit of chocolate. Nice mouthfeel and long finish. A straight-forward, easy drinking Merlot that worked well with the savory pulled pork. This Duckhorn Merlot makes an interesting contrast with their single vineyard Merlot that we had recently with some ribeye.
Duckhorn has long been focused on making good Merlot, and the results show with the consistent quality. This Napa Valley Merlot comes from a combination of their estate vineyards and independent Napa growers. It is comprised of 88% Merlot, 7% Cabernet Sauvignon, 3% Petit Verdot and 2% Cabernet Franc. For more information, visit the winery website.
For more pairings like this, check out our Merlot Food Pairing article.
Print
Pulled Pork with Bacon
Savory pulled pork made in a slow cooker, topped with crispy bacon and paired with a Merlot.
Author: Cooking Chat
Prep Time:

10 mins

Cook Time:

8 hours 30 mins

Total Time:

8 hours 40 mins

Yield:

9

servings

1

x
Category:

Main

Cuisine:

American
SPICE BLEND

1 tbsp

dried rosemary

2 tsp

dried thyme

2 tsp

salt

1 tbsp

garlic

½ tsp

cinnamon
MARINADE

⅓ cup

soy

2 tbsp

cider vinegar

2 tbsp

red wine

3 tbsp

extra virgin olive oil
Heaping teaspoon brown sugar

1 tbsp

spice blend

4 ½

lbs pork shoulder or pork butt
PHASE

1

INGREDIENTS

1

onion

1 tbsp

extra virgin olive oil
Reserved marinade

1 ¼ cups

chicken broth

2 tbsp

ketchup

1 tbsp

maple syrup
Pinch paprika

1 tbsp

spice rub
PHASE

2

INGREDIENTS

¼ cup

ketchup

1 tbsp

soy

1 tsp

apple cider vinegar

1 tsp

spice blend

1 tbsp

syrup
FINISHING TOUCH

4

strips of bacon
Instructions
MAKE THE SPICE BLEND: Combine the spice blend ingredients, from the rosemary through the cinnamon, in a bowl. Set aside.
MAKE THE MARINADE: In a bowl, combine the pork marinade ingredients from the soy sauce through the tablespoon of spice blend.
Rinse and pat dry the pork, then place it in a large sealable plastic bag. Pour in the marinade, seal, and toss the pork gently a few times to make sure all the meat is well coated with the marinade. Place in the refrigerator to marinate overnight or at least 8 hours.
PREPARE FOR SLOW COOKING (PHASE 1): Have your slow cooker at the ready. Heat a tablespoon of olive oil in a large skillet. Add the onions, and cook on medium for 5 minutes. Take the pork out of the marinade, reserving the marinade. Add the pork to the skillet, and cook for 5 to 10 minutes, turning the meat occasionally to brown it on all sides.
Transfer the pork and onions to the slow cooker. Add the remaining Phase 1 ingredients to the slow cooker: tablespoon of spice blend, maple syrup, chicken broth, 2 tablespoons ketchup, paprika and reserved marinade.
Cover the slow cooker. Set the slow cooker to low, and cook for 8 hours.
Cover the slow cooker. Set the slow cooker to low, and cook for 8 hours.
After the 8 hours of slow cooking, the meat will be fall apart tender. Remove the meat to a platter, and give it a few minutes to cool. Then use two forks to shred the pork, breaking it into bite sized pieces.
Return the shredded pork to the slow cooker along with the Phase 2 ingredients: ¼ cup ketchup, 1 tablespoon soy sauce, tablespoon maple syrup, teaspoon cider vinegar, and 1 teaspoon of spice mix.
Cook on low another 30 to 60 minutes. The longer cooking time will allow for more of the liquid to be absorbed by the pork.
As the shredded pork finishes cooking, spray a large skillet with oil spray and heat on medium. Add the bacon, cooking for about 10 minutes until crispy, turning once during cooking. When cooked to your liking, remove the bacon to a plate with a paper towel on top, to absorb the excess grease. Set aside to cool. Break into bite sized pieces when cool
When ready to eat, plate a serving of the pulled pork, top with a sprinkling of bacon. Enjoy!
Recipe Card powered by