Roast Turkey Breast with Cranberry Merlot Sauce for a savory sweet alternative to traditional turkey gravy. For today's Wine Pairing Weekend focused on American wine for Thanksgiving, we paired our dish with an American Merlot from Washington state, provided to me as a complimentary sample.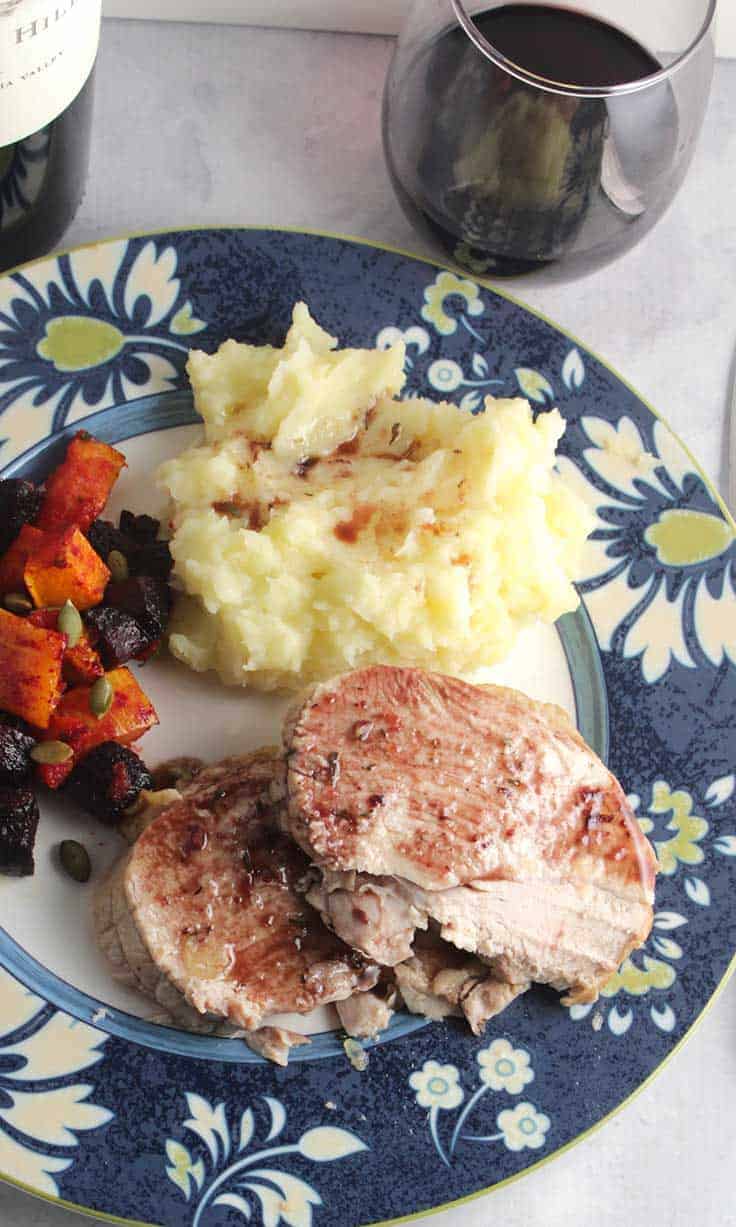 Our Thanksgiving meal is always pretty traditional. We visit my parents for the big feast, and I am usually bringing salad and appetizers. And of course, the wine!
When cooking a Thanksgiving preview meal like this, I like to veer from the traditional path. Today that meant dispensing with traditional turkey gravy, and making a sauce with a cranberry flavor. I was quite pleased with the resulting Roast Turkey Breast with Cranberry Merlot Sauce! It's got a nice savory sweet flavor that enhances the turkey without overwhelming it.
I used Stonewall Kitchen Cranberry Relish to make the Cranberry Merlot Sauce–I'm including my Amazon affiliate link in case you'd like to order some. It has some sweetness but not like that "cranberry sauce" from a can that is typically on our Thanksgiving table. If you can't find that cranberry relish, I would go with some kind of cranberry jam or preserve, as opposed to that canned cranberry sauce.
Turkey breast is a great option for a smaller crowd, particularly one that prefers white meat to the dark. If you want another recipe idea for turkey breast, check out my Garrigue Roasted Turkey Breast recipe.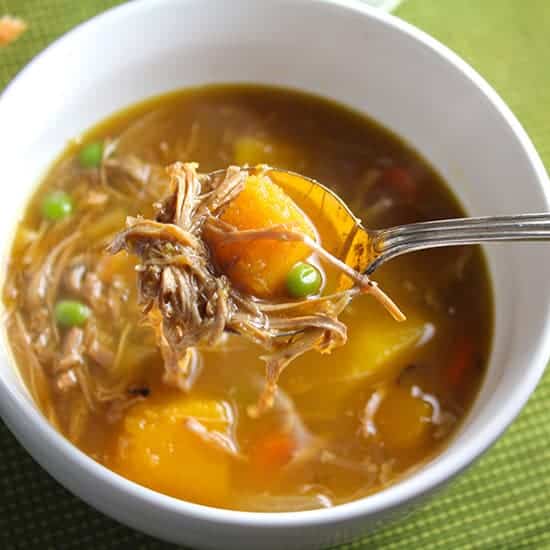 Of course, Thanksgiving turkey usually means leftover, too. Be sure to try my Turkey and Butternut Squash Stew to use up that turkey!
Wine for Roast Turkey Breast with Cranberry Merlot Sauce
I think it's always a nice touch to serve American wine for Thanksgiving, given that it is a food-focused American holiday. So when Wendy from A Day in the Life on the Farm suggested an American wine theme for this November #winePW, I thought it was a great idea!
For many years, I was rolling with Pinot Noir for Thanksgiving, and there are certainly many good American options for that grape. But in recent years, I've been mixing up the Thanksgiving wine pairings. I don't believe I've served a Merlot with Thanksgiving style dinner previously, but with several bottles remaining from our October #MerlotMe month observance, I decided to give Merlot a try with our turkey.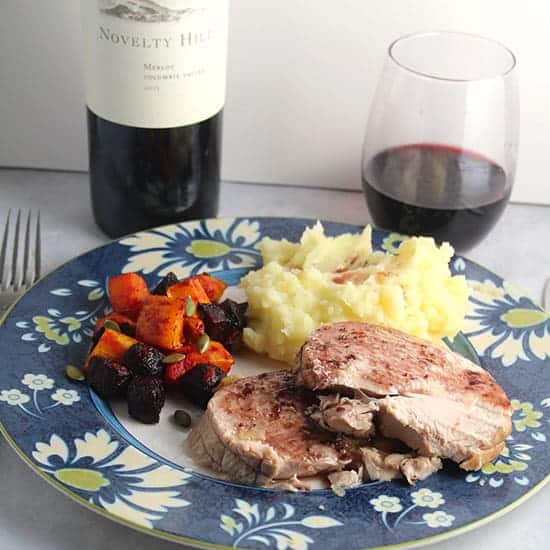 I opened the 2015 Novelty Hill Columbia Valley Merlot ($23, 14.4% ABV) to serve with our Roast Turkey Breast with Cranberry Merlot Sauce. The wine has a woodsy nose, with plum fruit taste and a bit of black pepper. Modest tannins. When first poured, this definitely tastes like a young wine that could do well with a bit of aging. It opened up nicely in the glass.
This Novelty Hill Merlot paired pretty well with the Roast Turkey Breast with Cranberry Merlot Sauce, so I would definitely suggest that you consider this wine or other good quality American Merlot with your Thanksgiving meal. I would note that you'd want to pick a Merlot like this with some level of refinement to be a good food partner. Stay away from cheap Merlot fruit bombs for the big meal!
Our turkey gets rubbed with a butter featuring Merlot friendly ingredients–garlic, thyme and rosemary. That certainly helps make the pairing work. Of course, using Merlot in the cranberry sauce helps too. But if you'd rather use another dry red wine in the sauce and save the Merlot for the glass, that'll work too!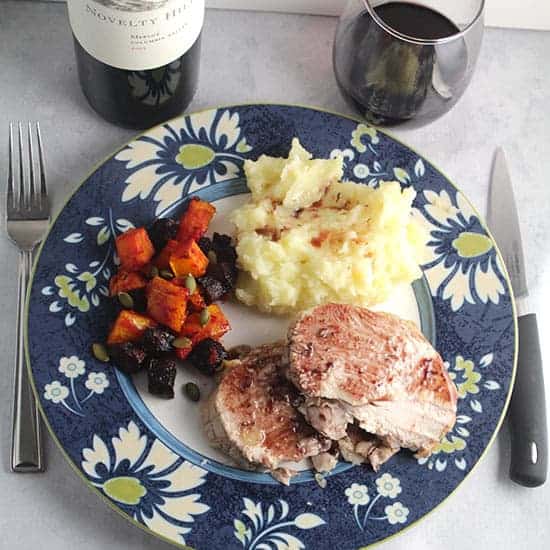 I served our roast turkey breast with Roasted Beets and Butternut Squash. Interestingly, I'd say this side dish really shined with the Merlot. In particular the roasted beets wound up being a perfect match for the Novelty Hill Merlot. I'd read beets pair well with Merlot, and this pairing really demonstrates that.
For more on the wine and the Novelty Hill-Januik Winery, visit the winery website.
In the spirit of experimentation, I did also test out the Roast Turkey Breast with a bit of the 2016 Hawthorne Grove California Chenin Blanc ($15, 12.5%). In recent years, I've increasingly seen the benefits of a white wine pairing for many of the Thanksgiving sides. This Chenin Blanc has citrus fruit taste, with honey on the finish and some minerality. I would say it worked reasonably well with the turkey and could be an option if you want to serve a white American wine with your Thanksgiving feast.
Print
Recipe card
Roast Turkey Breast with Cranberry Merlot Sauce
Roast turkey breast topped with savory sweet cranberry Merlot sauce for a creative alternative to traditional gravy
Author: Cooking Chat
Prep Time:

10 mins

Cook Time:

95 mins

Total Time:

1 hour 45 mins

Yield:

8

servings

1

x
Category:

Main

Method:

roasting

Cuisine:

American
TURKEY INGREDIENTS

5 tbsp

butter

1

garlic clove, minced

½ tsp

minced fresh rosemary

½ tsp

dried thyme
Salt and pepper to taste

4

lb roast turkey breast
CRANBERRY MERLOT SAUCE

1 tbsp

butter

2

small garlic, minced

½ cup

merlot wine or other dry red wine

2 tbsp

cranberry relish or jam
pinch minced fresh rosemary

½ tsp

thyme
Salt and pepper to taste
juice from the resting turkey
Instructions
Preheat oven to 325, convection roast setting if you have convection oven.
To reconstitute the dried morels, place the morels in a small bowl and cover with hot water. Let the morels steep in the water for 30 minutes. Then place a damp paper towel in a sieve, with a bowl underneath. Pour the morels with the soaking liquid into the sieve. Save the soaking liquid that is caught in the bowl. Remove the morels from the sieve and rinse them. Coarsely chop the morels and set them aside.
Make the herb butter: place the softened butter in a small bowl. Add the minced garlic, the rosemary, thyme, and salt and pepper to taste. Stir to combine well, and set aside.
Rinse the turkey breast and pat dry. Set the turkey out on a clean work surface, and rub the butter all over the turkey. Put more on the skin side, work some under the skin if you can.
Place the turkey breast on a roasting rack, skin side up, in a roasting pan. Place in the oven and roast. Roasting times vary based on your oven and the size of the turkey. Roasting times for a 3 to 5 lb turkey breast are typically given as 90 to 120 minutes. Check at 90 minutes, temperature in middle should be 170 degrees. Our 4 pound turkey breast was ready at the 90 minute mark. When done, remove the turkey breast from oven and let rest for 10 minutes on a large platter.
Toward the end of the turkey roasting time, make the cranberry Merlot sauce. Melt the butter in a small sauce pan on medium heat. Add the garlic and sauté for about 1 minute, until the garlic becomes fragrant.
Add the Merlot and cranberry jam to the saucepan, whisking to combine. Bring the sauce to a boil, then reduce to a simmer. Add the rosemary, thyme salt and pepper. Simmer for about 10 minutes to reduce the sauce. Keep warm as the turkey finishes cooking. Stir in a tablespoon or two of the juice from the resting turkey.
Slice the turkey to serve. Plate a few turkey slices, topped with the cranberry Merlot sauce. Enjoy!
Keywords: roast turkey breast, merlot wine sauce
Recipe Card powered by
American Wine for Thanksgiving #winePW
Check out the great American wine pairings for Thanksgiving form the Wine Pairing Weekend bloggers!
Join us for a live Twitter chat on Saturday, November, 11, at 11 a.m. Eastern time via the #winePW tag. Check out past and upcoming #winePW events on this page.