This hearty and flavorful Leftover Turkey Butternut Squash Soup recipe is a great way to use turkey remaining after a holiday feast! The stew starts by making a stock with the leftover turkey bones, providing a great base of flavor. It finishes with slowly simmered turkey, butternut squash and other vegetables for a comforting one bowl meal.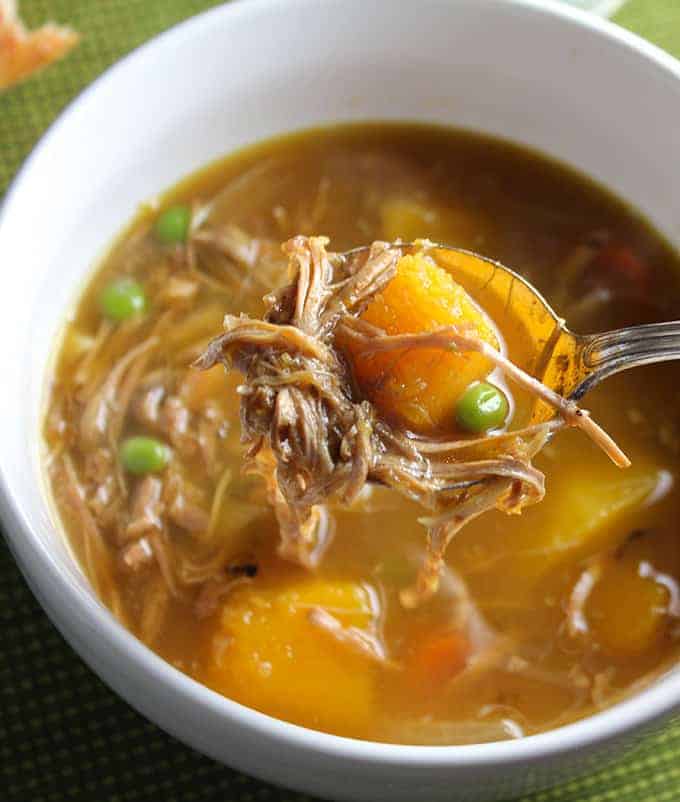 We cover how to make turkey stock in detail, and give you some step by step photos on how to make this turkey stew. Use the navigation below if you want to skip some of that detail and get right to the recipe!
Jump to:
Inspiration for Leftover Turkey Stew
I don't host for Thanksgiving, so don't have quite as many leftovers to contend with as you might. But I usually leave my folks armed with a couple of pretty well-packed containers of turkey and sides, so I do have some experience.
I often get in the Thanksgiving spirit early in November and roast a turkey. That was the case when I first came up with this recipe back in 2014, and we came back and updated the recipe and photos when we got a head start on turkey roast this year.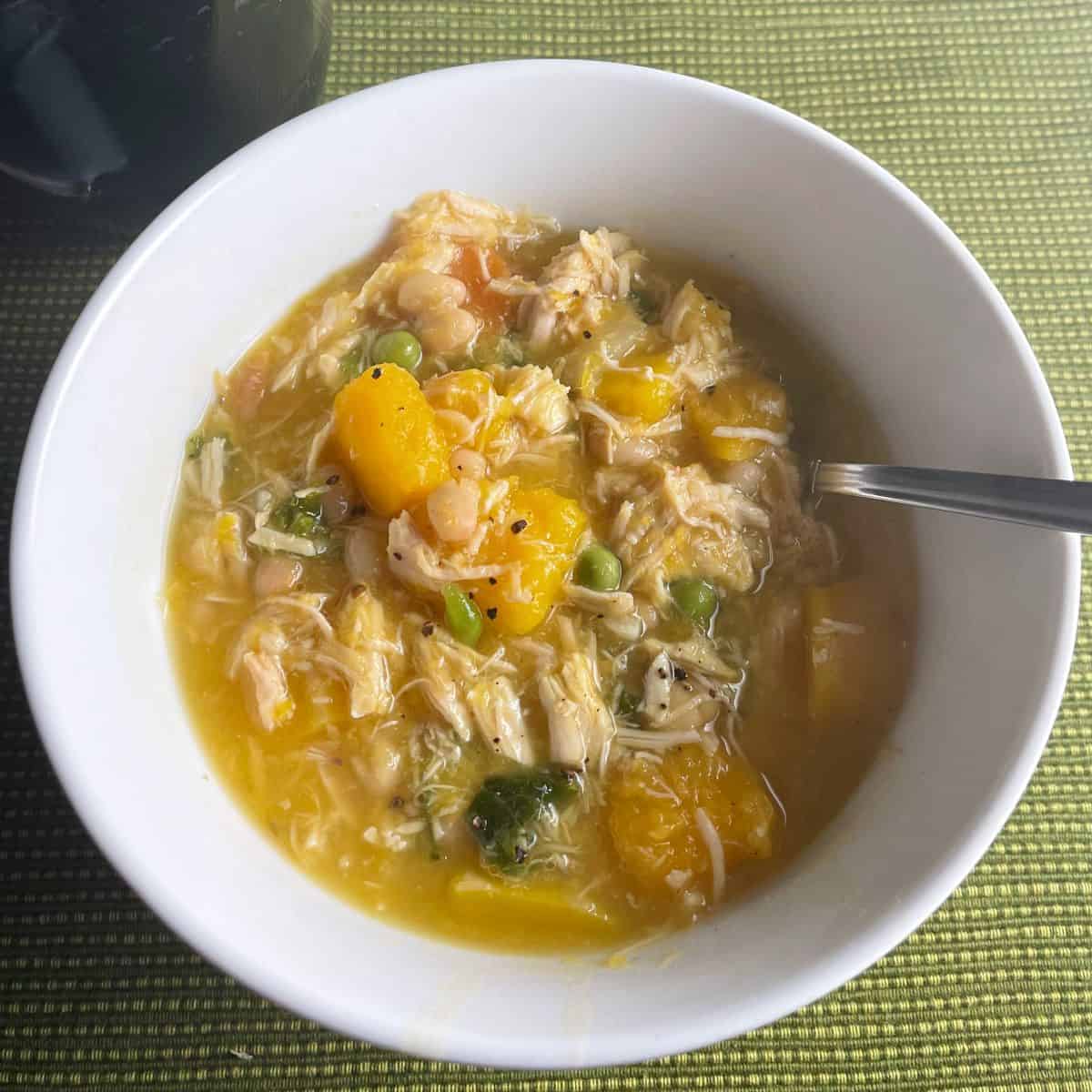 Thick and hearty, featuring homemade stock, this tasty soup is sure to satisfy. the original Leftover Turkey and Butternut Squash Stew recipe was shared, for for a #SundaySupper focused on Thanksgiving leftovers.
Yes, I am toggling between calling this leftover turkey stew and sometimes dubbing it a soup. It definitely has the thickness of a stew; but I also realize "soup" is what people are often searching for when it comes to leftover turkey.
Potatoes might be more common in a stew of this sort, but I had a lot of squash on hand from our fall farmshare. So I put a whole butternut squash to work in this stew with tasty results!
If you had some leftover pureed squash from the Thanksgiving table, you could add that into the stew, and then add a couple of chopped potatoes for texture. This recipe is flexible–experiment with what you have on hand! For the last batch of this leftover turkey stew, we added a can of white beans, which made it even heartier.
Tips for making this soup
Here are a few tips for making our leftover turkey stew; see the recipe card below for the full details.
Homemade stock definitely enhances the flavor of the stew. I cover how to make your own in the next section.
The recipe I give uses vegetables such as squash and carrots that cook during the stew making process. This turkey stew is also a great way to use cooked leftover vegetables. Green beans, root vegetables and spinach all can work well in this turkey stew. Add those in with about 10 minutes left in the cooking time.
Once you have stock or store bought broth ready to go, the stew can be ready after about 40 minutes cooking time. But if you have time to let the stew simmer for a good hour, that will enhance the flavors.
Making your own leftover turkey stock
If you left someone else's house with turkey meat, you can make the stew with some store-bought stock–skip on down to the stew recipe below! But homemade stock adds so much flavor! I describe the process for making stock with leftover chicken here, and the process is pretty similar with turkey. Here are some tips for making your own turkey stock from leftover turkey carcass and meat in a slow cooker.
A slow cooker makes the process easy, so get that ready if you are making your own turkey stock.
Remove turkey from bones: If you have not already done so, start by removing most of the good turkey meat that is still on the bones.
Put the turkey meat in a container and refrigerate until you are ready to add it to the stew.
Break up the turkey carcass so that it can fit into the slow cooker. Add the turkey legs, wings and other bones. It's fine if there are still bits of meat and skin on the bones.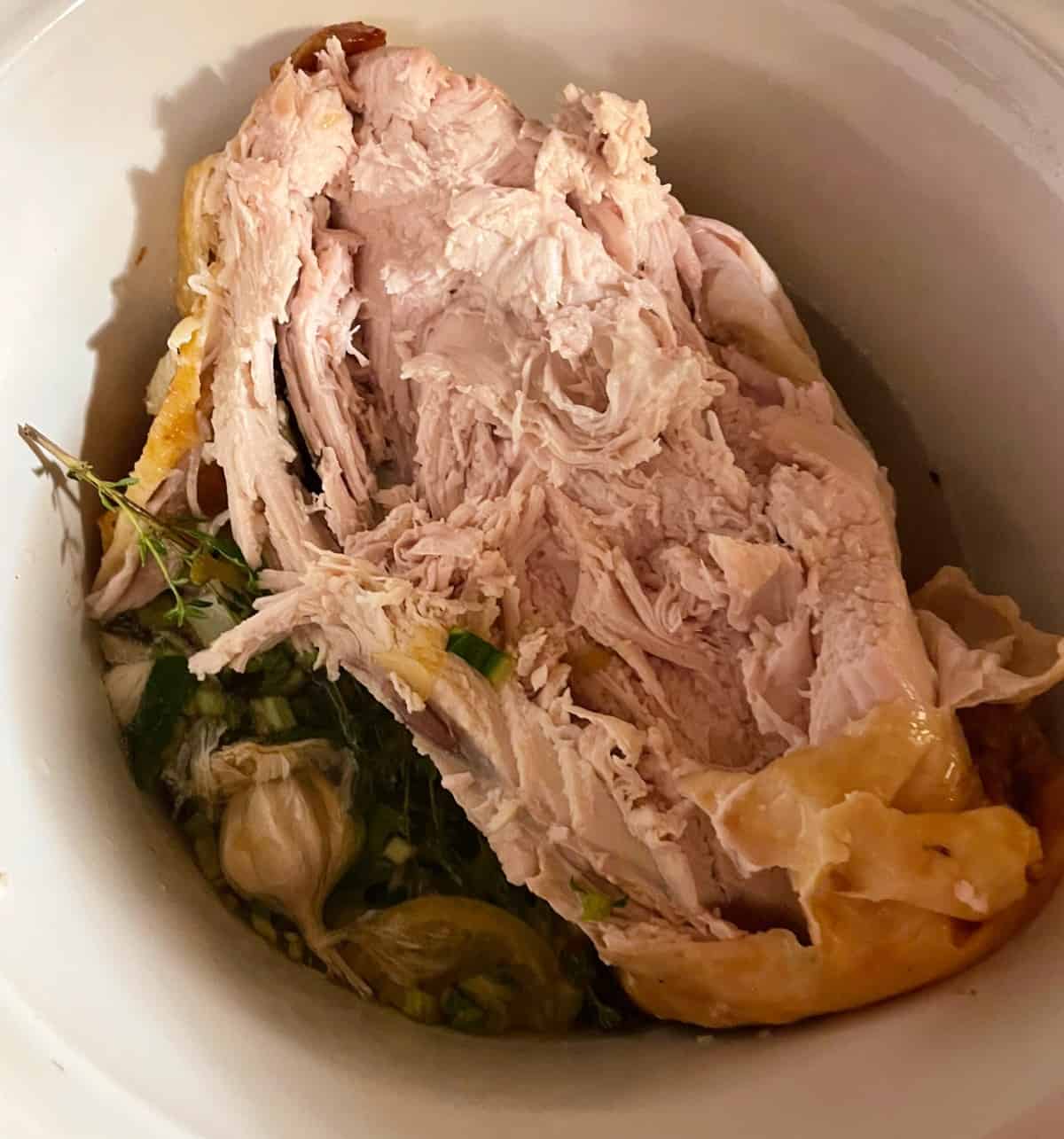 In the above photo, from the most recent making of the turkey stew, I had cooked a bone in turkey breast. With just the breast bone and some turkey and skin still on it, getting it into the slow cooker was pretty easy.
Add water to the slow cooker so that the turkey bone is mostly covered by the water, leaving an inch or two from the top of the slow cooker.
Add some extra vegetables: You can use just the turkey to make the stock, but if you have some extra scraps of veggies around — cooked or raw — go ahead and add them in. for our most recent batch, we had some fennel, thyme sprigs and greens on hand that I added.
Set the slow cooker to low, and let it cook for 12 hours. If you get the process going in the evening, you are making your stock overnight as you sleep.
You can leave the slow cooker on "warm" until you are ready for the next step in making the stock.
When the turkey bones have simmered for at least 12 hours, you are ready to continue the stock making process. Place a colander over a large pan or bowl — in the sink is a good idea in case there are any spills.
Strain: Pour the the contents of the slow cooker into the strainer, so that the liquid goes through to the pan, leaving the turkey and other solid ingredients in the colander.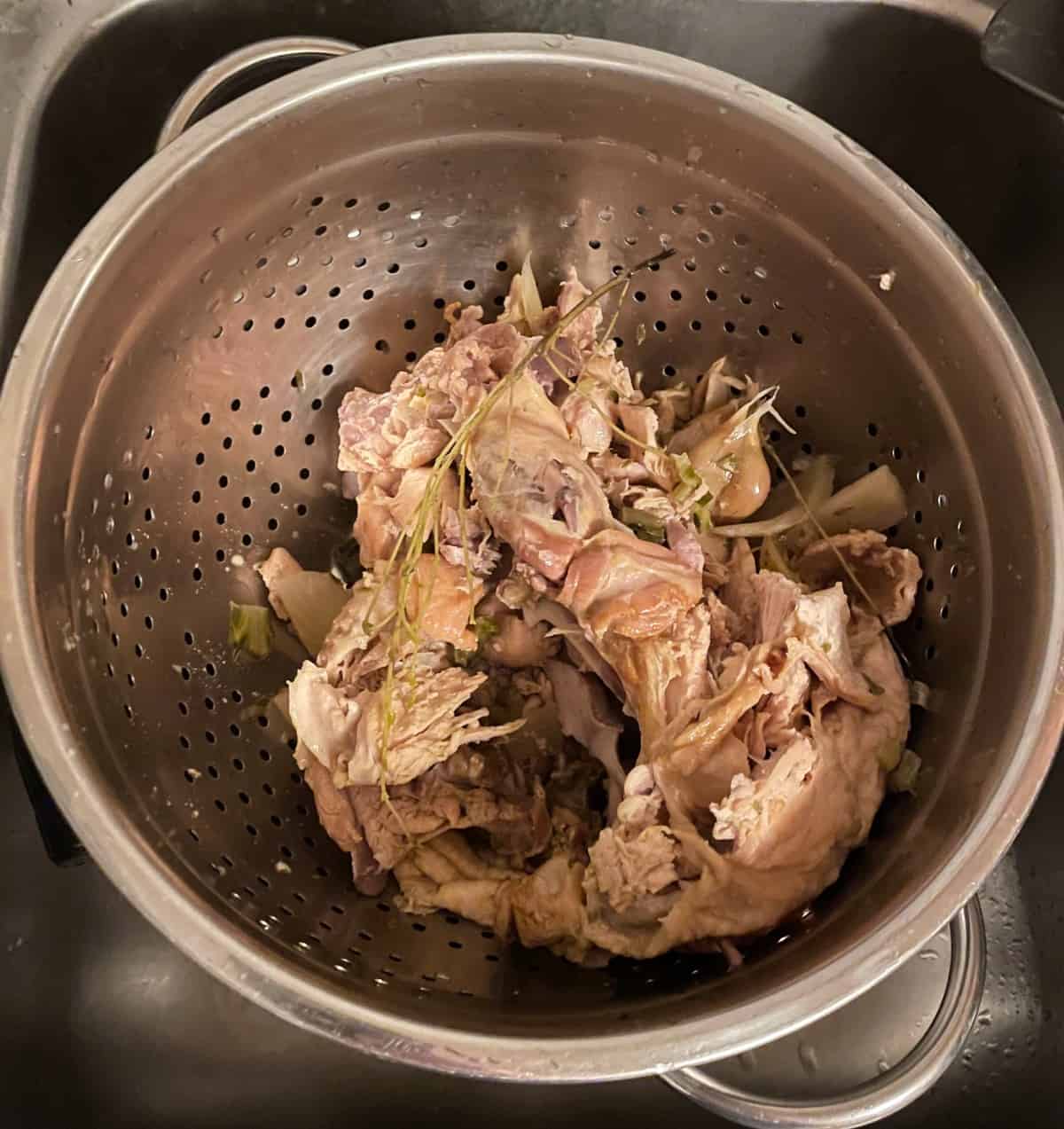 When you pull the colander out, you are left with your stock in the pan. Ready to go! Set it aside if you are making the stew soon; or refrigerate if you are making the stew later.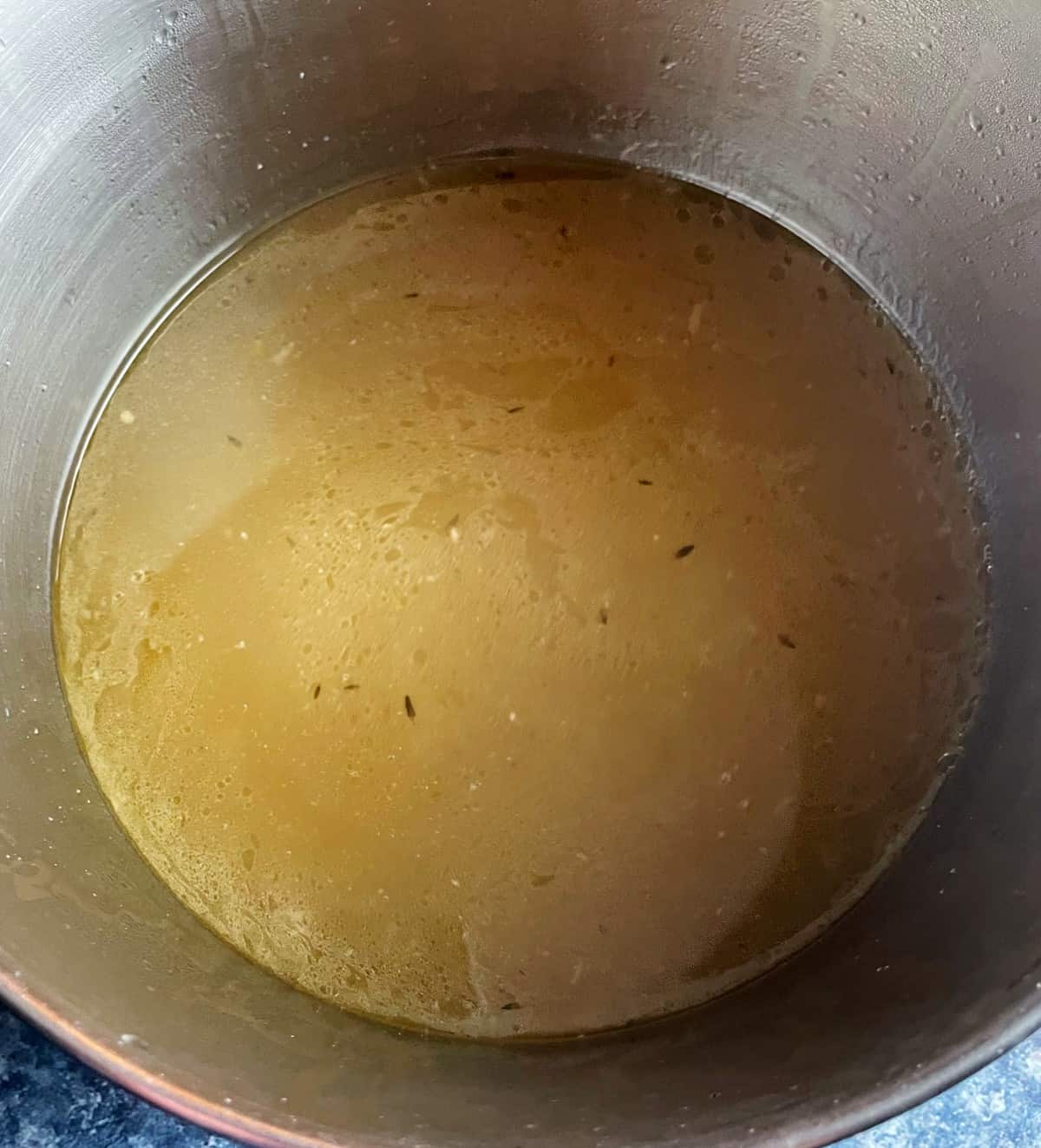 Give the turkey some time to cool after straining it. When it has cooled, pick through the turkey pieces in the strainer to pull out the good turkey meat from the bones and other pieces to be discarded — preferably composted!
When you've picked through the turkey, you should have a good amount of turkey to add to the stew. Break that turkey into bite sized pieces, as shown below.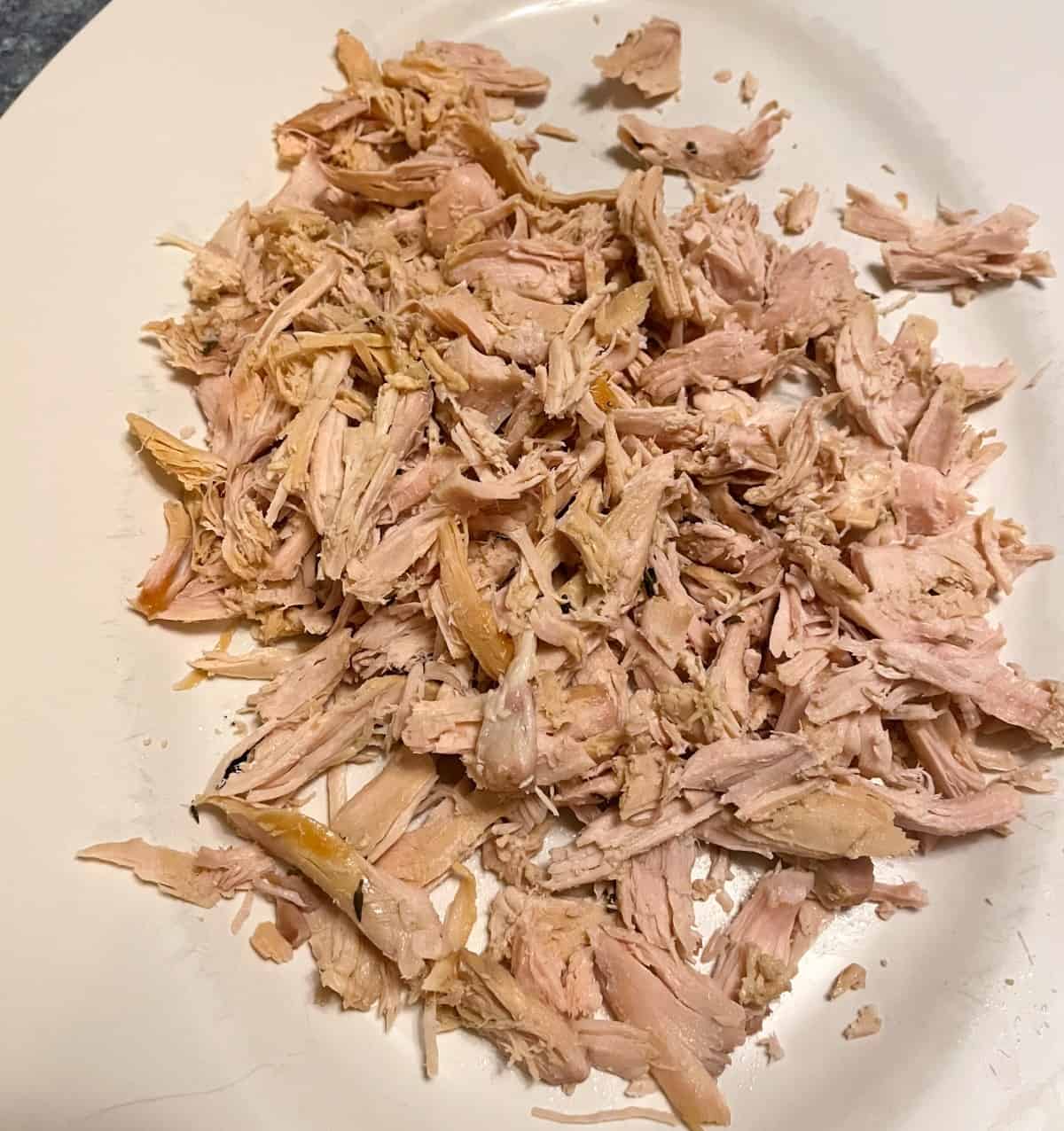 Set the turkey aside, and refrigerate if you aren't making the stew right away.
Recipe steps
Once you have the stock ready, either because you made it or bought it, you are ready for the other steps for making this leftover turkey soup. Here is a visual overview; head down to the recipe card for the full details.
Start the onions: Heat the olive oil in a large soup pot, and start cooking the onions until they begin to soften. Then stir in the carrots.
Add the stock: after the carrots have cooked for a few minutes, add the garlic. Next it's time to add the stock. Six cups of stock for a thicker stew, seven cups for more of a turkey soup consistency — it will still be a pretty thick soup!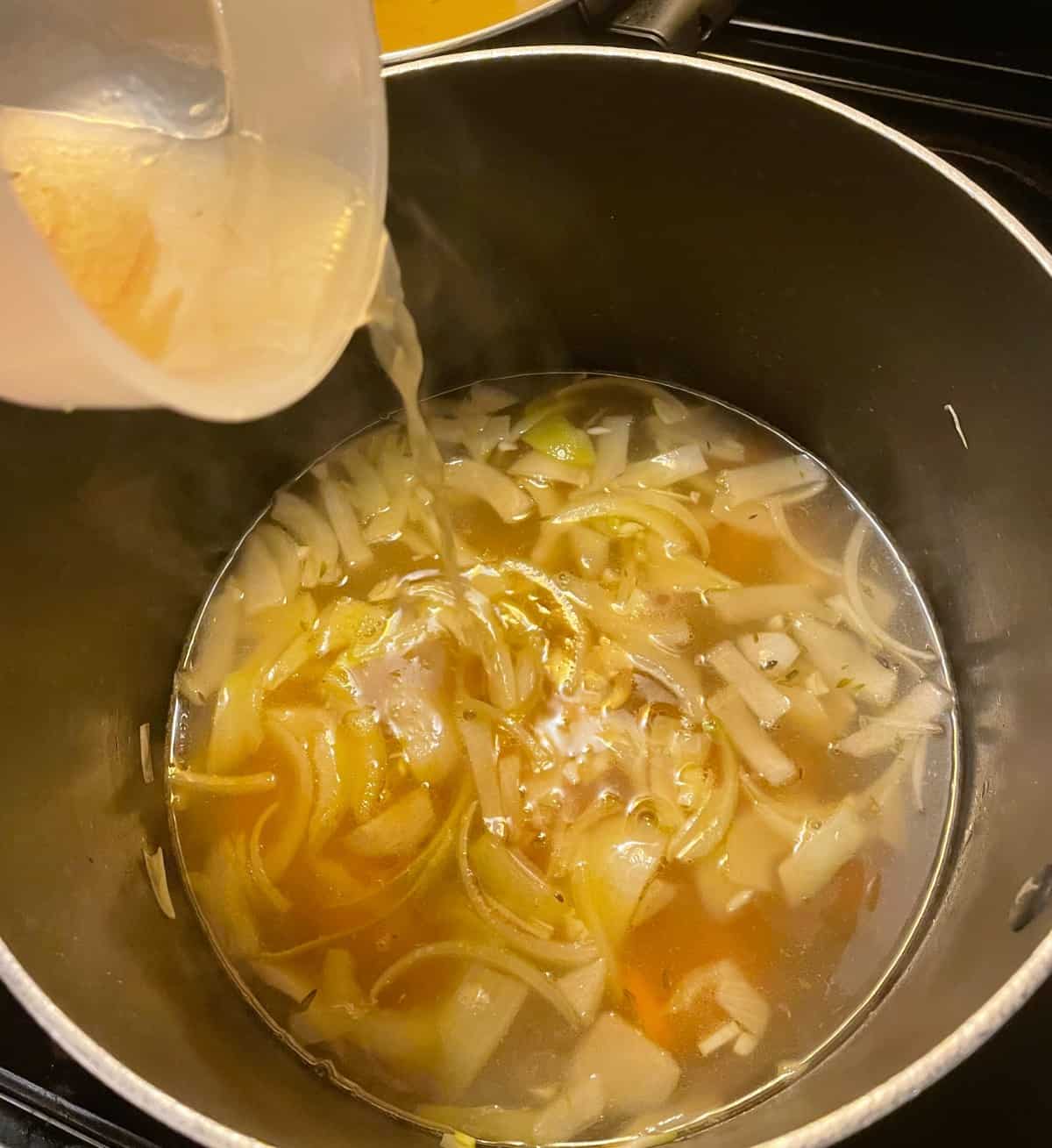 Add butternut squash to the soup pot, if you haven't added it previously.
Add leftover turkey: After the vegetables have simmered in the stock for about 10 minutes, add the leftover turkey as shown below, along with the peas.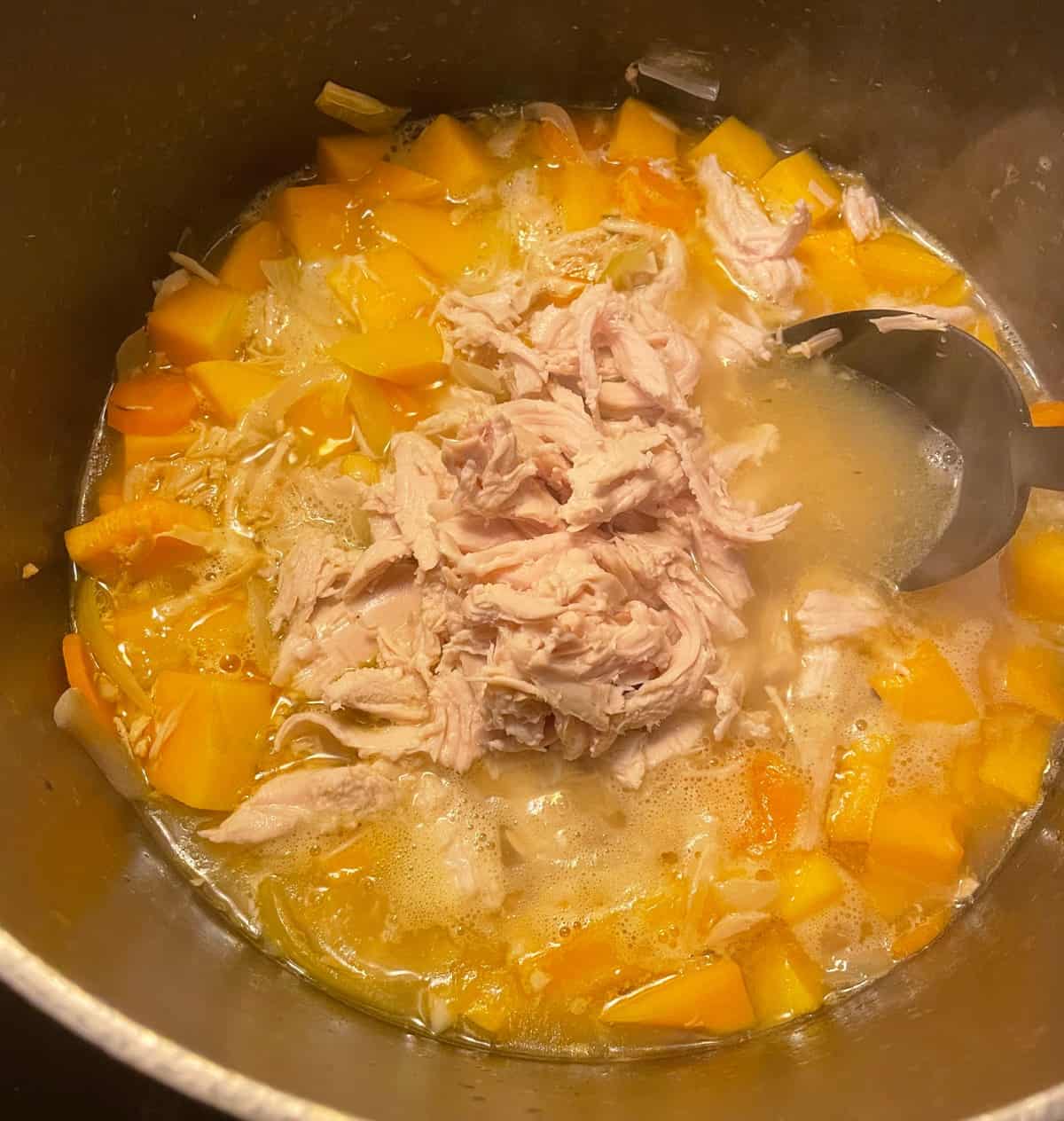 Stir to combine and simmer. Let the stew simmer for at least 30 minutes after adding the turkey to let the flavors come together.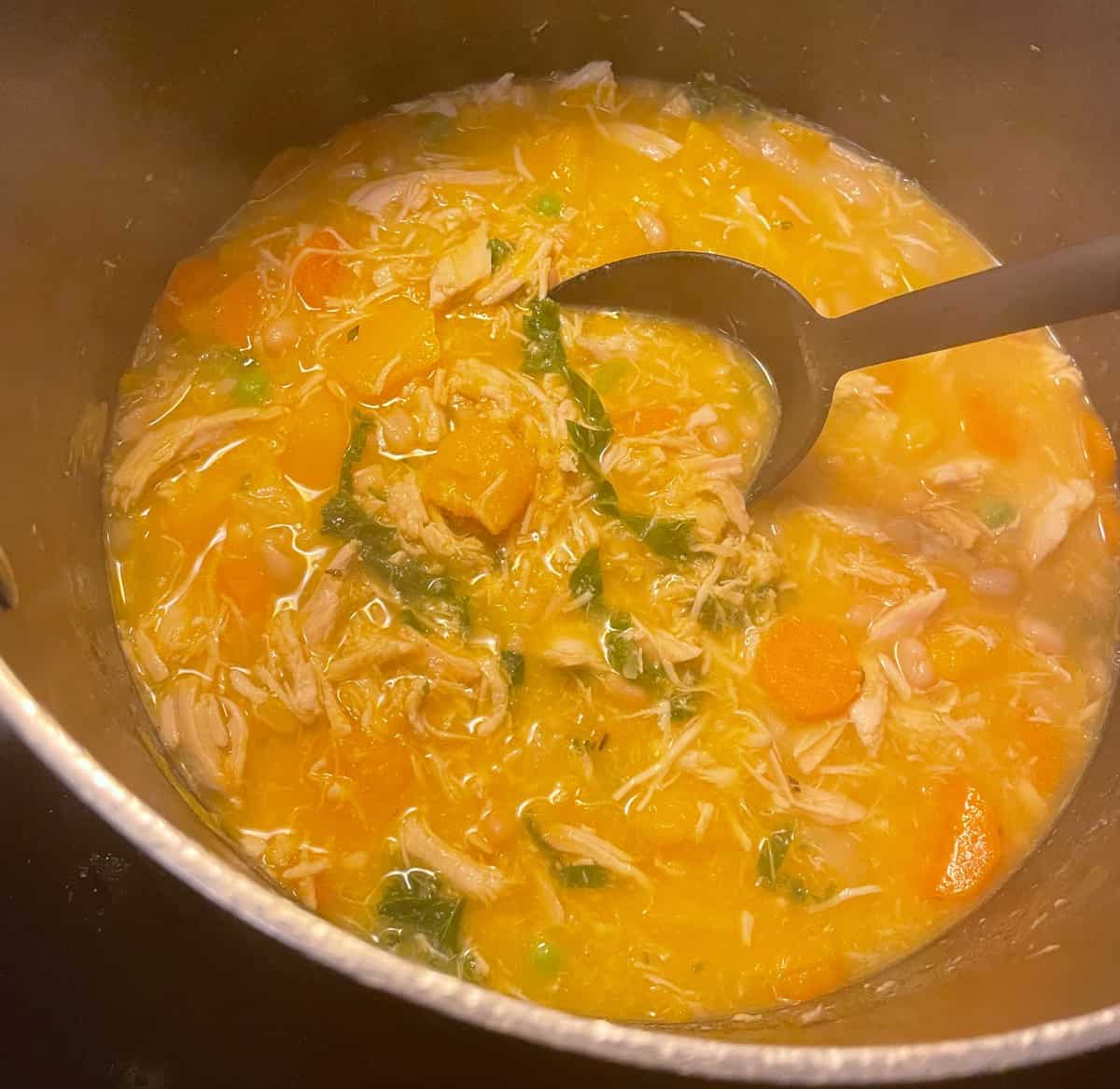 Serve the stew after it has simmered for 30 minutes — or a bit longer if you have time and want to deepen the flavors. Season with salt and black pepper to taste.
Turkey Stew Frequently Asked Questions
How do I thicken my turkey stew?
This turkey stew is pretty thick to begin with, as it contains lots of small pieces of turkey meat that soak up the liquid. You can thicken it more by smashing some of the vegetables against the side of the pan. Adding the optional white beans will also thicken the stew. If you have leftover mashed potatoes, you could stir in a scoop or two of the potatoes to thicken the stew some more.
Can you freeze turkey stew?
Yes. Let the stew cool down, then transfer it to a freezer safe container. It can stay good in the freezer for several months. Move it to the refrigerator the day before you want to use it to thaw; or defrost in the microwave.
Can I use store bought stock for turkey stew?
Yes. If you just have leftover turkey meat without the bones, it might be easier to just use store bought stock. Turkey stock or chicken would be fine. But if you can make your own stock, it makes for a delicious soup!
How long does turkey stew keep in the refrigerator?
Considering you are probably making the stew with turkey that was cooked at least one day prior, you should try to use the turkey stew within two to three days of making it.
How to keep leftover turkey to make stew?
Be sure to refrigerate the turkey shortly after the meal. Cooked turkey should not be kept out more than two hours (preferably an hour or less) before refrigerating.
More favorite leftover turkey recipes
After the recipe, there are links to some great leftover turkey recipe ideas from others in the Sunday Supper blogger group, and I also have rounded up 19 Tasty Leftover Turkey Recipes. But if you want a few quick ideas, here are a few of my favorite leftover turkey recipes:
And if you would like to try another soup with butternut, try our Butternut Squash Mushroom Soup recipe.
Wine pairing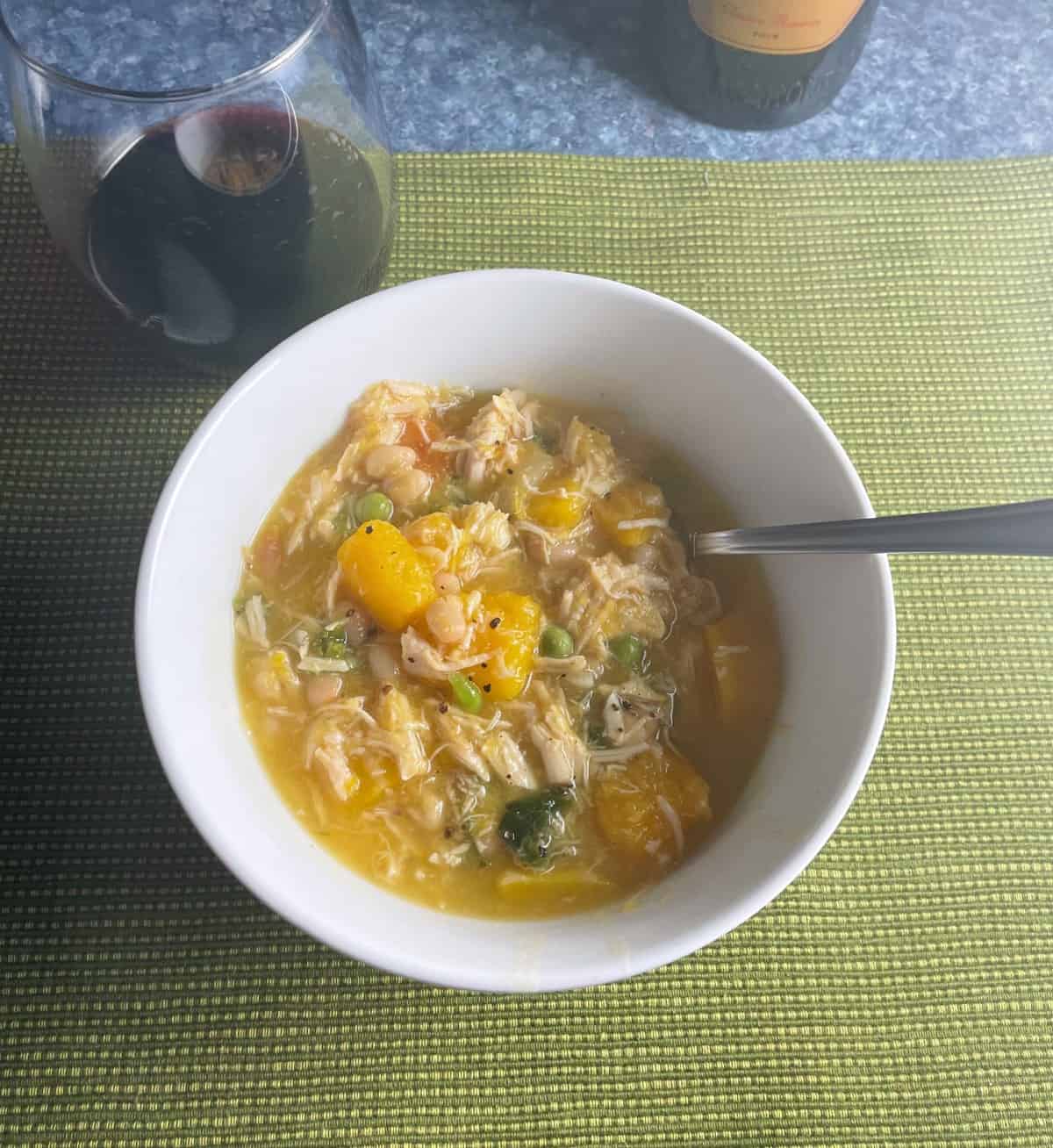 I'm inclined to go with Pinot Noir for turkey, and the butternut squash seals the deal! Pinot is our top choice for pairing with this leftover turkey stew.
When we made this stew recently, and tested it with an Amarone and a Cotes du Rhone. Both worked OK, but I came away feeling like Pinot Noir is the best bet.
I'll suggest two modestly priced Pinots we've enjoyed recently as being options here. The 2018 Sean Minor Sonoma Coast Pinot Noir (appx. $22), which we enjoyed with our Creamy Butternut Squash and Spinach Soup, could work nicely here.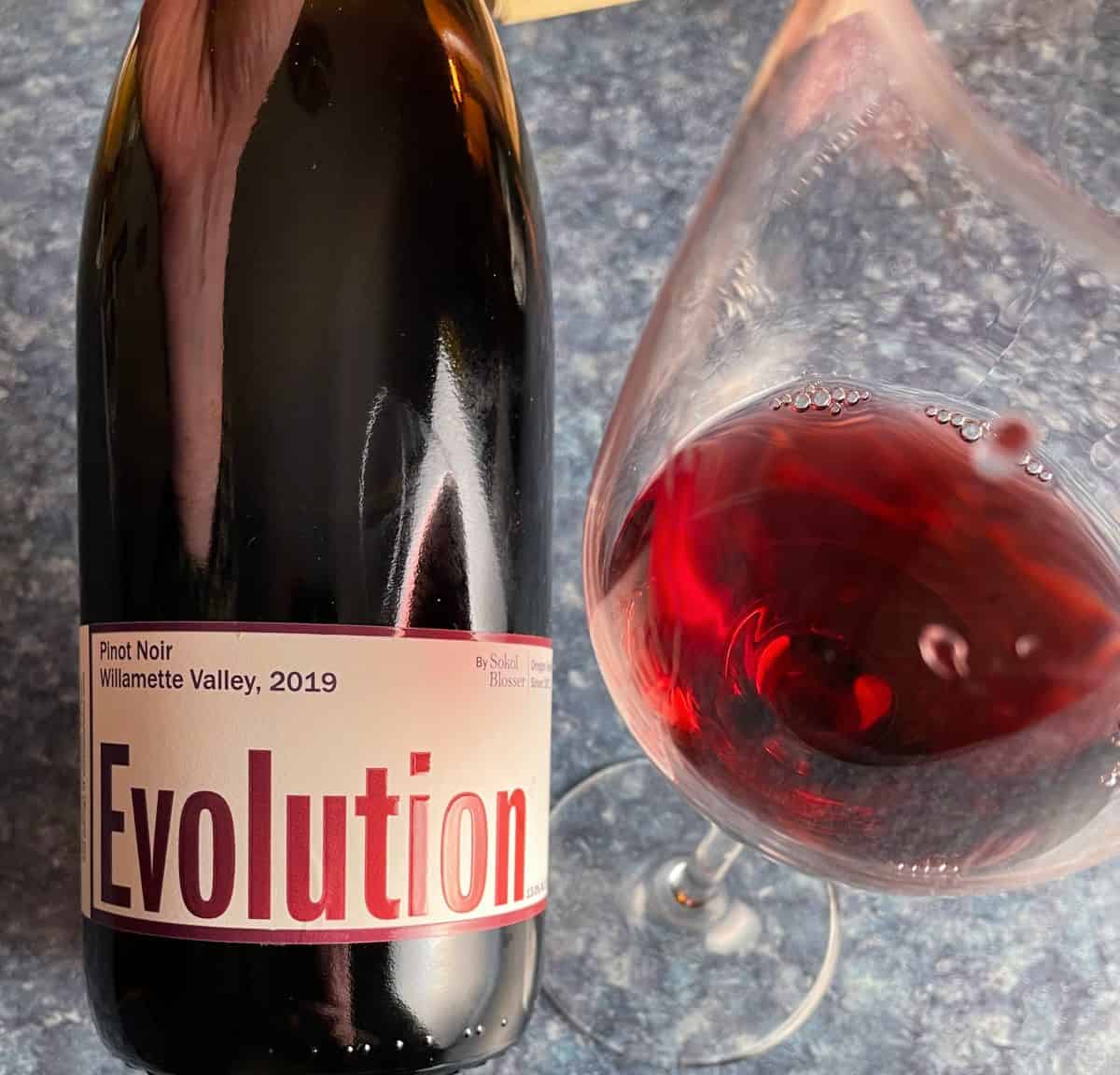 The Evolution Willamette Valley Pinot Noir (appx. $16) from Sokol Blosser is another good value we enjoyed recently that I'd recommend to pair with the stew.
Print
Recipe card
Leftover Turkey Stew with Butternut Squash
This hearty and delicious Leftover Turkey Stew with Butternut Squash recipe is a great way to use leftover turkey! Grab a spoon and dig into this comforting stew with great fall flavors!
Author: Cooking Chat
Prep Time:

30 mins

Cook Time:

1 hour

Total Time:

1 hour 30 mins

Yield:

6

servings

1

x
Category:

Entree

Method:

stove top

Cuisine:

American
1

medium onion, chopped

2

carrots, chopped

3

cloves garlic

1

medium butternut squash, peeled and chopped

1 cup

green peas, frozen OK

4 cups

or more cooked turkey, cut or shred into bit sized pieces

6

to

7

cups turkey or chicken stock (if you have less than

6 cups

stock, add water to bring you to 6 or

7 cups

of liquid).

1 tbsp

olive oil
salt & pepper to taste
a

14 ½ ounce

can of white beans (Optional), such as navy, drained and rinsed
a handful of greens such as spinach or kale cut into thin strips (optional)
Instructions
Soften the onions: Heat 1 tablespoon olive oil in a large pan. Add the onions to the pan and sauté for about 5 minutes, until they begin to soften.
Add veggies: Add the carrots, butternut squash, and garlic, and sauté for about two more minutes.
Add stock: Add the stock to the pan, bring to a boil, then reduce to simmer on medium low.
Add turkey and simmer: After the veggies have been simmering for about 10 minutes, stir in the turkey and peas. Let the stew simmer uncovered at least 30 more minutes until the veggies are good and tender. Stir occasionally as the stew simmers, and break up a few pieces of the squash as you do to distribute the flavor throughout the liquid.
Finish the stew: A full hour of total cooking time is ideal to really let the flavor build up. Add any extra cooked vegetables, greens and/or white beans with about 15 minutes left in the cooking time. Add salt and pepper to taste, and serve in a bowl along with crusty bread. Enjoy!
Notes
Amount of liquid: 6 cups of broth gives you a thick consistency, definitely more of a stew. Using the 7 cups gives it a more typical soup consistency. Your choice!
Stock: You can use store bought chicken or turkey stock if needed. But if you have the leftover turkey carcass too, making your own stock is a great idea. You can follow the tips for making turkey stock in the article above the recipe, or see my method for making chicken stock here — the same process applies with turkey.
Vary the vegetables based on what you have on hand. The recipe as presented is based on squash and other veggies that need to be cooked. If you have leftover cooked vegetables you would like to use, add them with about 10 minutes cooking time remaining. That will be just enough to heat them without getting too soft.
Keywords: leftover turkey stew, turkey stew with squash, turkey and butternut squash, turkey soup with butternut squash
Recipe Card powered by
More Thanksgiving Leftover Ideas
Check out all of these delicious ideas for using your Thanksgiving Leftovers! From the Sunday Supper blogging group — and also check out our Turkey Pesto Panini, which can be made with leftover turkey or deli turkey.
Breakfast
Cranberry Sauce Muffins by The Foodie Army Wife
Sweet Potato Casserole Muffins by Magnolia Days
Italian Mashed Potato Pancakes by The Weekend Gourmet
Cranberry Sauce'd Corn Bread Muffins by Rhubarb and Honey
Main dish

Thanksgiving Leftover Waffles by Foxes Love Lemons
Stuffing Hash by The Girl in the Little Red Kitchen
Turkey with Creamy Mushroom Marsala Sauce by Casa de Crews
Moroccan Turkey Stew by What Smells So Good?
Peruvian Cilantro & Turkey Soup by The Little Ferraro Kitchen
Turkey & Butternut Squash Stew by Cooking Chat You are here!
Turkey Kreplach Soup by Panning the Globe
Turkey & Stuffing Crepes by Peaceful Cooking
Cranberry Apple Pecan Chicken Salad by NeighborFood
Creamy Peanut Gochujang Pasta by Wallflour Girl
Cranberry Sweet Potato Soup by Take A Bite Out of Boca
Turkey Croquettes by Cindy's Recipes and Writings
Side dishes
Cheesy Mashed Potato Croquettes by Noshing with the Nolands
Cranberry-Balsamic Glazed Cauliflower Wings by Cupcakes & Kale Chips
Cheesy Jalapeño Potato Cakes by Bobbi's Cozy Kitchen
Sandwiches
Cranberry & Turkey Sandwich by The Redhead Baker
Monte Cristo Sandwich by Nik Snacks
Hot Brown Turkey Sandwiches by The Life and Loves of Grumpy's Honeybunch
Sprouted Grain Turkey, Cranberry & Brie Panini by Amee's Savory Dish
Turkey Cranberry Flatbread by Peanut Butter and Peppers
Condiments & sauces

Leftover White Wine Syrup by Food Lust People Love
Dessert
Banana Cheesecake with Pecan Graham Cracker Crust by Desserts Required
Gluten-Free Lemon Cake by Hezzi-D's Books and Cooks
Spiced Cranberry Sauce Buckle by The Wimpy Vegetarian

Cocktails & drinks
Cranberry Orange Crush by The Messy Baker
Cranberry Bellini by A Kitchen Hoor's Adventures