Last year we prepared for Cabernet Day by serving a simple burger with a special Cab the with very good results! The Cab we opened was the 2014 Trilogy Red Wine, sent to me as a complementary sample from Flora Springs Winery in advance of #CabernetDay in 2017. For this year's version of the event, coming up on August 30, we enjoyed a bottle of the 2015 Trilogy from Flora Springs. As always, the opinions about the wine are entirely my own.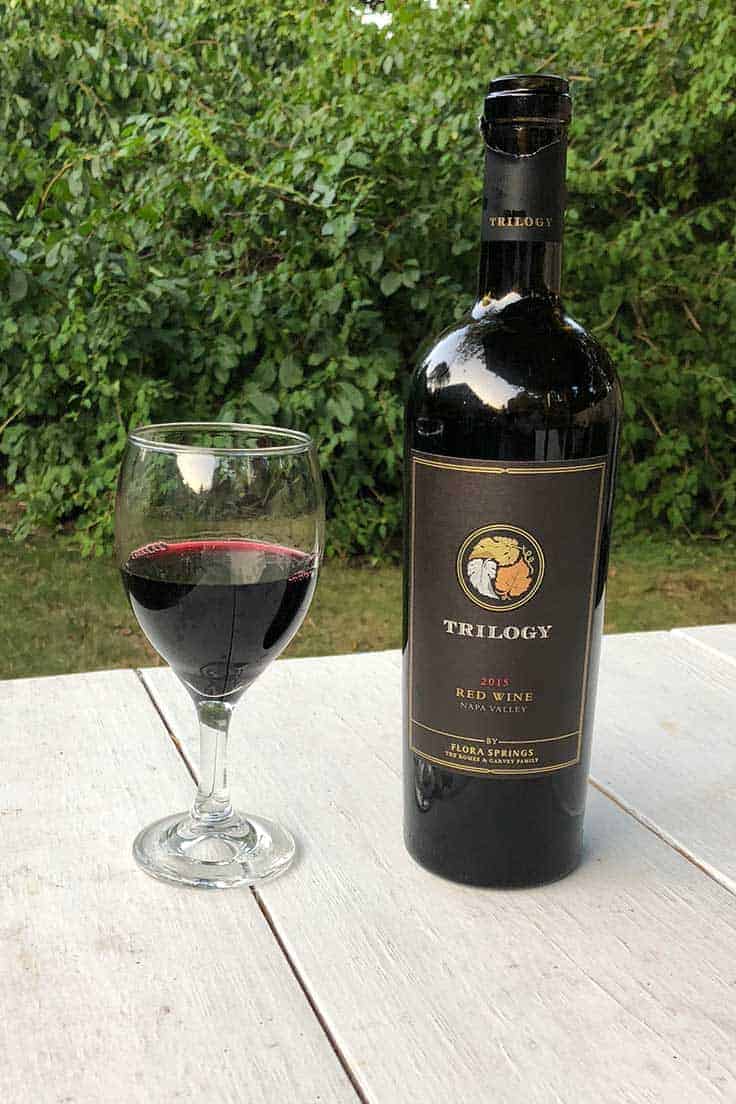 Getting ready for #CabernetDay 2018
We were pleased to receive a bottle of the 2015 Trilogy Red Wine ($80 SRP) from Flora Springs to get ready for #CabernetDay 2018, which is Thursday, August 30. To get ready for the event, we opened this bottle of 2015 Trilogy the other night. What a great bottle of wine to enjoy here on vacation at Cape Cod!
There is so much flavor in this bottle of Trilogy! The wine has jammy black plum fruit, with notes of cocoa and cinnamon. Great structure and a nice long finish. Trilogy is sourced from Flora estate vineyards in Napa, a blend of 82% Cabernet Sauvignon, 10% Malbec and 8% Petit Verdot.
Last year we paired our bottle of Trilogy with a simple burger. Things got kicked up a notch this year when we enjoyed the Trilogy with some grilled steak my brother in-law cooked up. Definitely a great pairing!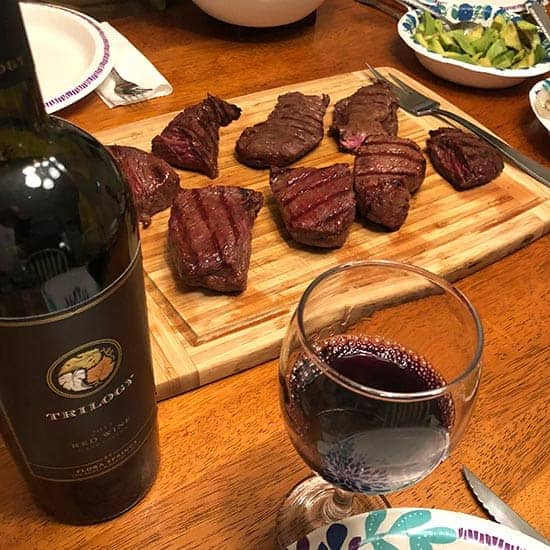 Whether you go for a simple burger or steak, or maybe just enjoy a bottle of Cabernet on its own, be sure to join the #CabernetDay fun on August 30. Just use that #CabernetDay tag on your social media platform of choice.Flora Springs will be talking about Cabernet and Cab blends all day on its social media channels, with the conversation really picking up at 5:30 pm Pacific time. You can follow them on Twitter, Instagram, Facebook or Pinterest.
People who Tweet or Instagram with Flora Springs on August 30th using hashtag #CabernetDay and @florasprings in their tweets/posts could win a Flora Springs prize pack. (Must be 21+ to enter. Void where prohibited. Wine will not be included in prize pack.)
Pairing for #CabernetDay 2017
Typically when I splurge on a special bottle of wine I tend to make a meal to match it. If not something super fancy, at least a meal featuring some prime ingredients. So it might be a grilled steak to go with a pricier than usual red, or a long-stirred risotto to go with that Barolo.
But sometimes there's something to be said for a simple meal to go with a special bottle of wine. That's the way I decided to roll for #CabernetDay in 2017. I received a courtesy sample of the Trilogy Red Wine from Flora Springs in advance of that year's #CabernetDay.
I don't open bottles of wine approaching $80 too often, but was getting ready to try the Trilogy during a busy week at home between two summer trips. It wasn't time to get fancy in the kitchen. Why not grill up some burgers to go with the Trilogy, demonstrating that sometimes you can elevate a simple meal with a special bottle of wine.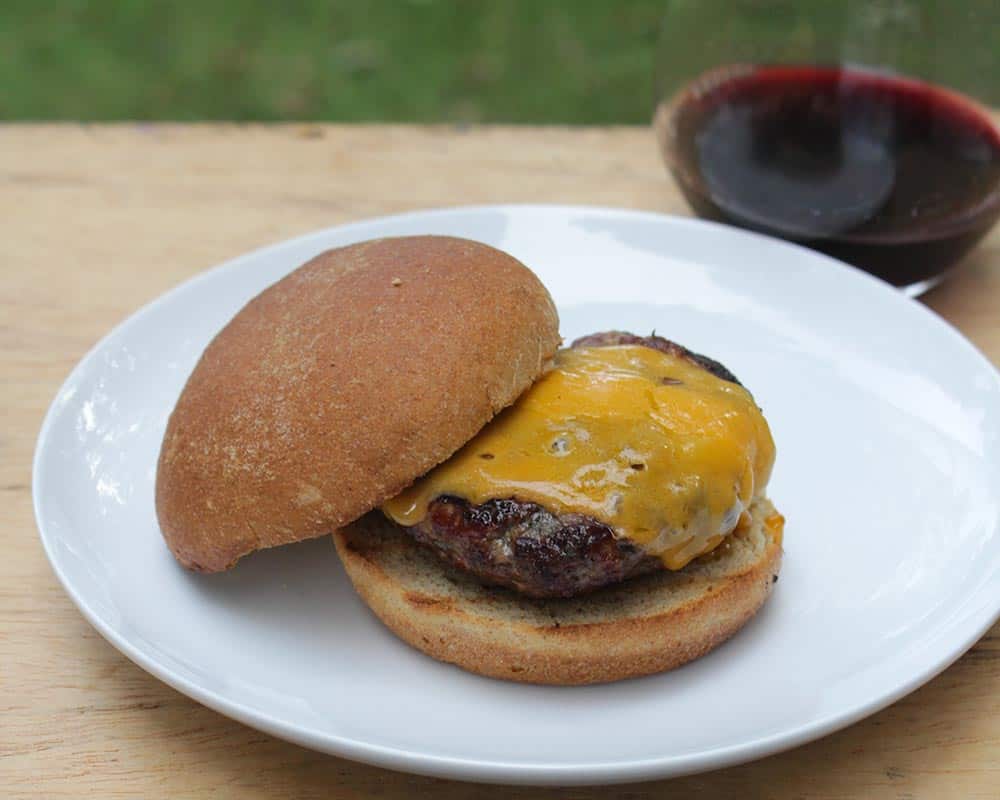 So I put some grass fed ground beef burgers on the grill, finished with a slice of cheddar cheese. Beef is a natural partner for Cabernet Sauvignon; and Cab also pairs very well with cheddar cheese. As expected, the simple burger with a special cab was a hit! Now, for more on that wine…
2014 Trilogy Red Wine from Flora Springs
The 2014 Trilogy has a dusky nose, with violets and cedar. I get plum fruit, leather and a touch of cinnamon on the palate. I noted the complex layers of flavor, and the pleasant mouthfeel. The official tasting notes mentioned warm cocoa, along with blackberry and black cherry, and I can see that too. I served the wine with a brief 15 minute stop in the fridge to give it a slight chill, a nice touch for serving a red wine on a summer evening.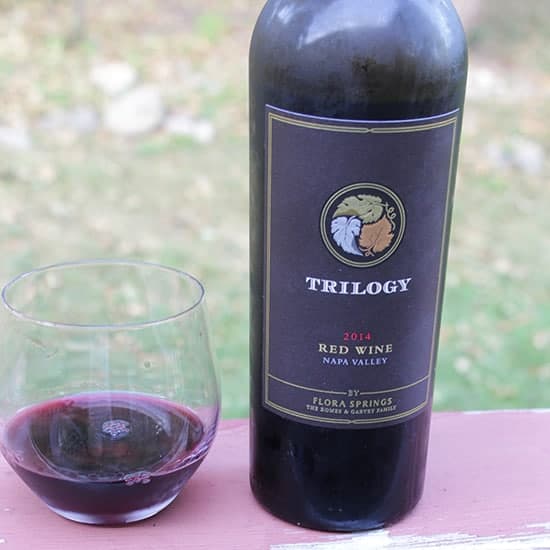 The Trilogy is a blend of 86% Cabernet Sauvignon, 8% Malbec and 6% Petit Verdot, and comes in at 14.2% ABV. Only 5,050 cases were produced, with grapes sourced from Flora's best Napa vineyards. The wine was aged for 22 months in 85% French oak, 15% American Oak.
You can get more details on the wine and Flora Springs Cabernet Day observance on their website.