This Leftover Steak Pasta recipe is a delicious way to use the leftovers from a bone-in steak meal using porterhouse or ribeye. Excellent paired with a Lagrein red wine from Italy's Alto Adige – Südtirol region. Full disclosure: The wine was sent as a complimentary press sample from Teuwen Communications.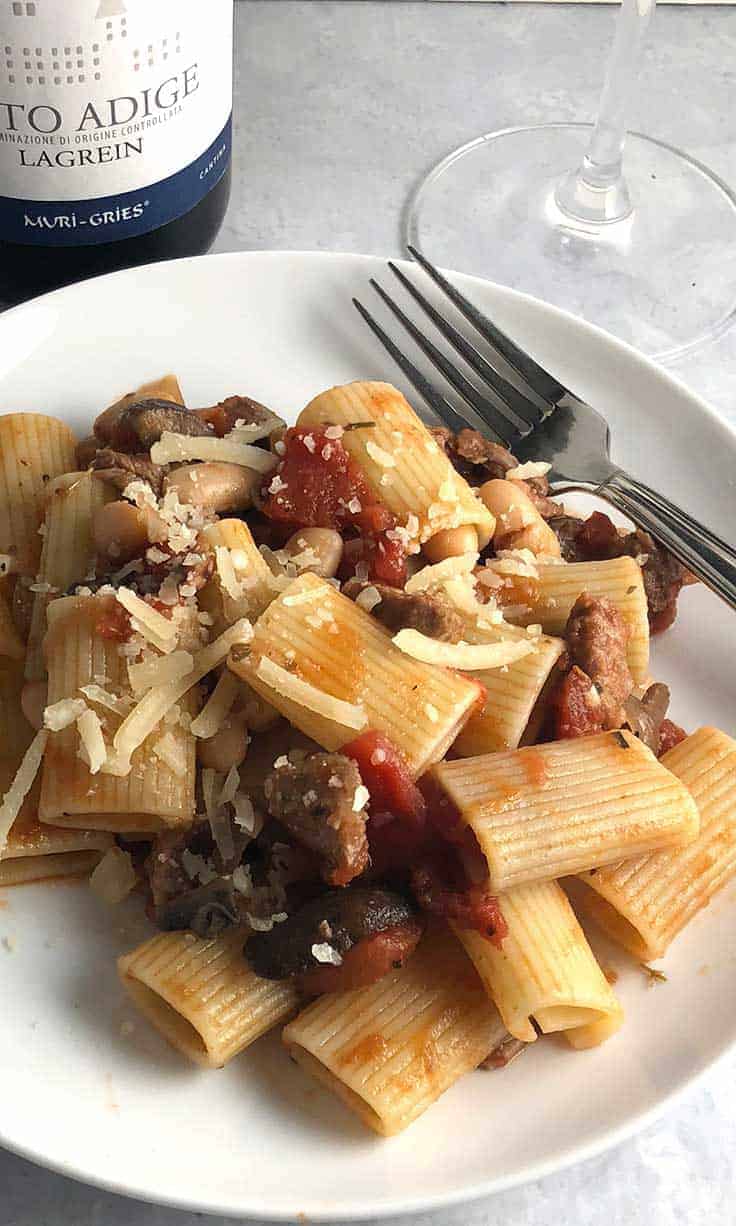 Have you ever made a big bone-in steak and felt like you didn't want to waste the bits of meat left on the bone? This Leftover Steak Pasta recipe is for you! For more ideas on what to do with those leftovers, check out our collection of the Best Leftover Steak recipes. One tasty new one we just added is the Leftover Steak Fajitas recipe.
I had grilled some Bistecca alla Fiorentina, which left two big t-bones from the porterhouse steak with some meat and fat. I had a vision for sticking with the Italian theme, and the result was this delicious leftover steak pasta recipe.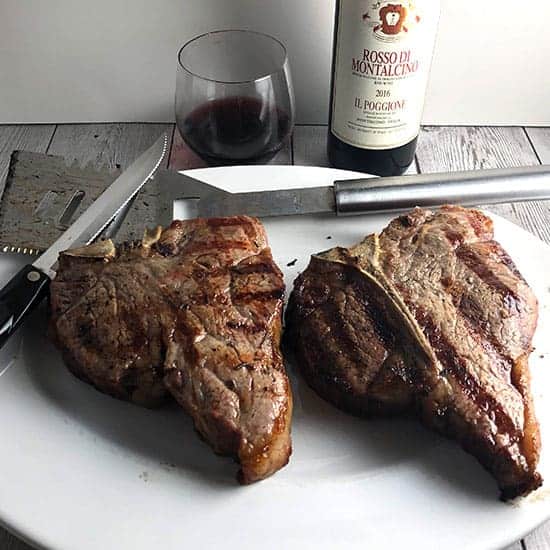 Making Leftover Steak Pasta
The first step in making leftover steak pasta is to cut off any sizable pieces of the steak you don't eat the first night, if applicable. With three of us working on two big porterhouse steaks, we did have nearly two cups of meat to save.
After removing any of the meat that is easy to cut off, you put the bones in a plastic bag to store for your leftover steak pasta project.
You start the pasta sauce with some onions and garlic. I added a few mushrooms next to deepen the flavor. After adding a can of tomatoes, put those steak bones in there to simmer with the tomatoes.
As the steak bone simmers with the tomatoes, the bits of meat and fat on the bone add rich flavor to the sauce. The meat is also easy to get off the bone after it has simmered for awhile.
The sauce gets finished by quickly simmering the meat you get off the bone and the other leftover meat with some white beans.
Toss it with some rigatoni and top with cheese for a rich, hearty Italian meal. Which of course calls for a big red Italian wine…
Wine Pairing from Italy's Alto Adige – Südtirol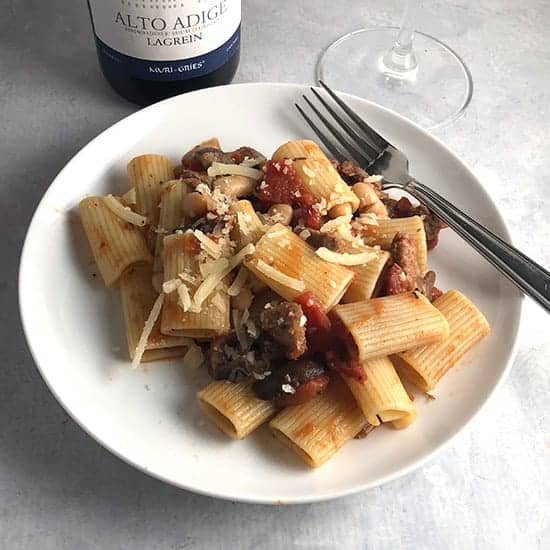 I had a package of three wines from Italy's Alto Adige – Südtirol region to sample this summer. The first two, a Gewürztraminer and a Schiava, were perfect for some lighter summer meals on warm evenings. I saved the Lagrein for heartier fare, and this Leftover Steak Pasta was just meal that fit the bill.
So I opened the 2017 Muri Gries Alto Adige Lagrein (13.5% ABV) to go with the Leftover Steak Pasta. Inky dark purple in the glass, I got violets, cloves and menthol on the nose. On the palate, blackberry fruit and a smokiness, making me think of bacon.
This Lagrein was very dense when I first opened, and I thought it could benefit from decanting. That was a good call, as after about 30 minutes in the decanter the Lagrein was definitely showing some delicious ripe fruits, and spice notes were becoming more evident. Those spice notes nicely matched the bit of garam masala that I used in the dressing for our spinach pear salad I served on the side.
This big, bold Lagrein from the Alto Adige – Südtirol was definitely a good match for the Leftover Steak Pasta. It would go well with other hearty meat dishes. I'm thinking that spice element would also make this wine a good pairing for a lamb or beef curry.
Lagrein is a red wine grape native to the Alto Adige – Südtirol. The Muri-Gries winery has an interesting history.
In 1845, Benedictine monks moved from Muri in Switzerland to the town of Gries in South Tyrol, and picked up on the wine making traditions associated with the property to which they had come. Muri-Gries has a focus on Lagrein but make a number of other wines with The winery continues to be a part of the abbey today — more on the history and wine can be found on the Muri-Gries website.
I'll be writing an article on the Alto Adige – Südtirol region and the other wines we sampled soon. Meanwhile, this Vinepair article has some good information on the region.
More Easy Pasta Recipes
Here are some more of our favorite, easy to make pasta recipes:
Print
Recipe card
Leftover Steak Pasta Recipe
Wondering what to do with leftover steak? This leftover steak pasta recipe is a great way to use the leftover bits of meat left on a bone-in steak such as porterhouse or ribeye.
Author: Cooking Chat
Prep Time:

10 mins

Cook Time:

45 mins

Total Time:

55 mins

Yield:

5

servings

1

x
Category:

main

Method:

stove top

Cuisine:

Italian
1

onion, chopped

2 tbsp

extra virgin olive oil, divided

3

cloves garlic, minced

5

crimini mushrooms, sliced

⅓ cup

red wine

28 oz

can diced tomatoes

2

leftover steak bones with a bit of meat and fat remaining

½ tsp

dried marjoram

⅔ tsp

dried basil
sea salt to taste–use Tuscan sea salt if you have it
approximately

2 cups

leftover steak, cut into bit sized pieces

14 oz

can of cannellini beans or other white bean, drained and rinsed

12

ozs rigatoni or other short pasta shape
Parmigiano cheese to pass at the table
Instructions
Heat 1 tablespoon olive oil in a large pan on medium heat. Add the onions, sauté until they become soft, about 5 minutes.
Stir the garlic into the pan, cook until fragrant, about 1 minute. Add the mushrooms along with the 2nd tablespoon of olive, stir and cook until they begin to sweat, about 5 minutes.
Add the wine to the pan and stir to combine. Simmer until the wine has mostly been absorbed by the veggies, about 5 more minutes.
Stir in the tomatoes, along with the majoram and basil. Salt to taste. Add the steak bones to the pot, turning them over a couple times so that they become well coated with the tomato mixture. Raise the heat to medium high to bring to a simmer. Reduce heat and continue to simmer on medium low. This is a good time to start boiling water for the pasta.
Simmer the sauce with the steak bones for about 15 minutes. Then remove the bones to a large platter, leaving the tomato mixture to simmer as you do this.
Now that the meat on the bone has softened, use a sharp knife to remove edible meat from the bone. Pieces with a combo of meat and fat can be used, but dice them up small. Cut that steak meat into bit sized pieces. Return the meat to the pan, along with any other leftover steak you might have (see notes for more tips).
Stir the meat into the tomato mixture, along with the beans. Continue simmer the pasta sauce while the pasta cooks.
Cook the pasta according to package instructions. When it is cooked to your liking, drain and rinse the pasta. Add the drained pasta to the pot with the tomato steak sauce, and stir to combine.
Plate portions of leftover steak pasta, passing cheese at the table. Enjoy with a big red Italian wine.
Notes
The night before making this recipe, I had prepared Bistecca alla Fiorentina. We had 2 porterhouse steaks for that recipe. Three of us put a good dent in the steak, but I was still able to cut off close to 2 cups worth of leftover meat from the bone. That left me with the two bones, which still had a decent amount of meat and fat. I put those bones in a plastic bag and refrigerated to use in today's recipe.
Keywords: leftover steak, pasta, meat sauce, leftover steak pasta
Recipe Card powered by