Today we serve Sirloin Steak Tacos with our Awesome Avocado Sauce, paired with a Paso Robles Zinfandel. This is our our contribution for today's California Cooking Wine Pairing Weekend event. Disclosure: This post contains affiliate links.
Today is the second Saturday of the month, which means it is time for our Wine Pairing Weekend article.
March 14, 2020 is not our typical second Saturday. Our local public schools, like so many places across the country, are moving into a two week (at least) shutdown in response to the COVID-19 virus. Our family is planning to hunker down at home as much as possible to do our part to slow the spread of this disease.
In upcoming articles, I will be focusing on ideas and recipes for eating well during times of social distancing, sheltering in place and other such terms that seem to be popping up way too often.
OK, back to our regularly scheduled program…
Tasting California
Today we are doing something new for our #winePW theme. Jane from Always Ravenous had a fun idea–having all of us pick a recipe from the same cookbook and come up with a pairing for it.
Jane selected the book, "What Gaby's Cooking: Everyday California Food", by Gaby Dalkin. The idea is to pick a recipe and a wine from California to go along with it.
The cookbook features a nice variety of recipes featuring fresh produce and other ingredients that are so bountiful in California. I'm excited to try some of Gaby's healthy bowl recipes and her Southwestern Sweet Potato with Quinoa Chili.
Picking a recipe
The night last weekend that we wound up making this sirloin steak tacos recipe was our family cooking night. The cooking here is often a solo thing on my part; one of our family 2020 plans is cooking more together.
At first I gave our 14 year old son first dibs at going through the cookbook and picking what we would make together.
Let's just say my enthusiasm for cookbooks hasn't quite passed on to B yet. After a couple minutes and shrug of shoulders, the book was pushed back in my direction. "OK, how about I look through and come up with three choices?"
That suggestion was well received. And I wasn't surprised that the one involving tacos was picked over a bowl recipe and a chili. Our family loves a taco night!
Our adaptation of Gaby's recipe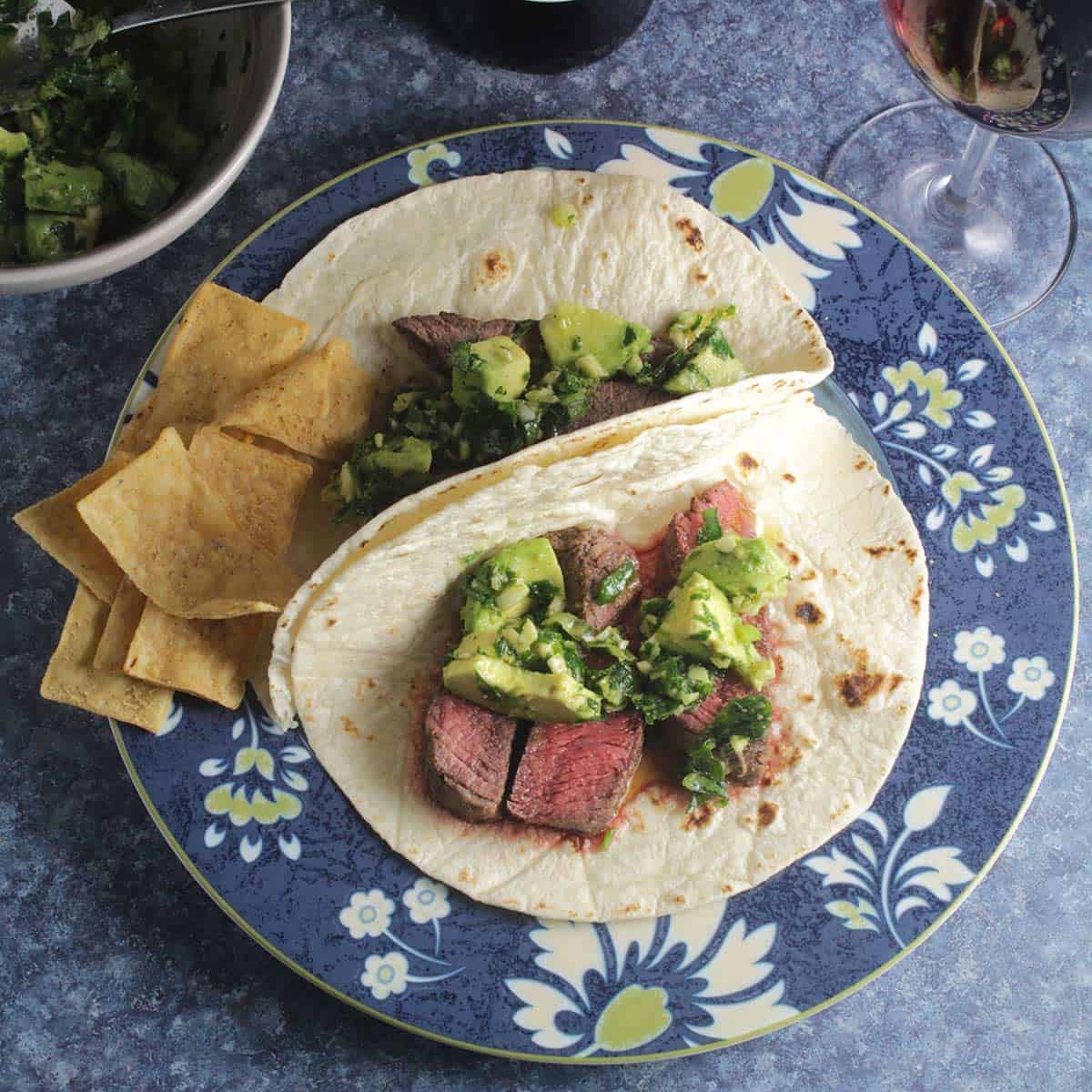 So the official title of Gaby's recipe that we picked is "Santa Maria Tri-Tip with Salsa and Guacamole".
As we tend to do, we quickly got about the business of tweaking the recipe.
Gaby explains that "tri-tip is classic California–it's a popular triangular shaped, super-marbled cut that's most often used for our style of barbecue…quick and dirty on the grill."
I don't see tri-tip much around here in the Boston area. So we decided to pivot a bit and make sirloin steak tacos.
Sirloin steak is lean and cooks quickly, making it a good choice for steak tacos. Just take care not to overcook it!
We also modified Gaby's rub recipe. Although after swapping chili powder for the coffee she calls for, we did use most of the other ingredients in her rub recipe.
Gaby's Famous Guacamole is one of the suggested toppings for the steak taco. Her recipe looks fairly similar to our simple guacamole recipe, with fresh chives being an interesting addition to hers that I hadn't seen in guac recipes before. A California thing?
I figured I would make our basic guacamole recipe, until I realized we had a bunch of parsley on hand. So I decided to go for a batch of our Awesome Avocado Chimichurri Sauce.
Our son loves refried beans, so that was another additional to our taco bar, along with some sour cream.
We may have veered off Gaby's recipe a bit but I think our sirloin steak tacos kept to the spirit of it pretty well! The steak rub was definitely a different combo than we typically use in our rubs, so provided a nice change of pace.
California Zinfandel
These days we enjoy trying wines from around the world, and sampling interesting grapes many people have never heard of.
But California Zinfandel is one of those wines that we like to keep circling back to.
When we first starting dabbling in wine, fruit-forward California Zinfandel was a frequent selection. That was reinforced when we had a chance to visit California wine country.
We enjoyed spending time in the Ravenswood tasting room during a quiet time at the winery. The guy pouring the wine that day had an infectious passion for his subject matter.
Sonoma County hold a particularly special place in our California wine loving hearts. Jodi and I had a chance to visit California wine country a few years running in our pre-parenting days, and gravitated toward Sonoma.
One very good California Zinfandel we've enjoyed recently is the Marietta Cellars Roman Estate Grown Zinfandel, which we recently enjoyed with a bowl of our Black Bean Turkey Chili.
Pairing for steak tacos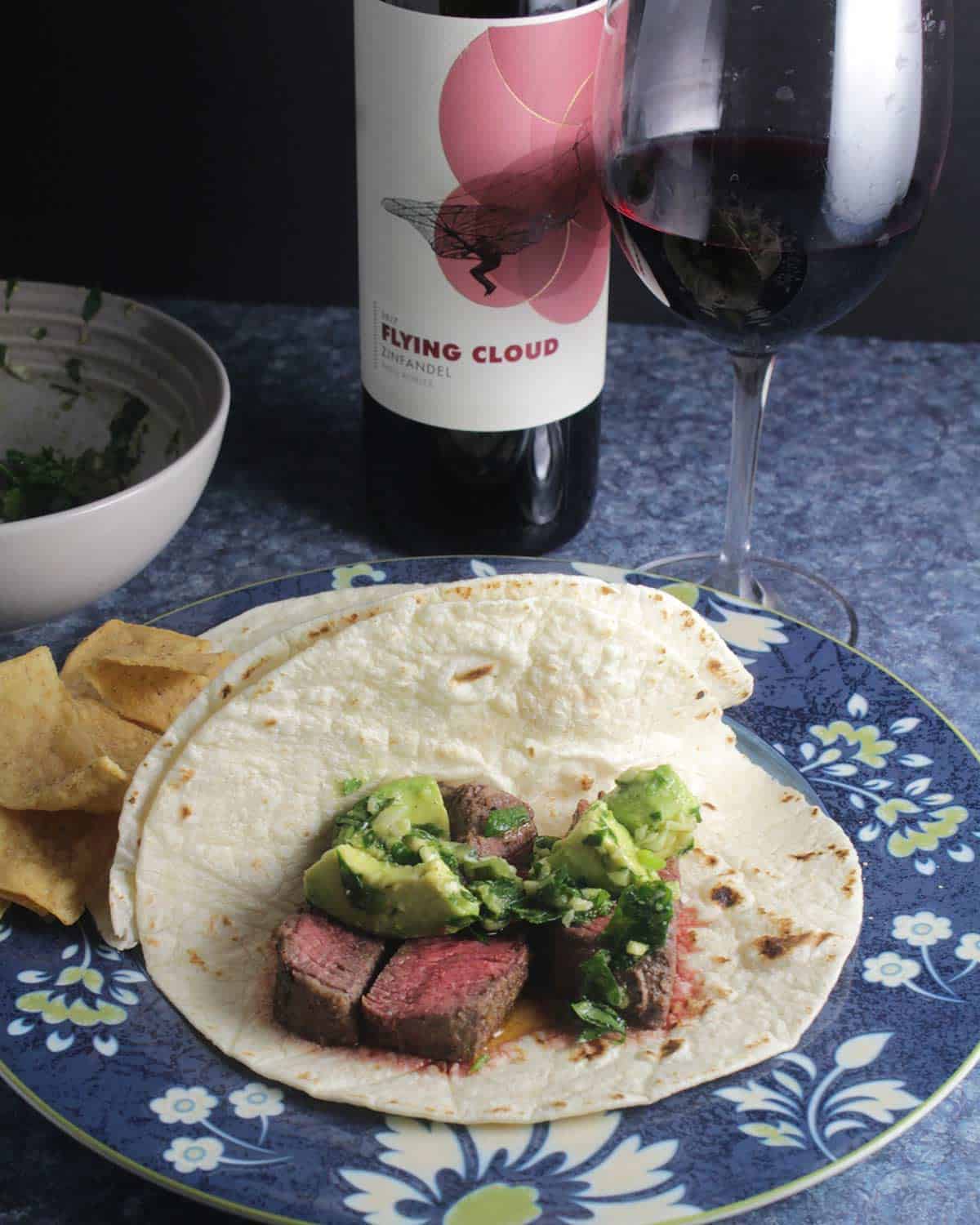 Paso Robles is another California wine region I gravitate to regularly when picking out wine. I haven't visited there yet, but I like the wide range wines produced in Paso.
I knew I wanted to go with a California Zin to pair with our Sirloin Steak tacos. There were about a dozen choices in the category at our local wine shop, and my eye settled on the 2017 Flying Cloud Paso Robles Zinfandel ($17, 14.6% ABV).
I picked mostly because it was reasonably priced for a good Paso wine. I had forgotten that I had tested a previous vintage of the Flying Cloud Zin with corned beef and cabbage with favorable results. For more on that timely topic, check out our Wine with Corned Beef and Cabbage article.
The Flying Cloud Zin is light red in the glass. Brambles and violets on the nose.
Cherry fruit on the palate, with notes of pine. Medium bodied. A good pairing for our steak tacos!
This might be slightly heretical to mention, but if you are in the mood for something other than wine, margaritas could a nice choice! We just did a post about making margaritas with the Drinkworks® Home Bar by Keurig®, so it the idea was top of mind!
Print
Recipe card
Sirloin Steak Tacos with Awesome Avocado Sauce
Easy to make roasted sirloin steak tacos, with an awesome avocado sauce and other taco bar fixings of your choice. Inspired by a recipe in What's Gaby Cooking: Everyday California Food.
Author: Cooking Chat
Prep Time:

30 mins

Cook Time:

10 mins

Total Time:

40 mins

Yield:

8

servings

1

x
Category:

main

Method:

roasting & stove top

Cuisine:

American
For the steak:
2 tsp

chili powder

2 tsp

Kosher salt

1 ½ tsp

garlic granule

½ tsp

black pepper

1 tbsp

brown sugar

½ tsp

oregano

¼ tsp

thyme

¼ tsp

paprika

¼ tsp

cinnamon

2

lbs sirloin steak
For the avocado sauce (optional)
6

 cloves garlic, minced

1

 scallion, minced

¾ cup

 extra virgin olive oil

1 tbsp

Champagne vinegar (white wine vinegar is OK)

1 ½ tsp

 cumin
pinch red pepper flakes

1 tsp

 salt

½ tsp

 minced jalapeno pepper

¼ cup

 chopped parsley

2

 avocados, diced close to serving time

1 tbsp

 lime juice
For the taco bar
small tortillas
Awesome Avocado Sauce or basic guacamole
small tortillas
chipotle salsa
sour cream and/or shredded cheese
other favorite taco bar items!
Instructions
Preheat oven to 400 degrees.
Make the steak rub: combine the rub ingredients, chili powder through cinnamon, in a small bowl.
Apply the rub: lay the steaks out on a work surface. Sprinkle one side of the steak with about half the rub, then massage it into the meat. Turn the steaks over, and repeat the rub process on the other side. Let the steaks sit with the rub at room temperature for about 20 minutes. Make the avocado sauce during this time if using it.
Make the avocado sauce if including it: In a medium bowl, combine the minced garlic, scallion, olive oil, vinegar, cumin, red pepper flakes, salt and jalapeño. Finish the avocado sauce by adding the avocado along with the parsley and lime juice
Brown the steak: Heat a large oven proof skillet on medium high. When hot, add the steaks to the skillet. Sear on one side for about 90 seconds, then turn the steaks over to brown the other side for about 60 seconds.
Roast the steak: After browning the steak, move the skillet to the preheated oven. Roast the steak for 8 to 10 minutes for medium rare. When done to your liking, remove the skillet and transfer the steaks to a platter. Let the steaks rest for a few minutes.
Assemble the taco bar: Spread your taco ingredients out on a table, counter or kitchen island. Slice the steak thinly and place next to the tortillas. Let people make their own tacos by grabbing a tortilla, adding a few pieces of steak, and then whatever else strikes their fancy. Enjoy with a good California Zinfandel!
Notes
The ingredients in the rub can be tweaked based on what you have on hand and your preferences. Gaby's original recipe starts with 2 tablespoons of coffee; we used chili powder instead.
Keywords: tacos, steak tacos, avocado sauce, sirloin steak tacos
Recipe Card powered by
More California Cookbook Pairings
See what else my fellow #winePW blogers have cooked up to go with their California wine!