We originally wrote about picking wine for guacamole when we were making a batch of guac for the Super Bowl back in January 2015. For that matchup, we compare a white wine and red wine for guacamole. Read on to hear about those pairings. We recently tried a sparkling wine with a batch of guacamole; click here jump ahead to that new pairing. Or if you want to get right to the recipe, click here.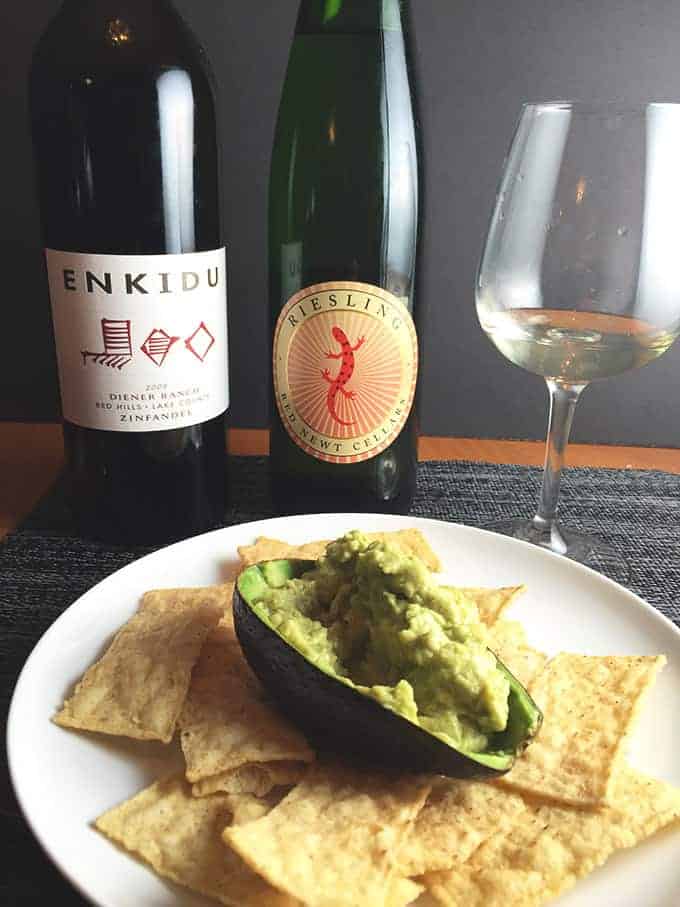 There will be plenty of guacamole recipes shared over the next week as we get ready for the big game. I will jump in and share guacamole recipe, but will focus this post on picking a wine for guacamole.
I know, wine might not be the go to drink to serve with guacamole, or the Super Bowl in general, for that matter. But I'm sure there are plenty of folks out there for whom wine is the adult beverage of choice. So I thought I'd test out two wines to help with your selections.
Pairing wine with guacamole, we need to think about two aspects of the dish. First, the spice. My recipe isn't super spicy, but there is some kick there that needs to be accounted for. Second, there is the healthy fat content of the avocado. This makes the guacamole fairly substantial and I wouldn't want to pick a wine that is too light.
The Original Wine Pick for Guacamole
The 2012 Finger Lakes Circle Riesling from Red Newt Cellars turned out to be our winning wine for guacamole pairing. Rieslings are food friendly in general. In picking a Riesling for guacamole, I was looking for something slightly sweet. Many rieslings, including this one from Red Newt, show you a sweetness scale on the back. This one is "medium sweet", with 2.6% residual sugar (RS).
On my first taste of the wine, I got green apple along with a modest amount of sweetness. After taking a bite of the guac, the sweetness was more pronounced, a refreshing contrast to the spice. Cleansed out the palate nicely, making me ready for the next bite. A winning pairing!
You should be able to find the Red Newt Riesling for under $15. In addition to pairing well with guacamole, I'd suspect it would go well with other Super Bowl fare like spicy wings, dips, and perhaps chili.
We also sampled a 2009 Enkidu Diener Ranch Zinfandel. I thought the spice element in many zins might work well with the guac. While it's a very nice wine, the spice and flavor elements of the wine did not quite marry with the guac. No worries, this zin went very nicely with the Bee Bim Bop we had for dinner. Stay tuned for that recipe!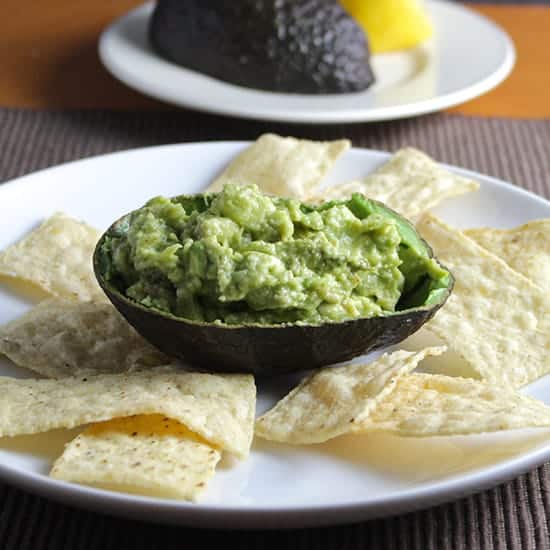 Speaking of recipes, be sure to note our little guacamole serving tip! Keep those peels, and use to serve the guacamole. Makes a nice presentation…not to mention they are kind of football shaped!
A New Wine for Guacamole Pick
Our original wine pairing for guacamole showdown featured white vs. red wine options. But what about bubbly? Sparkling wine is a versatile food wine, and some versions of bubbly can go well with spicy food. We decided to give it a try recently when we made another batch of guacamole. We were also nibbling on some Indian samosas, a second spicy element to contend with in this wine pairing.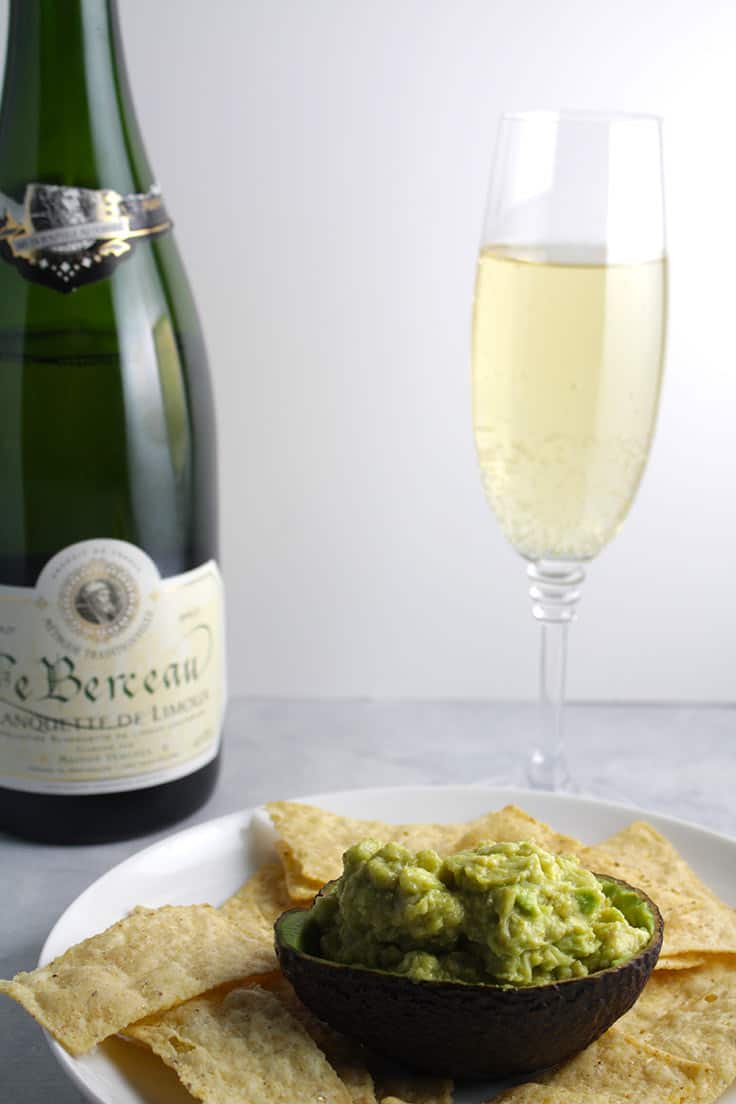 We paired the guacamole with a bottle of Maison Vergnes Le Berceau Blanquette de Limoux Brut (appx. $17, 12.5% ABV). This sparkling wine comes from the Languedoc region of France. Taste of pear fruit, cream, and a touch of sweetness. Refreshes the palate after bites of spicy guacamole as well as the samosa. I would add this sparkling wine or similar bubbly to the list of wines to pair with guacamole. So next time you make guac and want wine to pair with it, our experiments say try a Riesling or sparkling wine. Full disclosure: I received a complimentary sample bottle of the Blanquette de Limoux. As always, the opinions reflected here are entirely my own.
Time to check out the Cooking Chat guacamole recipe details!
Print
Simple Guacamole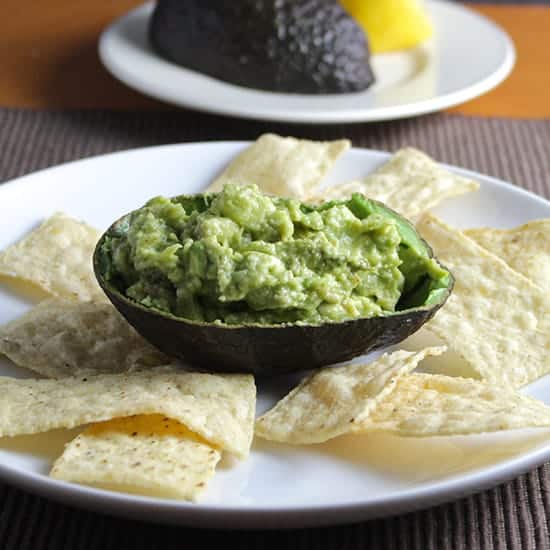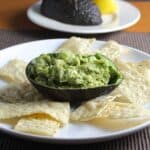 Simple Guacamole recipe can be whipped up quickly for your next gathering!
Author: Cooking Chat
Prep Time:

10 mins

Total Time:

10 mins

Yield:

4

to

6

servings

1

x
Category:

Appetizer

Cuisine:

Latin American
Ingredients
2

avocados

6

garlic cloves, finely minced

2 tbsp

finely diced onion

1 tsp

cumin
healthy pinch cayenne

1 tbsp

lime juice

2 tsp

extra virgin olive oil
salt & pepper to taste
Instructions
Slice the avocados in half. Remove the pit, then scoop the flesh into a bowl, reserving the peel for serving.
Mash the avocado with a fork, then stir it a bit. Stir in the garlic and onions.
Add the cumin, cayenne, salt and pepper. Stir again.
Add the lime juice and olive oil. Stir vigorously to get everything well combined and to achieve a nice fairly smooth consistency (though you'll want to leave some nice chunks of avocado).
Scoop the guacamole into the reserved peel to serve along with tortilla chips. Serve with a moderately sweet Riesling if you are so inclined!
Recipe Card powered by
Love avocados? You should also check out my Awesome Avocado Steak Tacos recipe!