This Taco Night featuring easy Margaritas with pulled chicken tacos is sponsored by Drinkworks® Home Bar by Keurig®. Content for 21+. Please enjoy responsibly.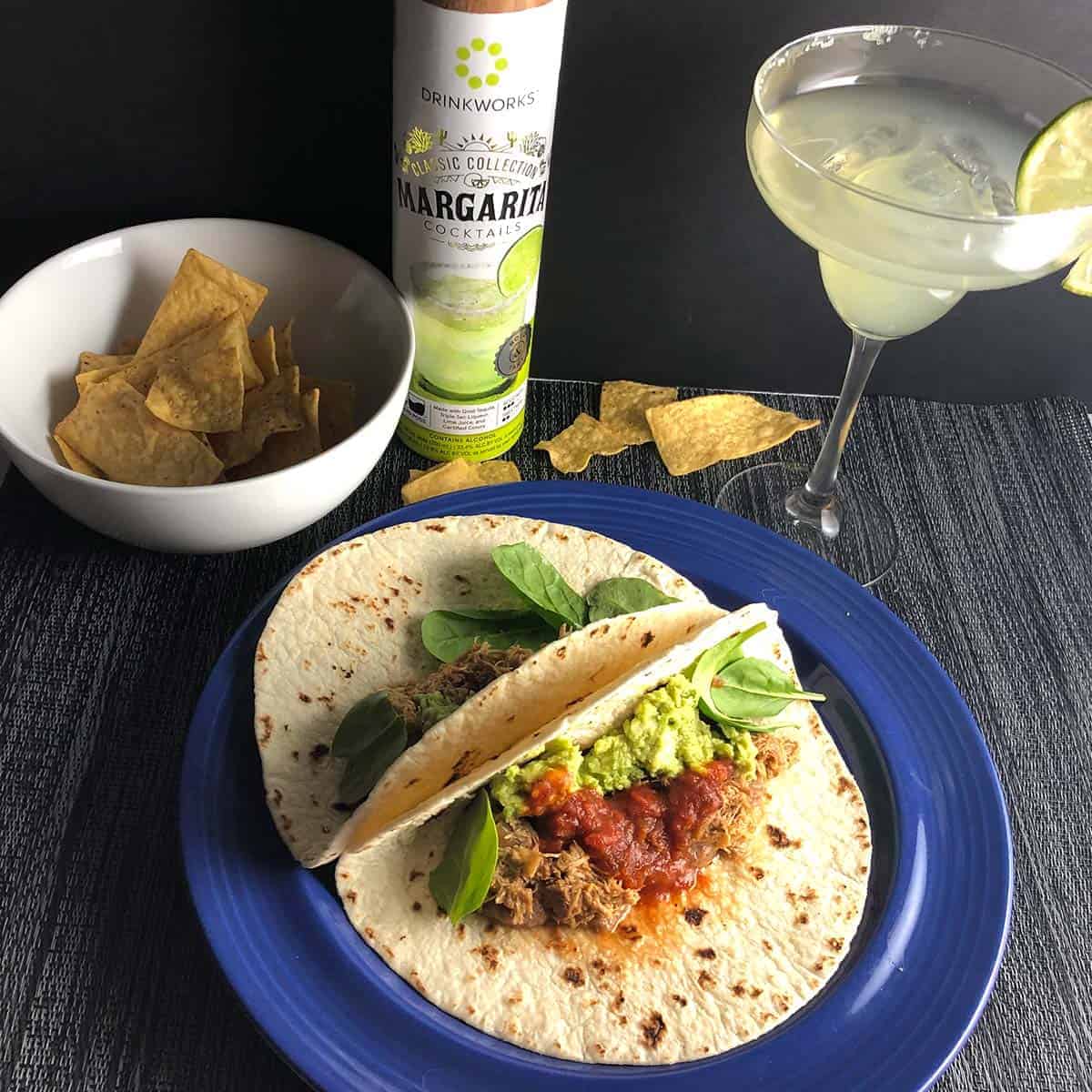 If you've spent any time here on Cooking Chat, you know that most of the time, I'm a wine guy.
But I do like a mixed drink from time to time — hello, Margaritas! So when I had a chance to test out the new Drinkworks Home Bar by Keurig®, I was all in!
Given that Margaritas are my favorite mixed drink, I figured some easy Margaritas would be perfect with our next taco night! Read on for details about our taco night with pulled chicken tacos paired with Margaritas. First let's cover some background on the Drinkworks Home Bar.
Introducing the Drinkworks Home Bar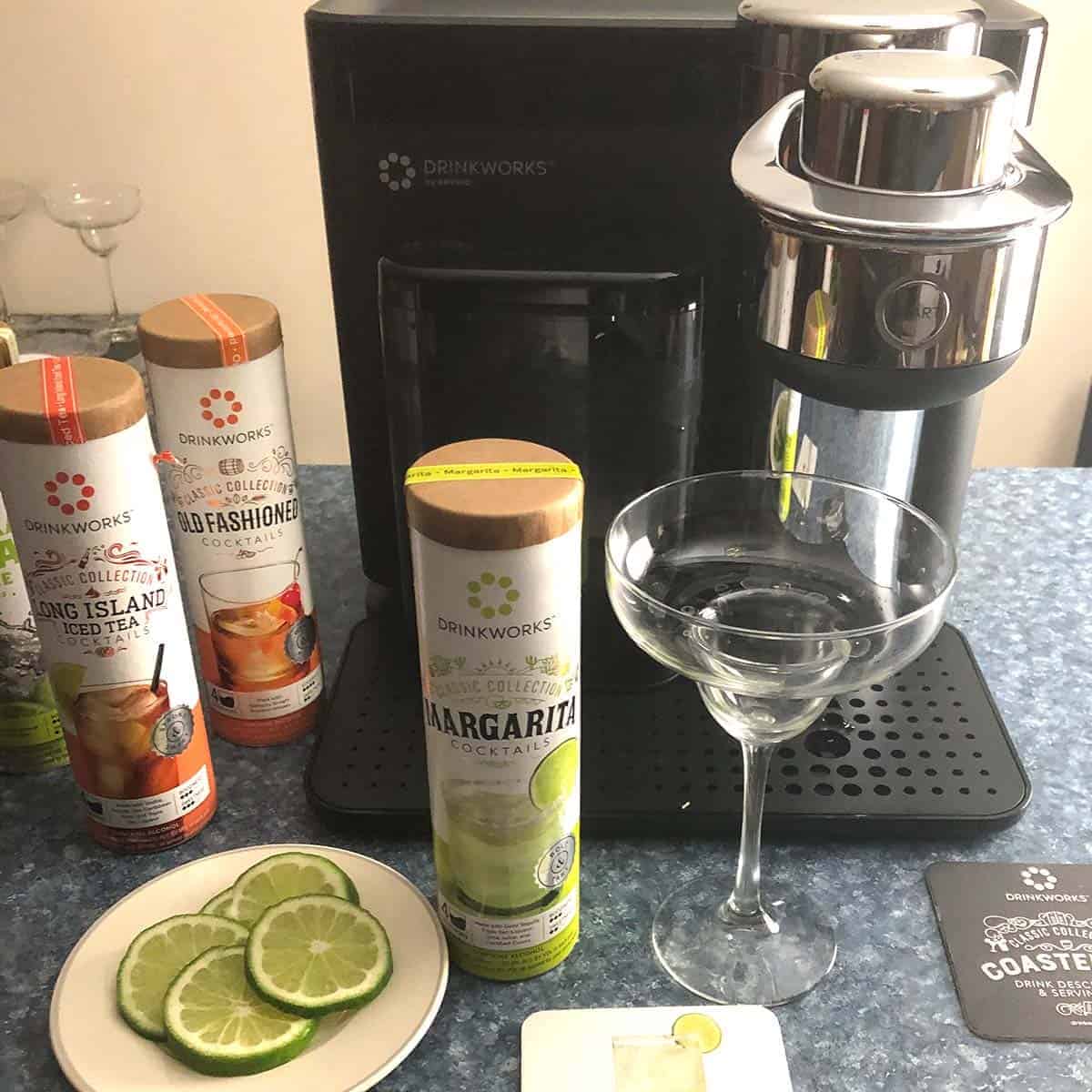 As I mentioned, I do like a mixed drink such as Margaritas from time to time. Mojitos and an Old Fashioned are also drinks I enjoy.
But if you're not regularly making drinks for yourself and friends, it's kind of challenging to keep a bar stocked to have drinks to offer. So basically, up until now, I'd pretty much only go for a mixed drink when going to a bar or a friend's home that has a well-stocked home bar.
The Drinkworks Home Bar solves the problem of needing to have a range of supplies and alcohol on hand to be able to offer a selection of drinks! The Drinkmaker uses premium cocktail pods that contain liquid with natural ingredients and flavors, and yes, they contain the alcohol too!
That's right, with a Drinkworks Home Bar you don't need to keep expensive bottles of tequila, rum and vodka around to make a drink! Simply stock up on a variety of cocktail pods and you are ready to go. This winds up being much less than it would cost to go out for drinks; and a much more efficient way to keep your home bar stocked.
Over two dozen drinks are currently available from the Drinkworks Home Bar, and more are on the way. Check out the variety available via this link.
In addition to enjoying Margaritas with our pulled chicken tacos, we also tried the Old Fashioned and the Long Island Iced Tea. All of those were delicious! We also have the Vodka Soda waiting on deck…that will be fun as it uses the carbonation feature that the Drinkmaker has.
Using the Drinkworks Home Bar
I'm not particularly adept at figuring out how to use new appliances. So when I tell you the Drinkworks Home Bar is easy to use, that is definitely high praise!
The instructions are very clear and easy to follow. Once you've unboxed the Drinkmaker and have it plugged in to get it going, the LED display walks you through the basic steps for getting the Drinkmaker prepped to make your first drink.

There's more info at this link that describes how to set up the Drinkmaker.
As I mentioned, the cocktail pods come with pretty much everything you need. For the easy Margaritas we enjoyed, all we needed was water to add to the Drinkmaker, and a Margarita glass ready with some ice. Oh yes, and a bit of salt for the rim and lime to garnish.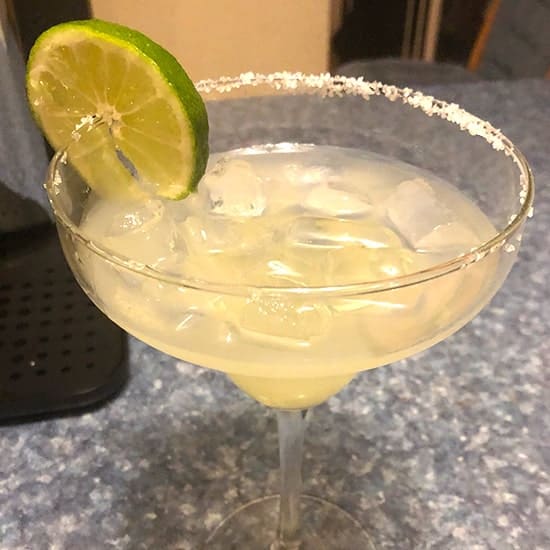 Slide that glass under the spigot, add the pod, press start, and within about 30 seconds you have a cold, refreshing drink. Cheers!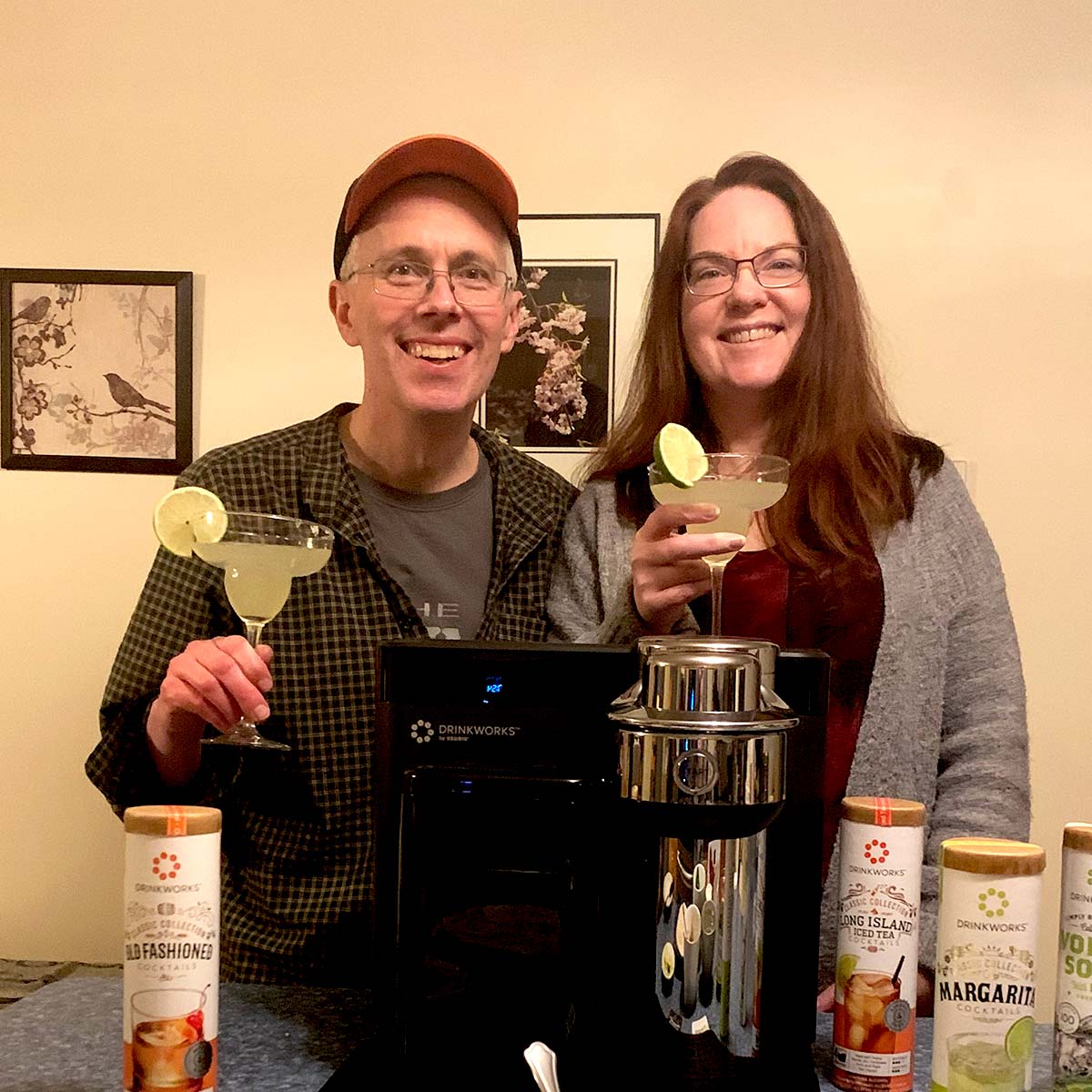 The Margarita was fresh and delicious on its own, and a perfect accompaniment for our taco night!
Special pricing on a new Home Bar!
If you are excited to get your own Drinkworks Home Bar, I've got a special update for my Cooking Chat readers!
Use this link http://bit.ly/2VkoiZW to get your Drinkworks Home Bar today, and get your own Home Bar for $199! This product typically retails for $299, so there's no telling how long this discount will be in place.
Check to see if the Drinkworks Home Bar is available in your state. I'm happy to report it is now available in Massachusetts! Oh, and by the way, local friends, the Drinkworks team is based here in New England.
The product launched in November 2018 in St. Louis. The Drinkworks appliances quickly sold out in the pilot market and have been rolling out to more markets since then. So, if your state isn't on the list where it is available yet, hopefully it will be soon!
Taco Night and Other Occasions
At first, we thought about inviting some family and friends over to test out the Drinkworks Home Bar. But it arrived during a busy patch for us, so we figured why not make some Margaritas for taco night, and enjoy a relaxing evening at home?
Our family loves taco night! We often do the Taco Tuesday thing, as it's an easy meal to make during the week. But with Margaritas from our new Drinkworks Home Bar waiting in the wings, taco night seemed like a perfect relaxing Saturday evening!
When we set up for taco night, each person gets to choose how to assemble their taco. Giving everyone individualized options makes taco night a great choice to go along with the variety offered by the Drinkworks Home Bar!
Margaritas from the Drinkworks Home Bar for our taco night was definitely a great choice!
But I do also look forward to entertaining with the Drinkworks Home Bar soon, too. It will be such an easy way to offer people the drinks they want. People I've mentioned the Drinkworks Home Bar to are definitely eager to check it out!
Pulled Chicken Tacos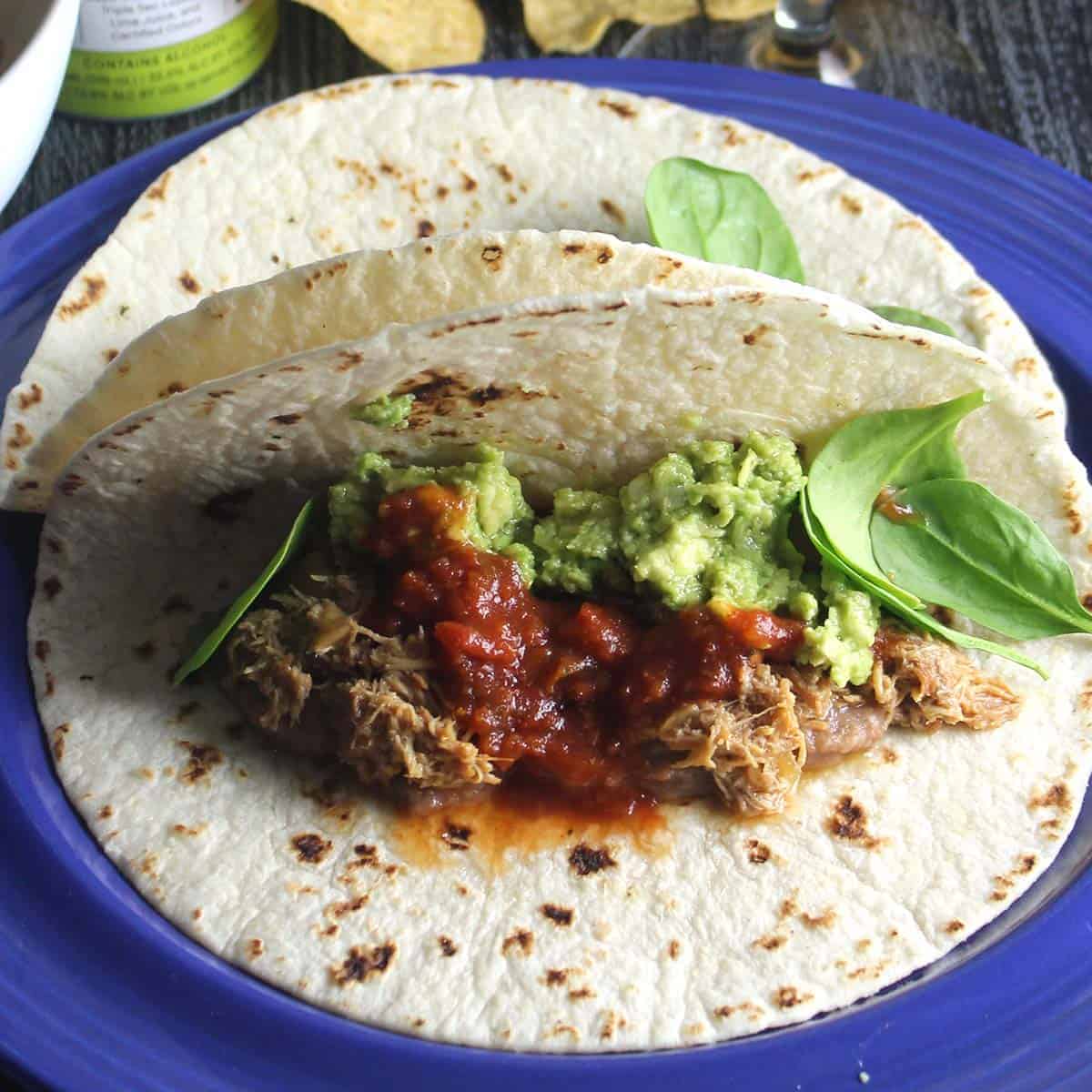 I decided to pair pulled chicken tacos with our Margaritas from the Drinkworks Home Bar. In the morning, I put chicken thighs into the slow cooker with the other ingredients listed in the recipe. Mostly ingredients you are likely to have on hand, keeping with the easy theme!
I was going for more of BBQ flavor for the chicken, with a bit of Mexican spice. Not everyone in our home is into spicy food, so I like to keep the main protein moderately spiced; you can add more heat via the toppings if you like.
Set the slow cooker timer for 8 hours, and you have some tasty and healthy chicken to feature as your main protein option on the taco bar.
We offer soft and hard tacos for our taco bar. We always have refried beans available, and some greens — lettuce or baby spinach. I figured the kick of my homemade guacamole would be great with a margarita, so I whipped up a bowl.
Salsa, sour cream and shredded cheese are all solid options for the taco bar setup. What else do you like to put on your tacos?
If you're looking for some other taco night inspiration to go with your Margaritas from the Drinkworks Home Bar, our Roasted Cauliflower Tacos with Avocado Cream are a delicious vegan option.
Easy Margaritas with Pulled Chicken Tacos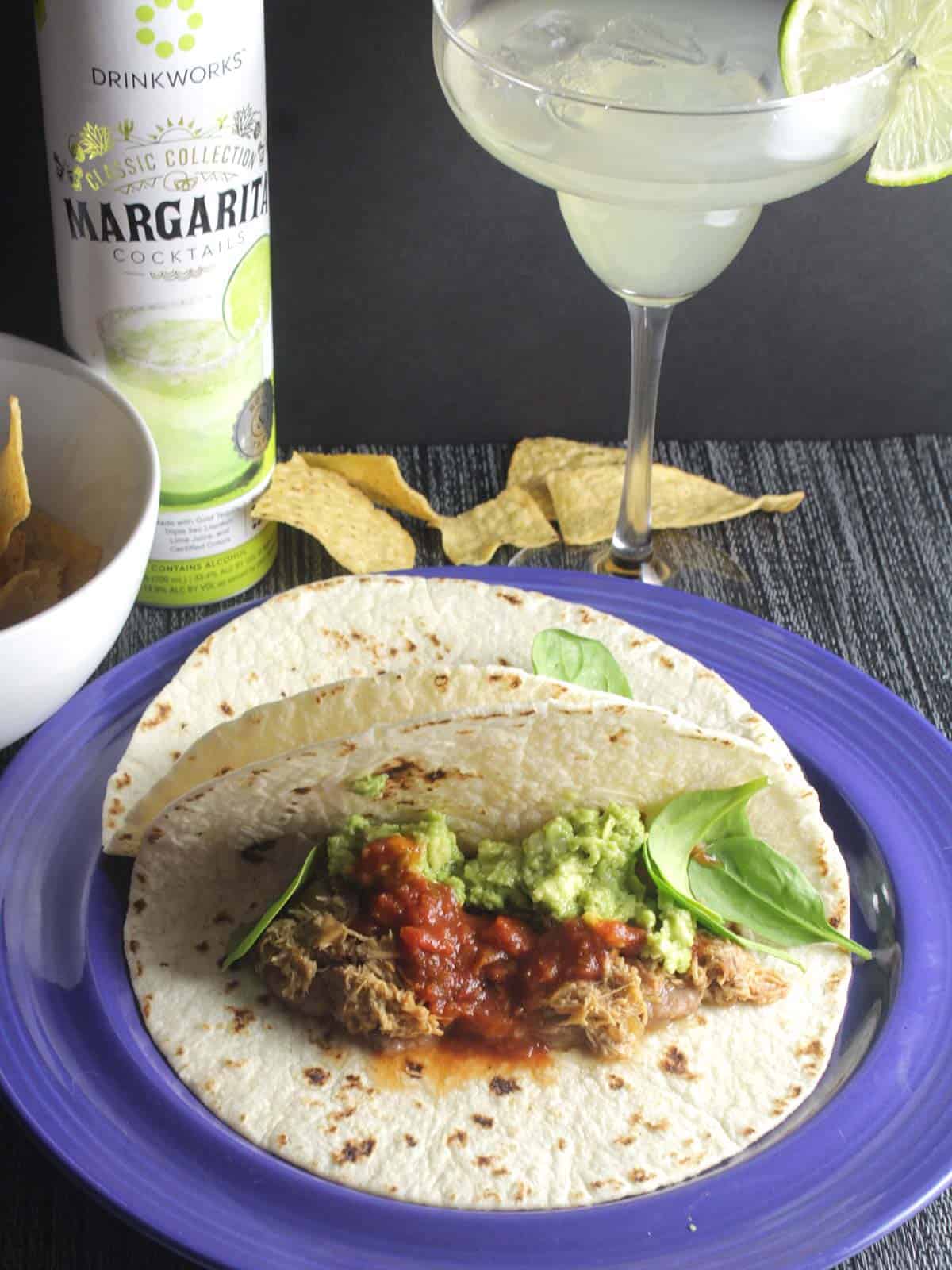 OK, so I'm all about the pairings here at Cooking Chat. So let's report on this Margarita and tacos combo!
The pulled chicken tacos, topped with homemade guac, have a nice blend of savory and spice. Definitely very satisfying.
Follow that taco bite with a sip of the Margarita. The quality ingredients shine through — lively taste of lime and a bit of sweet, refreshing on the palate after a bite of tacos. Margaritas from the Drinkworks Home Bar and pulled chicken tacos are definitely a winning pairing!
Ok, are you ready to get your own Drinkworks Home Bar set up? Don't forget about my special $50 off deal!
Just use this link http://bit.ly/2VkoiZW to get your discount!
Print
Recipe card
Pulled Chicken Tacos in a Slow Cooker
Pulled chicken made in a slow cooker sets you up for an easy and delicious taco night. Gets even better served with easy margaritas made in a Drinkworks Home Bar.
Author: Cooking Chat
Prep Time:

15 mins

Cook Time:

8 hrs

Total Time:

8 hrs 15 mins

Yield:

8

servings

1

x
Category:

Main

Method:

slow cooker

Cuisine:

Mexican
Dry spices:
1 tsp

cumin

½ tsp

coriander

⅛ tsp

cinnamon

½ tsp

oregano

½ tsp

salt
Sauce
1 tbsp

ketchup

1 tbsp

BBQ sauce (or an extra tablespoon ketch if no BBQ on hand)

1 tbsp

soy sauce

1 tbsp

orange juice

½ tsp

sugar
Chicken and other ingredients
2

lbs boneless chicken thighs, rinsed and patted dry

1

small onion, chopped

3

cloves garlic, minced

1 tsp

minced jalapeño peppers, or more to taste

8

ozs low sodium chicken broth
For the taco bar (select the items your crew likes!)
tortilla shells
hard tacos, heated
guacamole — linked to our recipe but store bought is OK
lettuce or baby spinach
salsa
shredded cheese
Instructions
Prep dry spices: Combine the cumin, coriander, cinnamon, oregano and salt in a small bowl. Set aside.
Prep the "sauce": Combine the ketchup, BBQ sauce, soy sauce, orange juice and sugar in a small bowl. Set aside.
Add chicken: Place the chicken thighs at the bottom of the slow cooker. Spread the onion, garlic and jalapeño pepper over the chicken. Pour the chicken broth over the chicken.
Add spices and sauce: Sprinkle the dried spices evenly over the chicken, then spread the sauce mixture over the chicken.
Slow cook the chicken: After all the ingredients have been added, cover the slow cooker and set on low. Slow cook for 8 hours.
Shred the chicken: After the chicken has cooked for 8 hours, use a slotted spoon to remove the chicken onto a platter. Using two forks, break the chicken into bite sized pieces.
Keep chicken warm: Return the chicken to the slow cooker and stir to combine with the sauce. Cover, and keep the slow cooker on the "warm" setting as you assemble your taco bar.
Set up taco bar: Place the desired taco bar ingredients on a table, kitchen island or counter. Put the taco shells, chicken (scooped into a bowl with a slotted spoon) and beans at the beginning of the lineup, with toppings like cheese and guac near the end.
Make your tacos & enjoy: Individuals can create their own tacos with their desired ingredients. We recommend enjoying these pulled chicken tacos with an easy margarita made in a Drinkworks Home Bar!
Notes
Nutritional info for the pulled chicken only; doesn't include other items on the taco bar.
Use a slotted spoon to scoop the finished pulled chicken into a bowl, draining excess liquid over the slow cooker before putting it in the bowl. Too much liquid with the chicken can make for messy tacos!
Our son is just warming up to spices so we went lightly on the jalapeños. Increase the quantity for more heat!
Nutritional information is for the pulled pork, doesn't include the tacos bar items as we assume you will mix and match based on what you like.
Keywords: pulled chicken tacos, tacos with chicken thighs, tacos with Margaritas
Recipe Card powered by
This is a sponsored post written by me on behalf of Drinkworks Home Bar by Keurig