Summer Spaghetti with Garlicky Shrimp packs plenty of seasonal flavor with basil and summer squash. Delicious with a crisp Italian wine such as a Vermentino.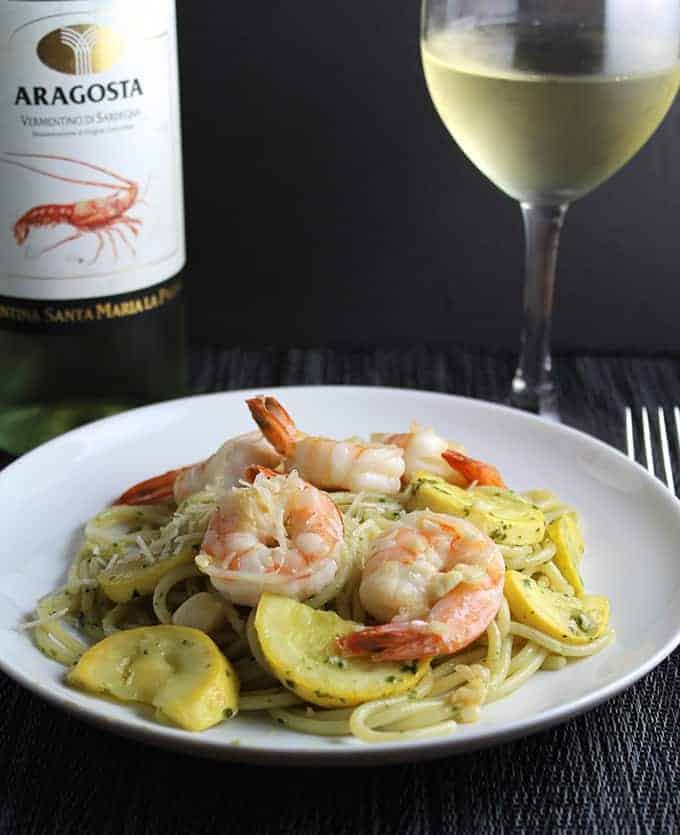 Today the Italian Food, Wine and Travel Group (#ItalianFWT) travels the the island of Sardinia. Focusing on a region surrounded by water, my mind immediately went to seafood for my dish. That direction was cemented when I saw the shellfish on the bottle of Vermentino I picked up for the event.
After thinking about the seafood based dish I would make, I read that much of traditional Sardinian cooking focused on land-based food, as the early people there stayed away from the coast for fear of invaders and pirates. More recently, as threats of pirates in the Mediterranean have subsided, Sardinians have embraced seafood in their cuisine. And one popular dish, Spaghetti con Bottarga, does involve spaghetti with a seafood item–in this case, dried mullet roe. So I wasn't too far off in what I served.
Our bottle of wine has a lobster on it (and takes its name from the Italian for lobster), but I was in the mood for some garlicky shrimp. I served that over a bed of summery spaghetti, with summer squash, basil and lemon giving it a nice, fresh flavor.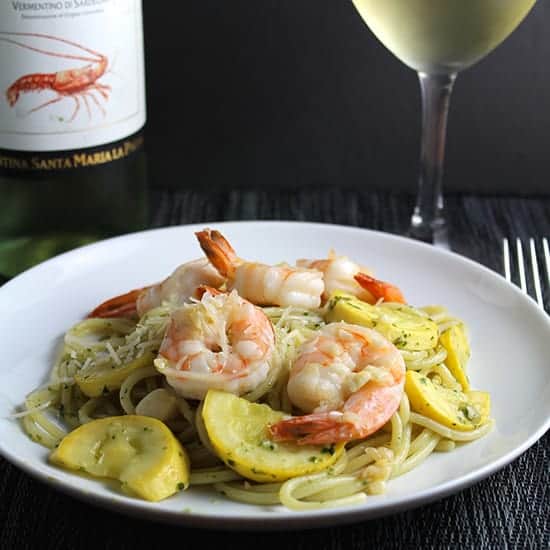 I used 2 tablespoons of pesto to give a nice flavor boost to our spaghetti. My recipe for classic basil pesto can found in the recipe card at the bottom of this post. If you don't use pesto, you might want to add a bit of extra basil and maybe another clove of garlic.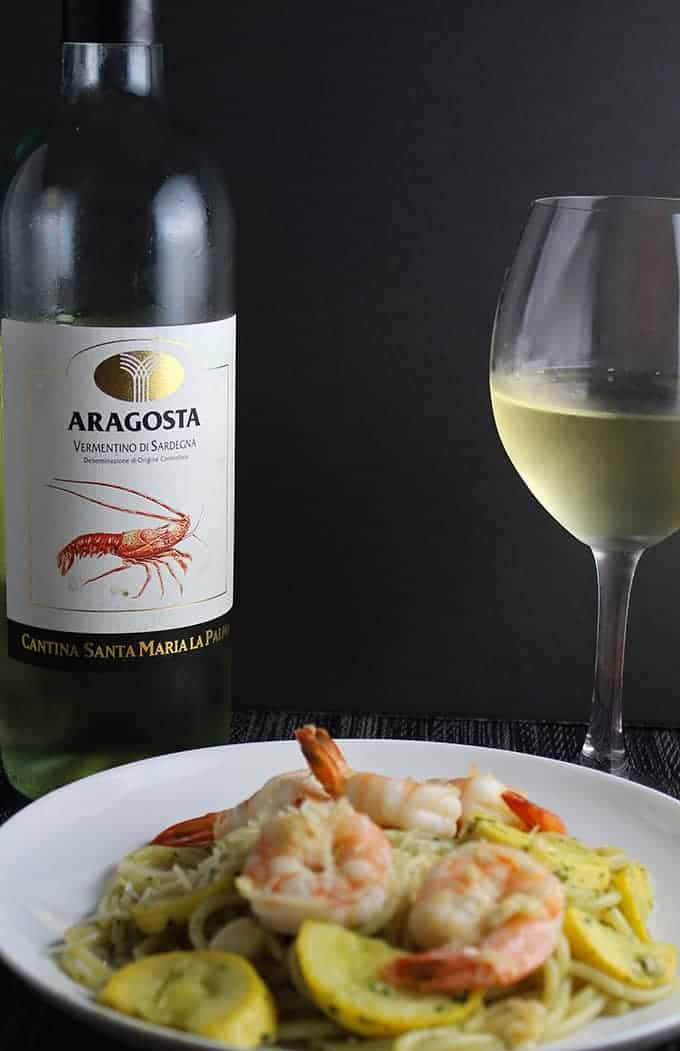 Wine Pairing: I had picked out our wine first, then developed the Summer Spaghetti Squash with Garlicky Shrimp recipe to go with it. The 2013 Aragosta Vermentino Di Sadegna ($13, 12.5 % alcohol) was the only wine from Sardinia in the shop, but I'd happily pick it out of a lineup with many other choices! This Vermentino tasted of the sea, with a touch of salinity to go with lemon fruit. The wine is crisp and refreshing, yet has enough body to accompany the shrimp nicely. The crispness was a nice match for the bite from the pesto and garlic. Overall, I declare this pairing a winner!
By the way, for the unfamiliar, Vermentino is a white Italian wine grape planted widely in Sardinia and also found in other parts of Italy. For more pairing ideas, visit our Wines for Seafood page.
Print
Recipe card
Summer Spaghetti with Garlicky Shrimp
Spaghetti prepared with fresh summer produced served with garlicky shrimp for a delicious summer meal.
Author: Cooking Chat
Prep Time:

10 mins

Cook Time:

15 mins

Total Time:

25 mins

Yield:

3

servings

1

x
Category:

Main

Method:

stove top

Cuisine:

Italian
12

ozs spaghetti

7

cloves of garlic, minced and divided in half

2

summer squash, sliced thin

8

basil leaves, julienned

¼ cup

white wine

2 tbsp

basil pesto (optional)

½

lb shrimp, rinsed, peeled and deveined

3 tbsp

extra virgin olive oil

⅓ cup

parmesan cheese

1 tbsp

fresh lemon juice
salt and pepper to taste
Instructions
Begin boiling water for spaghetti. Cook according to package instructions as you sauté the vegetables.
Heat 1 tablespoon olive oil in a skillet. Add half of the minced garlic to the skillet. Cook for a minute, then add the squash. Sauté for 3 minutes or so until the squash has begun to soften. Add the basil, salt and pepper to taste, and the fresh lemon juice. Put the heat on very low, and cover to keep warm while the pasta finishes cooking.
Drain the spaghetti and toss with the vegetables and a tablespoon of olive oil. Add the cheese, and optional pesto if using it, then stir to combine. Cover pan to keep warm as you cook the shrimp.
Heat the remaining table of olive oil in another skillet on medium high heat. Add the shrimp to the skillet, cook for two minutes, then stir in the remaining garlic. Cook the shrimp, stirring frequently to cook both sides. Cook the shrimp for about 4 to 5 minutes total until they are cooked through, with the flesh turning white and the tail red.
Plate a serving of the spaghetti, topped with a serving of the shrimp. Enjoy with a crisp Italian wine.
Keywords: garlic shrimp, summer spaghetti, pasta and shrimp
Recipe Card powered by
Wait……there's more! My fellow bloggers have lots more to share with you so check out their blogs below. If you're reading this in time also you can join us live on Twitter at 11am EST at #ItalianFWT and tell us all about your experiences with the island of Sardegna or come and learn something new about this region.
Vino Travels – The Native Grapes of Sardinia with Argiolas Cannonau
Italophia – How I was "Swept Away" in Sardinia
Enofylz – Sardinia Style Seafood Paella and Cantina di Gallura Canayli Vermentino #ItalianFWT
Vino in Love – Exploring Sardinian Wine
Rockin Red Blog – Mountainous Food & Wine of Sardegna
Confessions of a Culinary Diva – The Food & Wine of Sardegna
Cooking Chat – Summer Spaghetti with Garlicky Shrimp and a Vermentino
Food Wine Click – What Wines Goes with Octopus? A Sardinian Investigation
Culinary Adventures with Camilla – Grano Saraceno Risotto con Funghi e Miele
Thanks for joining us today! Next month September 5th we feature the region of Abruzzo. Let me know if you'd like to join our group. Ciao ciao for now!