We recently enjoyed lunch at Strega Prime Italian Steakhouse in Woburn, Massachusetts. This article covers the food I ordered along with notes about wine pairings and food allergy considerations — two items top of mind when our family is visiting a restaurant!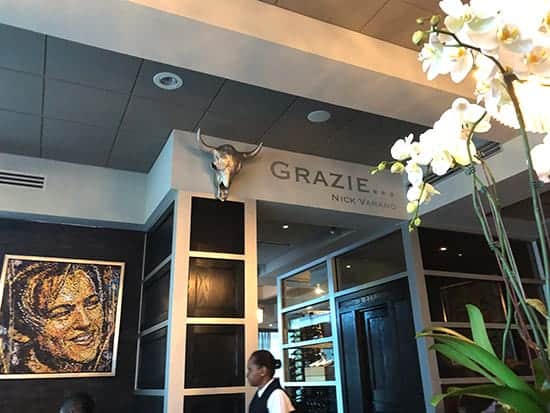 For Father's Day, Jodi and B had a surprise planned for me! After passing by several restaurants we frequent with some regularity, we pulled up to have lunch at Strega Prime Italian Steakhouse in Woburn. I hadn't had a meal there before, just appetizers and wine a couple of times in the bar area. So it was a fun treat to try it!
Strega Prime is part of a small group of Italian style restaurants in the Boston area, owned by the Varano Group. The original Strega Ristorante, founded in 2003, is located in Boston's North End. Strega Waterfront has a prime location in the Seaport area of Boston.
The dining room decor features dark wood and grays, giving the restaurant an ambience that leans toward formality while still being comfortable. Enough natural light comes in at lunch time to brighten the room–and the food pictures!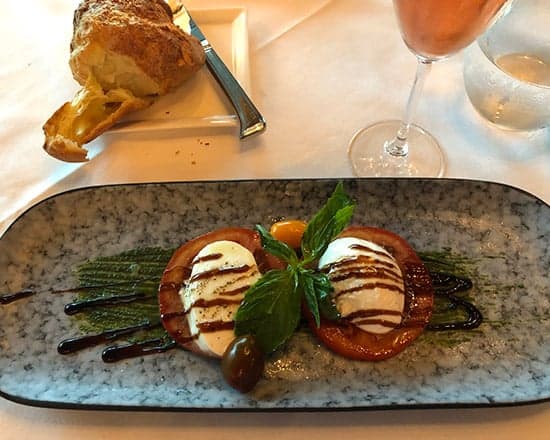 I quickly selected a Caprese salad to share with Jodi for starters. Caprese is wonderful when tomatoes are fresh; I was pleasantly surprised that the hothouse grown tomatoes were quite flavorful. This made for a great start to the meal!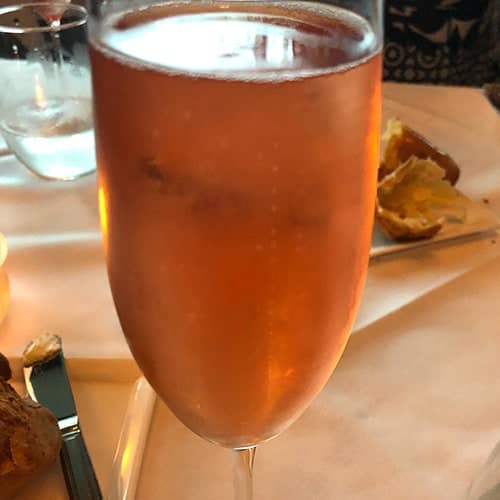 The Caprese salad was even better with the wine pairing I picked–a glass of sparkling Rosé Ruffino from Veneto, Italy. A tasty wine on its own, the bubbles refreshed the palate nicely. Poking around on the web, I gather the wine is made from Glera grapes (featured in Prosecco) along with a bit of Pinot Noir that presumably gives it the color. The Pinot also helps it work with the tomatoes.
Wine Pairings with Lunch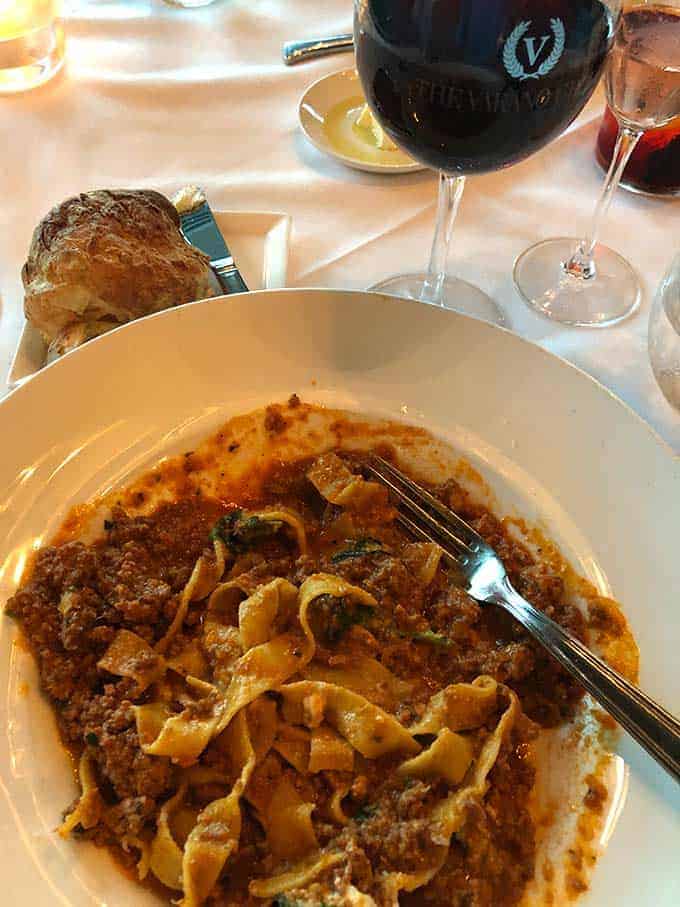 For my main, I opted for the Bolognese pasta made with veal and Waygu beef. As you might expect from the description, this dish was hearty and delicious!
I was a bit less enthused about my wine selection for the main course. I first sampled a Valpolicella Ripasso, to see if a relatively moderately would be suitable. But I wasn't to excited about that option, so being Father's Day I figured I'd splurge on a glass of Barolo.
Wine by the glass is always a tricky proposition. It's hard to judge whether what you are perceiving about the wine has to do with the quality of the wine itself, or how long and under what conditions it has been stored.
That said, the Barolo I had was certainly pleasant to sip along with my pasta dish, but at $24 a glass I'd like something better than OK! I definitely didn't pick up any of the distinctive earthy qualities of a good Barolo. Fruit forward and fine to drink but I would suggest trying another red by the glass or looking at the bottles. I'm wondering if it had been opened for an extended period, resulting in a softening out of the tannic structure.
My quibbles about the Barolo didn't diminish from the overall enjoyment of a very well-prepared meal. I look forward to another visit, and will probably plan to select a bottle of wine next time.
Food allergy friendly options
Our son is allergic to egg, nuts, sesame and dairy, so that is always a consideration when dining at a restaurant.
Brendan quickly latched onto the steak section of the menu–hey, why not, it is a steakhouse, right?!?
B had the 14 ounce sirloin, and they were easily able to prepare it for him without the truffle butter listed on the menu. He definitely enjoyed his steak!
The options for food allergy friendly sides were a bit more limited at Strega Prime. They couldn't prepare fries that would work for B. They did offer a dairy free risotto, but he wasn't keen on that. So he simply got the heart of romaine salad, without any dressing as he typically does. One of these days he will have to try some allergy safe dressing, but I guess his plain salads are healthier!
I would say Strega Prime did a satisfactory job managing the food allergy concerns; although I wouldn't put them in the category of a place that really places a significant emphasis on the topic.
Dessert Options
Many restaurants don't have any allergy friendly options that Brendan can have. So it was nice that there was a sorbet available he could ordered, topped with maraschino cherries to enhance the presentation. Restaurant folks reading this — sorbet is a good option to have on your menu for people with dairy and egg allergies — ingredients that seem to be in the majority of desserts.
I was pretty full after eating the pasta Bolognese. So I finished things off with a glass of grappa — I'd forgotten how potent that could be! Fortunately I had a leisurely Father's Day afternoon stretching ahead of me.