Analyzing our strategies and results for the past year provides some insight into factors that can drive food blog growth. Based on our experience, we share some tips for planning for your food blog's success.
We cover our process for analyzing and updating blogs posts, as well as resources to help with the technical side of things. This article is geared toward established food blogs, but the insights could prove useful to new bloggers as well.
This article was originally written in January of 2021. We have circled back a year later with a few updates on how our traffic has continued to grow, utilizing the methods described.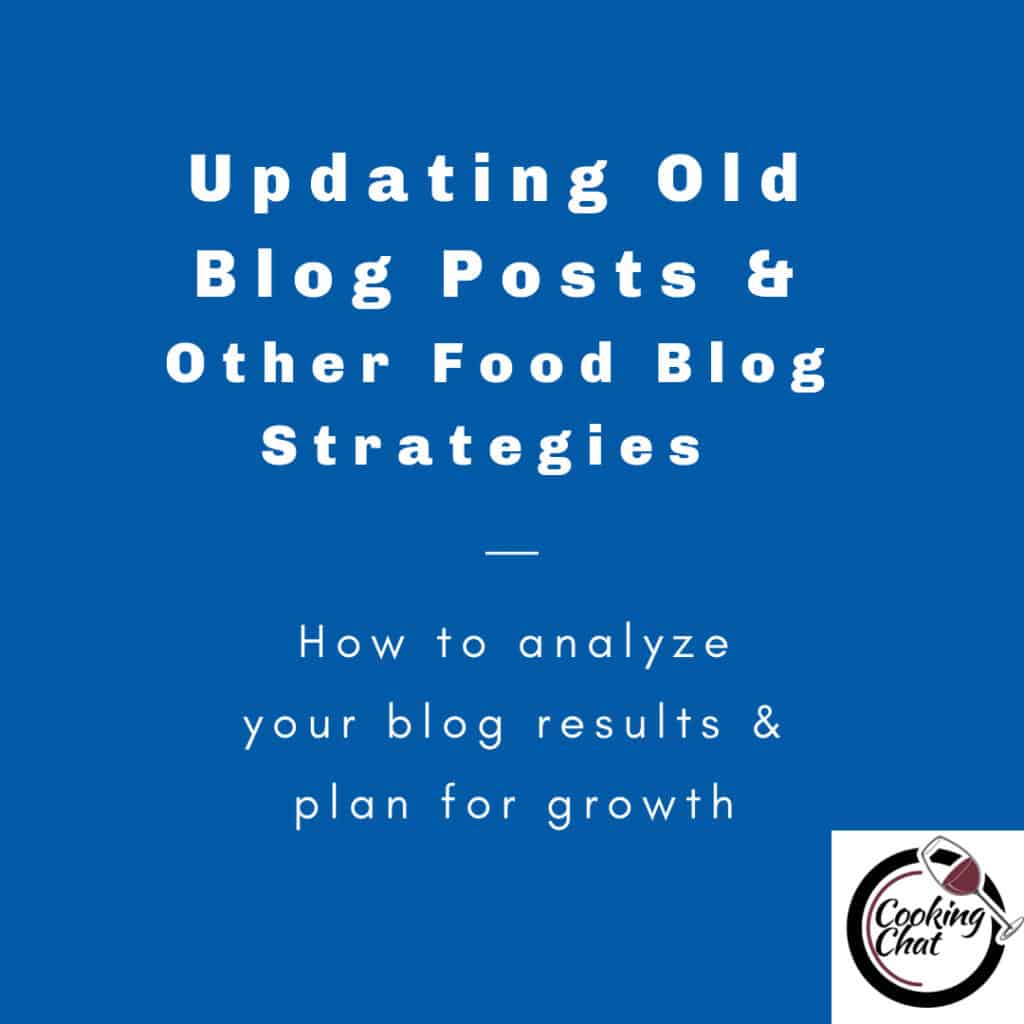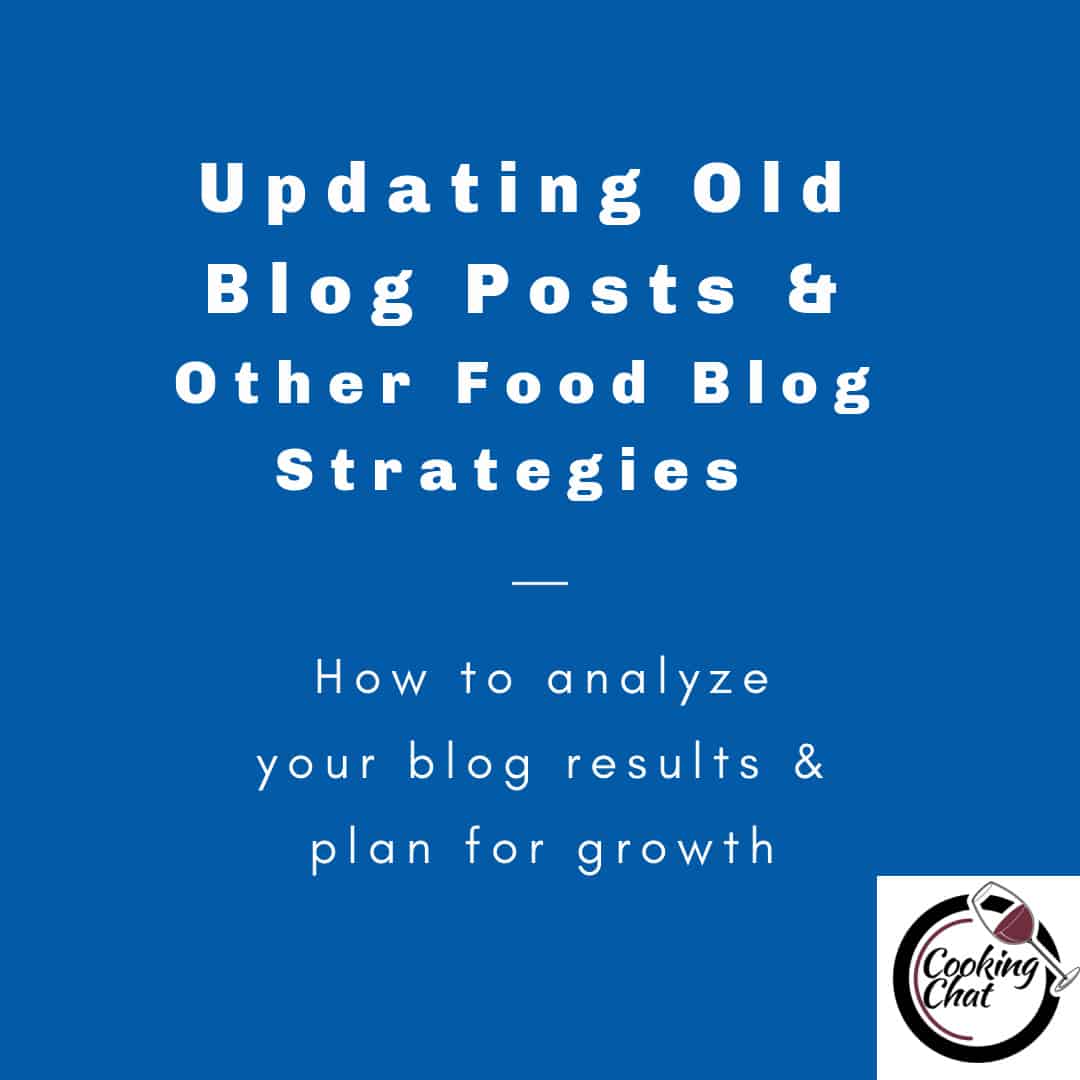 It goes without saying that 2020 was a tough year in so many ways. But one of the upsides has been a lot of people are cooking more, which means a lot of us have seen food blog growth over the past year. In fact, my page views were up 87% in 2020 compared to 2019!
Update: page views in 2021 were up 50% over 2020, so the growth has continued!
Clearly some of the growth I've seen this year is a result of the general interest in cooking.
But as you can see in the Google analytics graph, my traffic difference for 2020 vs. 2019 actually increased during the summer months, as people were generally starting to get out and about more. So I think it is fair to say some of my strategies and investments were an important part of the story.
Background on Cooking Chat
I've been blogging here at Cooking Chat for over 10 years, but I would describe the past five or so years as "serious" blogging. By that I mean rather than blogging purely as a hobby, I was seeking to create a professional blog that generates an income stream for our family.
Getting serious about blogging for me meant:
While getting more serious about my blog, I continue my "day job" with the nonprofit organization I founded, Social Capital Inc. So I can definitely relate to others trying to grow a food blog while working another demanding full-time job!
Blogging as a 2nd job means I'm particularly interested in figuring out how to use my time efficiently. It also means that while I try to learn what I can about the important technical aspects of blogging, I'm on the lookout for ways to get help with tech side of things to be able to focus on the aspects of blogging I find most enjoyable — namely, creating tasty recipes with good wine pairings!
Cooking Chat Growth
Let's do a quick recap of Cooking Chat's growth over the course of 2020:
Traffic was up 87% in term of page views (getting over 40,000 views per month recently).
Income growth was substantial! I got accepted to Mediavine early in 2020. That combined with the traffic growth had me seeing my first $1,000+ month for ad revenue in November, and increased in December.
2021 update: The total traffic for 2021 was up 50% from 2020, and January 2022 will be over 80,000 views. We also had our first $2,000+ ad revenue month in December 2021.
I could get into more detail on the growth numbers, but traffic and income are the key for a serious food blogger, right? I want to focus on some of the investments and processes that underly the growth.
Invest in technology
As 2019 progressed, I realized that several key tech items were holding back the growth of our food blog. Various comments on the Food Blogger Pro member site, and listening to the Food Blogger Pro Podcast regularly, helped me hone in on things I needed to get done.
Improving my site speed was a big priority. Listening to a Food Blogger Pro Podcast with Andrew Wilder from NerdPress gave me some initial ideas of things to do, such as managing image sizes.
Signing up for NerdPress
I could quickly implement Andrew's tips on things like image sizes, but talk of efficient caching and finer points of speed optimization quickly had me curious to learn more about the NerdPress WordPress support plans.
With a goal of getting my traffic up to where I could join Mediavine and the increased revenue I could realize on that ad platform, I decided it would be worth the investment to sign up for a NerdPress plan as fall 2019 approached. I went for the "Sleep Soundly" plan with the addition of having them handle my updates.
In conjunction with signing up for NerdPress, I switched my hosting to BigScoots, a company I heard about through NerdPress. The combination of support from NerdPress and the improved hosting plan definitely helped with my site speed and performance.
When considering how I might reinvest some of my increased blog revenue in the continued growth of Cooking Chat, I decided to upgrade to the NerdPress "Sleep Soundly" plan. I like being able to have up to five "quick support" requests per month with this plan, in addition to other services they now provide for me.
A big reason I put some of my revenue back into the tech side of the blog is the announcement that "Core Web Vitals" will be something that Google will be considering as a search ranking factor. This TopHatRank webinar on the topic provides a good overview of this issue — and it convinced me that this would be a good time to have someone in my corner that understands this stuff!
Theme update
I've been using the Foodie Pro Theme for quite a few years, but was overdue for a theme update — basically involved a complete re-installation of the theme, which I did aided by the Feast Plugin. I did this over the summer of 2020, and I suspect that it's no coincidence that I saw a significant traffic increase during that period of time.
RankIQ
RankIQ is a new tool I added in 2021 to help identify low competition keywords for which you have good chance to rank on page one of Google soon after publishing the post.
Most of my posts generating significant traffic are older posts, many of which I've updated using the methods described in this article. The only 2 posts published in 2021 in my top 10 for the year were identified using RankIQ. Several other new posts planned with the tool are also ranking on page one in search. (RankIQ affiliate links provided)
Updating old blog posts
Early in my blogging days, there was a lot of emphasis on creating a regular stream of new content. Over the past year or so, I've been putting greater emphasis on updating old content.
The focus on updating old content comes from keeping up with blogging trends through resources such as the Food Blogger Pro Podcast. A few key reasons for emphasizing updates to existing content:
Quality content: Ultimately, the goal is to serve up high quality content to readers. Improving an existing recipe post by adding a video, new photos or some additional tips is a way to efficiently leverage the work you have already done.
Getting to page 1: Moving a post from page 2 on Google search rankings to page 1, or going from low on page 1 to a top 2 or 3 placement, can make a huge difference in traffic. As I'll explain below, one post that I managed to boost to page 1 in 2020 went from under 500 clicks in 2019, to being my top traffic producer in 2020.
In addition to finding posts worth working on improving, pruning old posts that are generating little traffic can be helpful, too. As I've heard Casey Markee from MediaWyse explain on Food Blogger Pro, content on your site that isn't getting traffic just makes it harder for Google to find your good stuff.
Process for finding posts to update
As we start the new year, I'm once again going through the process of finding recipe posts to update in 2021. I go to Google Search Console, and click on "search results" under "performance". I set it for 12 months worth of data.
1) Go to Google Search Console, and click on "search results" under "performance". I set it for 12 months worth of data. (check out this article on Yoast if you need some basics on how to use Google Search Console).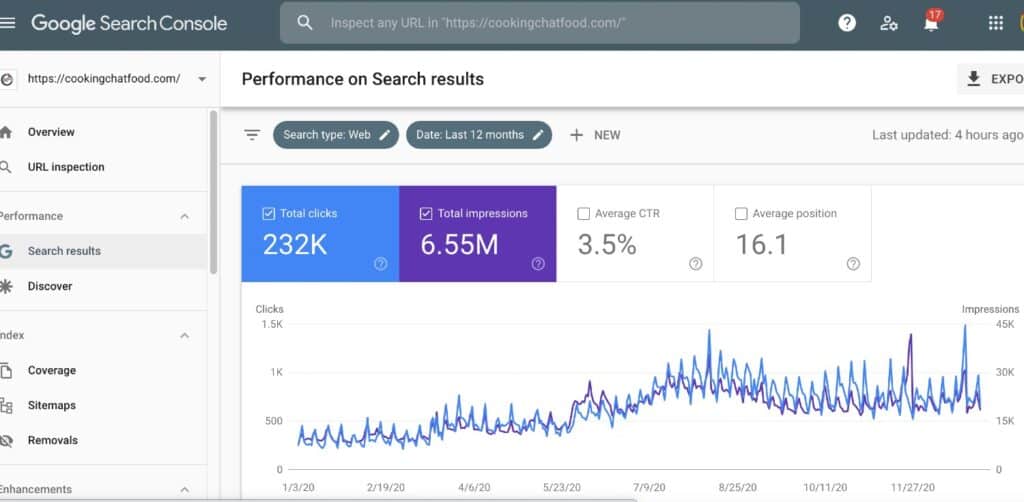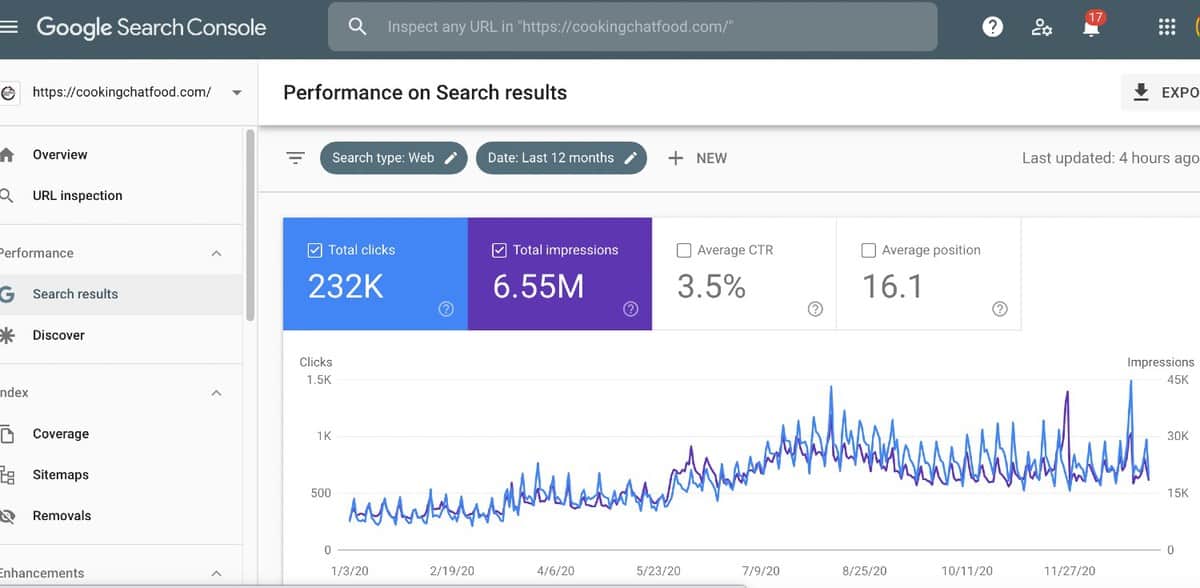 2) Export the file to work with and reference over time. I like to work with it in Google sheets, but you can download it to Excel, too.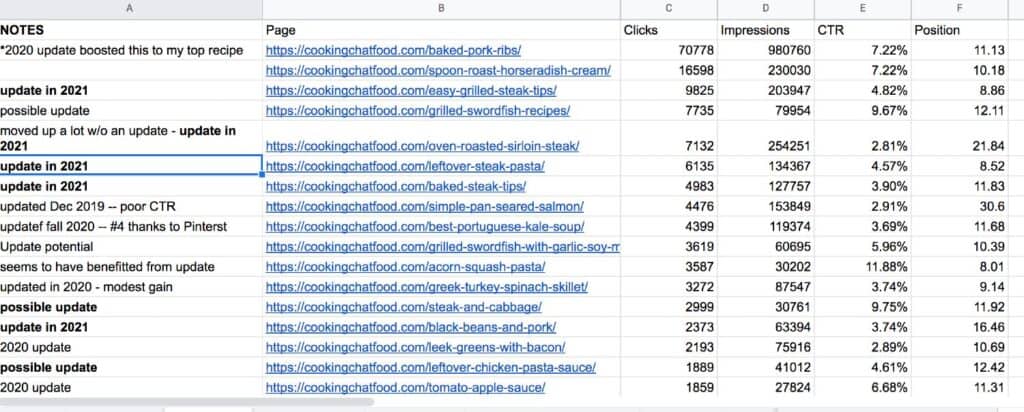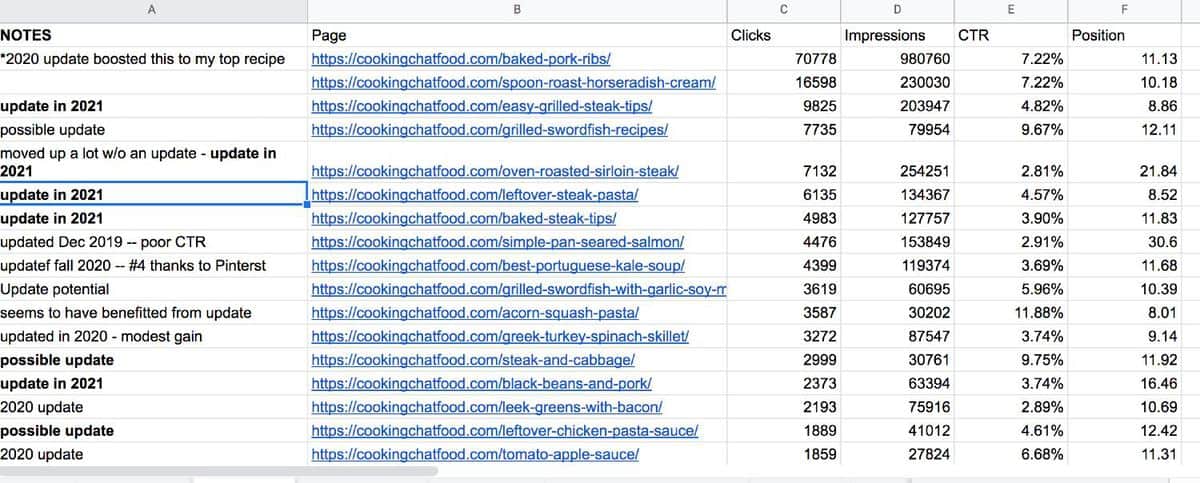 The report when exported to sheets has several tabs. I use the second tab, "pages", the most. The "notes" column on the far left is one that I add, to make notes about plans I have for a particular post.
Things I am looking in choosing posts to prioritize for blog post updates:
Ranking on page 2, or low on page 1 in search results. Basically posts that are somewhere between 7 and 20 in the "position" column. For instance, coming in at 11 for 2019, Portuguese Kale Soup was one of the first I picked to update. It also is my top performer on Pinterest, reinforcing my feeling it could perform better in search. Note that the "performance" number is an average of where you are ranking for various search terms. You can get more granular on how you are doing on various terms via the queries tab.
CTR, which stands for "click through ratio", lets you know what percent of people that see your link in search results click on through to your post. A relatively low CTR can be a sign the post could be a good candidate for updating, especially if the impressions and/or search volume is high. The low CTR (2.92%) for my baked pork ribs recipe in my 2019 stats, along with good search volume prompted me to update it, and this ribs recipe wound up generating the most traffic in 2020. As you can see above, the CTR for 2020 was 7.22%. It is actually on page 1 of Google for quite a few search terms.
Search volume: The Search Console report gives you a figure for "impressions", which is how many times your page appeared in results. I add a column for monthly search volume, which I manually add to as I assess the potential of a post.
How to update a food blog post
This could be a post of its own, but for now I will mention a few highlights of things I tend to do when updating one of my old posts. The overall idea is, what can you do to improve the quality of the post for readers?
Before I get into the details of the process, I should mention that I have recently started using the Yoast Duplicate Post plugin, which allows you to update content in draft form, then make that new version go live at the original url. This works nicely for me when I'm doing a major overhaul of a post.
Clariti is a new tool that I started using in 2021 that comes in handy for tracking projects like updating old blog posts. OK, on with our steps for updating an old blog post!
Check out the competition: Check out the posts that rank ahead of yours for the keyword you are targeting. Pay close attention to blogs that might be relatively comparable to yours, as a opposed to a big site that has much more authority (i.e. it's going to be hard for a blogger like me to rank ahead of a big site like the Food Network). Of course, you don't want to copy what the competition does, but see if they are covering things you don't. Or perhaps get inspiration from the photos.
See what people are searching for can help you identify aspects of the post you might want to elaborate on to better respond to what people want to learn. Go to the "pages" tab in search console and click the post your are focusing on.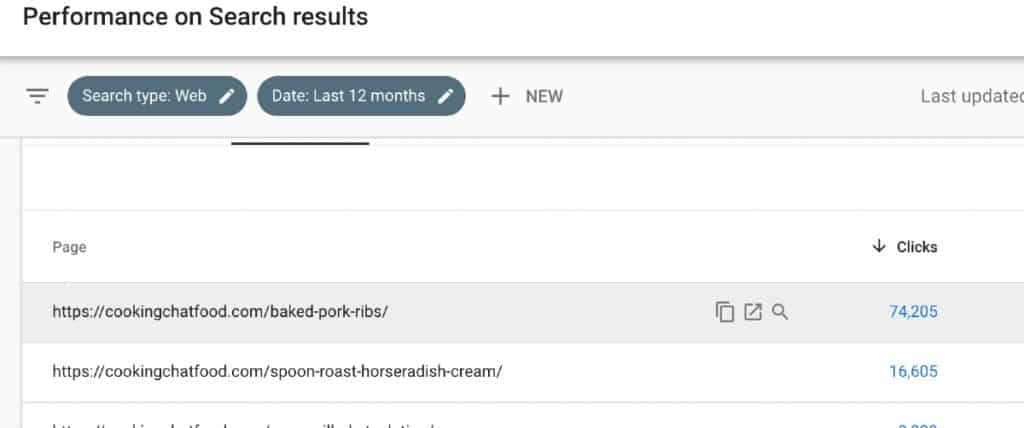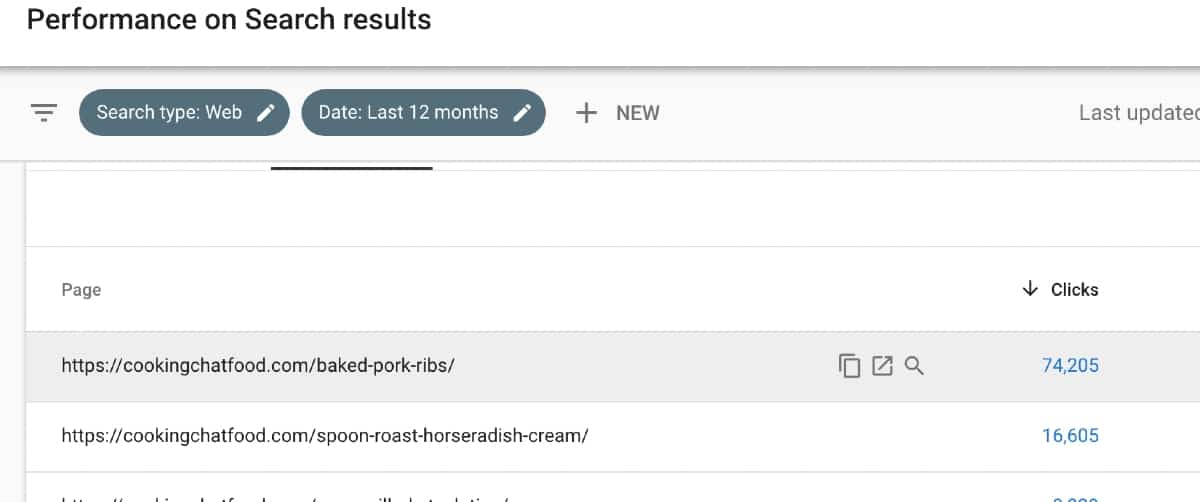 After you click that page, you will get a "pages" view that shows just the url of interest.


Click the "queries" tab and you will get a list of search terms people are using that lead them to see your post.


Looking at the list of search queries that people have used to related to your post, you will probably find some questions that you haven't fully covered. Addressing these questions is a great way to add value to your article!
Remake the recipe. Cooking the recipe again, I often find little tweaks I can make to improve the instructions. Or sometimes I test out an alternative ingredient, and if it works I can mention it as a substitute. And much to my dismay, I sometimes catch a typo, missing word or other such grammatical error to clean up. I don't know if it helps with search rankings but I feel better cleaning up that stuff!
New photos & video: For recipes I made several years ago, I typically can improve the main photos in the article with a new round. With some articles, I'm fairly pleased with the main photos, but will focus more on process (step by step) shots. I also often will use these to create a video. Any way you can add video to the site is helpful.
Make sure recipe card is complete: Using a good recipe card tool makes it easy to make sure you have all the info you need to make Google happy. I have used Tasty Recipes from WP Tasty for several years, and that has worked well for me. When updating a recipe, I make sure I have nutritional information (I use Nutrifox for that) cooking times, etc.
Check for any other technical improvements: My older posts can be a little heavy on keyword use, if I wrote them before I understood the importance of avoiding keyword stuffing.
For more information: Brandon Gaille has an article on The Blogging Millionaire which has additional detail on how to update old blog posts.
Conclusion
"It's not enough to be busy, so are the ants. The question is, what are you busy about"

Henry David Thoreau
A successful blog takes a lot of hard work! And there is always more we could be doing.
It is well worth it to take the time to do some analysis of your blog, and identifying posts that have the potential to be improved and generate more traffic.
Blog planning for the year should also include considering ways to improve the technical underpinnings of your blog. I have found investments in resources like Food Blogger Pro and NerdPress to generate a return that definitely justifies the cost. In addition, these services let me focus on the parts of blogging I enjoy the most!