Ground Pork Stir Fry with Collard Greens gets bright, lively flavor from a tasty miso ginger sauce. Excellent with a glass of Semillon from L'Ecole No. 41 or a Côtes Du Rhône Viogner. Disclosure: The wines suggested here as pairings were received as complimentary samples.
Pork and collard greens are certainly not strangers. But the typical combination in Southern cooking would be cooking collard greens with ham hocks, or in my case, bacon.
I don't tend to get ground pork too often. If anything, I might get it to add along with some beef to a Bolognese sauce. But one month, I had a couple packets of ground pork from our Walden Local Meat Share, so I was read to get creative.
Earlier in the year, I had good luck putting together a miso based sauce for this Turkey Cabbage Skillet (paired with a Pouilly Fumé, wine pairing friends). So I decided to use a similar sauce for this Ground Pork Stir Fry, and cook it along with some healthy collard greens. The results were delicious!
Jump to:
How to cook ground pork for stir fry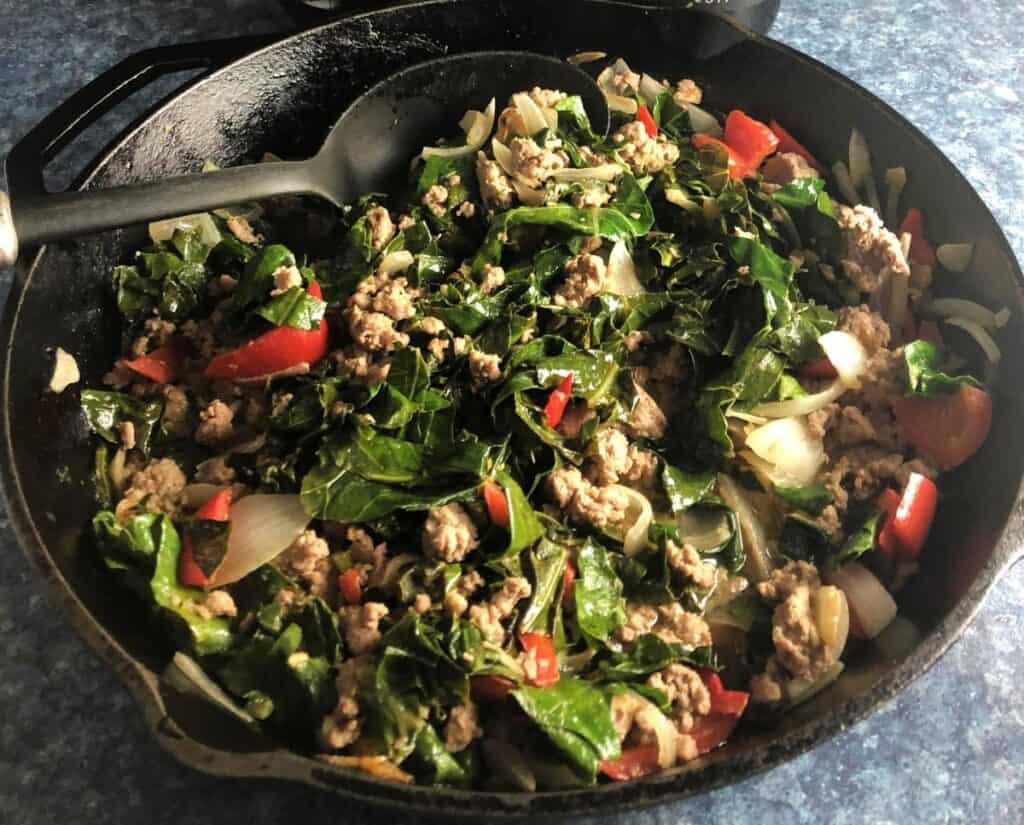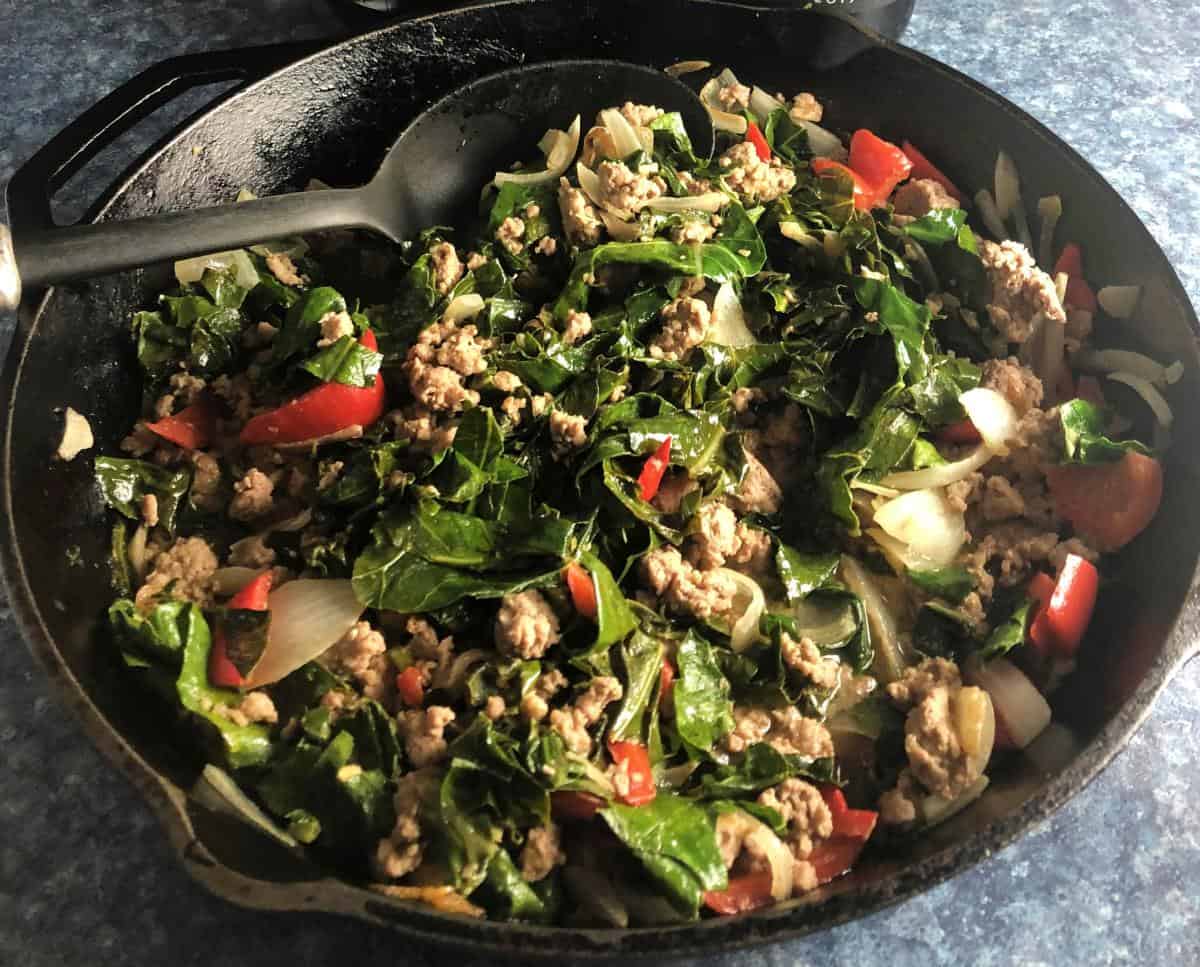 Here are a few tips for cooking this ground pork stir fry. Head on down to the recipe card for all the details:
Make the sauce first and set it aside. This is the way to go with any stir fry, as things go quickly once you start cooking!
Have veggies chopped before you start cooking. See above about things going fast!
Get onions and peppers cooking before adding the ground pork.
Stir fry the pork frequently for about 3 minutes, until it starts turning white on the outside.
Add collard greens after the pork has been stir fried for 3 minutes. Then you add the sauce, and finish the dish by simmering it, covered, for 5 to 7 minutes.
Note that simmering the ground pork, covered, at the end of the cooking is not a typical stir fry method. But in this recipe, it is a good way to make sure the pork gets cooked through. It also helps all the flavors of the sauce and pork meld together nicely.
Variations
We have made this ground pork stir fry a few times since we initially published it. You can definitely mix up the vegetables based on what you have on hand!
One successful variation had us using cabbage instead of collard greens, and also added some summer squash. That was a tasty combination, and good way to use our seasonal vegetables!
In addition to using basic green cabbage as suggested above, we have also swapped Napa cabbage in for the collard greens. That worked well.
Pairing from L'Ecole No. 41
Today's recipe and pairing is my contribution for the first Wine Pairing Weekend event of 2021, Saké & Other Pairings for Asian Foods. Thanks to Camilla for hosting!
Today's pairing was my chance at some redemption.
The good folks at the Washington winery, L'Ecole No. 41, sent me a sample for #MerlotMe month in October. I thought, hmm, pork and Merlot tend to work, and opened their bottle to go with my first edition of this ground pork stir fry.
I liked the L'Ecole Merlot, it just wasn't a great match for the Asian flavors of the dish – miso, soy and ginger. I realized this needed a white wine, and mused it might work with another L'Ecole wine I've tried, their Semillon.
A winning pairing with Semillon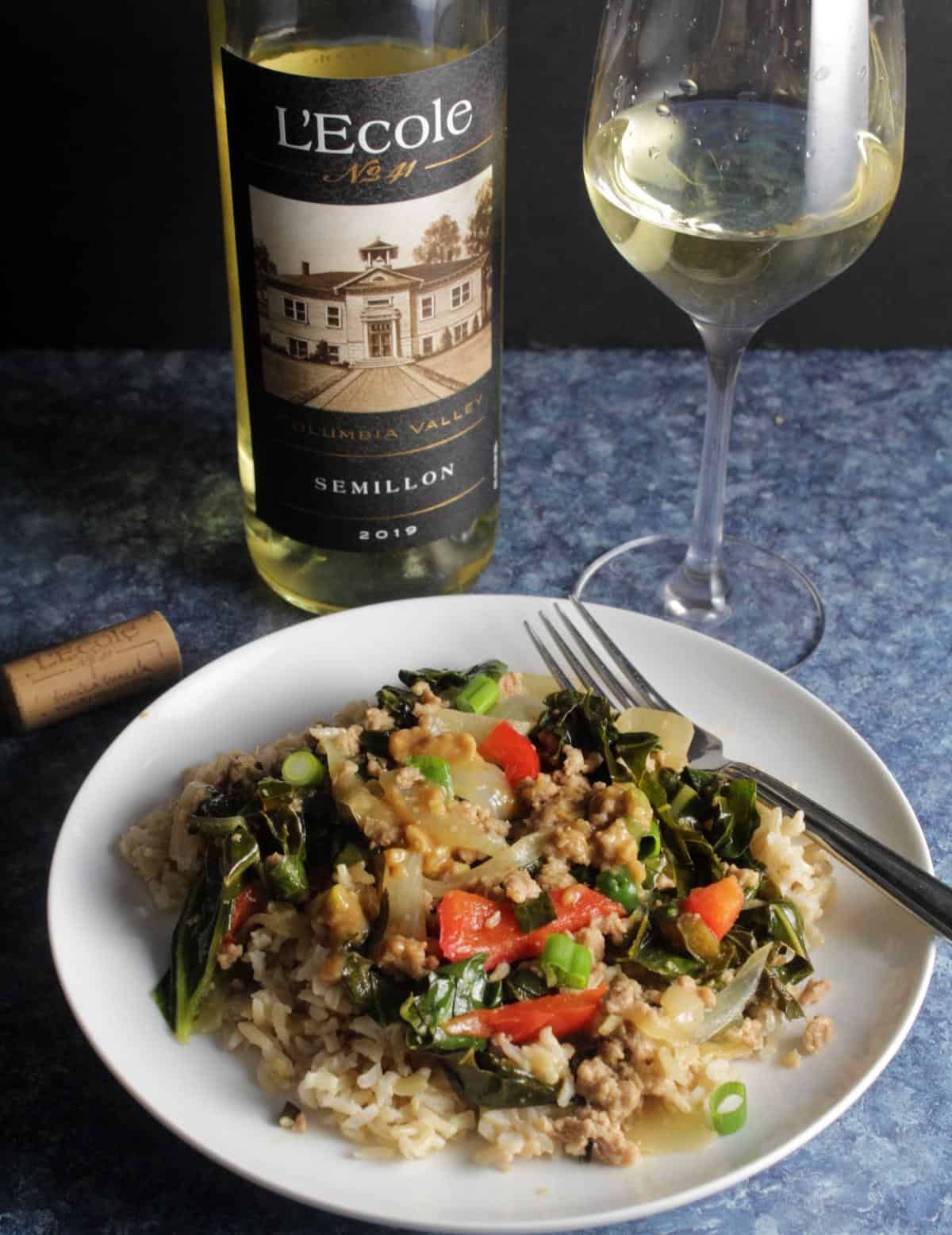 As luck would have it, after #MerlotMe month, the L'Ecole team sent some additional samples. They invited a number of us to join some of their team, including winemaker Marcus Rafanelli, for a virtual tasting and chat. And one of the bottles they sent was the Semillon. A perfect chance to pair it with our ground pork stir fry!
Semillon is used in White Bordeaux blends, and is actually the third most planted white grape in France, according to Wine Folly.
Semillon is a full bodied white wine that can also be very good on its own, and I've always been a fan of the version from L'Ecole.
We had the 2019 Columbia Valley Semillon ($15, 13.5% ABV) from L'Ecole No. 41 to serve with the pork stir fry. With honeysuckle on the nose, I got white pear fruit with a hint of lime on the palate. Also some notes of vanilla and hazelnut. The winery tasting notes also mention lemongrass, another hint that the wine could be a good match for Asian cuisine!
The L'Ecole Semillon is full-bodied, so that it is a better match for the ground pork than some other whites I might typically choose for Asian food. The wine also has a lot of nuanced flavors that pick the vibrant ginger and miso flavors of the sauce. An excellent pairing!
The 2019 L'Ecole Semillon is comprised of 88% Semillon and 12% Sauvignon Blanc from the Columbia Valley. I hadn't bought this wine in awhile, and had forgotten what a great value it is for the quality and complexity – just $15 on the winery website!
A Rhône Pairing
After first pairing this stir fry with a Semillon from Washington state, we recently tried a version of this dish with a Côtes Du Rhône Viogner. Another great option!
The 2020 Chateau Beauchene Viognier ($18, 13.5% ABV) has notes of lemon peel on the nose. On the palate, I get Meyer Lemon, honey and peach fruit. Also a bit of caramel, perhaps from the 6 months of oak aging it sees. There is also some underlying minerality.
We were very pleased with how the Viogner pairs with the pork stir fry! The tasting sheet also suggests goat cheese, shellfish, or white fish with lemon or butter sauce.
For more pairings like this one, check out the Côtes Du Rhône pairings that we served up with our Grilled Sirloin Steak recipe.
Print
Recipe card
Ground Pork Stir Fry with Collard Greens
Ground Pork Stir Fry with Collard Greens gets bright, lively flavor from a tasty miso ginger sauce. Excellent with a glass of Semillon from L'Ecole No. 41.
Author: Cooking Chat
Prep Time:

10 mins

Cook Time:

15 mins

Total Time:

25 mins

Yield:

5

servings

1

x
Category:

main

Method:

stir-fry

Cuisine:

Asian
For the stir fry sauce
2 ½ tbsp

 miso paste

1 tbsp

 low-sodium soy sauce

2 tbsp

 water

1 tbsp

 maple syrup

1 tbsp

 light vinegar such as rice or champagne

1 tbsp

 minced ginger
juice from 

¼

 of a lime
dash of gochujang sriracha sauce (optional)

½ tsp

 or more to taste minced jalapeño pepper
Other ingredients
1 tbsp

canola oil

1

onion, chopped

1

red bell pepper, chopped

1

lb ground pork

4 cups

collard greens, stems removed and leaves thinly sliced

1

scallion, chopped
cooked rice, for serving
Instructions
Make the sauce:

 Whisk together the miso paste, water and soy sauce. Add the remaining sauce ingredients — syrup, vinegar, ginger, jalapeño, lime juice, and optional gochujang sriracha– and whisk to combine. Set aside.

Start the stir fry: Heat the oil in a wok or large skillet on medium high heat. Add the onion, stir to combine with the oil. Cook about 3 minutes until it begins to soften. Add the bell pepper, and stir fry for another couple of minutes.
Add the pork to the pan, breaking up with a heavy spoon, and stir to combine with the onions and peppers. Stir frequently for 3 to 5 minutes, until the pork begins turning white on the outside.
Stir in the collard greens to the skillet or wok. Add the collards in two batches if needed so that they will fit into the pan.
Add sauce: Stir in most of the sauce, to combine it with the pork and collard greens. Reserve about a tablespoon to add after cooking (make sure this doesn't touch the meat which hasn't fully cooked yet). Add the scallions. Stir to combine. 
Finish cooking: After stirring in the sauce, reduce heat to medium low. Cover the skillet or walk, and simmer for 5 to 7 minutes. The pork should be fully cooked through, and the greens tender.
Serve the pork and collard green stir fry over rice. Enjoy with a good glass of Semillon or other white wine that pairs with Asian cuisine.
Notes
You can vary the vegetables if you like. We have used cabbage instead of the collard greens. You could also swap the collards for other greens, too. 
Keywords: ground pork recipes, ground pork stir fry, pork with collard greens, wine pairings for Asian food
Recipe Card powered by
Wine pairings for Asian food
Check out some more great wine pairings for Asian food from the Wine Pairing Weekend crew!