This easy and richly flavored white bean stew with chorizo sausage gets its inspiration from La Rioja region of Spain. Beans simmer with sausage, onions, swiss chard and garlic, plus some paprika and saffron. Finished with olives, roasted pepper and Manchego cheese. Delicious paired with a Rioja red wine. Our contribution for today's #WorldWineTravel event.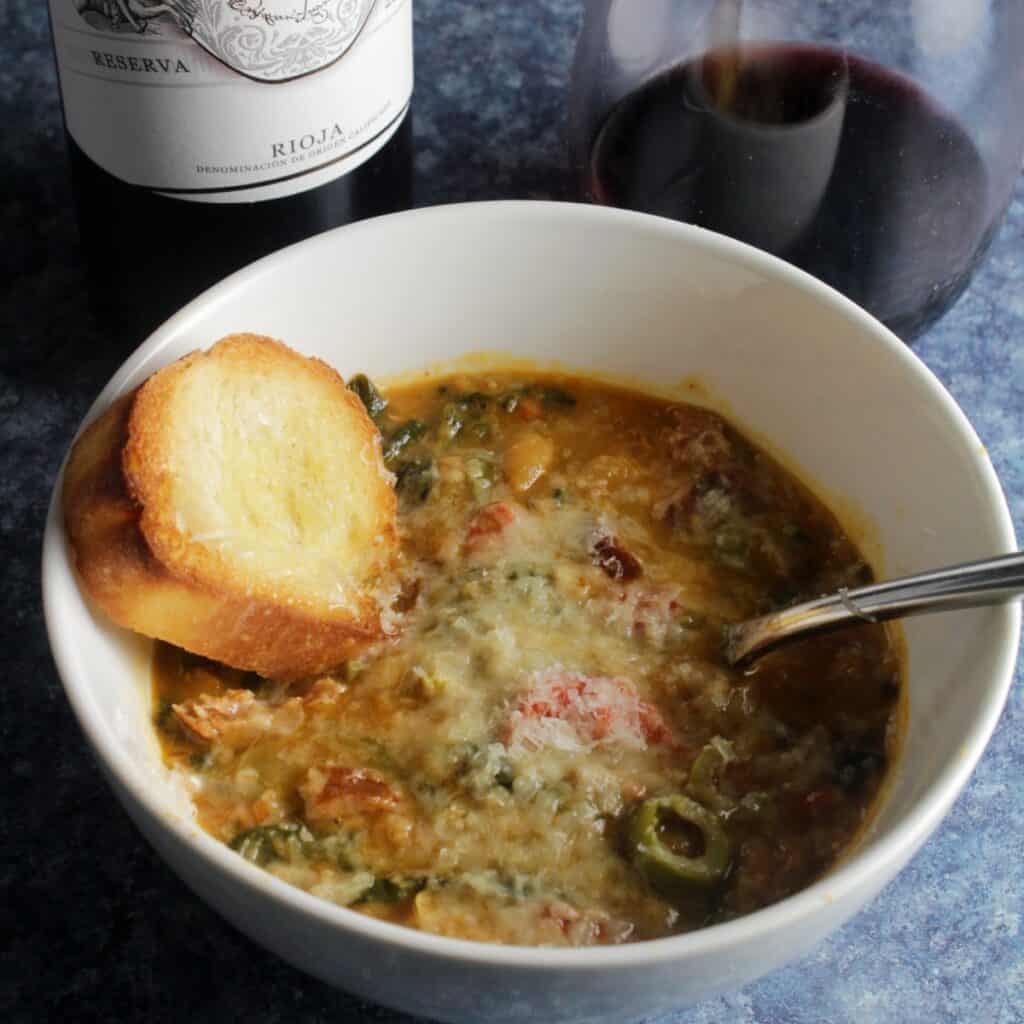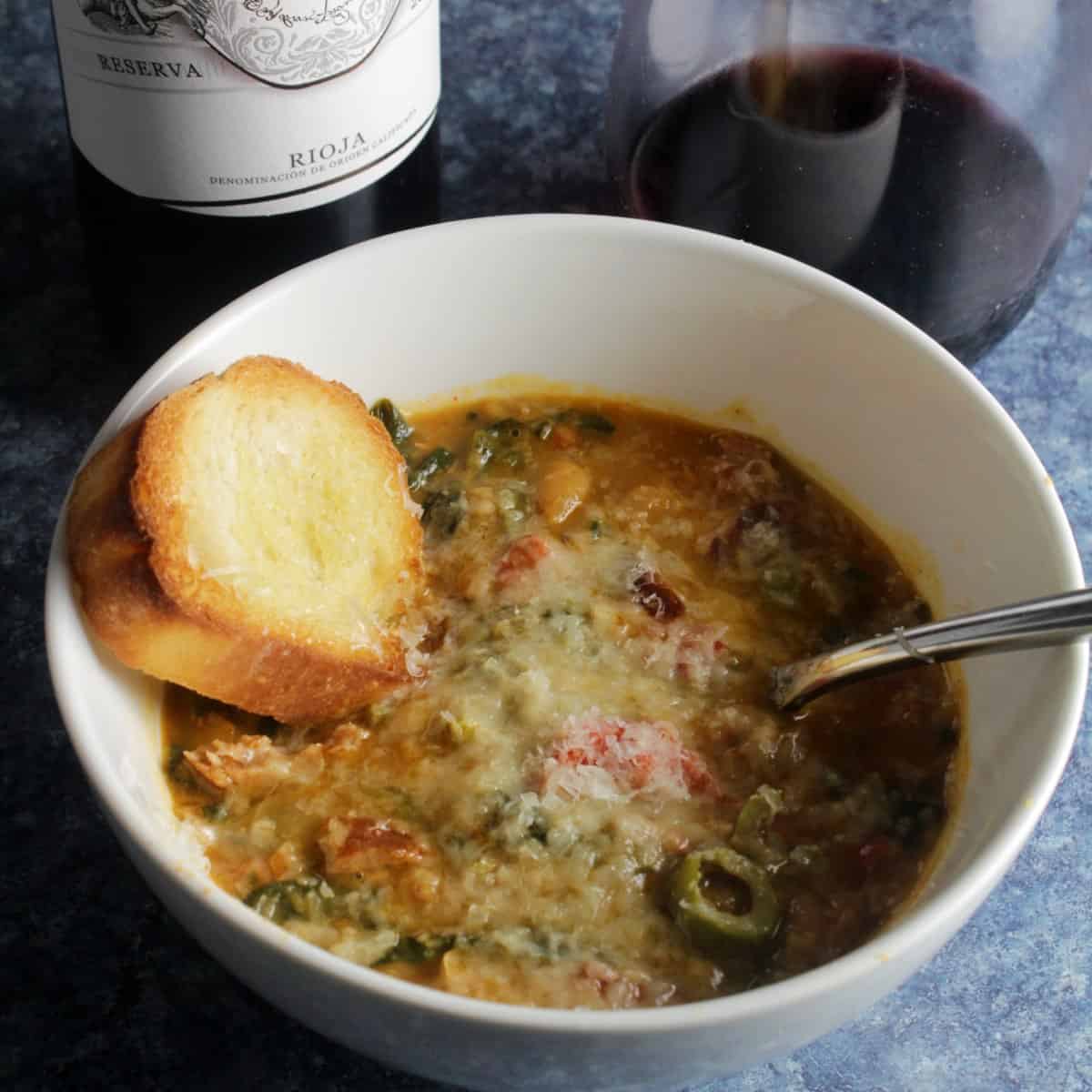 Today marks the beginning of our 2021 virtual tour around Spain with the World Wine Travel group. Once a month, we will visit a Spanish wine region and share article about its food and wine.
Today we start with La Rioja — thanks to Jeff from foodwineclick for hosting this event! [update: after Rioja, we visited Catalonia, and featured Mushroom Fricassee with a Red Wine from Priorat]
Rioja is a province in the northern part of Spain, bounded by the Ebro Valley in the north, and the Iberian range in the south. Well-known for its wine, I needed to do a little research to figure out what to cook with a bottle of Rioja!
Food of Rioja
As this article notes, food from Rioja tends to be simple. The ingredients and style of food in this small region tend to be influenced by nearby regions. This landlocked region includes plenty of meat in its cuisine, especially pork as well as lamb and beef. Despite not having a coast, there is also ample seafood, such as cod.
Chorizo sausage is a mainstay of cooking in the region, featured in Patatas a la Riojana (potatoes cooked with sausage and smoked paprika) as well as white bean stew such as we cooked up today.
For another delicious recipe featuring chorizo, check out our chorizo dip recipe!
Recipe inspiration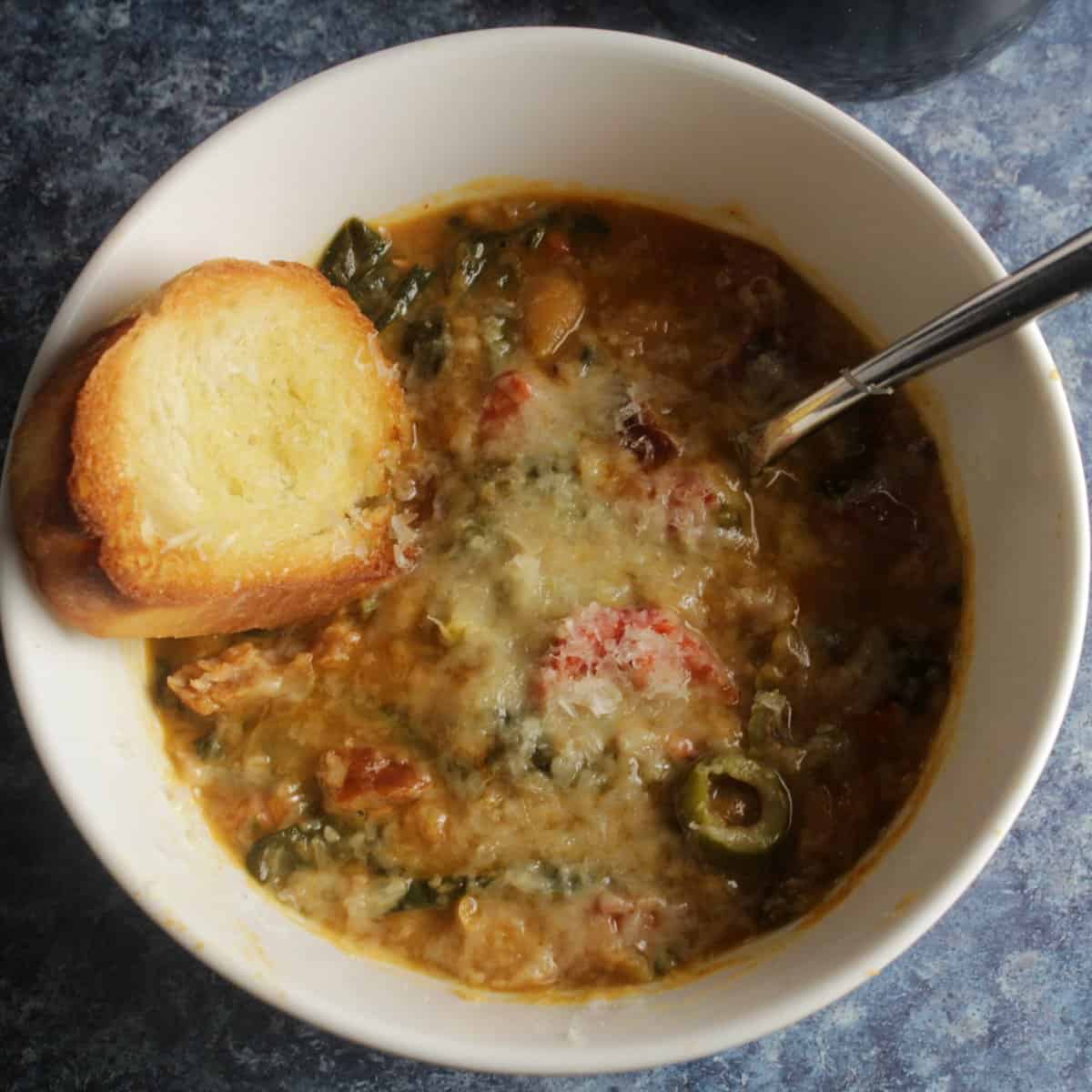 I enjoy learning about a region's food, including common ingredients, and coming up with my own recipe that will pair well with the area's wine. That is the way we came up with our recipe for Spanish White Bean Stew with Sausage.
White bean stew is mentioned frequently in researching Rioja's food. The dish typically includes white beans, bacon and chorizo and/or some other pork meat. We skipped the bacon and used a modest amount of chorizo, to make it a bit healthier.
Chard came up as a common vegetable in Rioja, so I decided to add some of the healthy green. And yes, as I was conceiving the dish, it did start to sound a bit like our Portuguese Kale Soup! One of our most popular recipes, with good reason.
One resource I've been looking at as we plan for this tour around Spain is the Easy Spanish Cookbook by Norema Salinas. Has some good basic info on Spanish cooking and each recipe suggests a Spanish wine pairing!
Tips for making this recipe
Get the full details for making this delicious white bean stew in the recipe card below. Here are a few of our tips to highlight:
Slow simmer, finishing flair: The overall key to the deliciousness factor of this stew is that we let the ingredients slowly simmer together for a good hour or so. Technically the ingredients here don't "need" that much time to cook, but letting them gradually simmer builds up the rich flavors. Then we add another layer of flavor by finishing the stew with some more Spanish ingredients — green olives, roasted red peppers, and Manchego cheese. OK, have you saved this recipe to make soon?
White beans are of course an important ingredient! I used two cans of cannellini beans; cook about 1 cup of dried beans before making the stew if you want to use them instead of canned. For another recipe using white beans, check out our Spicy Chicken Sausage Pasta recipe.
Good quality sausages bring much of the flavor to this recipe. Chorizo sausages are most typical for the Rioja region. But I've used Andouille in place of chorizo in other recipes with success, if you wanted to try. I used traditional pork chorizo, but you could experiment with chicken or turkey.
Roasted Red Peppers I used basic roasted red bell peppers, but you could increase the authenticity by using piquillo peppers common to the region.
Prepping chard: Cut the thick stems of the chard away from the leafy greens. Chop the stems into small bits, and add the chopped stems about 5 minutes before the leaves. The stems get tender and barely noticeable, thickening the soup a bit while avoiding waste.
Saffron is used a lot in Spanish cooking. I wouldn't necessarily buy it for this recipe, but if you have some on hand, definitely add it! If you want to get some for this recipe and future Spanish cooking, here's an Amazon link to a saffron brand I've used.
Related recipes
If this recipe suits your tastes, you might also enjoy these flavorful recipes and wine pairings from Cooking Chat!
Rioja wine pairing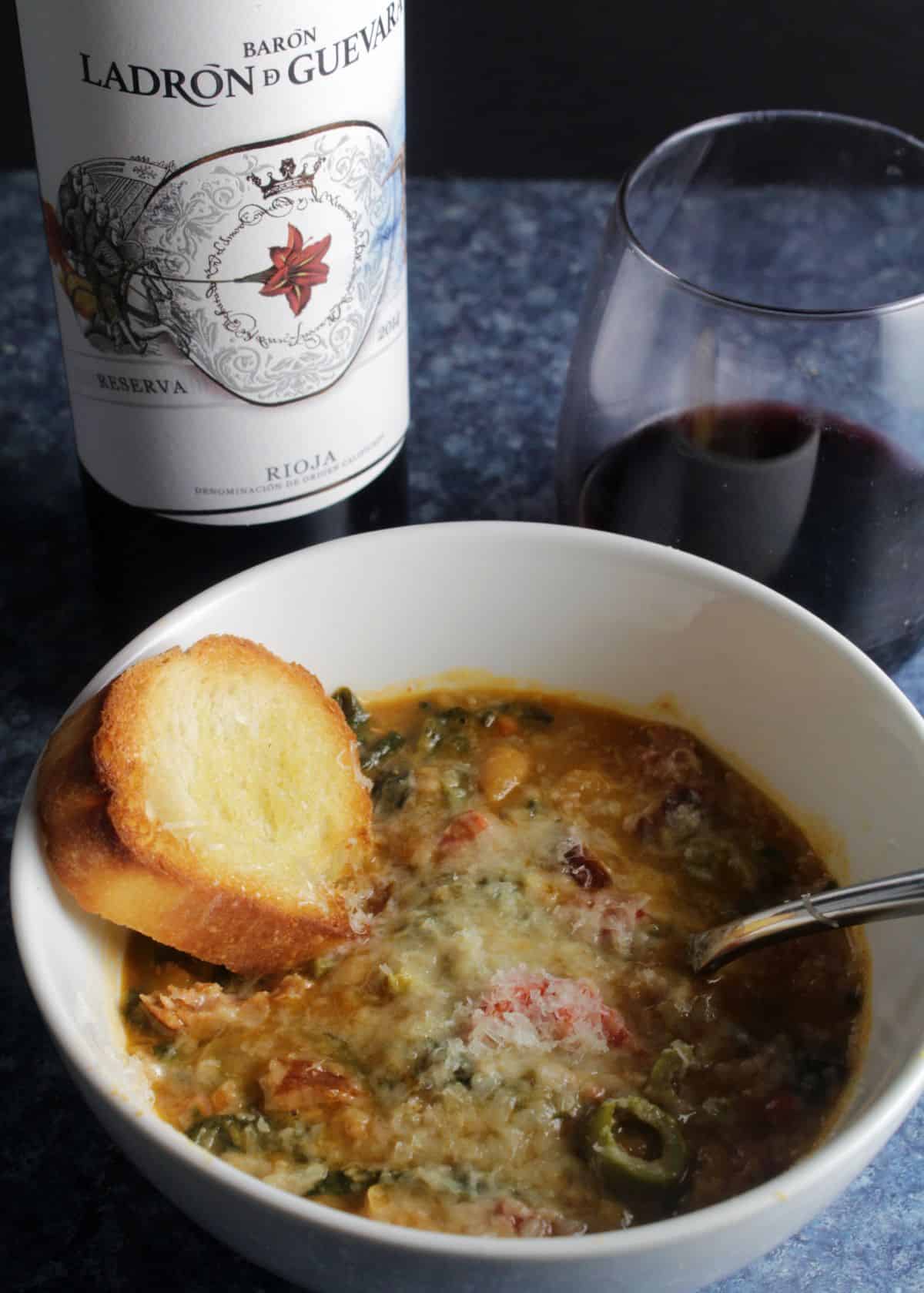 There were about a half dozen bottles of Rioja to choose from at the local shop (Pairings), and a grabbed a bottle of the 2014 Barón Ladrón de Guevara Rioja Reserva ($23, 14.5% ABV). This Rioja is a blend of 95% Tempranillo and 5% Graciano grapes. It was aged for 24 months in French and American oak.
On the nose of this Rioja, I get rhododendron forest, rosemary and dark berries. On the palate, I get black cherry, a touch of coriander and bark notes. Well-structured tannins and a nice long finish. Pleasant to sip on its own, and a very good pairing for the Spanish White Bean Stew!
Levels of Rioja Wine
The primary way red Rioja wine gets categories is based on how long the wine ages in oak. I don't have Rioja enough to have committed the different levels of Rioja to memory. I consulted the chart below from Wine Folly to refresh my memory.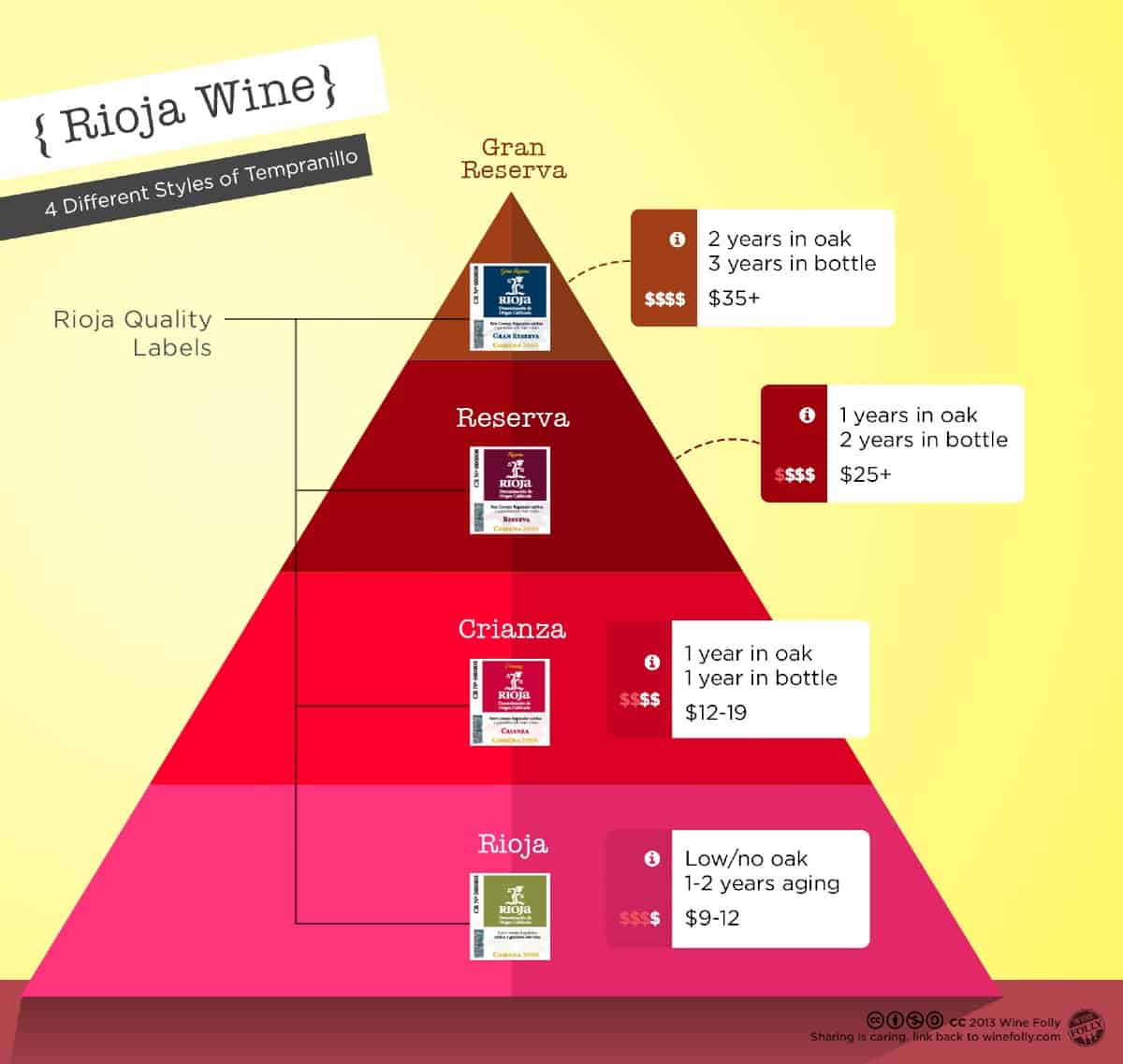 So our bottle from Barón Ladrón de Guevara is close to the top of the classification system. A very good bottle for the price!
Print
Recipe card
Spanish White Bean Stew with Sausage
This easy and richly flavored white bean stew with chorizo sausage gets its inspiration from La Rioja region of Spain. Beans simmer with sausage, onions, swiss chard and garlic, plus some paprika and saffron. Finished with olives, roasted pepper and Manchego cheese.
Author: Cooking Chat
Prep Time:

5 mins

Cook Time:

60 mins

Total Time:

1 hr 5 mins

Yield:

4

servings

1

x
Category:

Soup

Method:

stove top

Cuisine:

Spanish
2

chorizo sausages (

6

ozs total)

2 tbsp

extra virgin olive oil, divided

1

onion, chopped

1

carrot, peeled and chopped

3

cloves garlic, minced

2 tsp

paprika
pinch of salt

4 cups

low sodium chicken broth

¼ tsp

saffron (optional)

2

cans of cannellini beans – 14.5 ozs each – drained and rinsed

1

bunch of swiss chard (

4 cups

chard leaves)

6

green olives, sliced

½ cup

roasted red peppers, sliced
shredded Manchego cheese, for topping the soup
crusty bread or garlic bread for serving
Instructions
Brown the sausage: Heat 1 tablespoon olive oil on medium heat in a large soup pot. Add the chorizo sausage. Brown the outside of the sausage by cooking for 5 to 7 minutes, turning it over occasionally. When browned, remove the sausage and place on a plate to cool. After the sausage cools, slice it to add back into the soup later.
Sauté onion: Add the chopped onion to the soup pot. Reduce heat to medium low. Stir occasionally. When the onion begins to soften, after about 5 minutes, add the carrot and cook for a few more minutes.
Add the garlic, along with the remaining tablespoon of olive oil, and the 2 teaspoon of paprika. Stir to combine with the onions. Cook for about 1 minute, until the garlic and paprika become fragrant.
Add the liquid: pour the 4 cups of chicken broth into the pot, stirring to combine the ingredients. Raise the heat to get the liquid simmering, then return the heat to medium low to maintain the simmering.
Stir in beans and sausage: Add the drained white beans to the soup, along with the sausage and saffron,  if using. Stir to combine. Continue simmering as you prep the chard.
Prep the chard in 2 or batches. Rinse several of the leaves in a colander, allowing the leaves to drain. Take a sharp knife, and cut out the thick stems of the chard. Finely mince the chard stems, and add immediately to the soup. Chop the chard leaves, and measure out 4 cups of chopped chard leaves. Add the chopped chard leaves to the soup after the stems have been simmering for about 5 minutes. Stir to combine.
Simmer the soup for a good 20 minutes after adding the chard. Get the olives, roasted peppers and cheese ready as the soup simmers.
Finish the soup by stirring in the olives and roasted red peppers. Scoop the soup into bowls, topping with some shredded Manchego cheese. Serve with garlic bread or fresh crusty bread, and a glass of Rioja. Enjoy!
Notes
Piquillo peppers are a traditional ingredient in La Rioja region. If you can find roasted piquillo peppers, try using them instead of the basic roasted red peppers. 
Chorizo sausages are a popular ingredient in Spanish cooking. That said, I have found Andouille sausages to be a suitable substitute for chorizo in other recipes.
I list the saffron as optional as it is expensive. I wouldn't go out and buy it just for this stew, but if you have some on hand, I'd encourage you to use it.
Keywords: spanish white bean stew, white bean stew with sausage, bean stew with Chorizo
Recipe Card powered by
World Wine Travel Rioja Articles