Today we share a new pairing for Corned Beef and Cabbage, along with more Yakima Valley Wine pairings. Disclosure: the wines discussed here were provided as complimentary samples.
This month, the Wine Pairing Weekend group is exploring wines from the Yakima Valley and pairings to go with them. Here we highlight some of the Yakima Valley Wine Pairings we have tried, along with some other matches for these wines.
About the Yakima Valley AVA
The Yakima Valley AVA is Washington's oldest AVA. This region is located in the southern center of the state, to the east of the Cascade Mountains. The valley has a very dry climate, with long, warm growing days and cool night creating excellent wine grape growing conditions.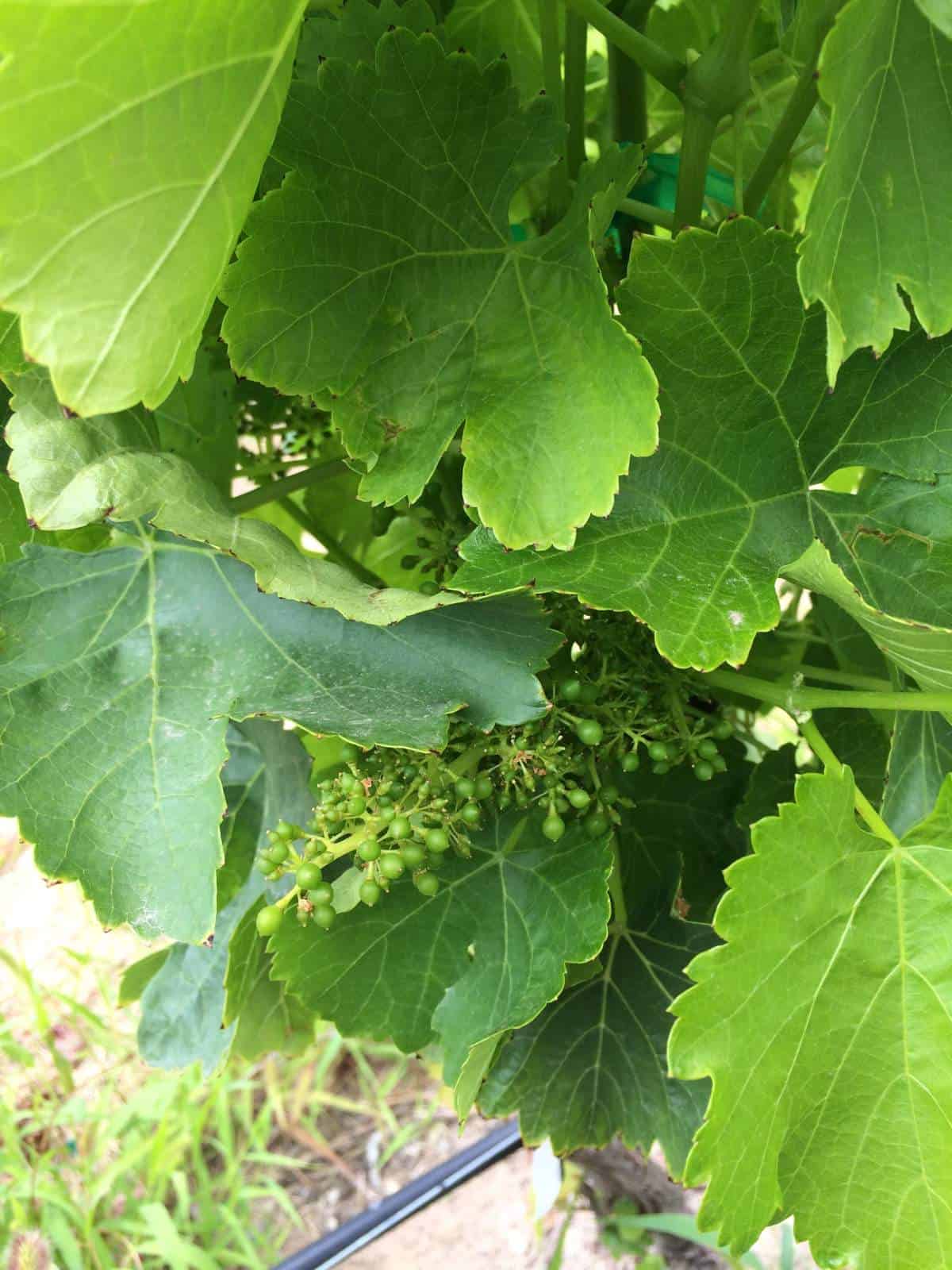 There are four nested AVAs within the Yakima Valley. Our host for this event, Robin from Crushed Grape Chronicles, covers these along with lots of other good info in her introductory article on Yakima Valley. Robin joined me for a recent Instagram Live, where she shares about her interest in the Yakima Valley and Washington wines in general.
The Wine Pairing Weekend group had partnered with Wine Yakima Valley for the March event focusing on the region. Their website is a wonderful source for more information on the AVA.
Rosé with corned beef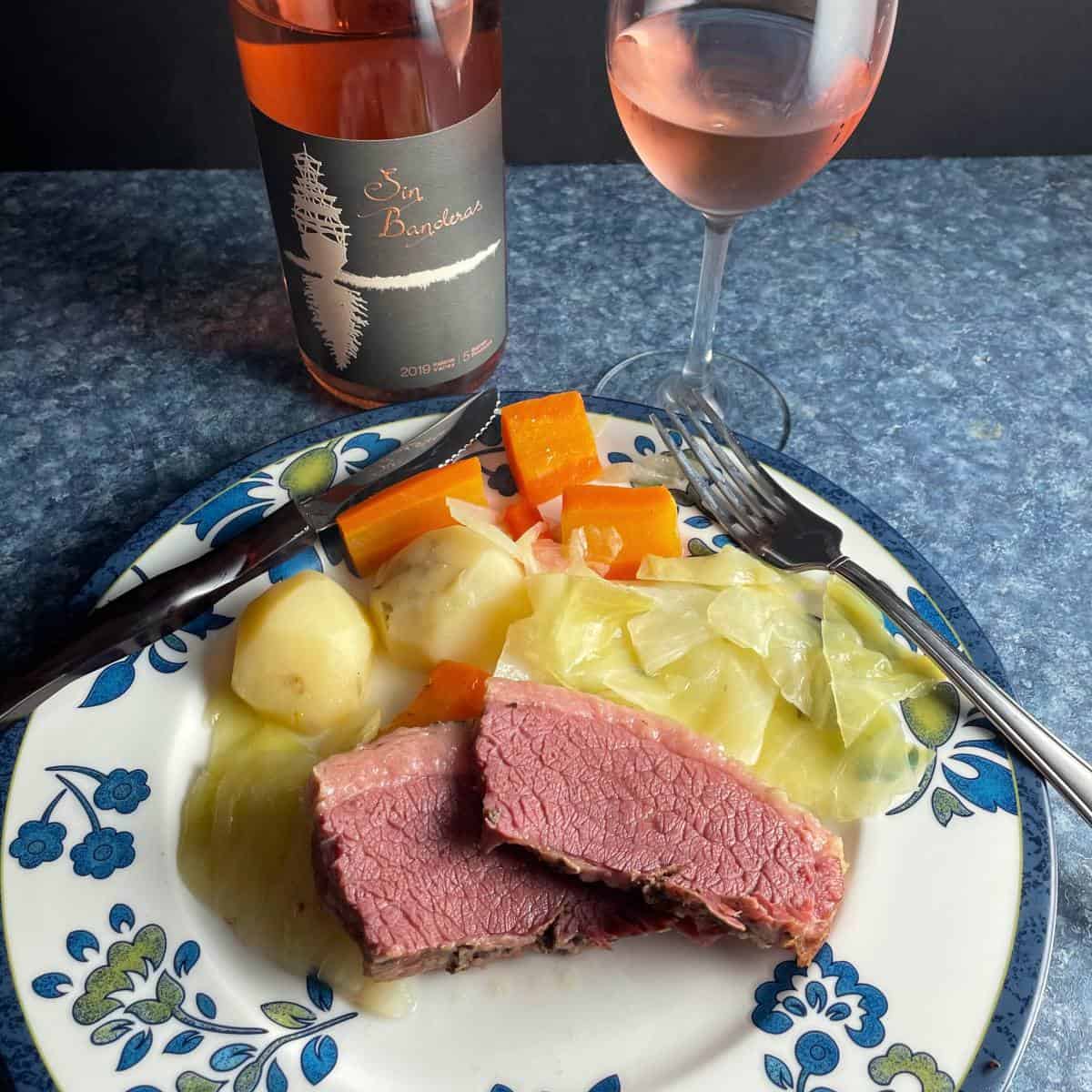 As I started planning for our most recent corned beef and cabbage, I realized I had never tried a rosé with this meal. I had a bottle of the 2019 Sin Banderas Yakima Valley Rosé (13% ABV) to try, and wondered if it might work.
I reached out to Susan Brown-Aaron, my contact from Sin Banderas. She encouraged me to give their rosé a try with the corned beef, noting it is a Grenache based wine.
The Yakima Valley rosé is salmon color in the glass. Bright cherry bubblegum on the nose. On the palate, watermelon fruit with a hint of salinity. A light herbal note – thyme I'd say. The wine is medium bodied, well-balanced and pleasant mouthfeel.
This Yakima Valley rosé is definitely a winner with the corned beef and cabbage (and one I'd like with a lot of foods!). It has a enough substance for the beef, and the bright flavors cleanse the palate after bites of the salty and mustard flavors.
Head over to my Wine with Corned Beef and Cabbage article for more pairing ideas for the St. Patrick's Day classic!
More Sin Banderas pairings
I have several more bottles from Sin Banderas to try. Stay tuned for my pairings with them! Meanwhile, I will mention a few of the ideas Susan suggested:
2017 Sin Banderas Red Blend ($32, 14.1% ABV): This Yakima Valley red blend is comprised of 67% Syrah, 33% Mourvedre. Just six barrels produced. Susan recommends hearty fare, such as beef bourguignon. She also says it's great with pizza! I might try it with our Beef Shepherds Pie Casserole.
2020 Sin Banderas Yakima Valley Riesling ($24, 12% ABV) comes recommended with Thai food and "the amazing street tacos of Yakima". Sounds like another reason for a trip to the area! I'm thinking I will try it with our Indian Butter Chicken tonight. After publishing this article, we opened another bottle of their Riesling to pair with our Vegetarian Hatch Chile Enchiladas – delicious combo! Three barrels of this wine were produced, with fruit from DuBrul Vineyards.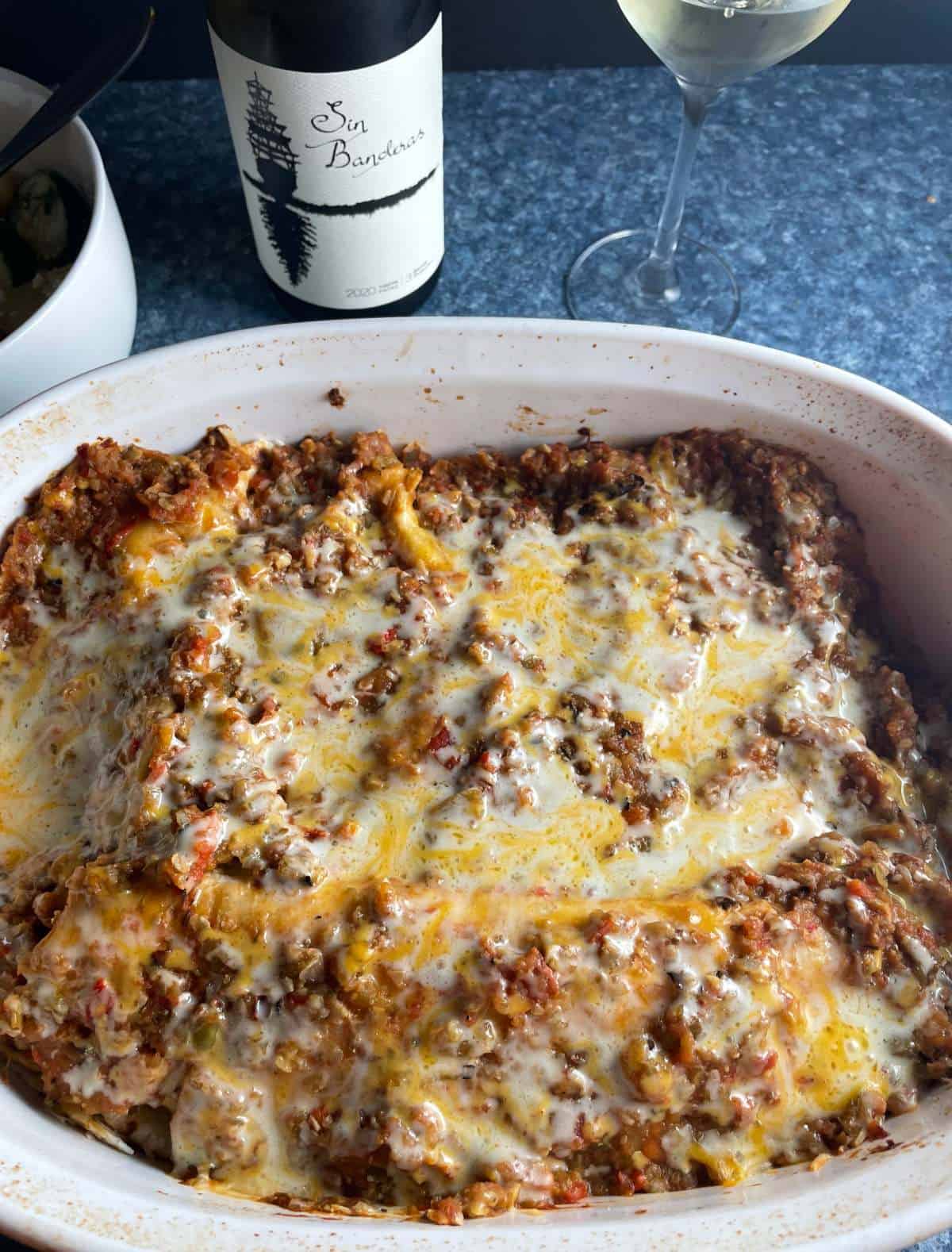 About Sin Banderas
Sin Banderas translates to "without flags" and gets this name because of the diverse group that has come together to create this label. Wine workers from Owen Roe — a maker, a grower, and a cellar master — decided to create these wines.
Jacki Evans is the winemaker at Sin Banderas. Susan notes that Jacki is great at creating blends, and "brings out the best in the grapes and strives for clean expressive wines."
Learn more by visiting the Sin Banderas website.
Pairings for Dineen Vineyard wines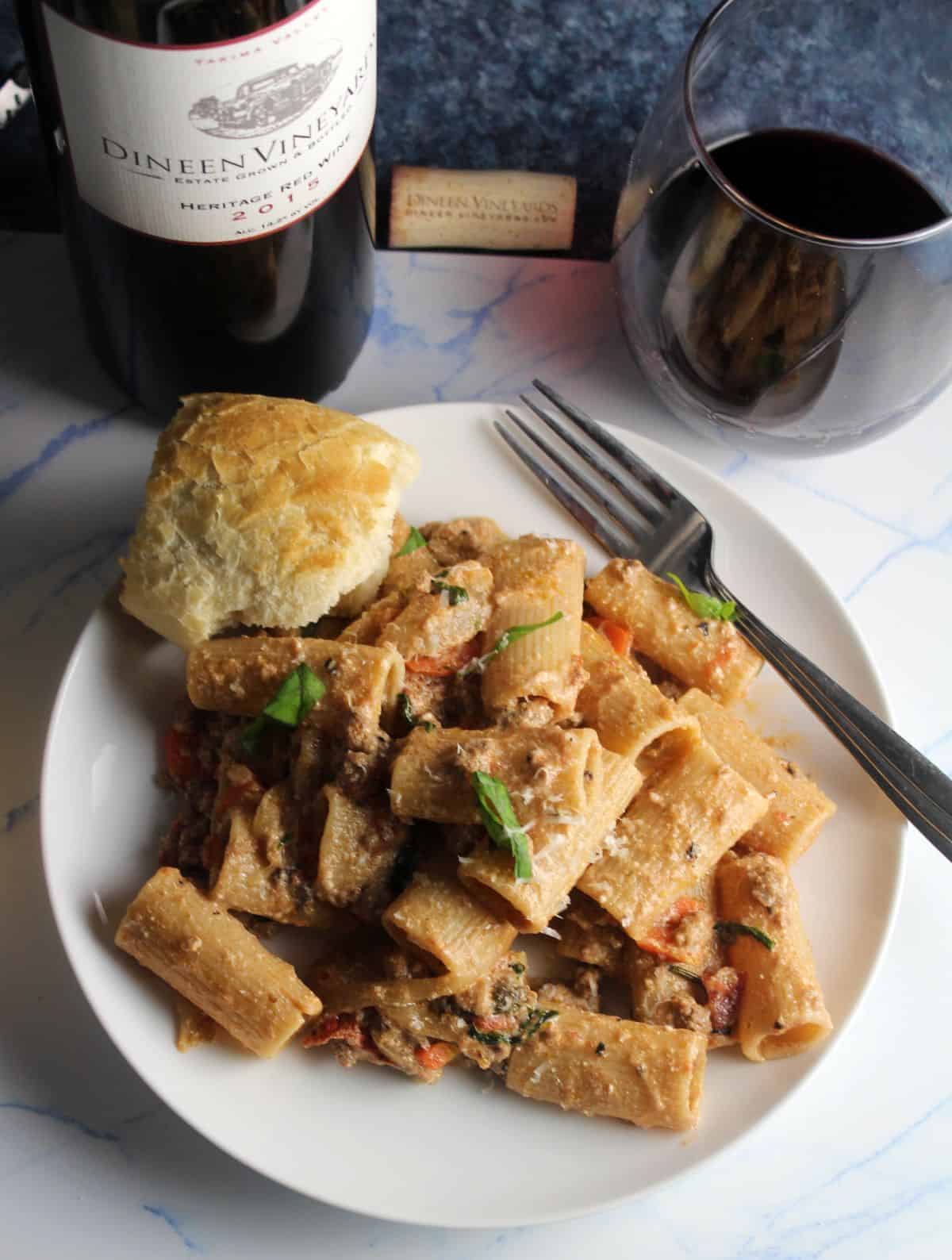 My featured recipe for this weekend is my new Lamb Ragu Pasta recipe, which I cooked up to go with the 2015 Dineen Vineyards Heritage Red Wine ($35, 14.2 % ABV). This pairing, inspired by my conversation with Marissa Dineen, definitely rates an "A" grade!
Stay tuned for of my pairings with Dineen Vineyard wines! Meanwhile, Marissa has a keen interest in food pairings for her wines. Visit the winery blog for some great pairing ideas ranging from healthy fish recipes to decadent mac & cheese.
We also talk about pairings in my IG TV chat with Marissa Dineen (navigate to about 5:30 to skip the preliminaries…Marissa joins us around that time!).
More on Yakima Valley wine
Be sure to check out all these great articles about Yakima Valley wine and food pairings to to with it!
Camilla of Culinary Adventures with Cam shares "Yakima Valley's Sin Banderas Rhone Roses Compliment Dishes with Asian Flair" and "Mediterranean-Inspired Dishes Paired with Yakima Valley Wines from Dineen Vineyards"
Linda at My Full Wine Glass invites us to "Meet Kerry Shiels: A Yakima Valley winemaker with Vision"
Terri of Our Good Life shares 2 posts "Fortuity…Taking Advantage of Life's Great Wines!", and "Two Mountain Rose and Fennel Wild Mushroom Tarts"
Payal at Keep The Peas shares "Yakima Valley Wines FTW!"
Wendy of A Day in the Life on the Farm is cooking up "Smoked Beef Brisket with Canvasback Cabernet"
Rupal the Syrah Queen gives us "Yakima Valley – Red Willow Vineyards Producing Some of Washington's Finest Syrahs"
Jane of Always Ravenous makes our mouths water with "Filet Mignon paired with Washington Yakima Valley Cabernet Sauvignon"
Martin with ENOFYLZ WineBlog is giving us "a Taste of Washington State's Yakima Valley"
David at Cooking Chat has 2 posts for us also "Lamb Ragu Pasta with Red Wine from Dineen Vineyards" and "Sin Banderas Rosé with Corned Beef & More Yakima Valley Wine Pairings"
Nicole of Somm's Table shares "Big, Beautiful Reds from Yakima Valley and Tasty, Meaty Fare"
Jennifer at Vino Travels tells us about "Italian Grapes of the Yakima Valley with Sleeping Dog Wines"
Gwendolyn the Wine Predator explores "Washington Syrah: Hedges, L'Ecole, VanArnam with Lamb Stew"
Susannah at Avvinare gives us "Malbec from VanArnam Vineyard in Yakima Valley"
Lori at Exploring the Wine Glass shares "Tasting the Soul of Wine in the Heart of Yakima Valley"
Robin at Crushed Grape Chronicles with "Yakima Valley AVA – Blends of friendship and history with wines from Eight Bells and Pearl and Stone Co."