Beef Shepherd's Pie Casserole features savory ground beef cooked with onions, peas and corn, topped off with mashed potatoes. A delicious main dish the whole family is sure to enjoy! Check out our collection of best side dishes to serve with Shepherd's Pie to round out your menu.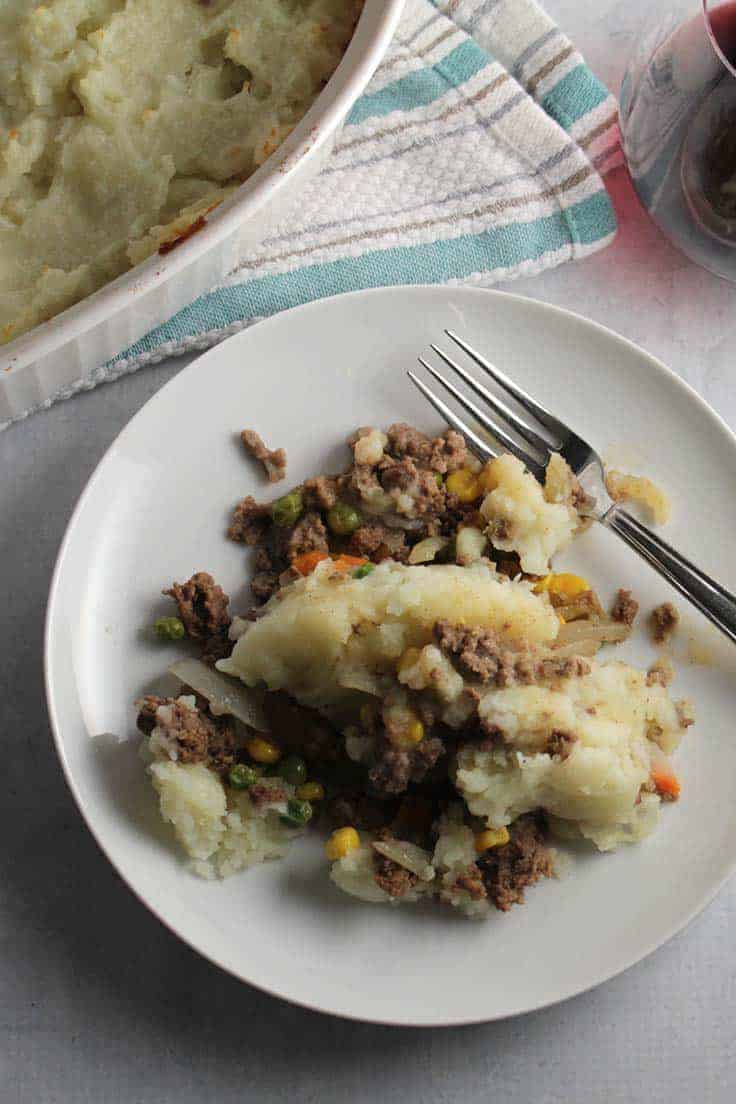 Sure, we associate grilling with Father's Day, and we will likely be firing up the grill next Sunday. Last year for Father's Day, I shared NY Strip Steak with Dad's Favorite Spice Rub. So why are we featuring Beef Shepherd's Pie Casserole as our Dad's Favorite #SundaySupper recipe today?
Shepherd's Pie is the first dish I can remember my Dad cooking for us, other than grilling up burgers. It was a memorable occasion. My mother was in the hospital, bringing my younger brother into the world, so my Dad was thrust into the role of cooking for us, and a beef shepherd's pie is what he served up.
You can't go too wrong with this combination. Beef and mashed potatoes are at the heart of this Beef Shepherd's Pie Casserole. You will see other ingredients varied, but I like the combination of corn and peas featured here. I'm pretty sure they were elements of what my Dad served up the first time I had this dish decades ago. I was used to having potatoes, meat and veggies served in discrete piles, but I was game to try them all jumbled up in the shepherd's pie my Dad served up. Loved it!
More recent memories have been layered on top of my original enjoyment of shepherd's pie. I have had a chance to travel in Ireland twice. Any chance I got while there, I'd have a pub lunch of shepherd's pie, washed down with a pint. Over there, the meat in shepherd's pie is likely to be lamb, and that tastes great, too. Oh yeah, and they often give you a side of potatoes to go with your shepherd's pie, just in case the potatoes in the pie aren't enough for you. Not the place for a low carb diet!
So I'm happy to serve up this Dad's Favorite Beef Shepherd's Pie Casserole recipe today. Simple to put together, lots of savory taste with a healthy dose of good memories.
Fast forward to today, when visiting my parents it is likely to be my Dad doing the cooking. As a young kid, my parents divvied up the household duties along pretty traditional gender roles of the time. But I could see my Dad enjoyed putting together the shepherd's pie that day, and perhaps it was then that his interest in cooking got started. Through my teen years, he'd get cooking in the kitchen fairly often, and some point after that he evolved into the primary cook. Now, among my close circle of family and friend's the guys are often the lead cooks.
I look forward to checking out all the Dad's Favorite recipes from the Sunday Supper crew, and thank Sarah from The Chef Next Door for hosting today. I'm wondering how many of Dad's Favorite recipes are his favorite to make, as well as to eat!
Speaking of great recipes to please father's, you might also like our Oven Roasted Sirloin Steak recipe. Or if you are in grilling mode, check out our Easy Grilled Steak Tips.
Wine Pairing for Beef Shepherd's Pie Casserole
My Dad would consider it cruel torture to drink wine rather than beer with this casserole or any other dish. And a pint of Guinness is certainly a good pairing for shepherd's pie! That said, this Dad prefers wine with his meals. Cabernet Sauvignon and Merlot would both be good wines to pair with Beef Shepherd's Pie Casserole. We originally enjoyed this recipe with a red wine blend that included those two grapes along with Syrah, Petite Syrah and Zinfandel. That certainly worked out well.
When remaking this Beef Shepherd's Pie Casserole in September 2018, we paired it with the Riparosso Montepulciano d'Abruzzo from Illuminati Vineyards. This was a great pairing! I visited Illuminati on a press to to Abruzzo, which you can read about here.
Cheers to all the Dads out there, and all celebrating the day honoring fathers!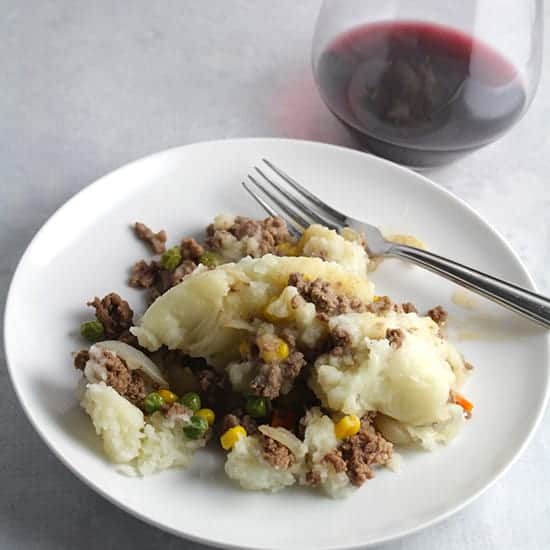 Print
Recipe card
Beef Shepherd's Pie Casserole
Savory beef cooked with onions, corn and peas, baked with a potato topping for a savory, comforting meal.
Author: Cooking Chat
Prep Time:

10 mins

Cook Time:

45 mins

Total Time:

55 mins

Yield:

6

servings

1

x
Category:

Main

Method:

baking

Cuisine:

Irish
1

onion, chopped

1 tbsp

olive oil

1

carrot, peeled and diced

1 ½

lbs ground beef

½ cup

peas, thawed if using frozen

½ cup

corn, thawed if using frozen

1 tbsp

ketchup

2 tsp

soy sauce

4

potatoes, peeled and quartered

¾ cup

milk

2 ½ tbsp

butter
salt and pepper to taste
Instructions
Preheat an oven to 350.
Start boiling a large pan of water, and add the potatoes when the water has come to a boil. The potatoes cook for about 20 minutes until soft.
Meanwhile, heat the olive oil in a large skillet on medium heat. Add the onions, and cook for 5 minutes, stirring occasionally. Add the carrots, cook for another 5 minutes.
Stir the ground beef into the skillet, stirring occasionally. After about 5 minutes, add the corn, peas, ketchup and soy sauce to the skillet. Stir to combine. Cook for another 5 minutes or so until the beef is about cooked through. Lower heat to keep warm as you mash the potatoes.
When the potatoes are soft, drain them and return the potatoes to the pan. Add the milk and butter, stirring and mashing the potatoes to combine them with the milk and butter. Add salt and pepper to taste. Set the potatoes aside for a moment.
Spread the beef mixture over the bottom of a large casserole dish. Use a large spoon to scoop the mashed potatoes on top of the beef, and use the back of the spoon to spread the potatoes evenly to cover the beef.
Bake the shepherd's pie covered for 10 minutes, then remove the cover and bake for another 10 minutes. Put the oven onto a broil setting, and broil for a few minutes to brown the top of the pie.
Carefully remove the shepherd's pie from the oven. Scoop out a serving, taking care to get beef mixture and potatoes. Plate the beef shepherd's pie casserole and enjoy!
Notes
You could substitute ground lamb for the ground beef. Lamb or a combination of lamb and beef is the traditional option for Shepherd's Pie in Britain.
Keywords: casseroles, shepherd's pie, comfort food
Recipe Card powered by