Today we share about pairings for our favorite Italian rosé, Cerasuolo d'Abruzzo. This article is part of an Italian Food, Wine and Travel event focused on Italian Rosatos. Disclosure: Some of the wines discussed here were provided as samples.
Back in 2018, when travel was still a thing, I had a chance to go on a press trip to visit wineries in Abruzzo, Italy. For more on that trip and what I learned about the region, visit this Exploring Abruzzo article.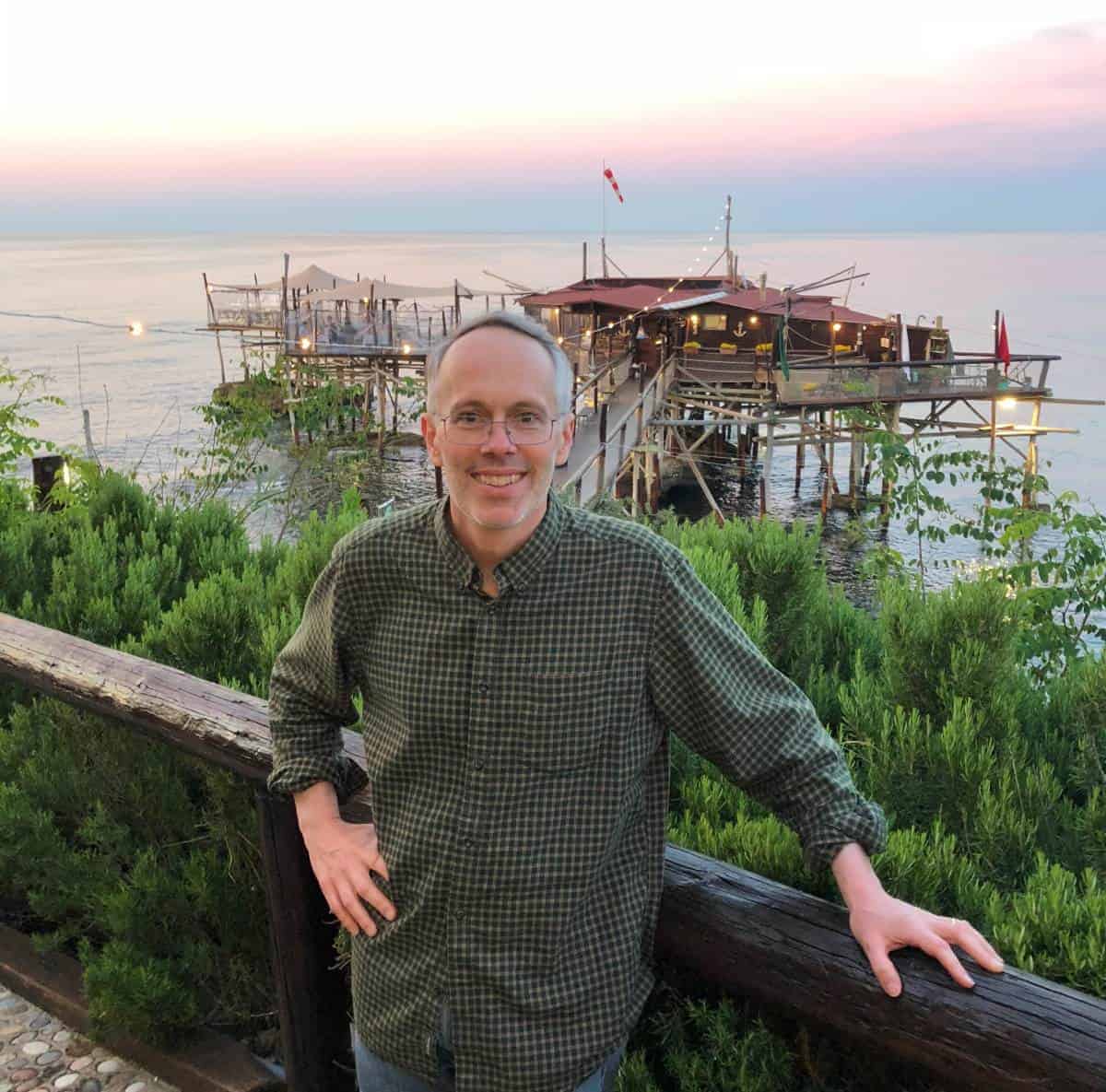 The trip helped me gain a deeper appreciation for the region's signature red, Montepulciano d'Abruzzo, and their array of refreshing white wines including Trebbiano, Pecorino and Cococciola.
But the new wine discovery during my trip was Cerasuolo d'Abruzzo, which quickly became my favorite Italian rosé! (even though rosés are typically referred to as "rosato" in Italy, in Abruzzo the wineries consistently called Cerasuolo a rosé. Perhaps trying to appeal to American consumers?)
What is Cerasuolo d'Abruzzo?
Cerasuolo d'Abruzzo is a rosé made from Montepulciano grapes. It tends to be deep dark pink in the glass, and is a full bodied rosé with lots of flavor.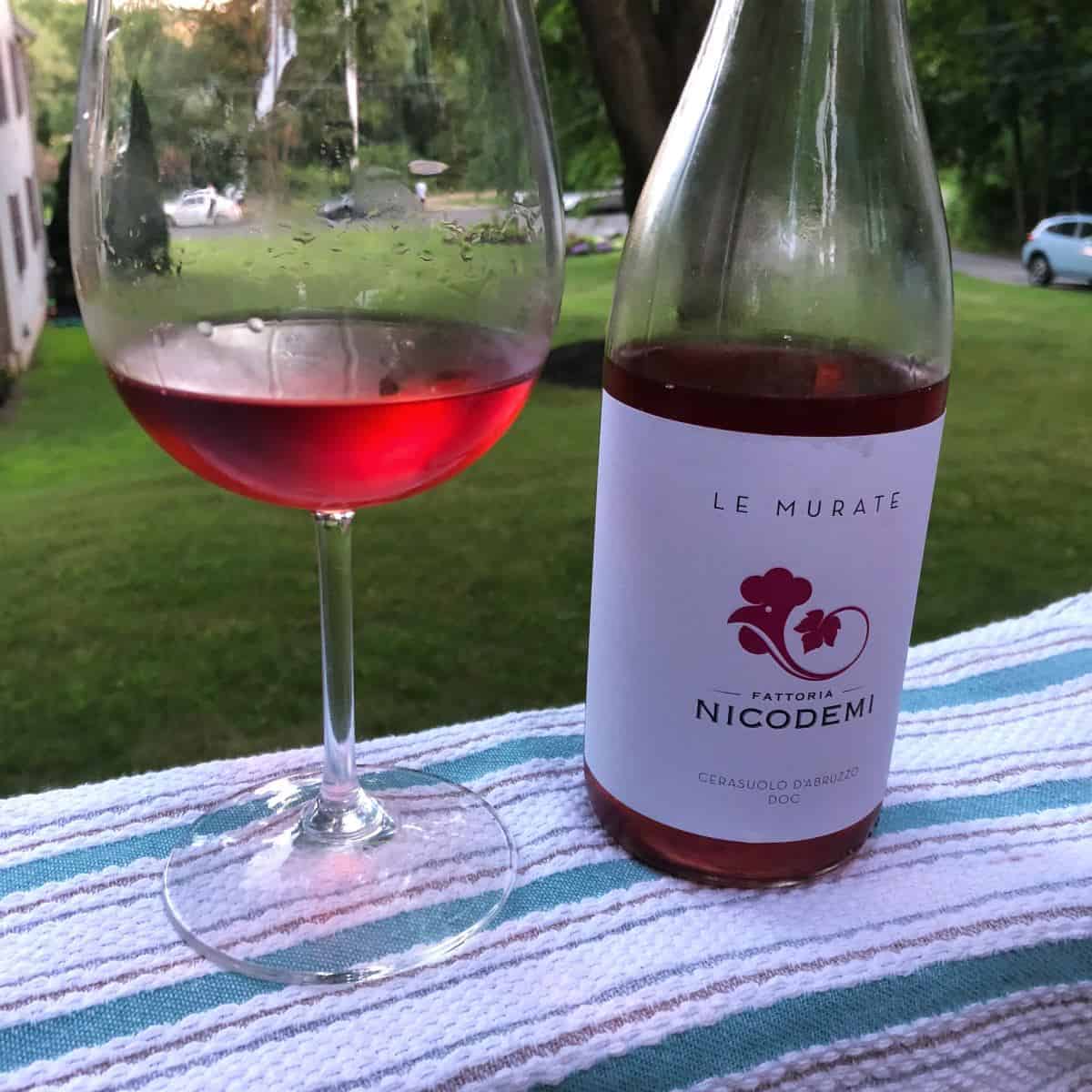 While some lighter rosé styles are probably best as porch sippers before dinner, Cerasuolos definitely have the heft to stand up to a range of meals. Several of my Abruzzo friends noted that Cerasuolo has enough acidity to stand up to a tomato based sauce, and it was served that way at several meals I had there.
Just to keep things interesting, which seems to be a theme with Italian wine, there is also a red wine from Sicily called Cerasuolo di Vittoria, a DOCG wine region in the southeastern portion of the island.
Pairings with Cerasuolo
Cerasuolo d'Abruzzo, with is substantial full-body along with lots of flavor and acidity, can pair with a wide range of foods. It is great to sip while nibbling on some prosciutto and olives, or along with some salty Parmigiano cheese.
But we have also had a chance to pair it with a number of tasty recipes, as we highlight below. If you track down a bottle of Cerasuolo, try one of these recipes, or simply toss some pasta with a tomato based sauce. We especially like Cerasuolo with a creamy vodka pasta sauce!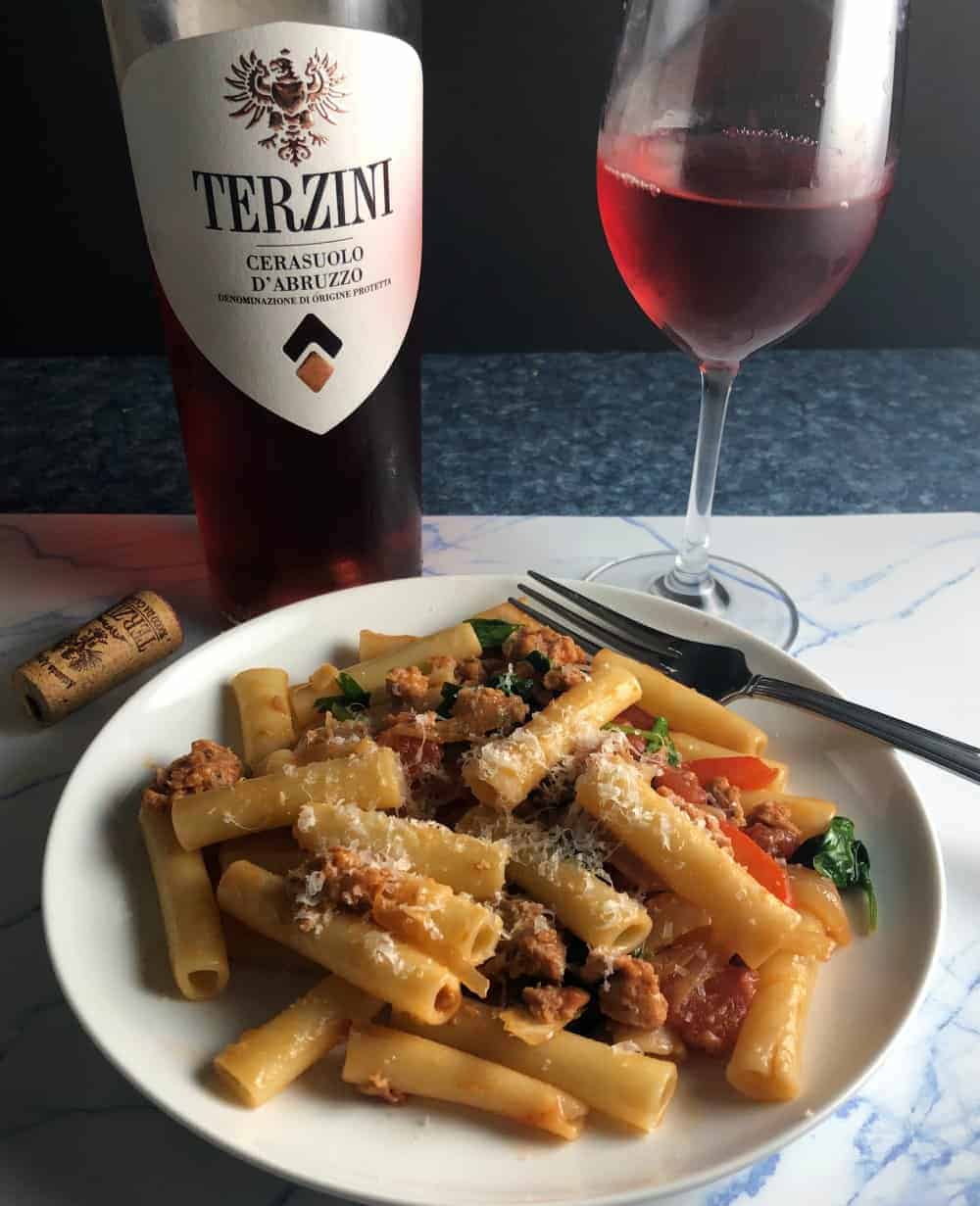 Although we have several older pairings to talk about here today, we had to have a fresh glass of Cerasuolo for this event!
With the help of John Maisano of Bacchus Imports, I was able to get a sample bottle of 2018 Terzini Cerasuolo d'Abruzzo (14% ABV). Classic deep dark pink in glass, cherry on the palate, good structure and some moderate acidity and minerality.
I used some Beyond Sausage as the basis for a delicious vegetarian sausage pasta dish. I originally wasn't going to include tomatoes, but added some after tasting the wine and recalling that this Italian rosé does well with the acidity.
A very good pairing! Check out the Vegetarian Sausage Pasta recipe post here.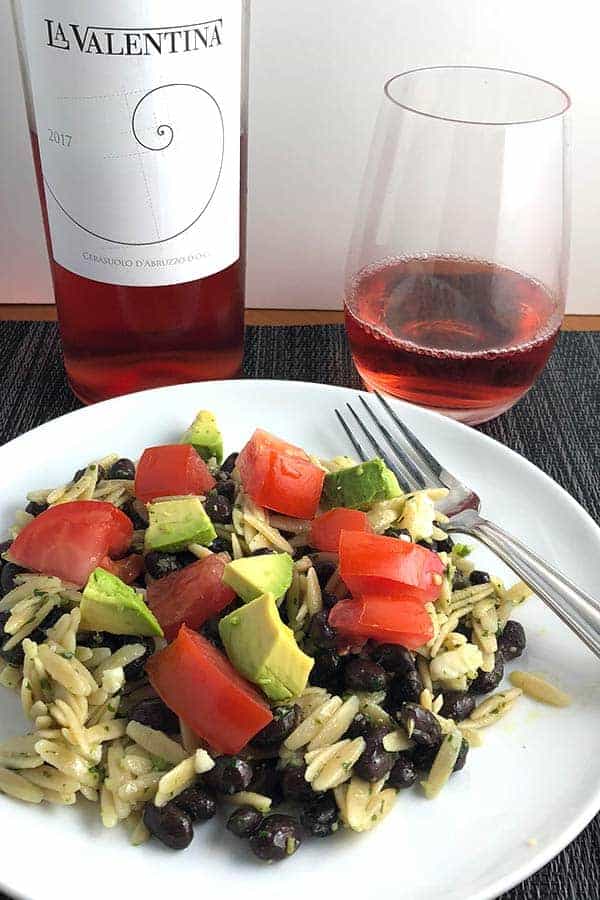 This Orzo with Cilantro Pesto dish combines Italian and Latin flavors with tasty results! The lively flavors go well with the La Valentina Cerasuolo d'Abruzzo ($10, 13% ABV).
I had a chance to visit La Valentina on my trip to Abruzzo.
La Valentina Cerasuolo comes from Montepulciano vines that are between 25 to 35 years old. They dedicate specific vineyards of Montepulciano to be used for the Cerasuolo rosé, which results in a very good version of this Abruzzo rosé.
Ziti with Sausage, Peppers and Onions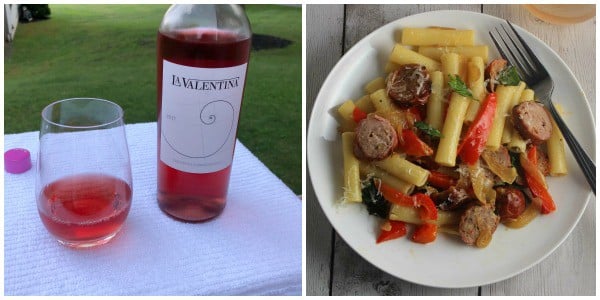 This dish is made with traditional Italian sausages. I originally paired this pasta recipe with a lighter Italian rosato, but that wine didn't stand up to well to the flavors of the sausage.
So I went for Cerasuolo when I did a remake, from La Valentina again. The fuller body and flavor profile of this one did the trick! Another good pairing.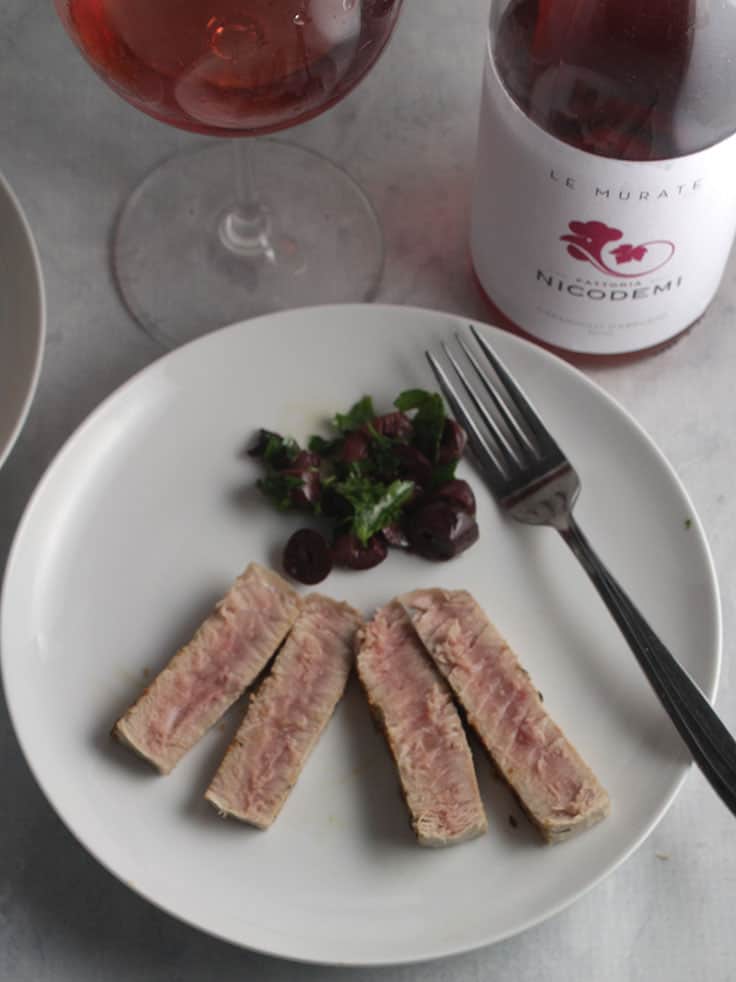 The big meaty fish and Mediterranean flavors of this Pan Seared Tuna Steak recipe definitely call out for a robust Cerasuolo!
For this one, we piared it with the 2017 Le Murate Cerasuolo d'Abruzzo ($15) from Fattoria Nicodemi.
Nicodemi was the first winery I visited on the press trip I mentioned earlier. Brother and sister Elena and Alessandro have done a great job building on tradition at this family winery while growing their business. The winery is 300 meters above sea level and about 10 kilometers from the Adriatic Sea, with views of the Gran Sasso Mountain on clear morning
Italian Rosato Roundup
Be sure to see what pink Italian wines the rest of the #ItalianFWT crew is featuring this month! Thanks to Lauren, The Swirling Dervish, for hosting us.