A summary of the allergy friendly dining options we found in and around Disney World when we visited with out family.
Like any family, we were thrilled to head to Florida this winter for a visit to Disney World and LegoLand. But as a family dealing with multiple food allergies, travel comes with some trepidation about finding enough good safe food. So as a service to other families with food allergies, today I'm sharing food-allergy dining options around Disney World based on our experience. Check out this article for our allergy friendly Winter Haven dining finds.
On our home turf, we definitely have the routine down for managing our nine year old son's food allergies. B was diagnosed with egg, milk, nut and sesame allergies when he was around one, so we've had plenty of practice. Up until a recent trip to Florida, when we've traveled we've typically tried to duplicate the home food preparation as much as possible. For instance, when visiting family in South Dakota, we stock up at a Whole Foods in Minneapolis after landing there, before heading to a place we've rented that comes with a kitchen.
We took a similar approach when we went to Florida a few years ago, renting a suite that had a kitchen. But for a variety of reasons, this trip we decided to rent a traditional hotel room and rely on restaurants for most of our meals. We figured on a relatively short trip, this would work out budget wise.
The AllergyEats website is a great resource for finding out about food allergy-friendly restaurants. It relies on readers to submit reviews so it is most helpful in popular travel destinations. There's a whole section on the Disney area. We were pleased to learn that Disney has put a lot of focus on good options for food allergy families. One tip before I get into sharing about the restaurants we at: try to plan where you want to eat at least a few days in advance. That makes it more likely to get a reservation at a good time, and you can also give the restaurant an early heads up. We were a bit to last minute for that and wound up with some long waits and odd eating times.
We arrived at the B Resort & Spa near Downtown Disney mid-afternoon on a Saturday. The T-REX Cafe in Downtown Disney was rated high by Allergy Eats users and sounded like fun, so we headed there our first night in Disney area. Upon arrival, we saw long lines of people waiting to get in the cave like restaurant guarded by a large T Rex. We waited about 15 minutes to put our name in, then got a pretty accurate time about an hour later, and headed to the LEGO store to keep busy in the interim. They do take reservations, but some advance planning is needed.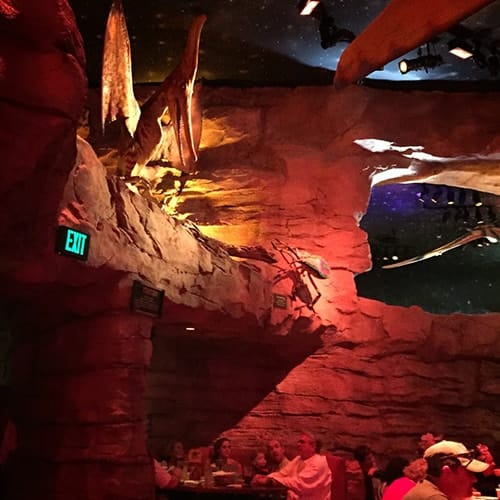 The T-REX restaurant interior is pretty awesome for kids, with statues of dinosaurs, mammoths, giant squid and more. There are several different dining rooms with different themes. The ice age room we could see behind us looked especially cool, pun intended. Every so often lights start flashing and the creatures make noise and get animated. If that sounds like a Rainforest Cafe you've been to, that's because T-REX Cafe comes from the Rainforest creators.
When we told our server about our son's food allergies–egg, nut, dairy and sesame–we had a chef come out quickly to go over some safe options. Now, allergy safe eating doesn't always mean what you want to order is going to be available. B was a bit disappointed he couldn't eat the fries, but wound up being pretty happy with a side of corn to go with his pork ribs, a.k.a. "Mini Mes-O-Bones". He hadn't eaten ribs before. He liked the meat but the sauce was slathered on a bit heavy for him.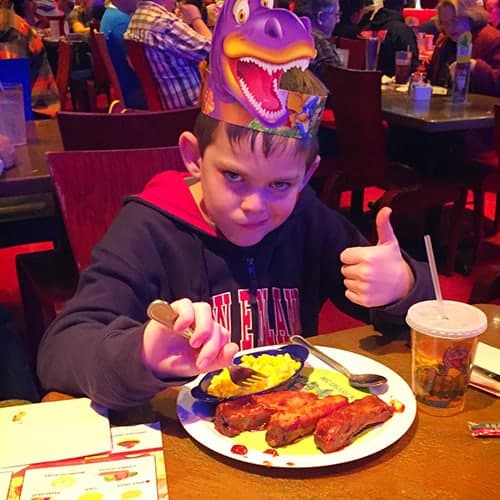 I also ordered from the pork department at T-REX, and was pretty please with my pulled pork sandwich. We had a serviceable Malbec to go with our grownup dinners. I was a bit amused that our server reacted as if Malbec was some great new invention, but clearly the wine list is not the focus at T-REX. Nice to have a glass, though, as we enjoyed the fun environment.
B rarely gets to have dessert at restaurants, as most options tend to have milk and/or egg. T-REX had a mango sorbet he was able to eat, and that was a nice treat.
Our lad was eager to hit a Rainforest Cafe while we were at Disney, and we saw there was one by Animal Kingdom, first stop on our list for the next day. While waiting for dinner at T-Rex, we tried to get lunch reservation at Rainforest Cafe. We had to go for a very early option to get one, but that wound up working out fine.
In case you aren't familiar, Rainforest Cafe is based on a jungle theme, with animals that make their sounds every time a storm passes through. As we learned when B was younger, if your kid doesn't like a lot of loud noises, it might not be for you. But now B enjoys the atmosphere, and loves their fries. Similar to T-REX, the chef came out to go over options. Fortunately, with it being before the big lunch rush, he was able to offer baked fries to go with grilled chicken breast, making our guy very happy. He gave the meal a big thumbs up.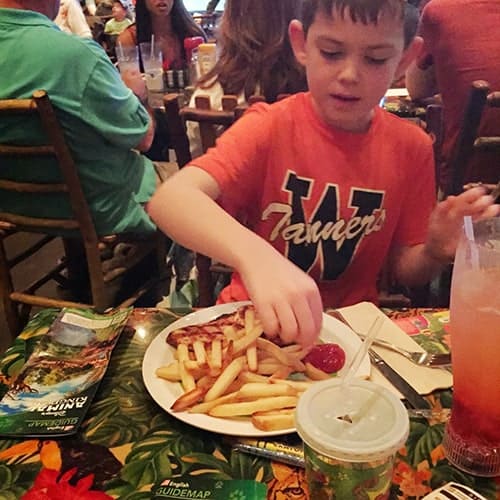 Rainforest Cafe has a pretty good range of salads, burgers and other sandwiches. I enjoyed the avocado turkey club sandwich, though it was a bit more than I could eat. Washed down with a Safari Amber ale that came with a take-home Rainforest Cafe glass, which somehow made it safely through our travels.
After a full day of hitting three Disney parks, we were pretty tuckered out when we got back to the hotel around dinner time. We stayed at the B Resort & Spa near Downtown Disney, and decided to try the hotel restaurant that night. Their restaurant, American Q, was very accommodating around the food allergies, too. B had a burger sans bun (most buns have egg and/or milk), some apple slices and some waffle fries. Good fries generally means a happy boy. He also got to try the "bacon candy" that caught my eye on the appetizer menu, the maple syrup on it appealed but the spice made it more of a grown up snack. C'est la vie!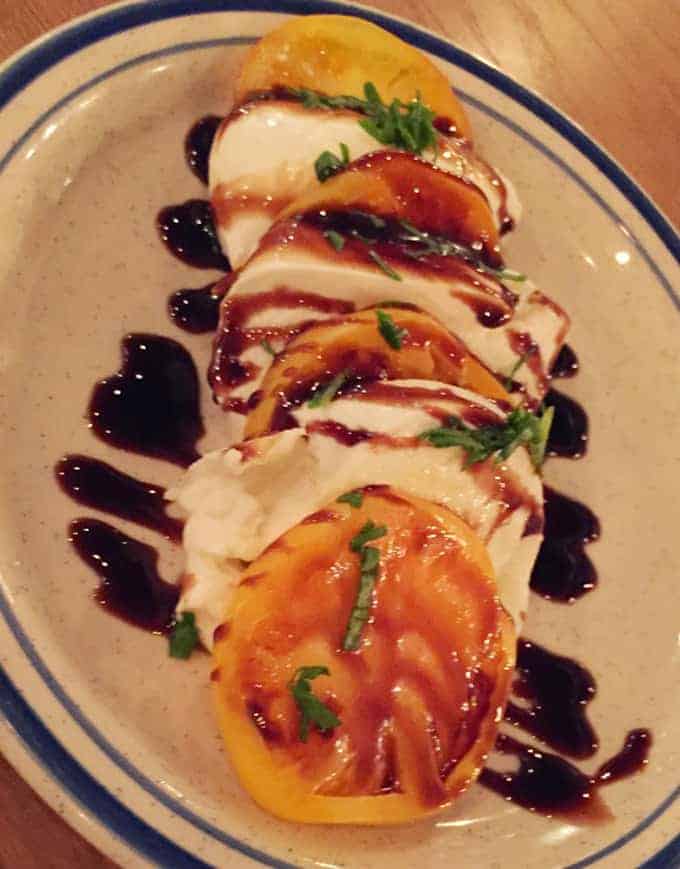 We found enough for B to eat, but overall the menu at American Q was probably a bit more parent pleasing. We enjoyed a refreshing glass of riesling as we perused the menu. The fresh tomato and mozzarella salad was a tasty start. Jodi and I both ordered the steak fajitas. That was tasty, though the meat was cooked a bit more than I'd prefer for skirt steak. The meal was accompanied by what was probably the best wine we had during the trip, a 2010 Clos de los Siete Malbec blend from Argentina. We enjoyed our meal at American Q, and found the B Resort a nice place to stay overall. (just note the daily parking and resort fees, which we didn't catch when booking the place.) The prices at American Q are quite reasonable as far as hotel dining goes.
Overall we were pleased with the ability to find good allergy friendly options during our Disney stay. The one big exception to that was the very limited allergy-friendly options at Epcot. That was our third park of the day, and we were getting hungry as we strolled through the various country exhibits. Sampling food is a big part of the Epcot experience, so it was frustrating to go to stand after stand to find no viable allergy safe options. I'm a bit surprised given Disney's overall emphasis on good food allergy safe options that they didn't have more to offer from the various stands at Epcot. After much searching we finally found B a bag of potato chips, barely enough to tide him over.
Our final meal before heading back to Boston was at the Orlando Airport Outback Steakhouse. Outback made AllergyEats top allergy-friendly restaurant chains list. The Orlando Airport Outback seemed more worthy of that accolade than the one we tried in Winter Haven. The staff at the Orlando steakhouse were very attentive to the allergy concerns, and helped us land on a good steak option from the kids menu. So all three of us were able to enjoy a tasty steak dinner to wrap-up our vacation. And I just remembered when getting the photo from that meal that we were pleasantly surprised that B loved the steamed broccoli that came with the steak!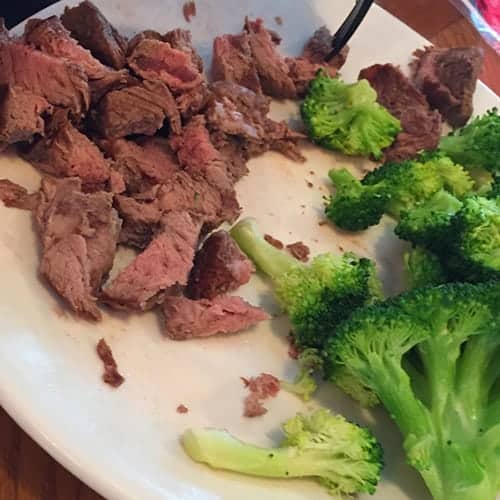 Every family needs to find its own approach to managing food allergies. Hopefully if you're planning or thinking about a trip to the Disney area, our experience can give you some options and encouragement to go have yourself a fun time there! If you visit Disney, please share good dining options you found.