We were excited to make a return visit to Legoland Florida this winter. Though Minecraft and Pokemon might be top of mind now for our 9 year old son Brendan, he still enjoys Legos and wanted a return visit to the Winter Haven park a central part of our trip to Florida. With that came the challenge of finding Winter Haven family dining options that are food allergy-friendly.
As I mentioned in the post on allergy-friending dining around Disney World, Brendan is allergic to eggs, nuts, dairy and sesame. During our first visit, we stayed in a suite with a kitchen, so the quest for allergy-friending dining around Winter Haven was new this time. Disney has built up a reputation for being food allergy-friendly, and there are a number of ways to sort through the options. We were more on our own finding allergy-friendly option in Winter Haven.
After a day of traveling, we figured the Outback Steakhouse we could see from our hotel was worth checking out. I went on an early scouting mission to see if there were viable options for our allergy concerns. The staff was friendly and tried to be helpful, but it was clear there wasn't a lot of knowledge or focus on allergy issues. I was proffered a gluten free menu, though our guy can eat gluten no problem. (the gluten menu is a common response to our mention of Brendan's food allergies that have nothing to do with gluten). I read shortly after the visit to Outback Winter Haven that the chain is on AllergyEats top allergy-friendly restaurant chains list, was a bit surprised to see that given the limited food allergy knowledge displayed by the staff.
The good news is that Outback had a decent number of options, as many of the entrees are grilled, and they didn't seem to have eggs or nuts prominent in their dishes. We confirmed the fries are cooked in an oil that doesn't have any nuts, and Brendan would up loving the fries (you could never guess that from the photo!). He got grilled chicken to go with it, and was OK with that.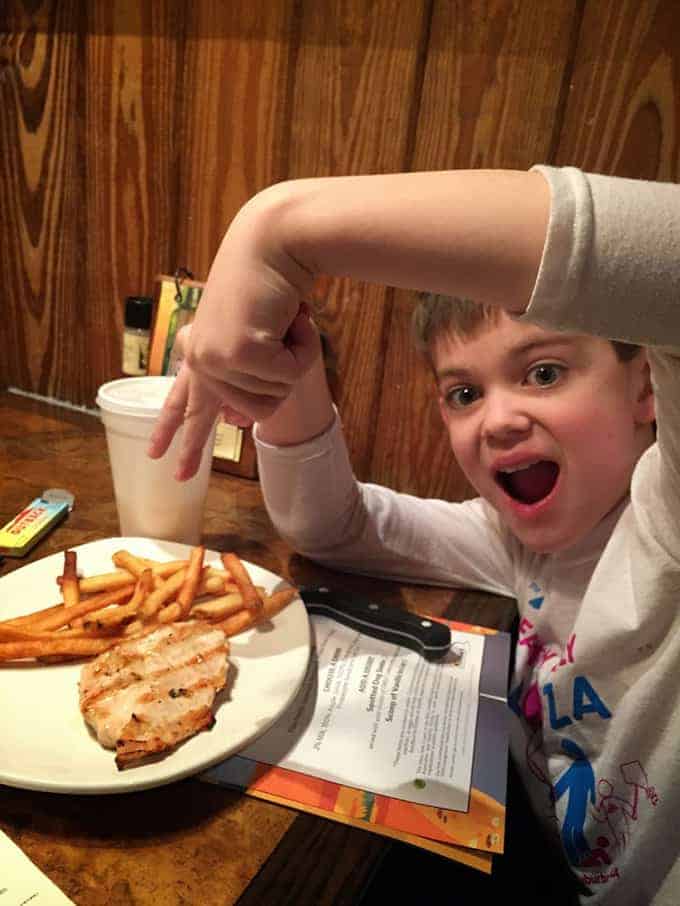 Now, the non-allergy members of our part–Jodi & I–were less than thrilled with this trip to Outback. Jodi ordered a burger medium, and it came out barely cooked. It took awhile before a properly cooked burger arrived. Many places would have comped it at that point, but we just got an apology.
I ordered steak tacos. The menu referred to a crispy slaw it was to come with. I didn't see any slaw in or by the taco. Just overcooked meat and a big dose of the aioli–which was tasty enough and helped get the overcooked meat down.
One plus side for the grownups was the option to order various sizes of beer or wine. So we were able to get a 9 oz glass of Alamos Malbec for a good price. I used to get Alamos fairly often, it's a serviceable wine for the price (under $10 for the super-sized glass).
Though we had some critiques of this meal at Outback, Brendan liked it enough to ask for it again on our "take out night" (Jodi and I opted for Boston Market). We had a better overall Outback experience at the Orlando airport on the way home, as described in this post about our Orlando dining.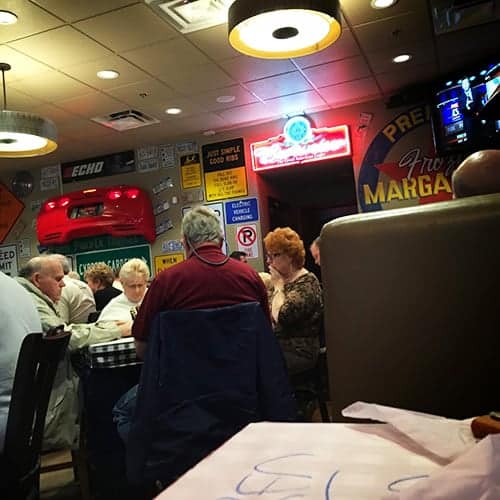 The second night we headed to a popular local establishment, Manny's Chophouse. They do a bustling business; call ahead to get your name on the list. Manny's has an eclectic roadhouse cafe style decor, creating a fun environment.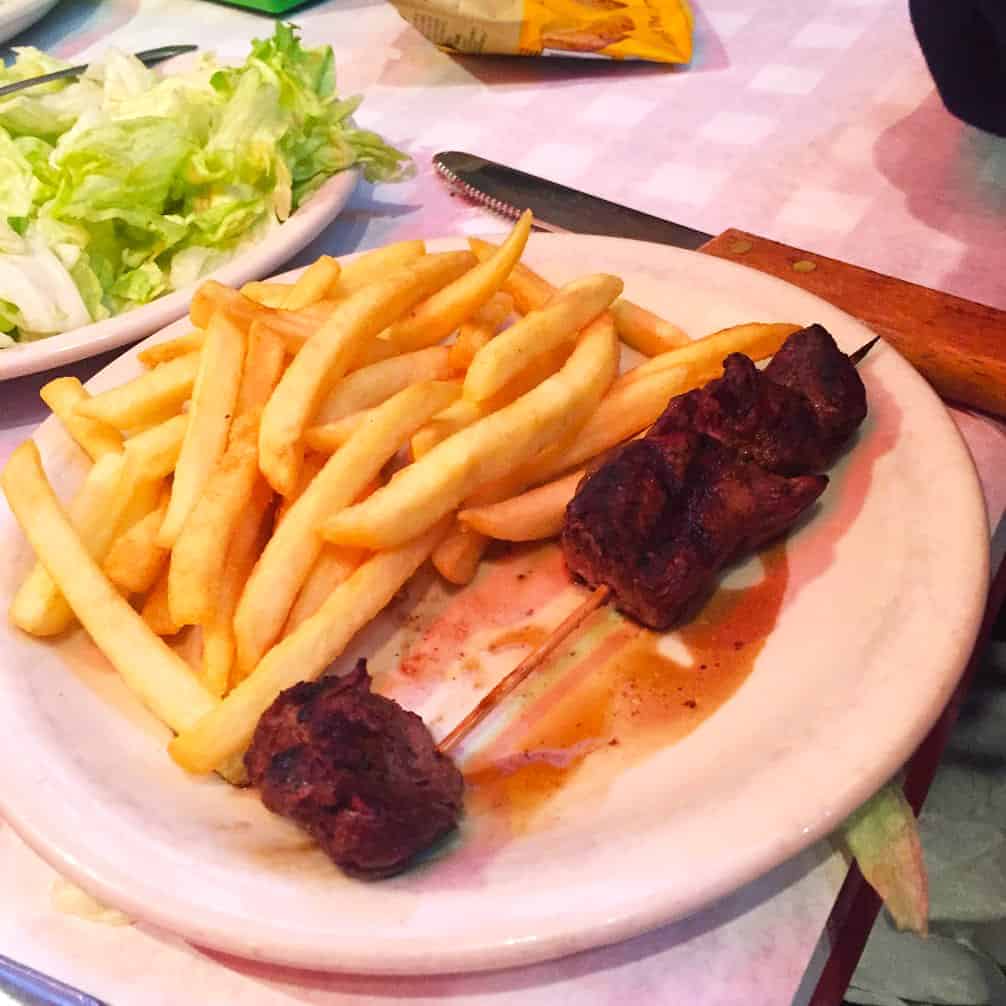 Manny's didn't seem to have an established protocol for handling food allergies, but our server did carefully take down the allergy info and confer with the cooks, and came back with confirmation that the kids steak tips and fries were safe for Brendan's allergies. Exciting news! Brendan wound up loving his meal, and rated the fries the best of the trip. Allergy safe + tasty for our lad means we were all happy. That said, my own steak wasn't as tender as one might expect from a place focused on serving steaks. Oh well…it was OK, and overall we were pleased with the experience.
A few words about the visit to Legoland. This is a fun Lego-themed park. When we first visited, I was a bit surprised at how it was centered around rides like other parks, as opposed to hands-on Lego activities. Of course, the rides have themes from various Lego sets. Our favorite this time was probably the Chima Quest for CHI water ride. Fortunately they have rain slickers and all-body driers available, because it was a bit chilly for getting doused with water during our visit! (the photos with us drenched in our rain slickers were note approved for publication!) There are a lot of intricate Lego statues of characters and animals around the park, and the Miniland USA that recreate many notable American city scenes is very impressive.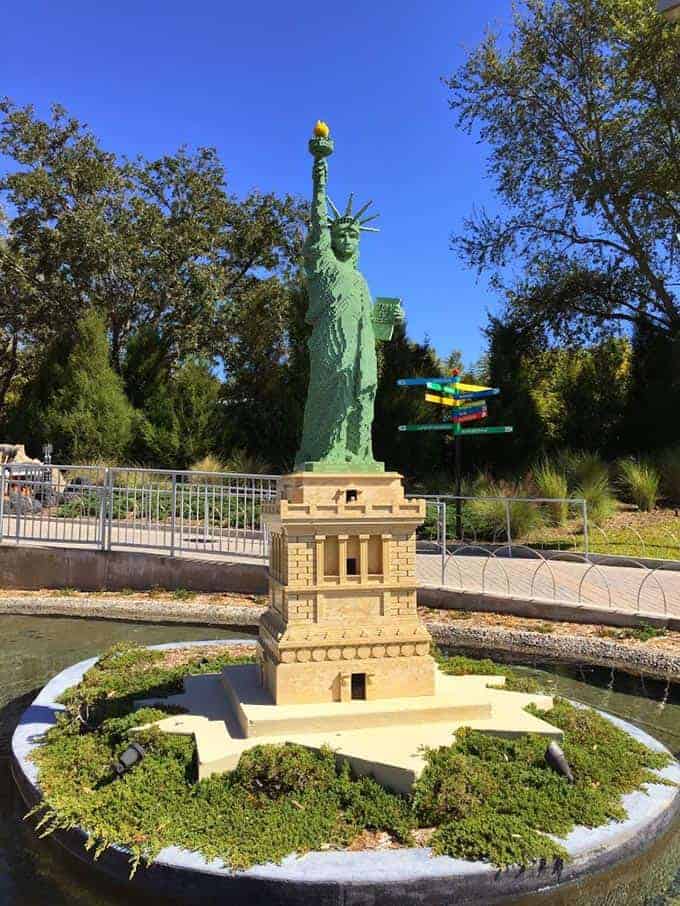 Legoland has yet to put the emphasis on food-allergy friendly options that Disney has. We were more comfortable packing a lunch for Brendan during our two days at the park.
To round out the story of our visit, we stayed at the Winter Haven Hampton Inn and found it to be comfortable and a good value. It's just about 5 minutes from the park. There is an on-site Legoland hotel due to open on May 15 of this year that looks like it should be fun. At a glance it is certainly more expensive than the Hampton In but the packages that include tickets might make it an option to consider.
If you find yourself in Winter Haven and have good family dining options you've found, please share a comment! If you find good allergy-friendly options in Winter Haven, please do rate them on the Allergy Eats site. This is a great resource for families with food allergies, but it's only as good as the data we all contribute to it. The Winter Haven ratings are limited at this point.