We make a delicious and healthy Andouille Sausage Pasta recipe by using chicken sausages, cannellini beans and spinach. Excellent paired with a good Pinot Grigio! Disclosure: the wine suggested as a pairing was provided as a complimentary sample.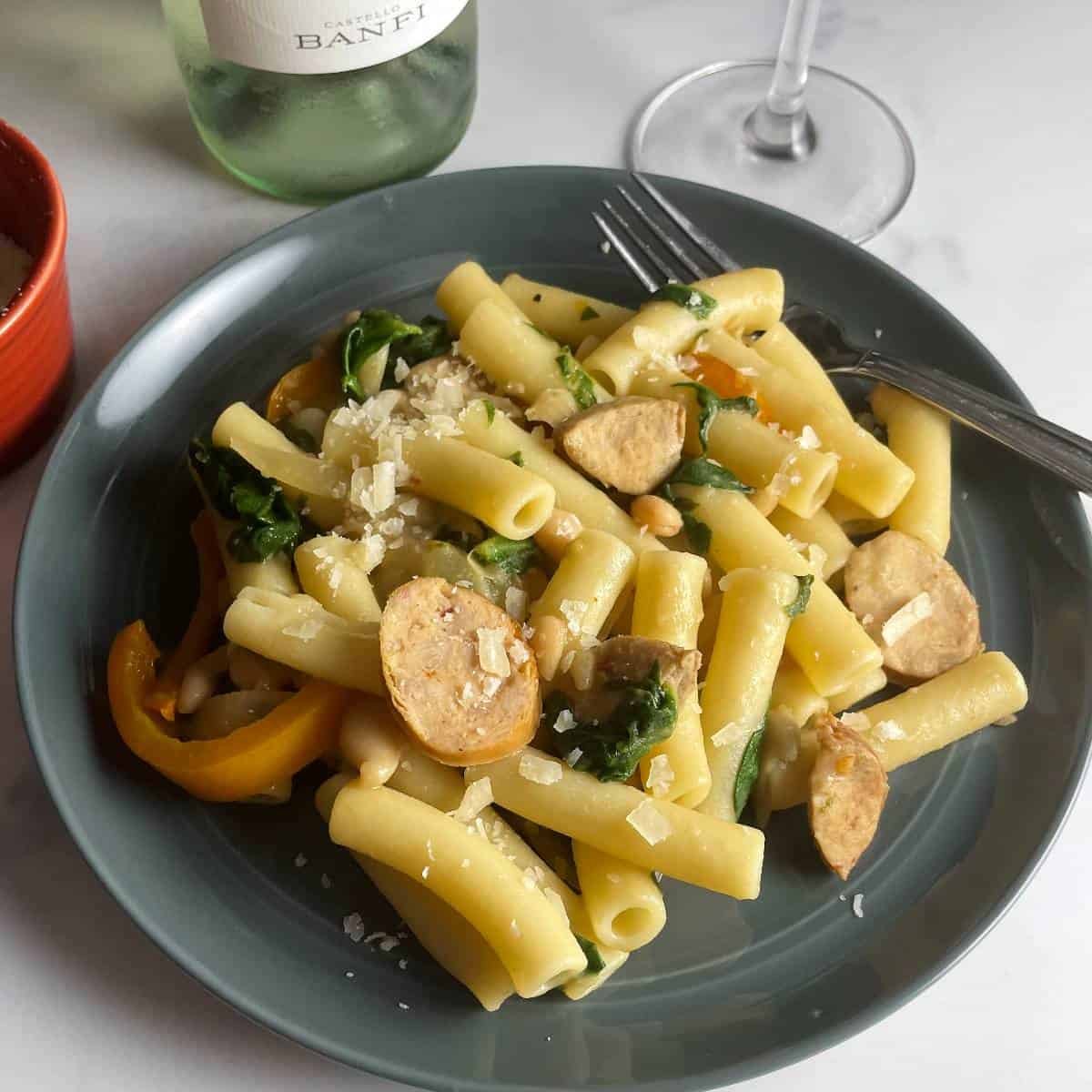 We love the combo of pasta with flavorful sausage, and this andouille sausage pasta recipe brings that flavorful pairing to the table. This is an easy pasta recipe to put together, and one that you can vary based on what you have on hand.
Some andouille sausage pasta recipes may be heavy on the cream and not very healthy, but we like to bring the flavor with a nutritional profile that means you can feel good about making this recipe a regular in your meal rotation!
Jump to:
What makes this recipe healthy
Sure, we like the flavor of a traditional pork sausage.
But swapping the pork sausage for chicken sausage is generally going to make this recipe healthier. Comparing the Whole Foods brand andouille chicken sausage with its traditional pork shows chicken sausage has:
Half of the saturated fat (3 grams vs. 6 grams per serving)
Less calories (150 calories vs. 220 calories)
Roughly the same amount of protein (the andouille chicken sausage has 15 grans)
In addition, using cannellini beans brings additional protein and fiber to the dish. Plus, it means you can use a modest amount of sausage and still have nice, hearty pasta dish.
This healthy andouille sausage pasta also includes some healthy spinach, bring more nutrition to the table.
And we skip the heavy cream you might find in other andouille pasta recipes. Sure, we like creamy pasta, but this has plenty of flavor and heft without it.
Ingredients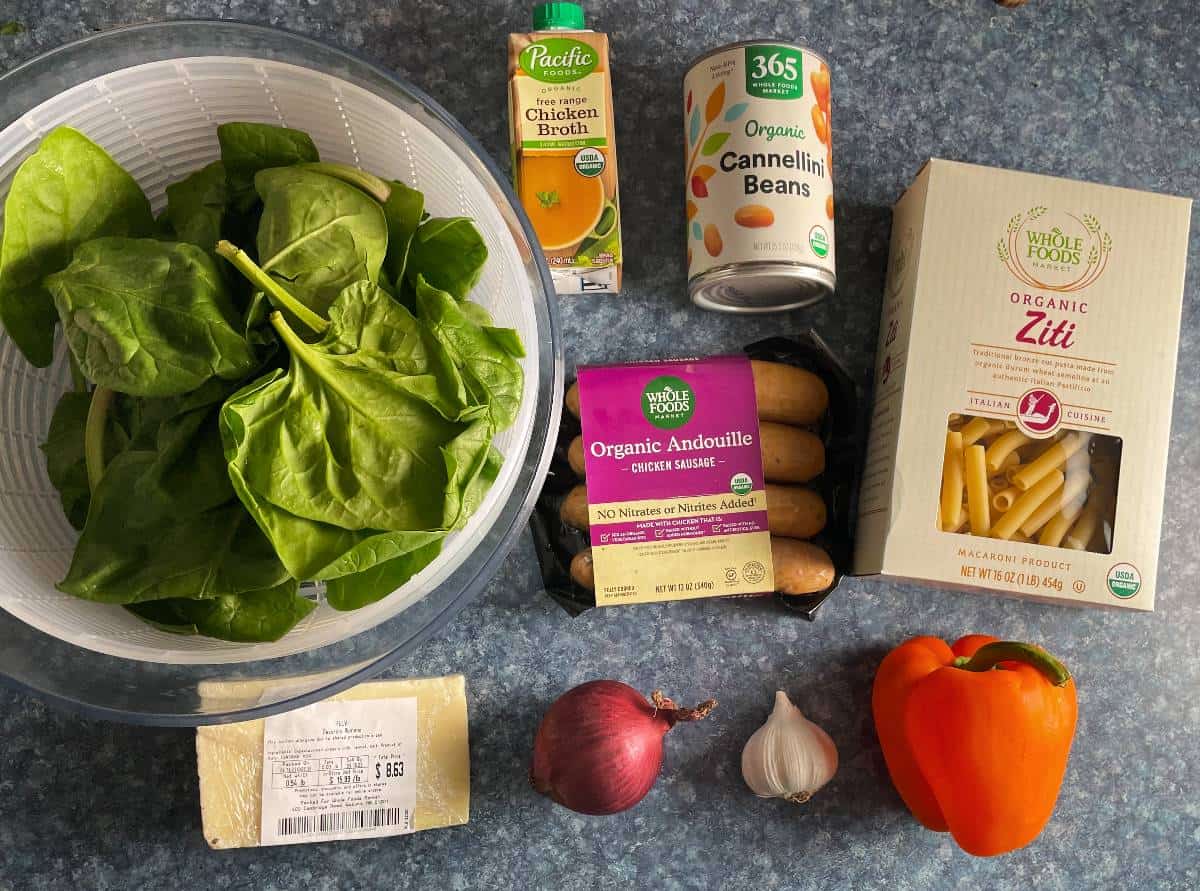 In the previous section, we talked a bit about some of the ingredients that make this recipe healthy. But let's break down more about the major ingredients we used and some possible substitutions.
Andouille sausage
Andouille sausage is a flavorful smoked sausage, typically with a garlicky flavor. It originated in France, but is commonly associated with Cajun cooking.
As we discussed above, we swap the traditional pork sausage for andouille chicken sausage to make this a healthier pasta recipe. You could also use turkey sausage.
If you can't find andouille sausage, or have other flavorful sausages on hand, you could try swapping them in place of the andouille sausage. I might add an extra clove of garlic and some Cajun seasoning if making that switch.
We also have enjoyed making vegetarian sausage pasta from time to time. If you want to make this a vegetarian recipe, you could try the Beyond Hot Italian sausage we used in our veggie sausage pasta. Or another flavorful vegetarian sausage.
A lot of options for this andouille sausage pasta recipe!
Pasta
Of course, pasta is an important ingredient here, too!
Using whole wheat pasta can further improve the nutritional value of this recipe. I often used whole wheat pasta when making dishes like this, although I didn't when making this recipe initially. I'm a big fan of the Delallo whole wheat pasta, as it has a good flavor and consistency.
There's flexibility here in terms of which pasta shape to use. Generally, I would go for a short pasta shape, which I find easier to eat along with the sausage and beans in this recipe. Ziti or shells are good options as well as elbow macaroni.
Beans
We like to use cannellini beans in pasta recipes like this. But you could certainly swap in chickpeas or other white beans here.
The convenience of canned beans is attractive to us. However, preparing some dried beans to use in this recipe is certainly a healthy option that saves money!
Greens
Our recipe calls for spinach, but you can certainly swap in other recipes that you might have on hand. If you want to use a sturdier green, such as kale or collard greens, I would add the greens earlier than in the recipe. e.g. add it shortly after the garlic, giving it an extra 5 or 10 minutes of cooking time.
Wine pairing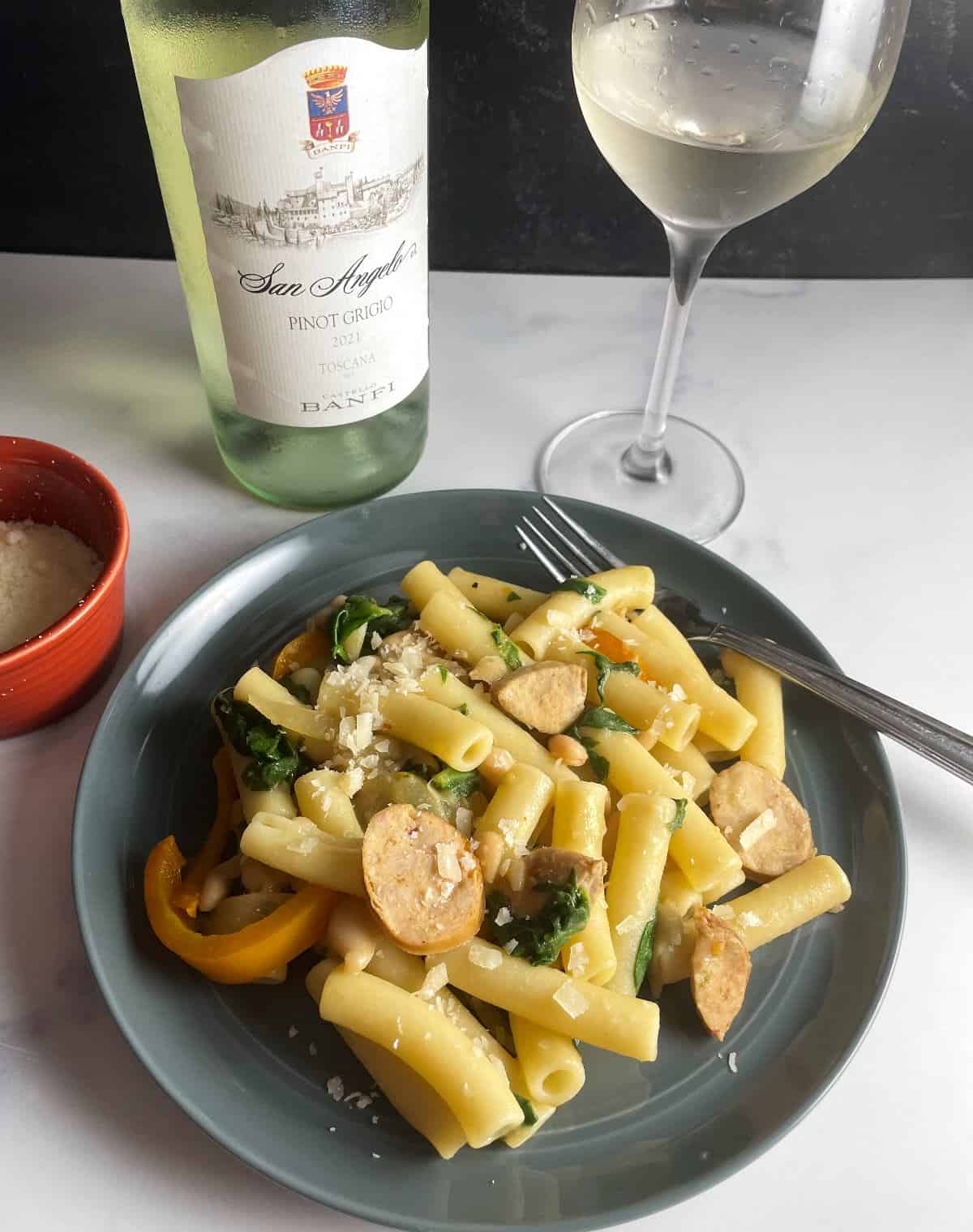 Earlier this year we had the opportunity to sample a selection of white wines from Banfi. After enjoying one of their Vermentinos, I was ready to try the 2021 San Angelo Pinot Grigio (12.5% ABV). This white wine is from Montalcino in Southern Tuscany.
This Pinot Grigio has a bright hibiscus nose. On the palate, honey and peach, with a bit of lemon offset by a touch sweetness. Paired well the the spice of the pasta!
We actually did this pairing a couple of months ago, so I noted that it was "pleasant summer sipping". While it is a good one to keep in mind for summer weather, I wouldn't mind opening another bottle this fall!
About Banfi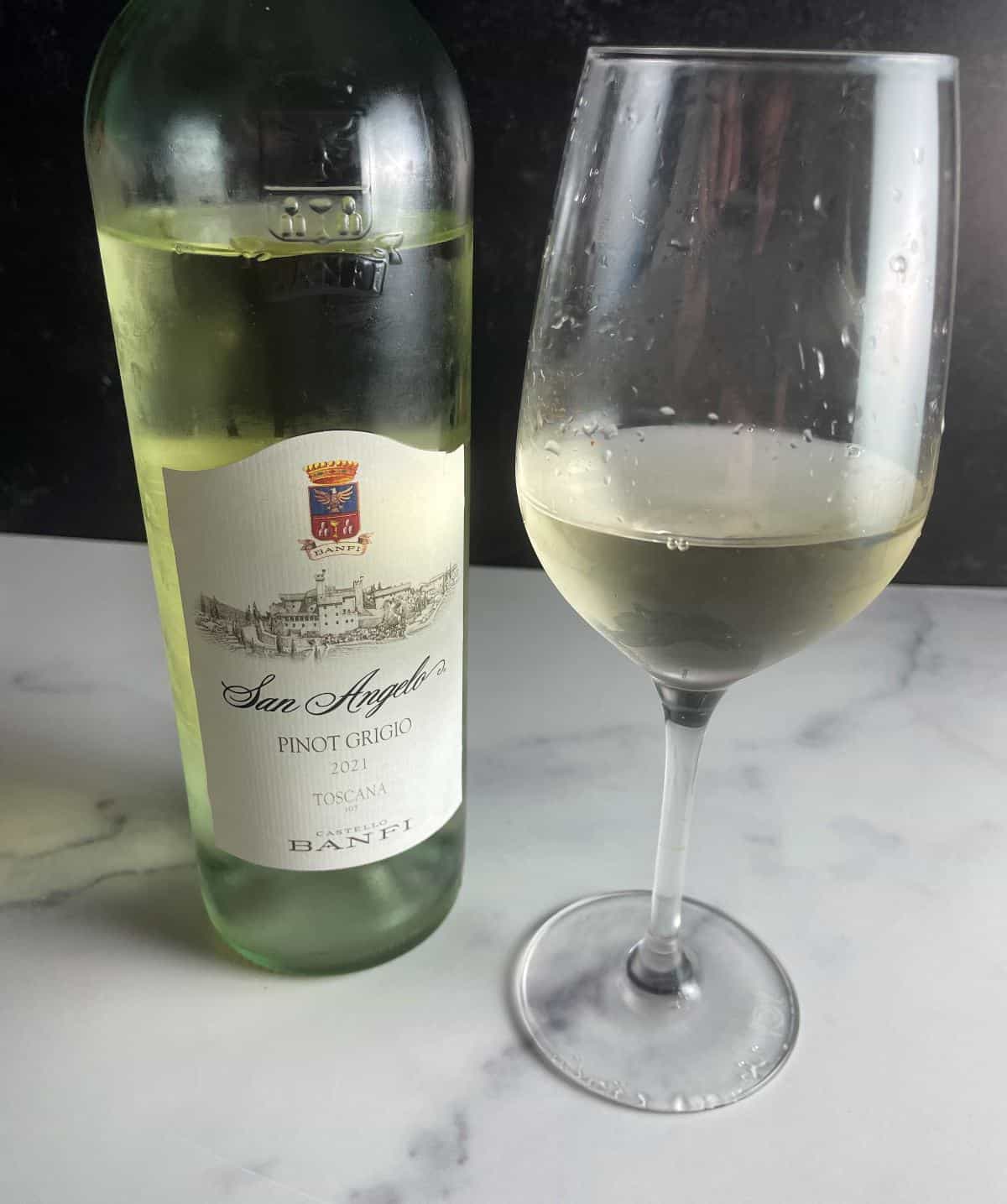 Banfi was founded in 1919 as a fine wine producer and importer. Today the company is woman-owned and operated by third generation family proprietor, Cristina Mariani-May.
Banfi is the sole U.S. importer of the Mariani family's internationally renowned wine estates in Italy: Castello Banfi of Montalcino, Tuscany, and Banfi Piemonte of Strevi, Piedmont. For more information, visit the Banfi website.
Print
Recipe card
Healthy Andouille Sausage Pasta Recipe
We use andouille sausage made from chicken, cannellini beans and veggies to make a delicious and healthy andouille sausage pasta recipe.
Author: Cooking Chat
Prep Time:

10 mins

Cook Time:

25

Total Time:

35 mins

Yield:

6

servings

1

x
Category:

Main

Method:

stove top

Cuisine:

Italian
2 tablespoon

olive oil, divided

2

Andouille sausages – chicken or turkey, 6 ounces total

1

onion, chopped

1

red bell pepper, chopped

3

cloves garlic, minced

½ cup

of low-sodium chicken or vegetable broth

½ teaspoon

red pepper flakes
a

14.5 ounce

can of cannellini beans, drained and rinsed

2 cups

spinach

12 ounces

short pasta shape – use whole wheat for extra nutrition
Parmesan cheese to pass at the table
Instructions
Heat 1 tablespoon olive oil in a large skillet on medium high heat. Add the andouille sausage. Heat about 3 minutes or so to brown one side, then turn and brown the other side for another 3 minutes or so. Remove the sausages from the skillet and set aside to cool. Slice the sausages when they have cooled a bit.
Begin boiling water for pasta after the sausages have been browned. Cook the pasta according to package instructions as you prepare the sausage and vegetable skillet.
Cook the onion by adding another tablespoon olive oil to the skillet used to brown the sausage. Lower heat to medium, and sauté the onion for about 5 minutes, stirring occasionally. Add the red bell pepper, and cook for another 3 minutes or so.
Stir the garlic into the skillet. Lower to medium low. Cook for another minute or so, until the garlic starts getting fragrant.
Stir in the broth, sausage slices, red pepper flakes and beans. Cover to simmer for 5 minutes. Remove the cover after 5 minutes, and stir in the spinach. Continue simmering until the spinach has wilted, about 3 to 5 more minutes.
Drain the pasta when it is ready, and toss immediately with the andouille sausage mixture. Plate and serve, passing the cheese at the table. Enjoy!
Notes
Using chicken or turkey andouille sausages helps make this a healthy dish. However, you could use regular andouille sausage made from pork and get similar flavor results.
It's better to have the andouille sausage sauce ready when the pasta finishes cooking. Adding the pasta to the boiling water around the same time you add the red pepper to the skillet should have both items ready at about the same time.
You could use yellow or orange bell pepper instead of red if you like.
If substituting a sturdier green such as kale or collard greens for the spinach, add it right after the garlic to give it an extra 5 or 10 minutes of cooking time. 
Keywords: andouille sausage pasta, healthy pasta recipes, recipes with chicken sausage, how to make a healthy pasta dish
Recipe Card powered by