Today we are serving up a quick Beef and Vegetable Stir-Fry with a Cabernet Sauvignon from McGrail Vineyards. This flavorful stir-fry can be on the table in under 30 minutes! This recipe is my featured pairing for the Wine Pairing Weekend exploration of Livermore Valley wines. Disclosure: the wines discussed in this article were provided as complementary samples.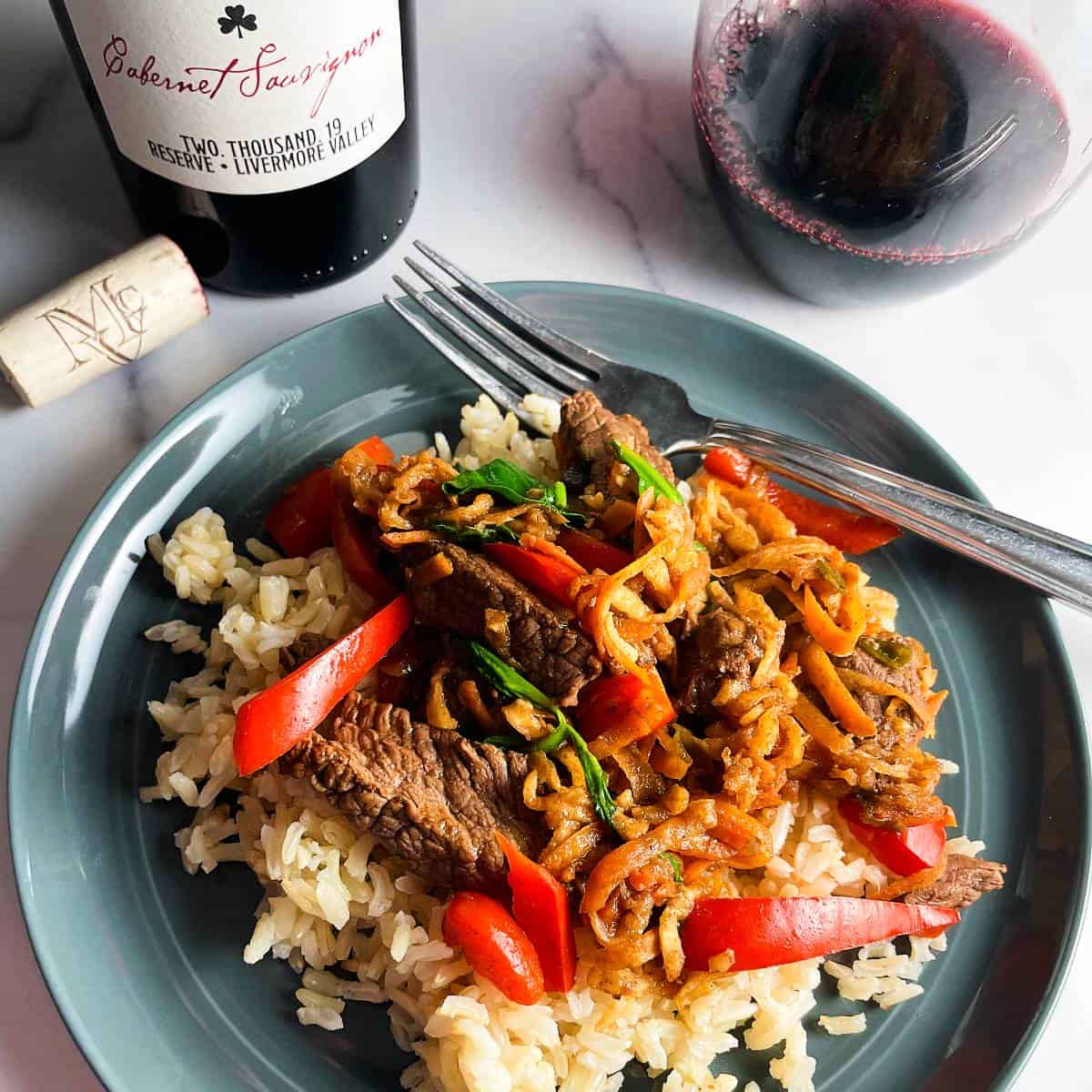 The Wine Pairing Weekend blogging group is always up for exploring wine regions we haven't previously covered. So when I came across a reference to Livermore Valley Wines on the 143 Communications website, I thought this might be a topic for us. One thing led to another and here we are!
The Livermore Valley Wine region is about 45 minutes east of San Francisco. For more background on the region, see my introduction post about Livermore Valley. Here I'm going to focus on the beef and vegetable stir-fry recipe I made to go with the McGrail Vineyards Cab, and other pairings we did.
Jump to:
What makes this recipe work
Of course, steak and Cabernet Sauvignon are natural partners. But I also had some veggies on hand that I wanted to use. So I decided to cook up a beef and vegetable stir-fry recipe to go with the McGrail Cab.
Stir-fry is a great weeknight cooking option. We start by making a simple, flavorful no-cook sauce. Soy sauce drives the flavor, along with some garlic, ginger and Chinese five spice powder to give it that Asian accented flavors.
We thinly slice the steak so it cooks up super quickly. You get the veggies prepared before starting to cook anything, because it goes fast once you do! In fact, after taking about 15 minutes to prep the ingredients, the cooking time is ten minutes or less.
Ingredients
Here are some notes about the steak stir-fry ingredients to help you plan your meal.
Soy sauce – we recommend choosing a low-sodium soy sauce. Realistically, "low sodium" is a relative term when you are talking soy sauce. But you don't need a lot to bring good flavor to the dish.
Ginger – we used dried ginger, but if you have fresh ginger on hand, definitely use it!
Steak – you want to use a lean cut of steak to make a beef stir-fry. We used sirloin steak. Skirt steak is another good option for stir-frying.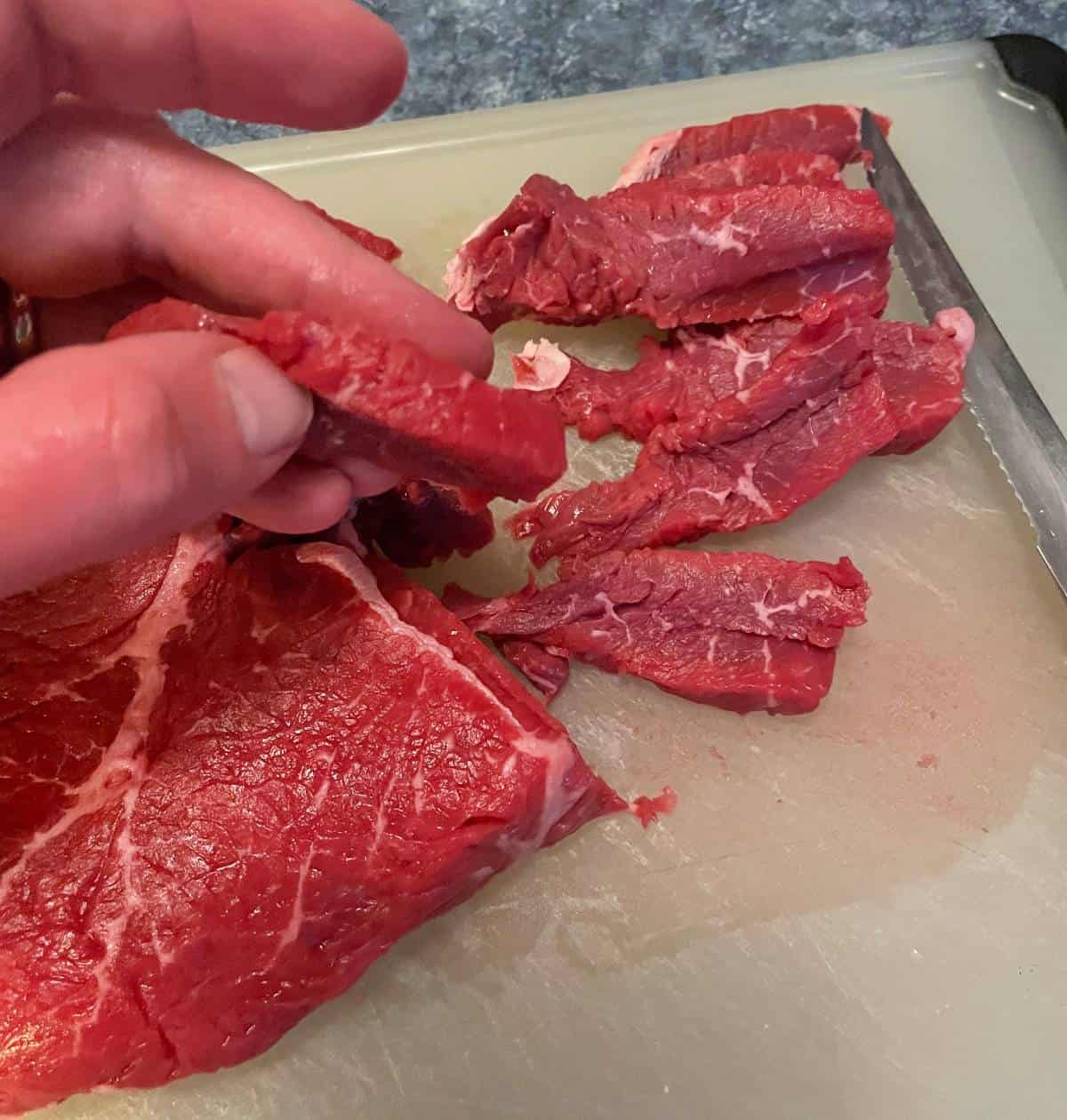 Whatever cut you choose, thinly slice it before cooking, about ½ inch thick. This way it will cook very quickly.
Vegetables – a colored bell pepper is definitely a good place to start with steak stir-fry. We used one daikon radish plus a carrot. You could definitely use two carrots instead of the radish if you prefer. But we were starting to get a stockpile of daikon and were looking for a way to use it — one thing that led us to making this steak and veggie stir-fry!
I shredded the carrots and daikon radish in a food processor. The shredded veggies, especially the radish, cook down quickly. You could thinly slice the root vegetables with a sharp knife for more crunch.
Recipe overview
Here's an overview of the steps for making this beef and vegetable stir-fry. Head on down to the recipe card for all the details.
Prepare all the ingredients before you start cooking. Things go fast once you start to stir-fry!
Make the sauce as your first step.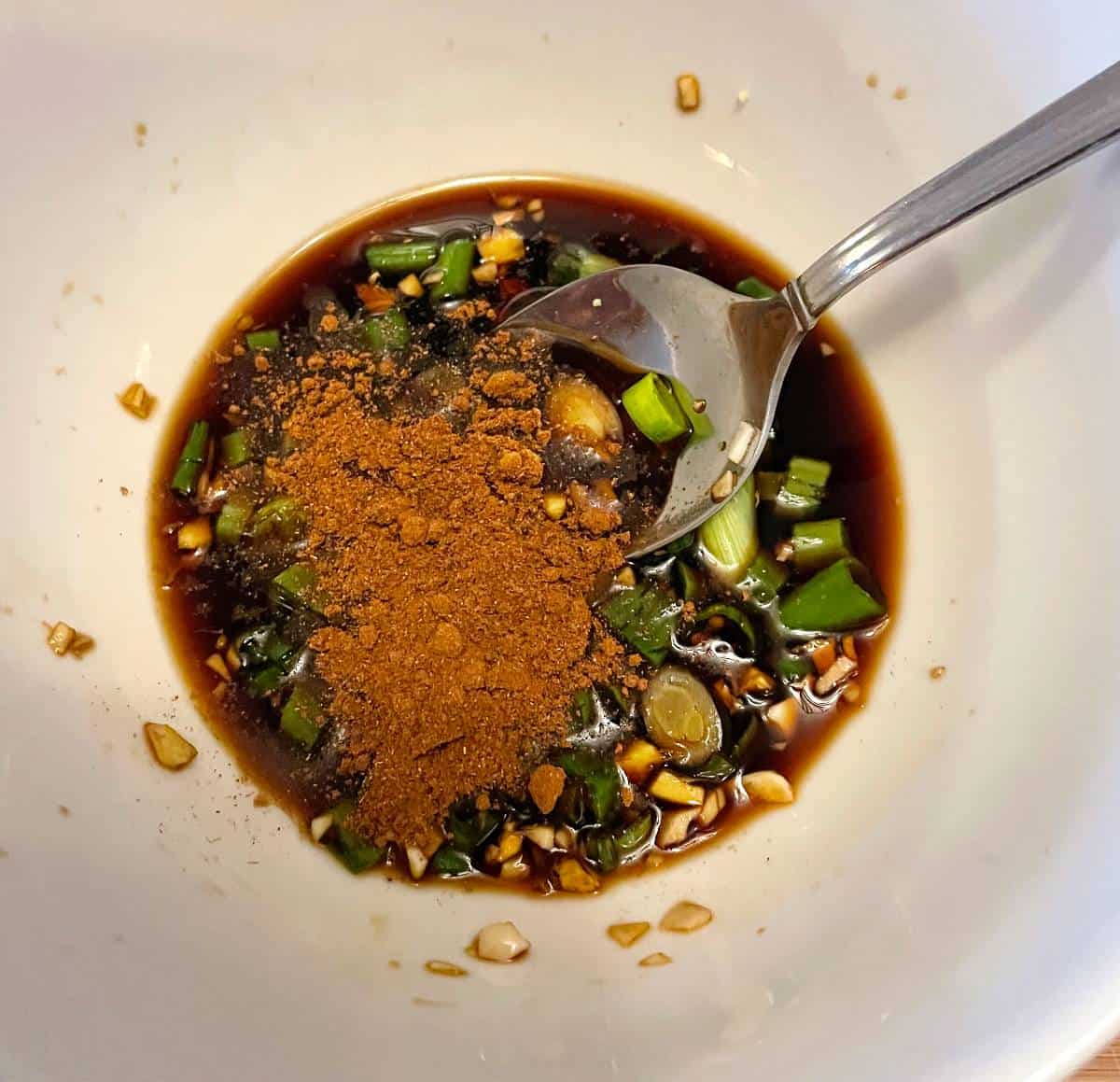 Combine all of the sauce ingredients in a bowl, starting with the soy sauce, then down through the garlic and ginger on the ingredient list. Stir to combine well, and set aside.
Slice steak and prepare veggies. See the ingredients section above for tips on slicing the steak and preparing the vegetables.
Stir-fry the steak Once you have prepared the ingredients, start the cooking process by quickly stir-frying the steak on medium high heat.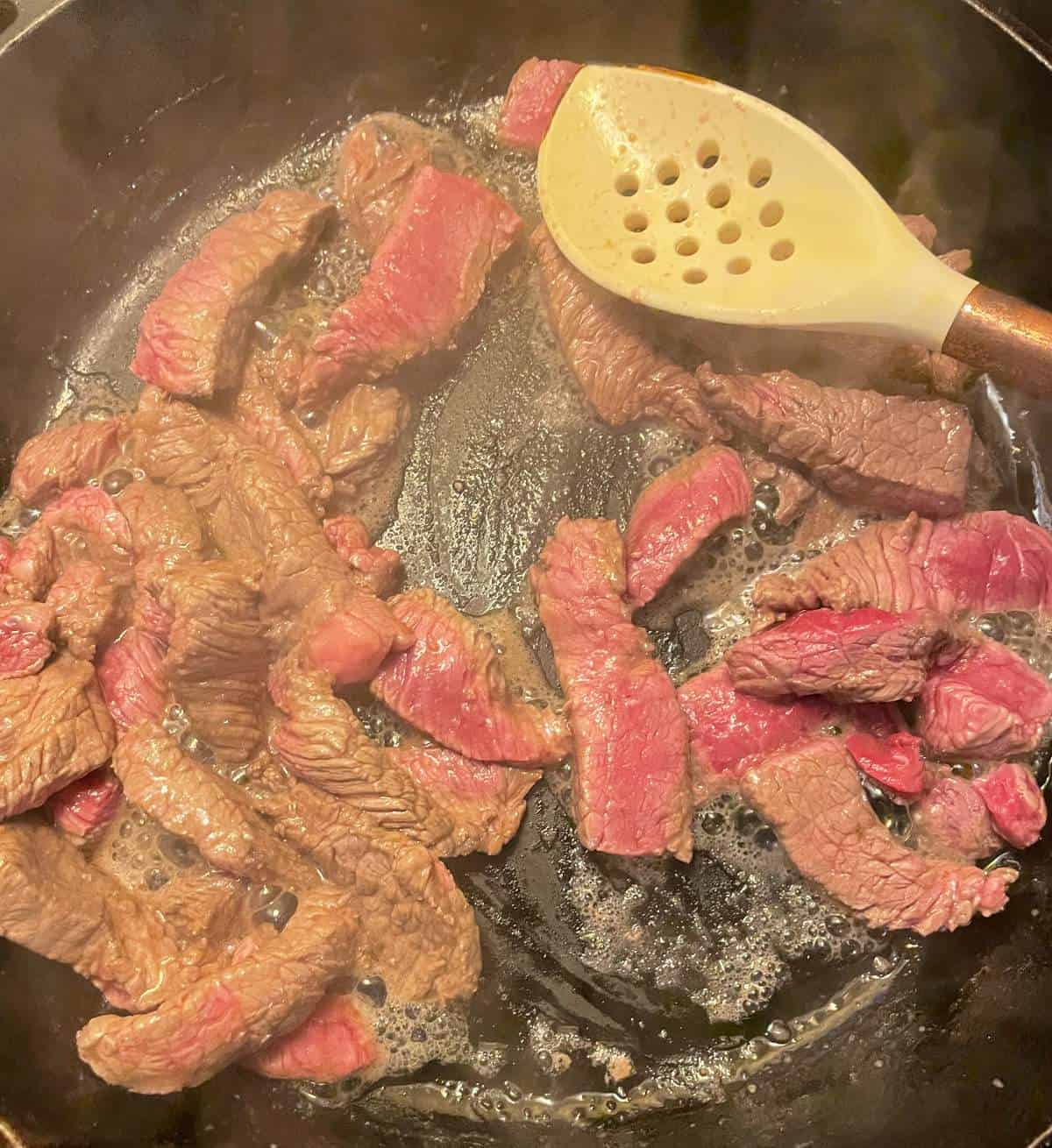 Add 1 tablespoon of the cooking oil, and heat on medium high. Add the thinly sliced steak, and stir frequently. Cook for two to three minutes, and remove the steak with a slotted spoon.
Stir-fry vegetables Add the remaining tablespoon of cooking oil, then add the bell pepper slices and start cooking, stirring frequently.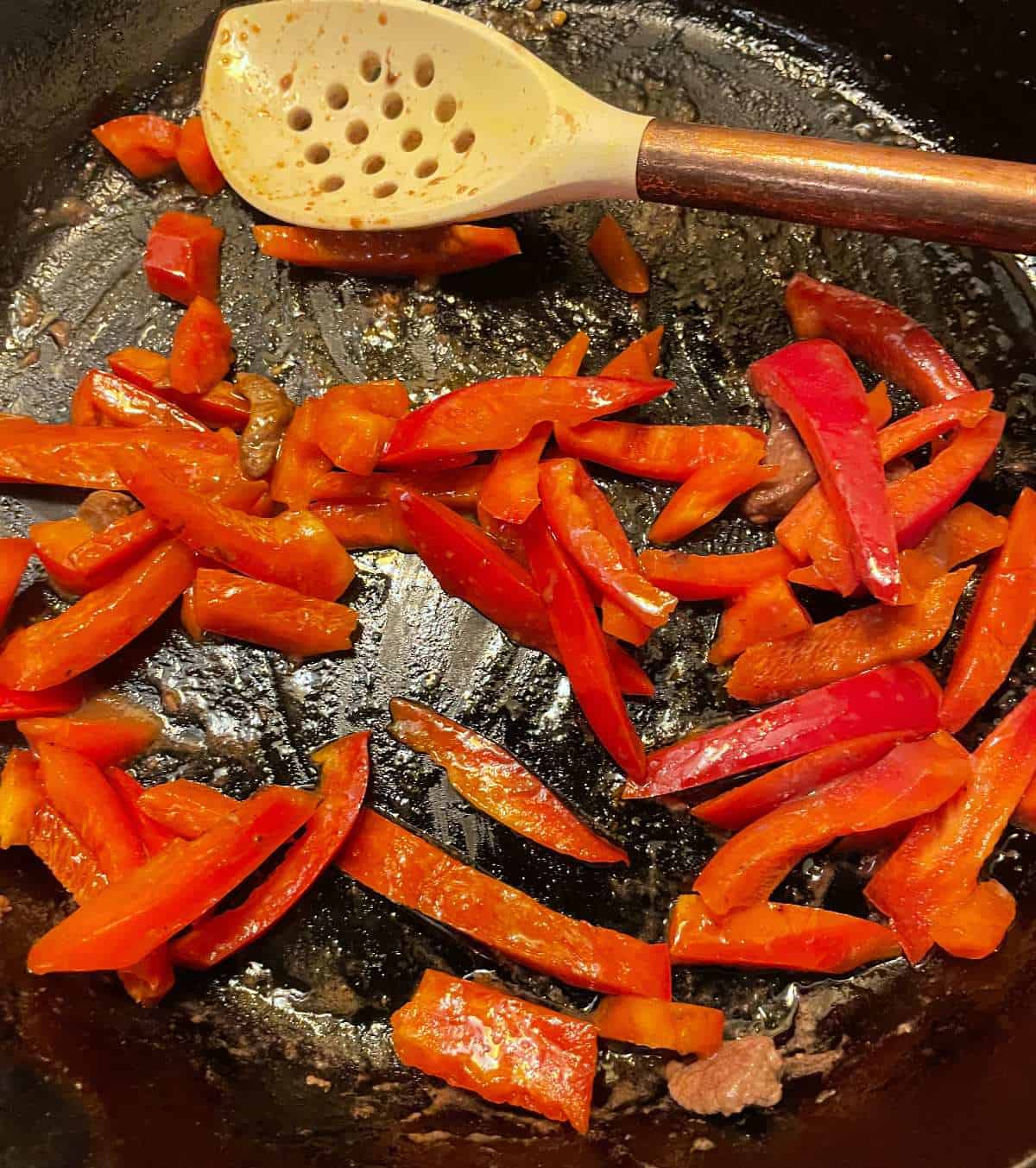 Add the sliced carrots and radishes after the peppers. Stir to combine. Cook the vegetables on medium high for a total of about two minutes.
Add the steak back into the pan along with the sauce.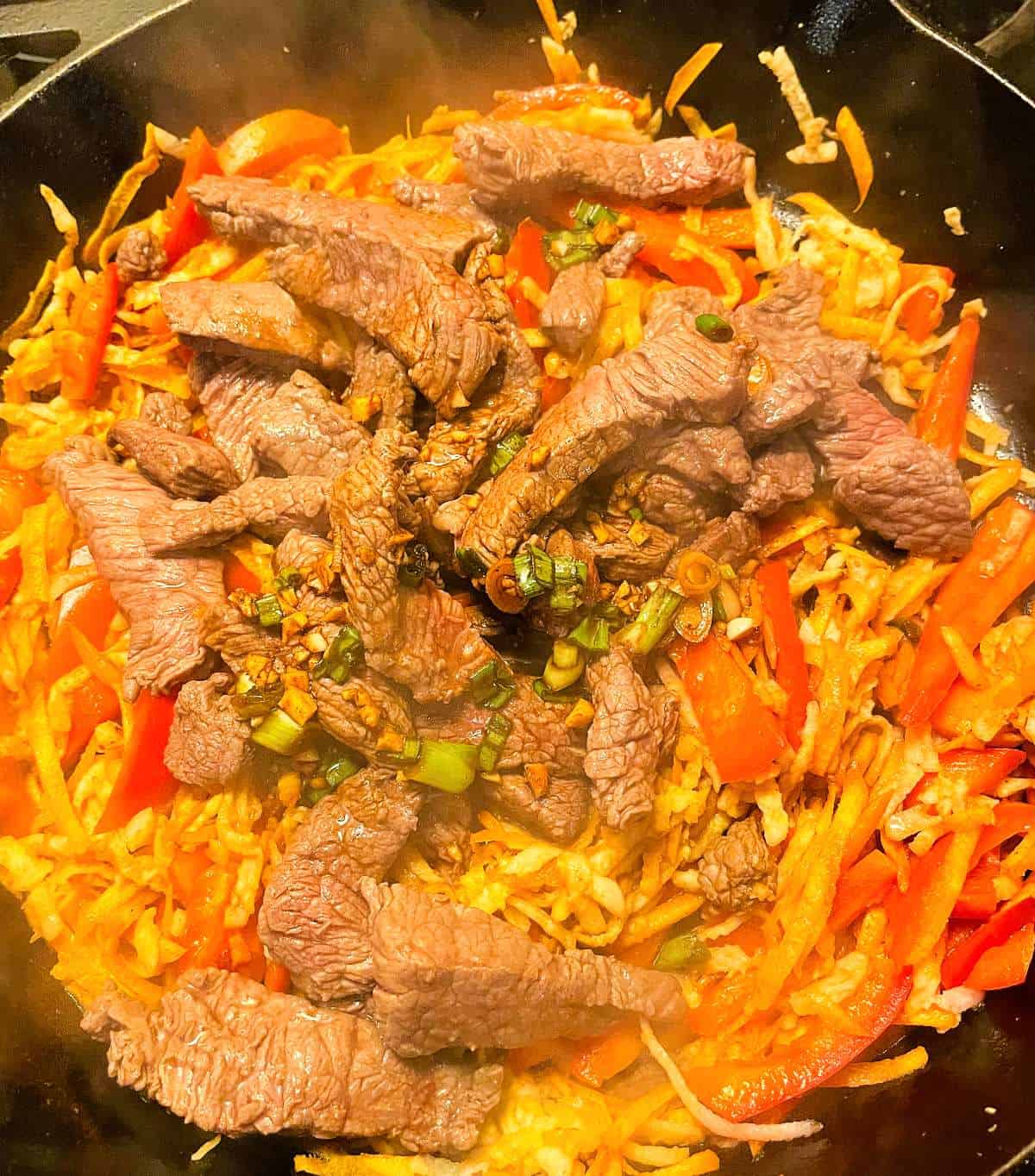 Stir to combine well and lower heat to medium. Cook for another two minutes to finish cooking the steak and let the flavors meld.
Add spinach to the skillet to finish the dish.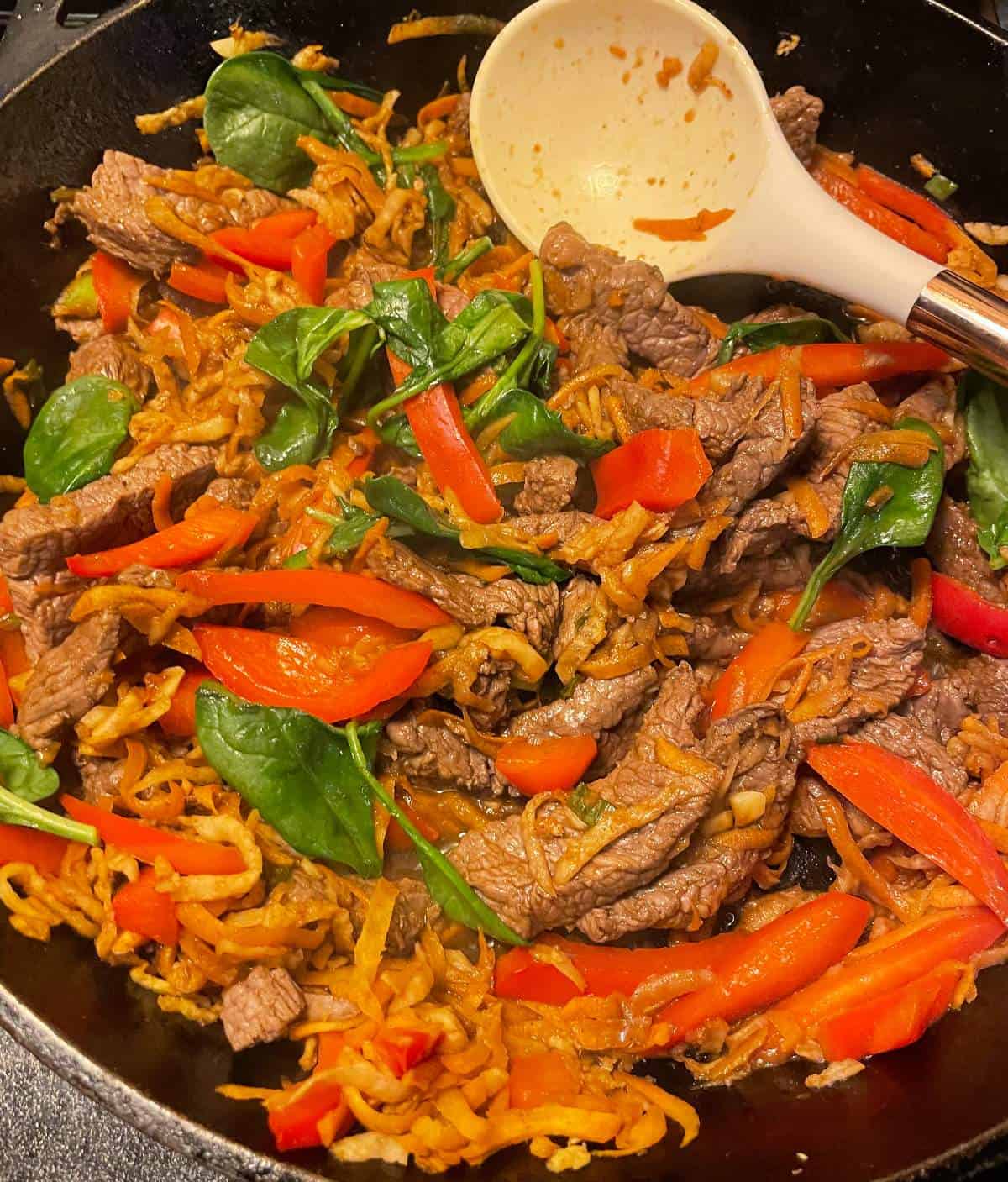 Stir to combine the spinach, then the steak and veggie stir-fry is ready to serve!
What to serve with steak stir-fry
We served this beef and vegetable stir-fry over brown rice.
You could also serve this dish with Asian style noodles, couscous or quinoa.
Wine pairing
As mentioned earlier, I had the 2019 McGrail Vineyards Reserve Cabernet Sauvignon (14.7% ABV, $49) in mind to pair with the steak and veggie stir-fry.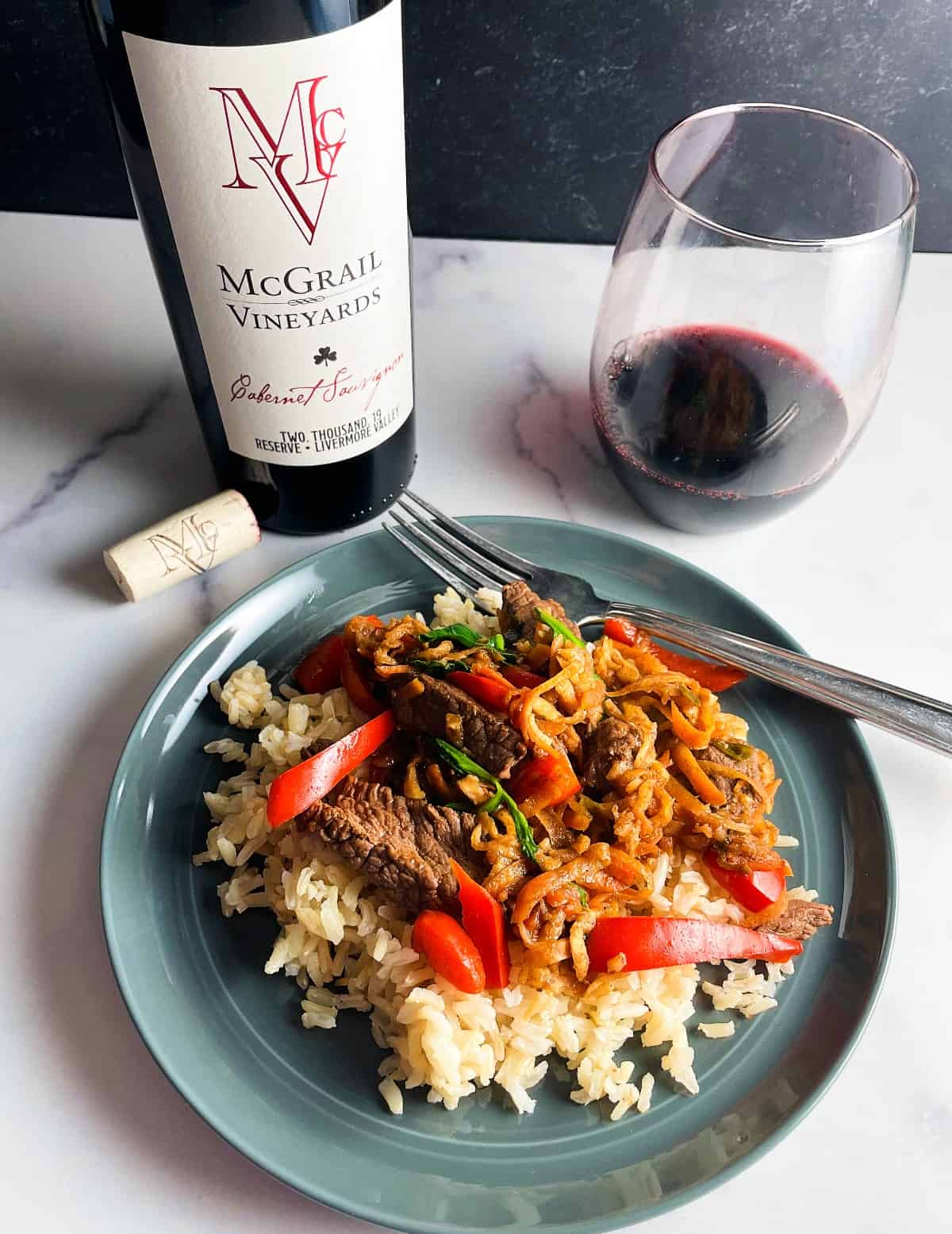 This Cab has a big violet nose. Cherry fruit and cocoa notes on the palate, firm tannins. A bold red wine, definitely well-suited for pairing with steak!
While the McGrail Cabernet Sauvignon would definitely be a good choice for a classic dinner such as our roasted sirloin, this Cab has enough nuance to pair nicely with the vibrant flavors of the beef and vegetable stir-fry.
The wine is aged in a combination of French, Hungarian and American Oak for 32 months, which helps give it the complex flavor profile.
About McGrail Vineyards
McGrail Vineyards is nestled in a picturesque setting in Livermore Valley, just outside of city limits. Jim and Ginger McGrail first plant the Cabernet Sauvignon vineyard in 1999. After starting by selling their fruit elsewhere, they opened their winery and tasting room in 2008. The casual and friendly tasting room, with a variety of music and other entertainment available, has remained an important part of their business.
The winery hired industry veteran Mark Clarin as their winemaker in 2009, and that helped further the development of the McGrail Vineyard wines. We had a chance to do an Instagram Live event with Mark, and he clearly has a wealth of knowledge about winemaking and a passion for wine.
The estate specializes in small-lot, handcrafted wines made from carefully selected grapes grown on their estate vineyards. In 2012, the McGrail Cabernet Reserve won the Best Red Wine. While Cabernet continues to be central to the winery, they have expanded over the years to include a range of grape varietals. This includes two more wines we were able to sample.
McGrail Family Chardonnay
I opened the 2021 McGrail Family Chardonnay (14.2% ABV, $32) to taste during the IG Live we hosted with winemaker Mark Clarin. While it does have some of the classic California Chardonnay notes, such as butter and creaminess, I was struck by the freshness of this Chardonnay. In particular, the tropical fruit really came through in my tasting of the Chard. Mark noted during the IG Live that he stops the malolactic fermentation at a point in the process that lends the wine the fresh characteristics.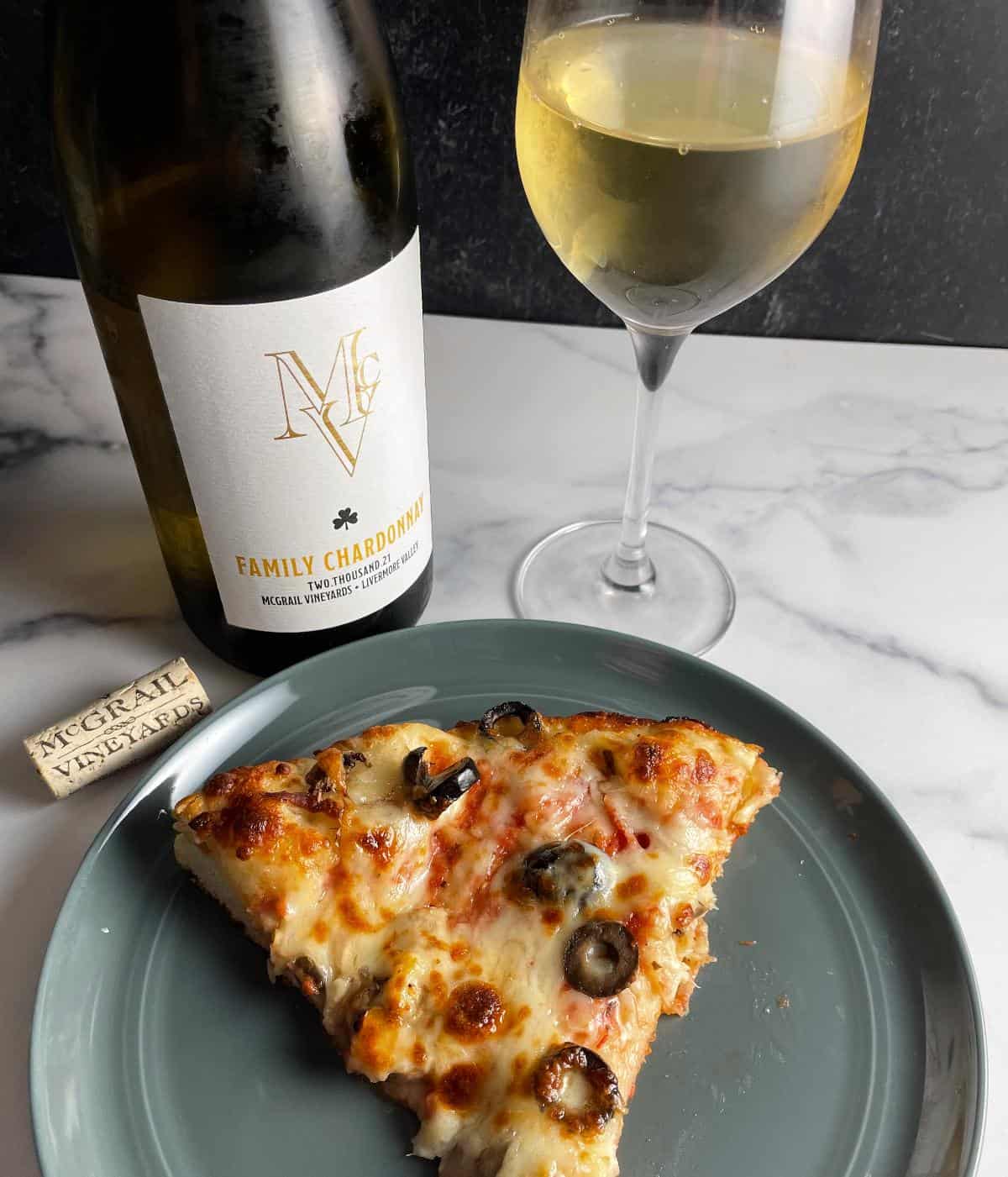 The Chardonnay was opened on a Friday, one night that typically doesn't entail much cooking for me. So we started by pairing it with some Gruyere cheese — thumbs up! I don't think of Chardonnay and pizza, but this Chard did work quite nicely with mushroom and black olive pizza I ordered.
Print
Recipe card
Beef and Vegetable Stir-Fry
Steak and veggies cook with a tasty sauce in the beef and vegetable stir-fry recipe. A quick, balanced meal suitable for weeknight cooking.
Author: Cooking Chat
Prep Time:

15 mins

Cook Time:

10 mins

Total Time:

25 mins

Yield:

6

servings

1

x
Category:

Main

Method:

stir-fry

Cuisine:

Asian
For the sauce:
4 tablespoons

low sodium soy sauce

1 tablespoon

vinegar

1 tablespoon

white wine

1 tablespoon

maple syrup

1 teaspoon

5 spice powder

1

scallion, chopped

1

clove garlic, minced

1 teaspoon

dried ginger (or

1 tablespoon

fresh ginger)
Other ingredients
1 ¼

pound sirloin steak, sliced thin (about

½

inch thick)

1

colored bell pepper

1

carrot, shredded or sliced very thin

1

daikon radish, shredded or sliced very thin
handful of baby spinach

2 tablespoons

cooking oil, divided
Instructions
Make the sauce: Combine the soy sauce, vinegar, white wine, maple syrup and five spice powder in a bowl. Stir in the scallions, garlic and ginger. Set the sauce aside.
Stir-fry the steak: Heat 1 tablespoon of the cooking oil in a wok or skillet on medium high. Add the steak, stir frequently, and cook for about 3 minutes. Remove steak to a platter with a slotted spoon.
Add the vegetables: Add the remaining tablespoon of oil to the work or skillet, then add the veggies. Start with the bell pepper, let it cook for a minute, then add the carrots and radish. Cook on medium high for about 2 minutes, stirring regularly.
Finish the dish: Add the steak back into the pan, along with most of the sauce (reserve a tablespoon or so). Stir to combine the beef, vegetables and sauce. Lower heat to medium and cook for another two minutes or so, stirring occasionally. Add the handful of baby spinach at the end of cooking, and stir to combine it with the rest of the veggies and steak. You are now ready to enjoy!
Serve the beef and vegetable stir-fry by scooping the a portion of steak and veggies onto your plate. We like to serve it alongside or over brown rice. Add a bit of the reserved sauce to each serving.
Notes
Vegetables: you could use 2 carrots instead of a daikon radish if you like, or substitute a similar root vegetable for the daikon.
Shredded vegetables: We shredded the carrots and radish in a food processor. This made them so thin they cooked down very quickly. Opt for thinly sliced vegetables if you want more of a crunch from the vegetables.
Keywords: beef and vegetable stir-fry, chinese beef stir fry with vegetables, steak and veggie stir-fry
Recipe Card powered by
More Livermore Valley Wine Articles
Check out the articles from my #winePW colleagues for more about Livermore Valley wines!