Oven Roasted Sirloin Steak topped with delicious onion pan sauce makes for a home cooked meal that rivals any steakhouse dinner! Especially when paired with a good red wine. Disclosure: the Texas wines discussed in this article were provided as complimentary samples from the winery.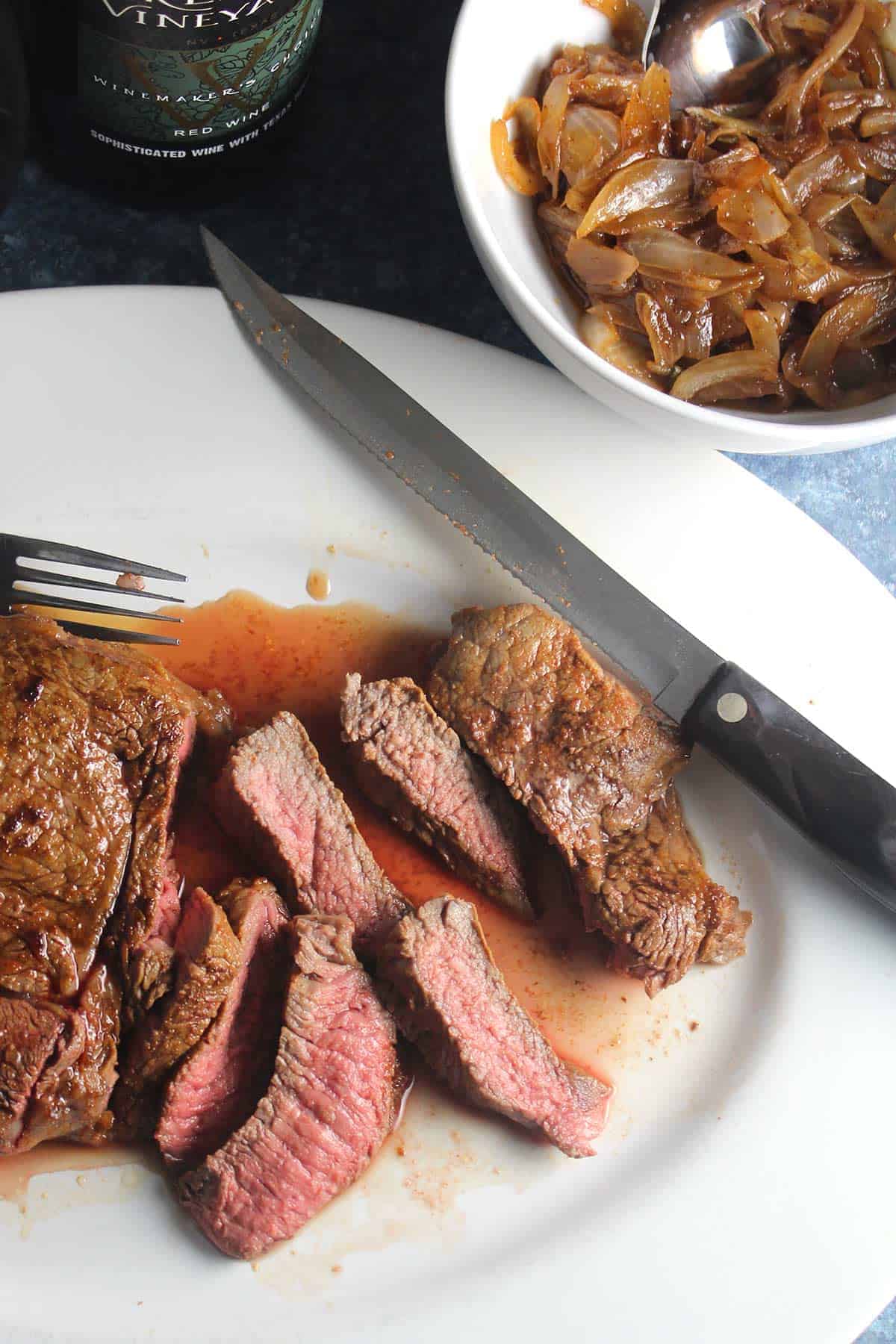 This oven roasted recipe definitely started with the wine in mind!
I've heard good things about Texas wines for awhile, but they are hard to find in the Boston area. So I was excited when Michelle from Rockin' Red Blog offered the chance to sample wines from her home state for the 2019 November Wine Pairing Weekend event.
I received two bottles of red and one white from Brennan Vineyards. My curiosity quickly had us opening one bottle of each before I had a chance to come up with a recipe for the wines. It was long before the Brennan Vineyards Winemaker's Choice was the only bottle left standing.
Looking for a side dish to served with this oven roasted sirloin? Try our Sauteed Arugula with Red Bell Peppers!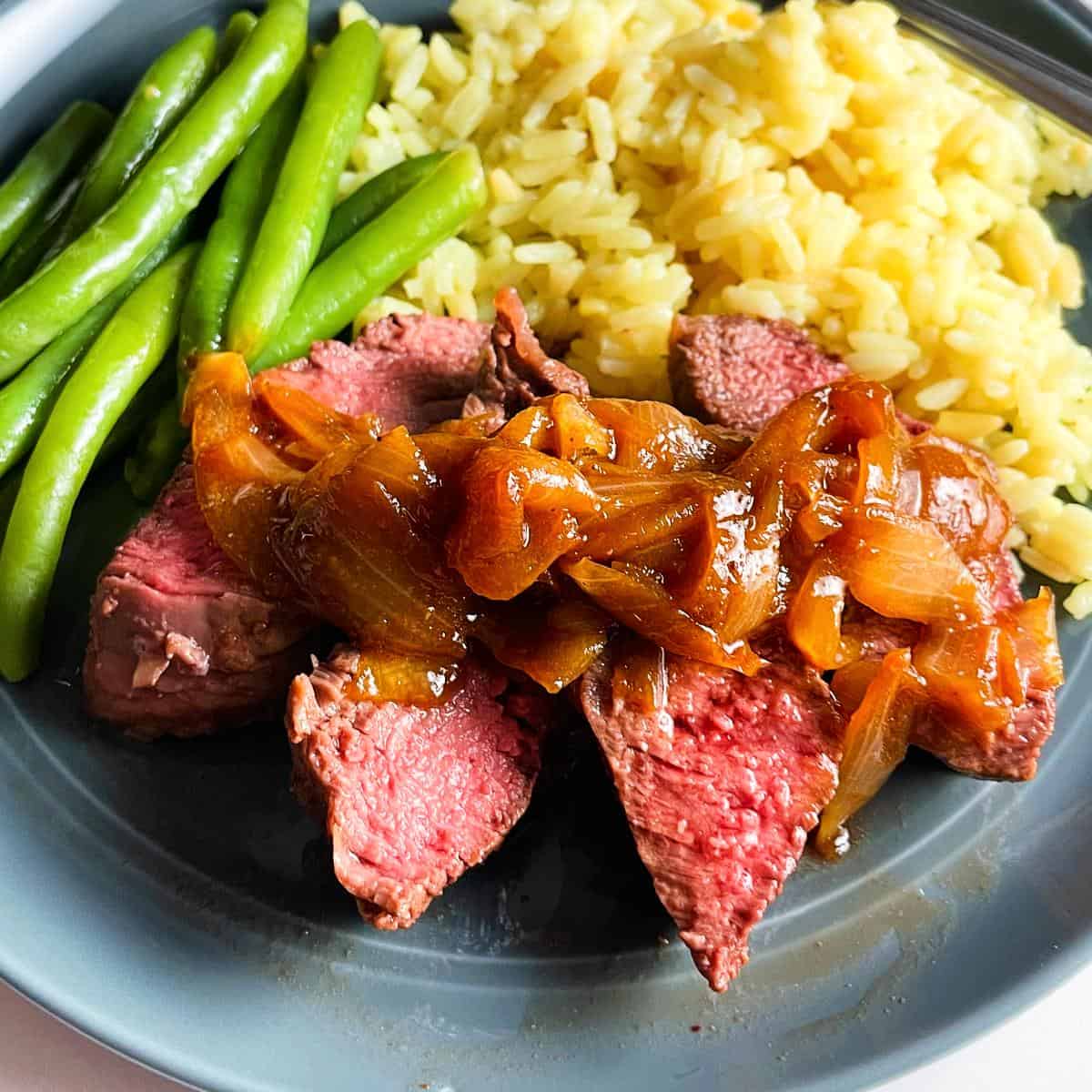 We came back for a remake of this roasted sirloin in 2023, to test out another wine pairing and take some more pictures.
Jump to:
Choosing a pairing for a Texas red wine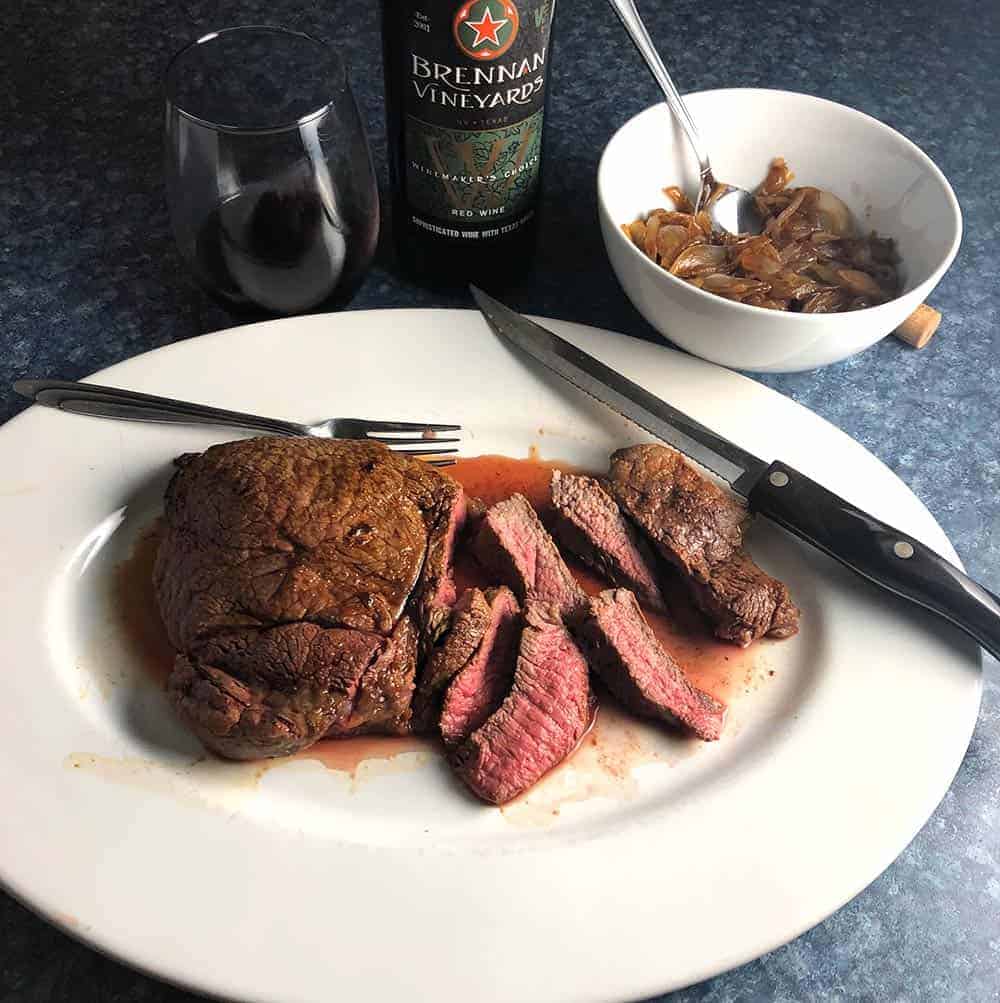 Beef seemed like a natural pairing for a red wine from Texas. I initially thought about making brisket, which I hadn't done before. But as I started perusing recipes, I was seeing mentions of salting the beef the day before, and I was hoping to make the beef dish for our Texas wine that night. Plus, brisket seemed like it would be a lot of meat for the three of us–even if one is a growing teenage boy!
Grilling season is officially done here, so I thought this would be a good time to feature a recipe with steak roasted in the oven. I've been featuring a lot of recipes with mushroom sauce–like this pork chops recipe— here lately. I thought it was time to mix things up, so I decided to make Oven Roasted Sirloin Steak with Onion Sauce.
I will cover more about the wines, including the pairings for the other Texas bottles we opened, in a moment. But first some details on the recipe for people hungry to get some steak in the oven soon! If you want to jump right to the wine information, click here
Making oven roasted sirloin with onion sauce
Most of my steak recipes start with a spice rub of some sort for the meat, as I tend to save marinades for tougher cuts of meat. But I was in the mood for mixing things up, so I decided to make a marinade for the sirloin steak.
Here are some tips for making this oven roasted steak, jump ahead to the recipe card for the complete step by step instructions. By the way, if you are more in the mood for grilling, check out our Grilled Sirloin Steak recipe. And if you happen to have leftovers, try our Leftover Steak Fajita recipe!
Sirloin steak marinade tips
Marinating time: When making a marinade for stew meat, you want to allow at least 8 hours for the marinade to work on softening up the tougher cut. But sirloin steak is a lean cut with good flavor, so you just need to allow 1 to 2 hours of marinating time before cooking the steak.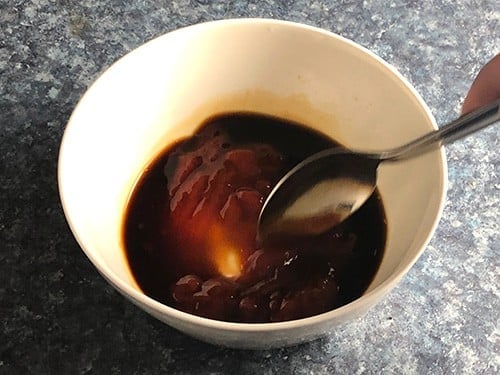 BBQ flavor: I was going for a BBQ flavor marinade. Mix some ketchup and soy sauce together in a bowl, then add the other ingredients. Full details in the recipe card below. I used garlic powder, paprika and cinnamon for dried spices. You could certainly play with the quantities, and/or substitute other spices you like to use.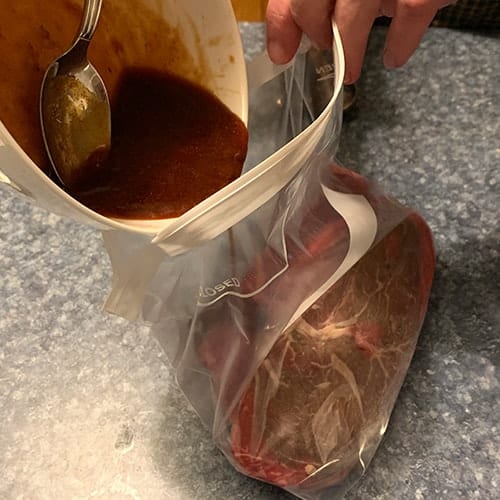 Once you have the marinade mixed up, place the steak in a large sealable plastic bag. Next pour in the marinade, and seal. Gently toss the bag to coat the steak. Generally I don't like to have meat out of the fridge for more than 30 minutes, so I start marinating the steak in the fridge.
Take the steak out of the refrigerator about 30 minutes before you plan to start cooking.
Grammar tip: "marinade" with a "d" is a noun; "to marinate" with a "t" is a verb. Just in case you were wondering!
Making the onion sauce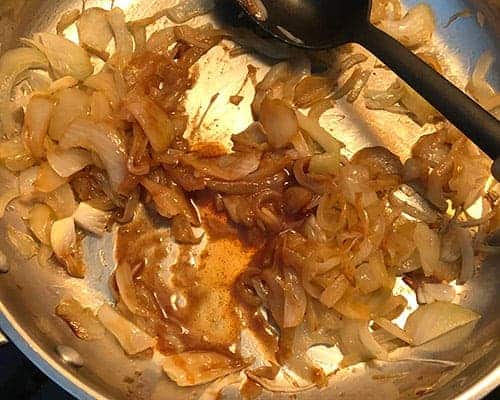 You want to slowly cook thinly sliced onions for a good 15 to 20 minutes to allow them to brown nicely. These caramelized onions will provide a great flavor base for your sauce!
Save the leftover marinade after you move the steak to the skillet. Pour that marinade into the pan with the onions, and bring it to a boil along with some cooking wine (not your good Texas wine!). Be sure to cook reserved marinade for at least 5 minutes to get rid of any impurities.
The onion sauce gets finished with butter, chili powder and sage. Keep the sauce warm on very low heat while the steak cooks.
How to cook sirloin steak in the oven
Sure, we all love steak on the grill. But if you live in cold weather territory like Boston, it's good to know how to cook a delicious steak in the oven! Hear are some tips:
First, you need an oven proof skillet that you can use on the stove top and oven. I love my cast iron skillet for recipes like this. (Amazon affiliate link provided in case you need one).
Get the skillet good and hot on medium high heat before adding the steak. I've done this enough I can tell when it's hot enough by putting my hand over the skillet. But you can also add a few drops of water to the skillet to check–if the water sizzles, it's time to add that steak!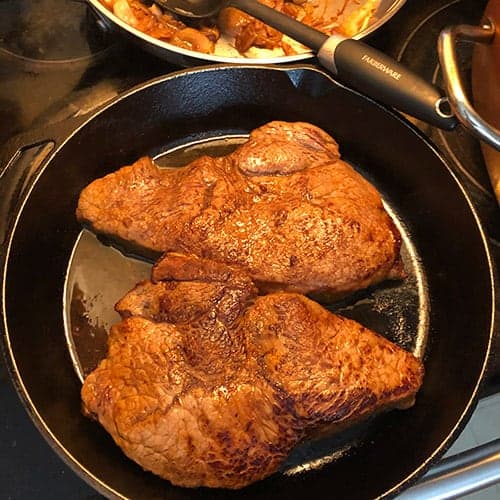 Sear the steak for 1 minute per side on the stove top, then move it to the oven.
I wish I could give you a magic formula for timing a perfectly roasted steak. But it's going to depend a lot on your oven and the thickness of your steak. I'd say the key is to check it sooner rather than later–I'd say around 8 minutes to be safe. You don't want to overcook sirloin steak.
If you are using a meat thermometer, 135 degrees is medium rare. Definitely my preferred doneness, especially for a lean cut like sirloin.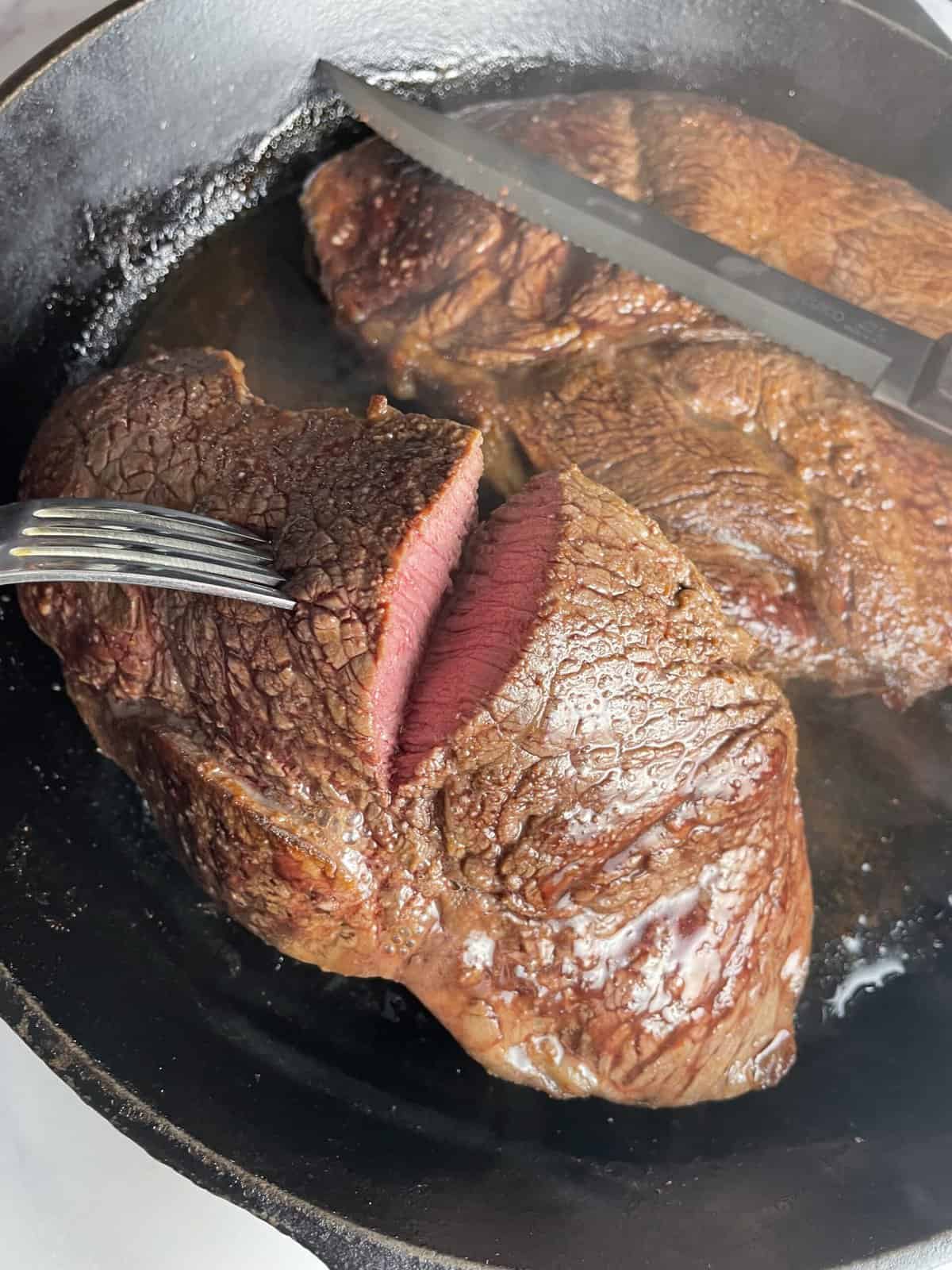 When the steak is cooked to your liking, remove the steak from the skillet to rest for a few minutes on a platter before slicing.
Keep in mind that the steak will continue to cook a bit while resting. So pulling it just a bit before it is done perfectly to your liking is ideal. You can always put the steak back in the oven for a couple minutes if needed; but you can't reverse the cooking if it is done too much!
Slice the steak, plate and serve topped with some of the onion sauce. Enjoy with a good glass of red wine — from Texas, if you are lucky enough to get your hands on a bottle!
For more delicious recipes from the oven, check out our BBQ Baked Steak Tips and the Boneless Baked Pork Ribs!
Texas wine for oven roasted sirloin steak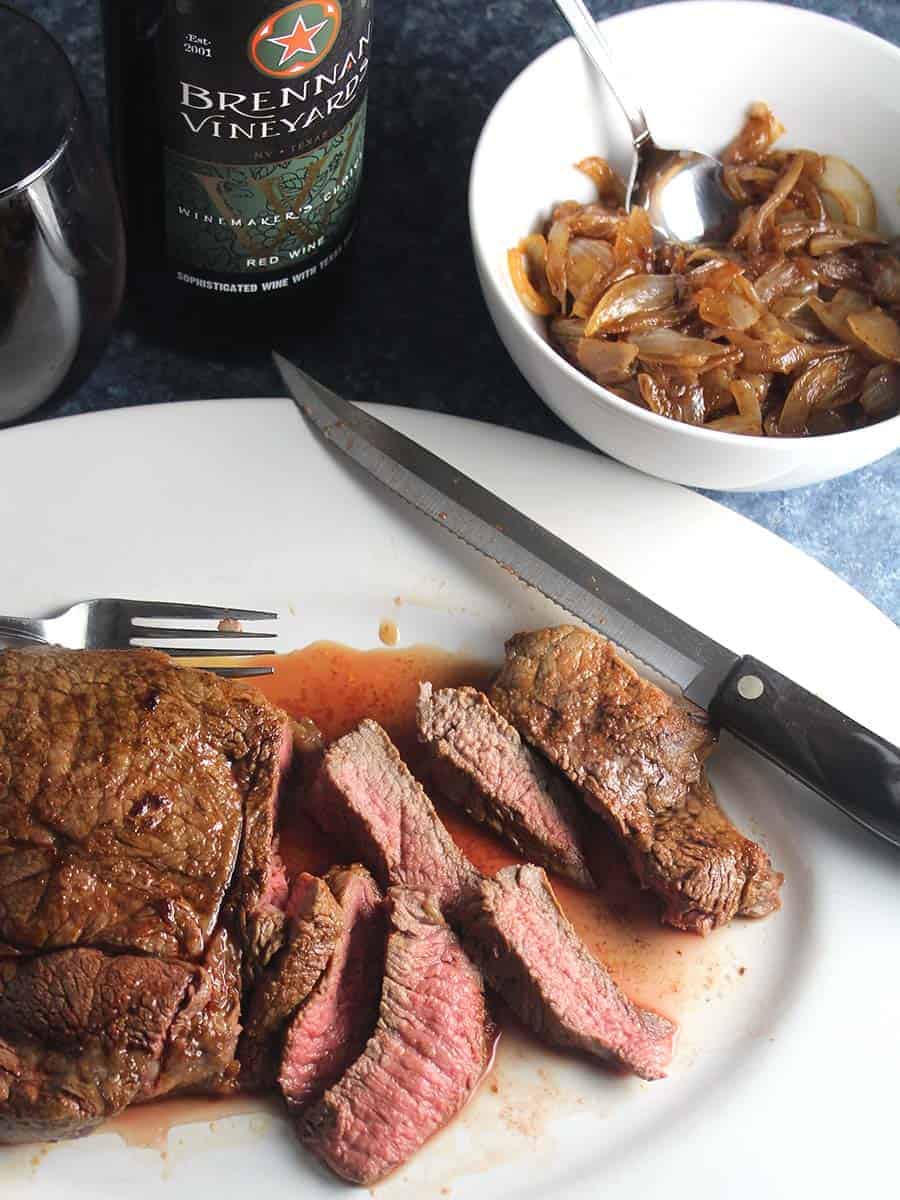 We cooked up this sirloin steak recipe with a bottle of Texas red wine in mind! For this meal, it was time to open the final bottle from our Texas fine wine sampler — the Brennan Vineyards Wine Makers Choice ($42, 14.5% ABV) red blend. Interestingly enough for a fine wine, this blend of Cabernet Sauvignon (58%), Cabernet Franc (25%) and Carmenere (17%) is a nonvintage wine. The winemaker blends premium barrel reserves from across multiple vintages to make the wine. And I definitely enjoyed the results!
Let's break down our tasting notes:
Eye: Deep brick red in the glass.
Nose: Burnt sage brush on the nose.
Body: Full-bodied red wine, meaty mouthfeel. Moderate tannins. This big wine benefited from a brief decanting.
Palate: Blackberry fruit with notes of charcoal.
Pairing: As you might expect, this bold Texas red wine was a great partner for our steak! Give this a try at home and you won't be disappointed!
Winemaker Todd Webster was motivated to make a nonvintage blend as a positive response to harsh Texas spring weather that can lead to a lot of crop loss. This is a common approach in Europe, a practice Todd has adapted to Texas with delicious results!
About Brennan Vineyards
Brennan Vineyards was founded in 2001 by Dr. Pat and Trellise Brennan. The winery is located at one of the oldest remaining homesteads in Texas; the tasting room is in the historic McCrary House.
60 to 70% of the Brennan Vineyards wines are made from estate fruit grown in the alluvial soils around Comanche. They source the remaining fruit from a variety of Texas producers, with a strong commitment to 100% Texas wine.
More Brennan Vineyards Wine Pairings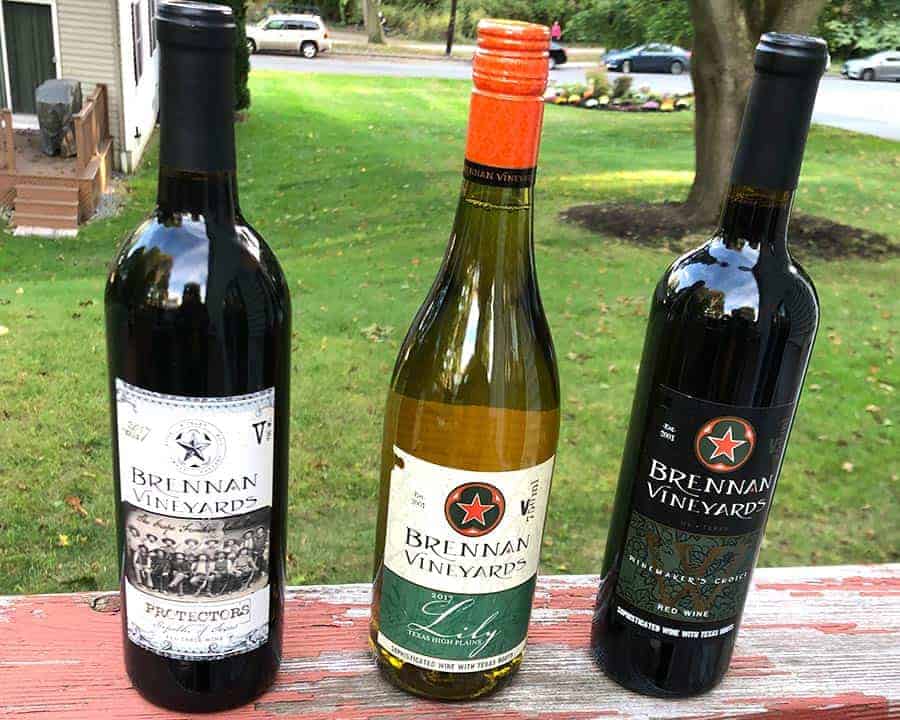 We kicked off our first Texas wine tasting experience by opening a bottle of the 2017 Brennan Vineyards Protectors ($28, 13.9% ABV) to go with a family taco dinner hosted by my parents. The wine is a blend of the Brennan Comanche Vineyard Syrah and Alicante Bouschet from a partner in the Texas High Plains. With blackberry fruit, notes of bacon and spice on the palate, it was a nice match for beef and bean tacos.
I was looking for pairing suggestions for a Milk Street Tunisian Chickpeas and Swiss Chard recipe (note you have to subscribe to their email to access the recipe), to which I also added chicken. Michelle suggested a Roussanne based white wine. I considered that suggested for awhile before it dawned on me that the Brennan Vineyards Lily ($18, 13.9% ABV) blend might have Roussanne in the mix. I checked, and sure enough, the Lily is 50% Roussanne and 50% Malvasia Bianca. Both grapes are sourced from partners in the Texas High Plains region.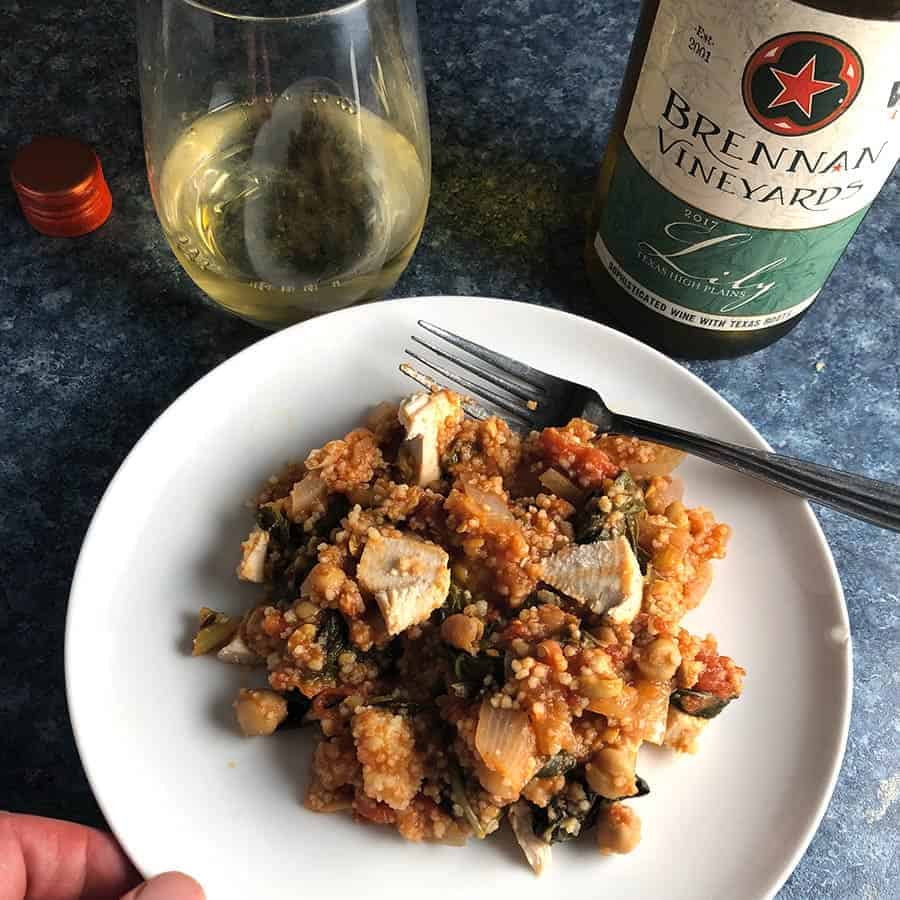 The Lily has a big floral nose, peach fruit on the palate with notes of hazelnut. Medium bodied. And yes, the Lily was very good paired with the Tunisian chickpea dish–nice call, Michelle! This is definitely a good quality wine for the price.
A Petite Sirah pairing
I was recently doing some exploration of Petite Sirah pairings, and decided to remake this roasted sirloin steak to go along with one of the bottles.
As expected, the 2019 McManis Petite Sirah ($11, 13.5% ABV) was a very good pairing for the roasted sirloin. The wine has violets on the nose, with cherry fruit, licorice and notes of mocha on the palate.
From our experience, I would say both Petite Sirah and a Cabernet Sauvignon make a good pairing for this sirloin steak with onion sauce.
Print
Recipe card
Oven Roasted Sirloin Steak with Onion Sauce
Sirloin steak perfectly roasted in the oven, topped with a delicious onion sauce.
Author: Cooking Chat
Prep Time:

10 mins

Cook Time:

30 mins

Total Time:

40 mins

Yield:

8

servings

1

x
Category:

main

Method:

roasting + stove top

Cuisine:

American
For the marinade:
2 tbsp

soy sauce – low sodium

3 tbsp

ketchup

1 tsp

apple cider vinegar

1 tsp

maple syrup

1 tbsp

apple cider

1 tsp

garlic powder

½ tsp

paprika

⅛ tsp

cinnamon

2

sirloin steaks — about 2 ½ lbs
For the onion sauce:
1 tbsp

olive oil

2

onions, thinly sliced

½ tsp

salt
reserved marinade

¼ cup

red wine

1 tbsp

butter

1 tsp

chili powder
pinch of sage – dried sage, or 1 leaf fresh sage, minced
Instructions
Make the marinade: in a small bowl, whisk together the ketchup and soy sauce. Stir in the cider vinegar, maple syrup, and apple cider. Add the garlic powder, paprika and cinnamon, then stir to combine with the liquid ingredients.
Marinate the steak: pat dry the steaks, and place them in a large, sealable plastic bag. Pour the marinade into the bag with the steak, and seal the bag. Turn the bag back and forth several times to distribute the marinade and coat both steaks with it. Place the steak in the refrigerator to marinate for a total of 1 to 2 hours. Remove the steak to marinate at room temperature for the final 20 minutes before cooking.
Preheat oven to 400 degrees at the time you take the steak out of the refrigerator.
Start the onion sauce after turning on the oven. Heat the olive oil on medium low in a skillet. Add the onions and the salt. Cook the onions for 15 to 20 minutes, stirring infrequently to let the onions get a chance to brown. They should be starting to get nicely caramelized, indicated by the brownish color, after 15 minutes or so. Keep the onions on low heat until ready for the next step.
Brown the steak: Coat a large, oven proof skillet with oil spray. Place on medium high heat. When the skillet is hot, remove the steak from the marinade bag, shaking excess marinade back into the bag. Reserve the excess marinade. Place the steaks on the skillet, and sear for 1 minute on one side, then turn to brown on the other side for another minute. After browning the steak, move the steak into the preheated oven.
Roast the steak: Roast the steak in the preheated oven (and finish making the sauce while the steak roasts — see next step). Roasting time will vary based on your oven, thickness of the steak and how you like your steaks cooked. I would check the steak at about 8 minutes of roasting time, as sirloin cooks quickly. Our steaks were fairly thick, about 1 ½ inches thick, and came out medium rare after 10 minutes. When done to your liking, remove the steaks from the oven. Transfer steaks to a platter to rest for a few minutes.
Finish the sauce as the steak roasts: Pour the reserved marinade from the bag into the pan with the onions. Add the ¼ cup red wine. Bring the heat up to high to bring the liquid to a boil, then reduce to simmer vigorously for at least 5 minutes. Stir in the butter and the chili powder, and cook until the butter has melted. Keep the sauce warm until ready to serve.
Serve the steak: Slice the steak, plate, and serve topped with the onion sauce. Pass extra onion sauce at the table. Enjoy!
Notes
To determine if the skillet is hot enough to add the steak, you can simply put your hand over the skillet to see if it is giving off heat. Alternatively, you can add a few drops of water to the skillet. If the water sizzles when added, the pan is hot enough.
As mentioned in the instructions, the steak roasting time will vary based on the thickness of steak, your oven and your preferences. Sirloin is a quick cooking steak so take care not to overcook. The steak will cook a bit more as it rests. If checking with a meat thermometer, medium rare is 135 degrees, medium is 145 degrees.
Keywords: oven sirloin steak, steak cooked in the oven, steak with onion sauce, Texas wine pairings
Recipe Card powered by
More great beef recipes
If you like this oven roasted steak, you might also like these favorite Cooking Chat recipes featuring steak and other cuts of beef.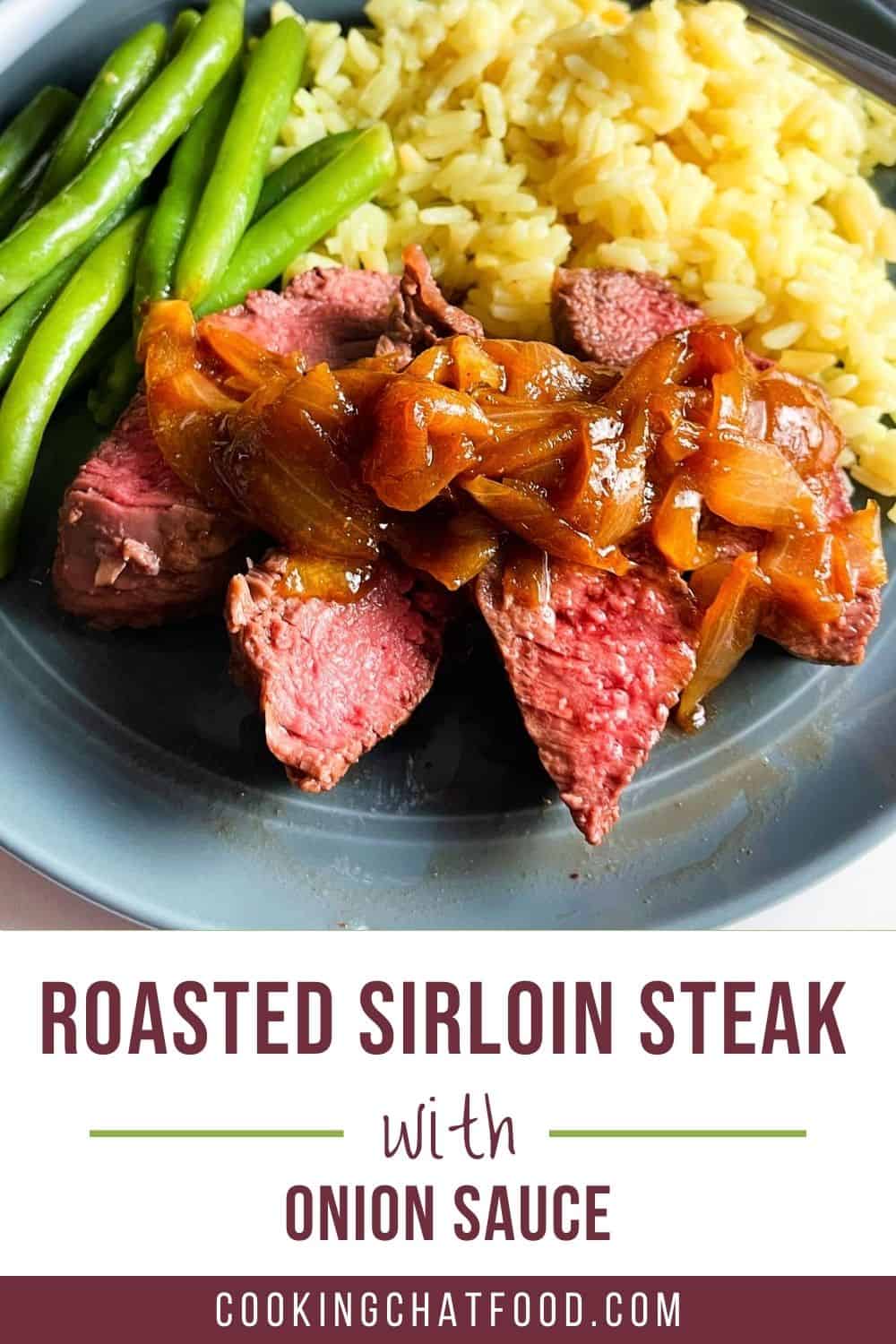 Wine Pairing Weekend Explores Texas Wines
Here you have a bakers' dozen plus one great experiences with Texas wines and food ideas for pairing. We're hoping you might get excited about trying Texas wines!