In this episode, we learn about the new partnership between Walden Local Meat Co. and B. Good. CEOs Nancy Pak and Chris Freeman join us to talk about how these two New England companies focused on local food are now offering local grass-fed beef burgers at B. Good's fast casual restaurants.
You can listen to the podcast on:
Apple podcasts | Spotify | Amazon Music
In this episode, we cover:
Background on the mission of the two companies involved in this partnership.
The local grass-fed ground beef burgers now being served at B. Good as a result of this partnership.
How this partnership came about and how it taps into the synergy between the two companies.
Nancy sharing about celebrating the partnership with the Walden Local Meat team by enjoying some of the burgers.
Chris talking about feeling great and going for a run after enjoying one of the burgers.
How providing the grass-fed ground beef for B. Good builds on Walden's core business of delivering local meat to households in New England and the New York tri-state area.
The B. Good list of "No-No Ingredients" and how this partnerships fit well with their focus on clean, local food.
Our guests – Nancy Pak and Chris Freeman
We were pleased to have the CEOs of the two companies involved in this partnership join us for this episode. Here's a summary of their backgrounds:
Nancy Pak, CEO, Walden Local Meat Co.
Nancy is the CEO of Walden Local Meat Co., based in Tewksbury, MA, a mission-driven, New England-based Certified B Corporation that focuses on delivering local, premium, sustainably raised meat to close to 30,000 homes. Nancy's career has included influential roles spanning global consumer brands and geographies.
Prior to joining Walden Local, Nancy served as CEO of Tate's Bake Shop, the premium baked goods brand born in Southampton, N.Y. Before leading Tate's Bake Shop, Nancy spent more than 20 years at Colgate-Palmolive Company, where she had served as Vice President and General Manager of Tom's of Maine. While leading the Tom's of Maine business, Nancy spearheaded an innovative growth plan and secured Certified B Corporation status for Tom's of Maine, while driving employee engagement, culture and commitment to sustainability.
Chris Freeman, CEO, B. Good
Chris Freeman is the CEO of B.GOOD, a farm-to-table fast-casual restaurant group with 13 locations headquartered in Boston, MA. He is also the founder of Grainmaker, a gluten-free, dairy-free modern Asian kitchen with three locations in Boston, MA. Both brands are focused on innovative, healthy ingredients and committed to supporting the local communities they operate in through a variety of local partnerships.
Trying the burgers
Of course, I had to do more than just talk about this partnership. I needed to try the burgers!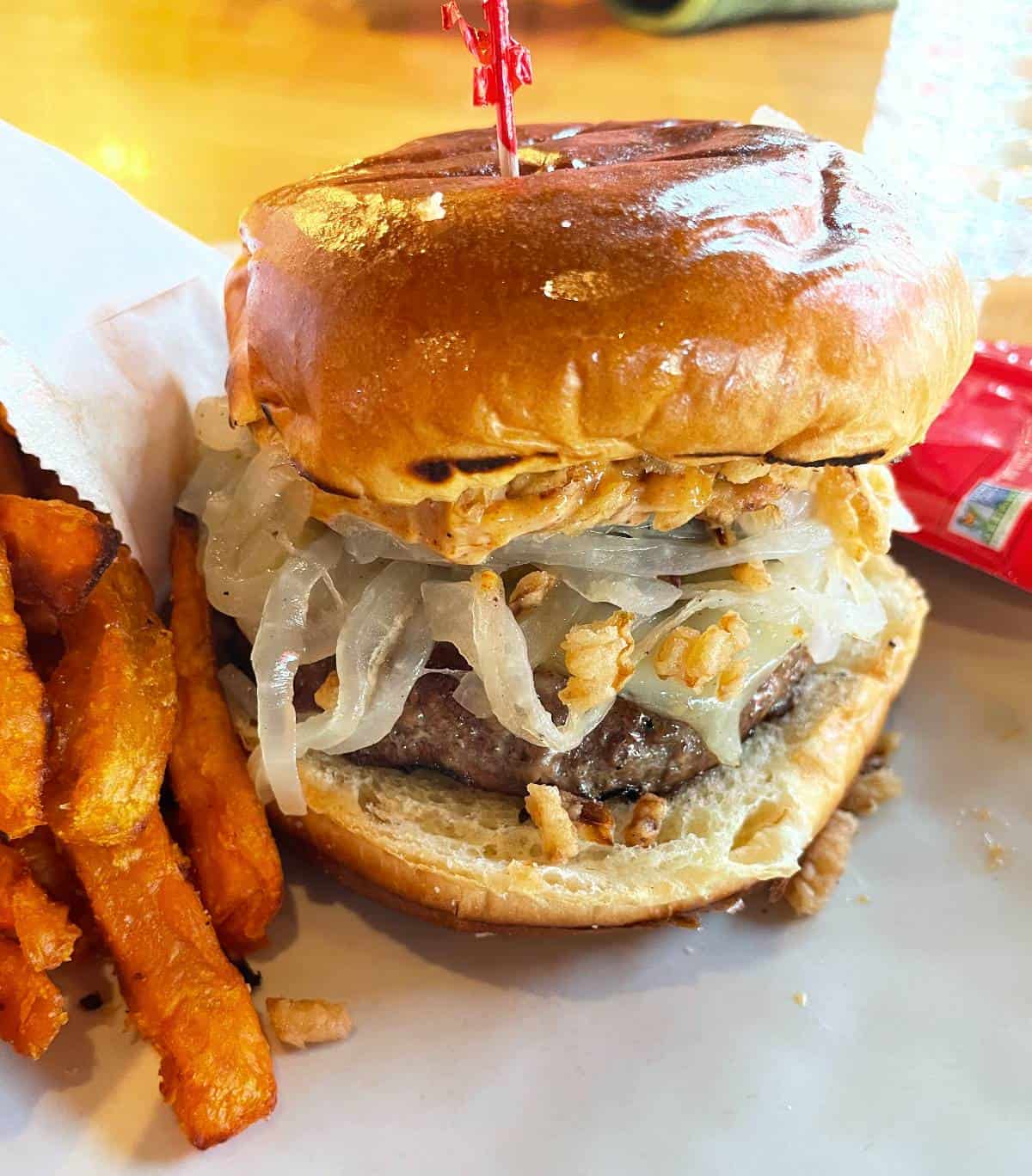 A few days after doing this interview, Jodi and I headed to the B. Good here in Woburn, Massachusetts.
During the conversation, Chris described his favorite burger, "The Farmhouse". This one starts with the Walden beef, then gets topped with bacon, cheddar, crispy shallots and B. Good sauce. There's a graphic on the wall at B. Good where you can see where those toppings are sourced from around the New England area.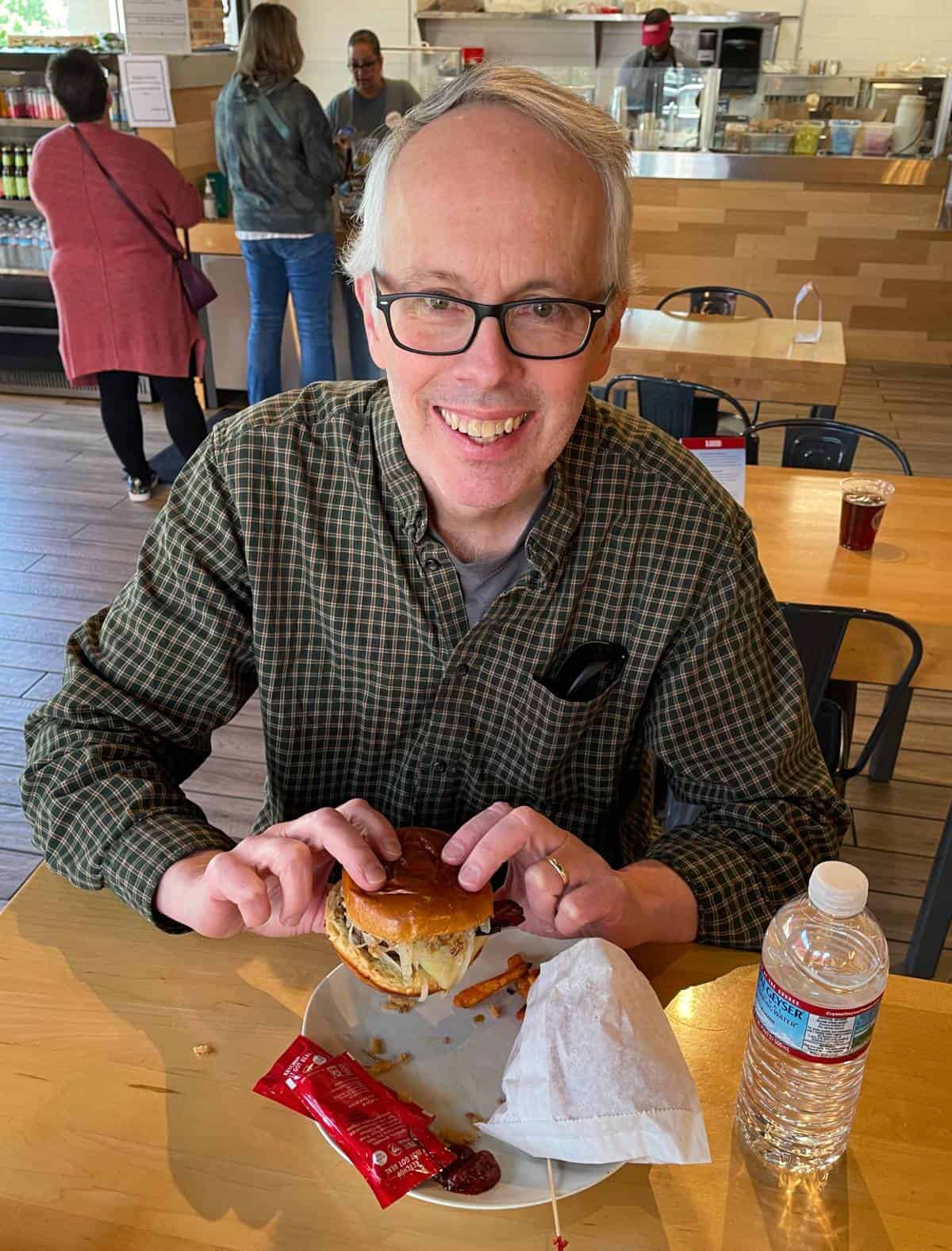 I had to follow the CEO's lead here as that combo sounded great! The taste did not disappoint; it was a very flavorful burger. You could definitely tell meat used in the burger is high quality, as it was moist and flavorful. And I agree with Chris's take, that you don't get the heavy feeling as one does with many burgers.
I would recommend The Farmhouse burger, but also note they have a variety of other tasty options to try. I think next time I will choose between the "Jalapeño Ranch" or "The Classic" (that one has pickles, always of interest to me…as you might have noted in my Pickle Soup recipe post).
For more information
To find out more about these companies and how to get yourself some good local food: