The Best Portuguese Kale Soup is a delicious way to enjoy healthy kale! This kale soup recipe is based on a traditional Portuguese Kale Soup with a few creative variations of our own. Sausage, beans and potatoes simmer with kale and plenty of garlic for great flavor. Read on for details, or click here to jump down to the recipe. Article originally published in January 2016 and updated in 2020. If you'd like to get right to the wine pairing info, click here Disclosure: some of the wines mentioned were provided as complimentary samples.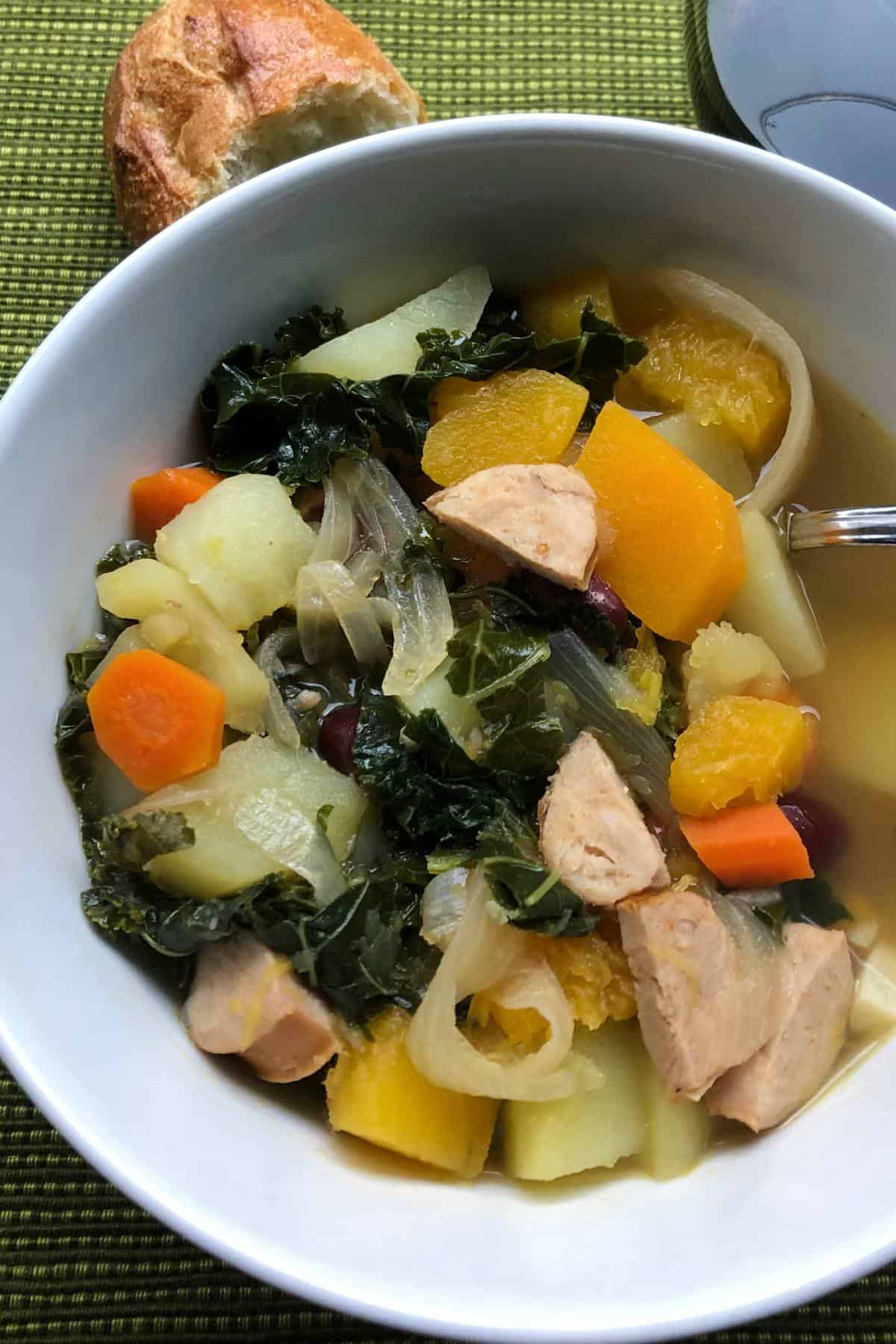 I probably make this Portuguese Kale Soup more than any other soup recipe. I've tweaked a few things over time, and the result is my Best Portuguese Kale Soup recipe I'm sharing with you today. If you want another soup idea, one of our new favorites is this Irish Vegetable Soup recipe.
When I first wrote up this recipe in the winter of 2016, I had planned to make a batch of the Best Portuguese Kale Soup before I knew the temperature was going to be in the single digits for much of the day. Boy, were we glad to dig into steaming bowls of this kale soup last night after coming in from the cold.
Sausage, beans and potatoes simmer along with the kale and plenty of garlic for a hearty, full-flavored soup. A great way to enjoy some healthy kale!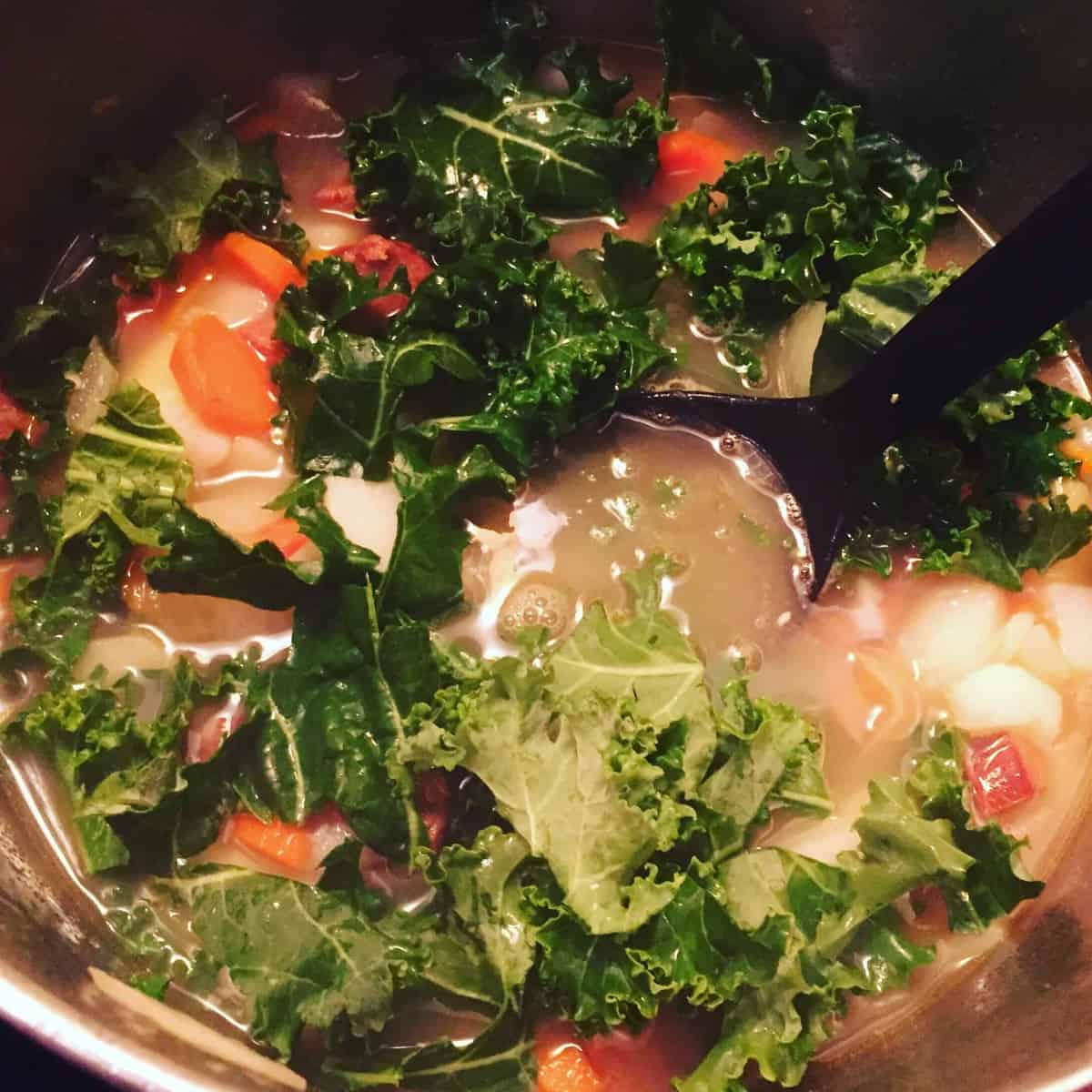 What is in a classic Portuguese Kale Soup?
When I first started making Portuguese kale soup, I followed the kale soup recipe from Thoughtful Eating– a local blogger friend of Portuguese heritage.
 Like so many traditional recipes, there are many iterations of kale soup, with recipes passed down over generations. I'm sure you could get into a lively debate in Portugal about what constitutes "authentic Portuguese kale soup" (you can get a little taste of that scrolling through the comments here!).
But the consistent elements of a classic kale soup seem to be:
If you happen to have extra kale after making this soup, it's a great addition to a healthy smoothie! Check out the recipe for Pineapple, Kale and Banana Smoothie in this collection of 10 Best Breakfast Smoothies.
Cooking Chat adaptations
I like to be inspired by classic recipes like Portuguese kale soup, but I tend to experiment and create a version that utilizes ingredients we have readily available and that suit our taste.
Taking the traditional Portuguese kale soup as my starting point, our recipe also includes:
Some versions of Portuguese kale soup recipes call for the soup to be at least partially puréed. We thicken our soup by smashing a few of the potatoes against the side of the pot after they have softened.
I do also make a Vegetarian Kale Soup — but that is a another story!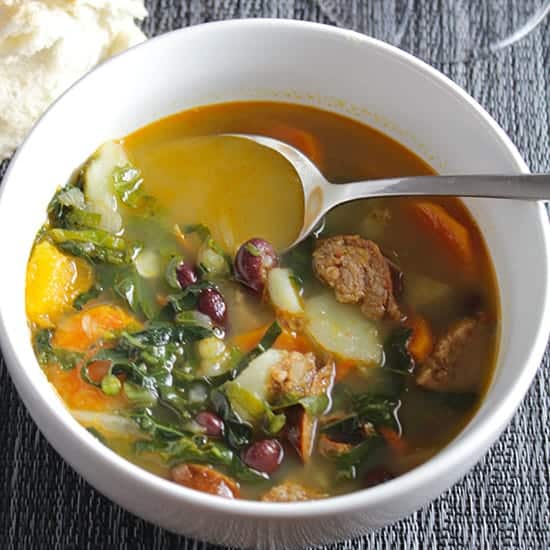 So give my recipe a try on a cold night. I bet you will find yourself making it again and again, and you might come up with a few tasty variations of your own, and lay claim to your own Best Portuguese Kale Soup recipe! You can also have fun trying different Portuguese wine to pair with kale soup.
I am pleased to see many people in the comments and social media trying this soup and adding their own variations — please tell us about your Portuguese kale soup! But please don't tell Josh's mom that he likes our version better than hers…from the comments below:
"I am 100% Portuguese, i have eaten this soup my entire life, i made this recipe a few weeks back and it was my first time ever making soup. I am not kidding you when i say if you follow this recipe you will have a fantastic soup you can not get enough of… (don't tell my mom this recipe is better than hers!)
Steps for making our soup
Here we highlight key steps for making our Portuguese Kale Soup; click here to jump down to the recipe card for the full instructions.
Next we are going to cover wine pairings for our Portuguese Kale Soup. We have quite a few wines to suggest, click here to skip the wine info and jump down to the recipe.
Wine Pairings
A Portuguese red wine blend is a class pairing for our kale soup. But we have also enjoyed the soup with some good California Cabernet Franc.
Most recently, we opened the 2018 Dracaena Cabernet Franc ($34, 14.4% ABV) from Paso Robles to go with the soup. Black pepper on the nose, raspberry fruit and a touch of vanilla on the palate. Soft mouthfeel. An excellent wine, pairs very well with the soup — enough heft for the sausages, the fruit and black pepper element match the flavor profile of the soup ingredients.
Portuguese red wine is a natural choice to pair with Portuguese Kale Soup. Portugal is a great source of wine values. I typically look for a red blend from the Duoro region including the Touriga Nacional variety.
I had a chance to test out a couple of new Portuguese wines to go with our latest batch of kale soup. I especially liked the way the 2015 douROSA ($15, 14 % ABV) paired with the soup.
I get a bit of forest floor on the nose of the douROSA. On the palate, fresh red cherry fruit with a bit of cinnamon and vanilla on the finish. I enjoyed sipping a bit of the douROSA while making the soup as well as along with it.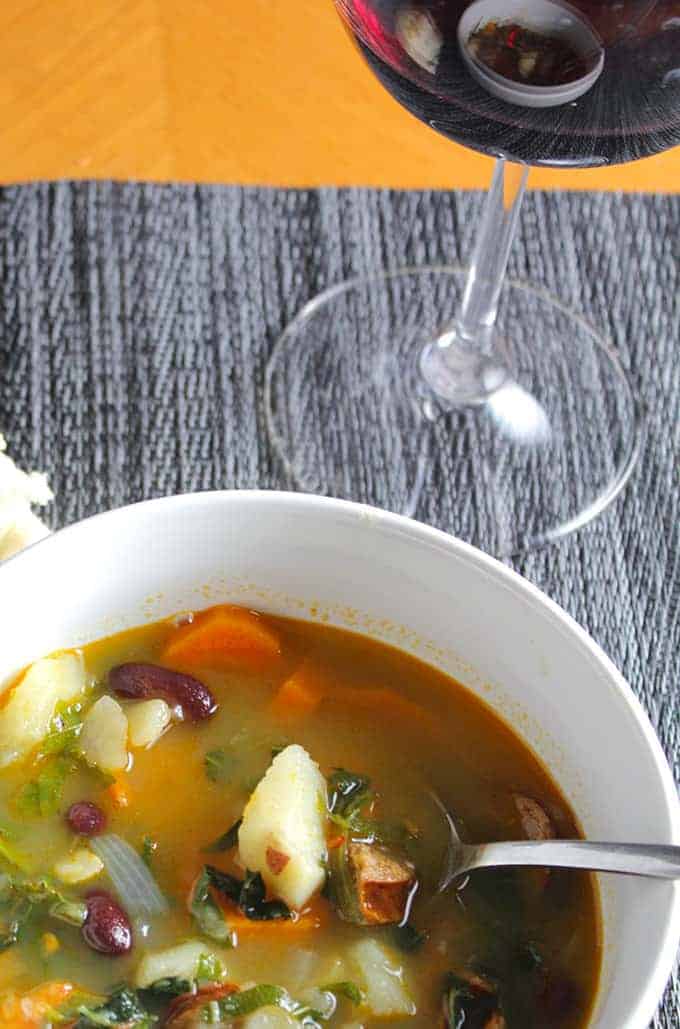 This wine is from Quinta Da Rosa, located in the Duoro region of Northern Portugal. The primary grape is Touriga Nacional, with other traditional port grapes rounding out the blend. Quinta Da Rosa is also well known for its high quality Ports.
When I originally posted this recipe, I recommended the 2012 Tinta Boa ($11), a blend of Portuguese grapes Tinta Roriz and Touriga Nacional.
The 2015 JP Azeitão Red ($8, 13.5% ABV) is another good Portuguese red wine value I've tried recently that could work with the kale soup. The wine is from Peninsula de Setubal, comprised of 55 % Syrah along with Portuguese varietals Castelão (25%) and Arogonez (20%).
This Portuguese wine has a bright, fruity nose. Taste of strawberry and bit of licorice. Light and easy drinking. I originally served this as a nice pairing for our Vegetarian Kale Soup; a variation of this Portuguese kale soup recipe that features tempeh in place of the sausage.
Portugal provides a great chance to try some new new wine grape varietals. The most recent time I made Portuguese kale soup, I served it with a wine that takes new wine grape exposure to the extreme. 2014 Achado E Perdidos 28 Uvas ($12, 13.5% ABV) is a red wine made from a field blend of 28 grape varieties, none of which I've seen outside of Portuguese wine (see list below).
The 28 Uvas is deep purple in the glass. Spring flowers on the nose. Well-balanced, cherry and strawberry fruit with a bit of licorice. Definitely another great wine pairing for our Portuguese Kale Soup!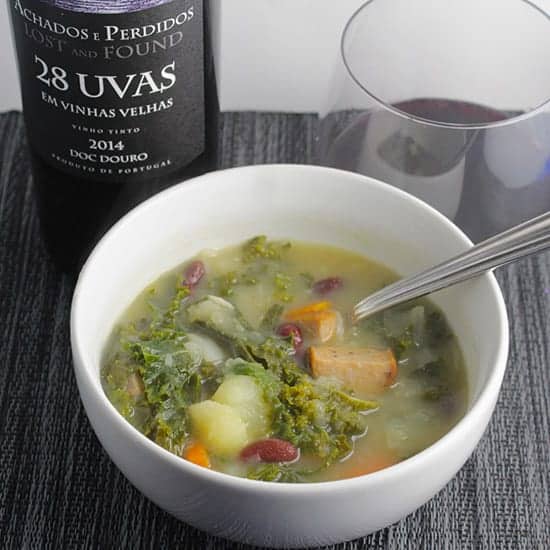 Achados E Perdidos means "lost and found" in Portuguese. The winery is located on one of the steepest terraced bands on the banks of the Duoro River. The winemakers João Silva e Sousa and Francisco Baptista found an old vineyard planted in schist soils, where 28 native Portuguese wine grape varietals were grown together.
Field blends like 28 Uvas were common in Portugal before a modern trend toward trying more popular international grapes. Thus they have "found" a traditional Portuguese vineyard and are producing some very good wine from it.
The recent pairing with the Dracaena Wines Cab Franc wasn't our first foray into pairing the soup with a wine from California. BTW, for more Cab Franc food pairing ideas, check out our article on Cabernet Franc Food Pairing Tips and Favorites.
Another time we opened the 2014 Niner Wine Estates Reserve Cabernet Franc ($65, 14.5%) from Paso Robles. Disclosure: This wine provided as a complimentary sample.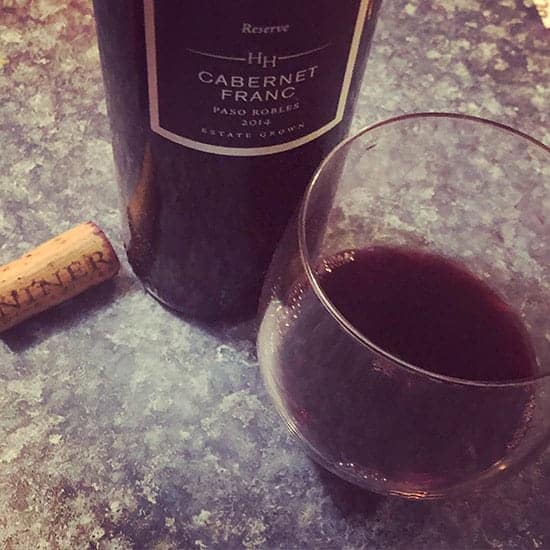 This bottle from Niner Wine Estates is a special Cab Franc, produced in a cool sub-AVA of Willow Creek. I get bell pepper on the nose. On the palate, blackberry fruit, slate and black pepper. Dusky mouthfeel. Very different than the Portuguese blends, but a good pairing nonetheless. Cab Franc is a versatile red wine for food pairings!
We also have enjoyed our kale soup with a good red Languedoc blend, the 2013 Domaine D'Aupilhac Montpeyroux. We we pleased with the way this blend of Mourvedre, Syrah, Carignan, Grenache and Cinsault went with the soup. A bit like a Portuguese red blend with all the different grape varietals! 
One more pairing idea — in this article on Texas wines article on Texas wines, The Swirling Dervish reports that a Cab / Merlot blend from Spicewood Vineyards worked well with the soup. Good to know that if you can't find Portuguese wine, Cab / Merlot blends can work too! A bit easier to find.
Print
Recipe card
Best Portuguese Kale Soup
Cooking Chat's Best Portuguese Kale Soup is a delicious way to enjoy healthy kale! Sausage, beans and potatoes simmer along with the kale and plenty of garlic for a hearty, full-flavored soup.
Author: Cooking Chat
Prep Time:

10 mins

Cook Time:

35 mins

Total Time:

45 mins

Yield:

6

servings

1

x
Category:

Soup

Method:

stove top

Cuisine:

Portuguese
9

ozs andouille sausages (I of

ten

like to use turkey sausage for a healthier dish)

1 tbsp

olive oil

1

medium onion, chopped

3

carrots, peeled and sliced

3

garlic cloves, minced

3

medium potatoes, chopped

2 cups

butternut squash, peeled and chopped

4 cups

chicken stock

2 ½ cups

of water

1

bunch of kale (at least

4 cups

) stems removed & coarsely chopped

1

14.5 oz can red kidney beans
pinch crushed red pepper flakes
salt to taste
Instructions
Brown the sausages: Heat a large soup pan with oil spray. Add the sausages and cook for 5 minutes or so to brown, stirring occasionally. Remove the sausages and set aside to cool. When they have cooled, slice the sausage in half lengthwise, then cut into semi-circles ½ inch thick. Set aside.
Sauté onions & carrots: Heat the olive oil on medium in the soup pan, then add the onions. Sauté for 5 minutes, then add carrots and sauté a few more minutes.
Stir in potatoes, then the butternut squash and garlic. Cook for a minute or two.
Add liquid after the potatoes have been cooking for a couple of minutes, add the chicken stock and water. Bring the liquid to a boil, then reduce to simmer on medium for 15 minutes.
Stir in kale: After 15 minutes the veggies should be starting to get soft. Use a sturdy spoon to smash some of the potato and butternut against the side of the pot, to thicken the soup. Stir in the kale in a few batches, to allow some to cook down a bit to create more room. Add salt to taste and a pinch of red pepper flakes.
Add sausage and beans: Stir in the sausage and the kidney beans. Cook for another 5 to 10 minutes to let all the flavors meld. More cooking time is great, too, if you've got the time! When it's cooked to your liking, serve with a crusty bread and glass of Portuguese wine to round things out.
Notes
9 ounces sausage is based on 3 smaller sausages, which is the size the chicken and turkey sausages I use tend to use. 2 larger sausages would be comparable.
You want a minimum of 4 cups of kale. That might be a good amount if your family hasn't warmed up to kale yet, but I typically use closer to 6 cups.
You can use one sweet potato instead of the butternut squash. Or you can choose to skip the squash entirely; the soup will still be tasty, but just missing that sweet offset to the spices in the dish.
Turkey or chicken sausage can be used in place of the traditional pork.
This kale soup is great the 2nd day! Store covered in the refrigerator and gradually reheat on the stove top when you are ready to eat it again.
Keywords: soup, kale soup, Portuguese soup, Portuguese kale soup
Recipe Card powered by
Looking for another substantial soup recipe? Try our Hearty Collard Green and Sausage Soup!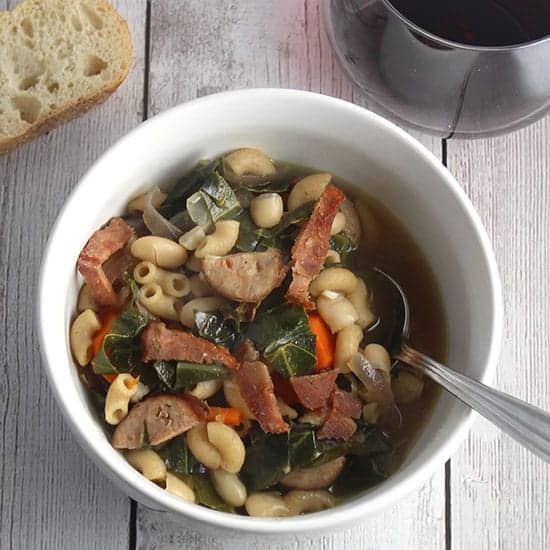 Portuguese Wine & Food with Wine Pairing Weekend
There is so much more to PORTUGAL than PORT Wine! Discover our stories about Portugal this Saturday, September 9th when, by 11 am ET / 8am PT, the Wine Pairing Weekend crew will publish posts about Portuguese wine and then head to twitter to share our choices and tell the stories behind them (hashtag = #WinePW).
Food and travel are always a part of the chat, so join us for all the doors that Portuguese  wine can open. And we'd love to have participation from people who live in Portugal too! This month, the Wine Pairing Weekend crew includes: