Carrot top chimichurri sauce is a zesty topping for steak with a bit of kick! Make this delicious recipe instead of discarding those carrot greens. We paired the dish with a red wine from Priorat, our contribution to the #WorldWineTravel groups Spanish wine regions finale.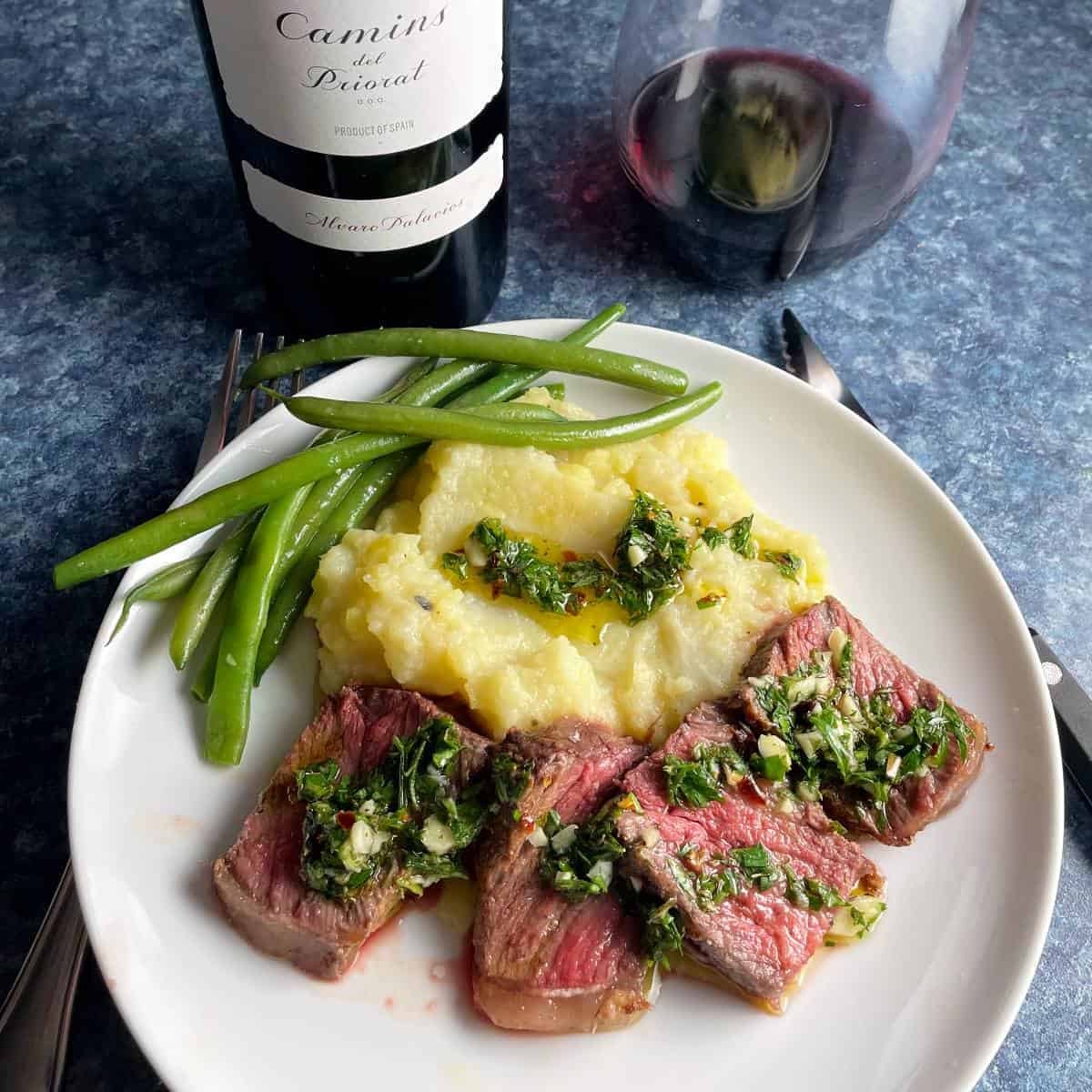 One of my favorite cooking challenges is to find tasty ways to use food that might otherwise get tossed into the compost.
Sometimes that means find a delicious way to use leftovers, like our Leftover Steak Pasta. But the quest to avoid waste also takes us to today's topic, using a part of a plant that often goes unused.
Jump to:
Recipe inspiration
This December seems to have flown by. As the #WorldWineTravel Spanish wine region wrap-up approached, I realized I didn't have a lot of time to match up a recipe I had planned with a suitable Spanish wine pairing.
I did have a bottle of Albariño on hand, and thought about cooking up a seafood dish to go with it.
But then our local food share delivered a big bunch of carrots with their green tops in tact. This summer, a friend shared some carrot top pesto that was quite good. I have since made that at home, and also had a tasty trial run of making carrot top chimichurri.
I have made some good dishes based on Spanish cuisine to enjoy with the country's wine.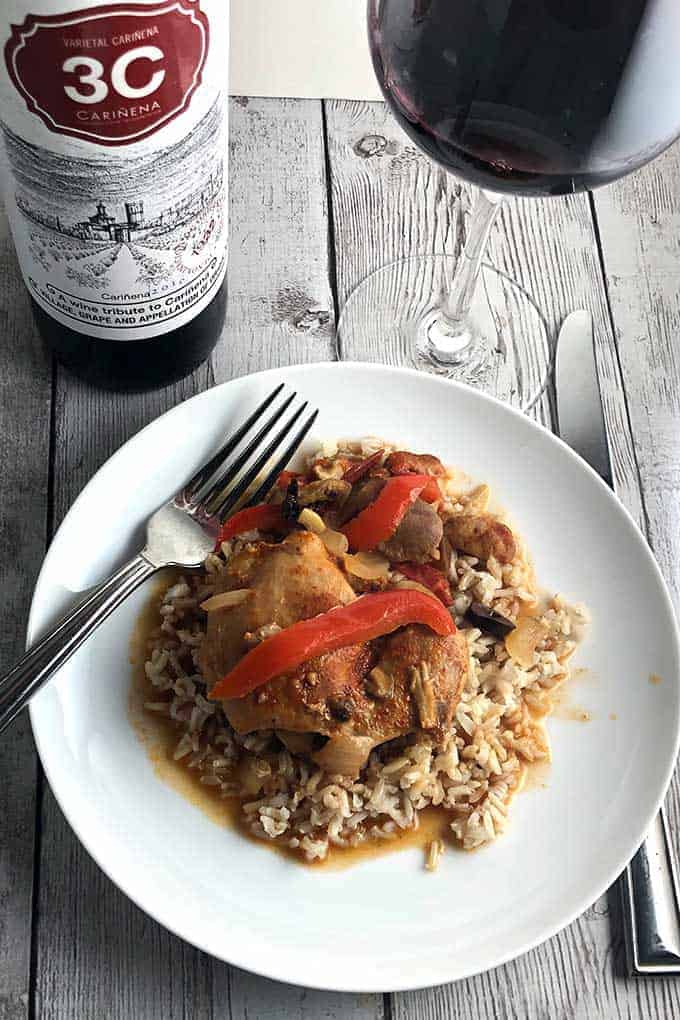 A few years back, I made Chicken Chilindron, a Spanish braised chicken dish. That was delicious paired with a Cariñena red wine. For the first #WorldWineTravel event, we made a Spanish inspired White Bean Stew with Chorizo Sausage, paired with a Rioja. So good!
I have also found myself inclined to pair Spanish wines with cuisine from Latin America. For instance, we paired Steak Picado with a Ribera del Duero. So I figured chimichurri steak and Spanish wine would be a fine way to conclude this year's tour around the wine regions of Spain.
Let's cover more about today's recipe!
Ingredients
Here's an overview of some of the main ingredients for steak with carrot top chimichurri:
Carrot tops: This recipe uses the frilly green tops that come with a whole bunch of carrots. You can swap in parsley if you don't have carrot tops.
Steak: I used NY strip steak for this recipe, and it was delicious. Sirloin and ribeye could also work here, with similar cooking times. Flank steak and skirt steak are also cuts commonly used for chimichurri; I would look for recipes specific to those cuts if you want to use it for this carrot top chimichurri.
Vinegar: I find the vinegar provides important balance to a chimichurri sauce. I used champagne vinegar; sherry vinegar would be another great choice keeping with the Spanish theme.
Cilantro: I used a tablespoon of cilantro for today's recipe. But I list it as optional, as I have made chimichurri without it and it came out fine. Plus, I know there are some cilantro haters out there.
Making carrot top chimichurri
Below we share a visual overview for making carrot top chimichurri; head down to the recipe card for details, including making the steak.
Rinse the carrot tops thoroughly. Coarsely chop the tops, and measure out a half cup.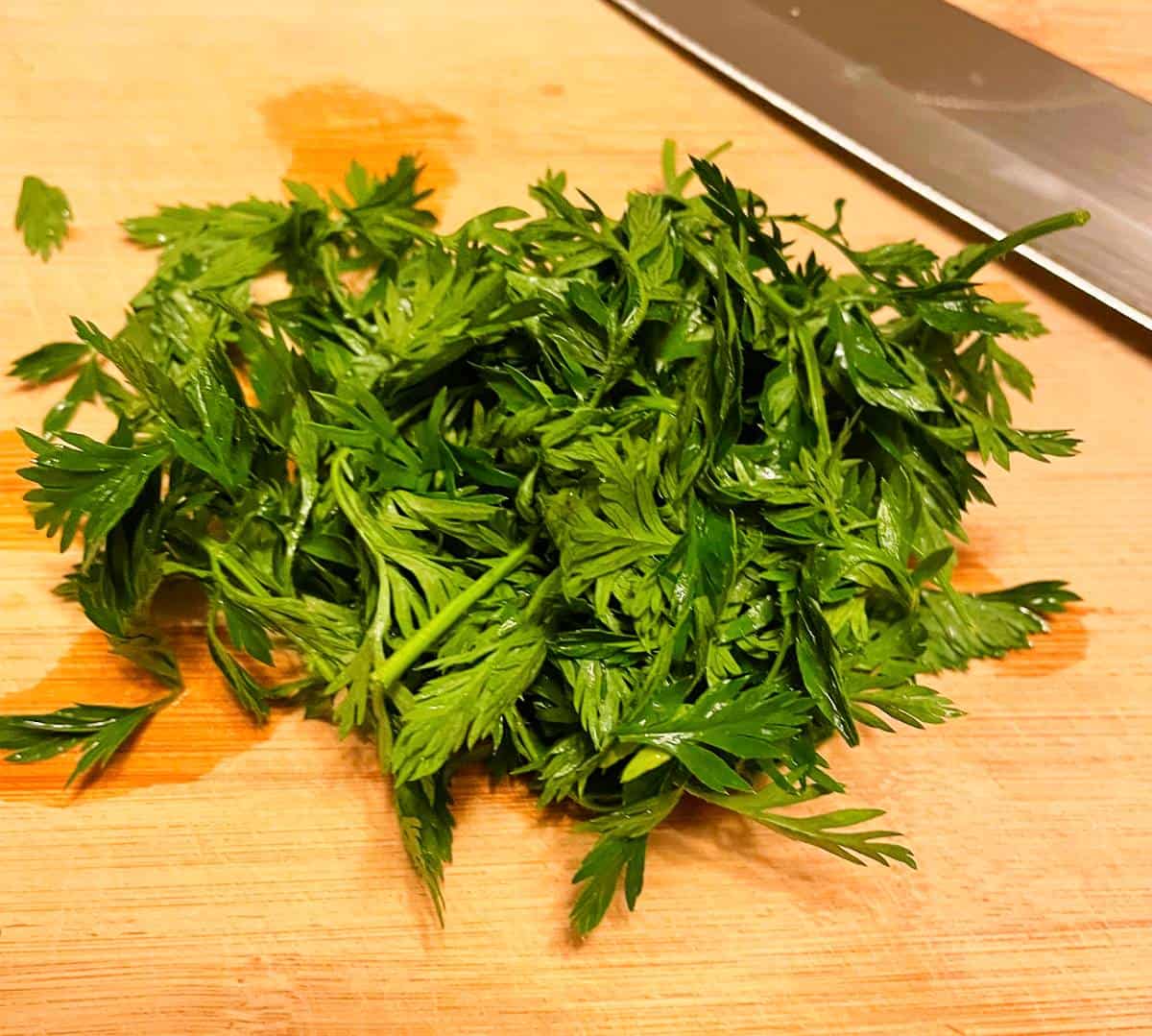 Lay the half cup of carrot tops on a cutting board, and chop them finely.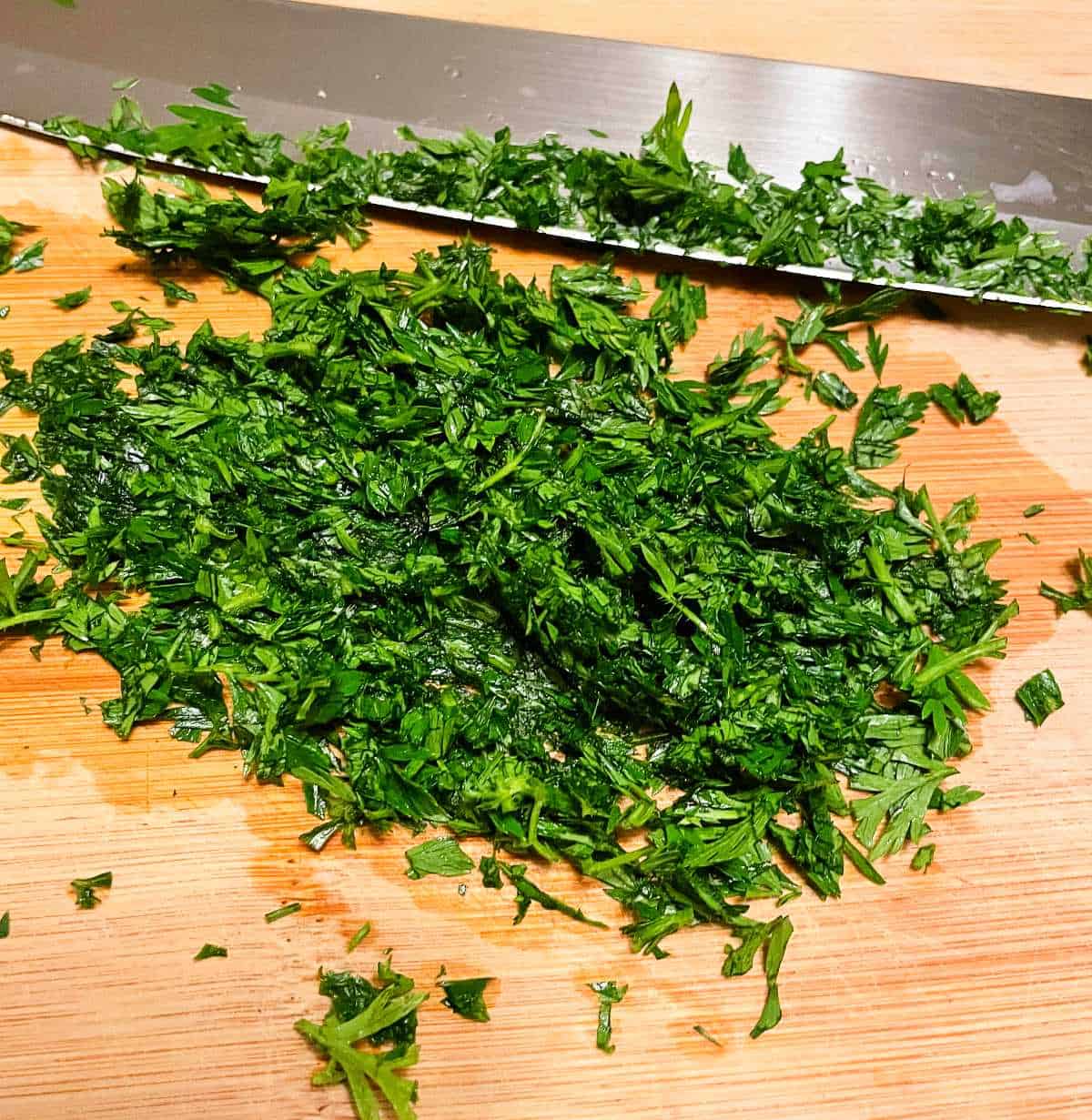 Add the chopped carrot tops to a bowl along with the garlic.
Add the olive oil and champagne vinegar to the bowl, then stir to combine. Add the the red pepper flakes, thyme, oregano, tarragon and cilantro.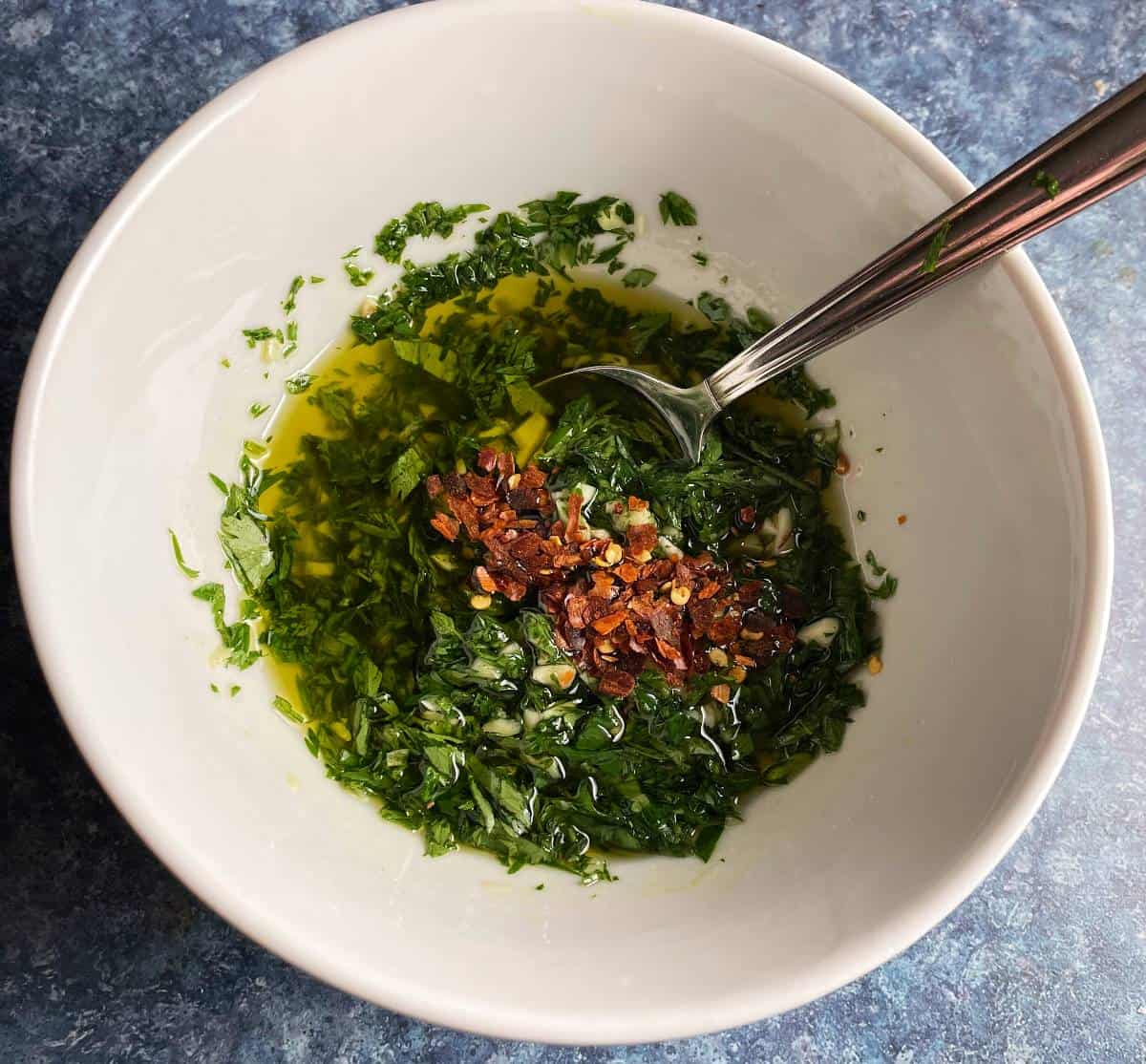 Stir to combine, then add salt and pepper to taste.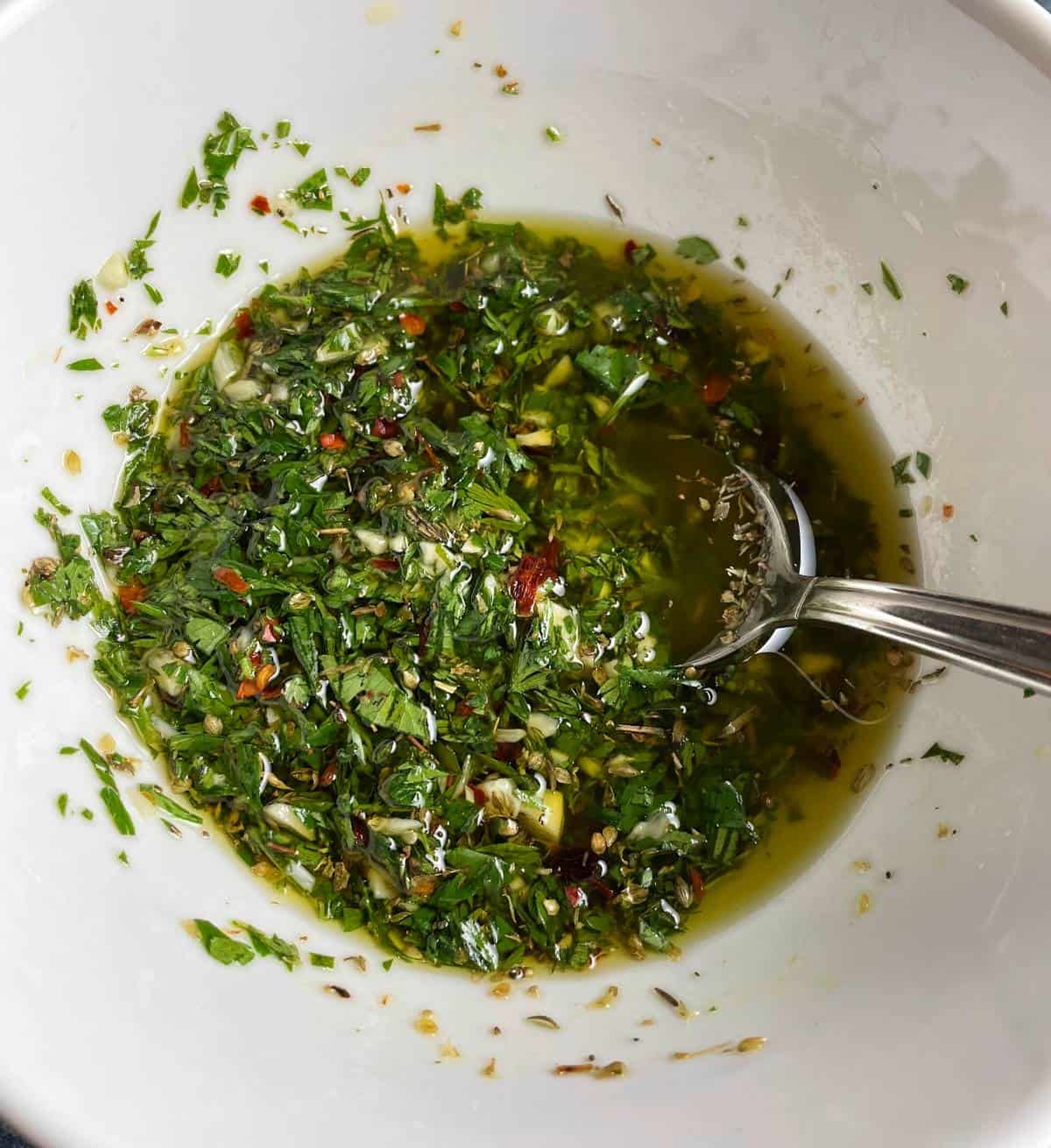 For another great recipe using green tops that might otherwise get discarded, check out our radish green pesto recipe.
Frequently Asked Questions (FAQ)
What is chimichurri?
Chimichurri is a raw Argentinian herb sauce, typically featuring parsley, garlic and olive oil among the main ingredients. Carrot top greens can be used instead of parsley.
What do carrot tops taste like?
Carrot tops have a fresh herbal taste, which remind me of parsley. That led me to this carrot top chimichurri recipe!
Are carrot tops nutritious?
Carrot tops contain a variety of vitamins, minerals and dietary fiber, as explained in this article on ways to use carrot tops.
What can I do with carrot tops?
In addition to making chimichurri, carrot tops are good for making pesto. I also see a number of good soup recipes using carrot tops, such as this one. So carrot tops can be eaten raw or cooked.
Can I make chimichurri ahead of time?
Chimichurri is best made fresh, within an hour of serving. But you can make it up to one day ahead of time. When making ahead, place the chimichurri in an airtight container, and store in the refrigerator. Take out of the fridge an hour before serving to bring to room temperature, and stir thoroughly to recombine the ingredients.
Priorat wine pairing
I figured I could find a Spanish red wine to go with our steak with carrot top chimichurri, but I didn't have a specific bottle in mind. I was inclined to stay away from the oak aged Riojas, and go for something more fruit forward.
I conferred with staff at Berman's, the Lexington, MA, based wine shop. That led me to select the 2020 Camins del Priorat ($25, 14.5% ABV) from Alvaro Palacios. This red wine is a blend of Syrah, Garnacha, Merlot and Cabernet Sauvignon.
The Camins del Priorat is an intense dark purple in the glass. Jammy nose, with notes of brambles. Plush fruit on the palate, raspberry jam with some notes of pepper and a touch of mint. Cherry on the long finish.
The fruit, pepper and herbal notes all came together to make an excellent pairing for the chimichurri steak! Definitely one I plan to repeat.
Also on our plate: I made a blend of mashed turnips and potatoes (about 50/50) which was delicious with a bit of the chimichurri.
About Alvaro Palacios
As described in this article, Alvaro Palacios is one of the original Priorat producers that helped to rekindle this wine region and raise it to prominence. His best known wine, the Garnacha based L'Ermita, is considered one of the most important Spanish wines. My initial Googling for this wine came up with bottles being sold for over $1,000! You can enjoy it for less, apparently, but it does sound like a special wine.
The Priorat region
This was the second #WorldWineTravel event where we featured a wine from Priorat. Previously, we paired one with our Mushroom Fricassee recipe.
Priorat is a mountainous region in Catalonia, in Northeastern Spain. Known for its intense reds, this bottle lived up to that reputation.
Print
Recipe card
Steak with Carrot Top Chimichurri and Spanish Wine
Carrot top chimichurri is a zesty topping for steak with a bit of kick! Make this delicious recipe instead of discarding those carrot greens.
Author: Cooking Chat
Prep Time:

15 mins

Cook Time:

20 mins

Total Time:

35 mins

Yield:

4

servings

1

x
Category:

main

Method:

stove top + roasting

Cuisine:

Argentine
For the chimichurri
½ cup

carrot top greens, rinsed and finely chopped

½ cup

extra virgin olive oil

¼ cup

champagne vinegar or similar

4

cloves garlic, minced

1 tsp

crushed red pepper flakes

1 tsp

dried thyme

1 tsp

dried oregano

½ tsp

dried tarragon

1 tbsp

chopped cilantro (optional)
salt and pepper to taste
For the steak
2

NY strip steaks or similar (about

2

lbs total)

2 teaspoon

kosher salt

2 teaspoon

garlic powder
Instructions
Preheat oven to 400 degrees.
Make the chimichurri: Placed the chopped carrot tops in a bowl, then stir in the olive oil and vinegar. Add the garlic, followed by red pepper, thyme, oregano, tarragon and cilantro if using. Stir to combine, then add salt and pepper to taste. Set aside while you cook the steak.
Prep the steak: combine the salt and garlic powder in a bowl to make a simple rub. Place the steak on a work surface, and sprinkle enough of the rub to lightly cover one side of the steaks. Rub the spice blend into the meat, then turn and repeat on the other side. Let the steaks sit at room temperature with the rub for about 10 minutes before cooking.
Sear the steak: coat a large skillet with oil. Heat the skillet to medium high on the stove top, then add the steaks. Sear for 2 minutes on one side, then turn to sear for another minute on the other side. Transfer the skillet to a preheated oven.
Roast the steaks: Roast the steak. Check for doneness at about 14 minutes — I recommend aiming for medium rare, which is 135 degrees in internal temperature. The cooking time will vary based on the thickness of your steaks.  Ours were a good 1 ½ plus inches thick, and took 16 to 17 minutes to get to medium rare. 
Serve: When the steak is done to your liking, remove it to a skillet and let it rest for 5 minutes. Then slices the steak, plating several pieces on each plate. Drizzle the steak with the carrot top chimichurri, and pass extra at the table. Enjoy!
Notes
Steak selection: We used NY strip steaks, but other cuts could work well here. Sirloin and ribeye in particular come to mind – the roasting times would need to be tweaked a bit. Sirloin tends to cook a bit faster, for instance.
Grilling the steak: This carrot top chimichurri would certain be delicious with grilled steak! We posted this recipe in December so went with the roasted version. We go over details here on grilling NY strip steaks, but in short, grill the steaks for about 6 to 7 minutes per side.
Vinegar: you could use other lighter vinegars, such as sherry vinegar, in this recipe.
Keywords: what to do with carrot tops, carrot top chimichurri, carrot top recipes, steak with chimichurri
Recipe Card powered by
If you like the way this recipe uses something that is often discarded, you might also like to try our Leek Greens with Bacon recipe!
#WorldWineTravel Spain Finale Articles
Be sure to check out all these articles from #WorldWineTravel bloggers wrapping up our virtual tour around the wine regions of Spain!