Slow Cooker BBQ Chicken Thighs is a flavorful, savory chicken recipe that is easy to prepare! Serve the BBQ chicken thighs directly on your plate, or shred it as a filling for chicken enchiladas or tacos. We enjoyed this chicken recipe with a red wine from the Jura region of France.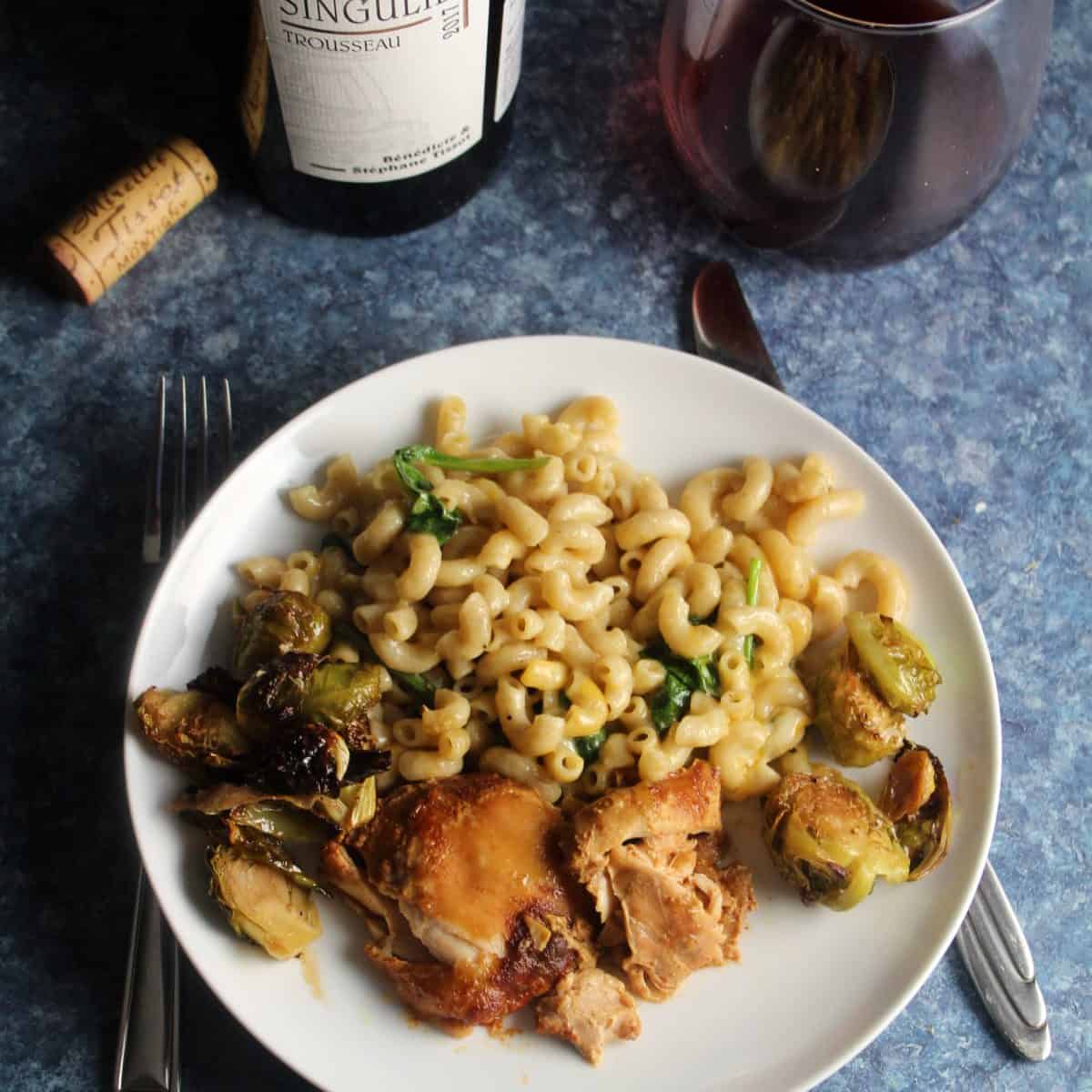 Our meal plan this past Sunday definitely started with the wine in mind.
I was planning to open a Trousseau from the Jura to get ready for today #winophiles event, where I join my fellow French Winophiles in exploring the region that lies between Burgundy and the Swiss border. I'm happy to host today's event; visit my preview post Exploring Jura Wines, for more background on the region.
Trousseau is red wine from the Jura that tends to be light in body. My limited experience sipping Trousseau has me associating the wine with a nuanced, sometimes funky flavor profile resulting from the cool climate and natural winemaking techniques.
Previously, I've enjoyed Trousseau paired with pork dishes. A few years back, a bottle of it went quite nicely with this Pulled Pork with Cabbage and Bacon recipe.
About today's recipe
For today's event, I decided to go for slowly cooked chicken rather than pork.
I'd cooked up this Slow Cooker BBQ Chicken Thighs recipe several weeks ago, and it came out quite well. I was ready to make it again to get the recipe details down and grab some pictures.
I find chicken thighs are a good option when looking for a chicken dish that can do well with a slower cooking method, be it a braise or the slow cooker.
This recipe uses a blend of condiments and spices that I find impart a nice barbecue flavor without opening up a jar of store bought barbecue sauce. Don't get me wrong, we do that occasionally, including for our highly popular Boneless Baked Pork Ribs recipe.
Trousseau is definitely a red wine that won't overpower a chicken dish. I also suspected the wine flavor profile I anticipated would go well with the chicken.
But for planning a pairing, we also need to consider what else is on our plate.
What to serve with this recipe
We first opened the Trousseau we picked up for today's event with a few pieces of Comte cheese, which hails from the Jura region.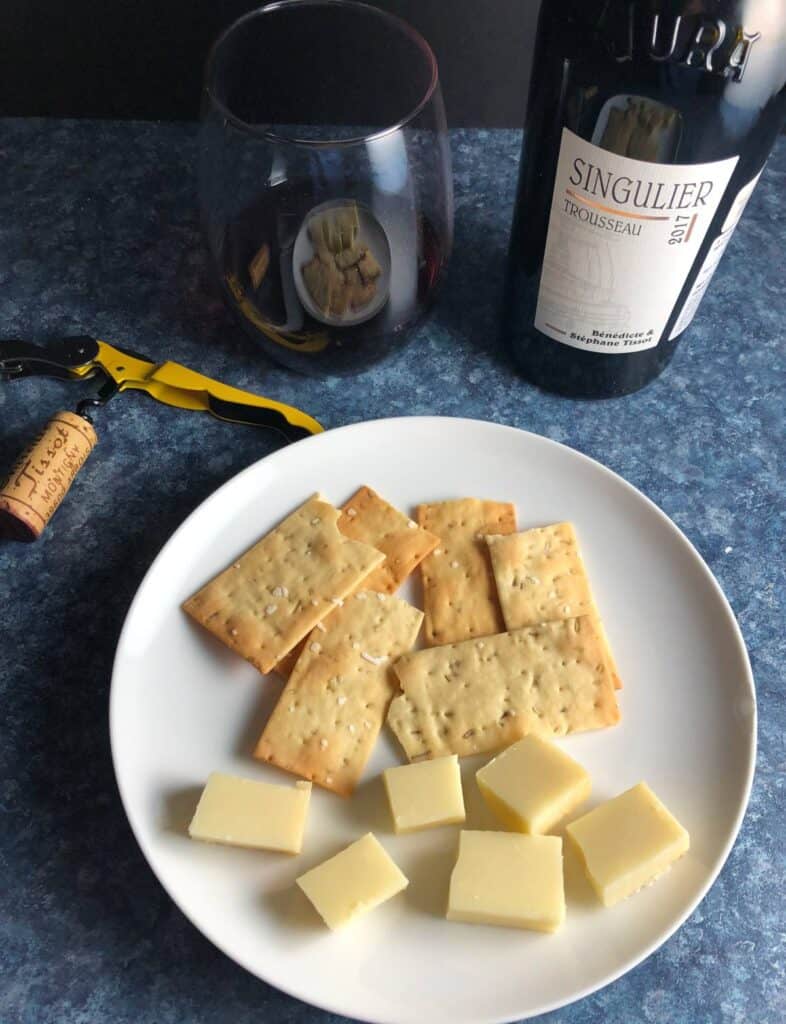 As you might expect, this wine and cheese combination worked nicely!
I decided to stick with the Comte cheese when planning the side dishes for the BBQ chicken thighs. I featured some shredded Comte along with a bit of other cheese for a quick baked pasta dish.
The simple baked pasta and cheese was a nice accompaniment to the flavorful chicken, with the BBQ sauce seeping over to the pasta to give it some extra flavor.
We also had a big bunch of Brussels sprouts on hand, so made something along the lines of this Balsamic Roasted Brussels Sprouts recipe from Crunchy Creamy Sweet. Another tasty on the plate bringing more complex flavors to the meal!
So how did our wine pairing work with all this happening on our plate?
Jura Wine Pairing
You have your easy sipping wines. Then there are those that you need to sip slow and think about to appreciate. Wines in slow sipping category often are best enjoyed with a good food pairing. The Trousseau we are talking about today falls into this camp.
We tried several local shops without luck finding a Jura Trousseau. Then we got in touch with Gordon's Fine Wine in Waltham, MA, and they actually had several from which to choose!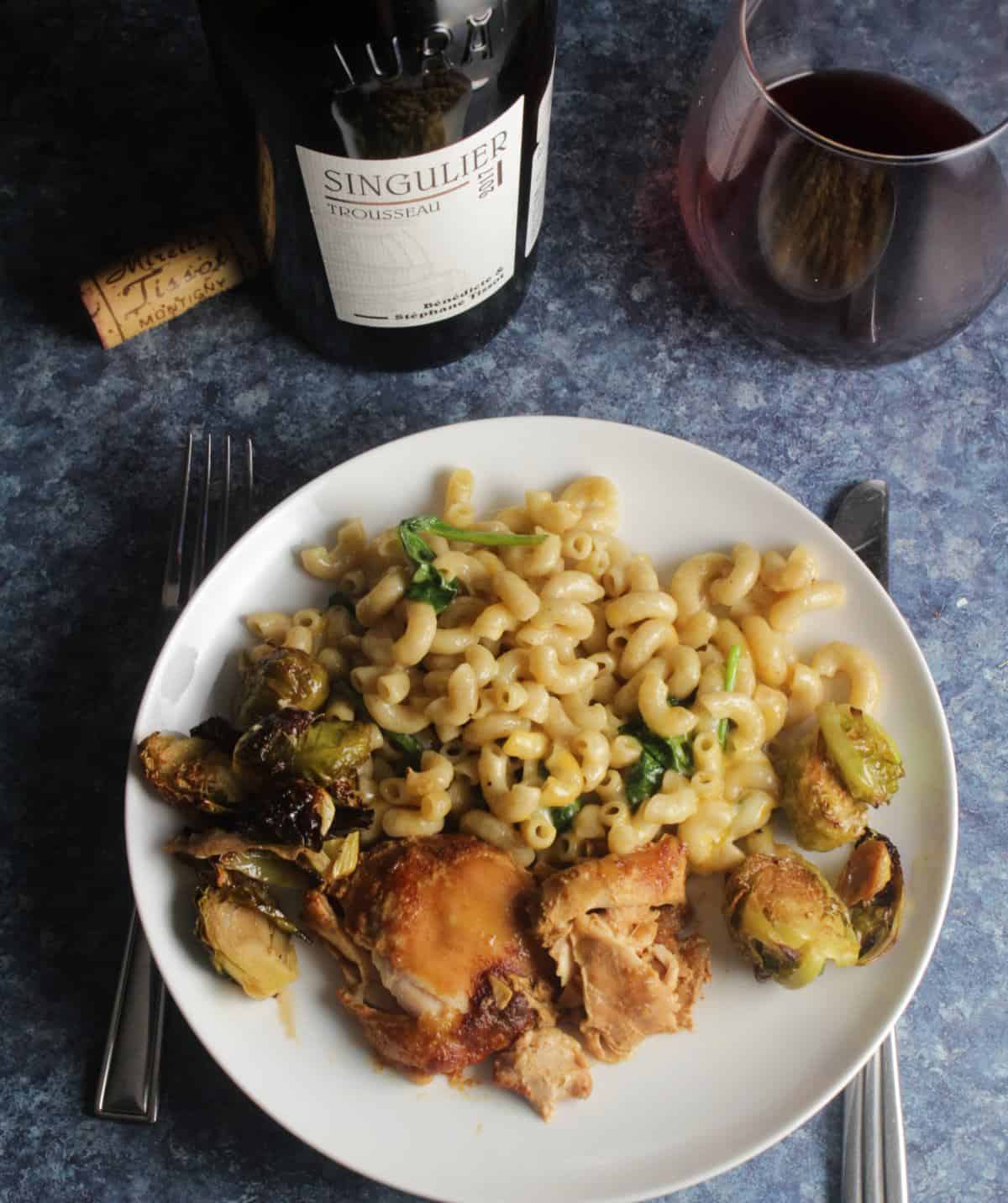 I went with the shop's suggestion, and opened the 2017 Tissot Arbois Trousseau Singuleir ($45, 13.5% ABV) to pair with our BBQ Chicken Thighs and sides. The wine is from Bénédicte & Stéphane Tissot.
This Tissot Trousseau is very light red in the glass — almost a translucent dark pink when holding up to the light.
On the nose, berries and rustic barnyard notes.
Cranberry fruit on the palate along with a notable funky element. Red licorice on the finish. Light body, medium acidity. I will circle back to do a bit more research, but the French terms on the label that I can translate indicates this is an unfiltered wine, made without any additives.
The Trousseau is definitely a food wine. The light body and fruit complements the chicken, and the various flavors including the funkiness work with with the barbecue flavor, and also pick up the roasted Brussels sprouts.
A very good pairing, and definitely solidifies my impression of Trousseau as a good wine for slowly cooked meat and poultry dishes with layers of flavor that come from that cooking method.
Print
Recipe card
Slow Cooker BBQ Chicken Thighs
Slow Cooker BBQ Chicken Thighs is a flavorful, savory chicken recipe that is easy to prepare! Throw our simple sauce ingredients together along with chicken thighs in the morning, and you will have a tasty meal ready in the evening.
Author: Cooking Chat
Prep Time:

10 mins

Cook Time:

7 hrs 30 mins

Total Time:

7 hrs 40 mins

Yield:

6

servings

1

x
Category:

Main

Method:

slow cooker

Cuisine:

American
For the sauce:
1 tbsp

low sodium soy sauce

3 tbsp

ketchup

1 tbsp

cider vinegar

½ tsp

cumin

1 tsp

smoked paprika

1 tbsp

maple syrup
Other ingridients
1 ¾

lbs boneless, skinless chicken thighs

1 cup

chopped onion (optional)

3

garlic cloves, minced

8

ozs low sodium chicken broth
Instructions
Prep the chicken: Rinse and pat dry the chicken thighs. Place at the bottom of the slow cooker.
Make the sauce: Whisk together the soy sauce, ketchup, cider vinegar, cumin, paprika and syrup in a small bowl. Pour over the chicken.
Add remaining ingredients: Add the minced garlic to the slow cooker. Pour the chicken broth over the chicken.
Slow cook the chicken: Cover the slow cooker, and set it to low. Cook on low for 7 hours.
Serve: When the chicken is done cooking, scoop out a serving of the chicken, and ladle some of the sauce over it. Enjoy!
Notes
We made this without the onions initially, and it came out nicely. During a recent remake, we added the chopped onion, and that added some good flavor.
You can definitely experiment with other spices in the sauce mixture!
If the chicken is done before you are ready to eat it, just leave it in the slow cooker on warm until you are ready.
Keywords: slow cooker chicken thighs, easy chicken thighs recipes
Recipe Card powered by
More Jura articles from the Winophiles
Be sure to check out all of these great articles about the Jura from the French Winophiles! You can also join our live Twitter chat on October 17, 11 am Eastern / 8 a.m. Pacific. Just tune into the #winophiles tag at that time!
Camilla from Culinary Adventures with Camilla will share "Seafood B'Stilla + Domaine Rolet Arbois Trousseau 2012"
Pinny from Chinese Food and Wine Pairings is "Sipping Tissot-Marie Crémant Du Jura and Snacking Fried Pork Skin"
Linda from My Full Wine Glass will be heading "Back to the Jura (virtually), for Crémant this time around"
Robin from Crushed Grape Chronicles is "Channeling the Jura for a rooftop getaway with a bottle of Savagnin and Friends"
Payal from Keep the Peas is sharing "Sherry? No, Jura"
David from Cooking Chat will be sharing "Slow Cooker BBQ Chicken Thighs with Jura Wine"
Terri from Our Good Life will tell us about "Sparkling Jura for Celebratory Moments"
Wendy from A Day in the Life on the Farm will serve up "Bourride served with a Chardonnay from Jura"
Nicole from Somm's Table will be "Cooking to the Wine: Two Savagnins from Domaine Daniel Dugois with Coquilles St. Jacques"
Christy from Confessions of a Culinary Diva is talking about "Jura in the Afternoon"
Gwendolyn from Wine Predator will share "Exploring Flavors of Jura Food and Wine Take Two: Trousseau and Melon"
Susannah from Avvinaire tells us about "Discovering Delights From Jura Region"