This Mushroom and Short Rib Ragu pasta recipe features a hearty, long simmering sauce that gets topped with a bit of dark chocolate. Perfect with a bold, red Italian wine from a producer that carefully tends the land.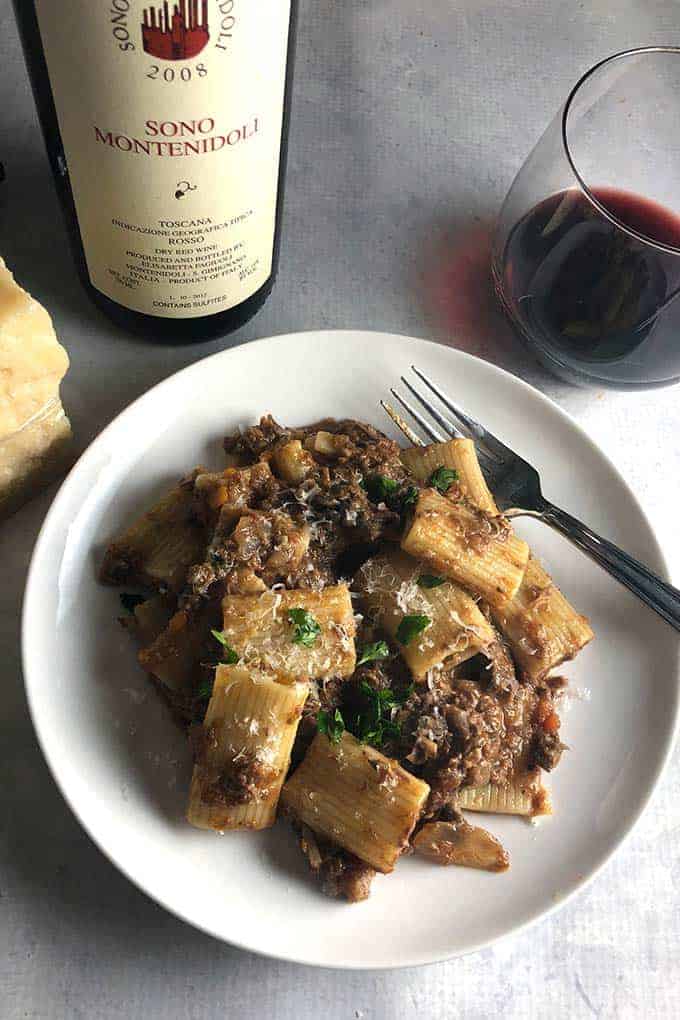 This Mushroom and Short Rib Ragu recipe definitely started with the wine!
We enjoy observing Open That Bottle Night the last Saturday in February each year — backstory on the OTBN in this article. The 2008 Sono Montenidoli had been lying patiently on the bottom row of our wine rack for a year or two.
When I first tasted the 2008 Sono Montenidoli a couple of years back, this was one of those powerful wines that you'd better try sitting down lest you be knocked off your feet. And that was after the wine shop owner noted he'd opened the bottle early that day. The Sono is 100% Sangiovese from the San Gimignano area of Tuscany.
Today the Italian Food, Wine and Travel is exploring Italian viticulture, hosted by Gwendolyn at Wine Predator. From what I know about Elisabetta, the passionate venerable winemaker behind the wines of Montenidoli, I was pretty sure this winery would fit nicely into this #ItalianFWT event. A friend who visited Montenidoli confirmed that the farm "organically plus", so I decided to jump into today's event.
About the recipe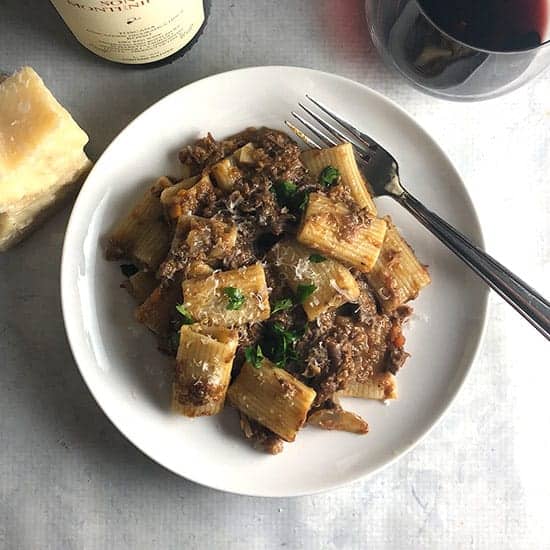 The Sono Montenidoli is a wine that deserves some effort for the accompanying meal. Clearly a meaty dish was in order — mountain goat is among the pairing suggestions on the winery website!
Not quite up for tracking down a mountain goat, I recalled a short rib ragu I had made a few times based on a recipe from Everyday Pasta by Giada De Laurentiis. This meaty dish with a bit of tomato and topped with a touch of chocolate seemed like a good pairing for the Sono Montenidoli.
What is Short Rib Ragu?
Ragu is an Italian meat-based sauced that typically has a small amount of tomato in the sauce. Short rib ragu features beef short ribs as the meat used. The recipe would typically also include pancetta, but we did a variation on that theme.
For another delicious ragu recipe, try our Lamb Ragu Pasta. And if short ribs is your thing, try our Slow Cooker Short Ribs with Mushrooms.
Making mushroom and short rib ragu
This Short Rib Ragu recipe largely follows Giada's recipe. I started the sauce by sautéing some baby bella mushrooms, instead of the pancetta called for by Giada.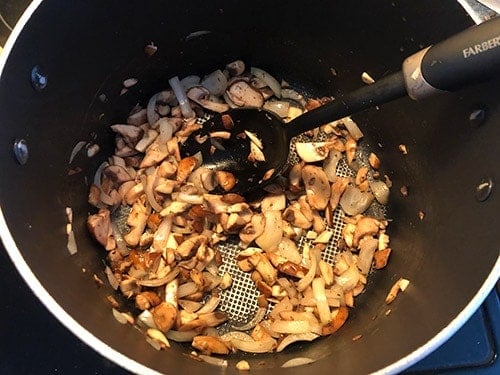 I'm looking to limit how often we eat cured meat products, and have found mushrooms can be a good alternative for providing depth of flavor to a recipe.
The recipe card below gives detailed instructions that I won't repeat here. Two points I would highlight here:
Slow cooking: Although the total cooking time here is over three hours, the short ribs are simmering for most of that time needing just an occasional stir. So you do need to be around the kitchen, but you can certainly be doing other things as the sauce simmers.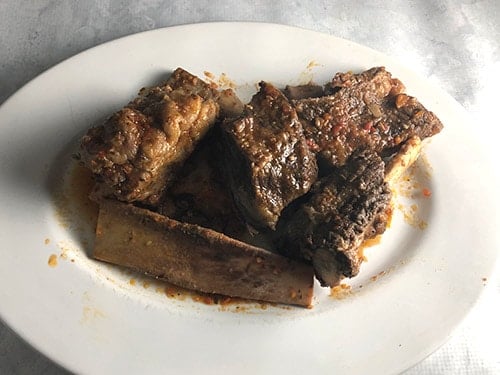 Shredding the meat: Unlike pulled pork or chicken which comes apart easily after long simmering or braising, you will need to use a food processor for the short rib meat. But do what you can to break some of the meat into bite sized pieces on the platter first. Short ribs are a fatty cut, so some fat along with the meat is OK. But cutting off and discarding some of the large chunks of fat before shredding is a good idea.
Giada's recipe recommends tagliatelle pasta for the short rib ragu. For this batch of sauce, I made it with rigatoni. I like the short, substantial shape for meaty dishes.
2008 Sono Montenidoli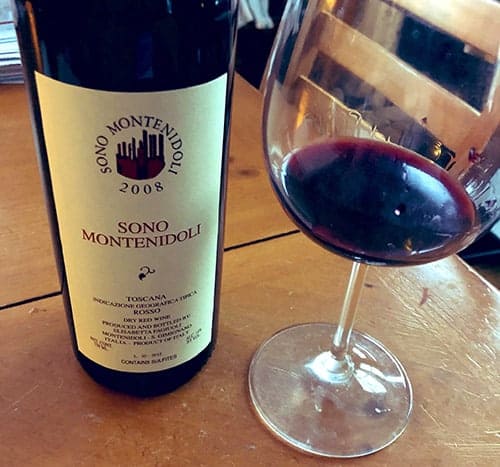 Let's get back to the wine! I opened the 2008 Sono Montenidoli ($64*, 14% ABV) about 3 hours before dinner time. My intent was to do a little taste of it, in part to determine how long I would need to decant it. Here are my tasting notes:
Nose: Aroma of a forest floor on a warm summer day.
Palate: Plum fruit, notes of maple and bacon. Well-integrated tannins and medium acidity.
While the Sono Montenidoli still benefited from some time to open up before dinner, it had really evolved and softened during the time it spent in our cellar. I actually decided not to decant the wine, just let it stay open for three hours. By dinner time, the fruit was very plush and the tannins had softened further. A complex wine, with spice notes also there along with that bacon and maple.
I wouldn't think of having the younger Sono Montenidoli without food. But at this point, it is a definitely a pleasure to sip on its own with the complex flavor profile. However, as you might suspect with an Italian red wine, it is even better when enjoyed with a meaty pasta dish like the short rib ragu!
*Pricing note: Average price according to Vivino. I bought the bottle for a good bit less when Elisbetta was visiting Pairings Wine & Food.
About Montenidoli
The following background information comes from the Montenidoli website, and what I've heard from Elisabetta and friends that have visited there. I previously shared some of this information along with our Tuscan Kale Pasta recipe, paired with a Montenidoli Vernaccia.
The San Gimignano hills where the Montenidoli Winery was established had been abandoned by farmers in the early 1900s. The land has a long history of winemaking dating back to the Etruscans.
Elisabetta Fagiuoli and her husband Sergio moved there in 1965 to raise their family. Sergio was a teacher, but caring for the land was in Elisabetta's blood. Her family cultivated vines and olive trees outside Verona. Much of her childhood was spent wandering the vineyards of Valpolicella.
The vineyards were overgrown with brambles when they arrived, but Elisabetta set to work. As my friends Ray and Lori said upon visiting Montenidoli, Elisabetta is "a force of nature". Using organic methods that rely upon the Tuscan sun and soil, the first Montenidoli wine was born in 1971. Well past the age most people retire, Elisabetta continues to work with a small team to tend to the vines.
Montenidoli consists of 24 hectares of vineyards surrounded by 200 hectares of woodlands.
To make the Sono Montenidoli, the best bunches of Sangiovese are vinified separately, with a long maceration on the skins. The wine is matured in new barriques, and bottled unfiltered.
I haven't had a chance to visit Montenidoli, but my friend John did last year and shared some photos.
Print
Recipe card
Mushroom and Short Rib Ragu
Mushroom and short ribs slowly simmer for a rich ragu sauce that is topped with a bit of dark chocolate. Pair with a full-bodied Italian red wine.
Prep Time:

5 mins

Cook Time:

3 hours 15 mins

Total Time:

3 hours 20 mins

Yield:

6

servings

1

x
Category:

main

Method:

stove top

Cuisine:

Italian
1

onion, chopped, and divided into

2

equal portions

1 tbsp

butter

8

ozs baby bella mushrooms or other mushrooms of your choice

1 tsp

dried thyme

½ cup

red wine, divided

1 tbsp

olive oil

2 ½

lbs beef short ribs, bone in
salt and pepper to taste

1

carrot, chopped

⅓ cup

fresh parsley, chopped

2

gloves garlic

1

14.5 oz can diced tomatoes

¼ cup

roasted red peppers (optional)

1 tbsp

ketchup

1

sprig fresh rosemary, chopped

½ tsp

marjoram or oregano

1

bay leaf

2 ½ cups

beef broth, low sodium

1

lb rigatoni or other substantial pasta shape

2

ozs dark chocolate, shaved into small pieces
Parmigiano cheese for passing at the table.
Instructions
Melt the butter in a large pot on medium heat. Add half of the chopped onion, and cook until it begins to soften, about 5 minutes.
Add the mushrooms to the pot, stir to combine with the onions. Cook until the mushrooms begin to sweat, about 5 minutes.
Add ¼ cup of the wine to the pot, and cook until it is mostly absorbed, about 3 minutes. Remove the mushroom mixture from the pot, and set aside in a bowl for adding back later.
Add the olive oil to the pot, heat on medium high. Add the short ribs to the pot, along with salt and pepper to taste. Brown each side of the short ribs, turning occasionally. The short ribs take about 10 minutes to brown.
As the short ribs are browning, place the remaining half onion, carrot, parsley, garlic, tomatoes, roasted red pepper, rosemary and ketchup in a food processor. Pulse until the ingredients are well chopped to a purée consistency. Add this vegetable mixture to the pot with the browned short ribs.
Add the beef broth to the pot, along with the marjoram, bay leaf and remaining ¼ of wine. Stir in the mushroom mixture set aside earlier. Bring to a boil, then reduce to simmer, covered, for 1 hour and 15 minutes.
Remove the lid after the first 75 minutes of simmering. Continue to simmer the ribs, uncovered for another hour and half, stirring occasionally. The short ribs simmer for a total of 2 hours 45 minutes.
Begin cooking the pasta according to package instructions when the short ribs reach the end of the simmering time.
Carefully remove the short ribs from the pot, letting excess sauce drip back into the pot. Place the ribs on a platter. Let the short ribs cool for about 5 minutes. Meanwhile keep the sauce simmering, uncovered, on medium low.
Slide the meat off the bone, and set the bones aside. Using two forks, pull the meat apart to make bit size pieces. You are likely to be able to do a portion of the meat by hand, but will need to finish with a food processor. Place the short rib meat you have broken up by hand back into the pot. With the remaining meat, use a knife to cut off any large pieces of fat. Meat and fat mixed together is fine to use. Place the remaining meat and bits of fat in a food processor. Pulse to break the meat into small pieces. Move the meat from the food process back to the sauce pot.
Stir the shredded short rib meat to incorporate into the sauce. Simmer on medium low while the pasta finishes cooking.
Reserve ¼ cup pasta cooking water, then drain the pasta when it is ready. Add about ¾ of the sauce into the pasta, and stir to combine. Scoop additional sauce into the pasta if desired. Reserve any extra sauce for another use.
Sprinkle the shredded chocolate over the pasta and let it melt in. Scoop the mushroom and short rib ragu onto plates, and enjoy with a good Italian red wine.
Notes
"Baby bella" mushrooms are baby portobellos
This recipe generated a bit more sauce than we needed for one pound of pasta. Add the sauce to the pasta gradually, any extra sauce can be frozen for later use. Or, you could cook more like 1 ¼ pound of pasta.
Keywords: short ribs, short rib ragu, Sangiovese, pasta, meat sauce
Recipe Card powered by
Other Italian Food Wine & Travel Writers Thoughts on Viticulture in Italy
If you see this post soon enough, please join our conversation on Twitter at #ItalianFWT on Saturday March 2 at 11am EST. We love visitors to join in the chat!
Pin to save this recipe!