Today we share a vegetarian recipe for Butternut Squash Risotto along with a discussion of the special place Sonoma has in our wine story. November's Wine Pairing Weekend theme focuses on our gratitude for wine regions that have struggled with fire in recent years. As we share this, our thoughts are with those in California struggle with new fires that have broken out over the past few days.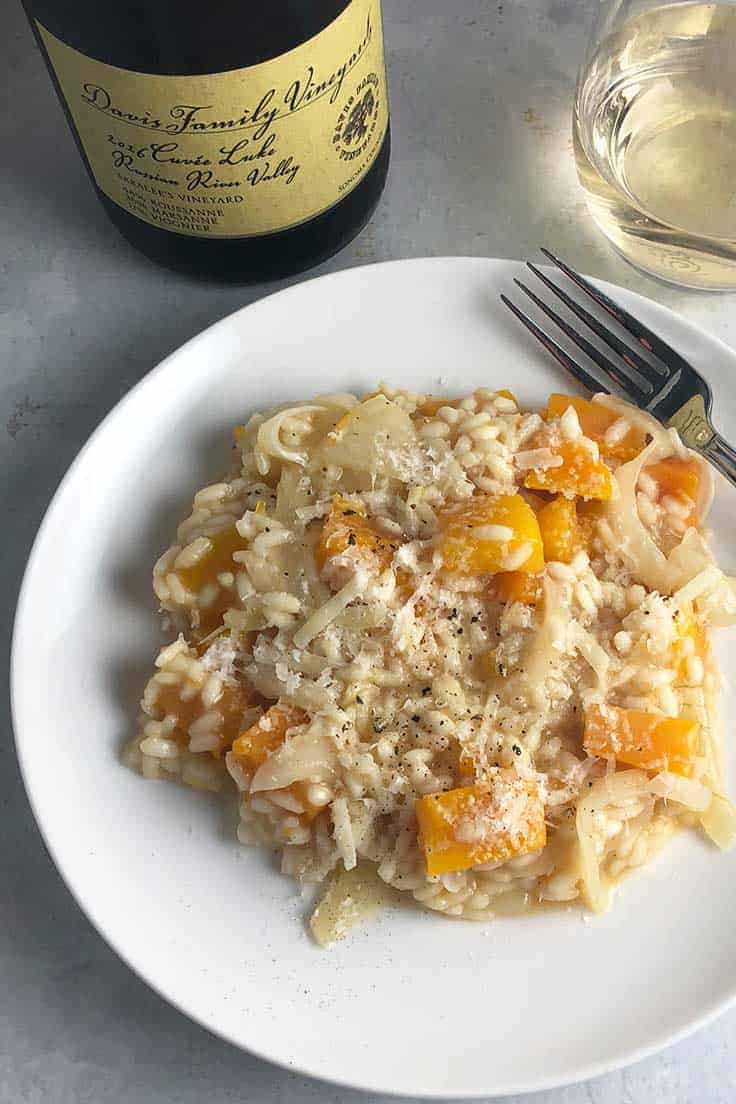 Little did we know when Gwendolyn suggested this month's theme "Together We Rise" that some more devastating fires would break out in California on the eve of today's Wine Pairing Weekend event. As of this writing, the Sonoma region I'm focusing on hasn't been hit this time, but the recent outbreak reminds us of the fragility of California wine regions.
Today I am simply pairing one Sonoma wine with our Butternut Squash Risotto recipe, but I want to start by saying a bit more about Sonoma, as Jodi and I have fond memories of visits to the region.
In the early days of my journey into the world of wine, there was an annual conference in the Bay Area that I would attend for my day job. Given my budding interest in wine and my love for hiking, I'd typically try to add on a few days to the trip — and up to a week if Jodi was able to come too!
One of our very first winery visits was to Ravenswood's winery in Sonoma. I know, they are a big brand now, not the kind of small producer we gravitate to in the #winePW blogger circle. But someone pour in the tasting room that November day we visited really to the time to share his passions for the wines, and teach us about the characteristics of the grapes involved, etc.
Fast forward a few years, we had a trip planned piggybacking on the same conference for the fall of 2001. Just a few weeks after planes returned to the skies after the horrific 9/11 attacks, we decided we wouldn't be deterred from our visit to Sonoma. Fitting for our "Together we rise" theme!
We had taken advantage of the new Internet technology to book a B & B that looked great in the photos. Alas, the concept of user reviews hadn't been established, so we were dismayed to see how close to a major road that idyllic room from the listing was. We spent one night listening to trucks rumble by, then packed up to find something quieter.
So glad we didn't stay in that first place! We headed toward the coast and found a simple place in a great location, right at the mouth of the Russian River. I believe it was the Jenner Inn. We loved bringing our day's wine and cheese finds back to the little balcony to watch the sunset over the Pacific, as seals frolicked in the river.
We visited quite a few wineries that trip, but the most memorable was hanging out at Sunce Winery, which makes a wide variety of quality wines based on the founder's Serb – Croatian roots. The husband and wife team that owns the winery alternated between winery tasks and hanging with us to sample the product!
Butternut Squash Risotto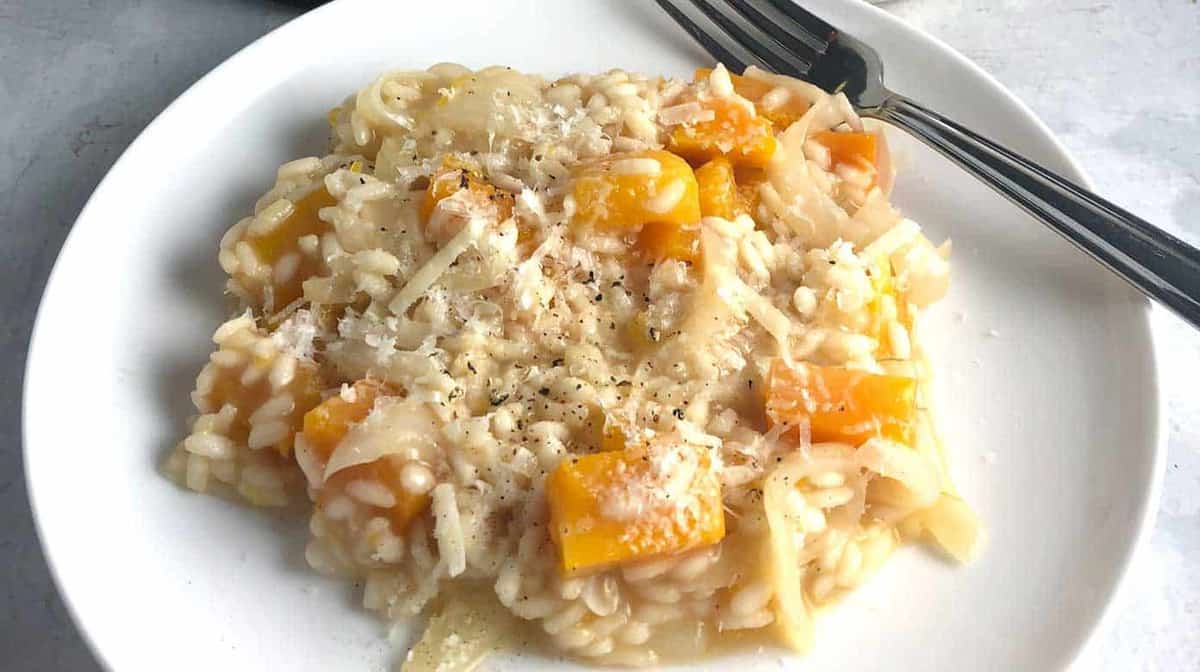 Today's Butternut Squash Risotto recipe landed on our menu with a different wine pairing in mind.
As you can see, I have fond memories of Sonoma, so it's a natural focus for today's #winePW theme. However, I was thinking I still had a Napa Merlot on hand to be opened following last month's #MerlotMe themed Wine Pairing Weekend.
With Merlot in mind, I sought to make a non-meat centric dish to go with the bold red wine, for a change of pace. Several of my fellow #winePW bloggers reminded me that squash and Merlot go nicely together, and that set me in the direction of Butternut Squash Risotto.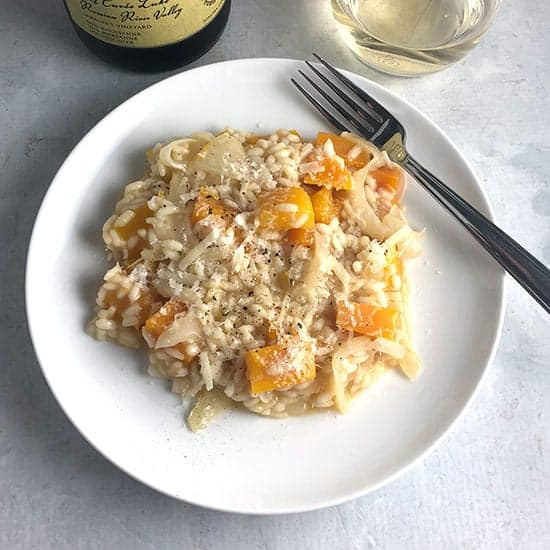 Then I realized the night I was making the risotto that the lone remaining bottle from #MerlotMe month was from Washington state, not Napa as I had thought. I needed to switch gears!
I'll tell you more about the Sonoma wine I picked in a moment, but first a few notes about the butternut squash risotto. I'd previously made a risotto with butternut squash and chicken, and that was very good. For today's recipe, I set out to make a vegetarian butternut squash risotto.
Without the poultry or mushrooms–another favorite risotto ingredient–to round out the dish, this is a lighter risotto than some. You definitely get a good taste of the butternut squash here, so this isn't for you if you aren't a fan…or you could add in some mushrooms, or maybe a bit of prosciutto if you aren't seeking to make a vegetarian dish.
While I liked this butternut squash risotto the first night I made it, I was looking to give it a little flavor boost when heating up the leftovers. I added some truffle butter I had on hand, and that was a great addition.
Sonoma Wine Pairing for Butternut Squash Risotto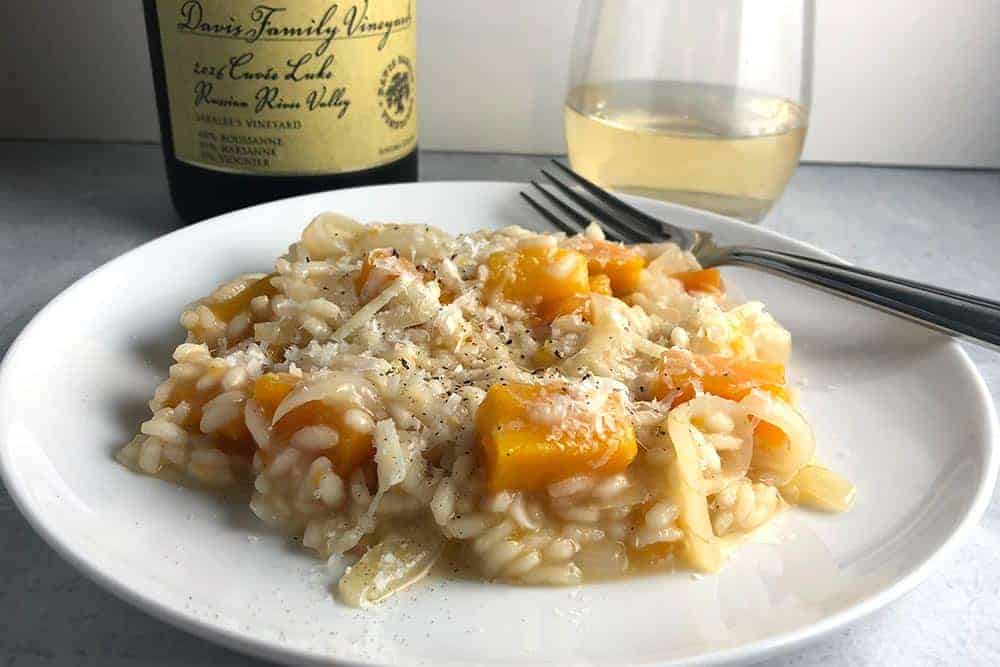 Given the late hour that I realized I didn't have any Napa Merlot, I needed to pick a wine on hand that would go with our theme and the butternut squash risotto. I had a Sonoma Chardonnay from Taft Street — definitely a go-to Sonoma producer for me– but opted for the white Rhone style blend from Davis Family Vineyard.
The 2016 Cuvée Luke Russian River Valley ($25, 13.4% ABV) is a blend of Roussanne (48%), Marsanne (35%) and Viogner (17%). As you might expect, there is more lush fruit showing in this Sonoma wine compared to a simple blend from the Rhone. I get lemon fruit with some tropical notes, a nice round mouthfeel and long finish.
The Cuvée Luke pairs pretty well with the butternut squash risotto. My lack of Napa Merlot turns out to have been a happy accident, as I think the composition of the vegetarian risotto makes it more conducive to a white wine pairing than red. Plus I got to share some of my Sonoma memories!
Print
Butternut Squash Risotto with Roasted Garlic and Sonoma Wine #winePW
Butternut Squash Risotto with Roasted Garlic for a flavorful fall meal.
Author: Cooking Chat
Prep Time:

45 mins

Cook Time:

30 mins

Total Time:

1 hour 15 mins

Yield:

5

servings

1

x
Category:

main

Method:

stove top

Cuisine:

Italian
1 tablespoon

roasted garlic or

1

head of garlic to make roasted garlic

2 tbsp

extra virgin olive oil, divided

1

lb butternut squash, peeled, seeded and chopped into bite sized pieces

4 cups

vegetable broth

3 cups

water

1

onion, chopped

2 cups

arborio rice

½ cup

white wine

1 tbsp

sage leaves, minced

½ cup

Parmigiano cheese plus extra for serving
salt and pepper to taste

1 tbsp

truffle butter (optional)
Instructions
Make the Roasted Garlic (skip step if you have some on hand): Preheat oven to 375. Cut the root end off the head of garlic, exposing the bottom of the garlic cloves. Drizzle exposed cloves with 1 tablespoon of the olive oil. Season with salt and pepper to taste. Wrap the garlic in aluminum foil, place in small baking pan and put in oven. Roast until garlic is brown and getting very soft, about 45 minutes. Set aside to cool when done roasting. When the garlic has cooled, squeeze the roasted garlic out of the skin and it is ready to use.
You can prep the other ingredients as the garlic is roasting. After the garlic has been roasting 20 to 30 minutes, bring the vegetable broth and water to boil in a large pot. Add the squash, reduce to a simmer. Cook the squash until it is just soft, about 10 minutes.
Scoop out the squash with a slotted spoon, set squash aside to cool. Keep the broth warm on low heat.
Heat the remaining 1 tablespoon olive in a large nonstick pan on medium heat. Add the onion, and sauté until it begins to soften, about 5 minutes.
Stir the rice in with the onions, until the rice has gotten well coated with the onions and olive oil.
Add the cooking wine to the rice, and cook until the wine is mostly absorbed, which will take about 3 or 4 minutes.
Add a ladle or two of broth to the rice, along with the sage and 1 tablespoon of roasted garlic. Stir the risotto mixture and cook until the broth is absorbed. Add another ladle of broth and repeat process. Stir frequently throughout the risotto cooking.
Once all or most of the liquid has been absorbed the rice is tender to the bite, the risotto is almost ready. It takes about 30 minutes of gradually ladling in the cooking liquid and stirring regularly. Add the butternut squash along with one of your final scoops of broth.
When the rice is cooked to your liking, stir in the cheese and truffle butter if you are using it. Plate and serve, passing extra cheese at the table. Enjoy!
Notes
A good ice cream scooper can come in handy for scooping the seeds out from squash (Amazon affiliate link provided for convenience if you need one).
Risotto doesn't need to be stirred constantly, but it does require regular stirring and monitoring. So you don't need to be over the pot the entire time you are making it, but don't go too far from the kitchen!
Keywords: butternut squash, risotto, Sonoma wine, butternut squash risotto
Recipe Card powered by
Pairings from the #winePW Blogging Group
Be sure to check out all the great Wine Pairing Weekend Articles! And join us for a live Twitter chat on today's topic, using hashtag #winePW, at 11 a.m. ET and 8 am PT on Saturday, November 10, 2018. You can view past and upcoming Wine Pairing Weekend events here.