This Quick Meatloaf recipe cooks in about 30 minutes, and is made without eggs. The meatloaf is delicious with mashed potatoes and an Italian red wine from Pietra Pinta. Disclosure: The wine was provided as a complimentary sample.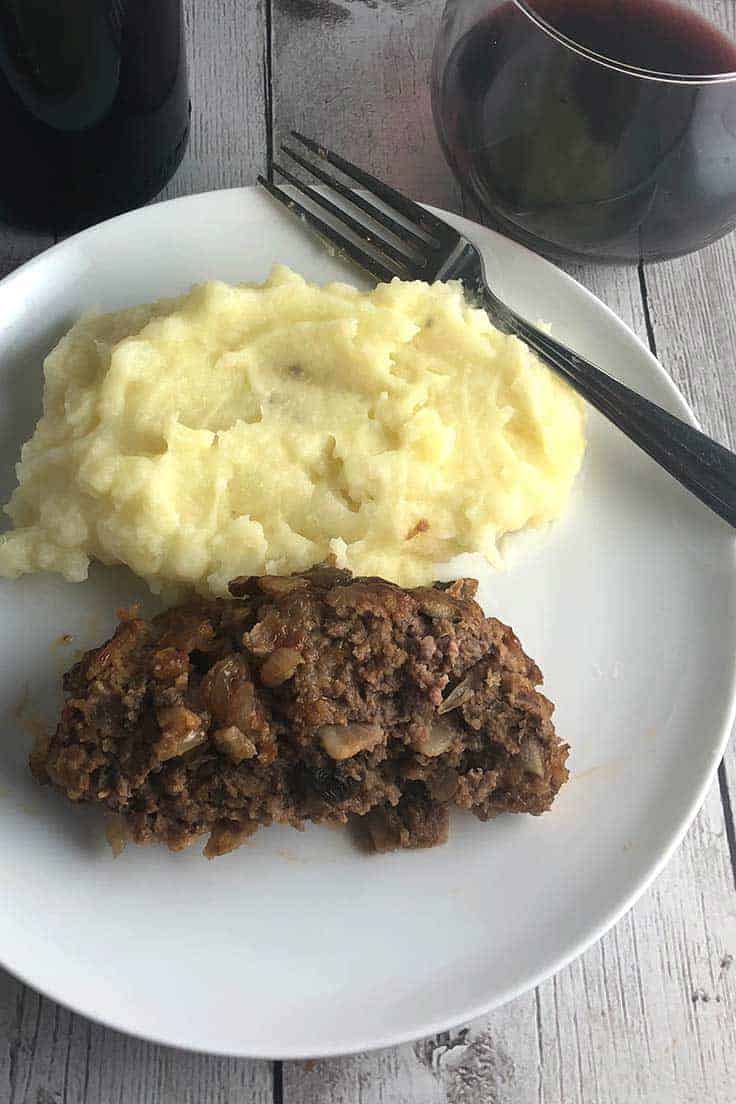 I've had an Italian red wine from Lazio producer Pietra Pinta waiting in the wings for awhile. At first I thought I might pair it with some grilled meat, but our grilling season passed without opening the bottle.
Earlier this fall, friends Marvin and Marcia brought a tasty meatloaf to a multi-course wine dinner. The meatloaf went well with both the Brunello and Montepulciano we had that evening, so I thought it could also work with the Pietra Pinta Nero Buono.
Quick Meatloaf Recipe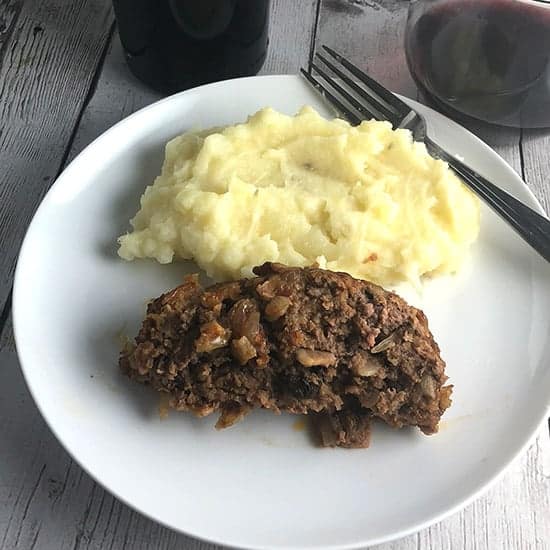 Somehow, meatloaf is one of those things that I hadn't gotten around to making. We had meatloaf a lot growing up; I guess I was ready for a break when I started cooking.
But the meatloaf we had at the wine dinner was delicious, and an excellent companion to bold red wines, of which we have a good supply these days. So it was time to make this quick meatloaf recipe.
Our friends supplied a printout of the Bourbon Meatloaf with Mashed Potatoes recipe from the Wall Street Journal that they used. The recipe is from Chef Edward Lee.
I followed the basic approach from Chef Lee's recipe. The quick meatloaf recipe starts by cooking up some onions with mushrooms and bacon in a skillet, which provides a nice base of flavor for the meatloaf.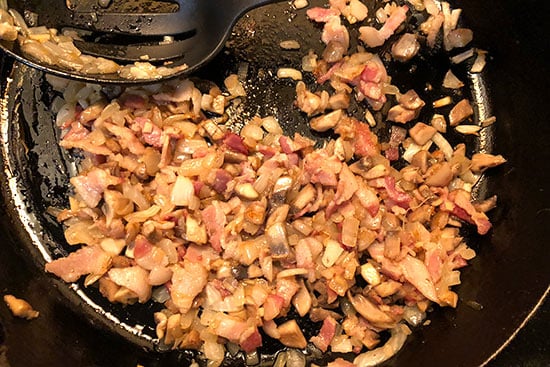 I am calling this a "quick meatloaf recipe" as I follow Chef Lee's suggestion of making a relatively thin meatloaf that bakes on a baking tray as opposed to a deeper dish. This enables the meatloaf to cook in about 30 minutes as opposed closer to an hour.
Our quick meatloaf recipe makes two important departures from Chef Lee's version. First, our version is an eggless meatloaf recipe. We don't use eggs due to a food allergy. Swapping apple sauce for the egg yolk worked well. There was a bit of sweetness in the meatloaf, but not overwhelming.
Second, we didn't use bourbon in our recipe, so we couldn't very well call it Bourbon Meatloaf! We don't tend to keep bourbon or whiskey on hand, but we do often have some Madeira or Port which we occasional have after dinner. I correctly figured a fortified wine like Madeira could work pretty well in place of the bourbon.
Chef Lee notes the bourbon gives his recipe a smoky quality. Between our Madeira and apple sauce substitutions, our recipe is more a savory with a bit of sweet as opposed to smoky. This change works pretty well, particularly if you are trying to please kids with your meatloaf!
Meatloaf with Italian Red Wine
As I mentioned, I had a bottle of 2015 Lazio Nero Buono (13.5%) from Pietra Pinta waiting for the right meal. As I described in this post, I had a chance to meet Pietra Pinta winemaker Bruno Ferretti this summer, through local importer importer John Maisano, who runs Bacchus Imports. Check out that article for more background on the winery and region; I'm going to focus more here on the Nero Buono.
Nero Buono is a red wine grape native to the Lazio region, and is not something you are likely to find from other areas. The grape has red skin and red fruit, giving the wine a deep, dark red color.
There's a duskiness on the nose of the Pietra Pinta Nero Buono. On the palate, blackberry fruit with a hint of cloves and pencil shavings. Definitely has an underlying complexity that can be associated with the volcanic soils found in the region.
The Nero Buono is a substantial red wine, yet pleasant to sip on its own. That said, it does stand up to and pairs very well with our easy meatloaf recipe. Clearly you can find other bold red wines that will work with meatloaf, but if you have an opportunity to track down this wine from Pietra Pinta I encourage you to do so!
70% of this Nero Buono is aged in stainless steel, 30% is oak aged. This produced a fruit forward wine with some subtle flavor notes from the oak.
Print
Quick Meatloaf Recipe
This quick cooking meatloaf recipe packs plenty of flavor, and is delicious with an Italian red wine. Recipe adapted from Chef Edward Lee, as it appeared in the Wall Street Journal. Our version is an eggless meatloaf recipe.
Author: Cooking Chat
Prep Time:

10 mins

Cook Time:

40 mins

Total Time:

50 mins

Yield:

6

servings

1

x
Category:

main

Method:

baking

Cuisine:

American
1 tbsp

extra virgin olive oil

1 cup

diced onion

2

cloves garlic, minced

3

ozs bacon, cut into thin strips

1 cup

diced mushrooms

1

lb ground beef, 85% lean*

½ cup

panko bread crumbs

2 tsp

apple sauce*

½ cup

ketchup, divided

1 tbsp

Madeira or Port (fortified wine)*

2 tsp

soy sauce

1 tbsp

brown sugar
Instructions
Preheat oven to 400 degrees.
Heat the olive oil in a large skillet. Add onions and garlic, cook until the onions have softened, about 5 minutes.
Stir in the bacon and mushrooms, cook until the bacon begins to brown, about 5 minutes.
Transfer the onion mixture to a large bowl. Add the ground beef, bread crumbs, apple sauce, Madeira and ¼ cup of the ketchup. Season with salt and pepper. With clean hands, mix all the ingredients together until they are well mixed.
Move the meat mixture to a rimmed baking sheet lined with aluminum foil. Pat the mixture into a loaf shape, about 2 ½ inches thick. Place in the oven to bake.
Prepare the glaze as the meatloaf begins to bake. Combine the remaining ¼ cup ketchup in a small bowl with the brown sugar and soy sauce, and set aside.
After the meatloaf has baked for 6 minutes, remove from the oven. Brush the glaze over the top of the meatloaf. Return to oven to cook for 20 minutes. After 26 to 30 minutes total cooking time, remove from oven. Check to see that it is cooked through–internal temperature should be 145 to 150 degrees.
Slice the meatloaf, and serve with mashed potatoes and a glass of red wine. Enjoy!
Notes
We like to use grass fed ground beef, as it contains more healthy fats and has ecological advantages. But you can certainly use the ground beef you typically purchase.
The 2 teaspoon apple sauce are a replacement for 1 egg yolk in the original recipe. We don't cook with eggs due to a food allergy. You could swap and use the egg yolk if you prefer.
We used Madeira, a fortified red wine; Port is similar if you have that handy. The original recipe called for bourbon. We don't tend to have bourbon on hand so went with the wine option.
Keywords: meatloaf, quick meatloaf, Italian wine, wine with meatloaf
Recipe Card powered by