Roasted pork chops topped with peach salsa makes for a delicious way to elevate a simple pork chop to a restaurant caliber meal. We enjoyed it paired with one of our favorite rosés!
You can easily adapt this recipe to feature grilled pork chops topped with our peach salsa.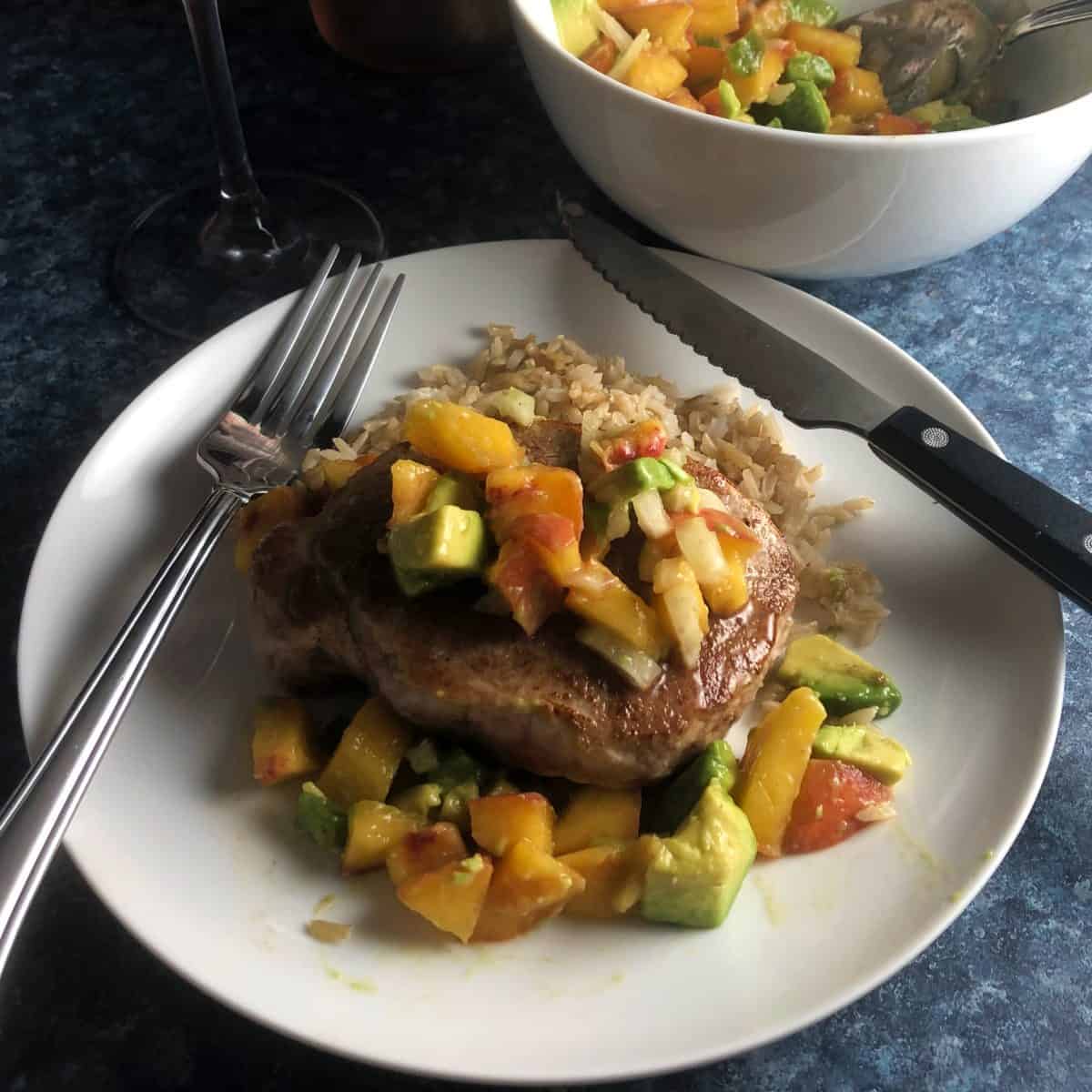 This recipe for pork chops with peach salsa reminds me I need to incorporate fruit into my cooking more often!
We eat plenty of fruit around our house, but usually it is simply a matter of grabbing the apple, pear or whatever else is handy and seasonal, and enjoying it as a snack. And blueberries top my cereal almost every day.
Then I got several peaches on sale, and waited for them to turn ripe. Then boom, all at once, they were all at that perfect sweetness. I know from experience this phase doesn't last long! So I decided to make some peach salsa, correctly figuring that it would be a great topping for pork chops I was planning on for dinner.
How to make peach salsa
Making peach salsa starts with a peach that is good and ripe. This recipe is also a good way to use a peach that has gone a bit past that perfect ripeness phase. Just cut away any parts of the fruit that look like they have gone too far past their prime, and use the good pieces of the peach fruit.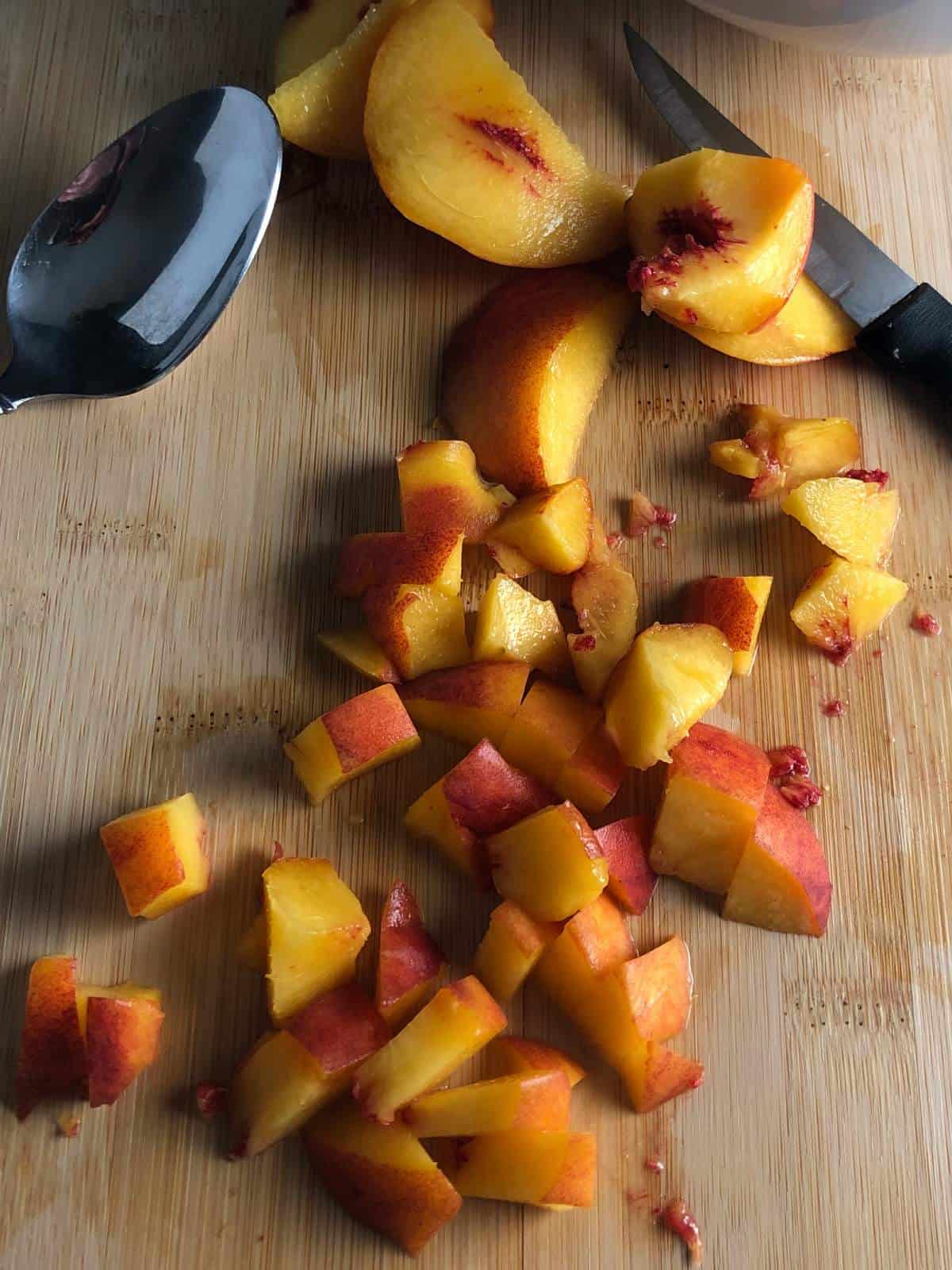 Dice the peach into bite size pieces of about ½ inch or smaller.
Combine the onion, jalapeño, lime juice, salt and cilantro in a bowl and set aside. You can make the salsa a few hours ahead of time and keep refrigerated.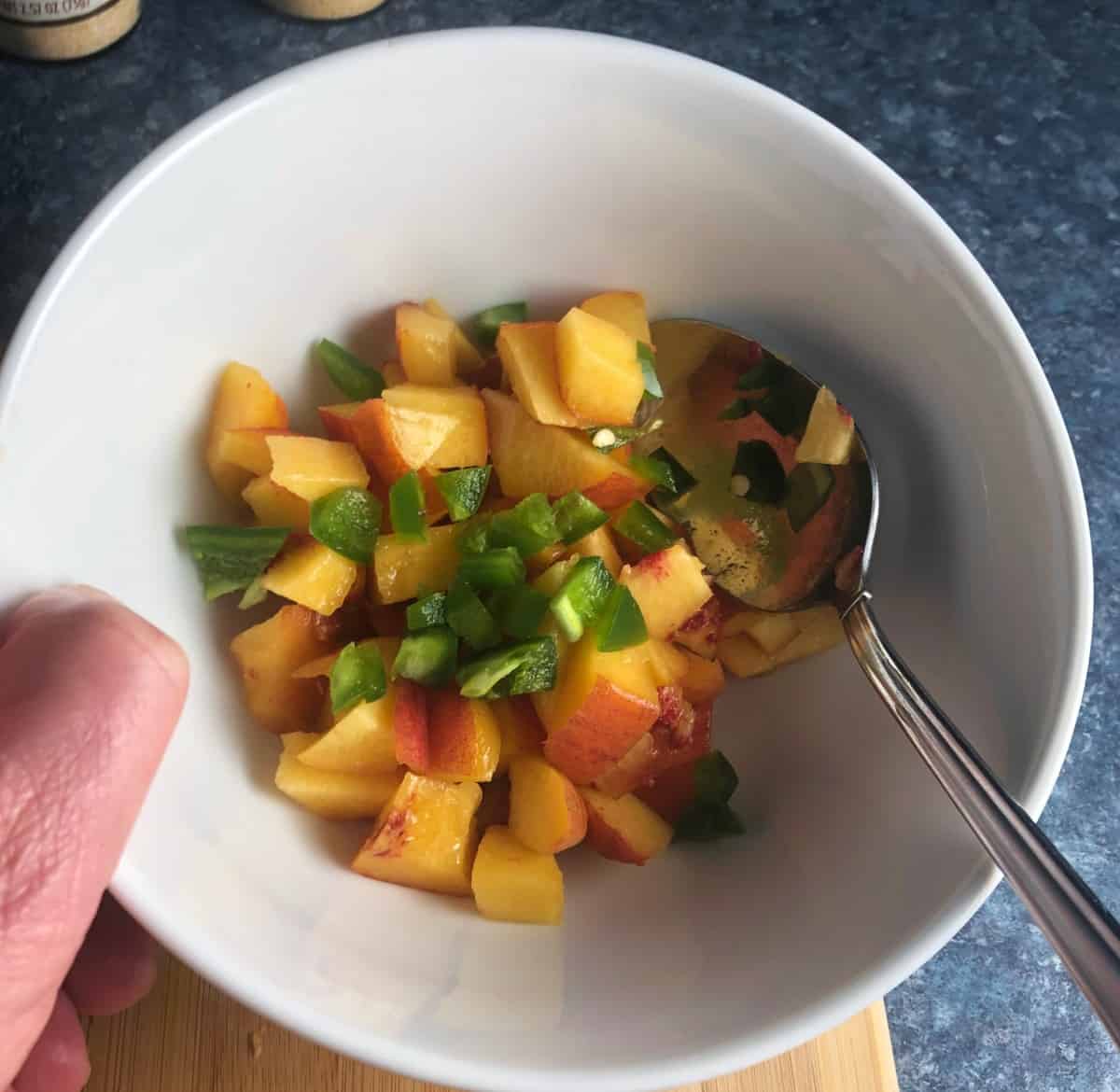 Take out of the fridge when you are getting ready to make the pork.
Add the chopped avocado shortly before serving — if you put that in ahead of time, the avocado will start to turn brown.
I recommend red onion for this salsa, but you can use other onions too.
You can substitute lemon juice for the lime, although I prefer the lime.
Cilantro evokes some strong feelings! Skip it if you like or substitute another lively fresh herb such as parsley, if you are so inclined.
Grilled Pork Chops Option
I made this recipe with baked pork chops, so that's the way the recipe card instructions are given. But grilling the pork chops is definitely a good option to go with this summer fruit salsa!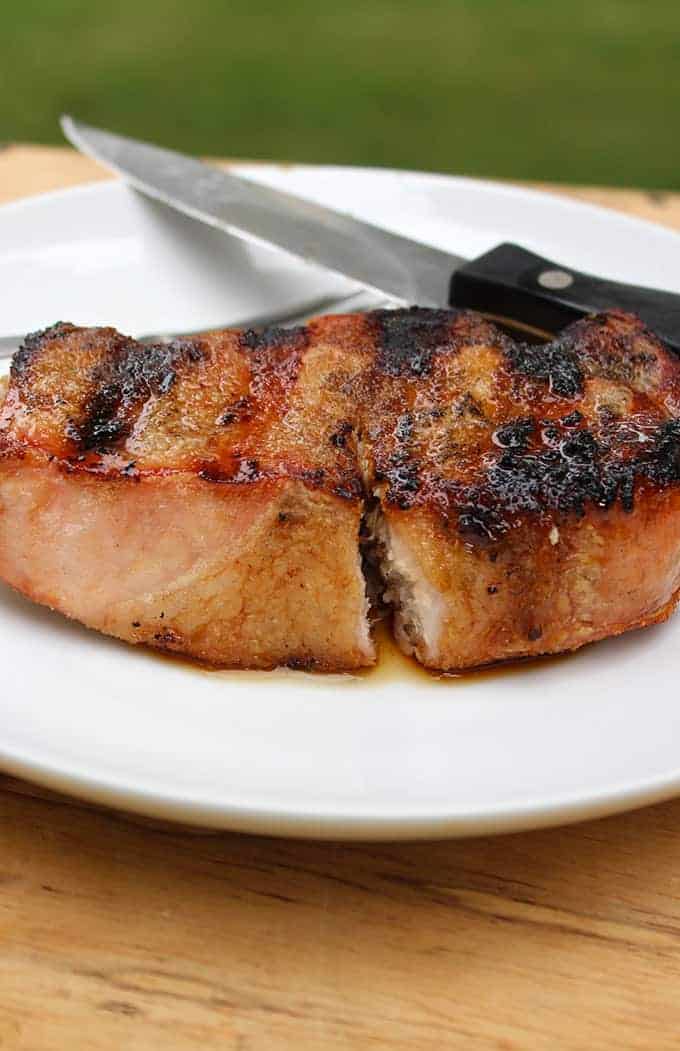 To grill pork chops to go with the peach salsa, heat a grill on medium high. Rub the pork with the ginger, allspice and salt blend given in the instructions.
Grill the pork chops for about 6 minutes per side, until they are just cooked through.
Serve the grilled pork chops with the peach salsa.
How to keep a peach from going bad?
It can be trick to catch a peach at the perfect level of ripeness! The peach can see a bit too hard on the counter for days, then all of a sudden it is super ripe and needs to get eaten right away.
But you can actually keep the peach in that ripe mode a bit longer. Once you see a peach is ripe, put it in the refrigerator until you are ready to use it. They can stay in the fridge for a few days and keep pretty well.
Even when the peach has been in the refrigerator after several days and looks like it is starting to shrivel a bit, you can still typically manage to cut up enough good fruit to make this peach salsa.
Wine Pairing
The bright, vibrant flavors of the peach salsa suggested to me that a rosé wine pairing would be the way to go. But it would need to have enough body to stand up to the pork chops too.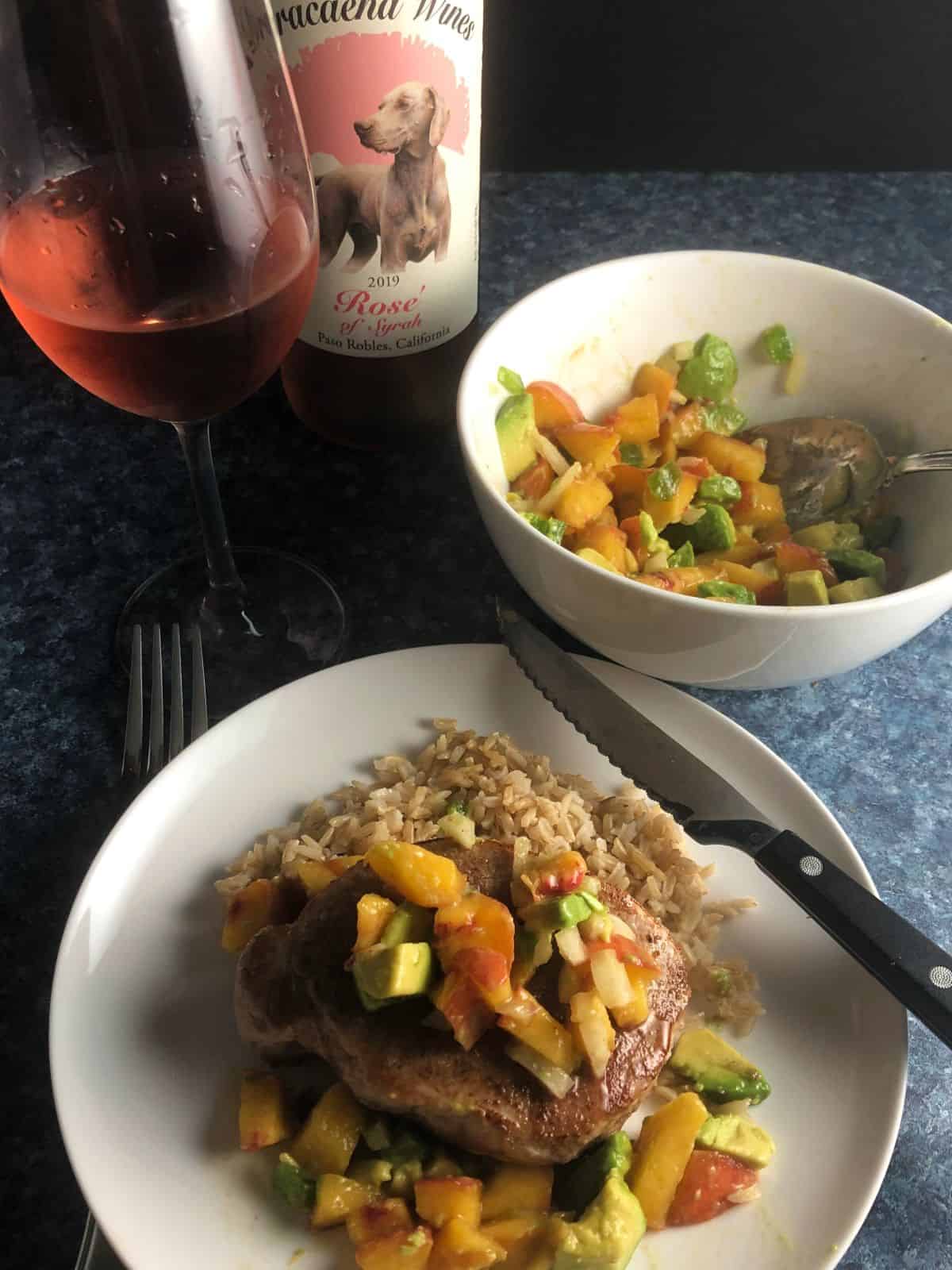 I figured the the 2018 Dracaena Wines Rosé of Syrah ($20, 12.6% ABV) would make a good pairing, and I wasn't disappointed!
The Dracaena Rosé wine is salmon pink color in the glass. Rose petals and other floral notes on the nose.
On the palate, the rosé has melon fruit with a touch of kiwi and underlying minerality. This is a fairly full bodied style rosé, which makes it match the pork chops. I would definitely say this pairing is a winner!
The Dracaena Rosé is made from 100% Syrah grapes from the El Pomar District of Paso Robles, California. The wine tasting sheet notes that the 2018 vintage was one of the best recent growing seasons, with consistent warm to hot weather without extreme spikes or rain events.
The Dracaena's 2018 rosé appears to be sold out. I'm a member of their wine club, receiving their award winning Cabernet Franc in the fall as well as the rosés in the spring.
If you can't track down the Dracaena Rosé, look for other medium to full bodied rosés. Alternatively, you might try the recipe with a Riesling.
Print
Recipe card
Pork Chops with Peach Salsa
Roasted pork chops topped with peach salsa makes for a delicious way to elevate a simple pork chop to a restaurant caliber meal.
Author: Cooking Chat
Prep Time:

10 mins

Cook Time:

15 mins

Total Time:

25 mins

Yield:

3

servings

1

x
Category:

Main

Method:

roasting

Cuisine:

American
For the Salsa
1

ripe peach, diced

2 tbsp

red onion, minced

1 ½ tsp

jalapeño pepper, minced
juice from

½

of a lime
pinch salt

1 tbsp

minced cilantro

1

ripe avocado, chopped into bite sized pieces
For the rub
2 tsp

garlic powder

1 tsp

salt

½ tsp

dried ginger

½ tsp

allspice

3

boneless pork chops, about 1 inch thick (see notes)
Instructions
Make the salsa: Combine the chopped peach, onion, jalapeño, lime juice, salt and cilantro in a bowl. Set aside — or refrigerate if making ahead of time. Stir in the chopped avocado shortly before serving.
Preheat the oven to 400 degrees.
Make the rub: Combine the garlic, salt, ginger and allspice in a small bowl.
Prep the pork: Rinse and pat dry the pork chops, and set them on a plate. Sprinkle enough rub to coat one side of the pork chops, and rub the mix into the meat. Turn the pork chops over, and repeat the rub process on the other side of the pork. Set the pork aside for about 10 minutes to let the flavors absorb.
Brown the pork chops: Heat a large oven proof skillet on medium high heat. Coat with oil spray. Add the pork chops, and sear for two minutes to brown. Turn the chops over, cook for another minute, then move the chops to the oven.
Roast the chops: Roast the pork chops for about 13 minutes, then remove from the oven to check for doneness. When done, let the pork chops rest for a few minutes on a platter.
Serve the pork chops on a plate, topped with the salsa. Enjoy!
Notes
Adjust the cooking time if your porks are much thinner or thicker than the 1 inch chops we used.
You could grill the pork chops if you like. For 1 inch thick chops, grill on medium high for approximately 6 minutes per side.
I have also made this recipe with a regular onion; using a lemon instead of lime, and without the cilantro. That came out pretty well, although the combination listed in the ingredients worked better.
Keywords: pork chops, peach avocado salsa, pork with peach salsa
Recipe Card powered by
More Favorite Pork Chop Recipes