Slowly cooked chicken cassoulet, with bacon and beans, is a magnificent example of French comfort food. Spend a cold winter afternoon making the dish, then dig into this hearty fare with a good glass of red wine from the Languedoc region of France. Don't be deterred, it's just 30 minutes active cooking then occasional stirring during the slow cooking process. We were provided to complimentary samples of wine from Corbières and Minervois as part of this French Winophiles event. As always, the opinions are entirely my own.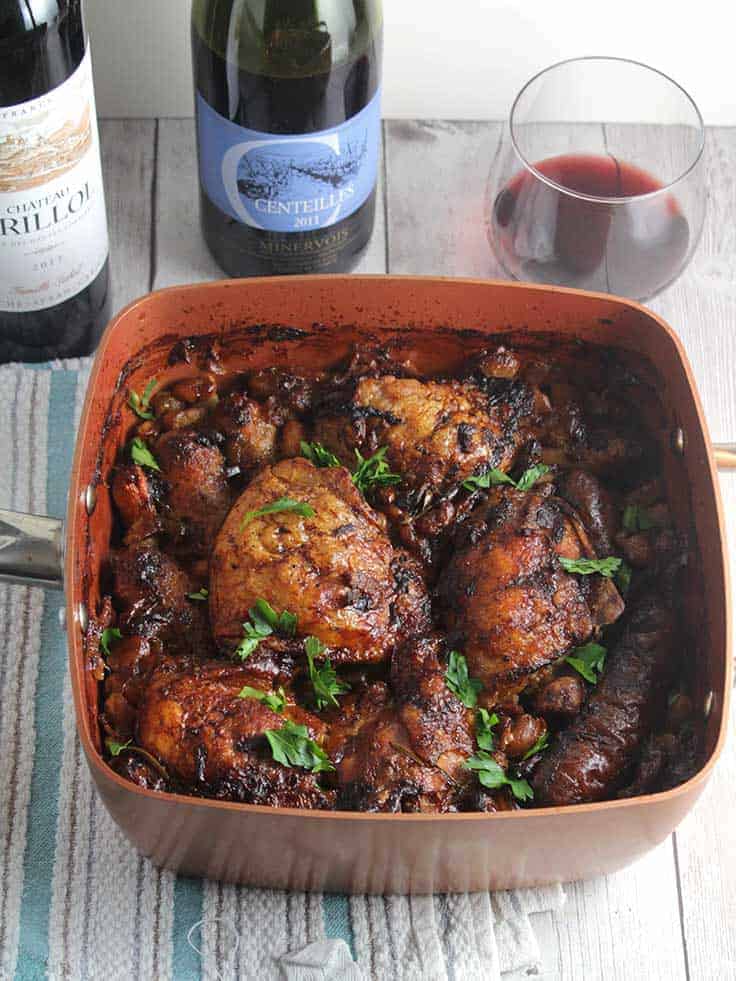 Today the French Winophiles blogging group will be exploring wine from the Corbières and Minervois appellations of the Languedoc region in Southern France. Thank to Jill from L'Occasion blog for hosting this event.
Cassoulet is a special dish that originated in the Languedoc area, so we were encourage to pair our Corbières and Minervois wines with cassoulet. I decided to make a chicken cassoulet, a relatively streamlined and lightened version of the classic cassoulet recipe. Let's talk more about the chicken cassoulet, then we will move onto the wine.
What is in a French Cassoulet?
Cassoulet is one of those classic dishes that has evolved over time, so it's impossible to land on one standard recipe for cassoulet. The Cassoulet Day page on the Langeudoc Adventures site described cassoulet as the ultimate comfort food of the Languedoc that is "a delicious mess of pork, beans and duck confit baked together in a clay dish for 3 hours."
You can find variations on the theme, but it is fair to say that classic French cassoulet has pork, beans and duck and takes awhile to cook.
Making Chicken Cassoulet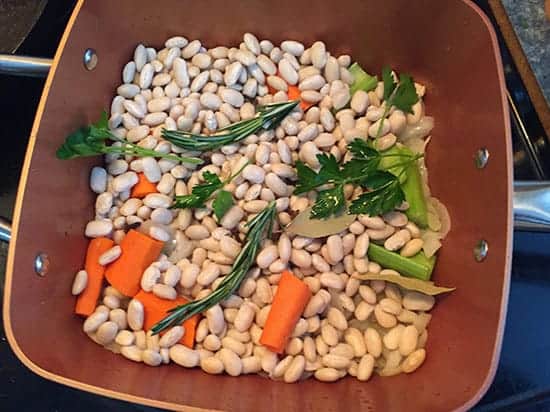 I had been a bit intimidated about making cassoulet when serious cooking friends indicated that cassoulet takes multiple days to prepare. I'm a pretty serious cook myself but typically for things that can be completed in one day, ideally over a few hours. So I hadn't made cassoulet prior to this January French Winophiles event.
I perused a number of cassoulet recipes on the web, and found many that can be prepared over the course of several hours. I even found quick cassoulet recipes that could be made in an hour or so. But I was a bit skeptical about condensing the cooking time for cassoulet down to one hour. I landed on the Traditional French Cassoulet recipe from Serious Eats that I used as the starting point for my method, then pulled in ideas from a number of other sites along with my own notions of what would work here.
Jodi isn't a big duck fan, so I decided to eschew duck in favor of chicken as one of the primary ingredients. Our chicken cassoulet recipe uses bone in chicken thighs along with chicken sausages; swapping chicken for pork sausage reduces the fat and calorie content a bit. The Serious Eats recipe calls for salt pork; I used bacon in our dish. I correctly figured including bacon would lure our 12 year old into eating this unfamiliar dish!
A very traditional French cassoulet might use a special clay pots. Many recipes suggest using a Dutch oven. Basically you need something that you can start on the stovetop and move to the oven. I have been increasingly going with my Copper Chef Pan for such tasks, as it cooks things very evenly and is easy to clean (Amazon affiliate link included there in case you are interested in one).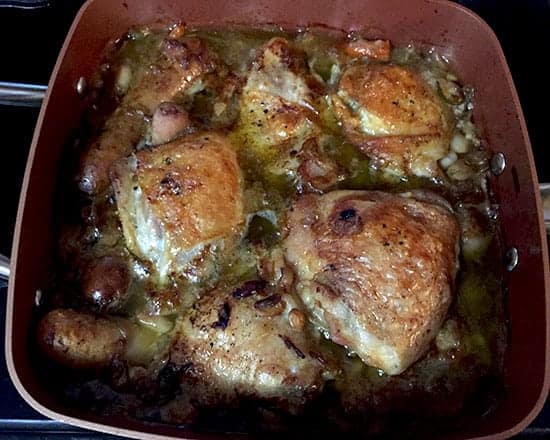 Our version of chicken cassoulet takes a bit over six hours to make, plus the overnight soaking of the beans. So it is streamlined compared to my friends' multi-day version, but it definitely requires you to be around the house for the afternoon. Over time, the chicken cassoulet develops a crust which gets darker and richer over time; the cassoulet in the photo above is getting close!
I made this chicken cassoulet on a day with single digit temperatures. Being inside all afternoon and occasionally opening the oven to check and stir the cassoulet was a very civilized plan! Not to mention tucking into this French comfort food with a glass of good Languedoc wine…
What wine do you serve with a cassoulet?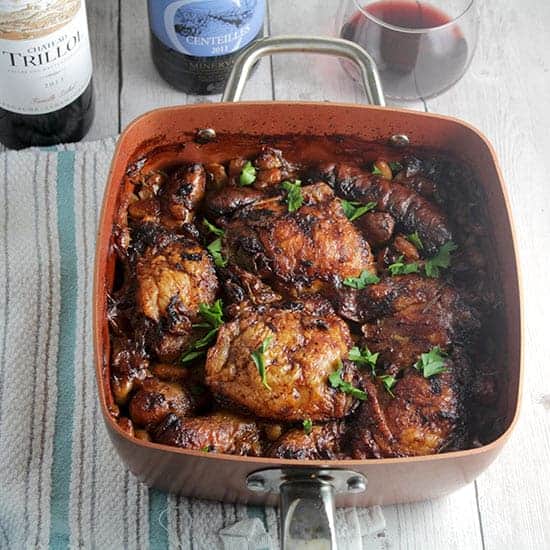 When you have a dish that has close associations with a region, opening a wine from that same region is always a great idea. So when making our chicken cassoulet, I strongly encourage you to open a bottle of red Languedoc wine! Either of the two bottles we opened from Corbières and Minervois is a great choice.
There are more than 30 AOPs in the Languedoc region of Southern France. What is an AOP, you might ask? AOP stands for Appellation d'Origine Protégée, and is a relatively new term replacing the AOC classification system.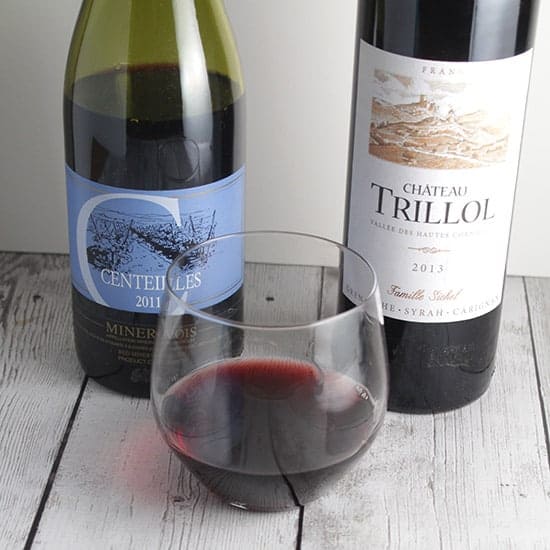 Corbières and Minervois are definitely known to produce some of the best wines in the area. I was already a bit familiar with Clos Centeilles, so anticipated that the 2011 Centeilles C Minervois (14% ABV) would be a good wine. Clos Centeilles produces natural wines from hand harvested grapes, from 70 to 100 year old vines surrounding the 13th century chapel of Centeilles. Sounds like a great place to visit.
The Centeilles C is a blend of Piquepoul Noir, Riveirenc Noir and Oeillade (a grape native to the Languedoc now close to extinction). I get bright black cherry fruit and a bit of #2 pencil on the palate, with some minerality. Medium bodied. Matched up nicely with our chicken cassoulet, as expecteed!
The 2013 Chateau Trillol Corbières is a blend of Grenache (39%), Carrignan (32%) and Syrah (29%). The Chateau Trillol was a new one for me, and I really enjoyed it! Great garrigue nose–that classic Southern French blend of rosemary, thyme and lavender. Taste of violets, cherry fruit and bit of clove. Elegant and refined, yet enough heft to be a very good match for the hearty chicken cassoulet.
Print
Recipe card
Chicken Cassoulet
Chicken Cassoulet is hearty French comfort food, with beans, chicken and bakon slowly cooking together for a special meal. Pair with a red wine from the Languedoc, the region that invented the dish.
Author: Cooking Chat
Prep Time:

30 mins

Cook Time:

6 hours

Total Time:

6 hours 30 mins

Yield:

6

servings

1

x
Category:

Main

Cuisine:

French
4

slices bacon, preferably low sodium, cut crosswise into

½

inch strips

5

bone in chicken thighs (appx

2

lbs)

1

lb chicken sausages (Andouille or garlic/herb)

2 ½ cups

white beans (great northern or cannellini), soaked overnight

1

large onion, minced

4 cups

low-sodium chicken stock

5

cloves of garlic, minced

2

carrots, peeled and chopped into

2

inch pieces

1

stalk celery, chopped into

2

inch pieces

2

bay leaves

6

cloves

2 tsp

chicken demi-glace (optional)

2

sprigs rosemary

2

sprigs parsley
Instructions
Preheat oven to 300. Spray cooking oil to coat a Dutch oven or similar size oven proof copper pan (we will say "pan" to refer to whichever you are using). Heat on medium high. Add the bacon and cook about 5 minutes per side until just starting to get crispy. Remove from pan and set aside on a plate with a paper towel.
Add the chicken to the pan, skin side down. Cook for 6 to 8 minutes without moving to brown the chicken, then turn over to cook for a few more minutes. Remove the chicken and set aside on a platter.
Add the sausage to the pan. Cook for about 5 minutes to brown, turning occasionally. Remove the sausages and set aside along with the chicken. Move the meat items to the fridge while you cook the beans.
Add the onion to the pan, cook on medium for about 5 minutes until it begins to soften. Add the carrots, celery and garlic to the pan along with the beans. Stir to combine. Add the stock along with the bay leaves, cloves, rosemary, parsley and demi-glace (if using). Bring to a simmer, then reduce heat to low. Cover and cook the beans about 45 minutes, until just tender.
Remove the cover from the pot. Use a slotted spoon to remove the carrots, celery, rosemary, parsley, bay leaves and cloves. Add the chicken thighs, sausage and bacon back to the pan. Stir to combine with the beans. Arrange the chicken so that the skin is facing upward near the top of the pan.
Move the pan to the oven and cook uncovered for two hours. A bit of a crust should be starting to develop after two hours. Remove the pan from the oven, gently stir, and return to the oven.
Continue cooking uncovered in the oven for two more hours, stirring to break up the crust every 30 minutes.
After 4 hours total cooking time in the oven, let the cassoulet cook for 1 more hour undisturbed to let the crust build up a bit more. After 5 hours cooking time in the oven, your cassoulet should be ready to enjoy! Remove carefully from the oven, and scoop into bowls to enjoy with a red wine from the Languedoc. Bon appétit!
Recipe Card powered by
French Winophiles on Minervois and Corbières
Wendy from A Day in the Life on the Farm: A Classic Pairing; Revisiting Languedoc
Camilla from Culinary Adventures with Camilla: Conquering Cassoulet Alongside the 2014 Minervois le Chateau d'Albas
Martin from ENOFYLZ Wine Blog: What Grows Together, Goes Together – Slow Cooker Cassoulet Paired With Affordable Occitanie Wines #Winophiles
Michelle from Rockin Red Blog: Spending January in Languedoc Drinking Wine and Eating Cassoulet
Jeff from FoodWineClick: Let's Make Occitanie and Cassoulet Household Words
Nicole from Somm's Table: Kicking Off 2018 with Corbieres and Minervois
Jane from Always Ravenous: Hearty Red Wines of Corbières and Minervois Paired with Cassoulet
Lynn from Savor the Harvest: Corbières and Minervois – Where Syrah and Carignan Shine
Jill on L'Occasion: Minervois and Corbières: Dinner and a Drink with the Winophiles