Shrimp Pesto Pasta pairs wonderfully with a Sauvignon Blanc from Sonoma County. We are featuring this pairing for this month's Wine Pairing Weekend event, focused on #SonomaStrong wines. The wine was sent as a courtesy sample. Read through our article about Sonoma and today's pairing, or jump ahead to the section of interest: Sauvignon Blanc from Geyser Peak | What Happens When Wine Freezes | Making Shrimp Pesto Pasta | Links to more #winePW Sonoma articles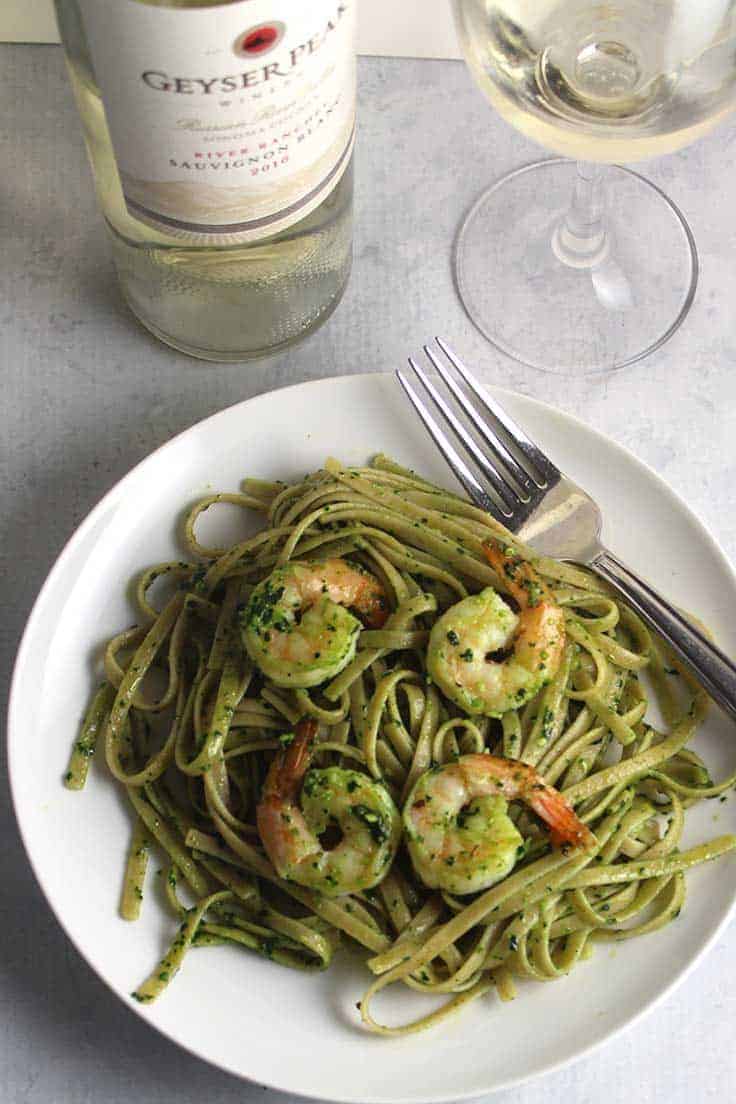 Sonoma holds a special place in my wine story.
For a couple of years, we managed to add a visit to Sonoma and Napa wine country along with a Bay Area conference I was going to for work. The timing was great. I was just starting to learn to cook, and we were starting to pay more attention to the wine we were enjoying with the food I was cooking.
Visits to Sonoma wineries helped me appreciate more about the process of making wine, and start to learn how the climate and terroir in the vineyard contributed to what I was tasting in the glass.
Though it's been over ten years since we've been to California (we have a 12 year old, no coincidence), I still have vivid memories of driving along the Russian River and searching out the next winery to visit. The last time we were there, we were staying in a little place in Jenner, where the Russian River empties into the Pacific. We'd stop at a wine and cheese shop in Duncan Mills on the way back to our hotel, and pick up some local cheese and wine.
Though I've certainly come to appreciate the broader range of wine produced in Sonoma County, I particularly remember sipping Russian River Chardonnay as we nibbled on crackers with soft cheese, and watched the seals play by the mouth of the river as the sun started to sink into the Pacific.
With these good memories of Sonoma County, it was horrible to hear about the devastating fires that raged this past fall.
The good news is, the people of Sonoma are resilient, and have pulled together to support each other during and after the fires. The tag #SonomaStrong captures that spirit, and we are pleased to use it today as we focus on some wonderful wines from Sonoma and food pairings to go with them.

Sauvignon Blanc from Geyser Peak Winery
Geyser Peak Winery has a long history of making wine in Sonoma, going back to 1880 when it was founded as California's 29th bonded winery. The original winery was located on a hillside across from Geyser Peak Mountain, giving it a view of thermal steam clouds around the mountain summit.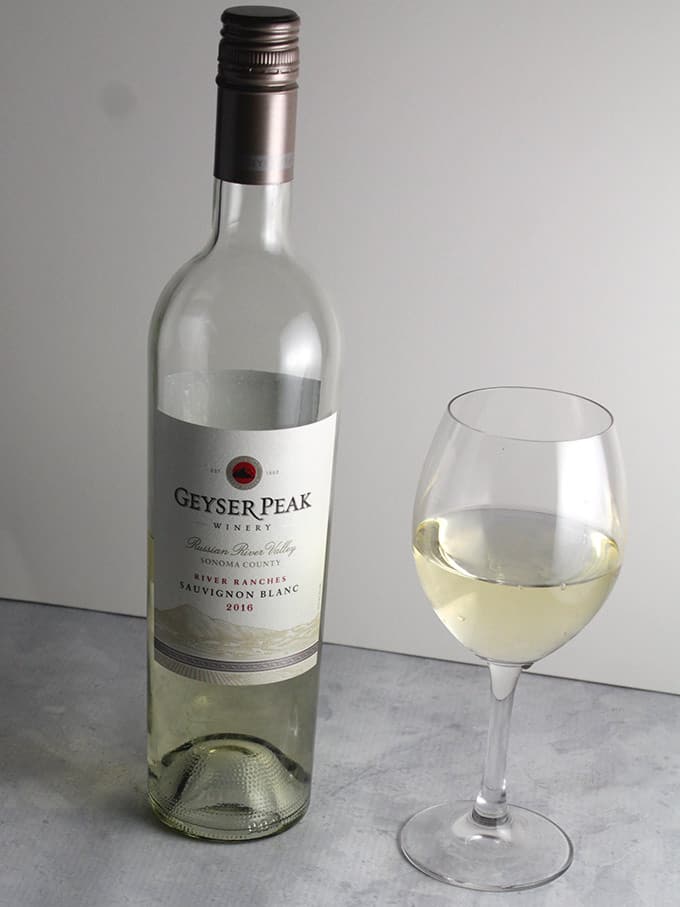 We decided to focus our #SonomaStrong Wine Pairing Weekend post on the 2016 Geyser Peak River Ranches Sauvignon Blanc ($22, 13.5% ABV). Well, OK, nature played a role in helping us make that decision…more on that in a moment.
Grapefruit is often a tasting note associated with Sauvignon Blanc, and I got grapefruit on the nose of the River Ranches Sauv Blanc before starting to sip. The wine has a bright citrus fruit taste, I get a bit of kiwi. Refreshing and well-balanced, with mineral notes. The tasting notes on the bottle also mention basil, and I definitely get a bit of herbal element too.
I started my tasting notes by mentioning grapefruit, so I have to say I'm someone who is turned off by a very strong grapefruit element in some Sauv Blancs, notably from New Zealand. However, in this wine, the grapefruit aspect is balanced by other flavor elements, so it is enough to give it a refreshing element without dominating. I would definitely say this wine from Geyser Peak is pleasant to sip on its own, and improves further with a good food pairing.
When I saw a Sauvignon Blanc was to be included in the wines we were to sample for this #winePW event, my mind immediately went to pesto. I love pesto of various sorts, and pesto and Sauvignon Blanc are a classic pairing, in fact that link takes you to one of my first #winePW posts which involved another Russian River Sauv Blanc.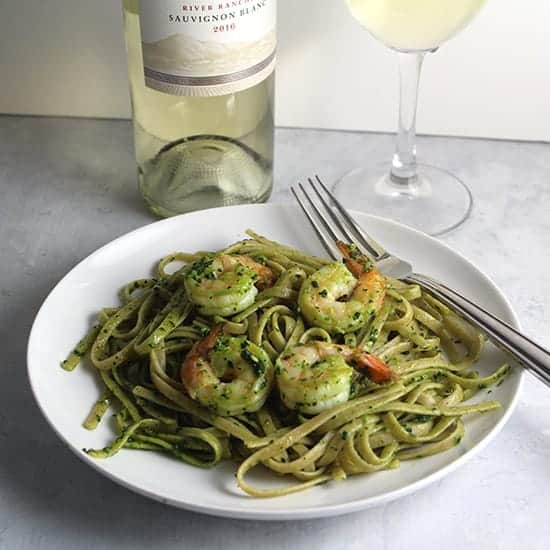 The pairing ideas on the Geyser Peak Sauvignon Blanc label also mentions shellfish, and that led me to pairing their River Ranches Sauvignon Blanc with Shrimp Pesto Pasta. As you might suspect, the crisp Sauvignon Blanc paired very well with the pesto, and the mineral tones worked well with the shrimp. I definitely rate this pairing an "A"! The food and wine make each other better in a grade A wine pairing.
Balletto Vineyards
I didn't get a chance to sample wine from Balletto Vineyards for this #winePW event, but I have enjoyed their wine in the past. We loved the Balletto Vineyards Russian River Chardonnay paired with our Orzo Salad with Kale Pesto recipe. We also had a chance to enjoy Balletto Rosé of Pinot Noir Easy Baked Tandoori Chicken.
What happens when wine freezes?
We must briefly depart our happy story of great wine from Sonoma County and food that pairs with that wine to speak of the fate of the other 3 bottles intended for this event.
Unfortunately, the wine was being shipped from Sonoma across the US to me in the Boston area during a time when much of the country, including us, were dealing with extreme cold. Generally, heat is worse for wine than cold, but single digit temps are not recommended.
If you leave wine in the car overnight and it freezes a bit, you might be OK after bringing that wine back to serving temperature for awhile. But of course, when liquid freezes it expands and thus puts pressure on the cork. The other bottle from Geyser Peak had the cork partially disgorged. I figured it was worth trying, because if the cork was disgorged fairly recently it might still be OK. But alas, clearly air had enough time to damage the wine.
The other sample package included one bottle where the cork had completely popped out and emptied out the wine, as evidenced by the smell of the cardboard package. I thought we might have a shot with the other bottle, as I couldn't see notable cork damage. But clearly air had gotten to this one too.
Fortunately, the Geyser Peak Sauvignon Blanc comes with a screw cap, which managed to withstand the freezing temps! The freezing of the wine itself didn't seem to cause damage, the problems happen when the cork is damaged in the freezing process.
Two morals of this story. First, don't leave your wine out in the car overnight in the winter! Second, if you are shipping wine, take precautions to protect the wine against extreme temperatures.

Making Shrimp Pesto Pasta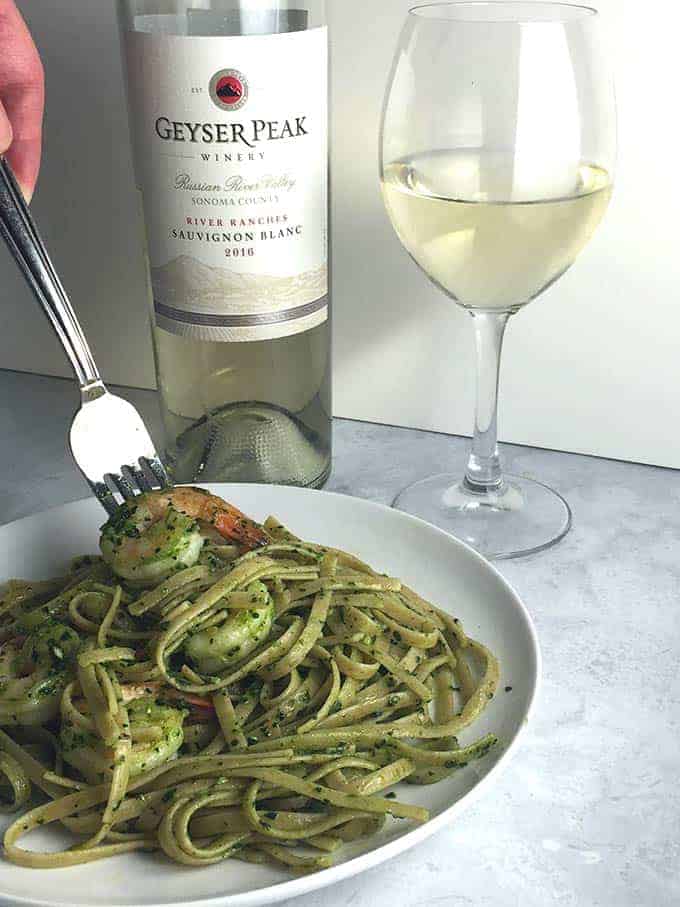 Making shrimp pesto pasta is quite easy, and you can get this on the table in about 30 minutes. As you will see here, I made the shrimp pesto pasta with kale pesto. You can certainly use classic basil pesto here if you like, I have linked over to my recipe.
Also, the kale pesto recipe as given is nut free, as we are going all nut free in our house now due to a food allergy. Feel free to use pine nuts in the kale pesto if you prefer to my pumpkin seed idea.
Get the kale pesto made first, then get ready to cook the shrimp. My recipe steps for shrimp pesto pasta toggle between cooking the shrimp and the pasta, so that things are ready at roughly the same time. If you can multitask between checking a text on your phone while watching TV, you can handle this!
Print
Recipe card
Shrimp Pesto Pasta
Sautéed shrimp tossed with kale pesto pasta for an easy and tasty meal. Pairs very well with a Sauvignon Blanc wine.
Author: Cooking Chat
Prep Time:

15 mins

Cook Time:

15 mins

Total Time:

30 mins

Yield:

3

servings

1

x
Category:

Main

Method:

stove top

Cuisine:

Italian
FOR THE KALE PESTO PASTA

4 cups

tightly packed kale leaves, stems removed

3

garlic cloves

2 tbsp

pumpkin seeds, lightly toasted (pine nuts or walnuts would work, too)
salt and pepper to taste

½ cup

grated parmesan cheese

⅔ cup

extra virgin olive oil

12

ozs linguine or other pasta of your choosing
FOR THE SHRIMP

3 tbsp

extra virgin olive oil, divided

½ tsp

dried basil

½ tsp

garlic powder
Pinch salt

15

shrimp, uncooked, (I buy them peeled and deveined)
grated Parmigiano cheese for serving
Instructions
Add the kale and garlic to a food processor, coarsely chopping to create enough room for the other ingredients.
Add the pumpkin seeds, red pepper flakes, salt and pepper, cheese, and olive oil, and puree until it comes to a nice smooth consistency. Set the pesto aside.
Start boiling water for the pasta at this time.
In a medium sized bowl, combine 2 tablespoons olive oil, dried basil, garlic powder and salt.
Rinse and pat dry the shrimp. Add them to the bowl with the olive and herbs, toss gently to combine. Let the shrimp marinade for about 5 minutes.
Start cooking the pasta according to package instructions as the shrimp marinates.
Heat 1 tablespoon olive oil in a large nonstick skillet on medium high. When hot, add the shrimp. Stir occasionally and turn when they start turning white, about 3 minutes. Cook for another 2 to 3 minutes, until the shrimp are just cooked through. Move the shrimp to a clean bowl, and toss with 1 to 2 tablespoons of the remaining pesto.
When the pasta is cooked to your liking, drain and toss immediately with 2 to 3 tablespoons of the pesto, so that the pasta is coated with the pesto but you have some pesto left.
Plate a serving of pasta, topped with 4 or 5 shrimp. Pass extra pesto and grated cheese at the table. Enjoy with a glass of good Sauvignon Blanc.
Keywords: shrimp, shrimp with pasta
Recipe Card powered by
Wine Pairing Weekend #SonomaStrong Posts
We will also hold a live Twitter chat about Sonoma wines and food pairings on Saturday, January 13, 11 am Eastern Time / 8 a.m. Pacific. Just tune into the #winePW hashtag on Twitter at that time to join the conversation. You can check out past and future #winePW topics by visiting this page.