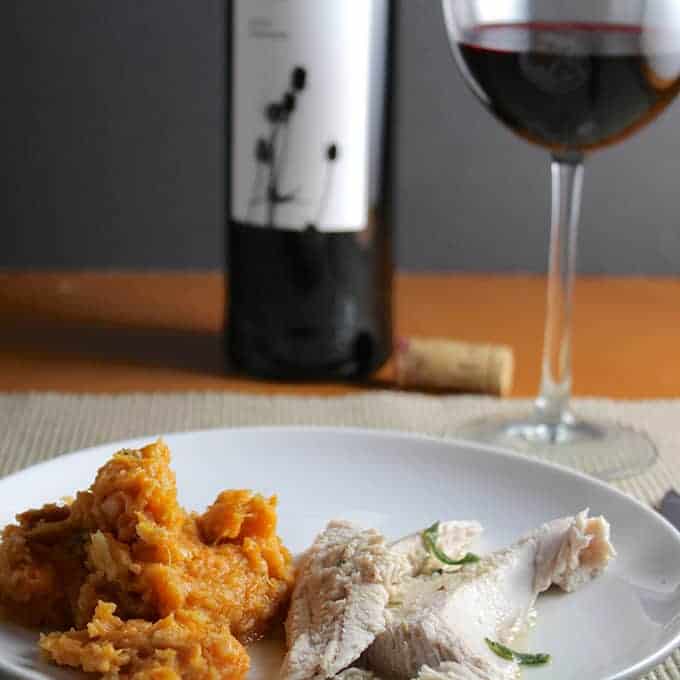 I've fallen into a Thanksgiving wine pairing rut in recent years. Pinot Noir is a solid choice to go with the traditional Thanksgiving meal my Dad prepares. This creative Thanksgiving wine pairings theme for Wine Pairing Weekend #6 was a perfect time for me to experiment with both the recipes and the wine pairings. If you do make this, plan to make the Turkey with Butternut Squash Stew with the leftovers!
I started with the wine for this pairing. I'd enjoyed the 2012 Pinuaga Nature Tempranillo and had another bottle on hand. I suspected it had enough fruit to work with a Thanksgiving meal, but had some spice elements that would work if I introduced some lively flavors into our meal.
With this Tempranillo in mind, I decided I would put one of my favorite side dishes on our creative Thanksgiving pairings menu: Sweet Potatoes with Cumin Sage Butter. I've linked you over to that tasty recipe, to focus on the turkey and wine pairing here.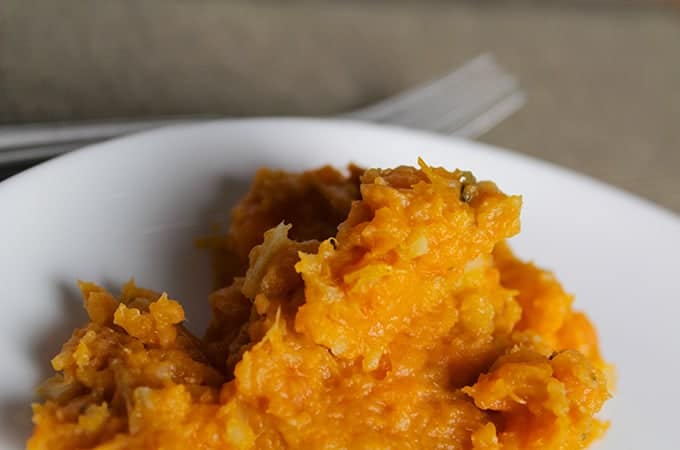 Now, here's the thing about the turkey. I'm an experienced cook, yet a roasted turkey neophyte. Certainly with all the hype about the challenge of getting a turkey cooked right, I figured I'd need to do some research to do a good job with our turkey. Keeping with my usual approach to new recipes, I looked at a bunch of recipes and tips to identify some common themes, then found a recipe from Bobby Flay that I used as my primary reference. I made enough tweaks to the turkey preparation to share it here as my own, but will link you to Bobby's recipe for reference and for the sage gravy, which I did not update.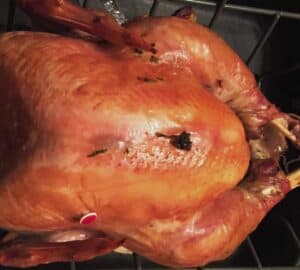 This was my first whole roasted turkey, but I've prepared a lot of roast chicken. So I carried over much of that approach, and picked a smaller turkey that was roughly double the size of a roast chicken. I made a flavorful garlic herb butter to rub all over the turkey, and added some chopped root veggies to the cavity. I went with the approach of starting on higher heat (450), then reducing after 15 minutes, in order to get the outside browned nicely. It cooked up faster than I thought it might, definitely done but still plenty moist at a bit under 2 hours cooking time.

Wine Pairing: So we had on our plate flavorful, moist turkey with sage gravy; and a side of the Sweet Potatoes with Cumin Sage Butter. The 2012 Pinuaga Nature Tempranillo is a substantial wine, with good berry fruit and leathery mouthfeel. There's some layered complexity here, with some nice spices. Those spices picked up the flavors in the sweet potatoes pretty nicely. I'd say overall this worked pretty well with the pared down creative Thanksgiving meal we were doing for this #winePW event. But for a full Thanksgiving feast with many varied sides, a simpler wine might be a better option. There's a lot going on in this wine–generally a good thing in my book. But I might be back to my Pinot when Thanksgiving officially rolls around later this month.
Print
Recipe card
Roasted Turkey with Garlic Herb Butter
A garlicky herb butter gives this roasted turkey recipe plenty of flavor and moistness!
Author: Cooking Chat
Prep Time:

30 mins

Cook Time:

2 hours

Total Time:

2 hours 30 mins

Yield:

6

to

8

servings

1

x
Category:

Entree

Cuisine:

American
1

small turkey, about

10

lbs.

1

onion, quartered

1

carrot, coarsely chopped

1

parsnip, coarsely chopped

6 tbsp

butter, softened

2

cloves garlic, minced

1 tbsp

parsley

1

sprig rosemary, finely chopped

1

sprig of thyme leaves

4

whole sprigs of thyme
salt and pepper to taste

2 cups

chicken stock
Sage Gravy via Bobby Flay's recipe
Instructions
Take the turkey out of refrigerator 1 hour before cooking.
Pre-heat oven to 450.
Make the butter: combine the butter with the garlic, parsley, rosemary and 1 sprig of thyme leaves. Stir so all the ingredients are well combined, then stir in salt and pepper to taste. Set the butter aside.
Remove turkey from packaging, rinse and pat dry. Remove neck and any organs from inside the turkey (if you're a whole turkey newbie, fear not, these are usually packaged in tidy little bags).
Rub the entire turkey with the butter mixture, making sure all the skin is well-covered. Put any remaining butter into the carcass, along with half of the onion, carrot and parsley.
Pour the chicken stock into a sauce pan, and keep warm on medium low.
Place turkey in the oven for 15 minutes at 450.
Lower the oven temp to 350, and roast turkey approximately 1 hour 45 minutes, removing every 15 to 20 minutes to baste with some of the chicken stock.
When the turkey is approaching the safe internal temp of 165 degrees, remove from oven and set on platter to rest while you make the gravy.
Slice turkey and serve with gravy, sweet potatoes and other sides over your choice when the gravy is ready–give the turkey a good 20 minutes to rest while you prep gravy.
See post details above for links to gravy directions and more on safe turkey cooking tips.
Recipe Card powered by
Creative Thanksgiving-Inspired Dishes and Wine Pairings
Mains
Turkey, Tempranillo and Sweet Potatoes by Cooking Chat
Thanksgiving from the Veneto: Turkey, Pomegranate Sauce & Valpolicella by foodwineclick
Norwegian Meatballs by Confessions of a Culinary Diva
Shepherds Pie Casserole with Barnard Griffin Syrah Port by Wild 4 Washington Wine
Butternut Squash and Cheddar Bread Pudding and Donkey & Goat Stone Crusher by ENOFYLZ Wine Blog
Sides
Purple Sweet Potato Soup with Roasted Lobster + Bonny Doon Vin Gris de Cigare by Culinary Adventures with Camilla
Arugula Pear Salad paired with Torrontes from Argentina by A Day in the Life on the Farm
Layered Sweet Potato and Apple Bake with Cranberry Blush by Curious Cuisiniere
Desserts
Walnut Tart with Sparkling Brachetto d'Acqui by Vino Travels — An Italian Wine Blog
Can we skip to dessert? by Pull That Cork
Don't Forget Leftovers!
Day After Turkey and Seafood Gumbo by It's Ok To Eat The Cupcake
Turkey Pot Pie and Boedecker Cellars Chardonnay by Tasting Pour
You can also visit our group Pinterest board to pin some great pairing ideas for later!
Don't forget to our Twitter chat today, November 8th at 11 a.m. Eastern Time! We'll be talking about our tips and tricks for the best Thanksgiving wine pairings. We'd love to have you join us!
And, be sure to mark your calendars for December's Wine Pairing Weekend, hosted by Jeff of foodwineclick. Just in time for Holiday parties, we'll be sharing sparkling wine and hors d'oeuvre pairings. Join in the #WinePW 7 conversation on Saturday Dec. 13!