I love exploring new wines and wine regions! And Michigan would certainly qualify as a new-to-me wine region. So I was excited about the chance to learn about and taste Michigan wines through the February Wine Studio program.
A Wine Studio program last year helped me realize there is some very good wine being made in Vermont. I had no idea there was any wine of note being produced in this northern New England state just to the north of us here. I had a chance to enjoy a visit to Shelburne Vineyard this past fall to taste for myself.
The experience in Vermont helped prepare me to learn about the high quality wines being made in Michigan, another northern state that doesn't typically pop to mind when we think of U.S. wine regions. But the February Wine Studio program showed us that Michigan has a long history of wine making, and produces a significant amount of quality wine. In fact, Michigan ranks 5th in wine production nationally.
Let me recap some of what I learned through the Wine Studio program with the Michigan Wine Collaborative.
Michigan Wine Regions and Grapes
Michigan wine regions
Michigan currently has 5 regional wine appellations. Fennville and Lake Michigan Shore are located in the southwestern corner of the state, with Fennville being the oldest Michigan AVA.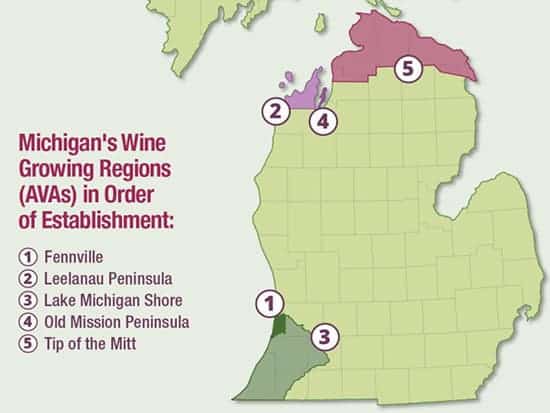 Moving further north, there are two peninsula AVAs near the "little finger" of the mitten shaped Michigan map– Leelanau Peninsula AVA and the Old Mission Peninsula.
The newest Michigan AVA is called "Tip of the Mitt". As the name suggests, it covers an area at the top of the lower peninsula of Michigan, extending over to a portion of the Lake Huron shore.
Wine grapes grown in Michigan
I expected Michigan might focus on cold climate hybrid wine grapes, but I learned through the Wine Studio program that the moderating effects of the Great Lakes allow Michigan wineries to grow wine grapes that are popular around the world.
According to the Michigan Wine Collaborative graphic shown above, the most planted wine grapes in Michigan are Riesling, Chardonnay, Pinot Noir and Pinot Gris. Riesling is by far the most planted, with the other three grapes planted in roughly similar numbers. Chambourcin is the one hybrid that makes the top six list.
Our Michigan Wine Tasting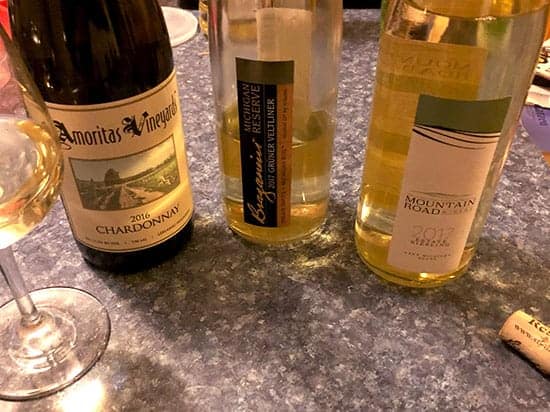 We had a chance to sample 3 Michigan wines, 2 from St. Julian Winery and 1 from Amoritas Vineyards. Below is a description of my tasting notes along with a few details supplied by the wineries:
St. Julian Winery
St. Julian Winery is the longest continuously operating winery in Michigan, owned and operated by the same family for four generations. Founded by Mariano Meconi in 1921 in Ontario, the winery moved to Paw Paw, Michigan shortly after Prohibitions repeal. The winery is in the Lake Michigan Shore appellation, one of the best places for growing grapes in the region. We were joined by St. Julian winemaker Nancie Oxley for the Wine Studio discussion.
Let's talk about the St. Julian's wines we tried: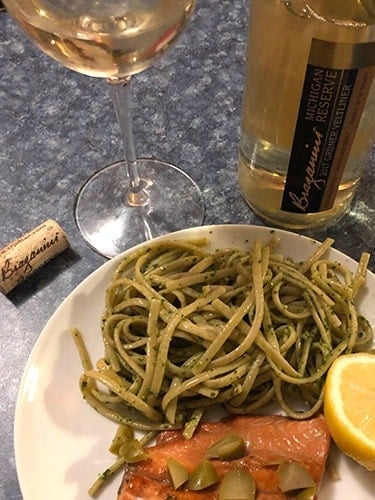 The 2017 Braganini Reserve Grüner Veltliner from St. Julian Winery was the first Michigan wine I tasted. I got pine on the nose of the Gruner. I tasted lemon fruit; the tasting notes indicate lemongrass on the palate. I can definitely see this. This wine has high acidity, making it food friendly. It worked very nice with our linguine with kale pesto, and also picked up the olive topping I made for some salmon that we had with the pasta.
The 2017 Mountain Road Riesling ($20) from St. Julian Winery had honeysuckle on the noise. On the palate, peach fruit and some honey, with underlying minerality and a nice finish. I really liked this bottle. We sampled the Riesling with the same kale pesto dish mentioned above, but I really want to track down another bottle of the Riesling to pair with some Indian food!
St. Julian's Winery is able to produce a wide range of white, red and and sparkling wines, in addition to what we tried. Their lineup includes common wines like Chardonnay, Cabernet Franc and Merlot. They also have some lesser known hybrid grapes like Traminette and Chambourcin. check out all their wines here on the St. Julian's website.
Amoritas Vineyards
Amoritas Vineyards is based on Michigan's Leelanau Peninsula, an areas sometimes referred to as the "little finger" of the mitten shaped lower peninsula of Michigan. It is a family owned winery, founded by Michael, Emily, and Matthew Goodell, along with Matthew's wife Nora.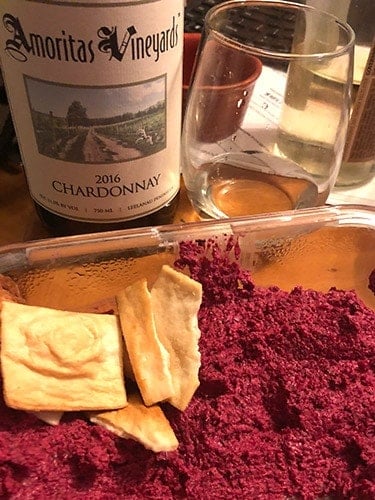 We got to chat with viticulturalist Emily Goodell on the #WineStudio Twitter discussion.
We had a chance to try the 2016 Rose Crest Vineyard Chardonnay ($21) from Amoritas Vineyards. The unoaked Chardonnay is very pale in the glass. Floral nose. Lemon fruit with notes of apple. This chard paired very nicely with our Roasted Beet Dip with Fennel and Garlic. 
The Goodell family turned a passion developed through many wine tastings into a winery that is dedicated to producing clean, delicate, and delicious wines. At least one family member will be in the tasting room or vineyard at all times, a sign of their dedication.
Amoritas Vineyards also makes Riesling, Pinot Gris and a field blend.
Other Michigan Wineries from Wine Studio
Several other top Michigan wineries participated in the February Wine Studio program. Various shipping rules meant that I didn't get to try these, but from my colleagues' tasting notes it sure seems like you would do well to add these wineries to your list of Michigan wines to try!
L. Mawby Winery Leelanau Peninsula AVA
Big Little Wines Leelanau Peninsula AVA
​Fenn Valley Vineyards Lake Michigan Shore AVA
Chateau Chantal Old Mission Peninsula AVA
Final thoughts (for now) on Michigan Wine
I certainly came away impressed with the vibrancy of the Michigan wine industry and the range of quality wines produced in Michigan. The wines we tasted are good values, and food friendly. What's not to love about that?!?
I will certainly be on the lookout for the opportunity to try more! But there's nothing like visiting a wine region to deepen ones appreciation of the area…so I have added Michigan to my wine regions to visit list! Perhaps you should, too.