This Portobello Mushroom Chicken Braise recipe is a hearty, flavorful dish that pairs very well with a good bottle of Cabernet Franc.
This Portobello Mushroom Chicken Braise definitely started with the wine in mind.
When I heard that Wendy from A Day in the Life on the Farm would be hosting today's event on "Cabernet Franc Around the World", I figured it would be a perfect time to open the 2016 Dracaena Cabernet Franc Reserve.
I was looking forward to trying the Dracaena Reserve Cab Franc. Lori and her husband Mike, who own Paso Robles based Dracaena Wines, are members of our Wine Pairing Weekend group. I signed up for their wine club after really enjoying the initial bottle of their Cab Francs that I sampled.
The 2016 Dracaena Reserve Cabernet Franc is the first reserve they have made. I got the reserve along with two of their basic Cab Francs. Those went pretty quickly; but I held on to the reserve a bit, waiting for an occasion to open it. Today's #winePW event focused on Cab Franc seemed like the perfect occasion!
Let's look at some of the factors I was considering which led to me cooking up the Portobello Mushroom Chicken Braise.
Pairing Food with Cabernet Franc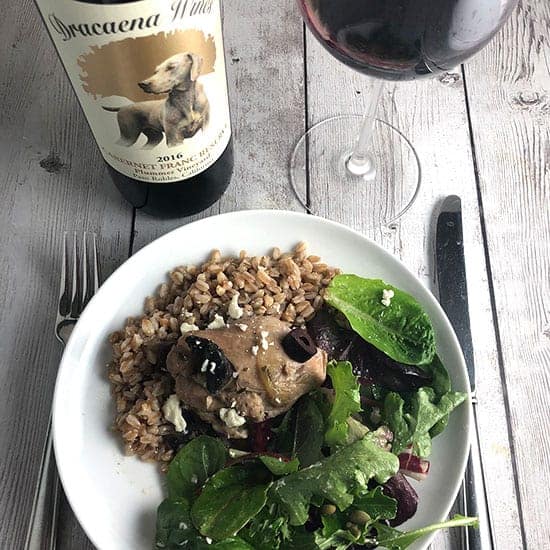 Cabernet Franc is a versatile, food friendly wine. Less tannic than Cabernet Sauvignon, Cab Franc can still stand up to meat dishes but can also accompany lighter meals like this Portobello Mushroom Chicken Braise. Foods that pair with with Cab Franc include:
Fresh herbs
Portobello mushrooms
Olives
Goat cheese and feta cheese
I have had good success matching the herbal and green bell pepper notes in a typical Cab Franc with dishes that include those ingredients. As you can see with our Portobello Mushroom Chicken Braise ingredients, we have pulled in several of those Cab Franc friendly ingredients with good results.
If you're trying to find a wine to pair with a challenging food, say spicy beef or something with fermented ingredients, consider Cab Franc! I was wondering what might pair well with the kimchi in our Korean beef dish, Bee Bim Bop, and sure enough, Cab Franc came out a winner.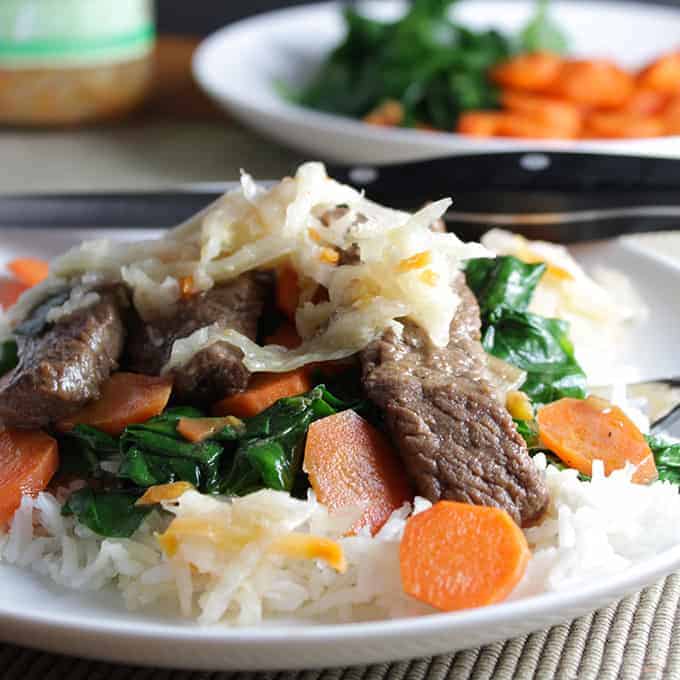 We also loved Cab Franc paired with our Guacamole Cheeseburger! The Loire Cab Franc we had with that special burger picked up the spice and cilantro herbs in the guac very nicely.
How to Make Portobello Mushroom Chicken Braise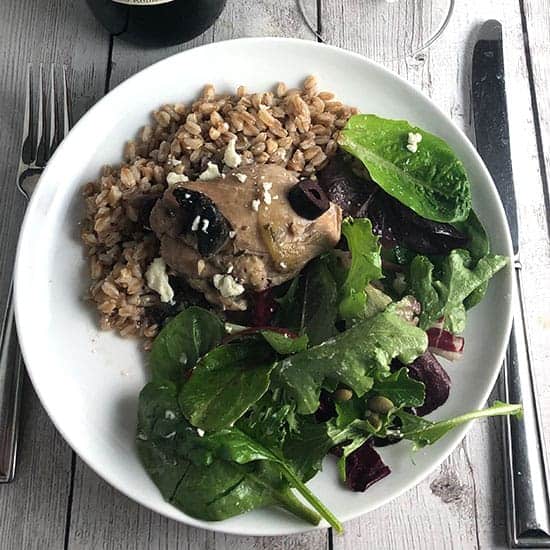 Our recipe card below covers the details, but let's touch upon a few tips for making the Portobello Mushroom Chicken Braise.
Mushrooms: You could substitute other mushrooms you enjoy, but keep in mind that the meaty portobello mushrooms do go particularly well with Cab Franc.
Wine: The general advice is to cook with the same wine you are serving with the dish, is possible. Sorry, but I wasn't going to sacrifice any of the Dracaena Reserve Cab Franc to the pan! I used some dry red wine I had on hand, I think it was Merlot. That worked fine.
What pan to use? Any large pan will work. I have been using my Copper Chef pan for braises lately, it heats evenly and is easy to clean. Amazon affiliate link provided in case you're interested in grabbing one.
What to serve with it? You could serve the Portobello Mushroom Chicken with rice or mashed potatoes. We enjoyed it served over some farro, a hearty grain that went well with the portobello mushroom sauce. Farro can be a bit hard to find, so here's another Amazon link to the farro I've ordered. We added a green salad to round out the healthy meal.
Dracaena Cabernet Franc Reserve
Let's talk a bit more about the 2016 Dracaena Cabernet Franc Reserve ($45, 14.3% ABV) and how it paired with the meal. As described on the winery tech sheet, this reserve Cab Franc is made with grapes from Plummer Vineyard in Paso Robles. They used Clone 4 grapes, imported from Gironde, France. Clone 4 is known for its low yields.
A warm summer through September led to a fast paced harvest. After harvest, the wine is aged in 50% new French Oak. Head over to the winery website for more info on this Cab Franc and other wines they offer.
On the nose, the Dracaena Cab Franc Reserve has classic green bell pepper notes. On the palate, I taste raspberry fruit and notes of chocolate, with a nice long finish. The tech sheet tasting notes mention the toasted oak notes and baking spices on the finish, which I can see–probably what I was interpreting as chocolate.
As suspected, this special bottle of Cab Franc went very well with the Portobello Mushroom Chicken Braise. This is a big wine with lots of flavor, and I probably wouldn't recommend it with a basic chicken dish–the wine would probably overpower it. But the chicken braised with meaty portobello mushrooms definitely match well with the Dracaena Cabernet Franc Reserve. In addition to that balance, the various spice notes on the wine pair well with the herbs use in the dish. The feta cheese also facilitates a successful pairing.
The overall verdict-the Portobello Mushroom Chicken Braise with the 2016 Dracaena Cabernet Franc Reserve is a winner!
Print
Recipe card
Portobello Mushroom Chicken Braise
Portobello mushrooms and chicken thighs slowly simmer with wine and herbs for a healthy and flavorful meal. Excellent paired with a good Cabernet Franc.
Author: Cooking Chat
Prep Time:

10 mins

Cook Time:

1 hour

Total Time:

1 hour 10 mins

Yield:

5

servings

1

x
Category:

main

Method:

braise

Cuisine:

American
5

boneless chicken thighs, about 1 ½ lbs
salt and pepper to taste

2 tbsp

extra virgin olive oil, divided

1

onion, chopped

2

portobello mushrooms, stem removed, caps chopped into bite sized pieces

½

red or yellow bell pepper

3

cloves of garlic

½ cup

dry red wine, divided

1 tsp

marjoram

½ tsp

of dried rosemary
bundle of

5

thyme sprigs, bundled together with kitchen string

½ cup

low sodium chicken broth

6

olives, sliced

⅓ cup

feta cheese
Instructions
Rinse and pat dry the chicken thighs. Season with salt and pepper.
Heat 1 tablespoon of the olive oil in a large pan on medium heat. Add the chicken thighs, and brown on one side for about 2 to 3 minutes. Turn the chicken over and brown on the other side for another 2 minutes. Remove the chicken thighs to a platter and set aside.
Add the other tablespoon olive oil to the pan used for the chicken, heat on medium. Add the onion to the pan, and cook until it begins to soften, about 5 minutes.
Stir the portobello mushroom into the pan, combining with the onions. Cook about 5 minutes until the mushrooms begin to soften, then add ¼ cup of the cooking wine. Cook until most of the wine has been absorbed.
Add the bell pepper and garlic to the pan, stirring to combine the ingredients. Add the chicken thighs back into the pan, along with the chicken broth. Stir in the marjoram and rosemary, then place the thyme sprig bundle into the pot.
Cover the pan and cook on low for 40 minutes. Remove the cover and simmer for 5 additional minutes to reduce the sauce.
Serve the portobello mushroom chicken over farro grain or rice. Top each serving with a few olives and sprinkling of the feta cheese. Enjoy with a good glass of Cabernet Franc!
Notes
You can use other mushrooms if you like, but portobello mushrooms are recommended to make the pairing with Cabernet Franc work well.
If you don't have kitchen string handy to tie the thyme bundle, you can alternatively finely chop 5 sprigs of thyme leaves and add them to the portobello mushroom chicken braise.
Keywords: portobello mushroom chicken, braised chicken, Cabernet Franc, mushrooms and chicken
Recipe Card powered by
Thank you for stopping by to learn about Cabernet Franc Wine. Please join us for twitter chat following #WinePW on Saturday, March 9, at 11 AM ET.
Next month's WinePW will be hosted by Gwendolyn over at Wine Predator. She asks us to explore Bio-Dynamic Wines. Here's her invitation post!