Today we are are exploring Slow Wine along some pairings we have tried with bottles from the wineries featured in the Slow Wine Guide USA.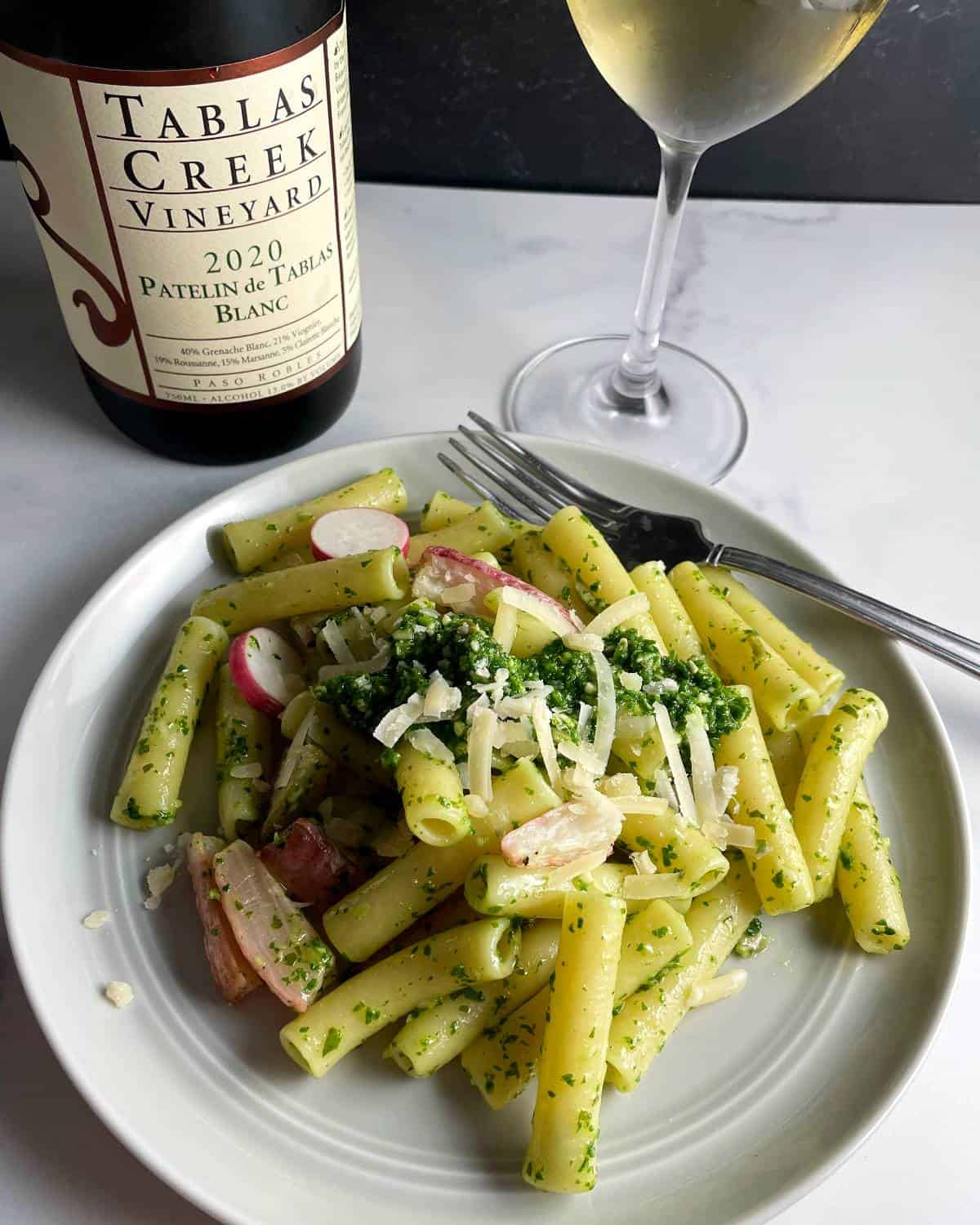 This month, the Wine Pairing Weekend blog group is focused on wineries featured in the Slow Wine Guide USA. Our host, Gwendolyn Alley of Wine Predator, is a contributing writer for the 2022 edition of the Guide.
I sampled two wines for the initial publication of this article, and have included some pairings with wines from featured Slow Wine producers that I have had in the past. I plan to add to these pairings as I try more wines from the Slow Wine Guide – stay tuned!
Jump to:
What is slow wine?
Chances are, you are more likely to have come across the term Slow Food as opposed to Slow Wine. They are part of the same movement that seeks to return to simpler ways of living, and producing what we enjoy at the table. Slow Wine focuses the Slow Food them of "good, clean and fair."
The ten-point Slow Food Manifesto for Slow Wine gives more specific indication of the standards involved in recognizing wineries as Slow Wine producers. The first three points give a sense of the Slow Wine values:
The winery must grow at least 70% of the grapes for its wine, with a few exceptions granted.
Synthetic fertilizers, fungicides or herbicides may not be used.
Must have a sustainable approach to wine grape growing and winemaking.
You can access the full list via this page on the Slow Wine Fair site.
Slow Wine Guide USA
The Slow Wine Guide originated in Italy, with wines from California added in 2017. By 2020, the Slow Wine Guide USA was published as a separate piece rather than an appendix to the Italian version.
Our blogging group had the opportunity to utilize the 2021 edition of the guide as a reference for this article. The 2022 edition, due out in June, can be preordered via this Amazon affiliate link.
Initially focused on California wineries, the Guide now includes wineries from Oregon, Washington and New York as well as California. The 2021 edition I was using for this article covers 285 wineries, with 850 noteworthy bottles included.
Tablas Creek Vineyard
When I saw Paso Robles based Tablas Creek Vineyard was featured in the US Slow Wine Guide, I figured it was a great excuse to have one of their wines again!
Early in my journey exploring wine, we attended a wonderful wine dinner featuring Rhone blends at Boston's Aujourd'hui restaurant, which unfortunately is now closed. Most of the wines were from the Rhone region, and the sommelier leading the tasting did a great job transporting to a French cafe where we might enjoy the wines close to the vineyard. But near the end, he poured the Tablas Creek Esprit de Beaucastel, a powerful and compelling Rhone blend.
Fast forward to present day, Tablas Creek General Manager Jason Haas was recently featured as a Food & Wine Drinks Innovator of the year for Tablas Creek's focus on regenerative organic wines, so it is no surprise to see the winery featured in the US Slow Wine Guide.
The Guide notes that Tablas Creek has a flock of 100 sheep that fertilize and till the soil, and they also reduce the risk of forest fires as they keep the grass from becoming fuel for fire.
In the Food & Wine piece, Jason notes that "Regenerative requires you to show that you are reducing your use of limited resources like water and energy, and to actually measure the carbon content in your soil." In addition, the regenerative organic designation also takes into consideration animal welfare and treating employees well.
Another kudos for the winery — when I emailed their general info@ email address with a question about the wine I tried for this event, it was Jason who responded promptly with an answer.
Patelin de Tablas Blanc
I cooked up the idea of making Radish Green Pesto on fairly short notice, inspired by a bunch of radishes with their greens arriving in my local food share. That seemed like a great fit for today's US Slow Wine and Slow Food event. So I did a quick search for wines from the Guide that I could quickly secure.
The 2020 Tablas Creek Patelin de Tablas Blanc ($27, 13% ABV) was one that I grabbed. Jason explained that this wine is made from grapes they purchase from local growers. Less than 50% of those growers have organic certification, given some of the challenges of that for small farmers. So while I might have preferred to open another Tablas Creek wine for this theme, it's what I was able to get, and was definitely and enjoyable wine!
The Guide refers to sensory qualities of Slow Wines, and the Patelin de Tablas Blanc definitely exemplifies that concept. The nose has very floral aromatics, hibiscus, I would say. An interesting, complex flavor profile on the palate. I get Meyer lemon along with some minerality, and notes of cinnamon.
This white blend from Tablas was OK with the Radish Green Pesto Pasta. The better match was simply sipping this white wine while nibbling on some of the Parmigiano Reggiano I was using for the pesto! Having an authentic version of this classic cheese with a slow wine seems appropriate, glimpsing at this page about Parmigiano on the Slow Food website.
Featured pairing for radish pesto
As noted above, I was inspired by today's them to cook up this Radish Green Pesto Pasta recipe, using the whole radish plant.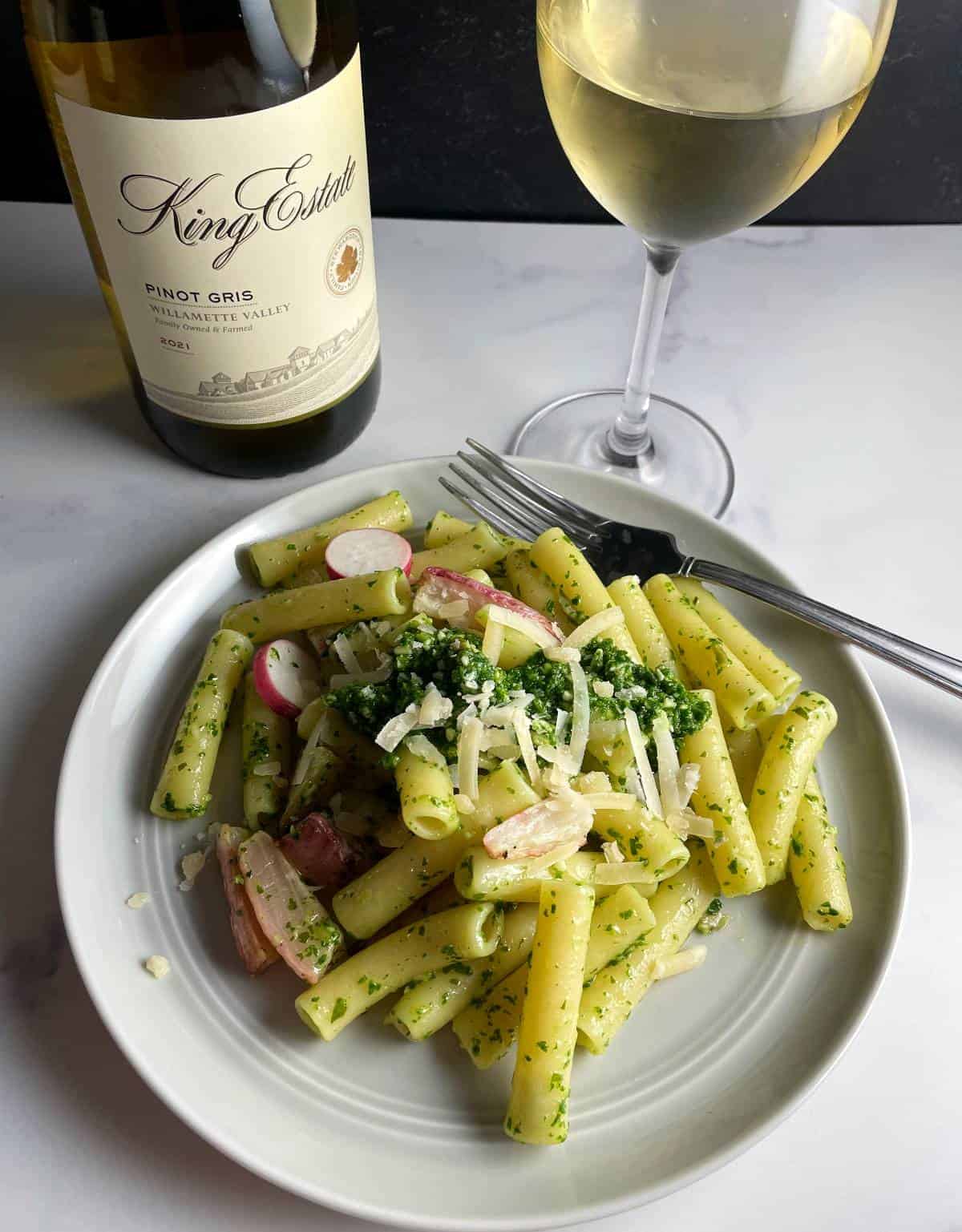 My pairing of choice for the radish pesto is the King Estate Pinot Gris ($14, 13.5% ABV) from the Willamette Valley. The nose of this Pinot Gris shows tart citrus fruit. Green apples and a bit of lemon on the palate. It actually reminded my of a crisp Sauvignon Blanc, which helps to explain why I liked it with the pesto recipe.
King Estate
King Estate was founded in 1991 by the King family, with a strong commitment to sustainability. This Willamette Valley winery has grown to be the largest certified biodynamic winery in North America, producing a wide range of red and white wines.
The King Estate website describes its vineyard as "an integrated ecosystem of vineyard and woodland, grasslands and wetlands, orchards, berries, and culinary gardens." It looks absolutely gorgeous! Will have to put it on my short list of wineries to visit.
The King Estate wines highlighted in the Guide are its Domain Pinot Gris and Pinot Noir, plus the Stone's Throw 375 Clone of Pinot Noir.
Red Pepper Dip with Fox Run Vineyards Cab Franc
I was pleased to see Fox Run Vineyards, a Finger Lakes winery, featured in the Guide. In fact, I originally thought I might focus on New York wineries for this article, given its relative proximity to me here in New England. But ironically, it was easier to track down West Coast wines in the short time window I had to work on this.
I really enjoyed the 2018 Fox Run Vineyards Cabernet Franc ($22 , 12.3% ABV) when I sampled it for a #CabFrancDay post a few years back. I've been meaning to try more of their wines, and I will consider this article the nudge. So stay tuned for more pairings!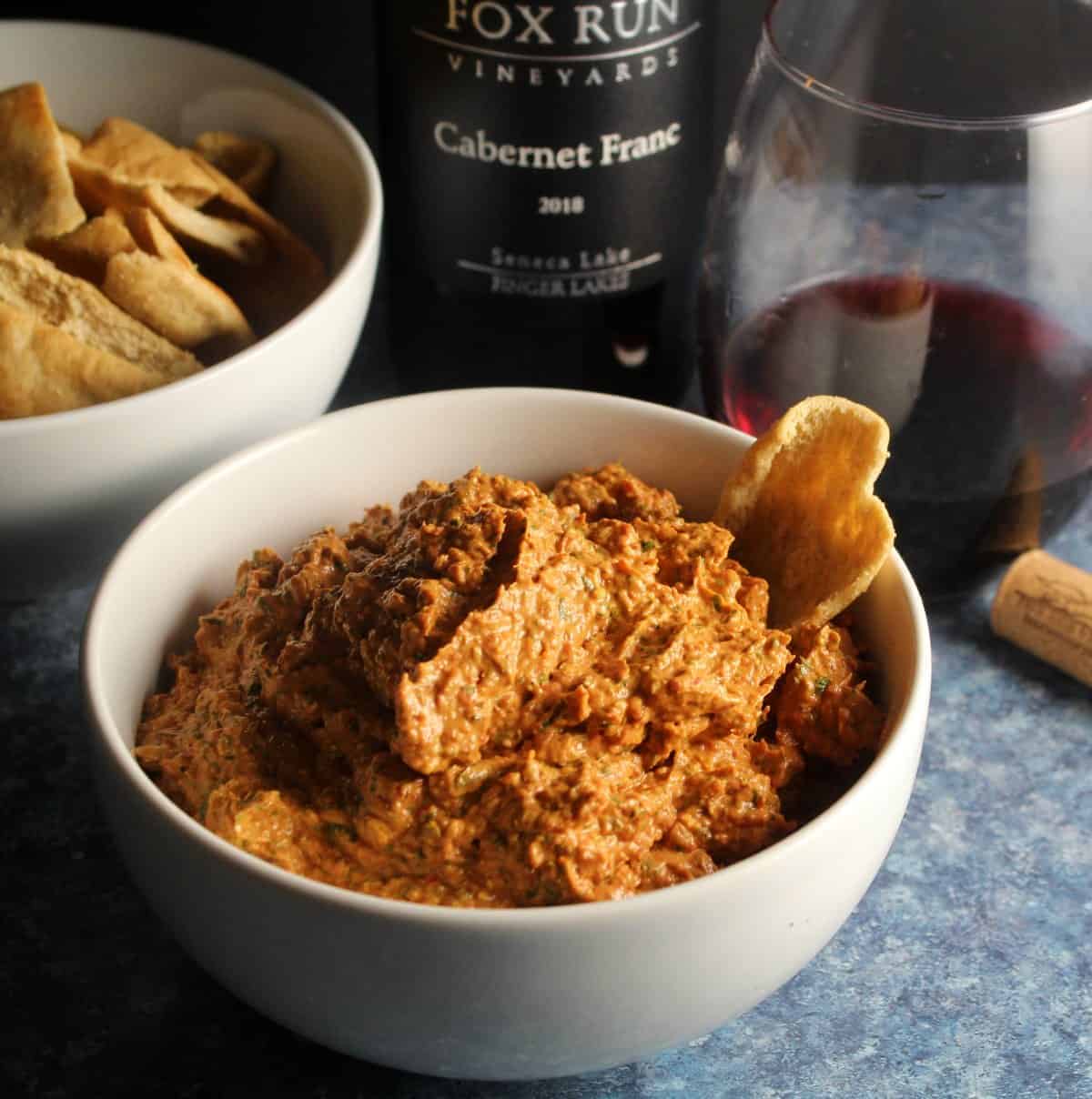 For now, I will highlight the pairing that did work out very well with the Cab Franc — our Roasted Red Pepper Dip with Fresh Herbs. This recipe might be a bit less on point for the Slow Wine / Slow Food theme, as I made it in the winter relying on some jarred ingredients. But it is vegetarian and features fresh basil and parsley, to bring some summer farm freshness. Anyway, those herbs and the Cab Franc work wonderfully together, and it is definitely a pairing to try!
More Slow Wine articles
See what my other Slow Wine with Slow Food pairing my fellow #WinePW bloggers have unearthed: