Our Baked Fiesta Dip recipe features layers of refried beans, tomatoes, sour cream and cheddar baked together for flavorful, cheesy tastiness. Topped with olives and scallions for a festive look, this is a perfect appetizer for your next party — make that, your next fiesta! This Fiesta Dip is gets even better with some good Mexican bubbly!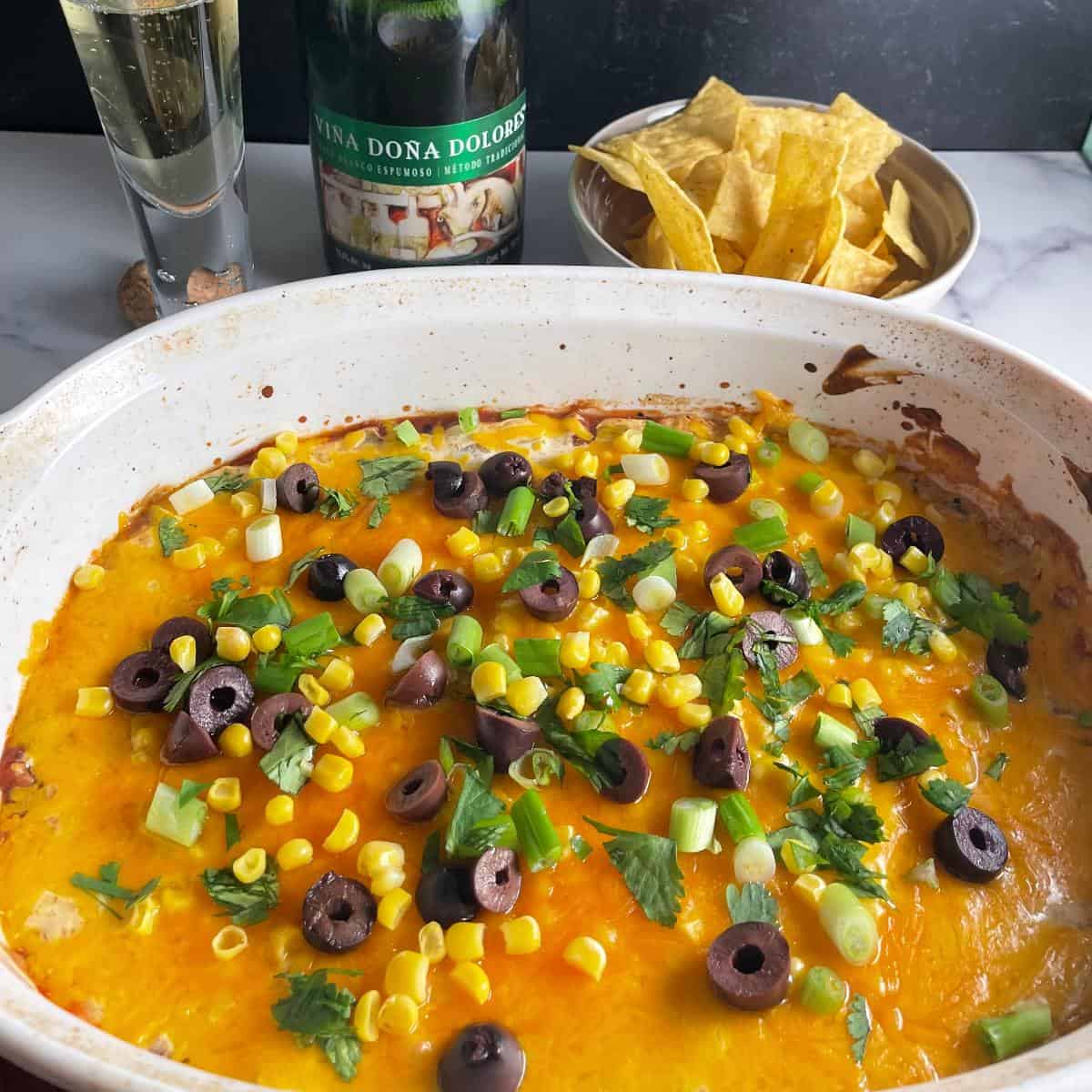 When I saw that Andrea from The Quirky Cork would be hosting a Wine Pairing Weekend event with the theme, "Bubbles from around the world", I recalled sampling some good Mexican sparkling wine from my friends at Tozi Imports back in 2021.
Our Easy Mexican Dip has emerged as one of the most popular recipes on Cooking Chat, not to mention within our family! So I had a variation on the theme, "Fiesta Dip", in my recipes to make queue.
I confirmed with Max Murphy from Tozi that I could get a bottle of Mexican bubbly at the local shop, Burlington Wine and Spirits, and we had ourselves a pairing plan!
Jump to:
What makes this recipe work
You will get a variety of options when Googling for "fiesta dip recipe". A lot of them are served cold, including many that use ranch dip mix.
Pretty much all the fiesta dip recipes call for shredded cheese. When I think about that ingredient, I definitely want it cooked to get the melted cheesy goodness! So today we serve up Baked Fiesta Dip.
In our recipe, you get layers of ingredients commonly found in Mexican food, like beans and sour cream, topped off with some savory melted cheese. To make it a full fiesta experience, we top it with more good stuff to give it a festive look. Let's cover those ingredients in more detail.
Ingredients
Let's take a look at the key ingredients for making our fiesta dip recipe.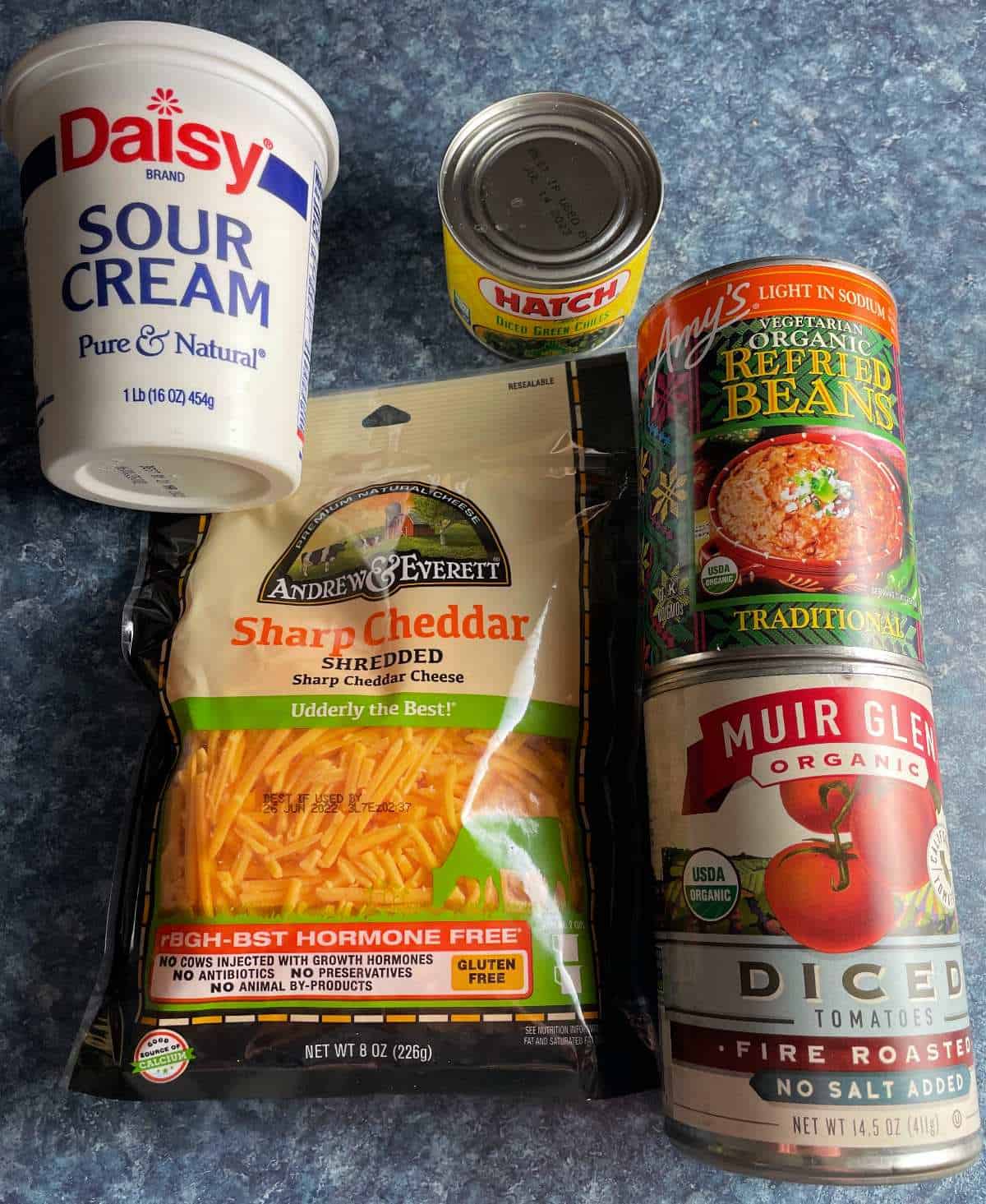 Refried beans will be the first layer of your dip. Use your favorite refried beans; we like Amy's vegetarian refried beans.
Tomatoes: we used diced fire roasted tomatoes. You can try diced tomatoes that come with chilies if you like.
Sour cream: you can use a low fat version of sour cream if you like. I find you don't notice the taste difference much with all the other flavors. The regular sour cream was all they had when I was shopping for ingredients.
Diced chiles: we went with canned diced Hatch chile peppers. You could certainly use fresh sliced jalapeños or other fresh chiles if you like.
Shredded cheddar cheese is what we used. You could certainly go with a shredded Mexican cheese blend if you like.
Toppings: You can vary the toppings as you like. These are ingredients that get added on top of the melted cheese after baking. We used a combination of olives, chopped cilantro and scallions.
Recipe Tips and Steps
Here's a visual overview of the recipe. Head to the recipe card for the full details!
Spread the refried beans to cover the bottom of your baking dish.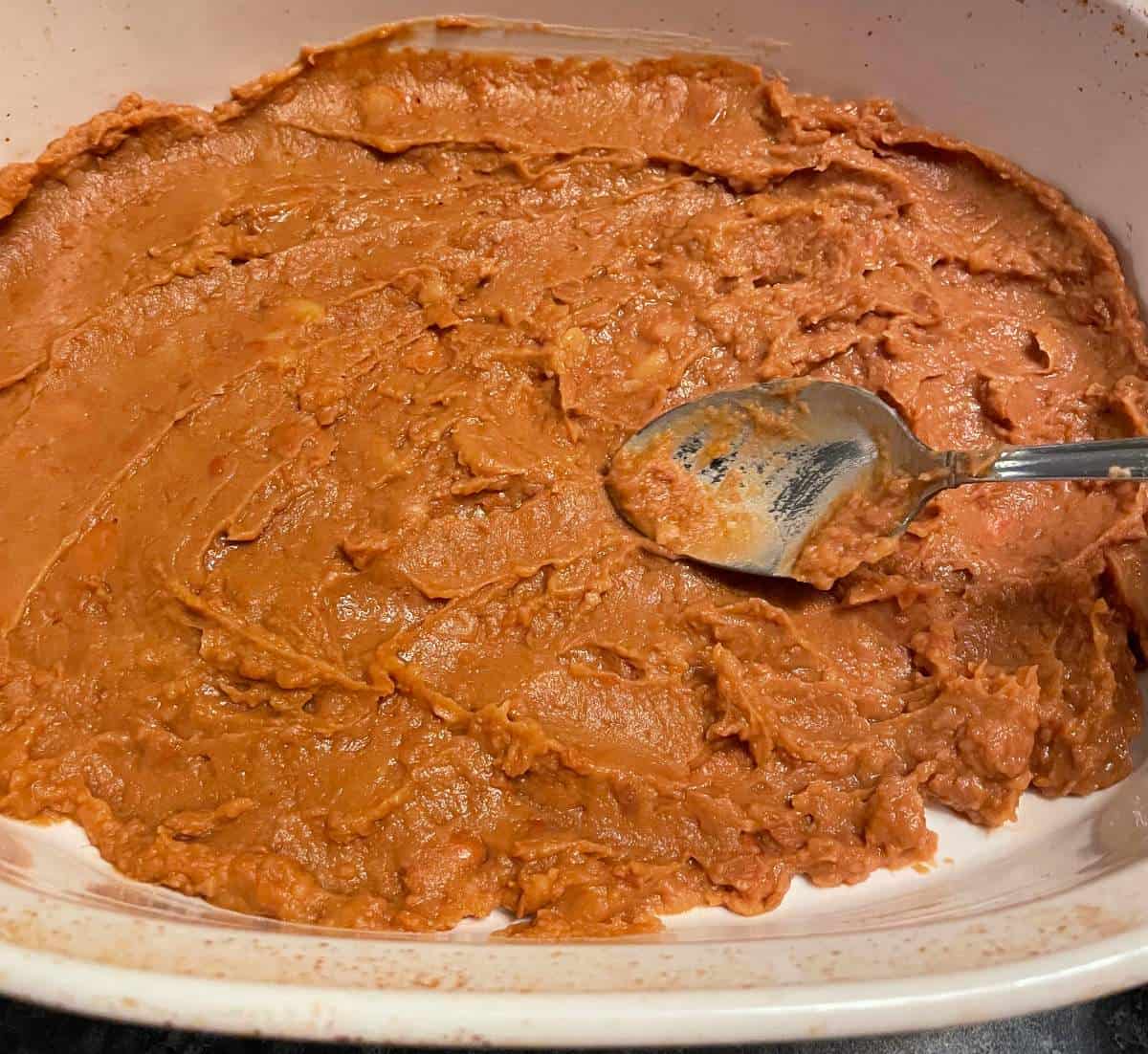 The beans from a 14 ½ ounce can just barely covered the bottom of the baking dish I was using.
Add the tomatoes to cover the refried beans.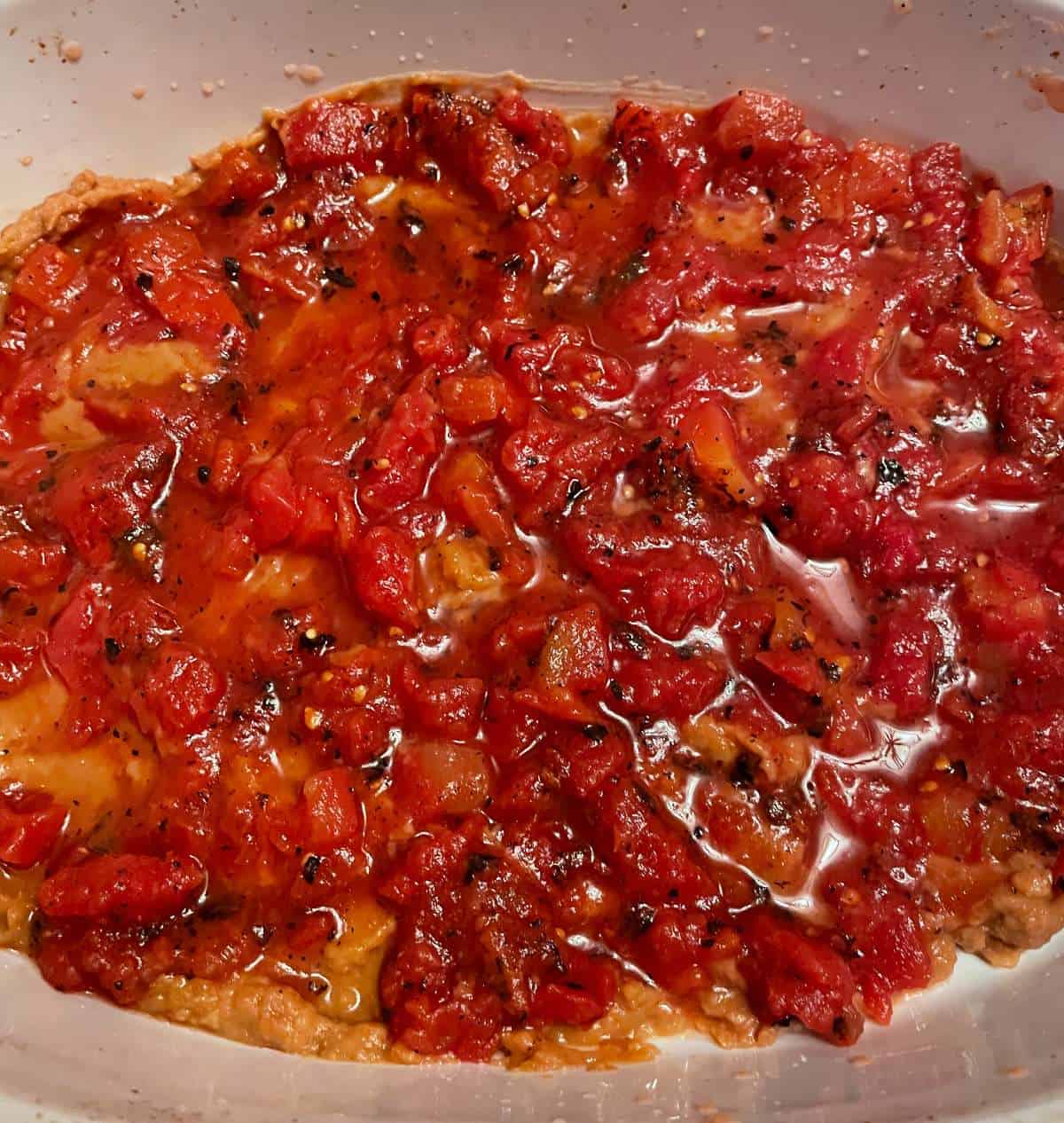 You can see there's a decent amount of liquid added with the tomatoes. I didn't drain them prior to adding them here. If you want less liquid in the dip, which I would say makes for better consistency, drain some of the excess liquid from the tomatoes before adding.
Place sour cream in a bowl, and add the diced chiles and fajita spice blend.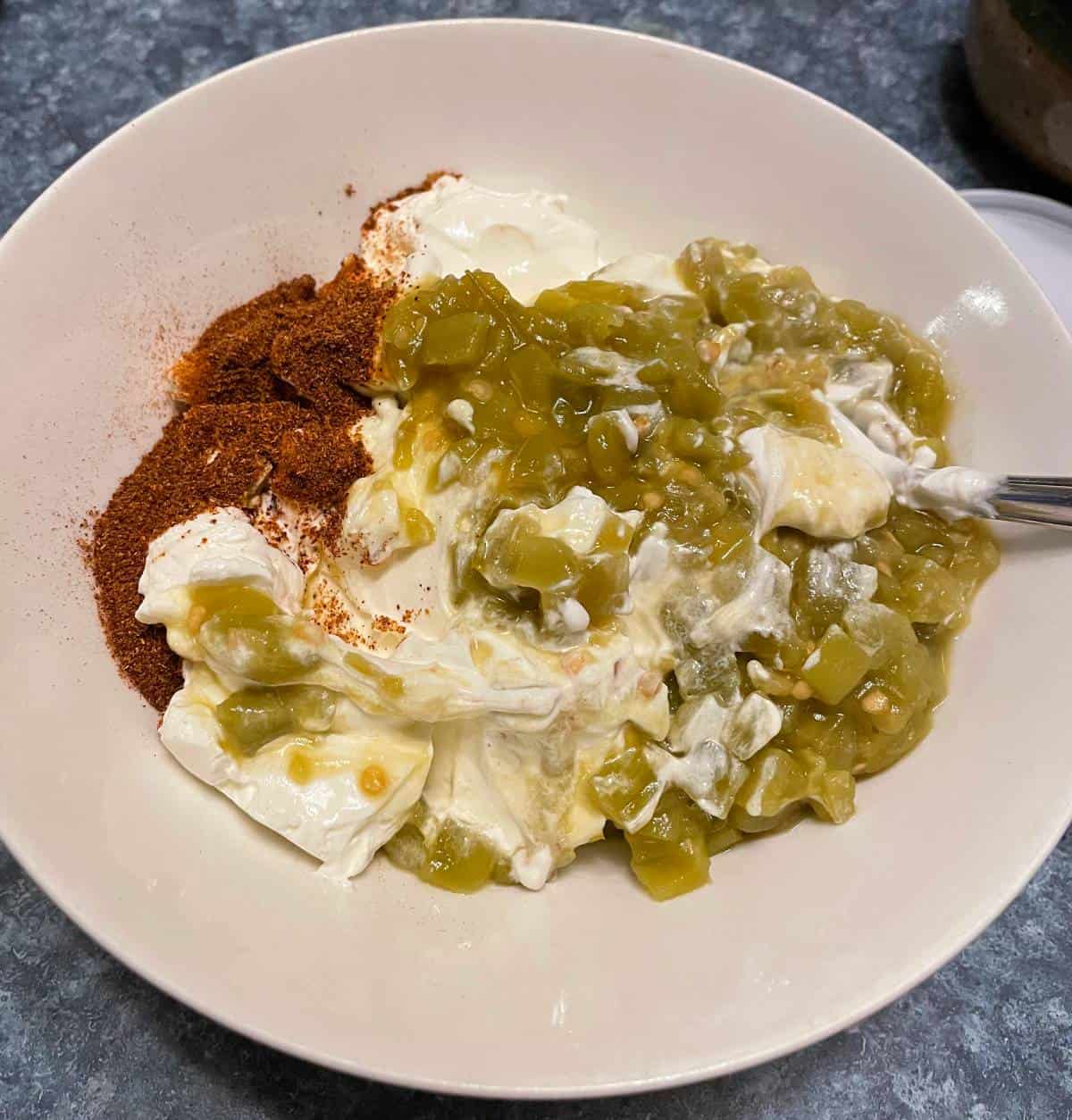 Stir the chiles and spice blend to combine.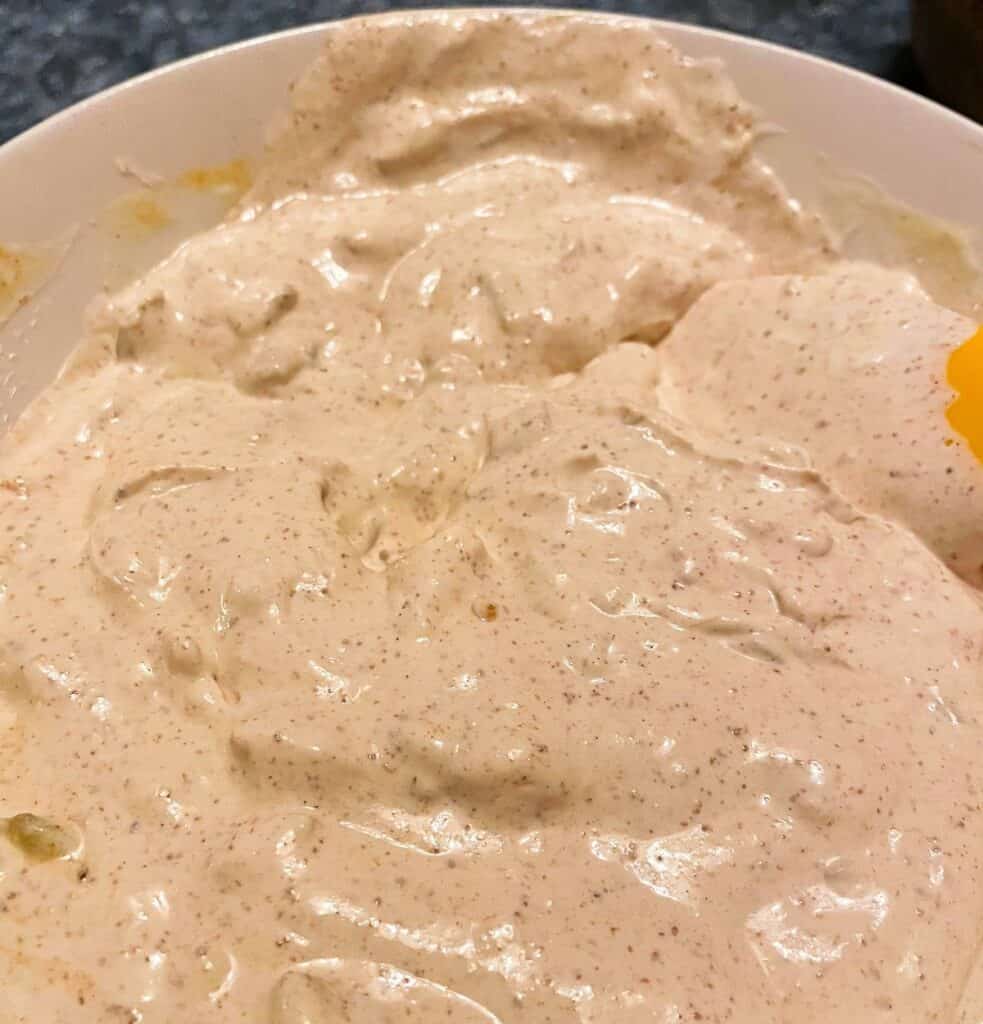 Spread the sour cream to cover the tomatoes in the baking dish.
Sprinkle the corn on top of the sour cream, if you are using corn.
Sprinkle the cheese to cover the sour cream. We used cheddar cheese, but you could use a Mexican cheese blend or something like Monterrey Jack.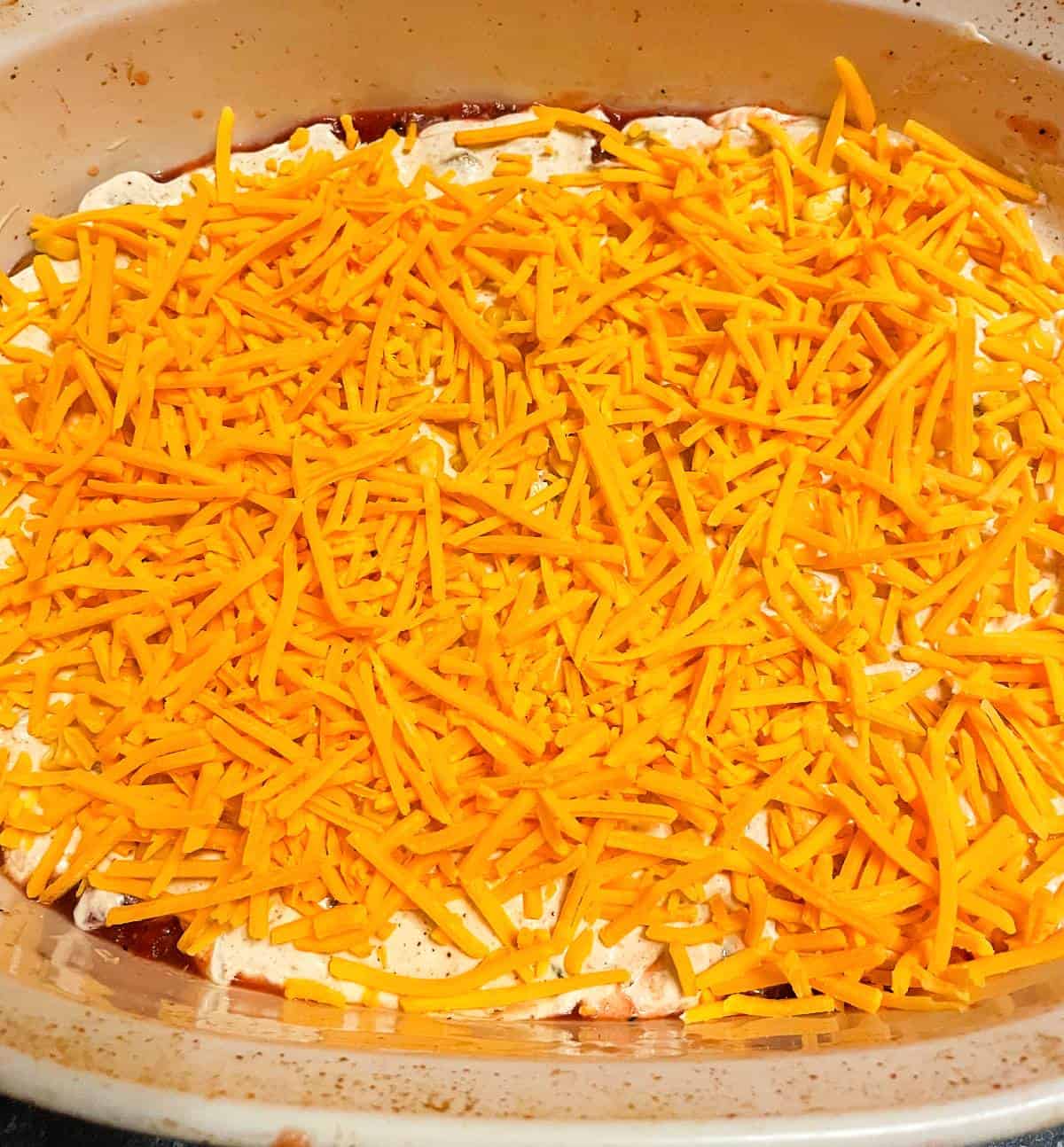 Bake the fiesta dip for 25 minutes, uncovered, in an oven preheated to 350 degrees.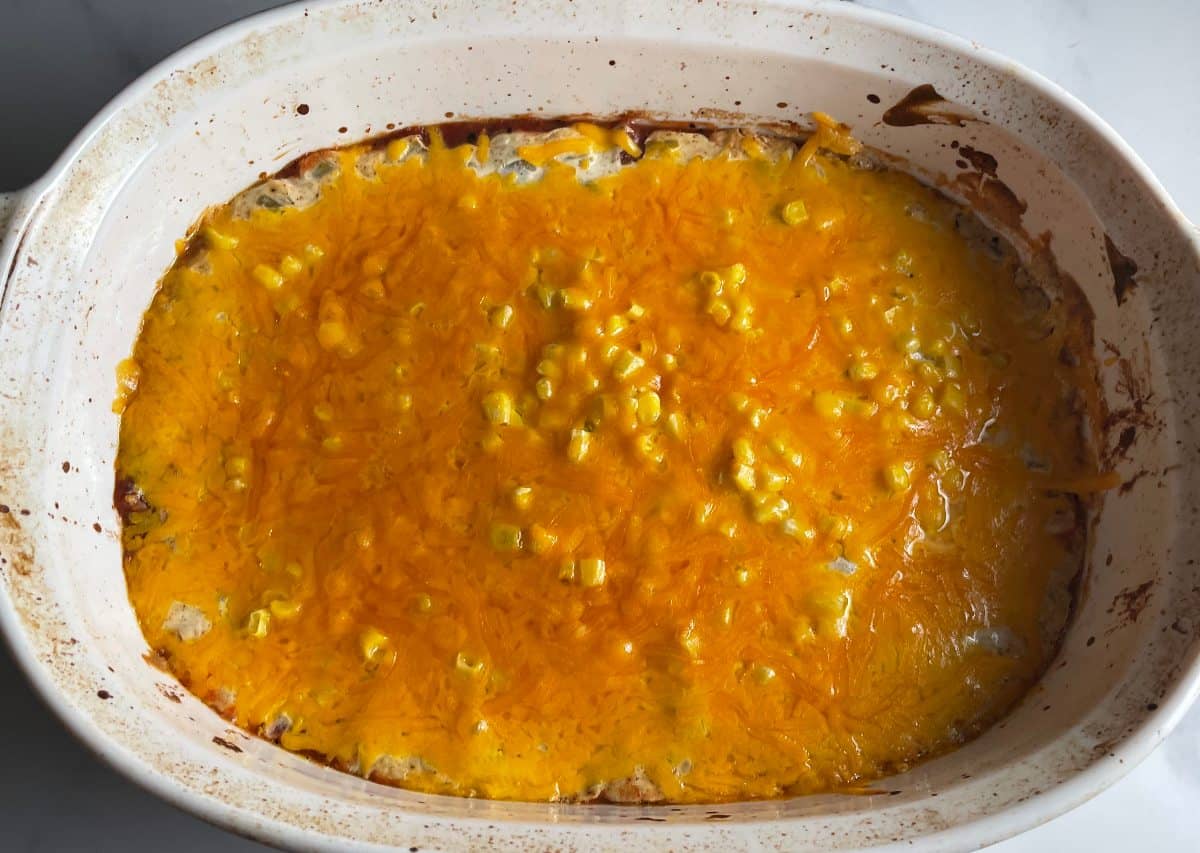 Carefully remove the dip from the oven. Now, sprinkle your toppings to complete the fiesta dip!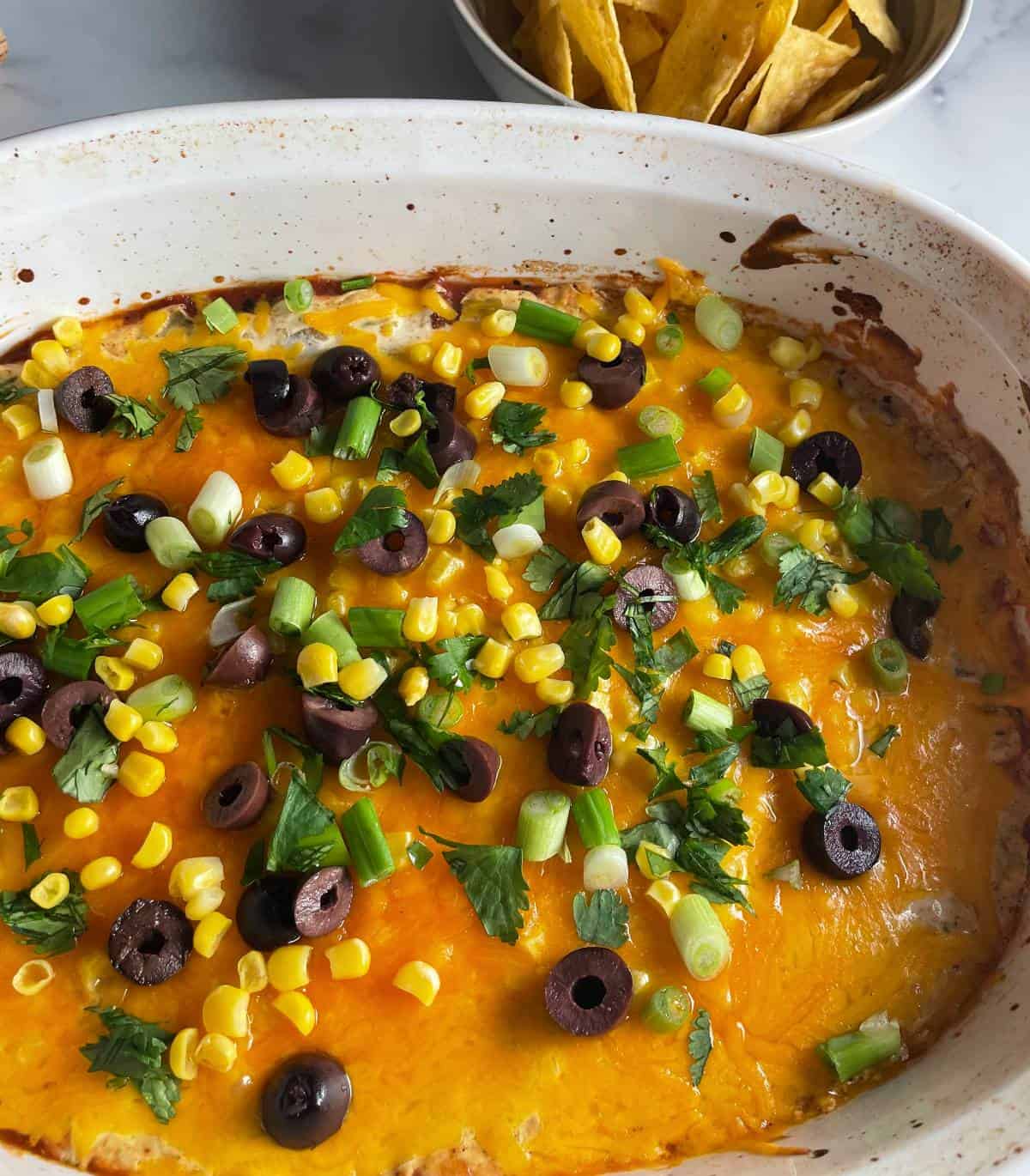 Serve the baked fiesta dip with some tortilla chips…and sparkling wine, if you are so inclined!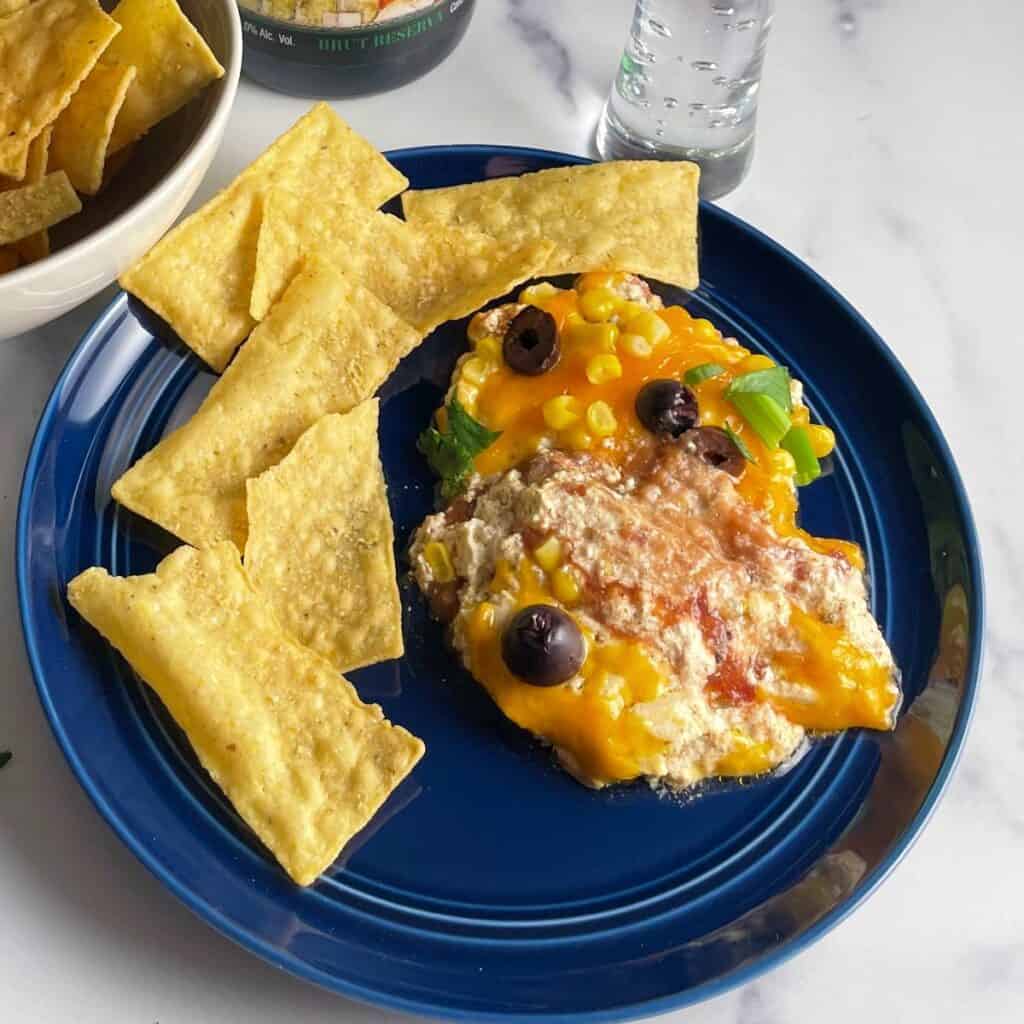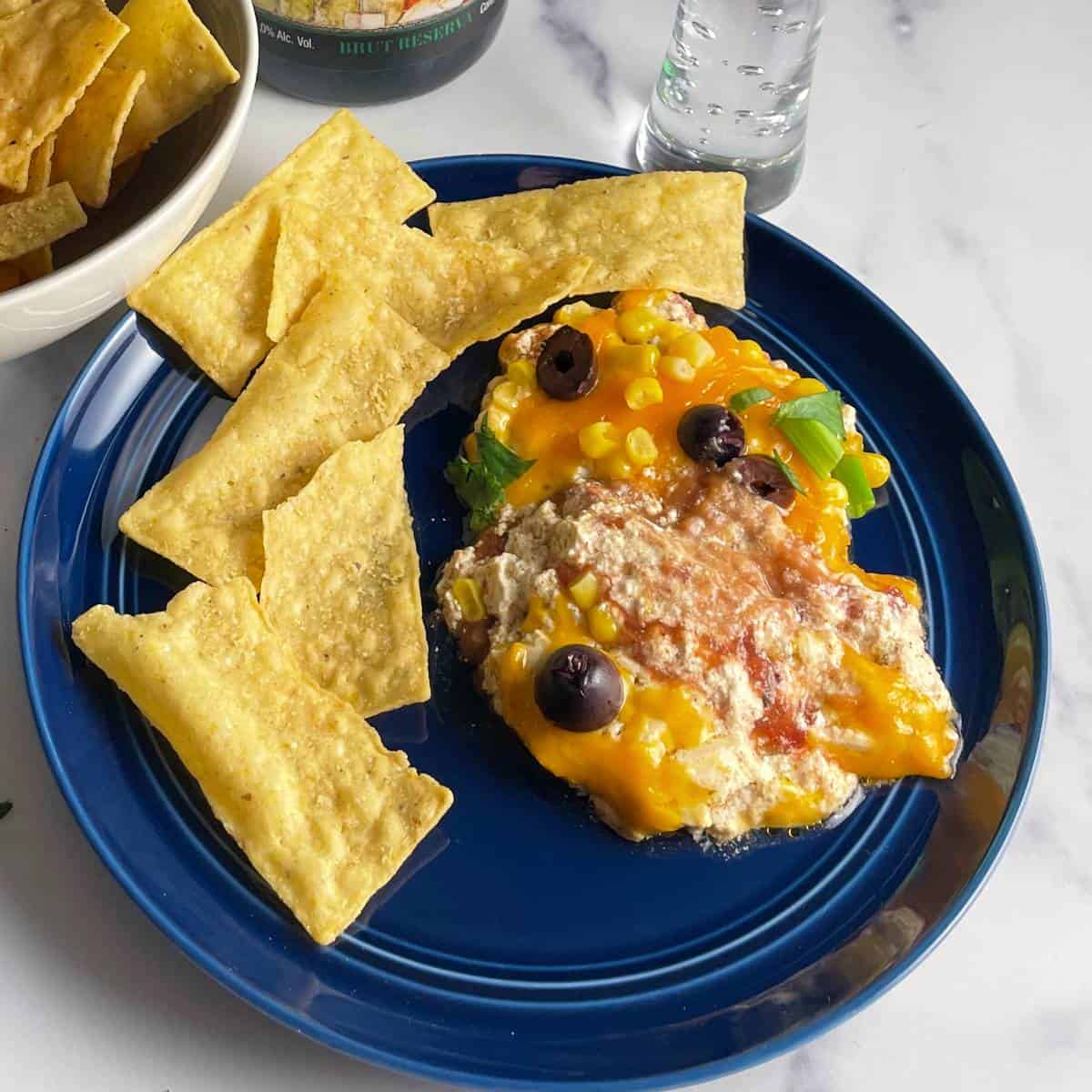 Frequently asked questions (FAQ)
Can I make fiesta dip ahead of time?
You could get the dip ready to bake — do all the steps up through sprinkling the shredded cheese on top — then place in the refrigerator to bake closer to serving time. You could do the prep one day ahead of time. The dip might need an extra 5 minutes of baking time if heating from the fridge. Don't forget to sprinkle the final toppings over the baked dip!
How long can you leave out a party dip?
You should not leave out a dip for more than two hours. And with this fiesta dip, it is best warm, so I would encourage people to eat it fresh out of the oven. I'd be inclined to put it into the fridge after an hour, and reheat if people are looking for more.
What to do with leftover fiesta dip?
Store leftovers in an airtight container in the refrigerator for 3 to 4 days. Scoop out a portion of leftovers you want to serve onto a microwave safe dish. Reheat in the microwave for 30 to 90 seconds, depending on the size portion you are heating.
Wine pairing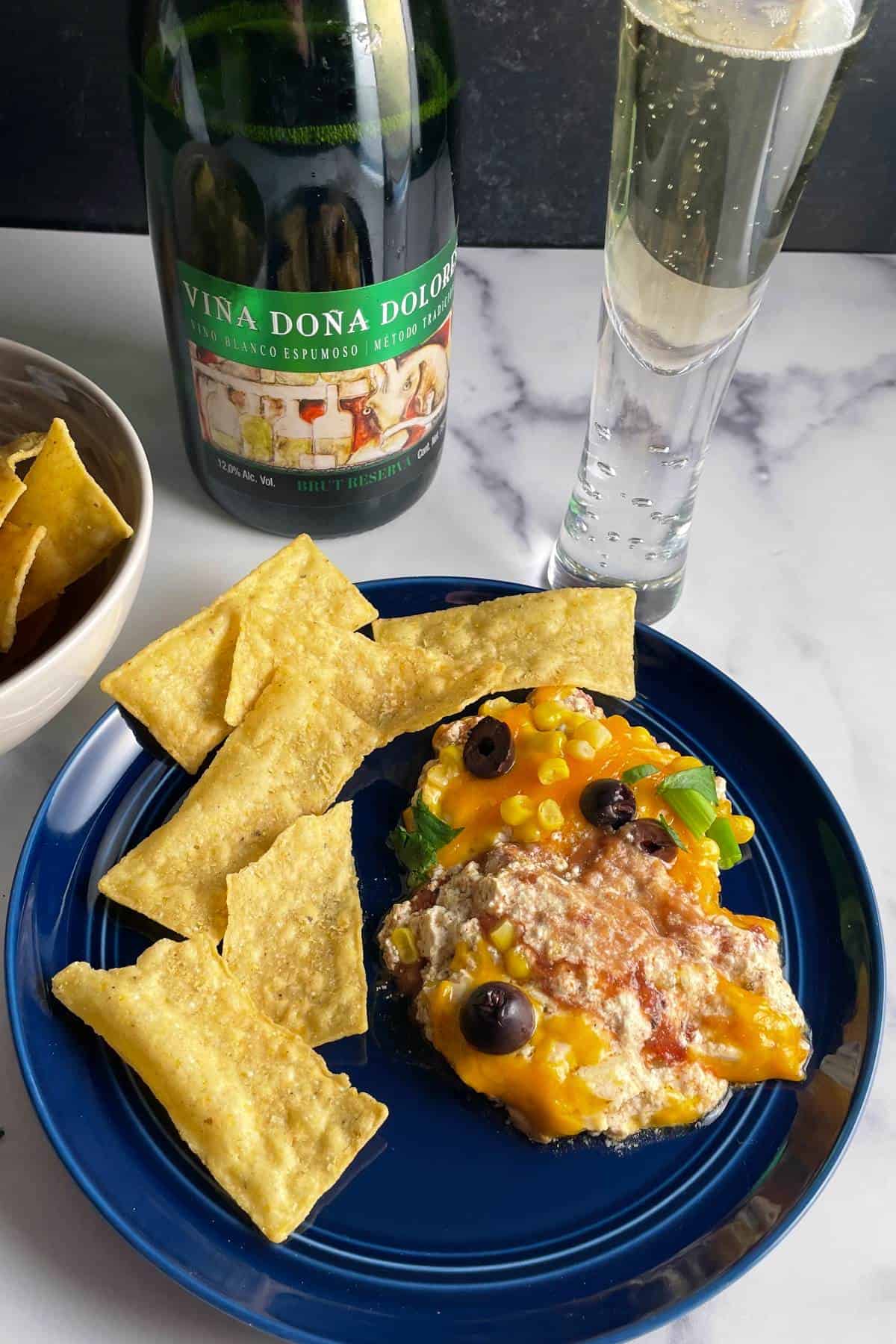 So the Mexican sparkling wine we opened for the event was the Viña Doña Dolores Brut Reserva ($15, 12% ABV) from Finca Sala Vivé. The bubbly has a bright, fresh nose. On the palate, delicate bubbles give a pleasant tingle, and the flavor profile is fruit forward – I get pear in particular. A nice clean finish.
This is a very good sparkling wine, particularly when you consider the moderate price! It is similar to a Cava – not a surprise considering the winery is owned by Freixenet, a Spanish Cava producer that is now a major international sparkling wine brand.
The Viña Doña Dolores Brut Reserva is made from a blend of 50% Macabeu and 50% Xarel-Lo grapes, estate grown fruit. It is made in the traditional method (i.e. the same process for making Champagne), with 12 grams of residual sugar (RS) per liter, putting it at the upper end of what can be considered "Brut" (dry).
That level of RS definitely hits a sweet spot, so to speak, for me. The wine is more fruity than sugary, but that RS is just enough to refresh and cleanse the palate after bites of the cheesy, somewhat spicy fiesta dip. A winning pairing!
Seeing the image of a stately woman on the wine cap, I thought perhaps Doña Dolores was a wife or mother of the winery owner or founder. But it turns out she worked at the winery for many years, and the wine was named in her honor.
More about Finca Sala Vivé and the region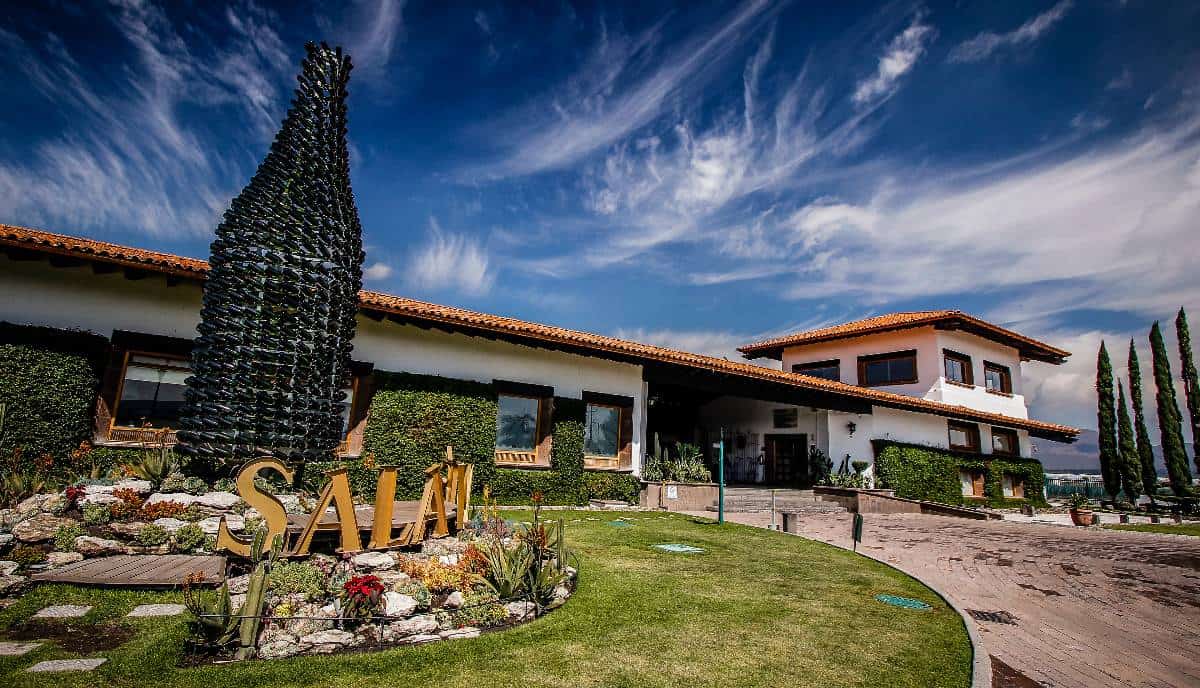 Finca Sala Vivé was founded in 1979, and is just one of five wineries that survived what Max describes as a challenging period for the Mexican wine industry. Foreign competition had Mexican wineries producing cheap wine of not the greatest quality.
Fortunately, those surviving wineries along with some newer innovators have over the last decade or so been developing innovative, high quality wines. We will have to cover more on that soon!
Finca Sala Vivé is located in Ezequiel Montes, Queretaro, a high plains region, at around 7,000 feet above sea level. The climate is hot and dry, with large diurnal temperature shifts. The soil is sandy.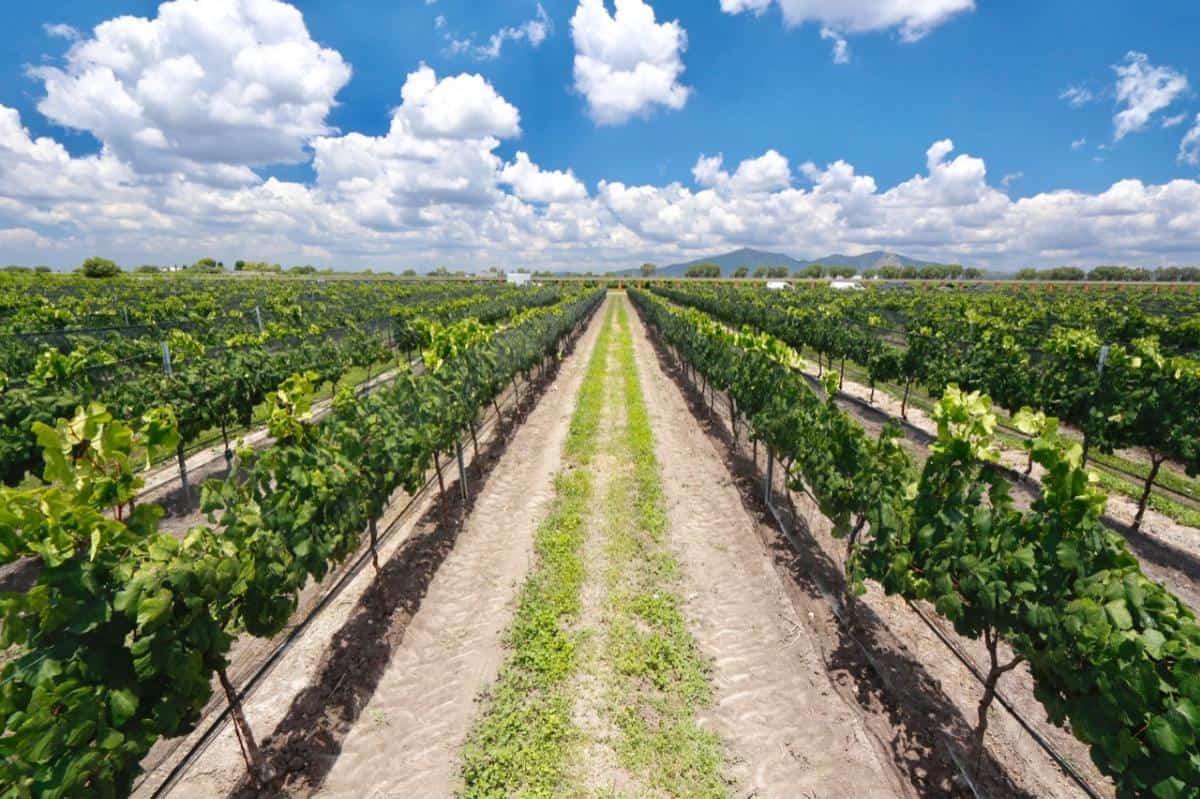 The wines from these region tend to be relatively low in alcohol, despite the heat of the area, because they pick on the early side (mid August) to get ahead of the fall rainy season.
As the largest winery in the region, Finca Sala Vivé sees itself as a leader promoting the overall quality and reputation of the region. They support smaller wineries in various ways. Max relates this example:
One example is Paso de Serra. Renata and Alvaro have been farmers who sold their grapes to Freixenet. Starting in 2013 they began working to make their own wines. Freixenet provides them use of their winemaking facilities including the whole winemaking process, bottling, packaging, etc. Eventually, they will do this all themselves, but as they got started Freixenet provided them with the use of their facilities.
The winemaker at Finca Sala Vivé is the highly regarded Lluis Raventós, originally from Spain.
More Mexican wine pairings
Over the past couple of years, we have had a chance to sample a wide range of Mexican wines and have been impressed by their quality, as well as the creativity that comes from this innovative wine region.
One delicious pairing we had was the Monte Xanic Chenin Blanc with our Ground Turkey Enchiladas.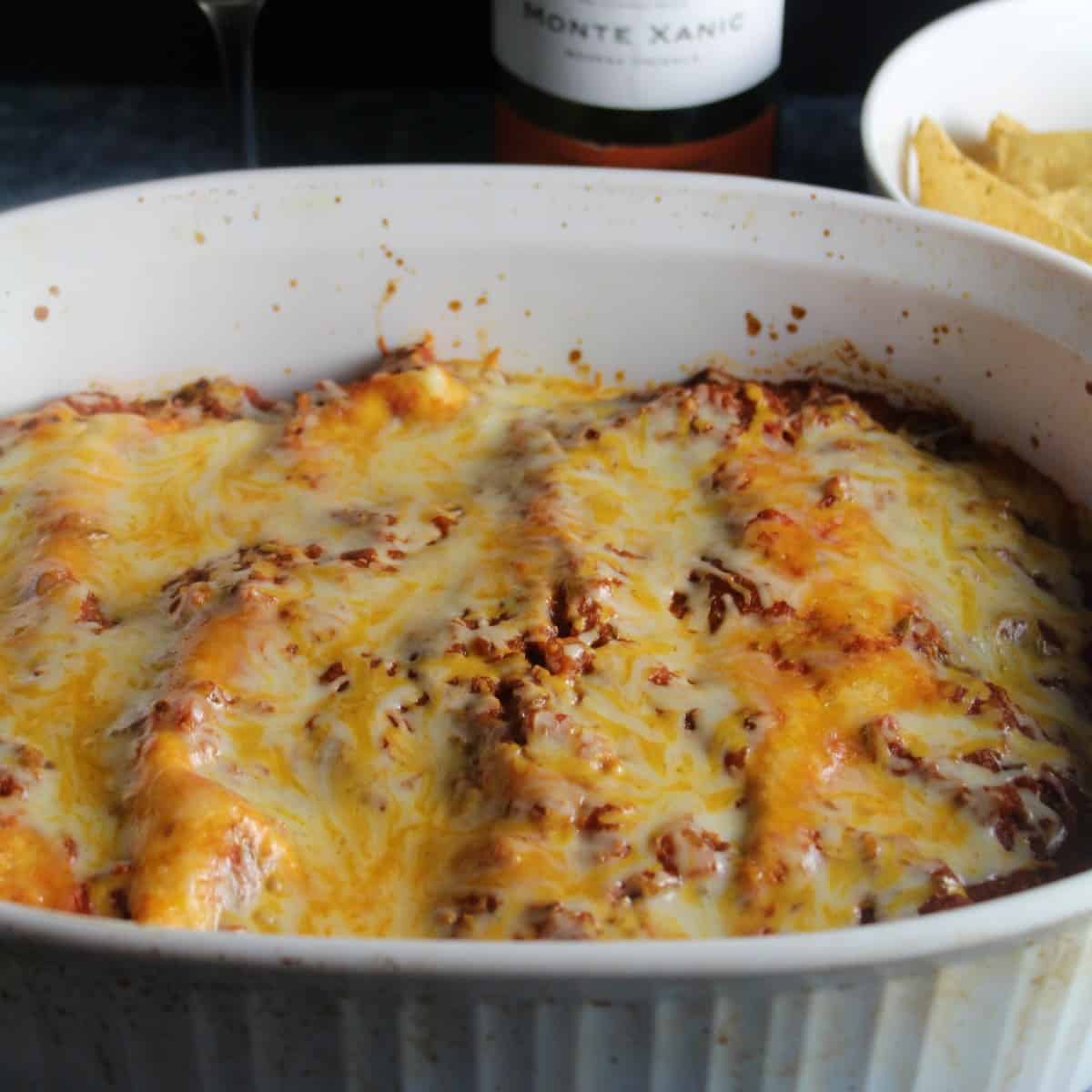 But the Mexican wines can pair with foods well beyond the regional cuisine. We also paired the Monte Xanic Chenin Blanc with our Butternut Squash Mushroom Soup, and that was delicious.
Monte Xanic also makes a Sauvignon Blanc that is featured on the wine list at the French Laundry. We served that up with our Basil Pesto Crostini with great results!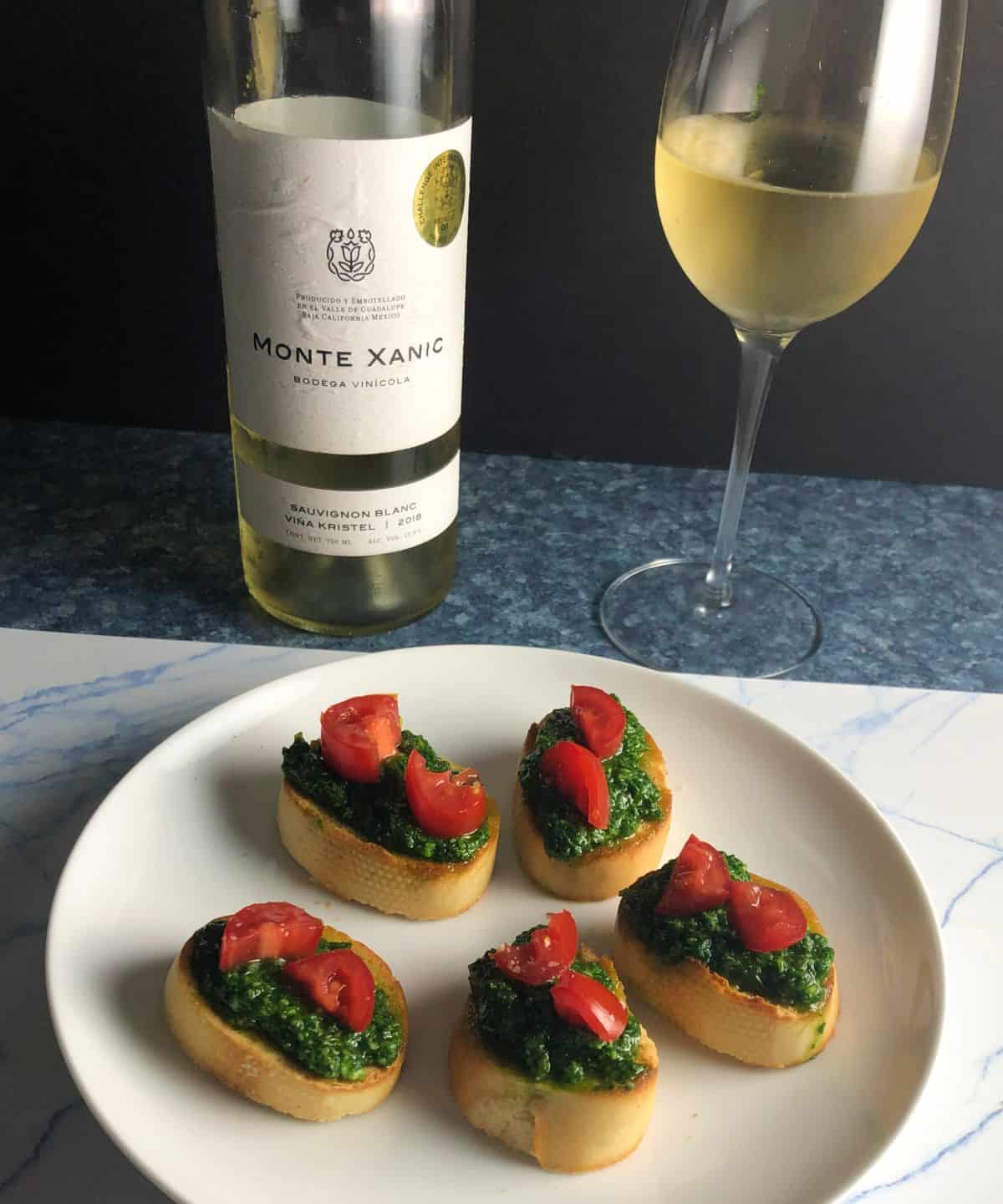 One of my favorite 2020 pairings was the combination of our Chanterelle Mushroom Beef Stew, paired with the 2015 Vinos Lechuza "Amantes" Red Blend.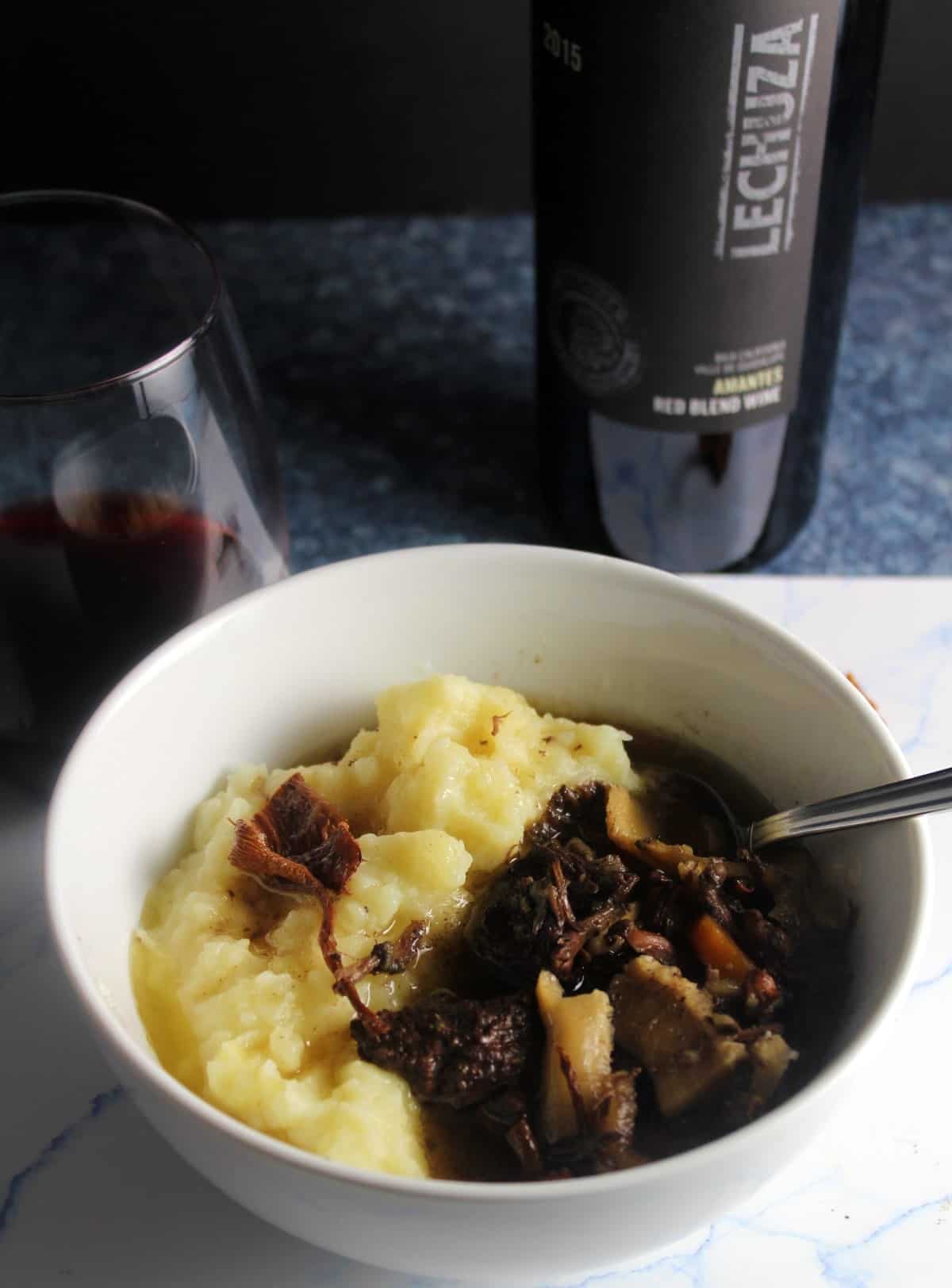 Hopefully I have whet your appetite to try some Mexican wine in this new year, be it bubbly, red or white…or why not all three!
Print
Recipe card
Baked Fiesta Dip
Layers of refried beans, tomatoes, sour cream and cheddar bake together to create flavorful, cheesy tastiness. Topped with olives and scallions for a festive look, this is a perfect appetizer for your next party — make that, your next fiesta!
Author: Cooking Chat
Prep Time:

10 mins

Cook Time:

25 mins

Total Time:

35 mins

Yield:

8

servings

1

x
Category:

appetizer

Method:

baking

Cuisine:

Mexican

Diet:

Vegetarian
14 ½ ounce

can refried beans

1

  ¼ cups diced fire roasted tomatoes

16 ounces

sour cream

2 teaspoons

chili powder

4 ounce

can diced green chiles

½ cup

corn kernels, optional (defrost first if using frozen)

1 ½ cups

shredded cheddar cheese

8

olives, sliced

¼ cup

scallions, chopped

2 tablespoons

cilantro, chopped
tortilla chips for serving
Instructions
Preheat oven to 350 degrees.
Spread the refried beans out to cover the bottom of a baking dish.
Layer the tomatoes over the refried beans.
Combine the sour cream with the chili powder and green chiles in a small bowl. Spread the sour cream over the tomatoes in the baking dish. Sprinkle the corn over the sour cream if using.
Sprinkle the cheddar cheese over the sour cream layer to cover it.
Place baking dish in the oven and bake at 350 for 25 minutes. When done, remove the baked fiesta dip and place on a heat resistant surface.
Sprinkle the olives, scallions and cilantro across the top. The baked fiesta dip is ready to serve! Enjoy by scooping with tortilla chips. Take care when first serving, the inside of the tip can be quite hot.
Notes
You can drain a bit of the excess liquid from the diced tomatoes if you like, to make the finished dip a bit more solid.
Leftovers can be stored in an airtight container in the refrigerator for 3 to 5 days. Reheat portions in the microwave for about 30 seconds.
Keywords: fiesta dip recipe, Mexican dip recipes, dip with beans and sour cream, cinco de mayo recipes
Recipe Card powered by
Bubbles from around the world
Now that we've covered a delicious Mexican sparkling wine, take a tour of bubbles from around the world with these blog articles!